Food law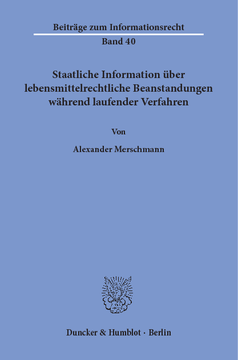 Additional Information
Book Details
ISBN

978-3-428-55558-1
978-3-428-15558-3 (print edition)

DOI

https://doi.org/10.3790/978-3-428-55558-1

Edition

1

Language

German

Pages

287

Collections

Subjects
Pricing
Institution

€ 92.00 (incl. local VAT if applicable)

Individual

€ 71.90 (incl. local VAT if applicable)
About The Author
Alexander Merschmann studierte Rechtswissenschaften an der Christian-Albrechts-Universität zu Kiel. Im Anschluss begann er dort sein Promotionsvorhaben und arbeitete zugleich als wissenschaftlicher Mitarbeiter am Lehrstuhl für Öffentliches Recht bei Prof. Dr. Florian Becker, LL.M. (Cambridge). Ab 2015 absolvierte er sein Rechtsreferendariat im Bezirk des Schleswig-Holsteinischen Oberlandesgerichts mit Stationen in Schleswig-Holstein und Berlin. Seit Juli 2017 ist er als Richter beim Schleswig-Holsteinischen Verwaltungsgericht tätig. Im Juli 2018 wurde er von der Rechtswissenschaftlichen Fakultät in Kiel zum Dr. jur. promoviert.
Alexander Merschmann studied law at the Christian-Albrechts-University in Kiel. After that he worked as a Research Assistant at the Chair of Prof. Dr. Florian Becker, LL.M. (Cambridge). After a legal clerkship in Schleswig-Holstein and Berlin he passed the Second State Examination. Since July 2017 he is working as a judge at the administrative court in Schleswig. In July of 2018 he obtained his doctoral agree.
Abstract
Die Untersuchung nimmt sich der Problematik der amtlichen Informationstätigkeit bezüglich lebensmittelrechtlicher Beanstandungen während laufender Verfahren an. Zunächst legt der Autor dar, dass identifizierende amtliche Informationsakte einen Eingriff in Grund- und Konventionsrechte darstellen, weshalb sie auf einer formell-gesetzlichen Ermächtigungsgrundlage fußen müssen. Sodann zeigt er auf, welche Ermächtigungsgrundlagen hierfür in Betracht kommen, und erörtert, welche dieser Vorschriften sich – unter Einbeziehung der Gesetzgebungskompetenzen – konkurrenzrechtlich durchsetzen. Im Anschluss beleuchtet der Autor in materieller Hinsicht die Bedeutung der Unschuldsvermutung für derartige Informationsakte in der speziellen Situation des laufenden Verfahrens. Diese verbietet nach seiner Auffassung bei folgenorientierter Betrachtung identifizierende amtliche Informationsakte vor rechtskräftigem Verfahrensabschluss. Eine Ausnahme hiervon gilt, wenn eine Gesundheitsgefahr auszumachen ist. »Publication of Information by Public Authorities about Violations of Food Law during Ongoing Proceedings«

The author examines which laws are applicable when public authorities decide to inform the public, the press or individuals about violations of food law during ongoing proceedings. In order to evaluate this matter, he – inter alia – discusses which German legislator is competent to enact laws allowing information to be made public. Furthermore the author advocates that the presumption of innocence regularly prohibits information about violations of food law during ongoing proceedings.
Table of Contents
Section Title
Page
Action
Price

Vorwort

7

Inhaltsverzeichnis

9

Einleitung

21

1. Kapitel: Das laufende Verfahren

27

A. Behördliches Verwaltungsverfahren

27

I. Allgemeines

27

II. Zuständigkeit

28

III. Beginn des behördlichen Verwaltungsverfahrens

29

IV. Ende des behördlichen Verwaltungsverfahrens

31

B. Verwaltungsgerichtliches Verfahren

33

I. Beginn des verwaltungsgerichtlichen Verfahrens

33

II. Ende des verwaltungsgerichtlichen Verfahrens

33

C. Ordnungswidrigkeitenverfahren

34

I. Allgemeines

34

II. Zuständigkeit

34

III. Vorverfahren

34

IV. Zusammentreffen von Ordnungswidrigkeit und Straftat

35

V. Zwischenverfahren

36

VI. Gerichtliches Verfahren

36

VII. Zusammenfassung

37

D. Strafverfahren

37

I. Allgemeines

37

II. Ermittlungsverfahren

37

III. Zwischenverfahren

38

IV. Hauptverfahren

39

V. Zusammenfassung

39

2. Kapitel: Erfordernis einer Ermächtigungsgrundlage

40

A. Schutz persönlicher Daten

41

I. Grundrecht auf informationelle Selbstbestimmung, Art. 2 Abs. 1 i. V. m. Art. 1 Abs. 1 GG

41

1. Eingriff in den Schutzbereich

41

2. Anwendbarkeit auf juristische Personen des Privatrechts

43

3. Zwischenergebnis: Grundrecht auf informationelle Selbstbestimmung

45

II. Recht auf Achtung des Privat- und Familienlebens, Art. 8 EMRK

46

1. Eingriff in den Schutzbereich

46

2. Anwendbarkeit auf juristische Personen des Privatrechts

46

3. Zwischenergebnis: Recht auf Achtung des Privat- und Familienlebens

48

III. Schutz personenbezogener Daten, Art. 8 EU-GRCh

48

1. Eingriff in den Schutzbereich

48

2. Anwendbarkeit auf juristische Personen des Privatrechts

49

3. Zwischenergebnis: Schutz personenbezogener Daten

52

IV. Zwischenergebnis: Schutz persönlicher Daten

53

B. Ansehen der Person

53

I. Allgemeines Persönlichkeitsrecht, Art. 2 Abs. 1 i. V. m. Art. 1 Abs. 1 GG

53

1. Eingriff in den Schutzbereich

53

2. Anwendbarkeit auf juristische Personen des Privatrechts

54

3. Die Unschuldsvermutung als Aspekt des allgemeinen Persönlichkeitsrechts

56

II. Recht auf Achtung des Privat- und Familienlebens, Art. 8 EMRK

58

1. Eingriff in den Schutzbereich

58

2. Anwendbarkeit auf juristische Personen des Privatrechts

59

III. Achtung des Privat- und Familienlebens, Art. 7 EU-GRCh

59

1. Eingriff in den Schutzbereich

59

2. Anwendbarkeit auf juristische Personen des Privatrechts

60

IV. Zwischenergebnis: Ansehen der Person

61

C. Berufsfreiheit

61

I. Grundrecht auf Berufsfreiheit, Art. 12 Abs. 1 GG

61

1. Persönlicher und sachlicher Schutzbereich

61

2. Information als Eingriff

63

II. Kein gesonderter Schutz der Berufsfreiheit in der EMRK

64

III. Unternehmerische Freiheit, Art. 16 EU-GRCh

65

1. Eingriff in den Schutzbereich

65

2. Anwendbarkeit auf juristische Personen des Privatrechts

65

IV. Berufsfreiheit, Art. 15 EU-GRCh

66

V. Zwischenergebnis: Berufsfreiheit

66

D. Eigentumsfreiheit

66

I. Eigentumsfreiheit, Art. 14 Abs. 1 GG

66

II. Schutz des Eigentums, Art. 1 des 1. Zusatzprotokolls zur EMRK

67

III. Eigentumsrecht, Art. 17 EU-GrCH

68

IV. Zwischenergebnis: Eigentumsfreiheit

69

E. Konkurrenzen

69

I. Konkurrenz grundgesetzlicher Bestimmungen

69

II. Konkurrenz der Bestimmungen der EMRK

70

III. Konkurrenz der Bestimmungen der EU-Grundrechtscharta

70

IV. Verhältnis der nationalen Grundrechte, der Rechte der EMRK und der EU-Grundrechte zueinander

71

F. Ergebnis: Erfordernis einer Ermächtigungsgrundlage

72

3. Kapitel: Systematisierung und Bewertung der konkurrenzrechtlichen Verhältnisse der Ermächtigungsgrundlagen

73

A. Antragsunabhängige Informationstätigkeit

73

I. Ermächtigungsgrundlagen für die antragsunabhängige Informationstätigkeit

73

1. § 40 LFGB i. V. m. Art. 10 und Art. 17 Abs. 2 UAbs. 2 BasisVO

73

a) Verhältnis von Art. 10 und Art. 17 Abs. 2 UAbs. 2 BasisVO zu § 40 LFGB

74

aa) EuGH: Keine Sperrwirkung durch Art. 10 BasisVO

76

bb) Sperrwirkung der BasisVO bei fehlendem Bezug zur Lebensmittelqualität

77

cc) § 40 LFGB als zulässige Konkretisierung

79

b) Zuständigkeit

80

c) Information während laufender Verfahren

81

aa) Vorgaben von Art. 10 BasisVO und § 40 LFGB

81

bb) Geheimhaltungspflichten der KontrollVO

82

(1) Aktuelle Rechtslage

82

(2) Novellierung der KontrollVO

84

(a) Novellierung des Art. 7 KontrollVO

85

(b) Art. 11 KontrollVO (EU) 2017/625

87

cc) Geheimhaltungspflichten der BasisVO im Rahmen des RASFF

88

d) Zwischenergebnis: § 40 LFGB i. V. m. Art. 10 und Art. 17 Abs. 2 UAbs. 2 BasisVO

92

2. § 6 Abs. 1 S. 3 VIG

92

a) Auslegung des § 6 Abs. 1 S. 3 VIG

93

aa) Wortlaut

93

bb) Systematik

93

cc) Historische Auslegung

94

dd) Telos

95

ee) Zwischenergebnis: Auslegung des § 6 Abs. 1 S. 3 VIG

96

b) Zuständigkeit

96

c) Information während laufender Verfahren

97

d) Sperrwirkung der BasisVO bei fehlendem Bezug zur Lebensmittelqualität

99

e) Zwischenergebnis: § 6 Abs. 1 S. 3 VIG

99

3. § 475 Abs. 1, 4 StPO (i. V. m. § 49b OWiG)

99

4. Richtlinien für das Strafverfahren und das Bußgeldverfahren

100

5. Konkurrenzen

100

a) § 40 LFGB als entsprechende Rechtsvorschrift i. S. d. § 2 Abs. 4 VIG

101

b) Aussetzung der Anwendung des § 40 Abs. 1a LFGB

102

II. Zwischenergebnis: Ermächtigungsgrundlagen für die antragsunabhängige Informationstätigkeit

104

B. Antragsabhängige Informationstätigkeit

104

I. Informationszugangsrechte für jedermann

105

1. Art. 5 Abs. 1 S. 1 Hs. 2 GG, Informationsfreiheit

105

a) Allgemeine Zugänglichkeit behördlicher Informationen?

105

b) Fehlende Leistungsdimension

107

2. Art. 10 Abs. 1 S. 2 Alt. 2 EMRK

108

3. § 475 Abs. 1, 4 StPO (i. V. m. § 49b OWiG)

109

a) Allgemein

109

b) Anwendbarkeit auf Ordnungswidrigkeitenverfahren

111

c) Zuständigkeit

111

aa) Strafverfahren

111

bb) Ordnungswidrigkeitenverfahren

111

d) Information während laufender Verfahren

112

e) Zwischenergebnis: § 475 Abs. 1, 4 StPO (i. V. m. § 49b OWiG)

113

4. Richtlinien für das Strafverfahren und das Bußgeldverfahren

113

5. § 2 Abs. 1 VIG

113

a) Allgemein

114

b) Information während laufender Verfahren

114

c) Zwischenergebnis: § 2 Abs. 1 VIG

115

6. § 1 Abs. 1 S. 1 IFG-Bund

115

a) Allgemein

116

b) Information während laufender Verfahren

117

c) Zwischenergebnis: § 1 Abs. 1 S. 1 IFG-Bund

118

7. Informationsfreiheitsgesetze der Länder

118

a) Verwaltungstätigkeit als Anknüpfungspunkt

119

b) Vorgelagertes Verwaltungsverfahren

120

c) Lebensmittelrechtliche Anordnungen und Maßnahmen

122

d) Information während laufender Verfahren

122

e) Zwischenergebnis: Informationsfreiheitsgesetze der Länder

124

8. Konkurrenzen

124

a) Gesetzgebungskompetenz für verfahrensunabhängige Informationszugangsrechte

125

aa) Art. 84 Abs. 1 GG

125

(1) Regelung des Verwaltungsverfahrens

125

(2) Keine Regelung des Verwaltungsverfahrens durch verfahrensunabhängige Informationszugangsrechte

126

(3) Zwischenergebnis: Art. 84 Abs. 1 GG

127

bb) Auskunftspflichten als Annex zur Sachmaterie des Lebensmittelrechts

127

(1) Gesetzesbegründung des VIG

128

(2) Urteil des Bundesverwaltungsgerichts vom 20. Februar 2013

128

(3) Urteil des Bundesverwaltungsgerichts vom 25. März 2015

129

(4) Konsequenzen für Informationszugangsrechte, die jedermann berechtigen

131

(5) Bewertung

132

(6) Annexkompetenz für Informationszugangsregelungen hinsichtlich aller Sachmaterien

132

(7) Annexkompetenz für Informationszugangsregelungen für Sachmaterien bei Bestehen eines Informationsbezugs

134

(8) Gleichlauf der Ergebnisse für Informationszugangsrechte im Bereich des Lebensmittelrechts

136

cc) Verantwortung für die administrative Ausrichtung und Funktionsfähigkeit der eigenen Verwaltung

136

(1) Die Organisationsgewalt als Bezugspunkt

137

(2) Informationszugangsrechte als Bestandteil der Organisationsgewalt

139

(3) Zwischenergebnis: Verantwortung für die administrative Ausrichtung und Funktionsfähigkeit der eigenen Verwaltung

140

dd) Zwischenergebnis: Gesetzgebungskompetenz für verfahrensunabhängige Informationszugangsrechte

140

b) Verhältnis von § 2 Abs. 1 VIG zu den Informationsfreiheitsgesetzen der Länder

140

aa) Die Konkurrenzregel aus § 2 Abs. 4 VIG

141

bb) Subsidiaritätsvorschriften der Informationsfreiheitsgesetze der Länder

142

(1) Nebeneinander von § 2 Abs. 1 VIG und den landesgesetzlichen Informationszugangsrechten?

143

(2) Vorrang von § 2 Abs. 1 VIG gegenüber den landesgesetzlichen Informationszugangsrechten

145

cc) Gesetzgebungskompetenz: Abschließende Bundesregelung?

146

(1) Erschöpfende Regelung des Bundes

146

(2) Erforderlichkeit einer bundesgesetzlichen Regelung i. S. d. Art. 72 Abs. 2 GG

147

(a) Gesamtstaatliches Interesse

147

(b) Herstellung gleichwertiger Lebensverhältnisse im Bundesgebiet

148

(c) Wahrung der Rechtseinheit

149

(d) Wahrung der Wirtschaftseinheit

150

(e) Zwischenergebnis: Erforderlichkeit einer bundesgesetzlichen Regelung i. S. d. Art. 72 Abs. 2 GG

153

(3) Keine Sperrwirkung mangels Erforderlichkeit

153

(a) Fehlende Erforderlichkeit bei Erlass des VIG

153

(b) Nachträgliches Entfallen der Erforderlichkeit

155

(c) Zwischenergebnis: Keine Sperrwirkung mangels Erforderlichkeit

156

dd) Zwischenergebnis: Verhältnis von § 2 Abs. 1 VIG zu den Informationsfreiheitsgesetzen der Länder

156

c) Verhältnis von § 2 Abs. 1 VIG zu § 1 Abs. 1 S. 1 IFG-Bund

157

d) Verhältnis von § 2 Abs. 1 VIG zu § 475 StPO (i. V. m. § 49b OWiG)

158

e) Verhältnis von § 475 StPO (i. V. m. § 49b OWiG) zu den Informationsfreiheitsgesetzen der Länder

162

aa) Subsidiaritätsvorschriften der Informationsfreiheitsgesetze der Länder

162

bb) Gesetzgebungskompetenz: abschließende Bundesregelung?

163

(1) Keine Regelung des Verwaltungsverfahrens i. S. d. Art. 84 Abs. 1 GG

164

(2) Auskunftsansprüche während laufender OWiG-/Strafverfahren als Annex zur Sachmaterie

165

(3) Erschöpfende Regelung des Bundes

165

cc) Zwischenergebnis: Verhältnis von § 475 StPO (i. V. m. § 49b OWiG) zu den Informationsfreiheitsgesetzen der Länder

167

f) Verhältnis von § 475 StPO (i. V. m. § 49b OWiG) zu § 1 Abs. 1 S. 1 IFG-Bund

167

g) Verhältnis von § 1 Abs. 1 S. 1 IFG-Bund zu den Informationsfreiheitsgesetzen der Länder

167

9. Ergebnis: Informationszugangsrechte für jedermann

168

II. Informationszugangsrechte für Pressevertreter

168

1. Art. 5 Abs. 1 S. 2 Var. 1 GG, Pressefreiheit

169

a) Wortlaut

170

b) Systematik

170

aa) Existenz des Grundrechts auf Informationsfreiheit

170

bb) Dienende Funktion

171

c) Historische Auslegung

171

d) Telos

172

aa) Kanalisierung durch die Presse

172

bb) Kein Auskunftsanspruch gegenüber Privaten

173

cc) Tatsächlicher Bedarf für einen verfassungsunmittelbaren Anspruch

174

e) Verfassungsunmittelbarer Anspruch aus der objektiv-rechtlichen Garantie bei Unterschreitung von Mindestanforderungen

174

aa) Keine Festlegung durch das Bundesverfassungsgericht

175

bb) Urteil des Bundesverwaltungsgerichts vom 20. Februar 2013

176

(1) Unterschreitung von Mindestanforderungen

177

(a) Zuordnung der Materie Presserecht zum Landesrecht

177

(aa) Ursprünglich Rahmenkompetenz des Bundes

177

(bb) Art. 5 Abs. 1 S. 2 Var. 1 GG als Kompetenznorm?

178

(cc) Landeskompetenz

180

(b) Ablehnung von Doppelzuständigkeiten

180

(c) Zuordnung der Auskunftsansprüche von Pressevertretern

181

(aa) Verjährung von Pressedelikten als Gegenstand des Presserechts

182

(bb) Zeugnisverweigerungsrecht der Presse als Gegenstand des gerichtlichen Verfahrens

183

(cc) Zusammenfassung der Zuordnungskriterien

184

(dd) Anwendung der Kriterien: Zugehörigkeit der Auskunftsansprüche zum Presserecht

185

(ee) Zwischenergebnis: Zuordnung der Auskunftsansprüche von Pressevertretern

190

(d) Keine Landeskompetenz für Auskunftsansprüche gegenüber Bundesbehörden

190

(aa) Qualifizierung als Gesetzesvollzug

190

(bb) Ansicht Heckers

191

(cc) Gegenansicht

192

(dd) Stellungnahme

193

(ee) Kein ausnahmsweise zulässiger Vollzug von Landesrecht durch Bundesbehörden

195

(ff) Zwischenergebnis: Keine Landeskompetenz für Auskunftsansprüche gegenüber Bundesbehörden

195

(e) Gesetzgebungskompetenz des Bundes kraft Natur der Sache

195

(f) Kein einfachgesetzlicher Auskunftsanspruch für Pressevertreter gegenüber Bundesbehörden durch Pressegesetze

196

(g) Sonstige einfachgesetzliche Informationsrechte für Pressevertreter gegenüber Bundesbehörden

196

(h) Zwischenergebnis: Unterschreitung von Mindestanforderungen

198

(2) Information während laufender Verfahren

198

f) Ergebnis: Art. 5 Abs. 1 S. 2 Var. 1 GG, Pressefreiheit

199

2. Art. 10 Abs. 1 S. 2 Alt. 2 EMRK

200

3. Landespressegesetze

200

a) Allgemein

200

b) Information während laufender Verfahren

202

aa) Gefährdung eines schwebenden Verfahrens

202

bb) Entgegenstehende öffentliche und private Interessen

203

cc) Zwischenergebnis: Landespressegesetze

204

4. § 475 Abs. 1, 4 StPO (i. V. m. § 49b OWiG)

205

5. Richtlinien für das Strafverfahren und das Bußgeldverfahren

205

6. § 2 Abs. 1 VIG

206

7. § 1 Abs. 1 S. 1 IFG-Bund

206

8. Informationsfreiheitsgesetze der Länder

207

9. Konkurrenzen

207

a) Verhältnis der presserechtlichen Auskunftsansprüche zu § 2 Abs. 1 VIG

207

aa) VIG als abschließende Regelung

207

bb) Die Konkurrenzregel aus § 2 Abs. 4 VIG

208

cc) Keine Sperrwirkung durch das VIG wegen der Bedeutung der Presse

208

dd) Berücksichtigung kompetenzrechtlicher Aspekte

209

b) Verhältnis der presserechtlichen Auskunftsansprüche zu § 475 StPO (i. V. m. § 49b OWiG)

210

aa) Der presserechtliche Auskunftsanspruch als lex specialis

210

bb) § 475 Abs. 1, 4 StPO als lex specialis

211

cc) Nebeneinander der presserechtlichen Auskunftsansprüche und § 475 StPO

212

dd) Stellungnahme

212

c) Verhältnis der presserechtlichen Auskunftsansprüche zu § 1 Abs. 1 S. 1 IFG-Bund

214

d) Verhältnis der presserechtlichen Auskunftsansprüche zu den Informationsfreiheitsgesetzen der Länder

214

e) Verhältnis des § 2 Abs. 1 VIG zu § 475 StPO (i. V. m. § 49b OWiG)

216

f) Verhältnis des § 2 Abs. 1 VIG zu § 1 Abs. 1 S. 1 IFG-Bund

216

g) Verhältnis des § 2 Abs. 1 VIG zu den Informationsfreiheitsgesetzen der Länder

217

h) Verhältnis des § 475 StPO (i. V. m. § 49b OWiG) zu § 1 Abs. 1 S. 1 IFG-Bund

217

i) Verhältnis des § 475 StPO (i. V. m. § 49b OWiG) zu den Informationsfreiheitsgesetzen der Länder

217

j) Verhältnis von § 1 Abs. 1 S. 1 IFG-Bund zu den Informationsfreiheitsgesetzen der Länder

218

10. Ergebnis: Informationszugangsrechte für Pressevertreter

218

4. Kapitel: Vereinbarkeit identifizierender Informationstätigkeit während laufender Verfahren mit der Unschuldsvermutung

220

A. Die Geltung und Reichweite der Unschuldsvermutung

220

I. Verankerung der Unschuldsvermutung

220

1. Art. 48 Abs. 1 EU-GrCh

220

2. Art. 6 Abs. 2 EMRK

221

a) Geltung als Bundesgesetz

221

b) Rechtsprechung des EGMR als Auslegungshilfe

222

3. Verankerung im Verfassungsrecht

222

a) Rechtsstaatsprinzip, Art. 20 Abs. 3 GG

223

b) Die Unschuldsvermutung als eigenständige Grundrechtsposition in den Landesverfassungen

223

c) Die Unschuldsvermutung als Aspekt des allgemeinen Persönlichkeitsrechts

224

d) Die Verankerung der Unschuldsvermutung in mehreren Rechten und Grundsätzen

224

e) Stellungnahme

225

II. Schutz vor Informationsakten mit vorverurteilender Wirkung

225

1. Öffentlichkeitsinformation als Strafe?

225

2. Relevanz der Unschuldsvermutung für staatliche Informationsakte

226

III. Anwendbarkeit der Unschuldsvermutung in den jeweiligen Verfahren

227

1. Die Unschuldsvermutung im Strafverfahren

227

2. Die Unschuldsvermutung im Ordnungswidrigkeitenverfahren

228

3. Die Unschuldsvermutung im Verwaltungsverfahren

228

IV. Anwendbarkeit der Unschuldsvermutung auf juristische Personen

229

1. Anwendung des Grundsatzes "nulla poena sine culpa"

231

2. Zurechnung einer vorwerfbaren Handlung zum Verband

232

3. Auswirkungen auf behördliche Informationsakte

233

B. Anforderungen der Unschuldsvermutung an staatliche Informationsakte

234

I. Inhaltliche Anforderungen an amtliche Informationshandlungen

235

1. Rechtsprechung des Bundesverfassungsgerichts

235

2. Rechtsprechung des EGMR

235

3. Rechtsprechung des EuGH

236

4. Zwischenergebnis: Inhaltliche Anforderungen an amtliche Informationshandlungen

236

II. Grundsätzliche Zulässigkeit amtlicher Informationshandlungen

237

1. Bedeutung der Grundrechte Betroffener für die Verdachtsberichterstattung der Presse

237

2. Grundsätze der Verdachtsberichterstattung

238

a) Voraussetzungen zulässiger Verdachtsberichterstattung

239

aa) Besonderes öffentlichen Interesse

239

bb) Vorliegen eines Mindestbestandes an Beweistatsachen

240

cc) Keine präjudizierende Berichterstattung

240

dd) Erfordernis der Stellungnahme des Betroffenen

240

b) Zusammenfassung der Voraussetzungen zulässiger medialer Berichterstattung

241

3. Modifizierte Anforderungen bei amtlicher Information

241

a) Beachtung der Anforderungen

241

b) Modifizierung der Anforderungen

241

aa) Mögliche Folgen identifizierender amtlicher Informationsakte

242

bb) Berücksichtigung betroffener Verfassungsgüter

243

cc) Kein Unterschied ab Beginn einer Hauptverhandlung

246

dd) Zwischenergebnis: Modifizierung der Anforderungen

246

4. Anwendung der Grundsätze auf Ordnungswidrigkeitenverfahren

247

5. Zwischenergebnis: Grundsätzliche Zulässigkeit amtlicher Informationshandlungen

249

6. Bestätigung durch die Wertung des Art. 7 KontrollVO

249

C. Berücksichtigung der Unschuldsvermutung\x03 bei Anwendung der Ermächtigungsgrundlagen

249

I. Berücksichtigung der Unschuldsvermutung bei Ermächtigungsgrundlagen für antragsunabhängige Informationshandlungen

249

1. § 40 LFGB i. V. m. Art. 10 und Art. 17 Abs. 2 UAbs. 2 BasisVO

250

2. § 6 Abs. 1 S. 3 VIG

251

II. Berücksichtigung der Unschuldsvermutung bei Ermächtigungsgrundlagen für antragsabhängige Informationshandlungen

253

1. Art. 5 Abs. 1 S. 2 Var. 1 GG, Pressefreiheit

254

2. § 2 Abs. 1 VIG

254

3. § 475 Abs. 1, 4 StPO (i. V. m. § 49b OWiG)

254

4. Landespressegesetze

255

5. § 1 Abs. 1 S. 1 IFG-Bund

256

6. Informationsfreiheitsgesetze der Länder

257

III. Ergebnis: Berücksichtigung der Unschuldsvermutung bei Anwendung der Ermächtigungsgrundlagen

258

5. Kapitel: Zusammenfassung der Ergebnisse

260

A. Das laufende Verfahren

260

I. Behördliches Verwaltungsverfahren

260

II. Verwaltungsgerichtliches Verfahren

260

III. Ordnungswidrigkeitenverfahren

261

IV. Strafverfahren

261

B. Systematisierung und Bewertung\x03 der konkurrenzrechtlichen Verhältnisse der Ermächtigungsgrundlagen

261

I. Erfordernis einer Ermächtigungsgrundlage

261

II. Ermächtigungsgrundlagen für die antragsunabhängige Informationstätigkeit

262

III. Ermächtigungsgrundlagen für die antragsabhängige Informationstätigkeit

262

1. Jedermann

262

2. Pressevertreter

263

C. Vereinbarkeit identifizierender Informationstätigkeit während laufender Verfahren mit der Unschuldsvermutung

263

I. Geltung der Unschuldsvermutung

263

II. Inhalt und Anforderungen der Unschuldsvermutung

264

III. Berücksichtigung der Unschuldsvermutung bei Ermächtigungsgrundlagen für antragsunabhängige Informationshandlungen

264

1. § 40 LFGB i. V. m. Art. 10 und Art. 17 Abs. 2 UAbs. 2 BasisVO

264

2. § 6 Abs. 1 S. 3 VIG

264

IV. Berücksichtigung der Unschuldsvermutung bei Ermächtigungsgrundlagen für antragsabhängige Informationshandlungen

265

1. Art. 5 Abs. 1 S. 2 Var. 1 GG, Pressefreiheit

265

2. § 2 Abs. 1 VIG

265

3. § 475 Abs. 1, 4 StPO (i. V. m. § 49b OWiG)

265

4. Landespressegesetze

265

5. § 1 Abs. 1 S. 1 IFG-Bund

266

6. Informationsfreiheitsgesetze der Länder

266

Literaturverzeichnis

267

Sachwortverzeichnis

285