Criminal law: procedure & offences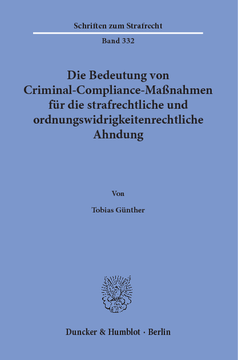 BOOK
Die Bedeutung von Criminal-Compliance-Maßnahmen für die strafrechtliche und ordnungswidrigkeitenrechtliche Ahndung
Schriften zum Strafrecht, Vol. 332
(2019)
Additional Information
Book Details
ISBN

978-3-428-55614-4
978-3-428-15614-6 (print edition)

DOI

https://doi.org/10.3790/978-3-428-55614-4

Edition

1

Language

German

Pages

242

Collections

Subjects
Pricing
Institution

€ 92.00 (incl. local VAT if applicable)

Individual

€ 71.90 (incl. local VAT if applicable)
About The Author
Tobias Günther studierte Rechtswissenschaften an der Martin-Luther-Universität Halle-Wittenberg mit dem Schwerpunkt Kriminalwissenschaften. Anschließend promovierte er als Stipendiat der Graduiertenförderung des Landes Sachsen-Anhalt sowie als wissenschaftlicher Mitarbeiter am Lehrstuhl von Prof. Dr. Kai-D. Bussmann. Seit März 2017 ist er Rechtsreferendar im Bezirk des Oberlandesgerichts Naumburg.
Tobias Günther studied law at the Martin Luther University Halle-Wittenberg with a focus on criminal science. He obtained his doctorate in law at the Martin Luther University Halle-Wittenberg as scholarship holder of the Graduate Scholarship Program of Saxony-Anhalt, and as a research associate at the chair of Prof. Dr. Kai-D. Bussmann. Since March 2017 he is an attendee of the legal preparatory training at the Higher Regional Court of Naumburg.
Abstract
Die Arbeit thematisiert die Bedeutung von Criminal-Compliance-Maßnahmen für die strafrechtliche Ahndung. Sie leistet einen Beitrag zur Diskussion um die Einführung eines Verbandsstrafrechts unter Analyse des geltenden Rechts (§§ 30, 130 OWiG). Der Autor kommt zu dem Ergebnis, dass die Aspekte der allg. Unrechtslehre (Handlung und Schuld) einem Verbandsstrafrecht nicht entgegenstehen. Es wird ein Vorschlag für ein Verbandsstrafrecht formuliert, welches tatbestandlich an ein »Organisationsdefizit« anknüpft.

Die Arbeit betrachtet die Auswirkungen von Criminal-Compliance auf Tatbestands- als auch Rechtsfolgenseite. Der Autor skizziert dabei die Auswirkungen von Compliance u.a. bei § 266 StGB, § 299 StGB als auch den Unterlassungsdelikten. Die Rechtsprechung zu § 130 OWiG wird systematisiert dargestellt. Er plädiert für eine Berücksichtigung von Compliance-Maßnahmen auf Rechtsfolgenseite. Zertifizierungen von Compliance können im Rahmen von § 261 StPO berücksichtigt werden. »The Importance of Criminal Compliance Measures for Criminal Punishment«

This dissertation examines the importance of criminal compliance measures for criminal punishment. It contributes to the discussion on introducing an association criminal law through an analysis of the applicable law (§§ 30, 130 OWiG). The effects of criminal compliance on elements of an offence and legal consequences are pointed out, in particular the effects on § 266 StGB, § 299 StGB, § 130 OWiG as well as on intentional crimes by omission (unechte Unterlassungsdelikte).
Table of Contents
Section Title
Page
Action
Price

Vorwort

5

Inhaltsverzeichnis

7

Abbildungsverzeichnis

12

Abbildung 1: Anwendungsbereiche des FCPA und UK Bribery Act

45

Abbildung 2: Verbreitungsgrad von Compliance-Programmen insgesamt

112

Abbildung 3: Verbreitungsgrad von Compliance-Programmen mit korruptionsrechtlicher Ausrichtung

113

Abbildung 4: Verbreitungsgrad von Compliance-Programmen mit korruptionsrechtlicher Ausrichtung von Unternehmen im Anwendungsbereich des FCPA und / oder UK Bribery Act

114

Abbildung 5: Verbreitungsgrad von Compliance-Programmen mit kartellrechtlicher Ausrichtung

116

Abbildung 6: Gesamtanzahl der Bonusanträge im Zeitraum von 2006 bis 2014

201

A. Einleitung und Problemaufriss

13

B. Überblick über Sanktionen gegen Unternehmen bzw. Unternehmensträger de lege lata und de lege ferenda

15

I. Die Strafbarkeit von juristischen Personen und rechtsfähigen Personenvereinigungen

16

1. Ein "echtes" Verbandsstrafrecht als tragfähiges Modell eines zukünftigen Rechts?

16

a) Strafrechtliche Aspekte in Bezug auf eine mögliche Verbandsstrafbarkeit

18

aa) Handlung und Handlungsfähigkeit von Verbänden oder ein gänzlich anderer Anknüpfungspunkt für eine Verbandsstrafe?

18

(1) Originäre Handlungsfähigkeit von Verbänden

19

(2) Anknüpfungspunkt: "Organisationsdefizit" als Zustand

22

(3) Zusammenfassung

24

bb) Schuldfähigkeit von Verbänden

24

(1) Bisherige Einwände gegen die Schuldfähigkeit von Verbänden

24

(2) Gangbare Alternativen zur Schuldbegründung von Verbänden und rechtliche Inkonsistenzen des Instituts der Verbandsgeldbuße im Sinne des § 30 OWiG

25

(a) Identifikationsmodell

26

(b) Organisationsverschulden

29

b) Anderweitige Rechtliche, kriminalpolitische und kriminologische Erwägungen in Bezug auf die Einführung einer Verbandsstrafe

34

aa) Unionsrechtliche Vorgaben zur Sanktionierung von Verbänden und Defizite der bestehenden Verbandsgeldbuße im Sinne des § 30 OWiG

34

bb) Extraterritoriale Gesetzgebung ausländischer Staaten und deren Auswirkungen auf deutsche Unternehmen

39

cc) Sonstige rechtliche Argumente für eine Verbandsstrafbarkeit

45

dd) Kriminologische Erwägungen zu einer möglichen Verbandsstrafbarkeit

47

c) Eigener Vorschlag für die Ausgestaltung eines Verbandsstrafrechts de lege ferenda

51

2. Fazit

58

II. Die geltende Verbandsgeldbuße gemäß § 30 Abs. 1, 4 OWiG

59

1. Allgemeines und konzeptionelle Struktur der Verbandsgeldbuße

59

2. Zweck des § 30 OWiG

60

3. Konzeptionelle Struktur des § 30 OWiG

61

4. Die einzelnen Voraussetzungen der Verbandsgeldbuße nach § 30 Abs. 1 OWiG

69

a) Tauglicher Adressat

69

b) Täter der Bezugs- bzw. Anknüpfungstat

70

c) Bezugs- oder Anknüpfungstat

73

aa) Betriebsbezogene Pflichten

74

(1) Theorie der Erfüllung betrieblicher Aufgaben

75

(2) Interessentheorie

77

(3) Theorie der rechtlichen oder tatsächlichen Handlungsmöglichkeit

78

(4) Rechtsprechung

79

bb) Bereicherungsalternative

81

5. Die Rechtsfolgen der Verbandsgeldbuße

81

6. Modifizierungen der Regelungen der Verbandsgeldbuße nach dem Gesetz gegen Wettbewerbsbeschränkungen

82

III. Der Tatbestand der Aufsichtspflichtverletzung im Sinne des § 130 OWiG

82

1. Struktur und Besonderheiten des § 130 OWiG

83

a) Tatbestandsstruktur

83

b) Besonderheit: Erfassung von Konzernsachverhalten?

85

2. Die einzelnen Tatbestandsvoraussetzungen

89

a) Tauglicher Täter

89

b) Tathandlung

89

c) Die Zuwiderhandlung als objektive Bedingung der Ahndung

92

d) Verhinderung bzw. Erschwerung der Zuwiderhandlung

93

3. Die Sanktionspraxis von § 130 OWiG und daran anknüpfende Reformüberlegungen

94

C. Compliance im Allgemeinen

97

I. Begriffsklärung

97

1. Der Begriff "Compliance"

97

2. Der Begriff "Criminal-Compliance"

101

3. Fazit

104

II. Rechtliche Verpflichtung zur Einrichtung einer Criminal-Compliance-Organisation?

105

1. Dezidierte Pflicht zur Einrichtung einer Criminal-Compliance Organisation?

106

a) Bisheriger Forschungsstand

106

b) Stellungnahme

107

2. Fazit

111

III. Empirische Erkenntnisse zur Verbreitung von Criminal-Compliance

111

1. Aktuelle Entwicklung

111

2. Fazit

117

IV. Die Funktion von Criminal-Compliance

117

D. Die Bedeutung von Criminal-Compliance für die strafrechtliche und ordnungswidrigkeitenrechtliche Ahndung

120

I. Begriff der "Haftung" im Sinne des Strafrechts

120

II. Auswirkungen von Criminal-Compliance \nim Vorfeld einer Straftat oder Ordnungswidrigkeit

122

III. Rechtliche Anknüpfungspunkte für Criminal-Compliance im materiellen Straf- und Ordnungswidrigkeitenrecht de lege lata

123

1. Tatbestandsebene

123

a) Vorsatztaten durch aktives Tun

124

aa) Untreue, § 266 Abs. 1 StGB

124

bb) Bestechung und Bestechlichkeit im geschäftlichen Verkehr, § 299 Abs. 1 und 2 StGB

127

(1) Bestechlichkeit, § 299 Abs. 1 Nr. 1 StGB

127

(2) Bestechlichkeit § 299 Abs. 1 Nr. 2 StGB

132

(3) Bestechung, § 299 Abs. 2 Nr. 2 StGB

134

cc) Verrat von Betriebs- und Geschäftsgeheimnissen, § 17 Abs. 1 UWG

135

b) Unterlassungsdelikte

137

aa) Unechte Unterlassungsdelikte

138

bb) Echte Unterlassungsdelikte, insbesondere der Tatbestand der Aufsichtspflichtverletzung, § 130 OWiG

142

(1) Ausschluss des objektiven Tatbestandes?

142

(2) Derzeitige Anforderungen der Rechtsprechung an die gehörige Aufsicht im Sinne des § 130 OWiG

144

(a) Das Dilemma um die Bestimmung der konkreten unternehmerischen Aufsichtspflichten im Sinne des § 130 Abs. 1 OWiG

144

(b) Einzelne unternehmerische Aufsichtspflichten im Sinne des § 130 Abs. 1 OWiG

146

(aa) Auswahlpflichten

147

(bb) Einweisungs- bzw. Instruktionspflichten

148

(cc) Überwachungs-, Untersuchungs- und Sanktionspflichten

151

(dd) Nachgelagerte Organisationspflichten

156

(c) Empirische Erkenntnisse bezüglich der Verbreitung einzelner Compliance- bzw. Aufsichtsmaßnahmen im Sinne des § 130 OWiG

158

(aa) Deliktsbereich Korruption

158

(α) Audits bzw. Kontrollen

159

(β) Compliance Officer

159

(γ) Sanktionierung von Verstößen

160

(δ) Schulungsmaßnahmen

160

(bb) Deliktsbereich Kartellrecht

161

(α) Audits bzw. Kontrollen

162

(β) Kartellrechtliche Präsenzschulungen

162

(γ) Sanktionierung von Verstößen

162

(δ) Ansprechpartner für Zweifelsfragen

162

(d) Fazit bezüglich der Aufsichtspflichten im Sinne des § 130 OWiG und daran anknüpfende rechtspolitische Überlegungen

162

(3) Zukünftige Anforderungen der Rechtsprechung an die Unternehmensaufsicht im Sinne des § 130 OWiG

166

(4) § 33 Abs. 1 Nr. 1 in Verbindung mit § 39 Abs. 2 Nr. 17c WpHG alte Fassung

169

c) Fahrlässigkeitstaten

169

d) Verbandsgeldbuße, § 30 OWiG

171

2. Ebene der Schuld bzw. Vorwerfbarkeit im Sinne des Ordnungswidrigkeitenrechts

174

3. Rechtsfolgenebene

177

a) Verbandsgeldbuße, § 30 OWiG

177

aa) Sog. Ahndungsteil der Verbandsgeldbuße

177

(1) Entschließungsermessen

177

(2) Auswahlermessen

180

bb) Sog. Abschöpfungsanteil der Verbandsgeldbuße

185

b) Geldbuße wegen einer Aufsichtspflichtverletzung im Sinne des § 130 OWiG

186

c) Ausschluss einer Berücksichtigung von Criminal-Compliance-Maßnahmen auf der Rechtsfolgenebene aufgrund wiederholter Verstöße?

188

d) Rechtliche Auswirkungen einer Zertifizierung des Criminal-Compliance Programms

190

IV. Die Berücksichtigung von Criminal-Compliance-Programmen im deutschen Kartellbußgeldverfahren

193

1. Strafrechtliche Risiken, Sanktionspraxis des Bundeskartellamts und kriminologische Befunde bezüglich der Wettbewerbskriminalität

193

2. Criminal-Compliance im deutschen Kartellbußgeldverfahren de lege lata

195

a) Die Haltung des Bundeskartellamts zur Berücksichtigungsfähigkeit kartellrechtlicher Compliance-Programme und deren kritische Würdigung

195

b) Die Bonusregelung des Bundeskartellamts

200

c) Fazit

203

V. Der Einfluss ausländischen Strafrechts auf deutsche Unternehmen und deren Compliance-Strukturen im Bereich der Korruption

203

1. Übersicht zu den Anforderungen des UK Bribery Act 2010 und dessen Richtlinie

204

a) Allgemeines zum UK Bribery Act 2010

204

b) Die Anforderungen des UK Bribery Act 2010 und dessen Richtlinie im Einzelnen

204

aa) "Proportionate procedures"

205

bb) "Top-Level Commitment"

205

cc) "Risk Assessment"

206

dd) "Due Diligence"

207

ee) "Communication"

207

ff) "Monitoring und Review"

208

2. Übersicht zu den Anforderungen des U.S. Foreign Corrupt Practices Act und dessen Richtlinie

208

a) Allgemeines zum Foreign Corrupt Practices Act

208

b) Die Anforderungen des U.S. Foreign Corrupt Practices Act und dessen Richtlinie im Einzelnen

209

aa) "Top-Level-Commitment und Richtlinie gegen Korruption"

209

bb) "Code of Conduct und Compliance-Prozesse"

209

cc) "Compliance-Officer mit ausreichender Autonomiesowie Ausstattung"

210

dd) "Risk Assessment"

210

ee) "Training (Schulungen) und Beratungen im Unternehmen"

210

ff) "System, das regelkonformes Verhalten belohnt und regelwidriges sanktioniert"

210

gg) "Monitoring bzw. Due Diligence"

210

hh) "Berichte und Internal Investigation"

210

ii) "Dauerhafte Evaluation und ggf. Anpassungen"

210

jj) "Pre-Acquisition Due Diligence and Post-Acquisition Integration"

211

3. Fazit und Vergleich zu den Aufsichtspflichten im Sinne des § 130 OWiG

211

VI. Zusammenfassung und gesetzgeberische Handlungsmöglichkeiten de lege ferenda

212

E. Ergebnisse der Arbeit

214

Literaturverzeichnis

216

Stichwortverzeichnis

240