Economic administrative law & public commercial law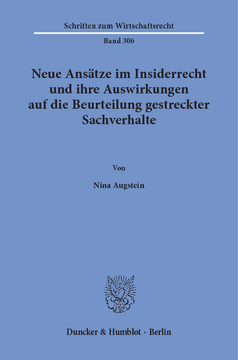 Additional Information
Book Details
ISBN

978-3-428-55635-9
978-3-428-15635-1 (print edition)

DOI

https://doi.org/10.3790/978-3-428-55635-9

Edition

1

Language

German

Pages

412

Collections

Subjects
Pricing
Institution

€ 116.00 (incl. local VAT if applicable)

Individual

€ 89.90 (incl. local VAT if applicable)
About The Author
Nina Augstein studierte Rechtswissenschaften an der Universität Osnabrück mit dem Schwerpunkt Deutsches und Europäisches Unternehmens- und Kapitalmarktrecht. 2013 absolvierte sie die erste juristische Staatsprüfung. Im Anschluss war sie promotionsbegleitend als wissenschaftliche Mitarbeiterin am Lehrstuhl von Professor Dr. Andreas Fuchs am Institut für Handels- und Wirtschaftsrecht der Universität Osnabrück tätig. Nach dem juristischen Vorbereitungsdienst im Oberlandesgerichtsbezirk Celle legte sie 2018 die zweite juristische Staatsprüfung ab.
Nina Augstein studied law at the University of Osnabrück specialised in German and European Corporate and Capital Markets Law. In 2013 she passed the first state examination. For the next three years she worked as a research assistant at the chair of Professor Dr. Andreas Fuchs in Osnabrück and wrote her doctoral thesis on Capital Markets Law. After serving her legal clerkship at the Higher Regional Court Celle she passed the second state examination in 2018.
Abstract
Die Arbeit hinterfragt die Effizienz des durch die europäische Marktmissbrauchsverordnung (MAR) und die Marktmissbrauchsrichtlinie für strafrechtliche Sanktionen (MAD II) neu regulierten Insiderrechts, sowohl hinsichtlich der Tatbestände der Insiderverbote und der Ad-hoc-Publizitätspflicht als auch hinsichtlich des Aufsichts- und Sanktionsrechts. Dabei steht die Beurteilung sogenannter gestreckter Sachverhalte im Vordergrund, welche Gegenstand der umstrittenen und teilweise wörtlich in die Neuregulierung integrierten Rechtsprechung des EuGH im Fall Geltl (Daimler/Schrempp) war. Die Arbeit gelangt zu einer im Grundsatz positiven Bewertung der Reform aufgrund von sinnvollen Erweiterungen und Konkretisierungen. Kritikpunkte bleiben aber vor allem im Hinblick auf die unvollkommene Harmonisierung, die zu Auslegungsschwierigkeiten führt. Auslegungshinweise und Verbesserungsvorschläge für künftige Regelungen werden unterbreitet, um den Umgang mit der Reform zu erleichtern und deren Effizienz zu steigern. »The New Insider Law and its Impact on Protracted Processes«

The thesis questions the efficiency of the insider law, re-regulated by the European Market Abuse Regulation (MAR) and the European Market Abuse Directive (MAD II) with regard to insider trading, ad hoc publicity, supervisory powers and sanctions, with particular focus on so-called protracted processes (EuGH (Geltl)). In general the reform is evaluated positively. Concerning remaining points of criticism the paper suggests improvements.
Table of Contents
Section Title
Page
Action
Price

Vorwort

7

Inhaltsübersicht

9

Inhaltsverzeichnis

15

Abkürzungsverzeichnis

27

Einführung

35

I. Vorüberlegungen

35

II. Problematik und Ziel der Untersuchung

37

III. Gang der Untersuchung

40

Kapitel 1: Grundlagen

42

A. Einordnung des Insiderrechts

42

I. Insiderrecht als Teil des Marktmissbrauchsrechts

42

II. Marktmissbrauchsrecht als Kapitalmarktrecht

43

III. Ergebnis

45

B. Entwicklung des Insiderrechts

45

I. Der Weg zur bindenden Regulierung in Deutschland

45

II. Die neueste Reform durch die MAR und MAD II

48

III. Ergebnis

51

C. Regulierungszwecke des Insiderrechts

51

I. Entwicklung

52

II. Kapitalmarktintegritätsschutz

52

III. Anlegerschutz als institutioneller Anlegervertrauens- und Individualrechtsschutz

54

1. Gewährleistung des Individualschutzes

55

2. Bezwecken des Individualschutzes

57

3. Zwischenergebnis

58

IV. Verhältnis der Schutzzwecke

59

1. Zusammenspiel von Anlegervertrauens- und Kapitalmarktschutz im Allgemeinen

59

2. Ausprägung im Insiderrecht

61

3. Zwischenergebnis

62

V. Kapitalmarktunion

63

VI. Ergebnis

65

D. Regulierungsbedürftigkeit

65

I. Der ökonomische Ansatz: Regulierung durch den Markt

66

II. Notwendigkeit von Gesetzen

67

III. Notwendigkeit einer Reform durch MAR und MAD II

71

1. Zu milde Regelungen

71

2. Zu große Umsetzungsspielräume

72

3. Keine Erfassung neuer Entwicklungen

74

4. Regulierung als richtiges Mittel

74

IV. Ergebnis

75

E. Regelungsmöglichkeiten

75

I. Regelungsebene

76

1. Nationales Recht

76

2. Europarecht

77

3. Ergebnis

80

II. Harmonisierungsgrad

80

1. Mindestharmonisierung

80

2. Vollharmonisierung

81

3. Ergebnis

83

III. Handlungsform

83

1. Hauptrechtsakt MAR

84

2. Annexrichtlinie MAD II

84

a) Ablehnung der Kompetenz nach Art. 83 Abs. 2 AEUV

85

b) Begründung einer Kompetenz nach Art. 83 Abs. 2 AEUV

87

3. Gespaltene Umsetzung

90

4. Ergebnis

91

IV. Eingriffsintensität

92

1. Staatliche Kontrolle

92

2. Informationsmodell

92

3. Erweitertes Informationsmodell

94

4. Ergebnis

94

V. Anknüpfung an den Begriff der Insiderinformation

94

1. Zweistufiges Modell

95

2. Einstufiges Modell

95

3. Ergebnis

97

VI. Gestreckte Sachverhalte

97

1. Bedeutung

97

2. Problematik

98

3. Regulierung

99

4. Ergebnis

101

F. Gesamtergebnis Kapitel 1

101

Kapitel 2: Anwendungsbereich des Insiderrechts und Begriff der Insiderinformation

103

A. Anlass

103

B. Anwendungsbereich des Insiderrechts

103

I. Sachlicher Anwendungsbereich

103

1. Erfasste Finanzinstrumente

104

a) Verweisung auf die MiFID II

104

b) Emissionszertifikate

104

c) Alternative Handelsplätze

105

d) Außerbörsliche Derivate

106

e) Antrag auf Zulassung

107

f) Meldepflicht

108

2. Geschäfte, Aufträge und Handlungen

108

3. Ausnahmen

109

a) Rückkaufprogramme und Stabilisierungsmaßnahmen, Art. 5 MAR

109

b) Geldpolitik, Staatsschuldenverwaltung, Klimapolitik, Agrar- und Fischereipolitik, Art. 6 MAR

111

II. Räumlicher Anwendungsbereich

112

III. Ergebnis

113

C. Der Begriff der Insiderinformation

113

I. Überblick

113

II. Präzise Information

114

1. Notwendigkeit des Merkmals

114

2. Umstände und Ereignisse

116

a) Umstände ohne Drittbezug

116

b) Umstände aus der Persönlichkeitssphäre

118

c) Zwischenergebnis

119

3. Gegenwärtige und künftige Umstände und Ereignisse

119

a) Notwendigkeit einer Grenzziehung für künftige Umstände und Ereignisse

120

b) Wahrscheinlichkeitserfordernis

122

c) Begriff der Wahrscheinlichkeit

124

d) Grad der Wahrscheinlichkeit

125

aa) Hinreichende Wahrscheinlichkeit

125

bb) 50% plus x

126

cc) Bestimmung des Wendepunktes

127

dd) Zwischenergebnis

128

e) Anwendbarkeit der probability magnitude Formel

128

f) Zwischenergebnis

129

4. Kursspezifität

130

a) Gegenwärtige Ereignisse

130

b) Handelbarkeit

130

c) Abgrenzung zum Kursbeeinflussungspotential

131

5. Die Beurteilung gestreckter Sachverhalte

132

a) Ausgangspunkt

132

b) Besonderheiten der Beurteilung

134

c) Konkretisierung für typische Fallkonstellationen

135

aa) Personalmaßnahmen

135

bb) M&A-Transaktionen

136

cc) Zwischenergebnis

137

d) Erstreckung auf ungewisse gegenwärtige Ereignisse

137

aa) Subjektive Erwägungen als präzise Informationen

138

bb) Unwahre und nicht erweislich wahre Informationen als präzise Informationen

140

6. Zwischenergebnis

141

III. Keine öffentliche Bekanntheit

142

1. Erforderlichkeit einer Bekanntmachung

142

2. Adressatenkreis

142

3. Geeignete Medien

144

4. Die Beurteilung gestreckter Sachverhalte

145

5. Zwischenergebnis

146

IV. Kursbeeinflussungspotential

146

1. Bedeutung

146

2. Richtiger Ausgangspunkt: Reasonable investor test

147

a) Erforderlichkeit eines normativen Standards

148

b) Verständiger Anleger als geeignetes Leitbild

148

3. (De-)‌Investitionsentscheidung des verständigen Anlegers

149

a) Ex ante Beurteilung

150

b) Wahrscheinlichkeit

150

c) Nutzen einer Information zur (De-)‌Investitionsentscheidung

151

aa) Nutzen aufgrund von Kursveränderungen

151

bb) Nutzen aufgrund von Kosten-Nutzen-Analyse

152

(1) Tragweite und Wahrscheinlichkeit der Information

152

(2) Richtung des Kursausschlages

153

cc) Zwischenergebnis

155

d) Anwendbarkeit der probability magnitude Formel

156

aa) Ausgangspunkt

156

bb) Vorzüge der probability magnitude Formel

156

cc) Schwächen der probability magnitude Formel

158

dd) Konkretisierung des Leitbildes des verständigen Anlegers

162

(1) Unterschiedliche Auslegung in den Mitgliedstaaten

163

(2) Einheitliche Betrachtungsweise des verständigen Anlegers nach der MAR

164

(a) Objektiv-generelle Betrachtung

165

(b) Objektiv-individuelle Betrachtung

167

(c) Zwischenergebnis

169

(3) Eigenschaften des verständigen Anlegers

170

(a) Professionalität

170

(b) Risikoneigung

172

(c) Zwischenergebnis

173

ee) Die probability magnitude Formel in abgeschwächter Form

173

e) Zwischenergebnis

174

4. Erheblichkeit des Kursbeeinflussungspotentials

175

5. Im Falle des öffentlichen Bekanntwerdens der Information

176

6. Die Beurteilung gestreckter Sachverhalte

177

a) Problematik

177

b) Bedeutung der probability magnitude Formel

178

c) Personalmaßnahmen und M&A-Transaktionen

179

7. Zwischenergebnis

181

V. Emittenten- oder Finanzinstrumentenbezug

181

1. Ausgangspunkt

181

2. Ausnahmen

183

VI. Ausnahmen vom Begriff der Insiderinformation

184

VII. Ergebnis

185

D. Gesamtergebnis Kapitel 2

186

Kapitel 3: Die Ge- und Verbotstatbestände

188

A. Anlass

188

B. Die Insiderverbotstatbestände

188

I. Überblick

188

II. Persönlicher Anwendungsbereich

189

1. Sekundärinsider

189

2. Juristische Personen

189

III. Tätigen von Insidergeschäften

191

1. Insiderinformationen in Bezug auf Finanzinstrumente

192

2. Nutzen der Information

192

a) Kausalität

192

b) Sondervorteil

194

c) Vermutung

194

3. Erwerb oder Veräußerung

196

a) Verpflichtungsgeschäft

196

b) Unterlassen

197

4. Stornierung und Änderung

197

5. Übermittlung, Änderung oder Zurücknahme eines Gebotes in Bezug auf Emissionszertifikate

199

6. Nutzen einer Empfehlung oder Verleitung

199

7. Zwischenergebnis

200

IV. Empfehlung oder Verleitung

200

1. Art. 8 Abs. 2 MAR als Auffangtatbestand

201

2. Empfehlen oder Verleiten

202

3. Auf Grundlage der Information

204

4. Zwischenergebnis

204

V. Unrechtmäßige Offenlegung von Insiderinformationen

204

1. Offenlegung

205

a) Möglichkeit der Kenntnisnahme

205

b) Neuartigkeit der Information

206

c) Unbestimmter Personenkreis

206

d) Zwischenergebnis

207

2. Weitergabe der Empfehlung oder Verleitung

208

3. Zwischenergebnis

209

VI. Beteiligung Mehrerer

209

VII. Versuch

210

VIII. Ausnahmen

211

1. Ausnahmen von der Nutzungsvermutung der verbotenen Insidergeschäfte

211

a) Überblick

212

b) Legitime Handlungen im Einzelnen

212

c) Rückausnahme

214

d) Ungeschriebene Ausnahmen

215

2. Ausnahmen von der unrechtmäßigen Offenlegung

217

a) Normale Ausübung einer Beschäftigung, eines Berufes oder der Erfüllung von Aufgaben

217

b) Verhältnis zur Ad-hoc-Publizitätspflicht

218

c) Marktsondierungen

220

aa) Zweck

220

bb) Einschränkende Auslegung

221

cc) Strengere Regulierung der MAR

221

dd) Konkretisierende Rechtsakte

222

ee) Zwischenergebnis

223

3. Zwischenergebnis

224

IX. Die Beurteilung gestreckter Sachverhalte

225

1. Voraussetzungen

225

2. Ausnahmen

225

a) Art. 9 MAR

225

b) Art. 10f. MAR

226

c) Zwischenergebnis

228

X. Ergebnis

228

C. Die Ad-hoc-Publizitätspflicht

229

I. Persönlicher Anwendungsbereich

229

II. Veröffentlichungspflicht

230

1. Veröffentlichungspflicht des Emittenten

230

a) Unmittelbares Betreffen

230

b) Falsche Veröffentlichungen und Veränderungen

232

2. Veröffentlichungspflicht des EAMP

233

3. Veröffentlichung bei befugter Offenlegung

234

a) Zweck

234

b) Regelungsgehalt

234

aa) Im Auftrag oder auf Rechnung des Emittenten oder EAMP handelnde Personen

235

bb) Kein unmittelbares Betreffen

235

cc) Ausnahme bei Verschwiegenheit

235

dd) Zwischenergebnis

236

4. Inhalt, Art und Weise der Veröffentlichung

237

a) Unverzüglich

237

b) Ermöglichung des Zugriffs und der Bewertung im amtlich bestellten System

239

c) Bereitstellung auf der Website

241

d) EAMP

242

aa) Rechtzeitig

243

bb) Öffentlich und wirksam

243

e) Übermittlung an das Unternehmensregister und Vorveröffentlichung

244

5. Zuständigkeit für die Veröffentlichung

245

a) Zuständigkeit der Führungsorgane

245

aa) Horizontale Delegation

246

bb) Vertikale Delegation

246

b) Zuständigkeit anderer Organe

247

aa) Aufsichtsrat

247

bb) Besonderer Vertreter

249

c) Zwischenergebnis

249

6. Die Beurteilung gestreckter Sachverhalte

249

a) Bekanntwerden nicht hinreichend wahrscheinlicher Endergebnisse

250

b) Divergierende Interessen über die Veröffentlichung

250

7. Zwischenergebnis

251

III. Selbstbefreiung

252

1. Tatbestand

252

a) Beeinträchtigung der legitimen Interessen

253

aa) Aktionärsinteresse

253

bb) Prognose

254

cc) Konkretisierungen

255

dd) Emissionszertifikate

256

ee) Beeinträchtigung

257

ff) Zwischenergebnis

257

b) Irreführung der Öffentlichkeit

257

aa) Informationshändlerinteresse

258

bb) Keine Irreführung durch Informationsasymmetrien

258

cc) Irreführung durch Widersprüche zum Emittenten

259

dd) Zwischenergebnis

260

c) Sicherstellung der Geheimhaltung

260

aa) Anforderungen

260

bb) Wegfall der Vertraulichkeit

262

d) Verhältnis von Emittenteninteresse und Marktinteresse

263

aa) Abwägung

264

bb) Interessengleichlauf

265

cc) Zwischenergebnis

266

e) Information der zuständigen Behörde

266

2. Entscheidung und Zuständigkeit

268

3. Vorsorgliche Selbstbefreiung

270

4. Die Beurteilung gestreckter Sachverhalte

271

a) Selbstbefreiung als Regel

271

b) Prüfung im Einzelfall

272

5. Zwischenergebnis

273

IV. Aufschub zur Wahrung der Stabilität des Finanzsystems

274

1. Zweck

274

2. Anwendungsbereich

275

3. Tatbestand

275

a) Untergrabung der finanziellen Stabilität

275

b) Öffentliches Interesse und Gewährleistung der Vertraulichkeit

277

c) Zustimmung der Behörde

278

d) Wegfall der Voraussetzungen

279

4. Entscheidung, Zuständigkeit und vorsorglicher Aufschub

279

5. Die Beurteilung gestreckter Sachverhalte

280

6. Zwischenergebnis

280

V. Ergebnis

281

D. Gesamtergebnis Kapitel 3

282

Kapitel 4: Rechtsfolgen von Verstößen

284

A. Anlass

284

B. Verwaltungsrechtliche Sanktionen und Maßnahmen

284

I. Harmonisierungsgrad der MAR

285

II. Ordnungswidriges Verhalten

285

1. Verweisung auf Ge- und Verbotsnormen

285

a) Verweisungstechnik des § 120 WpHG

286

b) Einhaltung des Bestimmtheitsgrundsatzes

287

c) Vorbehalt des Gesetzes

290

2. Verschulden

290

3. Versuch

291

4. Beteiligung Mehrerer und Zurechnung

292

5. Unterlassen

292

6. Zwischenergebnis

294

III. Sanktionen und Maßnahmen

294

1. Angemessenheit

295

2. Maßnahmenkatalog

295

a) Bußgelder

296

aa) Juristische Personen

297

bb) Mindesthöchstgrenzen

297

cc) Umsatzorientierung

298

dd) Erzielte Gewinne und vermiedene Verluste

299

ee) Umsetzung im WpHG

300

b) Weitere Maßnahmen

301

aa) Einstellung des Verhaltens

301

bb) Erlangte Gewinne und vermiedene Verluste

302

cc) Entzug der Zulassung/Verbot von Führungsaufgaben

302

dd) Naming and shaming

303

ee) Zwischenergebnis

305

3. Ahndung von Verstößen

305

a) Mindestbefugnisse

305

b) Erleichterung der Ahndung

306

c) Zusammenarbeit der Behörden

308

d) Zwischenergebnis

310

4. Festsetzung der Sanktionen

310

a) Zumessungskriterien

310

b) Verfahrensregeln

311

5. Veröffentlichung

312

6. Prozessrecht

314

7. Zwischenergebnis

315

IV. Ergebnis

315

C. Strafrechtliche Sanktionen

316

I. Überblick

316

II. Anwendungsbereich und Harmonisierungsgrad der MAD II

317

III. Verfassungsrechtliche Bedenken

319

1. Bestimmtheit und Gesetzesvorbehalt

319

2. Ne bis in idem

319

a) Straftat und Ordnungswidrigkeit

320

b) Verstoß des Europarechts

321

c) Verstoß des nationalen Rechts

322

d) Europäische Subsidiaritätsklausel

323

3. Zwischenergebnis

324

IV. Tatbestände strafbaren Verhaltens

324

1. Verstoß gegen die Insiderverbotstatbestände

324

a) Tätigen von Insidergeschäften, Anstiftung und Empfehlung

324

aa) Formelle Ausgestaltung

325

bb) Besonderheiten im Tatbestand

325

(1) Spector Photo-Vermutung

325

(2) Primär- und Sekundärinsider

326

(3) Erforderlichkeit einer Bereicherungsabsicht

327

(4) Emissionszertifikate

327

(5) Anstiften und Empfehlen

327

cc) Ausnahmen

328

b) Verbot der unrechtmäßigen Offenlegung

328

2. Verstoß gegen die Ad-hoc-Publizitätspflicht

329

3. Schwerwiegende bzw. schwere Fälle

330

4. Verschulden

331

5. Beteiligung und Versuch

332

a) Beteiligung

332

b) Versuch

333

6. Zwischenergebnis

334

V. Strafmaß

335

1. Sanktionierung natürlicher Personen

335

2. Verantwortlichkeit und Sanktionierung juristischer Personen

336

VI. Strafverfolgung und -prozess

338

VII. Ergebnis

338

D. Zivilrechtliche Sanktionen

340

I. Vorgaben des Europarechts

340

1. Verbot zivilrechtlicher Sanktionen

340

2. Gebot zivilrechtlicher Sanktionen

342

3. Zwischenergebnis

345

II. Anspruchsberechtigte

346

III. Anspruchsverpflichtete

347

IV. Anspruchsgrundlagen

347

1. Kapitalmarktinformationshaftung

347

2. (Vor-)‌Vertragliche Haftung

349

a) Vertragsschluss

349

b) Pflichtverletzung

349

3. Deliktische Haftung

350

a) § 823 Abs. 1 BGB

351

b) § 823 Abs. 2 BGB i.V.m. einem Schutzgesetz

352

c) § 824 BGB

353

d) § 826 BGB

354

4. Zwischenergebnis

355

V. Gemeinsame Voraussetzungen

356

1. Verschulden

356

2. Inanspruchnahme juristischer Personen

357

3. Schaden

358

a) Allgemeines

358

b) Ad-hoc-Pflichtverstoß

358

c) Insiderverbotsverstoß

359

d) Art des Schadensersatzes

360

e) Umfang des Schadensersatzes

362

aa) Hypothetischer Kursverlauf

363

bb) Kollateralschaden

364

4. Kausalität

365

a) Erforderlichkeit der Transaktionskausalität

366

b) Feststellung der Transaktionskausalität

367

c) Rechtmäßiges Alternativverhalten

368

5. Prozessrecht und Beweislast

369

VI. Ergebnis

371

E. Die Beurteilung gestreckter Sachverhalte

372

F. Gesamtergebnis Kapitel 4

373

Kapitel 5: Zusammenfassende Bewertung

375

A. Gewährleistung von Kapitalmarkt- und Anlegervertrauensschutz

375

I. Formeller Regelungsansatz

375

II. Inhaltliche Gestaltung im Allgemeinen

376

III. Die Normierung gestreckter Sachverhalte

377

B. Schaffung eines europäischen Kapitalmarktrechts

377

C. Fazit

381

Literaturverzeichnis

382

Stichwortverzeichnis

409