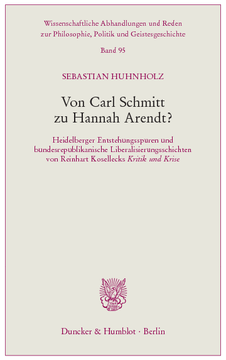 BOOK
Cite BOOK
Style
---
Huhnholz, S. (2019). Von Carl Schmitt zu Hannah Arendt?. Heidelberger Entstehungsspuren und bundesrepublikanische Liberalisierungsschichten von Reinhart Kosellecks ›Kritik und Krise‹. Duncker & Humblot. https://doi.org/10.3790/978-3-428-55570-3
Huhnholz, Sebastian. Von Carl Schmitt zu Hannah Arendt?: Heidelberger Entstehungsspuren und bundesrepublikanische Liberalisierungsschichten von Reinhart Kosellecks ›Kritik und Krise‹. Duncker & Humblot, 2019. Book. https://doi.org/10.3790/978-3-428-55570-3
Huhnholz, S (2019): Von Carl Schmitt zu Hannah Arendt?: Heidelberger Entstehungsspuren und bundesrepublikanische Liberalisierungsschichten von Reinhart Kosellecks ›Kritik und Krise‹, Duncker & Humblot, [online] https://doi.org/10.3790/978-3-428-55570-3
---
Format
---
Von Carl Schmitt zu Hannah Arendt?
Heidelberger Entstehungsspuren und bundesrepublikanische Liberalisierungsschichten von Reinhart Kosellecks ›Kritik und Krise‹
Wissenschaftliche Abhandlungen und Reden zur Philosophie, Politik und Geistesgeschichte, Vol. 95
(2019)
Additional Information
Book Details
Publisher Name

Duncker & Humblot

ISBN

978-3-428-55570-3
978-3-428-15570-5 (print edition)

DOI

https://doi.org/10.3790/978-3-428-55570-3

Edition

1

Language

German

Pages

172

Collections

Subjects
Pricing
Institution

€ 54.00 (incl. local VAT if applicable)

Individual

€ 39.90 (incl. local VAT if applicable)
About The Author
Sebastian Huhnholz ist Politologe im Bereich der politischen Theorie und Ideengeschichte. Forschungsschwerpunkte liegen bei Idealen demokratischer Staatsfinanzierung, Ordnungsmustern globaler Macht und Geschichtspolitik. Huhnholz studierte Sozialwissenschaften an der Humboldt-Universität. Promoviert wurde er bei Karsten Fischer (LMU) und Herfried Münkler (HU) über US-amerikanische Antike-Imaginationen. Er lebt in Hamburg und ist akademischer Rat a.Z. an der Leibniz-Universität. Für politikwissenschaftliche Qualifikationsarbeiten erhielt er einen Humboldt-Preis und den Dissertationspreis der Bayerischen Amerika-Akademie. Huhnholz gehört zum Redaktionsteam von www.theorieblog.de.
Abstract
Reinhart Kosellecks »Kritik und Krise« gilt heute als Klassiker. Kaum noch wird moniert, dass diese Heidelberger Dissertation sich vom geächteten Carl Schmitt begleitet zeigte. Diese bislang dennoch eher spekulierte Intensität des Einflusses von Schmitt und Schmittianern auf den frühen Koselleck soll hier erstmals auf breitere Basis gestellt werden – indem eine Gegenerzählung des öffentlichen Intellektuellen Koselleck erforscht wird. Der späte Koselleck nämlich reklamierte, seiner 1959 publizierten Doktorarbeit hätte auch eine Bekanntschaft mit Hannah Arendt und deren Werk genutzt. Tatsächlich hatte Arendts in den 1950er Jahren wachsende Prominenz die dem Holocaust rechtzeitig entkommene Wahlamerikanerin mehrfach nach Europa zurückgeführt. Ihr nationalsozialistisch belasteter früherer Studienort Heidelberg aber blieb ihr suspekt. Umso mehr muss die vorliegende Studie der Rolle Arendts für Koselleck und Schmitt kontextualistisch, politiktheoretisch und motivgeschichtlich nachspüren.»From Carl Schmitt to Hannah Arendt? The emergence and liberalization of Reinhart Koselleck's ›Kritik und Krise‹«The older Reinhart Koselleck emphasized that »Kritik und Krise« benefited from a connection with Hannah Arendt. This dissertation, which today is regarded as a classic, has long been controversial because it was influenced by Carl Schmitt. The present study combines both traces through contextuality: It explores the possibilities of early contact between Koselleck and Arendt. And it asks about the importance of Arendt for Koselleck and Schmitt and for »Kritik und Krise«.
Table of Contents
Section Title
Page
Action
Price

Inhalt

5

I. Kritik und Krise zwischen Schmittianisierung und Liberalisierung

7

II. Rechtfertigung des Themas

21

III. Kritik und Krise: Die Rezeption

35

IV. Koselleck und Schmitt

55

V. Koselleck und Arendt

83

VI. Arendts Europabesuche

92

VII. Kosellecks Arendt-Lektüre

119

VIII. Schlussfolgerungen

135

Abbildungsnachweise

143

Quellen- und Literaturverzeichnis

144

Quellen

144

Literatur

144

Dank

169

Namenregister

170