Comparative law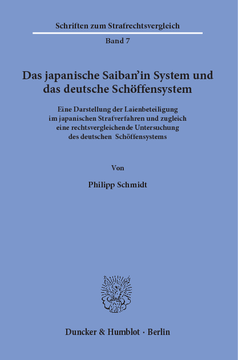 BOOK
Das japanische Saiban'in System und das deutsche Schöffensystem
Eine Darstellung der Laienbeteiligung im japanischen Strafverfahren und zugleich eine rechtsvergleichende Untersuchung des deutschen Schöffensystems
Schriften zum Strafrechtsvergleich, Vol. 7
(2019)
Additional Information
Book Details
ISBN

978-3-428-55655-7
978-3-428-15655-9 (print edition)

DOI

https://doi.org/10.3790/978-3-428-55655-7

Edition

1

Language

German

Pages

251

Collections

Subjects
Pricing
Institution

€ 104.00 (incl. local VAT if applicable)

Individual

€ 79.90 (incl. local VAT if applicable)
About The Author
Philipp Schmidt studierte Rechtswissenschaft an der juristischen Fakultät Augsburg. Nach der Ersten Juristischen Prüfung 2015/II war er ab April 2016 als wissenschaftlicher Mitarbeiter am Lehrstuhl von Herr Prof. Dr. Johannes Kaspar für Strafrecht, Strafprozessrecht, Kriminologie und Sanktionenrecht der Universität Augsburg tätig. Im März 2017 hielt er sich als Gastwissenschaftler am Institut für Rechtsvergleichung der juristischen Fakultät der Meiji Universität Tokio auf.
Philipp Schmidt studied law at the University of Augsburg. After his First State Law Examination in the year 2015 he began to work as a Research Associate of Prof. Dr. Johannes Kaspar at the Chair of Criminal Law, Criminal Procedural Law, Criminology and Criminal Sanctions, University of Augsburg. In March 2017 he was an Invited Researcher at the Institute of Comparative Law of the Meiji University Tokyo.
Abstract
Am 21.05.2009 trat in Japan das sog. »Gesetz zur Beteiligung von Laienrichtern am Strafverfahren« in Kraft. Seitdem finden in Japan zum ersten Mal seit den 1940er Jahren Strafverfahren statt, bei denen Bürger in einer einzigartigen Mischform zwischen Jury- und Schöffensystem zusammen mit Richtern sowohl über die Schuld-, als auch über die Straffrage entscheiden. Die Arbeit verfolgt zwei Ziele: Hauptaugenmerk liegt auf einer umfassenden Darstellung der japanischen Rechtslage unter Auswertung des japanischen Schrifttums. Hierbei erfolgt ebenfalls eine allgemeine Darstellung des japanischen Strafverfahrensrechts, um das Saiban'in System im Gesamtkontext verstehen zu können. Im Anschluss erfolgt der Bericht eines vom Verfasser am Distriktgericht Tokios beobachteten Saiban'in Verfahrens. Im zweiten Teil der Arbeit werden das deutsche Schöffensystem und das japanische Saiban'in System rechtsvergleichend untersucht. »The Saiban'in System and the German Lay Judge System«

This publication contains a description of the current legal situation of the so called »Saiban'in System« in Japan, after evaluating Japanese sources. The Saiban'in System is a lay judge system with elements of the German Lay Judge System and the Anglo-American Jury System. The second part of the publication consist of a comparison of law between the two systems.
Table of Contents
Section Title
Page
Action
Price

Vorwort

5

Inhaltsverzeichnis

7

Abkürzungsverzeichnis

14

Einleitung

17

Teil 1: Das deutsche Schöffensystem

20

A. Laienbeteiligung in der deutschen Rechtstradition

20

I. Die Situation der Beteiligung von Laien am Strafprozess zu Beginn des 19. Jahrhunderts

20

II. Der Kampf um die Schwurgerichte und das Aufkommen der Schöffengerichte

22

1. Anfänge und Grundlagen der Schwurgerichte

22

2. Das Schwurgericht in Deutschland

23

a) Französische Besatzung und Vormärz

23

b) Das Schwurgericht nach 1848

26

3. Das Aufkommen der Schöffengerichtsidee

27

III. Die Laienbeteiligung vom Deutschen Reich bis heute

27

B. Die gegenwärtige Rechtslage des deutschen Schöffensystems

32

I. Sinn und Zweck des Schöffensystems

32

1. Demokratieprinzip

32

2. Verbesserung der Qualität der Rechtsprechung

33

3. Volkspädagogischer Effekt

34

4. Begründung des Gesetzgebers

34

II. Auswahl der Schöffen

34

1. Wahlverfahren

34

2. Unfähigkeit und Ungeeignetheit für das Schöffenamt

38

a) Unfähigkeit zum Schöffenamt

38

b) Ungeeignetheit zum Schöffenamt

40

c) Ablehnung des Schöffenamtes

42

3. Ausschließung und Ablehnung

43

III. Zuständigkeit der Schöffen

45

1. Zuständigkeit und Zusammensetzung des Schöffengerichts und des Jugendschöffengerichts

45

a) Schöffengericht

45

b) Jugendschöffengericht

47

2. Schöffen am Landgericht

48

a) Zuständigkeit und Zusammensetzung der Großen Strafkammer

48

b) Zuständigkeit und Zusammensetzung der Kleinen Strafkammer

49

3. Jugendkammern

49

4. Hilfsschöffen und Ergänzungsschöffen

50

a) Hilfsschöffen

50

b) Ergänzungsschöffen

51

IV. Rechte und Pflichten der Schöffen

51

1. Rechtliche Stellung der Schöffen

51

2. Rechte der Schöffen

52

a) Akteneinsicht

52

b) Fragerecht der Schöffen

56

3. Schutz der Schöffen

58

a) Benachteiligungsverbot

58

b) Strafvorschriften

59

3. Pflichten der Schöffen und Folgen bei Verstoß

59

a) Wahrung des Beratungsgeheimnisses

59

b) Verfassungstreuepflicht

60

c) Anwesenheitspflicht bei der Hauptverhandlung

61

d) Eidesleistung

61

e) Abstimmungspflicht

62

f) Ordnungsgeld § 56 GVG

62

V. Dienstende, Entbindung und Amtsenthebung

63

1. Dienstende

63

2. Entbindung § 54 GVG

64

3. Amtsenthebung § 51 GVG

66

4. § 52 GVG

67

VI. Urteilsberatung und Abstimmung

68

1. Rechtliche Ausgestaltung

68

2. Die Schöffen in der Urteilsberatung und Abstimmung

70

3. Strafzumessung

74

4. Urteilsbegründung und Unterschrift

74

VII. Verfassungsmäßigkeit des Schöffensystems

75

Teil 2: Das japanische Saiban'in System

76

A. Laienbeteiligung in der japanischen Rechtstradition

76

I. Einführung

76

II. Das japanische Geschworenengericht von 1923

77

1. Die Einführung des Geschworenengerichts von 1923

77

2. Rechtliche Ausgestaltung

79

III. Entwicklungen nach dem Zweiten Weltkrieg

81

1. Besatzung

81

2. Entwicklung bis in die 1990er Jahre

82

IV. Die Kommission zur Reform des Justizwesens (JSRC)

85

V. Gesetzgebungsprozess

88

B. Einführung in den japanischen Strafprozess

89

I. Gerichtsaufbau

89

1. Oberster Gerichtshof

90

2. Obergerichte

90

3. Distriktgerichte

91

4. Amtsgerichte

91

5. Familiengerichte

91

II. Einführung in das japanische Strafverfahren

91

1. Grundlagen

91

2. Rolle der Verfahrensbeteiligten

93

a) Richter

93

b) Staatsanwaltschaft

93

c) Verteidiger

95

3. Ablauf des Verfahrens

96

a) Ermittlungsverfahren

96

b) Vorbereitendes Verfahren

100

c) Hauptverhandlung

102

d) Rechtsmittel

103

aa) Kōkoku

103

bb) Kōso

103

cc) Jōkoku

105

C. Die Ausgestaltung des japanischen Saiban'in Systems nach dem Saiban'in Gesetz (SIG) von 2009

106

I. Sinn und Zweck der Laienbeteiligung

106

II. Auswahl der Saiban'in

107

1. Verfahren

107

a) Vorbereitung der Kandidatenliste

107

b) Auswahl für die Einzelfälle

109

aa) Vorbereitung und Ladung

109

bb) Der Tag des Auswahlverfahrens

112

(1) Befragung aller

114

(2) Verkürztes Frageverfahren

117

(3) Losziehung im Voraus

117

cc) Ernennung

118

dd) Opferschutz im Auswahlverfahren

118

2. Empirische Erkenntnisse

119

3. Ausschluss- und Ablehnungsgründe

120

a) Ausschlussgründe

120

aa) Allgemeine Ausschlussgründe nach Art, 14, 15 SIG

120

bb) Fallbezogene Ausschlussgründe

122

b) Ablehnungsgründe

123

III. Zuständigkeit der Saiban'in

125

1. Ausgangslage

125

2. Ausschluss der Zuständigkeit durch Gerichtsentscheidung

127

a) Drohende Angriffe auf Saiban'in

127

b) Außergewöhnlich lange Verfahrensdauer

127

c) Art. 17 I Nr. 2, II JStPO

129

3. Zusammenlegung von Verfahren

129

4. Saiban'in Verfahren in Jugendstrafsachen

130

IV. Zusammensetzung des Saiban'in Gerichtes

131

V. Ergänzungssaiban'in

132

VI. Rechte und Pflichten der Saiban'in

133

1. Rechte

133

a) Akteneinsichtsrecht der Saiban'in

133

b) Fragerecht

134

c) Teilnahme an Entscheidungen

135

d) Unabhängigkeit

135

e) Schutzvorschriften

135

aa) Benachteiligungsverbot

135

bb) Schutz persönlicher Daten

136

cc) Kontaktverbot

137

dd) Straftaten

137

f) Entschädigungen

139

2. Pflichten

140

a) Inhalt der Pflichten

140

aa) Geheimhaltungspflicht

140

bb) Anwesenheitspflicht

142

cc) Amtsausübung

142

dd) Pflichten in Zusammenhang mit den Beratungen

143

VII. Dienstende und Entlassung

143

1. Dienstende

143

2. Entlassung

144

a) Pflichtverletzung

144

aa) Entlassungsgründe

144

bb) Entlassungsverfahren

145

(1) Verfahren beim Entlassungsantrag

145

(2) Verfahren bei der Entlassung von Amtswegen

146

b) Bitte um Entlassung

146

c) Besondere Entlassung von Ergänzungssaiban'in

147

D. Besonderheiten im Saiban'in Verfahren

147

I. Vorbereitendes Verfahren

147

II. Hauptverhandlung

148

III. Urteilsberatung und Strafzumessung

151

1. Urteilsberatung

151

2. Abstimmungen

153

3. Strafzumessung

155

a) Allgemeines

155

b) Strafzumessung im Saiban'in Verfahren

157

aa) Strafzumessungsdatenbank

157

bb) Funktionsweise der Datenbank

158

c) Empirische Erkenntnisse zur Entwicklung der Strafzumessung nach der Einführung des Saiban'in Systems

159

4. Empirische Daten

161

IV. Überprüfung durch das Rechtsmittelgericht

162

1. Tatsachenfeststellung

162

2. Strafzumessung

164

V. Saiban'in Verfahren am Distriktgericht Tokio vom 9.3.2017 bis 17.3.2017

165

1. Erster Prozesstag (9.3.2017)

165

a) Allgemeines

165

b) Eröffnungsverfahren

167

c) Beweisaufnahme

167

aa) Urkundenbeweise und Beweisstücke

168

bb) Zeugenbefragung Polizeibeamter

169

2. Zweiter Prozesstag (10.3.2017)

170

3. Dritter Prozesstag (13.3.2017)

172

a) Zeugenbefragung Zollbeamter 2

172

b) Befragung des A

173

4. Vierter Prozesstag (14.3.2017)

175

a) Befragung durch die Verteidigung

175

b) Befragung durch die Staatsanwaltschaft

176

c) Erneute Befragung durch die Verteidigung

177

d) Befragung durch die Richter

177

5. Fünfter Prozesstag (15.3.2017)

178

6. Urteilsverkündung (17.3.2017)

178

7. Generelle Beobachtungen

179

E. Saiban'in Verfahren und die Todesstrafe

180

I. Grundsätzliches und empirische Erkenntnisse

180

1. Rechtslage

180

2. Haft und Vollstreckung

183

3. Verfassungsmäßigkeit und öffentliche Akzeptanz der Todesstrafe

185

II. Das Saiban'in System und die Todesstrafe

187

1. Die Todesstrafe und das Saiban'in Auswahlverfahren

190

2. Reiner Mehrheitsbeschluss

191

3. Nachprüfung in den Rechtsmittelinstanzen

192

4. Auswirkungen auf die Saiban'in

193

F. Saiban'in Verfahren in der öffentlichen Wahrnehmung

194

I. Ausgangslage

194

II. Öffentlichkeitsarbeit

195

G. Veränderungen seit Einführung des Saiban'in Systems

197

Teil 3: Rechtsvergleichende Betrachtung

199

A. Vergleich

199

I. Allgemeines

199

II. Vergleich der beiden Laienbeteiligungssysteme

199

1. Auswahl der Bürger

199

a) Auswahlverfahren

199

b) Nichtheranziehung zum Amt

201

2. Zuständigkeit von Laienrichtern

205

a) Erstinstanzliche Zuständigkeit

205

aa) Grundsätzliche Zuständigkeit

205

bb) Herausnahme aus dem Anwendungsbereich

206

cc) Staatsschutzdelikte

207

dd) Jugendsachen

208

b) Zweitinstanzliche Zuständigkeit

209

3. Zusammensetzung der Gerichte bei Laienbeteiligung

210

4. Rechte und Pflichten der Laienrichter/Folgen bei Verstößen

212

a) Rechte

212

aa) Richterliche Unabhängigkeit

212

bb) Akteneinsicht

213

cc) Fragerecht in der Hauptverhandlung

214

dd) Schutz der Laien

215

b) Pflichten

218

c) Folgen bei Pflichtverstößen

219

5. Urteilsberatung und Strafzumessung

221

B. Zusammenfassung der Vergleichsergebnisse

223

Teil 4: Schlussbemerkungen

228

Literaturverzeichnis

234

Stichwortverzeichnis

249