Legal history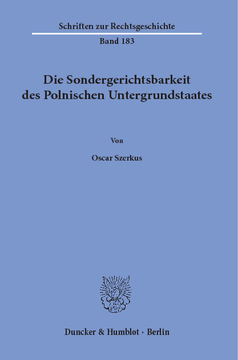 Additional Information
Book Details
ISBN

978-3-428-55681-6
978-3-428-15681-8 (print edition)

DOI

https://doi.org/10.3790/978-3-428-55681-6

Edition

1

Language

German

Pages

470

Collections

Subjects
Pricing
Institution

€ 126.00 (incl. local VAT if applicable)

Individual

€ 98.90 (incl. local VAT if applicable)
About The Author
Der Autor ist deutsch-polnischer Jurist und Schriftsteller. Im Jahre 2002 zog er mit seinen Eltern nach Deutschland. Nach dem Abitur in Berlin studierte er Rechtswissenschaften an der Europa-Universität Viadrina, danach an der Freien Universität Berlin, wo er ein rechtsgeschichtliches Schwerpunktstudium absolvierte. Während seines Promotionsvorhabens bei Prof. Dr. Ignacio Czeguhn an der Freien Universität war er auch Wissenschaftlicher Mitarbeiter bei Prof. Dr. Oliver L. Knöfel (Europa-Universität Viadrina). Er publizierte zahlreiche juristische Fachartikel; Anfang 2018 erschien sein erster Roman. Seit August 2018 ist er Rechtsreferendar im Kammergerichtsbezirk Berlin.
Oscar Szerkus is a Berlin-based lawyer and novelist. In 2002 he moved with his parents from Poland to Germany, where he attended high school and college. After graduating from Freie Universität Berlin, Faculty of Law, he started independent research with Prof. Dr. Ignacio Czeguhn on wartime jurisdiction in occupied Poland in WWII. During this time, he retained a position as research assistant in Private International Law with Prof. Dr. Oliver L. Knöfel at Europa-Universität Viadrina in Frankfurt (Oder). He is the author or co-author of numerous academic papers; in 2018 he published his first novel.
Abstract
Nach der Flucht seiner Regierung ins Exil setzte Polen ab Ende September 1939 den Verteidigungskampf fort. Zusammen mit der Exilregierung bildete die im okkupierten Inland omnipräsente Widerstandsorganisation ZWZ/AK den Polnischen Untergrundstaat. Neben strikt militärischen und ziviladministrativen Branchen fand im Schatten der besatzungstypischen Gewaltregimes des Dritten Reiches und der Sowjetunion eine »rein polnische« Gerichtsbarkeit statt. Sie stützte sich auf das geltende Vorkriegsrecht, das von kriegsbedingter Spezialgesetzgebung flankiert wurde. Überwiegend konzentriert in den Ballungszentren Warschau und Krakau sprachen jene Sondergerichte Recht im Namen der Republik Polen.

Die Untersuchung stellt den bisher ersten Versuch einer monographischen Erfassung der Thematik aus juristischer Sicht dar. Unter Berufung auf teilweise neu erschlossenem Quellenmaterial analysiert der Autor die rechtliche Dimension des Faktischen – des Überlebenskampfes einer existenzbedrohten Nation. »Special Courts of the Polish Underground State«

Having collapsed in September 1939, the Polish government reconvened in London, from where it continued legislative business. It organised the resistance in occupied Poland and supervised its jurisdiction. In accordance with distinct provisions in the Polish constitution, the Underground State became the only successor of pre-war Poland. Special Courts were the courts of the Polish Underground State. In an unprecedented approach this study examines the legal grounds for a Polish jurisdiction and their practical implementation under the dire circumstances of continued war and occupation.
Table of Contents
Section Title
Page
Action
Price

Vorwort

5

Inhaltsverzeichnis

7

Abkürzungsverzeichnis

11

Einleitung

15

§ 1 Gegenstand und Ziele der Untersuchung

19

§ 2 Forschungsstand

26

§ 3 Quellenlage

34

§ 4 Terminologie und Übersetzungen

36

A. Terminologie

37

I. Untergrundstaat, Untergrundgerichte

37

II. Exilregierung

42

III. Andere Begriffe

43

B. Übersetzungen

43

§ 5 Aufbau der Arbeit

50

Kapitel 1: Polskie Państwo Podziemne – der Polnische Untergrundstaat

51

§ 1 Entstehung und Vorgänge im Ausland

53

A. Errichtung der Exilregierung in Frankreich

58

I. Paris

58

II. Angers

72

B. Exilregierung in London

80

I. Neuanfang

81

II. Verantwortung für die Evakuation

97

III. Goldreserven des Bank Polski

106

IV. Pokłosie: Die Folgen der Eigenwilligkeit des Regierungschefs

111

V. Ausblick

123

§ 2 Vorgänge im Inland: Fortsetzung der Heimatverteidigung

123

A. Begriff des Widerstandes und der Verteidigung

125

B. Fortsetzung des Verteidigungskampfes

129

I. SZP

133

II. ZWZ

156

III. Armia Krajowa

174

§ 3 Zwischenergebnis

185

Kapitel 2: Untergrundgerichtsbarkeit

187

§ 1 Grundriss

190

A. Ziele

190

I. Gerichtsbarkeit als Tradition

190

1. Konzeption in der SZP

191

2. Konzeption im ZWZ

193

3. Konzeption in der AK

194

4. Konzeption in der Regierungsdelegatur

194

II. Gerichtsbarkeit als Instrument

194

1. Staatlichkeit

195

2. Gerechtigkeit

195

3. Widerstand

196

4. Disziplinierung

203

B. Aufbau

209

I. Gerichtsbarkeit der II. Rzeczpospolita

210

1. Besondere Gerichtsbarkeit

211

2. Insbesondere: Militärgerichtsbarkeit

212

a) Grundzüge der Organisation

212

b) Verbindlichkeit und Adaptivität

214

c) Zusammensetzung der Spruchkörper

215

d) Ordentliche Gerichtsbarkeit

217

II. Gerichtsbarkeit Untergrundpolens

222

1. Horizontaler Aufbau

222

a) Aufbau nach dem Verfahrenskodex von 1940

225

b) Kompetenzerweiterung nach dem Verfahrenskodex von 1940

225

c) Aufbau nach den Statuten von 1941 bzw. 1942

228

2. Vertikaler Aufbau

232

a) Aufbau nach dem Verfahrenskodex von 1940

234

b) Aufbau nach den Statuten von 1941 bzw. 1942

235

c) Approbationsstelle als Instanz

236

C. Zuständigkeiten

238

I. Vorkriegsgerichte

240

1. Militärgerichte

240

2. Strafgerichte

246

a) Allgemeines

246

b) Verhältnis zur militärischen Strafgerichtsbarkeit

248

3. Zivilgerichte

250

II. Untergrundgerichte

252

1. Örtlich

253

a) Gesamtzuständigkeit

253

b) Allgemeiner Gerichtsstand nach dem Verfahrenskodex von 1940

255

c) Allgemeiner Gerichtsstand nach dem MilGerStat

260

d) Allgemeiner Gerichtsstand nach dem ZivGerStat

264

2. Sachlich

267

3. Persönlich

277

4. Instanziell

282

§ 2 Genese und Institutionalisierung

285

A. Si vis pacem, para iustitiam

288

B. Ubi civitas, ibi ius

301

§ 3 Untergrundgerichtsbarkeit als echte Gerichtsbarkeit

313

A. Rechtsprechung in der Aprilverfassung von 1935

314

I. Stellung und Funktion der Rechtsprechung

314

II. Maßgeblichkeit der Aprilverfassung von 1935

318

1. Verfassungsinhärentes Kontinuitätsgebot

318

2. Völkerrechtlicher Maßstab

322

B. Untergrundgerichtsbarkeit als rechtmäßige Sondergerichtsbarkeit

327

I. Verfassungsmäßigkeit

327

1. Prinzip der Gesamtterritorialität

328

2. Prinzip der Exklusivität

330

3. Prinzip der (personellen) Universalität

332

4. Prinzip der Legalität

334

5. Prinzip der Professionalität

337

6. Prinzip der Bevölkerungsdisziplinierung

340

7. Problem der Instanzlosigkeit

341

8. Problem der Fremdkontrolle

342

9. Ergebnis

343

II. Sonstige Gesetzmäßigkeit

344

§ 4 Zwischenergebnis

350

Kapitel 3: Verfahren vor dem Untergrundgericht

353

§ 1 Rechtsquellen

353

A. Polnisches Vorkriegsrecht

354

I. Verweise

354

II. Praxis

356

B. Autonomes Recht Untergrundpolens

359

§ 2 Verfahrensablauf

361

A. Ermittlungen

361

I. Einleitung und Durchführung

361

II. Beweismittel

367

III. Abschluss

373

B. Verhandlung

379

C. Urteil

381

I. Beispiel eines konzisen Urteils

385

II. Beispiel eines ausführlichen Urteils

386

III. Bestätigung und Promulgation

389

D. Vollstreckung

391

E. Kontroversen

394

F. Ergebnis

396

Gesamtergebnis

397

Anhänge

403

Anhang 1: Verfassung der Republik Polen vom 23. April 1935

404

Anhang 2: Organisationsstatut des ZWZ (Auszug), 4. Dezember 1939

419

Anhang 3: Beschluss des Ministerkomitees für Heimatangelegenheiten vom 16. April 1940 über Kapturgerichte in der Heimat

423

Anhang 4: Verfahrenskodex der Kapturgerichte beim Verband für den Bewaffneten Kampf

424

Anhang 5: Materielle Vorschriften zum Verfahrenskodex der Kapturgerichte

429

Anhang 6: General Rowecki an General Sikorski, Meldung Nr. 88 vom 20. November 1941 (Auszug)

430

Anhang 7: Statut der Militärischen Sondergerichte

431

Anhang 8: Statut der Zivilen Sondergerichte

434

Literaturverzeichnis

437

Archivmaterial

461

Gesetzesverzeichnis

462

Personen- und Sachverzeichnis

467