Comparative law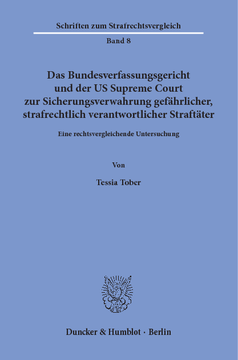 BOOK
Das Bundesverfassungsgericht und der US Supreme Court zur Sicherungsverwahrung gefährlicher, strafrechtlich verantwortlicher Straftäter
Eine rechtsvergleichende Untersuchung
Schriften zum Strafrechtsvergleich, Vol. 8
(2019)
Additional Information
Book Details
ISBN

978-3-428-55353-2
978-3-428-15353-4 (print edition)

DOI

https://doi.org/10.3790/978-3-428-55353-2

Edition

1

Language

German

Pages

262

Collections

Subjects
Pricing
Institution

€ 104.00 (incl. local VAT if applicable)

Individual

€ 79.90 (incl. local VAT if applicable)
About The Author
Tessia Tober hat an der Goethe-Universität in Frankfurt am Main Rechtswissenschaften studiert. Nach Beendigung des Studiums legte sie das M.Jur.-Programm am Brasenose College der University of Oxford sowie das Rechtsreferendariat am Hanseatischen Oberlandesgericht in Hamburg ab. Im Rahmen der ihrer Dissertation zugrunde liegenden Untersuchung absolvierte sie einen sechsmonatigen Forschungsaufenthalt an der Columbia University in New York. Aktuell ist Tessia Tober als Unternehmensberaterin tätig.
Tessia Tober studied law at Goethe University in Frankfurt am Main. After completing her studies, she attended the M.Jur. program at Brasenose College, University of Oxford, and conducted her legal clerkship at the Higher Regional Court in Hamburg. As part of her work on her doctoral thesis, she spent six months as visiting scholar at Columbia University in New York. Tessia Tober is currently working as a management consultant.
Abstract
Ende des letzten Jahrhunderts ist in Deutschland eine vermeintlich empfindliche Sicherheitslücke beim effektiven Schutz vor gefährlichen Straftätern erkannt worden, deren Schließung von der Bevölkerung unter dem Eindruck einiger medial stark beachteter Sexualstraftaten verlangt wurde. Auch in den USA ist Sicherheit zu einem Leitmotiv für Reformen des Strafrechts geworden. Zwangsläufig haben sich infolge der Veränderungen des Rechts der Sicherungsverwahrung auch die Verfassungsgerichte beider Länder mit der Verfassungsmäßigkeit dieser freiheitsentziehenden Sanktionen befassen müssen. Die Autorin hat daher eine rechtsvergleichende Untersuchung durchgeführt und analysiert, wie sich zwei moderne Rechtssysteme denselben verfassungsrechtlichen Herausforderungen gestellt haben. Sie legt dar, dass beide Verfassungsgerichte aufgrund eines unterschiedlichen Verständnisses über den richtigen Umgang mit Straftätern divergierende Lösungen hervorbringen. »The Federal Constitutional Court of Germany and the U.S. Supreme Court on Preventive Detention«

Owing to increased emphasis in criminal law policy on security, utilization of the instrument of preventive detention has gradually been extended in Germany and the United States since the end of the past century. It is therefore appropriate to conduct a comparative study of how two constitutional courts have approached the same constitutional challenges. It will be outlined that disparate solutions are generated mainly because of a different understanding of the proper handling of criminals.
Table of Contents
Section Title
Page
Action
Price

Vorwort

5

Inhaltsverzeichnis

7

Einleitung

15

1. Teil: Die Rechtsprechung des Bundesverfassungsgerichts zur Sicherungsverwahrung

18

A. Kurzüberblick über das Strafrechtssystem in der Bundesrepublik Deutschland

18

I. Rechtsquellen des Strafrechts in Deutschland

18

II. Das Schuldprinzip als Grundlage des deutschen Strafrechts

20

III. In Deutschland anerkannte Strafzwecke

22

IV. Zur Bedeutung des Resozialisierungsgedankens in Deutschland

23

V. Die Zweispurigkeit des Sanktionensystems des Strafgesetzbuches

24

B. Die frühe rechtsgeschichtliche Entwicklung der Sicherungsverwahrung – Entwicklung präventiver Maßnahmen gegen schuldfähige Täter

26

I. Die Entwicklung bis zum Ende der Weimarer Republik

26

II. Die Einführung der Sicherungsverwahrung durch das Gewohnheitsverbrechergesetz

28

III. Die Entwicklung des Rechts der Sicherungsverwahrung nach 1945

30

C. Frühe Entscheidungen des Bundesverfassungsgerichts zur Sicherungsverwahrung

31

I. Frühe Entscheidungen des Bundesverfassungsgerichts zur Vollstreckung und zum Vollzug der Sicherungsverwahrung

31

II. Erstmalige Überprüfung der Vereinbarkeit der Sicherungsverwahrung mit dem Grundgesetz durch das Bundesverfassungsgericht

32

D. Die Entscheidungen des Bundesverfassungsgerichts im Jahre 2004 und ihre Umsetzung durch den Gesetzgeber

34

I. Die kriminalpolitische Trendwende in Deutschland seit 1998

34

1. Die kriminalpolitische Ausgangslage

34

2. Das Gesetz zur Bekämpfung von Sexualdelikten und anderen gefährlichen Straftaten

36

a) Abschaffung der Befristung der ersten Sicherungsverwahrung

37

b) Herabsetzung der Voraussetzungen für die Anordnung der Sicherungsverwahrung

37

3. Das Gesetz zur Einführung der vorbehaltenen Sicherungsverwahrung

38

4. Die landesrechtlichen Straftäter-Unterbringungsgesetze

39

II. Das Urteil des Bundesverfassungsgerichts vom 05. Februar 2004

40

1. Der der Entscheidung zugrundeliegende Sachverhalt

41

2. Überprüfung der Verfassungsmäßigkeit der vorhandenen Regelungen über die Sicherungsverwahrung

42

a) Vereinbarkeit mit der Menschenwürde, Art. 1 Abs. 1 GG

43

b) Vereinbarkeit mit der Freiheit der Person, Art. 2 Abs. 2 S. 2 GG

45

c) Vereinbarkeit mit dem Rückwirkungsverbot, Art. 103 Abs. 2 GG

47

d) Vereinbarkeit mit dem Vertrauensschutzgebot, Art. 2 Abs. 2 i.V.m. Art. 20 Abs. 3 GG

48

III. Das Urteil des Bundesverfassungsgerichts vom 10. Februar 2004

49

1. Der der Entscheidung zugrunde liegende Sachverhalt

49

2. Kompetenzrechtliche Zuständigkeit zur Regelung der nachträglichen Sicherungsverwahrung

51

3. Die Weitergeltungsanordnung durch das Bundesverfassungsgericht

53

4. Verfassungsrechtliche Vorgaben für die Ausgestaltung der Unterbringung

54

5. Abweichendes Votum der Richter Broß, Osterloh und Gerhardt

55

IV. Rechtspolitischer Hintergrund der beiden Urteile des Bundesverfassungsgerichts vom Februar 2004

56

V. Das Gesetz zur Einführung der nachträglichen Sicherungsverwahrung

57

1. Die nachträgliche Sicherungsverwahrung für Mehrfachtäter gem. § 66b Abs. 1 StGB

58

2. Die nachträgliche Sicherungsverwahrung für Ersttäter gem. § 66b Abs. 2 StGB

59

3. Die nachträgliche Sicherungsverwahrung nach Unterbringungserledigung gem. § 66b Abs. 3 StGB

59

VI. Beschluss des Bundesverfassungsgerichts vom 23. August 2006 zur bundesrechtlich eingeführten nachträglichen Sicherungsverwahrung

59

1. Der der Entscheidung zugrunde liegende Sachverhalt

60

2. Verfassungsmäßigkeit der Neuregelungen zur nachträglichen Sicherungsverwahrung

60

3. Verfassungswidrigkeit der gegen den Beschwerdeführer ergangenen Anordnung der Sicherungsverwahrung

61

VII. Kritische Würdigung der kriminalpolitischen Trendwende in Deutschland

62

E. Das Urteil des Europäischen Gerichtshofes für Menschenrechte im Verfahren "M. gegen Deutschland" und die verfassungsrechtlichen Konsequenzen in Deutschland

64

I. Die Entscheidung des EGMR "M. gegen Deutschland" vom 17. Dezember 2009

65

1. Der der Entscheidung zugrundeliegende Sachverhalt

65

2. Rechtstatsächliche Analyse des Vollzugs der Sicherungsverwahrung des M.

65

3. Statistische Angaben zur bundesweiten Praxis der Sicherungsverwahrung

66

4. Rechtsvergleichende Bemerkungen des EGMR

66

5. Bezugnahme auf Stellungnahmen internationaler Überwachungsorgane zur Sicherungsverwahrung

67

6. Maßgebliche Entscheidungsgründe

68

a) Verstoß gegen Art. 5 I EMRK

68

aa) Verstoß gegen Art. 5 I lit. a) EMRK

68

bb) Art. 5 Absatz 1 lit. c) EMRK

70

cc) Art. 5 Absatz 1 lit. e) EMRK

70

dd) Vorhersehbarkeit

71

b) Verstoß gegen das Rückwirkungsverbot des Art. 7 Abs. 1 EMRK

71

II. Die Reform des Rechts der Sicherungsverwahrung als Folge des Urteils des EGMR

73

1. Änderungen im Bereich der Sicherungsverwahrung

73

a) Konsolidierung der primären Sicherungsverwahrung

74

b) Ausbau der vorbehaltenen Sicherungsverwahrung

75

c) Beschränkung der nachträglichen Sicherungsverwahrung

75

2. Einführung der Möglichkeit der elektronischen Aufenthaltsüberwachung

76

3. Das Gesetz zur Therapierung und Unterbringung psychisch gestörter Gewalttäter

76

III. Das Urteil des Bundesverfassungsgerichts vom 04. Mai 2011 und die weitere gesetzgeberische Entwicklung

77

1. Der der Entscheidung zugrundeliegende Sachverhalt

77

2. Zulässigkeit der Verfassungsbeschwerden

79

3. Freiheit der Person, Grundsatz der Verhältnismäßigkeit und Gewährleistungen der MRK

80

4. Die Verfassungswidrigkeit der vorhandenen Regelungen über die Sicherungsverwahrung und Vorgaben für den Umgang mit Altfällen

83

5. Die Neuordnung des Rechts der Sicherungsverwahrung nach dem Urteil des Bundesverfassungsgerichts vom 04. Mai 2011

85

IV. Auf die Grundsatzentscheidung vom 04. Mai 2011 folgende Entscheidungen des Bundesverfassungsgerichts

87

1. Das Urteil des Bundesverfassungsgerichts vom 20. Juni 2012

87

2. Der Beschluss des Bundesverfassungsgerichts vom 06. Februar 2013

88

3. Der Beschluss des Bundesverfassungsgerichts vom 11. Juli 2013

89

V. Das Urteil des Europäischen Gerichtshofs für Menschenrechte im Verfahren "Bergmann gegen Deutschland"

91

1. Der der Entscheidung zugrundeliegende Sachverhalt

91

2. Maßgebliche Entscheidungsgründe

92

a) Verstoß gegen Art. 5 I EMRK

92

b) Verstoß gegen Art. 7 I EMRK

93

F. Zusammenfassung

93

2. Teil: Die Rechtsprechung des US Supreme Court zu freiheitsentziehenden Sanktionen gegen gefährliche Straftäter

95

A. Kurzüberblick über das Strafrechtssystem in den Vereinigten Staaten von Amerika

96

I. Rechtsquellen des Strafrechts in den USA

96

1. Die verfassungsmäßige Zuständigkeit für die Strafgesetzgebung

96

2. Das Präjudizienrecht des common law

97

II. Verfassungsrechtlich verbürgte Rechte für Straftäter und deren Durchsetzung durch den US Supreme Court

98

III. Frühere strenge Einspurigkeit des Sanktionensystems in den USA

99

IV. Abkehr von der strengen Einspurigkeit des Sanktionensystems seit 1990

101

V. Die Zwecke staatlichen Strafens

102

1. Die Resozialisierung des Straftäters als Hauptvollzugsziel bis zur Mitte des 20. Jahrhunderts

102

2. Die "theory of just deserts" mit Schwerpunkt auf Abschreckung und Vergeltung

105

3. Erweiterung der bisherigen Strafzwecke um den der Sicherung der Gesellschaft vor gefährlichen Straftätern

110

4. Die US-amerikanische Verfassung und die Haltung des US Supreme Court zu den einzelnen Strafzwecken

112

B. Die Entscheidungen des US Supreme Court zu den "sexually violent predator laws"

114

I. Kurze Einführung in die Geschichte der zwangsweisen Unterbringung psychisch kranker Personen in den USA

114

II. Die Sexually Violent Predator Acts am Beispiel des "Kansas Sexually Violent Predator Act"

116

1. Ursprung der "Sexually Violent Predator Acts"

116

2. Bundesweite statistische Angaben zu den "sexually violent predator laws"

117

3. Der "Kansas Sexually Violent Predator Act"

118

a) Entstehungsgeschichte

118

b) Regelungsinhalt des "Kansas Sexually Violent Predator Act"

119

III. Frühe Rechtsprechung des US Supreme Court zu freiheitsentziehenden Sicherungsmaßnahmen gegen gefährliche Straftäter

121

1. Grundsatzentscheidungen des US Supreme Court zur Unterscheidung von Freiheitsstrafe und zivilrechtlicher Unterbringung

121

2. Grundsatzentscheidungen des US Supreme Court zu den verfassungsrechtlichen Voraussetzungen für eine zivilrechtliche Unterbringung

124

a) Entscheidungen zur Unterbringung von strafrechtlich nicht verantwortlichen Tätern

124

b) Von der Zwangseinweisung eines schuldunfähigen zur Sicherungsverwahrung eines schuldfähigen Straftäters: Foucha v. Louisiana

125

IV. Die Rechtsprechung des US Supreme Court zur Verfassungsmäßigkeit der zivilrechtlichen Unterbringung aufgrund des "sexually violent predator laws"

127

1. Die Entscheidung des US Supreme Court Kansas v. Hendricks

127

a) Der der Entscheidung zugrundeliegende Sachverhalt

128

b) Verletzung des Rechts auf ein ordentliches Gerichtsverfahren ("due process clause")

129

c) Verstoß gegen das Doppelbestrafungsverbot ("double jeopardy clause") sowie das Rückwirkungsverbot ("prohibition on ex post facto legislation")

131

aa) Muss den "sexually violent predator laws" Strafcharakter beigemessen werden?

131

bb) Verstoß gegen das Doppelbestrafungsverbot

133

cc) Verstoß gegen das Rückwirkungsverbot

133

d) Abweichendes Votum von US Supreme Court Justice Breyer

134

2. Die Entscheidung des US Supreme Court Kansas v. Crane

136

a) Der der Entscheidung zugrundeliegende Sachverhalt

137

b) Die Mehrheitsentscheidung des US Supreme Court

138

c) Abweichendes Votum von US Supreme Court Justice Scalia

140

3. Reaktionen auf die Rechtsprechung des US Supreme Court zu den "Sexually Violent Predator Acts"

142

a) Kritik an der Aufhebung der vormals strikten Trennung von strafrechtlichen und zivilrechtlichen Maßnahmen

142

b) Grundsätze in Hendricks und Crane widersprechen der früheren Rechtsprechung des US Supreme Court

144

aa) Kritik an der Aufgabe der Voraussetzung des Befundes einer "mental illness" für eine zivilrechtliche Unterbringung

144

bb) Untauglichkeit der Termini "mental abnormality" und "personality disorder" für die Bestimmung von besonders gefährlichen Sexualstraftätern

146

cc) Kritische Würdigung des Leistungspotenzials der Psychiatrie

147

dd) Die Überbetonung der Gefährlichkeit eines Straftäters

149

c) Fehlen gerichtlicher Leitsätze hinsichtlich der Qualifizierung einer Regelung als strafrechtlich oder zivilrechtlich

149

d) Zweifel an der Therapiefähigkeit von "sexually violent predators" und der Ausrichtung des Vollzugs der Unterbringung auf Therapie

150

e) Die zivilrechtliche Unterbringung als zusätzlicher Kostenfaktor für die Bundesstaaten

152

C. Die Rechtsprechung des US Supreme Court zu den "three strikes laws"

153

I. Die "three strikes laws" am Beispiel des kalifornischen "three strikes laws"

153

1. Entstehungsgeschichte der "three strikes laws" des Bundesstaates Kalifornien

154

2. Regelungsinhalt der kalifornischen "three strikes laws"

156

3. Statistische Angaben zu den kalifornischen "three strikes laws"

158

4. Argumente der Befürworter der "three strikes"-Gesetzgebung

159

5. Zweifel an der Effektivität der "three strikes laws"

160

II. Frühe Rechtsprechung des US Supreme Court zur Anwendung des Verhältnismäßigkeitsgrundsatzes bei der Beurteilung von Freiheitsstrafen

162

1. Die erstmalige Herausbildung des Verhältnismäßigkeitsgrundsatzes

163

2. Die Rechtsprechung des US Supreme Court zum Verhältnismäßigkeitsgrundsatz zwischen 1980 und 1991

164

a) Rummel v. Estelle

165

b) Hutto v. Davis

166

c) Solem v. Helm

167

d) Harmelin v. Michigan

169

III. Die Entscheidung des US Supreme Court Ewing v. California

170

1. Der der Entscheidung zugrunde liegende Sachverhalt

171

2. Die Urteilsbegründung der Mehrheit

172

3. Zustimmende Stellungnahme von US Supreme Court Justice Scalia und Thomas

174

4. Abweichendes Votum von US Supreme Court Justice Stevens

175

5. Abweichendes Votum von US Supreme Court Justice Breyer

176

IV. Reaktionen auf Ewing v. California

179

1. Verstoß gegen den Gleichheitsgrundsatz und das Verbot grausamer und ungewöhnlicher Sanktionen

179

2. Ewing v. California schafft unverhältnismäßig hohe Hürde für Verfassungsklagen gegen Strafurteile

180

3. Fehlende Berücksichtigung der in der Gesellschaft vorherrschenden Wertevorstellungen innerhalb der Prüfung des achten Zusatzartikels

180

4. Fehlende Vorgabe von Grundsätzen zur Verhältnismäßigkeitsprüfung von Strafurteilen

181

5. Überbetonung der Einschätzungsprärogative des Gesetzgebers

182

V. Die Entwicklung nach Ewing v. California

183

D. Zusammenfassung

185

3. Teil: Vergleich der Rechtsprechung des Bundesverfassungsgerichts und des US Supreme Court

186

A. Zur Zweckmäßigkeit rechtsvergleichender Betrachtungen des US-amerikanischen Rechts im Bereich der Schnittstellen zwischen Verfassungsrecht und Strafrecht

186

B. Die US-amerikanische Verfassung und das Grundgesetz im Vergleich

187

I. Entstehungsgeschichte der Verfassungen

187

II. Verfassungstext

188

III. Grundrechtliche Gewährleistungen in der US-amerikanischen Verfassung und im Grundgesetz

189

IV. Die Rolle und Funktion der Verfassungsgerichtsbarkeit

189

C. Vergleich der Rechtsprechung zur Sicherungsverwahrung von gefährlichen, strafrechtlich verantwortlichen (Rückfall-)‌Tätern

191

I. Ausgangsbetrachtungen: Übereinstimmungen und Differenzen

191

II. Herausarbeitung der Unterschiede

194

1. Strafrechtsdogmatische Unterschiede

195

a) Strafe und Maßregel: Ein- bzw. Zweispurigkeit der strafrechtlichen Reaktionsmittel

195

b) Die rechtliche Ausgestaltung freiheitsentziehender Sicherungsmaßnahmen

197

2. Verfassungsrechtliche Unterschiede

202

a) Der verfassungsrechtliche Schutz der Würde des Menschen in Deutschland und den USA

203

b) Die verfassungsrechtliche Stellung des Resozialisierungsgedankens in Deutschland und den USA

206

c) Die verfassungsrechtliche Verankerung des Schuldprinzips im Grundgesetz und seine Auswirkungen auf die Verfassungsrechtsprechung zur Sicherungsverwahrung

208

d) Unterschiede in der föderalistischen Struktur beider Jurisdiktionen

211

e) Die Einbindung des Bundesverfassungsgerichts und des US Supreme Court in das supranationale Institutionengefüge

214

3. Kriminalpolitische Unterschiede

217

a) Die Bedeutung des Resozialisierungsgedankens in der Kriminalpolitik Deutschlands und der USA

218

b) Die Ausgestaltung des Sanktionenvollzugs in Deutschland und den USA

221

4. Historische Unterschiede: Das sich in der Verfassungsrechtsprechung manifestierende Vertrauen in den Rechtsstaat

226

D. Schlussbetrachtungen

229

I. Plädoyer für das zweispurige Sanktionensystem in Deutschland

229

II. Befürwortung eines substantiellen Strafverständnisses

233

III. Zustimmung zum Verbot der nachträglichen Anordnung oder Verlängerung einer sichernden Maßnahme

235

IV. Verbesserungsvorschläge für einen menschenrechtsorientierten Umgang mit gefährlichen Straftätern in den USA

238

Literaturverzeichnis

243

Stichwortverzeichnis

260