Criminal law: offences against the person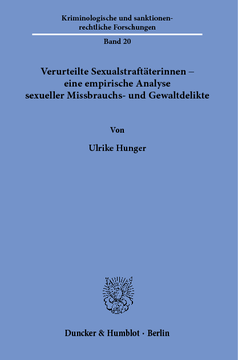 Additional Information
Book Details
ISBN

978-3-428-55646-5
978-3-428-15646-7 (print edition)

DOI

https://doi.org/10.3790/978-3-428-55646-5

Edition

1

Language

German

Pages

450

Collections

Subjects
Pricing
Institution

€ 116.00 (incl. local VAT if applicable)

Individual

€ 89.90 (incl. local VAT if applicable)
About The Author
Ulrike Hunger studierte Rechtswissenschaft an der Universität Greifswald mit dem Schwerpunkt Kriminologie und Strafrechtspflege. Nachdem sie ihr Referendariat am Oberlandesgericht Zweibrücken absolvierte, promovierte sie bei Prof. Dr. Jörg Kinzig am Kriminologischen Institut der Universität Tübingen und arbeite zugleich bei ihm als Akademische Mitarbeiterin an dessen Lehrstuhl für Kriminologie, Straf- und Sanktionenrecht. Anschließend war sie Stipendiatin eines Promotionsstipendiums der Landesgraduiertenförderung Baden-Württembergs. Seit Fertigstellung der Arbeit ist sie als Juristin im Ministerium in Stuttgart tätig.
Ulrike Hunger studied law at the University of Greifswald with a focus on criminology and criminal justice. After completing her legal clerkship at the Oberlandesgericht in Zweibrücken, she completed her doctorate under Prof. Dr. Jörg Kinzig at the Institute of Criminology at the University of Tübingen and at the same time she worked for him as an academic assistant at the Department of Criminology, Criminal and Sanctions Law. Subsequently, she was a scholarship holder of a doctoral scholarship of the Landesgraduiertenförderung Baden-Württemberg. Since finishing her dissertation, she works as a lawyer in the Ministry in Stuttgart.
Abstract
Die Arbeit beschäftigt sich mit Frauen, die wegen sexueller Missbrauchs- oder sexueller Gewaltdelikte verurteilt wurden. Zu Beginn wird aufgezeigt, welchen Anteil diese Täterinnen in den Kriminalstatistiken einnehmen und wie sich der nationale und internationale Forschungsstand darstellt. Das Kernstück der Arbeit bildet eine empirische Untersuchung, die auf der Basis einer Strafaktenanalyse und einer Analyse der Strafverfolgungsstatistik den Fragen nachgeht, wodurch sich die Täterinnen, die Opfer, die Taten und die justizielle Verarbeitung auszeichnen und ob es frauentypische Merkmale bei dieser Art der Kriminalität gibt. Diese Merkmale werden anhand einer männlichen Vergleichsgruppe herausgearbeitet. Die Autorin kommt zu dem Ergebnis, dass Frauen und Männer sich unterscheiden und Täterinnen damit charakteristische Merkmale aufweisen. »Convicted Female Sex Offenders – an Empirical Analysis of Sexual Abuse and Sexual Violence Offenses«

Women in the role as sex offenders are rarely explored in Germany. Therefore, an empirical investigation was conducted in the form of a criminal file analysis and an analysis of law enforcement statistics. This research covers the question of the characteristics of the convicted female sexual abusers and female sexual violence offenders, their offences, their victims and their judicial proceeding and the typical characteristics in this women's type of crime.
Table of Contents
Section Title
Page
Action
Price

Vorwort

5

Inhaltsübersicht

7

Inhaltsverzeichnis

9

Abbildungsverzeichnis

18

Allgemeines

18

Abbildung 1: Vereinfachte Darstellung des Ausfilterungsprozesses im Hellfeld (eigene Abbildung)

36

Abbildung 2: Deliktsstruktur verurteilter Sexualstraftäterinnen der Jahre 2007–2015

78

Abbildung 3: Häufigkeit verurteilter sexueller Missbrauchs- und Gewalttäterinnen der Jahre 2007–2015

80

Abbildung 4: Anzahl der weiblichen Verurteilten wegen sexueller Missbrauchsdelikte in Bayern

135

Abbildung 5: Anzahl der männlichen Verurteilten wegen sexueller Missbrauchsdelikte in Bayern

135

Abbildung 6: Anzahl der weiblichen Verurteilten wegen sexueller Gewaltdelikte in Bayern

136

Abbildung 7: Anzahl der männlichen Verurteilten wegen sexueller Gewaltdelikte in Bayern

136

Abbildung 8: Anzahl der weiblichen Verurteilten wegen sexueller Missbrauchsdelikte in Baden-Württemberg

141

Abbildung 9: Anzahl der weiblichen Verurteilten wegen sexueller Gewaltdelikte in Baden-Württemberg

141

Sexuelle Missbrauchsdelikte

18

Abbildung 10: Alter der ersten ausgewerteten sexuellen Missbrauchstat

153

Abbildung 11: Familienstand zum Tatzeitpunkt

158

Abbildung 12: Anzahl der Vorstrafen

165

Abbildung 13: Anzahl der Vorstrafen mit Sexualdelikten, Missbrauchsdelikten und nicht einschlägigen Delikten

167

Abbildung 14: Vorbestrafte nach nicht einschlägigen Delikten (Mehrfachnennungen)

169

Abbildung 15: Geschlecht der Opfer

171

Abbildung 16: Opfer-Täter-Beziehung (Mehrfachnennungen)

176

Abbildung 17: Zusammenhang zwischen Opfer-Täter-Beziehung und Geschlecht der Opfer (Mehrfachnennungen)

178

Abbildung 18: Anzahl der verurteilten Missbrauchstaten pro Täterin

186

Abbildung 19: Mitwirkende bei der Tatbegehung

187

Abbildung 20: Tathandlungen ohne Körperkontakt (Mehrfachnennungen)

193

Abbildung 21: Tathandlungen mit Körperkontakt (Mehrfachnennungen)

197

Abbildung 22: Tattypen

198

Abbildung 23: Intensität der sexuellen Missbrauchstaten

202

Abbildung 24: Taten ohne Körperkontakt

203

Abbildung 25: Weniger intensive Taten

204

Abbildung 26: Intensive Taten

205

Abbildung 27: Sehr intensive Taten

205

Abbildung 28: Motive in den Akten (Mehrfachnennungen)

207

Abbildung 29: Initiative zur Tat (opferbezogen)

216

Abbildung 30: Behördliche Kenntniserlangung

217

Abbildung 31: Rechtskräftig entscheidendes Gericht

222

Abbildung 32: Abschluss des Verfahrens

229

Abbildung 33: Straftatbestände der verurteilten Missbrauchstaten

231

Abbildung 34: Straftatbestände der verurteilten Missbrauchstäterinnen nach der StVerfSt der Jahre 2007–2015

232

Abbildung 35: Angewandtes Recht

234

Abbildung 36: Im Urteil ausgesprochene Sanktionen nach dem StGB (Mehrfachnennungen)

236

Abbildung 37: Im Tenor ausgesprochene Freiheitsstrafen

238

Abbildung 38: Bei Freiheitsstrafe verhängte Einzelstrafen pro Tat

239

Abbildung 39: Höhe der Tagessätze der Gesamtstrafen

241

Abbildung 40: Höhe der Geldstrafen als Einzelstrafen

243

Abbildung 41: Im Urteil ausgesprochene Sanktionen nach dem JGG (Mehrfachnennungen)

245

Sexuelle Gewaltdelikte

19

Abbildung 42: Alter bei der ersten ausgewerteten sexuellen Gewalttat

256

Abbildung 43: Familienstand zum Tatzeitpunkt

260

Abbildung 44: Anzahl Vorstrafen

263

Abbildung 45: Alter der Opfer

266

Abbildung 46: Opfer-Täter-Beziehung

267

Abbildung 47: Anzahl der verurteilten sexuellen Gewalttaten pro Täterin

269

Abbildung 48: Mitwirkende bei der Tatbegehung

270

Abbildung 49: Tathandlungen ohne Körperkontakt (Mehrfachnennungen)

273

Abbildung 50: Tathandlungen mit Körperkontakt (Mehrfachnennungen)

275

Abbildung 51: Tattypen

278

Abbildung 52: Intensität der sexuellen Gewalttaten

279

Abbildung 53: Motive in den Akten (Mehrfachnennungen)

280

Abbildung 54: Behördliche Kenntniserlangung

286

Abbildung 55: Rechtskräftig entscheidendes Gericht

290

Abbildung 56: Überblick über die Straftatbestände der verurteilten sexuellen Gewalttaten

296

Abbildung 57: Detaillierte Darstellung der Straftatbestände der verurteilten sexuellen Gewalttaten

297

Abbildung 58: Straftatbestände der verurteilten Gewalttäterinnen nach der StVerfSt der Jahre 2007–2015

298

Abbildung 59: Angewandtes Recht

299

Abbildung 60: Im Urteil ausgesprochene Sanktionen nach dem StGB (Mehrfachnennungen)

301

Abbildung 61: Im Urteil ausgesprochene Sanktionen nach JGG (Mehrfachnennungen)

303

Tabellenverzeichnis

21

Allgemeines

21

Tabelle 1: Entwicklung der verurteilten Sexualkriminalität an der Gesamtkriminalität in den Berichtsjahren 2007–2015

76

Tabelle 2: Entwicklung der verurteilten Sexualkriminalität an der Frauenkriminalität in den Berichtsjahren 2007–2015

77

Tabelle 3: Der Untersuchung zu Grunde liegende Daten in der Gruppe der sexuellen Missbrauchsdelikte

143

Tabelle 4: Der Untersuchung zu Grunde liegende Daten in der Gruppe der sexuellen Gewaltdelikte

143

Sexuelle Missbrauchsdelikte

21

Tabelle 5: Der Untersuchung zu Grunde liegende Daten

151

Tabelle 6: Staatsangehörigkeit

154

Tabelle 7: Höchster Bildungsabschluss

155

Tabelle 8: Überwiegende Hauptbeschäftigung zur Tatzeit

157

Tabelle 9: Kinder zum Tatzeitpunkt

161

Tabelle 10: Anzahl der Opfer pro Täterin im Urteil

170

Tabelle 11: Alter der Opfer

173

Tabelle 12: Zusammenhang Opfer-Täter-Beziehung und Geschlecht der Opfer

179

Tabelle 13: Zusammenhang Opfer-Täter-Beziehung und Tatbegehungin der weiblichen Stichprobe

180

Tabelle 14: Anzahl der verurteilten Missbrauchstaten pro Opfer

181

Tabelle 15: Zeitraum sexueller Missbrauchstaten pro Opfer

183

Tabelle 16: Anzahl der bei der Tatbegehung neben den Tätern Beteiligten

189

Tabelle 17: Mitwirkende

189

Tabelle 18: Zusammenhang zwischen Opfer-Täter-Beziehung und Mitwirkenden

190

Tabelle 19: Intensität der Taten

201

Tabelle 20: Angaben im Ermittlungsverfahren

220

Tabelle 21: Angaben in der Hauptverhandlung

225

Sexuelle Gewaltdelikte

22

Tabelle 22: Der Untersuchung zu Grunde liegende Daten

254

Tabelle 23: Staatsangehörigkeit

257

Tabelle 24: Höchster Bildungsabschluss

258

Tabelle 25: Überwiegende Hauptbeschäftigung zur Tatzeit

259

Tabelle 26: Anzahl der bei der Tatbegehung neben den Tätern Beteiligten

271

Tabelle 27: Mitwirkende

272

Tabelle 28: Angaben im Ermittlungsverfahren

288

Tabelle 29: Angaben in der Hauptverhandlung

293

Anhang

22

Tabelle 30: Zusammenfassung der Ausprägungen von Merkmalen der Täterinnen, ihrer Charakteristika und Signifikanzen

407

Tabelle 31: Zusammenfassung der Ausprägungen von Merkmalen der Opfer der Täterinnen, ihrer Charakteristika und Signifikanzen

410

Tabelle 32: Zusammenfassung der Ausprägungen von Merkmalen der Taten der Täterinnen, ihrer Charakteristika und Signifikanzen

412

Tabelle 33: Zusammenfassung der Ausprägungen von Merkmalen der justiziellen Verarbeitung der Täterinnen, ihrer Charakteristika und Signifikanzen

415

Tabelle 34: Zusammenfassung der Ausprägungen von Merkmalen der Täterinnen, ihrer Charakteristika und Signifikanzen

419

Tabelle 35: Zusammenfassung der Ausprägungen von Merkmalen der Opfer der Täterinnen, ihrer Charakteristika und Signifikanzen

422

Tabelle 36: Zusammenfassung der Ausprägungen von Merkmalen der Taten der Täterinnen, ihrer Charakteristika und Signifikanzen

424

Tabelle 37: Zusammenfassung der Ausprägungen von Merkmalen der justiziellen Verarbeitung der Täterinnen, ihrer Charakteristika und Signifikanzen

427

Abkürzungsverzeichnis

23

Teil 1: Einleitung

27

A. Problemstellung und Ziel der Arbeit

27

B. Gang der Darstellung

30

Teil 2: Theoretischer Hintergrund

31

A. Begriffsbestimmungen

31

I. Verurteilte im Ausfilterungsprozess

31

1. Vom Dunkel- zum Hellfeld

32

2. Ermittlungsverfahren

34

3. Zwischen-, Haupt- und Vollstreckungsverfahren

35

II. Sexualstraftäterinnen

36

1. Abgrenzung zur sexuell motivierten Kriminalität

37

2. Charakteristika der Sexualdelikte

37

3. Deliktseinteilung und -beschreibung

38

a) Begriff der sexuellen Handlung

40

b) Sexuelle Missbrauchsdelikte

42

aa) Sexueller Missbrauch von Schutzbefohlenen (§ 174 StGB)

42

bb) Sexueller Missbrauch von Gefangenen, behördlich Verwahrten oder Kranken und Hilfsbedürftigen in Einrichtungen (§ 174a StGB)

45

cc) Sexueller Missbrauch unter Ausnutzung einer Amtsstellung (§ 174b StGB)

47

dd) Sexueller Missbrauch unter Ausnutzung eines Beratungs-, Behandlungs- oder Betreuungsverhältnisses (§ 174c StGB)

47

ee) Sexueller Missbrauch von Kindern (§§ 176–176b StGB)

49

(1) Sexueller Missbrauch von Kindern (§ 176 StGB)

49

(a) Sexuelle Handlungen mit Körperkontakt

49

(b) Sexuelle Handlungen ohne Körperkontakt

50

(c) Vorfeldtatbestände

53

(d) Regelbeispiel

53

(2) Schwerer sexueller Missbrauch von Kindern (§ 176a StGB)

54

(a) Rückfallklausel

54

(b) Qualifikationen der Abs. 2, 3 und 5

55

(c) Regelbeispiel

56

(3) Sexueller Missbrauch von Kindern mit Todesfolge (§ 176b StGB)

57

ff) Sexueller Missbrauch widerstandsunfähiger Personen (§ 179 StGB)

57

gg) Sexueller Missbrauch von Jugendlichen (§ 182 StGB)

59

c) Sexuelle Gewaltdelikte

62

aa) Sexuelle Nötigung und Vergewaltigung (§ 177 StGB)

62

(1) Grundtatbestand

62

(2) Qualifikationen

64

(3) Regelbeispiele

65

(4) Minder schwere Fälle

67

bb) Sexuelle Nötigung und Vergewaltigung mit Todesfolge \n(§ 178 StGB)

68

d) Sexuelle Belästigungsdelikte

68

e) Ausnutzen sexueller Neigungen

68

B. Umfang

69

I. Polizeiliche Kriminalstatistik

70

II. Strafverfolgungsstatistik

72

1. Inhalt

72

2. Aussagekraft

73

3. Analyse

74

a) Abgeurteilte

74

b) Verurteilte

75

aa) Anteil an der Gesamtkriminalität

75

bb) Anteil an der Frauenkriminalität

77

cc) Deliktsstruktur der Sexualdelinquenz

78

dd) Häufigkeit sexueller Missbrauchs- und Gewalttäterinnen

79

ee) Merkmale

80

III. Strafvollzugsstatistik

80

C. Erklärungsansätze

82

I. Frauenkriminalität

82

1. Biologisch-anthropologische Theorien

83

2. Rollentheorie

85

3. Kavalierstheorie

86

4. Selektivitätstheorie

89

5. Feministische Theorien

90

6. Drucktheorie

93

II. Sexualkriminalität

94

D. Forschungsstand

94

I. Nationale Befunde

95

1. Studien

95

a) Überblick

95

b) Gesamtwürdigung

99

2. Forschungslücken

102

3. Übertragbarkeit

103

II. Internationale Befunde

105

1. Überblick

106

2. Übertragbarkeit

110

a) Forschungsdesign

110

b) Rechtssysteme

111

aa) USA

111

bb) England

113

E. Zusammenfassung

115

Teil 3: Empirische Bestandsaufnahme

118

A. Forschungsziel und -fragen

118

B. Methode

119

I. Diskussion des Erhebungsinstruments

119

1. Befragung

119

2. Beobachtung

120

3. Inhaltsanalyse

121

a) Nachteile

121

b) Vorteile

123

4. Ergebnis

124

II. Stichprobenbildung

124

1. Delikte, Täterin, Opfer

125

2. Räumlich

125

3. Zeitlich

126

4. Kontrollgruppe

127

III. Durchführung

128

1. Ermittlung der Verfahren

128

2. Akteneinsicht

130

a) Bayern

131

aa) Anträge

131

bb) Probleme

132

cc) Verteilung

133

(1) Sexuelle Missbrauchsdelikte

134

(2) Sexuelle Gewaltdelikte

135

b) Baden-Württemberg

136

aa) Anträge

137

bb) Probleme

139

cc) Verteilung

140

(1) Sexuelle Missbrauchsdelikte

140

(2) Sexuelle Gewaltdelikte

141

c) Endstichprobe

142

aa) Zusammensetzung

142

bb) Repräsentativität

143

d) Kritik

145

3. Konstruktion des Erhebungsinstruments

146

4. Analyse und Auswertung

147

IV. Zusammenfassung

149

C. Ergebnisse und Diskussion

150

I. Sexuelle Missbrauchsdelikte

151

1. Ergebnisse

151

a) Täterinnen

152

aa) Demographische Merkmale

152

(1) Alter

152

(2) Staatsangehörigkeit

153

(3) Bildungsabschlüsse

154

(4) Hauptbeschäftigung

156

bb) Familiärer Hintergrund

158

(1) Familienstand

158

(2) Partnerschaft

159

(3) Elternschaft

160

cc) Missbrauchserfahrungen

162

(1) Sexueller Missbrauch

162

(2) Körperlicher Missbrauch

162

dd) Vorstrafen

163

(1) Anzahl

164

(2) Deliktsstruktur

166

(a) Einschlägige

166

(b) Nicht einschlägige

168

b) Opfer

169

aa) Anzahl

169

bb) Geschlecht

171

cc) Alter

172

dd) Opfer-Täter-Beziehung

173

(1) Kategorien

174

(2) Details

176

(3) Zusammenhänge

178

(a) Opfer-Täter-Beziehung und Geschlecht

178

(b) Opfer-Täter-Beziehung und Tatbegehung

179

ee) Tatanzahl

180

ff) Zeitraum

181

c) Tat

183

aa) Anzahl

185

bb) Mitwirkende

186

(1) Vorkommen

186

(2) Geschlecht

188

(3) Anzahl

188

(4) Personen

189

cc) Tathandlung

191

(1) Gesamtbild

192

(a) Tathandlungen ohne Körperkontakt

192

(b) Tathandlungen mit Körperkontakt

196

(2) Tattypen

198

(a) Taten ohne Körperkontakt

198

(b) Taten mit Körperkontakt

199

(3) Intensität

200

(a) Taten ohne Körperkontakt

202

(b) Weniger intensive Taten

203

(c) Intensive Taten

204

(d) Sehr intensive Taten

204

dd) Motivation

206

(1) Bereiche

206

(a) Eigenbezogene Motive

207

(b) Mittäterbezogene Motive

211

(c) Opferbezogene Motive

214

(2) Zusammenfassung

215

ee) Initiative

215

d) Justizielle Verarbeitung

216

aa) Ermittlungsverfahren

217

(1) Behördliche Kenntniserlangung

217

(2) Angaben zum Tatvorwurf

219

(3) Untersuchungshaft

221

bb) Hauptverfahren

221

(1) Gerichtszuständigkeit

222

(2) Beweisaufnahme

224

(a) Angaben in der Hauptverhandlung

224

(b) Opfervernehmung

225

(c) Gutachten

226

(aa) Glaubhaftigkeitsbegutachtung

226

(bb) Schuldfähigkeitsbegutachtungen

227

(3) Rechtskräftige Entscheidung

228

(a) Abschluss des Verfahrens

229

(b) Straftatbestände

230

(aa) Delikte

231

(bb) Täterschaft

233

(c) Angewandtes Recht

234

(d) Sanktionen

234

(aa) StGB

235

α) Freiheitsstrafe

235

β) Geldstrafe

240

γ) Verwarnung mit Strafvorbehalt

243

δ) Maßregeln der Besserung und Sicherung

243

(bb) JGG

244

2. Zusammenfassende Würdigung

246

a) Beantwortung der Forschungsfragen

246

aa) Strafaktenanalyse

247

(1) Täterin

247

(2) Opfer

248

(3) Tat

248

(4) Justizielle Verarbeitung

249

(5) Mitwirkende

250

bb) Analyse der Strafverfolgungsstatistik

251

b) Zukünftige Forschung

252

c) Anknüpfungspunkte für die Praxis

253

II. Sexuelle Gewaltdelikte

254

1. Ergebnisse

254

a) Täterin

255

aa) Demographische Merkmale

255

(1) Alter

255

(2) Staatsangehörigkeit

256

(3) Bildungsabschlüsse

257

(4) Hauptbeschäftigung

258

bb) Familiärer Hintergrund

259

(1) Familienstand

259

(2) Partnerschaft

260

(3) Elternschaft

261

cc) Missbrauchserfahrungen

261

(1) Sexueller Missbrauch

261

(2) Körperlicher Missbrauch

262

dd) Vorstrafen

262

(1) Anzahl

262

(2) Deliktsstruktur

264

b) Opfer

264

aa) Anzahl

264

bb) Geschlecht

265

cc) Alter

265

dd) Opfer-Täter-Beziehung

266

ee) Tatanzahl

267

ff) Zeitraum

267

c) Tat

268

aa) Anzahl

268

bb) Mitwirkende

269

(1) Vorkommen

269

(2) Geschlecht

270

(3) Anzahl

270

(4) Personen

271

cc) Tathandlung

272

(1) Gesamtbild

272

(a) Tathandlungen ohne Körperkontakt

272

(b) Tathandlungen mit Körperkontakt

275

(c) Zusammenfassende Würdigung

277

(2) Tattypen

277

(3) Intensität

278

dd) Motivation

279

(1) Eigenbezogene Motive

280

(2) Mittäterbezogene Motive

282

ee) Initiative

285

d) Justizielle Verarbeitung

285

aa) Ermittlungsverfahren

286

(1) Behördliche Kenntniserlangung

286

(2) Angaben zum Tatvorwurf

288

(3) Untersuchungshaft

289

bb) Hauptverfahren

289

(1) Gerichtszuständigkeit

290

(2) Beweisaufnahme

292

(a) Angaben in der Hauptverhandlung

292

(b) Opfervernehmung

293

(c) Gutachten

293

(3) Rechtskräftige Entscheidung

294

(a) Abschluss des Verfahrens

295

(b) Straftatbestände

295

(aa) Delikte

295

(bb) Täterschaft

298

(c) Angewandtes Recht

299

(d) Sanktionen

300

(aa) StGB

300

α) Freiheitsstrafe

300

β) Geldstrafe

302

γ) Verwarnung mit Strafvorbehalt

303

δ) Maßregeln der Besserung und Sicherung

303

(bb) JGG

303

2. Zusammenfassende Würdigung

304

a) Beantwortung der Forschungsfragen

304

aa) Strafaktenanalyse

304

(1) Täterin

304

(2) Opfer

305

(3) Tat

305

(4) Justizielle Verarbeitung

306

bb) Analyse der Strafverfolgungsstatistik

307

b) Zukünftige Forschung

308

c) Anknüpfungspunkte für die Praxis

308

Teil 4: Zusammenfassung

309

A. Ergebnisse

309

I. Theoretischer Hintergrund

309

II. Empirische Bestandsaufnahme

310

1. Sexuelle Missbrauchsdelikte

311

2. Sexuelle Gewaltdelikte

312

B. Anknüpfungspunkte für Praxis und Forschung

314

Anhang

316

A. Auszüge aus dem Strafgesetzbuch

316

I. Begriffsbestimmungen

316

1. Sexueller Missbrauch von Schutzbefohlenen (§ 174 StGB)

317

2. Sexueller Missbrauch von Gefangenen, behördlich Verwahrten oder Kranken und Hilfsbedürftigen in Einrichtungen (§ 174a StGB)

321

3. Sexueller Missbrauch unter Ausnutzung einer Amtsstellung (§ 174b StGB)

322

4. Sexueller Missbrauch unter Ausnutzung eines Beratungs-, Behandlungs- oder Betreuungsverhältnisses (§ 174c StGB)

323

5. Sexueller Missbrauch von Kindern (§ 176 StGB)

324

6. Schwerer sexueller Missbrauch von Kindern (§ 176a StGB)

329

7. Sexueller Missbrauch von Kindern mit Todesfolge (§ 176b StGB)

332

8. Sexueller Missbrauch widerstandsunfähiger Personen (§ 179 StGB)

333

9. Sexueller Missbrauch von Jugendlichen (§ 182 StGB)

335

III. Sexuelle Gewaltdelikte

338

1. Sexuelle Nötigung und Vergewaltigung (§ 177 StGB)

338

2. Sexuelle Nötigung und Vergewaltigung mit Todesfolge (§ 178 StGB)

340

B. Aktenerhebungsbogen

341

C. Codeplan

366

D. Tabellarische Übersicht der Ergebnisse

407

I. Sexuelle Missbrauchsdelikte

407

1. Täterin

407

2. Opfer

410

3. Tat

412

4. Jusitzielle Verarbeitung

415

II. Sexuelle Gewaltdelikte

419

1. Täterin

419

2. Opfer

422

3. Tat

424

4. Justizielle Verarbeitung

427

Literaturverzeichnis

431

Stichwortverzeichnis

447