Safety & police law, regulatory & weapons law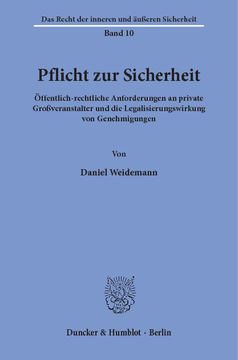 Additional Information
Book Details
ISBN

978-3-428-55677-9
978-3-428-15677-1 (print edition)

DOI

https://doi.org/10.3790/978-3-428-55677-9

Edition

1

Language

German

Pages

679

Collections

Subjects
Pricing
Institution

€ 162.00 (incl. local VAT if applicable)

Individual

€ 125.90 (incl. local VAT if applicable)
About The Author
Daniel Weidemann studierte Rechtswissenschaften an der Westfälischen Wilhelms-Universität Münster. Anschließend war er dort bis 2017 als wissenschaftlicher Mitarbeiter und Doktorand am Lehrstuhl für Öffentliches Recht, insb. Verwaltungswissenschaften, Kultur- und Religionsverfassungsrecht tätig. 2018 wurde er in Münster zum Dr. jur. promoviert. Derzeit ist er Rechtsreferendar im Oberlandesgerichtsbezirk Düsseldorf.
Daniel Weidemann studied law at the University of Münster, Germany. Subsequently, he worked there as a research assistant and doctoral candidate at the Chair for Public Law, in particular Administrative Sciences, Cultural and Religious Constitutional Law. In 2018 he earned a doctorate in Münster. Currently, he serves as a legal clerk in the district of the higher regional court Düsseldorf, Germany.
Abstract
Ein Veranstaltungsgesetz, das hinsichtlich der Sicherheitsgewährleistung dezidiert Verantwortlichkeiten regelt, existiert nicht. Die Arbeit geht daher der Frage nach, woraus sich eine solche öffentlich-rechtliche Pflicht des Veranstalters ergibt. Eine ausdrückliche – allerdings bereichsspezifische – Regelung findet sich allein im Bauordnungsrecht. Den Schwerpunkt der Untersuchung und die Grundlage für eine Begründung der Verantwortlichkeit des Veranstalters bildet daher das allgemeine Gefahrenabwehrrecht. Die Arbeit beleuchtet neben den derzeit diskutierten Ansätzen insbesondere die im Veranstaltungskontext bisher weitgehend ausgeblendete Legalisierungswirkung von Genehmigungen. Im Ergebnis kann genehmigungskonformes Veranstalterverhalten mitunter die Verantwortlichkeit für mittelbar verursachte Gefahren, etwa Fanausschreitungen, ausschließen. Ferner zeigt die Arbeit auf, inwieweit in solchen Fällen Schwierigkeiten bestehen, den Veranstalter als Nichtstörer in Anspruch zu nehmen. »Public Safety Obligation. Requirements of Public Law for Private Organisers of Major Events and the Effect of Legalisation through Permissions«

There is no law for event security in Germany regarding public safety obligations for organisers of major events. Only building regulations on a state level provide corresponding provisions, which, however, are only sector-specific. In that regard, the legal discussion has to turn towards the effect of legalisation through permissions for the public safety obligation of private organisers. If organisers act compliant with the framework of their permission, their obligation under public safety law, e.g. for riots of fans, may be suspended.
Table of Contents
Section Title
Page
Action
Price

Vorwort

7

Inhaltsübersicht

9

Inhaltsverzeichnis

11

§ 1 Einführung

25

A. Einleitung

25

B. Problemaufriss und Gang der Untersuchung

29

I. Ausklammerung von Kooperationsformen zwischen Verwaltung und Privaten

30

II. Die öffentlich-rechtliche Pflicht zur Sicherheitsgewährleistung

33

III. Die privatrechtliche Pflicht zur Sicherheitsgewährleistung

36

IV. Gang der Untersuchung

36

§ 2 Begriffliche Vorfragen und Konkretisierung des Untersuchungsgegenstands

40

A. Veranstaltung und Großveranstaltung

40

I. Veranstaltung

40

II. Großveranstaltung

42

1. Normative Konkretisierung des Großveranstaltungsbegriffs?

43

2. Konkretisierung durch die Rechtsprechung?

45

3. Sonstige Kriterien zur Konkretisierung

45

4. Ergebnis

49

III. Private und öffentliche Veranstaltungen

49

IV. Kommerzielle Großveranstaltungen

50

V. Abgrenzung zu Versammlungen i. S. d. Art. 8 GG und i. S. d. Versammlungsgesetzes

51

1. Versammlungen i. S. d. Art. 8 GG

52

a) Versammlungsbegriff

52

b) Unterschiede und Gemeinsamkeiten von Versammlungen und Veranstaltungen

54

2. Versammlungen i. S. d. Versammlungsgesetzes

56

3. Ergebnis

60

VI. Abgrenzung zu Events und Incentives

60

VII. Ergebnis

61

B. Gefahrenquellen bei Großveranstaltungen

61

I. Unmittelbar veranstaltungsspezifische Gefahrenherde

63

1. Die Darbietung als Veranstaltungskern

63

2. Die Veranstaltungsorganisation

63

3. Die Veranstaltungsörtlichkeit

64

II. Mittelbar veranstaltungsspezifische Gefahrenherde

65

1. Zuschauer

65

a) Zuschauerausschreitungen

66

b) Menschenmasse als eigenständiger Gefahrenherd

68

c) Verkehrsbeeinträchtigung durch An- und Abreise der Besucher

69

2. Terrorismus

69

III. Ergebnis

70

C. Begriff des privaten Veranstalters

71

I. Die Veranstaltereigenschaft

71

II. Der private Veranstalter

76

§ 3 Zivilrechtliche Pflichtenbegründung

80

A. Einleitung

80

B. Vertragliche Nebenpflichten und deliktsrechtliche Verkehrspflichten

81

I. Vertragliche Pflichten

81

II. Deliktsrechtliche Pflichten

83

1. Allgemeines

83

2. Umfang und Begrenzung der Verkehrspflichten

85

a) Vorhersehbarkeit der Rechtsgutbeeinträchtigung

86

b) Zumutbarkeit der Sicherungsmaßnahme

88

3. Konkretisierung der Verkehrspflicht und Einzelfallbetrachtung

90

4. Ergebnis

92

III. Kausalität, Zurechnung und (Mit-)Verschulden

93

1. Kausalität und Zurechnung

93

2. (Mit-)Verschulden

94

IV. Delegation und Haftungsausschluss

95

1. Delegation der Verkehrspflichten auf Dritte

96

2. Haftungsausschluss

97

a) Stillschweigender Haftungsverzicht

98

b) Öffentlich-rechtliche Benutzungsordnung

98

c) Ausdrückliche Vereinbarung einer Haftungsbeschränkung

99

aa) Anforderungen an eine wirksame Einbeziehung von AGB

99

(1) Vorab: Bloßer Aufdruck auf Eintrittskarte reicht nicht aus

99

(2) Anforderungen nach Art des Vertriebswegs

102

(3) Ergebnis

103

bb) Anforderungen an den Inhalt eines Haftungsausschlusses

103

3. Ergebnis

105

V. Ergebnis zu vertraglichen Schutzpflichten und deliktsrechtlichen Verkehrspflichten

106

C. Verbandsrechtliche Vorgaben am Beispiel des Deutschen Fußballbundes (DFB)

106

I. Verbandsautonomie

107

II. Adressaten des Verbandsrechts

108

1. Satzungsverweisung

110

2. Vertragliche Unterwerfung der Vereine und Teilnahme an Wettkämpfen

113

3. Ergebnis

114

III. Verbandsrechtliche Sicherheitsgewährleistungspflicht der Vereine und korrelierende Disziplinarmaßnahmen

114

1. Anwendungsbereich des § 9a RuVO

117

a) Begriff des Anhängers

117

b) Haftung des gastgebenden und des Gastvereins für "ihre" Anhänger

118

c) Zwischenfälle

118

d) Örtliche und zeitliche Beschränkung

119

e) Ergebnis

119

2. Verschuldensunabhängige Haftung der Vereine für Zuschauerausschreitungen?

120

IV. Ergebnis

126

D. Ergebnis zu den zivilrechtlichen Pflichten

127

§ 4 Gesetzesunmittelbare öffentlich-rechtliche Pflicht zur Sicherheitsgewährleistung – Das allgemeine Polizei- und Ordnungsrecht als bloße "Befugnisordnung"

128

A. Die allgemeine materielle Polizeipflicht

128

B. Versuch der Herleitung einer gesetzesunmittelbaren Polizeipflicht

132

I. Entwicklung des Polizei- und Ordnungsrechts

134

II. Interpretation der polizei- und ordnungsrechtlichen Befugnisnormen

136

III. Sofortiger Vollzug im Rahmen der Verwaltungsvollstreckung

139

IV. Ergebnis

140

C. Einwände gegen eine allgemeine materielle Polizeipflicht

141

I. Vermischung von Verhaltens- und Zustandsverantwortlichkeit

141

II. Ausblendung (privat-)rechtlicher und tatsächlicher Umstände

142

III. Fehlende Bestimmtheit und Handhabbarkeit der Pflicht

144

IV. Beeinträchtigung der Effektivität der Gefahrenabwehr?

146

D. Gesetzesunmittelbare materielle Polizeipflicht aus Verfassungsrecht?

147

E. Ergebnis

149

§ 5 Pflichtenbegründung durch individuelle behördliche Inanspruchnahme – Der Veranstalter als Verhaltensverantwortlicher

151

A. Die von der allgemeinen polizeirechtlichen Verantwortlichkeit erfasste Konstellation

152

I. Eigensicherung

153

II. Zusatzverantwortlichkeit

156

III. Ergebnis

157

B. Die "klassische" Verhaltensverantwortlichkeit des Veranstalters

157

I. Theorien zur Bestimmung der Verhaltensverantwortlichkeit

158

1. Äquivalenztheorie

158

2. Adäquanztheorie

158

3. Theorie der rechtswidrigen Verursachung und Theorie der sozialinadäquaten Verursachung

159

4. Theorie der Pflichtwidrigkeit und der Risikozurechnung

160

5. Theorie der unmittelbaren Verursachung

161

6. Ergebnis

164

II. Verantwortungszusammenhang zwischen der Durchführung der Veranstaltung und veranstaltungsspezifischen Gefahren

164

1. Veranstaltungsdurchführung und "unmittelbar veranstaltungsspezifische" Gefahren

165

2. Veranstaltungsdurchführung und "mittelbar veranstaltungsspezifische" Gefahren

168

a) Durchbrechung des Zurechnungszusammenhangs

168

b) Auswirkungen einer qualifizierten conditio-sine-qua-non-Kausalität?

171

3. Ergebnis

172

III. Verhaltensverantwortlichkeit durch Unterlassen

173

1. Öffentlich-rechtliche Handlungsgebote

174

2. Relevanz zivilrechtlicher Handlungsgebote

178

a) Strukturelle Ähnlichkeit in Bezug auf Gefahrenprävention

179

b) Abstrakte vs. konkrete Gefahr

181

c) Unzulässigkeit der Entkontextualisierung der zivilrechtlichen Verkehrspflichten

182

aa) Verkehrspflichten entstehen im Lichte des Zivil(haftungs)rechts, nicht des Polizei- und Ordnungsrechts

182

bb) Berücksichtigung der Disponibilität von Verkehrspflichten durch Ordnungsbehörden?

186

cc) Ergebnis

187

3. Ergebnis zur Verantwortlichkeit durch Unterlassen

188

C. Der Veranstalter als verhaltensverantwortlicher Zweckveranlasser

188

I. Zulässigkeit der Figur des Zweckveranlassers

190

II. Maßgebliches Zurechnungskriterium im Rahmen der Zweckveranlasserfigur

196

1. Äußerer Rahmen für die Kriterienbestimmung

196

2. Objektives oder subjektives Bezwecken?

198

3. Exkurs: Die Verhaltensverantwortlichkeit des Veranstalters für mittelbar veranlasste Gefahren am Maßstab des subjektiven Ansatzes

203

4. Ergebnis

207

III. Objektives Bezwecken

208

1. Nicht beherrschbares Sonderrisiko?

209

2. Gefahrenimmanenz oder Exzess der Besucher?

212

3. Veranstaltung als Bühne für ein gesellschaftliches (Gewalt-)Phänomen?

214

4. Grundrechte des Veranstalters als Zurechnungshindernis?

216

5. Quantitativer Befund als Beleg für (un-)typische Folge

217

a) Zuschauerverhalten während des Fußballspiels und im Stadionumfeld

218

b) Zuschauerverhalten im Fußballfanreiseverkehr in Zügen

226

c) Festlegung eines starren zahlenmäßigen Grenzwerts nicht möglich

228

6. Notwendigkeit einer differenzierten Einzelfallbetrachtung trotz quantitativen Befunds

229

7. Zurechnungseinschränkende Elemente?

233

a) Fehlende Einflussnahmemöglichkeit des Veranstalters

233

b) Örtliche und zeitliche Distanz zwischen Veranstaltung und Gefahreintritt

235

8. Stufenfolge – Ergebnis zum objektiven Bezwecken mit Blick auf Zuschauerausschreitungen bei Fußballspielen

239

9. Sonstige mittelbar veranstaltungsspezifische Gefahren

241

a) Verkehrsbeeinträchtigungen

242

b) Massenpanik

243

c) Terroranschläge

248

IV. Modifizierende Kriterien?

250

1. Profit statt Bezwecken

251

2. Beschränkung bzw. Erweiterung der Verantwortlichkeit auf eigentümliche Folgen

255

3. Übertragung der Grundsätze aus dem Brokdorf-Beschluss auf Großveranstaltungen

257

4. Ergebnis

261

D. Insbesondere: Die Legalisierungswirkung von Genehmigungen – Ursprung, dogmatische Grundlage und grundsätzlicher Umfang

261

I. Allgemeines zur Legalisierungswirkung

264

1. Ursprung der Legalisierungswirkung

264

2. Rezeption durch die Literatur und dogmatische Grundlage des Begriffs

266

a) Bindungswirkung

269

b) Tatbestandswirkung

270

aa) Dogmatische Begründung der Tatbestandswirkung

271

bb) Wirksamkeit des Verwaltungsakts als einzige Voraussetzung der Tatbestandswirkung

275

cc) Ergebnis

277

c) Feststellungswirkung

278

3. Legalisierungswirkung als Konsequenz der Tatbestandswirkung und das Verhältnis von spezialgesetzlichen Ermächtigungsgrundlagen zur polizei- und ordnungsrechtlichen Generalklausel

278

II. Reichweite und Inhalt der Legalisierungswirkung

282

1. Maßgebliche Kriterien für den Umfang der Legalisierungswirkung

283

2. Auslegung des Genehmigungsinhalts

286

a) Maßgeblichkeit des Genehmigungsantrags

286

b) Objektiver Erklärungswert der Behörde

287

aa) Bezugspunkt der Inzidentfeststellung – Tatbestandsvoraussetzungen vs. Ermessenserwägungen

288

bb) Feststellung der Erfüllung der Tatbestandsmerkmale

293

(1) Verbotsbegründende und verbotsentbindende Tatbestandsmerkmale

294

(2) Übersicht über das Meinungsspektrum

295

(3) Isolierte Betrachtung der Erteilung einer einzelnen Genehmigung

297

(4) (Ir-)Relevantes Parallelproblem: Parallele Genehmigungserfordernisse

299

(a) Beschränkung der Inzidentfeststellung als notwendige Konsequenz paralleler Genehmigungserfordernisse im Zeitpunkt der Einholung \rder Genehmigungen

301

(b) Keine Auswirkungen der Beschränkung der Inzidentfeststellung nach Erhalt der Genehmigungen

303

(5) Ergebnis

305

cc) Die Inzidentfeststellung im Lichte des Prognosecharakters der Genehmigung – Legalisierung (nur) des Risikos oder auch der konkreten Gefahr?

306

(1) Behördliche Prognoseentscheidung birgt Unsicherheiten

308

(2) Rückbezug zur polizeirechtlichen Verursachungsdogmatik: Differenzierung zwischen unmittelbarer und mittelbar-zweckveranlassender Gefahrenverursachung

315

(3) Änderung der Sachlage zwischen Genehmigungserteilung und Veranstaltungsdurchführung

317

dd) Ergebnis

321

3. Auswirkungen von beigefügten sicherheitsrelevanten Auflagen

322

a) Auch für Auflagen gilt die Tatbestandswirkung von Verwaltungsakten

323

b) Auflagen im Spannungsfeld von bloßer Alternative zur Genehmigungsversagung einerseits und Einschränkung der Handlungsmöglichkeit des Genehmigungsadressaten andererseits

324

4. Ergebnis

329

III. Kein Ausschluss der Legalisierung mittelbar zweckveranlasster Gefahren aus anderem Grund

330

1. Keine Überprivilegierung des Genehmigungsadressaten

330

2. Kein Ausschluss der Legalisierungswirkung bei Tätigkeiten mit erhöhter Gefahrentendenz

334

3. Keine Auswirkungen von unterschiedlichen Konzeptionen der Genehmigungsnormen

336

4. Keine Einschränkung der Legalisierungswirkung wegen fehlender Handhabbarkeit

339

IV. Legalisierungswirkung und Konzentrationswirkung von Verwaltungsakten

339

V. Ergebnis

343

E. Insbesondere: Die Legalisierungswirkung veranstaltungsrelevanter Genehmigungen

347

I. Straßen- und straßenverkehrsrechtliche Erlaubnisse

349

1. Beschreibung und Differenzierung von Straßen- und Straßenverkehrsrecht

349

2. Straßenrechtliche Sondernutzungserlaubnis

353

a) Erforderlichkeit der straßenrechtlichen Sondernutzungserlaubnis

353

b) Inhalt und Umfang der straßenrechtlichen Sondernutzungserlaubnis

355

aa) Sondernutzungserlaubnisvorschriften in den Flächenländern und auf Bundesebene

356

(1) Von der Inzidentfeststellung erfasster tatbestandlicher Prüfungsumfang

356

(2) Rechtsfolge

356

(3) Ergebnis

360

bb) Stadtstaaten

360

(1) Von der Inzidentfeststellung erfasster tatbestandlicher Prüfungsumfang

360

(a) Hamburg

361

(b) Bremen

362

(c) Berlin

365

(d) Ergebnis

367

(2) Ermessenserwägungen und indizielle Legalisierungswirkung

367

(a) Umfassende Ermessenserwägungen

368

(b) Indizielle Legalisierungswirkung durch Beifügung sicherheitsrelevanter Auflagen und Bedingungen

371

c) Fachgesetzliche Eingriffsmöglichkeit bei rechtmäßiger Ausübung der Sondernutzungserlaubnis?

373

d) Konzentrationswirkung

376

e) Ergebnis

377

3. Straßenverkehrsrechtliche Erlaubnis

378

a) Erforderlichkeit

378

aa) Begriff der Veranstaltung

378

bb) Mehr als verkehrsübliche Inanspruchnahme der Straße

382

cc) Ergebnis

385

b) Inhalt und Umfang der straßenverkehrsrechtlichen Erlaubnis

385

aa) Von der Inzidentfeststellung erfasster tatbestandlicher Prüfungsumfang

385

bb) Rechtsfolge

386

(1) Zulässige Ermessenserwägungen

386

(2) Sicherheitsrelevante Nebenbestimmungen

389

cc) Ergebnis

390

c) Exkurs: § 29 Abs. 3 StVO

391

d) Fachgesetzliche Eingriffsmöglichkeit bei rechtmäßiger Ausübung der straßenverkehrsrechtlichen Erlaubnis?

392

e) Konzentrationswirkung

394

f) Ergebnis

396

II. Gewerberechtliche Festsetzung

397

1. Bedeutung der Festsetzung

398

2. Von der Inzidentfeststellung erfasster tatbestandlicher Prüfungsumfang

399

a) Veranstaltung i. S. d. §§ 64 ff., 60b GewO

400

b) Zuverlässigkeit des Antragstellers oder der mit der Leitung der Veranstaltung beauftragten Personen

402

c) Durchführung der Veranstaltung widerspricht nicht dem öffentlichen Interesse

403

aa) Umfasst § 69a Abs. 1 Nr. 3 GewO auch ordnungsbehördlich relevante mittelbare Gefahrenverursachungen?

404

bb) Rückbezug zur ordnungsbehördlichen Generalklausel

407

d) Im Falle des Jahr- oder Spezialmarkts findet die Veranstaltung nicht in Ladengeschäften statt

408

e) Ergebnis

409

3. Rechtsfolge

410

a) Indizielle Legalisierungswirkung durch Verbindung der Festsetzung mit Auflagen (§ 69a Abs. 2 GewO)

410

b) Nebenbestimmungen aufgrund von § 36 Abs. 1 Var. 2 VwVfG

412

4. Nachträgliche Auflagen, festsetzungsspezifische Widerrufs- bzw. Rücknahmemöglichkeiten und deren Auswirkungen auf die Legalisierungswirkung

412

5. Konzentrationswirkung

415

6. Ergebnis

416

III. Baurechtliches Genehmigungs- und Einvernehmenserfordernis

418

1. Erforderlichkeit einer Baugenehmigung

419

2. Ausführungsgenehmigung und Gebrauchsabnahme für Fliegende Bauten

422

3. § 43 Abs. 2 SBauVO NRW als Teil der auf den tatbestandlichen Prüfungsumfang bezogenen Inzidentfeststellung der Baugenehmigung?

425

a) Anwendungsbereich der SBauVO NRW

426

b) Legalisierende Auswirkungen des Sicherheitskonzepts i. S. d. § 43 Abs. 2 SBauVO NRW

429

aa) Inhalt des Sicherheitskonzepts i. S. d. § 43 Abs. 2 SBauVO NRW

429

bb) Bedeutung des Einvernehmens und Prüfungsbefugnis der Bauaufsichtsbehörde – Rechtlicher Anknüpfungspunkt für die Legalisierungswirkung

431

cc) Dreifache Einschränkung der Legalisierungswirkung?

437

(1) Keine Einschränkung aufgrund des "Adressaten" der Sicherheitskonzeptpflicht

437

(2) Einschränkung aufgrund des sachlichen Bezugspunkts des Sicherheitskonzepts?

438

(a) Das Verhältnis von § 43 Abs. 1 und 2 SBauVO NRW

438

(b) Konsequenzen für die Legalisierungswirkung

442

(c) Herstellung eines Einzelveranstaltungsbezugs in Sonderfällen und durch das Vorgehen der Verwaltungspraxis

443

(3) Örtliche Beschränkung der Legalisierungswirkung auf den Bereich der Versammlungsstätte

444

4. Rechtsfolge

445

5. Fachgesetzliche Eingriffsmöglichkeit bei Einhaltung des Sicherheitskonzepts?

446

6. Konzentrationswirkung

451

7. Ergebnis

452

IV. Sondersituation im allgemeinen Gefahrenabwehrrecht in Bayern und Thüringen

454

1. Einführung und Konzeption der Normen

454

2. Von der Inzidentfeststellung erfasster tatbestandlicher Prüfungsumfang

456

a) Verbotsbegründende Tatbestandsvoraussetzungen

457

aa) Allgemein: Öffentliche Vergnügung als Grundvoraussetzung

457

bb) Konkret: Verbotsbegründende Voraussetzungen der Nr. 1–3

458

b) Verbotsentbindende Tatbestandsvoraussetzungen (Art. 19 Abs. 4 BayLStVG, § 42 Abs. 4 ThürOBG)

459

aa) § 42 Abs. 4 ThürOBG

460

bb) Art. 19 Abs. 4 BayLStVG

461

(1) Erhebliche Nachteile oder erhebliche Belästigungen für die Allgemeinheit oder Nachbarschaft

461

(2) Erhebliche Beeinträchtigungen der Natur oder Landschaft

462

(3) Auswirkungen der Inzidentfeststellung und Rückbezug zur polizei- und ordnungsrechtlichen Generalklausel

463

cc) Einbeziehung von Drittverhalten in die behördliche Prognose und Auswirkungen auf die Legalisierungswirkung

464

c) Ergebnis

465

3. Rechtsfolge

466

4. Nachträgliche Anordnungen nach Art. 19 Abs. 5 BayLStVG bzw. § 42 Abs. 5 ThürOBG und deren Auswirkungen auf die Legalisierungswirkung

467

5. Subsidiaritätsanordnung statt Konzentrationswirkung

470

6. Ergebnis

474

V. Verwaltungspraxis

475

1. Forderung eines Sicherheitskonzepts auf Grundlage der ordnungsbehördlichen Generalklausel

476

2. Forderung eines Sicherheitskonzepts mittels Auflagen im Rahmen eines Genehmigungsverfahrens

478

3. Exemplarische Darstellung eines behördlichen Leitfadens und dessen Auswirkungen auf die Legalisierungswirkung

481

a) Anwendungsbereich des Orientierungsrahmens für Großveranstaltungen im Freien in NRW und Erforderlichkeit eines Sicherheitskonzepts

482

b) Inhalt eines Sicherheitskonzepts

484

c) Erteilung des Einvernehmens als dogmatischer Anknüpfungspunkt für die Legalisierungswirkung

484

4. Ergebnis

487

VI. Ergebnis zur Legalisierungswirkung von Genehmigungen im Veranstaltungskontext

489

§ 6 Pflichtenbegründung durch individuelle behördliche Inanspruchnahme – Der Veranstalter als Zustandsverantwortlicher

491

A. Einschlägigkeit der Zustandsverantwortlichkeit bei Großveranstaltungen

494

I. Sachbegriff

494

II. Ausweitung des Sachbegriffs wegen der Beherrschbarkeit von "Etwas"?

495

III. Ergebnis

496

B. Gefahrenverursachung durch die Veranstaltungsörtlichkeit

496

I. Die Veranstaltungsörtlichkeit als solche vs. Einwirkungen durch Dritte

496

II. Sonderfall bei besonders gefährdeten Objekten?

497

III. Grundgedanke aus explizit normierten "Eigensicherungspflichten" übertragbar?

503

IV. Ergebnis und Anwendung auf die veranstaltungsspezifischen Gefahrenszenarien

505

C. Zustandsverantwortlichkeit nach erfolgter Einwirkung

507

I. Altlasten-Beschluss des Bundesverfassungsgerichts

509

II. Übertragbarkeit auf Großveranstaltungen und Bewertung der Kriterien des Altlasten-Beschlusses

511

1. Vorliegen einer gefährlichen Sache

512

2. Grenze der finanziellen Belastung

512

3. Ursächlichkeit der Gefahr außerhalb der Sachherrschaft des Eigentümers bzw. des Sachherrschaftsinhabers

513

4. Keine billigende Inkaufnahme bzw. fahrlässige Unkenntnis

515

III. Ergebnis

517

D. Keine Legalisierungswirkung veranstaltungsrelevanter Genehmigungen im Rahmen der Zustandsverantwortlichkeit

518

E. Ergebnis

518

§ 7 Pflichtenbegründung durch individuelle behördliche Inanspruchnahme – Der Veranstalter als Nichtstörer

520

A. Gegenwärtige erhebliche Gefahr (§ 19 Abs. 1 Nr. 1 OBG NRW)

523

I. Erheblichkeit der Gefahr

523

II. Gegenwärtigkeit der Gefahr

525

1. Auseinanderfallen von Gegenwärtigkeit und Wahrscheinlichkeit – Das Kartenabgabeverbot beim Fußballspiel FC St. Pauli – FC Hansa Rostock als Grundlage der Überlegungen

526

2. Die Notwendigkeit der streng am Wortlaut orientierten restriktiven Handhabe der Gegenwärtigkeit

529

3. Keine entscheidende Auswirkung auf die Anforderungen an die Gegenwärtigkeit durch den Grundsatz der umgekehrten Proportionalität

535

a) Anwendbarkeit der umgekehrten Proportionalität bei qualifizierten Gefahrenbegriffen

536

b) Umgekehrte Proportionalität von Schadensintensität und zeitlicher Nähe des Schadenseintritts

537

c) Umgekehrte Proportionalität von Schadenswahrscheinlichkeit und zeitlicher Nähe des Schadenseintritts

538

d) Ergebnis

540

4. Ergebnis zur Gegenwärtigkeit

540

B. Maßnahmen gegen die Störer sind nicht bzw. nicht rechtzeitig möglich oder versprechen keinen Erfolg (§ 19 Abs. 1 Nr. 2 OBG NRW)

542

C. Unmöglichkeit der Gefahrenabwehr durch Ordnungsbehörde oder durch Beauftragte (§ 19 Abs. 1 Nr. 3 OBG NRW)

546

I. Grenzenlose Ausschöpfung aller Mittel in finanzieller Hinsicht?

546

II. Faktische Begrenzung des theoretisch möglichen Aufwands durch begrenztes Personal und Priorisierung gleichzeitig stattfindender Veranstaltungen

548

III. Unzumutbarkeit der Ausschöpfung aller Mittel aufgrund von Rechtsgutbeeinträchtigungen auf Seiten der Polizeibeamten

555

IV. Darlegungspflicht

558

V. Ergebnis

560

D. Inanspruchnahme des Adressaten ist ohne erhebliche Gefahr für diesen und ohne Verletzung höherer Pflichten möglich (§ 19 Abs. 1 Nr. 4 OBG NRW)

561

E. Kein Sonderfall der großzügigeren Auslegung der Voraussetzungen des § 19 Abs. 1 Nr. 1–4 OBG NRW im Veranstaltungskontext aufgrund einer besonderen staatlichen Schutzpflicht

563

F. Ergebnis

564

§ 8 Pflichtenbegründender Sonderfall im besonderen Gefahrenabwehrrecht? – § 38 Abs. 1 und 5 SBauVO NRW

566

A. Einleitung

566

B. Persönlicher Anwendungsbereich von § 38 Abs. 1 SBauVO NRW

567

C. Sachlicher Anwendungsbereich von § 38 Abs. 1 SBauVO NRW

569

I. Die Vorgängerregelung von § 38 Abs. 1 SBauVO NRW

569

II. Differenzierung zwischen "Vorschriften" und "Betriebsvorschriften"

570

III. Eigenständige Bedeutung der Formulierung der "Sicherheit der Veranstaltung" in § 38 Abs. 1 SBauVO NRW?

571

1. Veranstaltung vs. Betrieb der Versammlungsstätte

571

2. Eigenständiger Gehalt der "Sicherheit der Veranstaltung"?

572

a) Grammatikalisch weite Interpretationsmöglichkeit der "Sicherheit der Veranstaltung"

572

b) Regelungsgehalt der einzelnen Vorschriften der SBauVO NRW und Bestimmtheit von § 38 Abs. 1 SBauVO NRW

573

c) Systematische Erwägungen zur restriktiven Auslegung der Formulierung "Sicherheit der Veranstaltung"

576

d) Ergebnis

577

IV. Ergebnis zum sachlichen Anwendungsbereich

577

D. Örtlicher Anwendungsbereich von § 38 Abs. 1 SBauVO NRW

578

E. Funktion von § 38 Abs. 1 SBauVO NRW

579

I. § 38 Abs. 1 SBauVO NRW als Adressatenbestimmung für bauordnungsrechtliche Maßnahmen

579

II. Verhältnis von § 38 Abs. 1 SBauVO NRW zur BauO NRW und zum allgemeinen Gefahrenabwehrrecht

582

III. Statuierung eines neuen Verantwortlichen in Rechtsverordnung von Ermächtigungsgrundlage gedeckt

584

IV. Ergebnis

585

F. Übertragung der Pflichten auf den Veranstalter, § 38 Abs. 5 SBauVO NRW

586

I. Begriff des Veranstalters i. S. d. § 38 Abs. 5 S. 1 SBauVO NRW

586

II. Schriftliche Vereinbarung zwischen Betreiber und Veranstalter

587

III. Vertrautsein des Veranstalters bzw. des Veranstaltungsleiters

588

IV. Der Veranstalter als weiterer Adressat baubehördlicher Ordnungsmaßnahmen

589

V. Ergebnis

592

G. Anwendung auf die veranstaltungsspezifischen Gefahrenkonstellationen

593

§ 9 Zusammenfassung

594

Addendum

620

Literaturverzeichnis

621

Sachwortverzeichnis

676