Contract law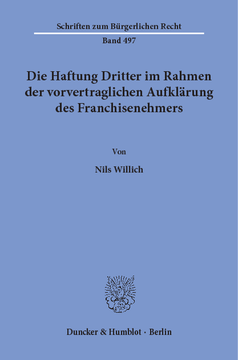 Additional Information
Book Details
ISBN

978-3-428-55722-6
978-3-428-15722-8 (print edition)

DOI

https://doi.org/10.3790/978-3-428-55722-6

Edition

1

Language

German

Pages

221

Collections

Subjects
Pricing
Institution

€ 92.00 (incl. local VAT if applicable)

Individual

€ 71.90 (incl. local VAT if applicable)
About The Author
Nils Willich studierte Rechtswissenschaften an der Freien Universität in Berlin. Nach Abschluss des 1. Staatsexamens fertigte er seine Dissertation zunächst an der Freien Universität an. Nachdem sein Doktorvater Prof. Dr. Martin Schwab dem Ruf an die Universität Bielefeld folgte, schloss er das Promotionsverfahren dort ab. Während dieser Zeit war er als Wissenschaftlicher Mitarbeiter in einer mittelständischen Kanzlei mit Schwerpunkt im Medien- und Internetrecht tätig. Nach dem Referendariat in Berlin und New York ist er nunmehr Rechtsanwalt in Berlin, zunächst über drei Jahre bei GÖRG, seitdem bei Busse & Miessen im Franchiserecht.
Nils Willich was born in Bonn, grew up in Berlin and studied law at Freie Universität in Berlin. After his first state examination, he started his doctoral thesis at Freie Universität. He completed it in Bielefeld after his doctoral supervisor, Prof. Dr. Martin Schwab, accepted an appointment to Bielefeld University. During this time he worked in a medium-sized law firm specialized on internet and media law. After his legal clerkship in Berlin and New York he is now attorney in Berlin, at first over three years at GÖRG, since then at Busse & Miessen focused on franchise law.
Abstract
Neben den Vertragsparteien Franchisenehmer und Franchisegeber können bei den Verhandlungen zum Vertragsabschluss eines Franchisevertrags auf Seiten des Franchisegebers weitere Personen beteiligt sein: unter anderem Mitarbeiter der Franchisegebergesellschaft, Berater bzw. Makler oder Area Developer. Alle diese Personen vereint, dass sie, obwohl sie selbst nicht Vertragspartei werden, den Inhalt des Vertragsschlusses im Rahmen der von ihnen geführten Verhandlungen mit dem Franchisenehmer erheblich beeinflussen können. Entsteht dem Franchisenehmer aufgrund falscher Versprechungen oder unterlassener Mitteilung vertragserheblicher Informationen ein finanzieller Schaden, kann er ein Interesse daran haben, auch gegen diese Dritten vorzugehen. Die Arbeit untersucht die Haftung dieser Personen aus einem eigenen vorvertraglichen Schuldverhältnis, aus einem konkludent geschlossenen Auskunfts- und Beratungsvertrag, aus der im Franchising umstrittenen bürgerlichrechtlichen Prospekthaftung sowie aus Delikt. »The Liability of Third Parties in regard to Pre-Contractual Disclosure towards the Franchisee«

If the franchisee suffers a financial loss due to false promises or failure to provide information relevant to the contract as part of the pre-contractual disclosure, he may also have an interest in taking action against third parties acting on behalf of the franchisor who are not party of the franchise contract, such as employees of the franchisor company, consultants or area developers. The thesis examines the legal framework of their liability.
Table of Contents
Section Title
Page
Action
Price

Vorwort

5

Inhaltsverzeichnis

7

Einleitung

13

A. Problemaufriss

13

B. Gang der Untersuchung

15

Kapitel 1: Einordnung von Franchiseverträgen

17

A. Hintergrund

17

B. Definition und Merkmale des Franchisings

18

I. Definition

18

II. Merkmale

20

C. Rechtsnatur von Franchiseverträgen

22

I. Geschäftsbesorgungsrechtlicher Schwerpunkt

23

II. Pachtrechtlicher/lizenzrechtlicher Schwerpunkt

23

III. Typenkombinationsvertrag

24

IV. Ergebnis

25

D. An den Verhandlungen beteiligte Personen

26

I. Wer sind die Beteiligten?

26

1. Mit dem Franchisegeber als juristischer Person unmittelbar verbundene Personen

26

2. Franchiseberater

26

3. Dritte im Rahmen des internationalen Franchisings

27

4. Wirtschaftsprüfer und Unternehmensberater

28

II. Haftungssituation

28

Kapitel 2: §§ 311 Abs. 3, 241 Abs. 2, 280 BGB

30

A. Entstehen eines vorvertraglichen Schuldverhältnisses

30

I. Eigenes wirtschaftliches Interesse

32

1. Hintergrund

32

2. Voraussetzungen

33

3. Rechtsprechung zu Franchisekonstellationen

35

a) Stellung als geschäftsführender Gesellschafter

35

aa) OLG Köln, Urteil vom 7.9.2001 – 19 U 83/01

36

bb) Stellungnahme

36

b) Stellung als Verhandlungsgehilfe des Franchisegebers

37

aa) OLG Düsseldorf, Urteil vom 6.9.2002 – I-17 U 222/01; BGH, Urteil vom 12.11.2003 – VIII ZR 268/02

38

bb) OLG Düsseldorf, Urteil vom 18.2.2004 – VI-U (Kart) 42/02; BGH, Urteil vom 13.12.2005 – KZR 12/04

38

4. Vorliegen eines eigenen wirtschaftlichen Interesses im Franchising

40

II. Inanspruchnahme von Vertrauen in besonderem Maße

42

1. Voraussetzungen

43

a) Dritte im Sinne des § 311 Abs. 3 Satz 2 BGB

43

b) Vertrauen

44

c) Inanspruchnahme des Vertrauens

47

d) "Für sich"

50

e) "In besonderem Maße"

52

f) Kausalität

53

g) Zwischenergebnis

54

2. Rechtsprechung zu Franchisekonstellationen

54

a) Stellung als geschäftsführender Gesellschafter

54

aa) OLG Köln, Urt. v. 7.9.2001 – 19 U 83/01

54

bb) Stellungnahme

55

b) Stellung als Verhandlungsgehilfe des Franchisegebers

56

aa) OLG Düsseldorf, Urt. v. 6.9.2002 – I-17 U 222/01; BGH, Urt. v. 12.11.2003 – VIII ZR 268/02

56

bb) OLG Düsseldorf, Urt. v. 18.2.2004 – VI-U (Kart) 42/02; BGH, Urt. v. 3.12. 2005 – KZR 12/04

57

cc) Kritik aus der Literatur

58

dd) Stellungnahme

59

(1) Umkehrung des Regel-Ausnahme-Prinzips

59

(2) Erfüllung der Vertragspflichten des Franchisegebers durch den Dritten

60

(3) Informationsasymmetrie

61

(4) Merkmal "für sich"

62

3. Praktische Anwendungsfälle

63

4. Zwischenergebnis

65

B. Pflichten des Dritten in einem vorvertraglichen Schuldverhältnis

66

I. Wahrheitspflicht

67

1. Vorsätzliche Falschinformation

67

2. Fahrlässige Falschinformation

69

a) Vorsatzdogma

70

b) Ansicht Kerstings

70

c) Herrschende Ansicht

71

d) Stellungnahme

72

e) Zwischenergebnis

75

II. (Echte) Aufklärungspflichten des Dritten

75

1. Herleitung der Aufklärungspflichten

75

a) Informationsbedarf des Franchisenehmers

78

b) Möglichkeit der Information

79

c) Funktionsverteilung

80

aa) Wirtschaftliches Eigeninteresse

81

bb) Inanspruchnahme von Vertrauen

82

cc) Zwischenergebnis

84

2. Abgrenzung Täuschung/Aufklärungspflichtverletzung

84

a) OLG Köln Urt. v. 24.4.2009 – 6 U 70/08/ BGH Urt. v. 19.7.2011 – VI ZR 367/09

85

b) LG Hamburg, Urt. v. 17.1.2014 – 32 O 249/12/ OLG Hamburg, Urt. v. 5.9.2014 – 4 U 10/14

87

c) Stellungnahme

88

3. Konkrete Aufklärungspflichten des Dritten im Franchising

88

a) Standortanalyse

91

aa) Bejahende Ansicht

91

bb) Verneinende Ansicht

93

cc) Stellungnahme

95

b) Rentabilitätsvorschau/Umsatzprognose

96

aa) Bejahende Ansicht

97

bb) Verneinende Ansicht

98

cc) Stellungnahme

100

c) Einkaufsvorteile

102

aa) Auskehrpflicht von Einkaufsvorteilen

103

bb) Aufklärungspflicht

104

4. Form und Zeitpunkt der Aufklärung

106

5. Beweislast

107

6. Zwischenergebnis

109

C. Verschulden

109

D. Kausalität

110

E. Haftungsumfang

111

F. Mitverschulden des Franchisenehmers

113

G. Vertragliche Beschränkung der Haftung

115

Kapitel 3: Auskunfts- und Beratungsvertrag

120

A. Voraussetzungen der Haftung aus einem Auskunfts- und Beratungsvertrag

121

I. Geschichtlicher Hintergrund

121

II. Begriffe der "Auskunft" und "Beratung"

122

III. Abschluss eines Auskunfts- und Beratungsvertrags

122

1. Ausdrücklich geschlossener Auskunfts- und Beratungsvertrag

122

2. Stillschweigend geschlossener Auskunfts- und Beratungsvertrag

123

a) Voraussetzungen eines stillschweigenden Vertragsschlusses

124

b) Parteien des stillschweigend geschlossenen Vertrags

125

IV. Pflichten aus einem Auskunfts- und Beratungsvertrag

127

1. Wahrheitspflicht

127

2. Spezielle Pflichten im Rahmen der Kapitalanlage

128

3. Pflichten des auskunftgebenden Dritten im Franchising

129

V. Verletzung einer Vertragspflicht

131

VI. Rechtsfolge

131

B. Rechtsprechung zu Franchisekonstellationen

132

I. OLG Düsseldorf, Urt. vom 6.9.2002 – I-17 U 222/01; BGH, Urt. vom 12.11.2003 – VIII ZR 268/02

133

II. OLG Düsseldorf, Urteil vom 18.2.2004 – VI-U (Kart) 42/02

134

1. Prognosecharakter

134

2. Stellung des Dritten

135

3. Kein Entgelt

136

4. "Datenmaterial ohne Gewähr"

136

III. BGH, Urteil vom 13.12.2005 – KZR 12/04

137

IV. Zwischenergebnis

138

C. Kritik der Literatur

138

D. Stellungnahme zur Kritik der Literatur

141

Kapitel 4: Prospekthaftung

144

A. Einführung

144

I. Entstehung der Prospekthaftung

144

II. Aktuelle Situation der Prospekthaftung

146

B. Die bürgerlich-rechtliche Prospekthaftung

147

I. Die bürgerlich-rechtliche Prospekthaftung im engeren Sinne

147

1. Anspruchsvoraussetzungen

149

a) Prospekt

149

aa) Marktbezug

149

bb) Erhebliche Angaben

150

cc) Schriftlichkeit

151

b) Prospektmangel

151

c) Haftende Personen

153

d) Kausalität

155

e) Verschulden

156

2. Rechtsfolgen

157

3. Verjährung

157

II. Prospekthaftung im weiteren Sinne

158

C. Anwendbarkeit im Franchising

159

I. Argumente für eine Prospekthaftung im Franchising

160

1. Prospektbegriff im Franchising

162

2. Prospektverantwortliche im Franchising

163

3. Weitere Voraussetzungen

164

4. Zwischenergebnis

164

II. Argumente gegen eine Prospekthaftung im Franchising

165

1. Fehlende Vergleichbarkeit

165

2. Integration der Prospekthaftung in § 311 Abs. 3 BGB

167

3. Zwischenergebnis

169

III. Stellungnahme

169

Kapitel 5: Deliktische Haftung

174

A. Haftung gemäß § 823 Abs. 2 BGB i.V.m. § 263 StGB

174

I. Täuschen über Tatsachen

175

1. Positives Tun

176

a) Ausdrückliches Täuschen

176

b) Konkludentes Täuschen

177

2. Unterlassen

178

a) Aufklärungspflicht aus freiwilliger Übernahme

178

b) Aufklärungspflicht aus Ingerenz

179

3. Stellungnahme zur Abgrenzung Tun/Unterlassen im Franchising

181

II. Irrtum und Vermeidbarkeit

183

1. Literaturansicht

183

2. Rechtsprechung

184

3. Stellungnahme

184

III. Kausale Vermögensverfügung

185

1. Eingehung des Franchisevertrags als Vermögensverfügung

185

2. Kausalität

186

a) Fortbestehen eines täuschungsbedingten Irrtums

186

b) Hypothetisches Alternativverhalten

187

IV. Schaden

188

V. Subjektiver Tatbestand

190

1. Betrugsvorsatz

190

2. Bereicherungsabsicht

191

VI. Rechtsfolge

193

B. Haftung gemäß § 826 BGB

193

I. Sittenwidriges schädigendes Verhalten

194

II. Vorsatz

197

III. Rechtsfolgen

199

C. Mitverschulden

199

Kapitel 6: Aktueller Ausblick auf eine mögliche gesetzliche Regelung

201

A. Argumente gegen eine gesetzliche Regelung

203

B. Argumente für eine gesetzliche Regelung

204

C. Stellungnahme

206

Kapitel 7: Ergebnis

208

Literaturverzeichnis

210

Sachwortverzeichnis

219