Comparative law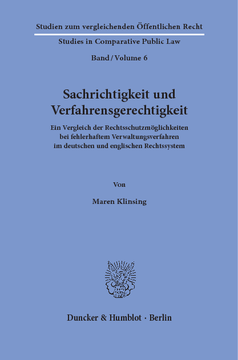 Additional Information
Book Details
ISBN

978-3-428-55687-8
978-3-428-15687-0 (print edition)

DOI

https://doi.org/10.3790/978-3-428-55687-8

Edition

1

Language

German

Pages

432

Collections

Subjects
Pricing
Institution

€ 126.00 (incl. local VAT if applicable)

Individual

€ 98.90 (incl. local VAT if applicable)
About The Author
Maren Klinsing hat Rechtswissenschaften an der Universität Passau und englisches Recht am University College London studiert. Ihr Rechtsreferendariat absolvierte sie am Kammergericht in Berlin mit Stationen beim Bundesministerium für wirtschaftliche Zusammenarbeit und Entwicklung in Bonn sowie der Gesellschaft für Internationale Zusammenarbeit im Kosovo. Nach Abschluss des zweiten Staatsexamens war sie zunächst als Rechtsanwältin im Bereich des Öffentlichen Wirtschaftsrechts tätigt und ist zurzeit Richterin in Berlin.
Maren Klinsing studied German law at the University of Passau and English law at University College London. She completed her legal clerkship in Berlin with stations at the Federal Ministry for Economic Cooperation and Development in Bonn and the German Society for International Cooperation in Kosovo. After completing her second state examination, she initially worked as a lawyer in the field of public commercial law and is currently a judge in Berlin.
Abstract
Soll dem Einzelnen Rechtsschutz gewährt werden, (nur) weil die Verwaltung verfahrensrechtliche Vorgaben nicht beachtet hat? Die Arbeit untersucht mit Blick auf das deutsche und das englische Rechtssystem, inwieweit die Antwort auf diese Frage auf drei bedeutenden Systementscheidungen verwaltungsrechtlicher Systeme beruht: der Reichweite der verwaltungsgerichtlichen Inhaltskontrolle von Verwaltungsentscheidungen, der Rolle, die dem Verfahren bei der Findung einer Entscheidung der Verwaltung beigemessen wird und schließlich der objektiv- oder subjektivrechtlichen Ausrichtung des verwaltungsgerichtlichen Rechtsschutzes. Gezeigt wird, dass trotz der teilweise gegenläufigen Systementscheidungen – etwa die in Deutschland betonte »dienende Funktion« des Verwaltungsverfahrens für die materielle Verwaltungsentscheidung gegenüber der englischen »duty to act fairly« als eigenständiger prozeduraler Garantie – weitgehende Annäherungen beider Rechtssysteme in diesen Fragen zu beobachten sind. »Substantive Accuracy and Natural Justice. A Comparison of Legal Protection Possibilities in the Event of Incorrect Administrative Proceedings in the German and English Legal Systems«

To what extent should individual judicial protection be granted (only) because the administration has disregarded procedural requirements? Based on three basic decisions of administrative law systems, this paper examines which answers the German and English legal systems have found to this question. The focus here is on the convergence tendencies of both legal systems, also against the background of European law influence.
Table of Contents
Section Title
Page
Action
Price

Inhaltsverzeichnis

5

Abkürzungsverzeichnis

15

Kapitel 1: Einleitung

17

A. Problemaufriss

17

I. Das Verwaltungsverfahren und seine Spannungsfelder

17

II. Drei Systementscheidungen des Verwaltungsrechts

20

B. Terminologische Anmerkungen und Eingrenzung des Untersuchungsgegenstands

23

I. Verwaltungsverfahren und administrative process

23

1. Verfahrensbegriff des deutschen Verwaltungsverfahrensgesetzes

23

2. Verwaltungsverfahren im weiteren Sinne

25

3. Der Begriff des administrative process

26

4. Der vorliegend zu Grunde gelegte Verwaltungsverfahrensbegriff

27

5. Verschiedenartigkeit von Verwaltungsverfahren

28

II. Verwaltungsentscheidung

30

III. Verfahrensrechtsverletzung und Verfahrensfehler

30

C. Zur Methodik der Rechtsvergleichung

31

I. Bedeutung der Rechtsvergleichung im und für das Verwaltungsrecht

32

II. Wahl des englischen Rechtssystems als Referenzgebiet

35

Kapitel 2: Die Reichweite der gerichtlichen Kontrolle von Verwaltungsentscheidungen

37

A. Umfassende gerichtliche Überprüfbarkeit oder weite Entscheidungsspielräume der Verwaltung

37

I. Die Betonung des umfassenden gerichtlichen Rechtsschutzes und der gebundenen Verwaltung in Deutschland

38

II. Die Betonung exekutiver Entscheidungsspielräume und die zurückgenommene Gerichtskontrolle in England

40

B. Auswirkungen der Systementscheidungen und deren Durchbrechung

44

I. Der gerichtliche Rechtsschutz und die interne Verwaltungskontrolle in Deutschland

44

1. Die Verwaltungsgerichtsbarkeit und ihre Rechtsschutzgarantie

44

a) Kontrollumfang der Verwaltungsgerichte

45

aa) Konzept der "einzig richtigen Verwaltungsentscheidung"

46

bb) Einschränkungen des gerichtlichen Kontrollumfangs

47

(1) Kontrollumfang bei Ermessensentscheidungen

50

(2) Kontrollumfang bei unbestimmten Rechtsbegriffen

52

(3) Kontrollumfang bei Planungs-‍, Abwägungs- oder Prognoseentscheidungen der Verwaltung

54

(4) Kontrollumfang bei Regulierungsermessen

56

cc) Bedeutung der Letztentscheidungskompetenz der Verwaltung für die gerichtliche Überprüfung des Verwaltungsverfahrens

58

(1) Der Kompensationsgedanke

58

(2) Abwägungskontrolle als besondere Verfahrenskontrolle?

62

b) Grundsätzliche Pflicht zur Herbeiführung der Spruchreife und des Entscheidens in der Sache

66

2. Die interne Verwaltungskontrolle und ihre Rolle für den Rechtsschutz in Deutschland

68

a) Einschalten der Aufsichtsbehörden und sonstige Formen interner Verwaltungskontrolle

68

b) Bedeutung des Widerspruchsverfahrens

69

c) Mediation und alternative Streitbeilegung im Verwaltungsrecht

71

II. Der gerichtliche Rechtsschutz und die interne Verwaltungskontrolle in England

73

1. Die Verwaltungsgerichtsbarkeit und ihre Kontrollkompetenz

73

a) Entwicklung des Administrative Court an der Queen's Bench Division of the High Court

74

b) Das judicial review proceeding

74

aa) Entstehung des judicial review proceedings

75

(1) Bedeutung der Industrialisierung und der Entwicklung des Sozialstaats

75

(2) Mittelalterliche Klagearten – writs und remedies

76

bb) Reform und modernes Verständnis des judicial review

77

c) Kontrollumfang des Administrative Court im Rahmen des judicial review proceedings

79

aa) Ausschluss des gerichtlichen Rechtsschutzes

79

(1) Gerichtliche Überprüfbarkeit – justiciability und policy decisions

79

(2) Ausschlussklauseln – exclusion oder ouster clauses

81

bb) Beschränkung des gerichtlichen Kontrollumfangs und Ausweitung durch die Entwicklung der Klagegründe – grounds of judicial review

82

(1) Ronald Dworkins one right answer thesis und Unterscheidung zwischen Entscheidungs- und Interpretationsspielraum in der gerichtlichen Kontrolle

82

(2) Traditionelle Beschränkung auf die Kontrolle der Zuständigkeit und des Verfahrens

84

(3) Die einschlägigen Klagegründe

86

(a) Der Klagegrund der Rechtswidrigkeit – illegality

88

(aa) Unrechtmäßige Delegierung der Ermessensausübung

89

(bb) Ermessenseinschränkung – fettering of discretion

89

(cc) Einbeziehung fehlerhafter Entscheidungsgründe

91

(b) Der Klagegrund der Unvernunft oder Unzumutbarkeit – unre‍asonableness oder irrationality

92

d) Überprüfung der behördlichen Sachverhaltsermittlung, Grundsatz des Zurückverweisens an die Verwaltungsbehörde und fehlende Befugnis zur eigenen Sachverhaltsaufklärung

97

e) Erweiterungen des gerichtlichen Kontrollumfangs durch europäische Einflüsse

99

aa) Einfluss des Human Rights Act 1998

99

bb) Der Klagegrund der Unverhältnismäßigkeit – disproportionality

100

(1) Verhältnismäßigkeit von Verwaltungsentscheidungen mit unionsrechtlichem Bezug

101

(2) Verhältnismäßigkeit bei Eingriffen in fundamentale Rechte

102

(3) Disproportionality als allgemeiner Test zur inhaltlichen Überprüfung von Verwaltungsentscheidungen?

106

(4) Auswirkung der erweiterten Inhaltskontrolle auf die Kontrolle des Verwaltungsverfahrens

110

2. Die interne Verwaltungskontrolle und ihre Bedeutung für den Rechtsschutz in England

112

a) Rechtsschutz vor den administrativen Tribunalen

113

aa) Entwicklung des tribunal systems

113

bb) Kontrollkompetenz der administrativen Tribunale und Kontrolle des Verwaltungsverfahrens

116

b) System der ombudsmen und weitere Formen alternativer Streitbeilegung

117

c) Behördeninterne Kontrolle – internal review

118

C. Ergebnis: Die heutige Bedeutung der Systementscheidungen – Annäherung des englischen und des deutschen Rechtssystems?

119

I. Die Letztentscheidungsbefugnis der Verwaltung

119

II. Der Prüfungsumfang der Verwaltungsgerichte und die Kontrolle des Verwaltungsverfahrens

120

III. Die deutsche Abwägungskontrolle und der englische Klagegrund der illegality

121

Kapitel 3: Die Bedeutung des Verwaltungsverfahrens innerhalb der Verwaltungsrechtsordnung

124

A. Die dienende Funktion des Verwaltungsverfahrens oder die Betonung der Verfahrensgerechtigkeit

125

I. Der Ausgangspunkt der grundsätzlich dienenden Funktion des Verwaltungsverfahrens in Deutschland

126

1. Stellung des Verfahrensrechts innerhalb des Verwaltungsrechts

128

a) Funktionaler Zusammenhang zwischen Verwaltungsverfahrensrecht und Verwaltungsprozessrecht

129

b) Funktionaler Zusammenhang zwischen Verwaltungsverfahrensrecht und materiellem Recht

130

c) Veränderung der funktionalen Zusammenhänge durch Abnahme der Steuerungsfähigkeit des materiellen Rechts

131

2. Die dienende Funktion des Verwaltungsverfahrens

135

a) Klassisches Verständnis von der dienenden Funktion

135

b) Grenzen des klassischen Verständnisses von der dienenden Funktion

136

3. Der Eigenwert des Verwaltungsverfahrens

137

a) Der Begriff des "Eigenwerts"

137

b) Richtigkeitsgewähr durch Verfahren

139

c) (Grund-)‌Rechtsschutz durch Verfahren und (Grund-)‌Rechtsschutz im Verfahren

142

aa) Terminologische Klarstellung

143

bb) Vorgelagerter (Grund-)‌Rechtsschutz durch das Verwaltungsverfahren

145

d) Kompensationsfunktion bei tatsächlichen Wissensdefiziten

148

e) Akzeptanz- und konsensstiftende Funktion

151

f) Demokratische Legitimation durch Verwaltungsverfahren

154

g) Effizienzsteigerung durch Verwaltungsverfahren

155

4. Zwischenfazit zu dienender Funktion und Eigenwert des Verwaltungsverfahrens in Deutschland

158

II. Der Ausgangspunkt der Verfahrensgerechtigkeit in England

159

1. Die Rolle der Verfahrensgarantien im englischen Rechtssystem

159

a) Bedeutung des Ermessens im englischen Verwaltungsrecht – die discretion

160

aa) Verwaltungsermessen – administrative discretion

161

bb) Grundsätzlich eingeschränkte Steuerungsdichte formeller Gesetze

164

b) Bedeutung der Verfahrensrechte im System der administrative discretion

166

aa) Instrumentale Funktion von Verfahrensrechten

166

bb) Nicht-instrumentale Funktion von Verfahrensrechten

169

cc) Existenz eines Kompensationsgedankens im englischen Rechtssystem

171

c) Natural justice im Verwaltungsverfahren

172

2. Die Reichweite der Hinwendung zu einer materiellen Rechtmäßigkeitsvorstellung

174

a) Einschränkung des Verwaltungsermessens durch vermehrte Kodifikation und Verrechtlichung?

174

b) Einschränkung des Verwaltungsermessens und materielle Vorgaben durch schützenswertes Vertrauen?

177

3. Zwischenfazit zu materieller Rechtmäßigkeit und Verfahrensgerechtigkeit in England

180

B. Auswirkungen der Systementscheidung und deren Durchbrechung

181

I. Verfahrensrechte und ihre Verletzung

182

1. Die Anerkennung von Verfahrensrechten im deutschen Verwaltungsverfahren

182

a) Verfassungsrechtliche Vorgaben und Verfahrensgrundsätze

183

aa) Grundrechtlich verbürgtes Verfahrensrecht

184

(1) Ablehnung des grundrechtsverbürgten Verfahrensrechts

185

(2) Kategorisierung von Verwaltungsverfahren mit Grundrechtsbezug

188

(3) Allgemeine grundrechtliche Verfahrensgebote

190

(4) Einzelheiten grundrechtlicher Vorgaben

194

(5) Vom Grundrechtsschutz durch Verfahren unabhängige grundrechtsverbürgte Verfahrensrechte im deutschen Recht?

196

(6) Bedeutung der Prozessgrundrechte für das Verwaltungsverfahren

198

bb) Verfahrensgrundsätze aus allgemeinen Verfassungsprinzipien

199

(1) Verhältnismäßigkeit

199

(2) Objektivität und Gleichbehandlung im Verfahren

200

(3) Transparenz und Vertrauensschutz

201

cc) Unionsrechtliche Vorgaben für das nationale Verfahrensrecht

202

(1) Äquivalenzprinzip und Effektivitätsgebot

203

(2) Inhaltliche Verfahrensregelungen durch das Unionsrecht

204

b) Verfahrensrechte im einfachen Verwaltungsverfahrensrecht

205

aa) Rechte unmittelbar Betroffener, Drittbetroffener und der Öffentlichkeit

205

bb) Das Recht eines Dritten auf Hinzuziehung zum Verwaltungsverfahren

206

cc) Beteiligungsrechte

208

(1) Das Recht auf Anhörung

208

(2) Das Recht auf Beteiligung an der Sachverhaltsaufklärung

210

(3) Weitergehende Beteiligungsrechte aus besonderem Verfahrensrecht und Planfeststellungsrecht

211

(a) Individualbeteiligung und Verbandsbeteiligung

211

(b) Beteiligung der betroffenen Öffentlichkeit

212

(c) Beteiligung der gesamten Öffentlichkeit

213

(4) Bedeutung der frühen Öffentlichkeitsbeteiligung nach § 25 Abs. 3 VwVfG

213

dd) Informationsrechte

215

(1) Das Recht auf Akteneinsicht

216

(2) Der freie Zugang zu behördlichen Informationen nach dem Informationsfreiheitsgesetz (IFG)

217

ee) Das Recht auf eine hinreichende Begründung

218

ff) Rolle der Umweltverträglichkeitsprüfung im System der Verfahrensrechte

219

2. Die Anerkennung von Verfahrensrechten im englischen Verwaltungsverfahren

220

a) Verfassungsrecht, Verwaltungsrecht und Verwaltungsverfahrensrecht im englischen Rechtssystem

220

b) Verfahrensrechte des natural justice-Prinzips und der duty to act fairly

222

aa) Traditioneller Inhalt des natural justice-Prinzips

222

(1) Das Recht auf ein unvoreingenommenes Verfahren

223

(2) Das Recht auf eine faire Anhörung

224

bb) Heutige Reichweite des natural justice Prinzips und der duty to act fairly

224

(1) Beteiligungs- und Anhörungsrechte

225

(a) Anwendbarkeit der duty to act fairly – Anerkennung eines Beteiligungsrechts

225

(b) Unterscheidung nach der Rolle des Einzelnen

227

(c) Beteiligungsrechte aufgrund einer legitimate expectation

227

(d) Reichweite eines bestehenden Beteiligungsrechts

228

(aa) Vorherige Bekanntgabe der geplanten Verwaltungsentscheidung und das Recht auf Einwendung

229

(bb) Das Recht auf ein Anhörungsverfahren – oral hearing

230

(e) Informations- und Beteiligungsrechte aufgrund gesetzlicher Anordnung

231

(2) Das Recht auf eine hinreichende Begründung

232

(a) Das Recht auf Entscheidungsbegründung aufgrund eines schützenswerten Vertrauens

232

(b) Das Recht auf Entscheidungsbegründung aus einzelnen Gesetzen

233

(c) Das Recht auf Entscheidungsbegründung aus der duty to act fairly

234

(d) Entstehung eines allgemeinen Rechts auf Begründung von Verwaltungsentscheidungen

235

cc) Öffentlichkeitsbeteiligungsrechte und die Beteiligung Dritter im Planungsrecht

236

dd) Die Rolle der Umweltverträglichkeitsprüfung im System der Verfahrensrechte

241

c) Inhaltliche Anforderungen europäischer Vorgaben

242

aa) Art. 6 Abs. 1 der Europäischen Menschenrechtskonvention

242

bb) Allgemeine Begründungspflicht des europäischen Rechts

244

3. Zwischenfazit: Die Reichweite von Verfahrensrechten innerhalb des Verwaltungsverfahrens im deutschen und englischen Rechtssystem

245

II. Verfahrensfehlerfolgen und Verletzung von Verfahrensrechten

245

1. Die Regelung der Verfahrensfehlerfolgen in Deutschland

246

a) Auswirkung der dienenden Funktion des Verwaltungsverfahrens

246

b) Nichtigkeit als Fehlerfolge von Verfahrensfehlern

248

c) Relativierung von Verfahrensfehlern

249

aa) Heilung von Verfahrensfehlern

249

bb) Unbeachtlichkeit von Verfahrensfehlern

251

(1) Bedeutung und Reichweite des § 46 VwVfG

251

(a) Anwendung der Unbeachtlichkeitsklausel

252

(b) Rechtsfolgen der Anwendung des § 46 VwVfG

254

(2) Bedeutung des § 75 Abs. 1a VwVfG und entsprechender Regelungen des Fachplanungsrechts für Verfahrensfehler

256

(3) Bedeutung des § 214 BauGB für Verfahrensfehler

257

cc) Grenzen und Einschränkungen der Fehlerfolgenregelung

257

(1) Auswirkungen der Annahme eines Eigenwerts des Verwaltungsverfahrens

258

(a) Eingeschränkte Anwendung der Unbeachtlichkeitsregelungen bei instrumentalem Eigenwert der Verfahrensvorgabe

258

(b) Eingeschränkte Anwendung der Unbeachtlichkeitsregelungen bei selbständigem Eigenwert der Verfahrensvorgabe

261

(c) Begrenzte Heilungsmöglichkeit bei Annahme eines Eigenwerts

269

(2) Auswirkungen der Annahme grundrechtsverbürgten Verfahrensrechts

271

(3) Auswirkungen unionsrechtlicher Vorgaben

275

(a) Mögliche Divergenzen im Umgang mit Verfahrensfehlerfolgen

275

(b) Auswirkungen der Bewertungen des Eigenverwaltungsrechts der Europäischen Union

279

dd) Bedeutung von Präklusionsregelungen für die Geltendmachung von Verfahrensrechten

282

d) Verbot der isolierten Geltendmachung von Verfahrensrechten – Bedeutung und Reichweite des § 44a VwGO

284

aa) Die grundsätzliche Anwendung des § 44a VwGO

284

bb) Ausschluss von "Partizipationsbegehren" durch § 44a Satz 1 VwGO

286

cc) Isolierte Geltendmachung absoluter Verfahrensrechte?

288

dd) Wirkungsweise im Zusammenspiel mit § 46 VwVfG

290

ee) Möglichkeit der gerichtlichen Feststellung der Verfahrensfehlerhaftigkeit

294

2. Die Regelung der Verfahrensfehlerfolgen in England

295

a) Grundsätzliche Beachtlichkeit von Verfahrensfehlern

296

b) Mögliche Begrenzung der Verfahrensfehlerfolgen

297

aa) Heilung von Verfahrensfehlern

297

bb) Unbeachtlichkeit von Verfahrensfehlern

299

(1) Verwaltungsvorgaben mit nicht-zwingendem Charakter

299

(2) Unbeachtlichkeit von Verfahrensfehlern im Falle eines nicht möglichen anderen Ergebnisses

300

(3) Unbeachtlichkeit von Verfahrensfehlern im Ermessensbereich

302

(4) Einzelfallabwägung bei Unangemessenheit der Aufhebung einer Verwaltungsentscheidung

304

c) Die Möglichkeit isolierter Geltendmachung eines Verfahrensfehlers

307

C. Ergebnis: Die heutige Bedeutung der Systementscheidungen – Annäherung des englischen und des deutschen Rechtssystems?

308

I. Die allgemeine Bedeutung verfahrensrechtlicher Garantien

308

II. Verfahrensrechtliche Garantien in der verwaltungsgerichtlichen Kontrolle

310

Kapitel 4: Die Ausrichtung der gerichtlichen Verwaltungskontrolle

313

A. Subjektiver Rechtsschutz oder objektive Rechtskontrolle

313

I. Die grundsätzliche Ausrichtung auf subjektiven Rechtsschutz in Deutschland

315

1. Die Bedeutung des subjektiven Rechtsschutzes

315

a) Historische Grundlage

316

b) Grundsätzlicher Ausschluss der Popularklage

317

c) Grundsätzlicher Ausschluss der Interessentenklage

319

d) Weitere Folgen der deutschen Systementscheidung

320

2. Individualrechtsschutz unter europäischem Einfluss

320

II. Systementscheidung für objektive Rechtskontrolle oder subjektiven Rechtsschutz in England?

324

B. Die Auswirkungen der Ausrichtung verwaltungsgerichtlicher Kontrolle

325

I. Der Zugang zu den Verwaltungsgerichten

326

1. Die Zulassung verwaltungsgerichtlicher Klagen in Deutschland

326

a) Grundsatz der möglichen Verletzung eigener Rechte

326

b) Mögliche Ausnahmen

328

aa) Anderweitige gesetzliche Bestimmungen gemäß § 42 VwGO

328

bb) Antragsbefugnis bei der Normenkontrolle

329

c) Ermittlung subjektiver öffentlicher Rechte

330

aa) Grundrechte als subjektive öffentliche Rechte

331

bb) Bedeutung subjektiver öffentlicher Rechte des Verwaltungsrechtskreises bei Adressaten- und Nichtadressatenklagen

335

cc) Entwicklung der Lehre von den subjektiven öffentlichen Rechten – die Schutznormtheorie

337

(1) Ausgangspunkt der Schutznormtheorie

338

(2) Einzelne Elemente der Schutznormtheorie

339

(a) Rechtssatz

339

(b) Schutz eines Individualinteresses

340

(c) Rechtsmacht

342

(3) Kritik an der Schutznormtheorie und Europäisierung

342

(a) Grundsätzliche Kritik an der Schutznormtheorie

343

(b) Schutznormtheorie unter europäischem Einfluss

344

d) Verfahrensvorschriften als subjektive öffentliche Rechte

349

aa) Absolute Verfahrensrechte

350

bb) Relative Verfahrensrechte

355

(1) Schutz einer materiellen Rechtsposition durch das Verfahrensrecht

355

(2) Möglichkeit der konkreten Auswirkung des Verfahrensfehlers auf eine materielle Rechtsposition des Klägers

359

(3) Weitere Möglichkeiten der Herleitung subjektiver Verfahrensrechte

360

cc) Zwischenfazit zu subjektiven Verfahrensrechten

361

2. Die Zulassung einer judicial review Klage in England

362

a) Die Klagebefugnis – standing

362

b) Zulassung einer Klage und sufficient interest test

363

aa) Grundsätzlich weite Zulassung von ausreichenden Interessen

364

bb) Zulassung bei der Geltendmachung von Verfahrensfehlern

368

c) Zulassung im Bereich des Human Rights Act 1998

370

3. Zwischenfazit zu der Zulassung zu den Verwaltungsgerichten

371

a) Einschränkungen der Klagemöglichkeiten an verschiedenen Punkten der verwaltungsgerichtlichen Klage

371

b) Keine eindeutige Systementscheidung in England

373

II. Die Begründetheit einer verwaltungsgerichtlichen Klage

374

1. Die Begründetheit verwaltungsgerichtlicher Klagen in Deutschland

374

a) Verletzung subjektiver Rechte nach § 113 Abs. 1 und Abs. 5 VwGO

374

aa) Einschränkung des gerichtlichen Kontrollmaßstabs durch die Systementscheidung für subjektiven Rechtsschutz

375

bb) Verfahrensfehler und die Verletzung subjektiver Rechte

378

cc) Bedeutung des § 46 VwVfG für die Begründetheit der Anfechtungsklage und das Erfordernis der Verletzung in materiellen Rechten

378

dd) Sonstige Geltendmachung von verletztem Verfahrensrecht

384

b) Ausnahme im Rahmen des Normenkontrollantrags nach § 47 Abs. 2 VwGO

385

2. Die Begründetheit verwaltungsgerichtlicher Klagen in England

386

a) Überprüfung der Verwaltungsentscheidung anhand der Klagegründe

387

b) Anwendung des sufficient interest test im weiteren Verfahren

387

aa) Klagen unmittelbar Betroffener

389

bb) Klagen Dritter oder Nichtadressaten

389

cc) Klagen von Interessensgruppen

392

C. Ergebnis: Die heutige Bedeutung der Ausrichtung verwaltungsgerichtlicher Kontrolle – Annäherung des englischen und des deutschen Rechtssystems?

394

I. Die Auswirkung des Individualrechtsschutzsystems auf die gerichtliche Kontrolle des Verwaltungsverfahrens

394

II. Die Beschränkung des Zugangs zu Gericht, des gerichtlichen Prüfumfangs und der Aufhebbarkeit allein formell rechtswidriger Verwaltungsentscheidungen

395

Kapitel 5: Zusammenfassung der Untersuchungsergebnisse und abschließendes Fazit

397

A. Zum Umgang mit externen Einflüssen auf das Rechtssystem

398

B. Der Eigenwert des Verfahrens in seiner instrumentalen und nicht-instrumentalen Erscheinungsform

402

C. Die direkte und indirekte Bedeutung des Verfahrensrechts in der gerichtlichen Kontrolle

403

D. Möglichkeit einer Konsolidierung der Verfahrenskontrolle im deutschen und englischen Rechtssystem – auf dem Weg zu einem gesamteuropäischen Verwaltungsrecht?

405

Literaturverzeichnis

407

Stichwortverzeichnis

430