Energy & natural resources law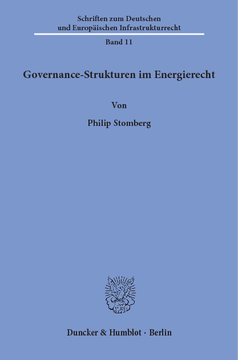 BOOK
Cite BOOK
Style
---
Stomberg, P. (2019). Governance-Strukturen im Energierecht. Duncker & Humblot. https://doi.org/10.3790/978-3-428-55416-4
Stomberg, Philip. Governance-Strukturen im Energierecht. Duncker & Humblot, 2019. Book. https://doi.org/10.3790/978-3-428-55416-4
Stomberg, P, (2019): Governance-Strukturen im Energierecht, Duncker & Humblot, [online] https://doi.org/10.3790/978-3-428-55416-4
---
Format
---
Governance-Strukturen im Energierecht
Schriften zum Deutschen und Europäischen Infrastrukturrecht, Vol. 11
(2019)
Additional Information
Book Details
ISBN

978-3-428-55416-4
978-3-428-15416-6 (print edition)

DOI

https://doi.org/10.3790/978-3-428-55416-4

Edition

1

Language

German

Pages

242

Collections

Subjects
Pricing
Institution

€ 92.00 (incl. local VAT if applicable)

Individual

€ 71.90 (incl. local VAT if applicable)
About The Author
Philip Stomberg hat von 2004 bis 2010 an der Universität Bayreuth Rechtswissenschaften studiert. Im Anschluss forschte er am Institut für deutsches und europäisches Verwaltungsrecht der Ruprecht-Karls-Universität Heidelberg und wurde – unterstützt durch ein Promotionsstipendium aus Mitteln der Exzellenzinitiative – mit der vorliegenden Arbeit promoviert. Seit dem Ende des Juristischen Vorbereitungsdienstes am Pfälzischen Oberlandesgericht Zweibrücken (2014-2016) arbeitet er als Regierungsrat im Niedersächsischen Ministerium für Inneres und Sport.
Philip Stomberg studied Law at the University of Bayreuth (2004-2010). Afterwards, he conducted research at the Institute for German and European Administrative Law at Ruprecht-Karls-University Heidelberg, which granted him a scholarship for his doctorate. Since he passed his legal clerkship in the district of the Higher Regional Court of Zweibrücken (2014-2016), he has been working as a lawyer at the Ministry of the Interior of Lower Saxony.
Abstract
»Governance Structures in Energy Law«

The thesis analyses the structures of interrelation between public and private actors in European Energy Law and evaluates their democratic impact. Even if one accepts the described governance perspective in the jurisdiction of Germany's Federal Constitutional Court and the openness to the development of democratic principles, the decreasing influence of public actors in Energy Law leads to legal problems – in all three branches of government (executive, legislative, and judiciary). Ausgehend von der These, dass in der europäischen Energiewirtschaft ein grundlegender Wandel eingetreten ist, analysiert die vorliegende Arbeit die Strukturen des Zusammenwirkens von staatlichen und nicht staatlichen Akteuren im Energierecht und bewertet diese vor dem Hintergrund des Demokratieprinzips. Das Governance-Konzept, sofern rechtlich eingefangen und hinreichend eng umgrenzt, hilft dabei, jene Strukturen abzubilden, die sich durch den »Wandel von Staatlichkeit« herausgebildet haben – und dies sowohl im Bereich der Rechtsetzung und der Exekutive als auch im Bereich der Rechtsprechung. In allen drei Gewalten wirken die unterschiedlichsten Akteure außerhalb des originären Steuerungs-, Zurechnungs- und Legitimationszusammenhangs. Auch wenn man dabei der aufgezeigten Governance-Perspektive des Bundesverfassungsgerichts folgt und die Entwicklungsoffenheit des Demokratieprinzips anerkennt, so wird doch deutlich, dass die Aufgabe des klassisch-staatlichen Steuerungsanspruchs in allen drei Gewalten zu Problemen in demokratietheoretischer Hinsicht führt.
Table of Contents
Section Title
Page
Action
Price

Vorwort

5

Inhaltsverzeichnis

7

Einleitung

9

1. Teil: Begrifflich-konzeptionelle Grundlagen einer rechtswissenschaftlichen Governance-Analyse, insbesondere im Energiebereich

15

§ 1  Wandel in der Energiewirtschaft

15

I.  Staatliche Verantwortung

15

II.  Staatliche Verantwortungsstufen

18

III.  Änderung der Verantwortungsstufen im Energierecht

23

1.  Das Energiewirtschaftsgesetz von 1935

24

2.  Das Gesetz zur Neuregelung \ndes Energiewirtschaftsgesetzes aus dem Jahr 1998

26

3.  Die Novelle des Energiewirtschaftsgesetzes 2003

30

4.  Die Novelle des Energiewirtschaftsgesetzes 2005

33

5.  Die Novelle des Energiewirtschaftsgesetzes 2011

36

IV.  Bezugsrahmen für das Governance-Konzept

38

V.  Ergebnis

43

§ 2  Das Governance-Konzept im Energiebereich

47

I.  Grundsätzliche Tauglichkeit des Governance-Konzepts im Energiesektor

47

II.  Governance – Begriff und Leistungspotenzial für die Rechtswissenschaft

49

1.  Der Governance-Begriff und seine Rezeption

50

a)  Weiter Governance-Begriff

51

b)  Enger Governance-Begriff

54

aa)  Planung

54

bb)  Steuerung

57

cc)  Governance

61

2.  Voraussetzungen für die Anschlussfähigkeit des Governance-Begriffs in der Staats- und Verwaltungsrechtswissenschaft

69

a)  Anforderungen der Rechtswissenschaft an Governance

69

b) Governance und Systemtheorie – zwei ähnlich gelagerte Theorieangebote?

70

c)  Bindungen staatlicher Akteure in Governance-Strukturen

75

d)  Governance als Herausforderung für Demokratiemodelle

78

III.  Ergebnis

90

2. Teil: Governance-Strukturen im Energierecht

95

§ 3  Governance-Strukturen im Bereich der Rechtsetzung

96

I.  Governance und Rechtsetzung im Energiebereich

97

1. Governance und Rechtsetzung im Bereich der Kernenergienutzung

98

2. Governance und Rechtsetzung im Bereich der Kraft-Wärme-Kopplung

104

3.  Kooperative Normvermeidung

108

4.  Governance und Rechtsetzung im Europäischen Energierecht

113

5. Offene Methode der Koordinierung und Europäisches Energierecht

122

II.  Governance im Bereich der Rechtsetzung und Demokratie

132

III.  Ergebnis

134

§ 4  Governance-Strukturen im Bereich der Exekutive

138

I.  Exekutive Governance-Strukturen

139

1.  Anfänge

142

2.  Zunehmende Verdichtung der Governance-Strukturen

148

a)  Horizontalisierung

148

b)  Unabhängige nationale Regulierungsbehörden

150

c)  Weitergehende Verflechtung zwischen nationalen Regulierungsbehörden, ACER und Kommission

154

d)  Zwischenergebnis

159

II.  Governance im Bereich der Exekutive und Demokratie

160

III.  Ergebnis

164

§ 5  Governance-Strukturen im Bereich \nder Rechtsprechung

169

I.  Der Energiecharta-Vertrag

170

1.  Hintergrund

170

2.  Erstes Beispiel: Vattenfall und der Atomausstieg

176

3.  Zweites Beispiel: Vattenfall und das Steinkohlekraftwerk Hamburg-Moorburg

189

II.  Governance im Bereich der Rechtsprechung \nund Demokratie

196

III.  Ergebnis

201

Zusammenfassung

202

Literaturverzeichnis

211