Comparative law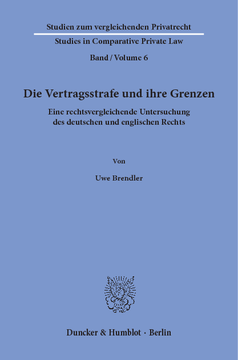 Additional Information
Book Details
ISBN

978-3-428-55573-4
978-3-428-15573-6 (print edition)

DOI

https://doi.org/10.3790/978-3-428-55573-4

Edition

1

Language

German

Pages

233

Collections

Subjects
Pricing
Institution

€ 92.00 (incl. local VAT if applicable)

Individual

€ 71.90 (incl. local VAT if applicable)
About The Author
Uwe Brendler studierte Rechtswissenschaften an der Technischen Universität Dresden und beendete sein Studium mit Auszeichnung als Jahrgangsbester 2009. Seit Abschluss seines Referendariats in 2011 ist der Autor als Rechtsanwalt in einer internationalen Wirtschaftskanzlei im Bereich des Gesellschaftsrechts tätig. Zugleich begann er mit der Arbeit an seiner Dissertation. Von September 2014 bis August 2015 absolvierte Uwe Brendler ein Masterstudium im Bereich International Business Law am King's College London.
Uwe Brendler studied law at Technische Universität Dresden graduating with award for the best of student of 2009. Upon competition of his legal clerkship in 2011, he has worked as a lawyer in an international law firm in the field of corporate law. Uwe Brendler also began to work on his Ph.D. From September 2014 until August 2015, he completed a Masters in International Business Law at King's College London.
Abstract
Der Vertragsstrafe kommt eine bedeutende Rolle für die Sicherstellung der Leistungserbringung und die Erleichterung der Schadloshaltung im Falle von Vertragsverletzungen zu. Demgegenüber steht die Unsicherheit im Hinblick auf eine rechtssichere Ausgestaltung einer Vertragsstrafe. Die Arbeit beschäftigt sich mit den rechtlichen Grenzen der Vertragsstrafe im Spannungsfeld zwischen Schuldnerschutz und Vertragsfreiheit. Im deutschen Recht stehen das Herabsetzungsrecht nach § 343 BGB, die Sittenwidrigkeit nach § 138 Abs. 1 BGB und das richterrechtlich geschaffene Herabsetzungsrecht nach § 242 BGB im Mittelpunkt. Im englischen Recht wird das Durchsetzungsverbot von Strafversprechen gemäß der ›penalty doctrine‹ in Abgrenzung zu ›liquidated damages‹ insbesondere durch die Entscheidungen ›Dunlop Pneumatic Tyre‹ sowie ›Cavendish Square Holding‹ untersucht. In beiden Rechtsordnungen manifestiert sich in der jüngeren Rechtsprechung eine Entkoppelung von Verbraucherverträgen und b2c-Sachverhalten. »Penalty Clauses and their Limitation. A Comparative Study of German and English Law«

Penalty clauses are contractual provisions in conflict between freedom of contract and protection of the debtor. The thesis focuses on the judicial reduction rights pursuant to § 343 German Commercial Code (BGB) and § 242 BGB, as well as on invalidity pursuant to § 138 BGB. With regard to English law, the unenforceability of penalty clauses in virtue of the penalty doctrine is examined, in particular with regard to the rulings »Dunlop Pneumatic Tyre« and »Cavendish Square Holding«.
Table of Contents
Section Title
Page
Action
Price

Vorwort

5

Inhaltsverzeichnis

7

Abkürzungsverzeichnis

12

Einleitung und Problemstellung

15

A. Problemstellung

15

B. Gegenstand, Zielsetzung und Grenzen der Untersuchung

21

C. Gang der Untersuchung

22

Erster Teil: Die länderspezifischen Grundlagen der Vertragsstrafe und der penalty clauses

24

§ 1 Historische und systematische Gegenüberstellung

24

A. Gemeinsamkeiten der europäischen Rechtshistorie

24

I. Deutsche Besonderheiten

25

1. Ursprung im römischen Recht

25

2. Weiterentwicklung im römisch-kanonischen ius commune

28

3. Humanistisches Recht des 16. Jahrhunderts

29

4. Allgemeines Landrecht für die preußischen Staaten

30

II. Englische Besonderheiten

32

B. Gesetzliche Kodifikation versus Richterrecht

35

I. Deutsche Gesetzgebung zur Vertragsstrafe

35

II. Englisches Rechtsbehelfssystem bei Vertragsverletzung

37

C. Rechtsvergleichende Gesamtbetrachtung

38

§ 2 Erlaubte Druckausübung und verbotene Sanktion

40

A. Deutsches Recht

41

I. Bifunktionalität der Vertragsstrafe

41

1. Absicherung der ordnungsgemäßen Vertragserfüllung

41

2. Erleichterung der Schadloshaltung

42

II. Sanktionsfunktion

45

B. Englisches Recht

48

C. Rechtsvergleichende Betrachtung

50

§ 3 Konträre Rechtsfolgen trotz ähnlichen Anwendungsbereichs

51

A. Voraussetzungen

51

I. Anforderungen nach deutschem Recht

51

1. Rechtswirksame Vereinbarung

51

a) Vertragsschluss

52

b) Formerfordernis

52

c) Bestimmtheit der Leistungspflicht

53

d) Gestaltungsarten von Vertragsstrafen

55

2. Bestehen der strafbewehrten Verpflichtung

57

a) Sicherungsfähiger Anspruch

57

b) Abgrenzung zum selbstständigen Strafversprechen

59

3. Verletzung der strafbewehrten Verpflichtung

61

a) Charakteristika und Nachweis des Verstoßes

62

b) Vertretenmüssen

64

c) Schaden

65

4. Vorbehaltserklärung

66

II. Anforderungen des englischen Rechts

68

1. Rechtswirksame Vereinbarung

68

2. Vertragsverletzung

69

3. Verschulden und Schaden

70

B. Rechtsfolgen

71

I. Zahlungspflicht nach deutschem Recht

71

1. Zahlung anstelle oder neben Erfüllungsverlangen

72

2. Vertragsstrafe als Mindestschaden

74

II. Durchsetzungsverbot nach englischem Recht

75

C. Rechtsvergleichende Gesamtbetrachtung

77

§ 4 Abgrenzung zu verwandten Rechtsinstituten

78

A. Deutsches Recht

78

I. Pauschalierter Schadensersatz

79

1. Zum Rechtsinstitut

79

2. Unterschiede zur Vertragsstrafe

80

II. Verfallklausel

83

III. Reugeld

84

IV. Draufgabe

85

V. Vereins- und Verbandsstrafen

86

B. Englisches Recht

86

I. Liquidated damages

87

II. Forfeiture clauses und deposits

90

C. Rechtsvergleichende Betrachtung

92

Zweiter Teil: Rechtliche Grenzen der Vertragsstrafe

94

§ 5 Herabsetzung der Vertragsstrafe nach § 343 BGB

95

A. Sonderstellung als richterliche Billigkeitskontrolle

95

B. Unverhältnismäßigkeit der Vertragsstrafe

97

I. Zusammenschau der abzuwägenden Aspekte

97

II. Ermittlung des berechtigten Gläubigerinteresses

100

III. Bewertung von Gesichtspunkten auf Schuldnerseite

104

1. Vorteil durch Vertragsverletzung

104

2. Wirtschaftliche Verhältnisse des Schuldners

104

3. Art und Weise der Zuwiderhandlung

107

IV. Zusammentreffen mehrerer Verstöße

108

C. Reduktion auf angemessenen Betrag

112

I. Die richterliche Ermessensentscheidung

112

II. Antrag auf Herabsetzung

114

D. Keine Herabsetzung bei Strafversprechen eines Kaufmanns

116

E. Bewertung

117

§ 6 Sittenwidrigkeit nach § 138 Abs. 1 BGB

119

A. Dualistisches Anforderungsprofil

121

I. Entwicklung der höchstrichterlichen Rechtsprechung

122

II. Unverhältnismäßigkeit der Vertragsstrafe

127

III. Hinzutretender Umstand als die Sittenwidrigkeit auslösender Faktor

131

B. Primat der Nichtigkeit

132

I. Klauselbezogene Betrachtung

132

II. Vertragsbezogene Betrachtung

136

C. Bewertung

137

§ 7 Herabsetzung der Vertragsstrafe nach § 242 BGB

139

A. Hintergrund der richterlichen Rechtsfortbildung

140

I. § 242 BGB als Durchsetzungshindernis der Vertragsstrafe

140

II. Verfassungsrechtliche Pflicht zur richterlichen Inhaltskontrolle

142

B. Die Kinderwärmekissen-Entscheidung des Bundesgerichtshofs

146

C. Reduktion zur Beseitigung der Unverhältnismäßigkeit

148

D. Bewertung

149

§ 8 Inhaltskontrolle von Vertragsstrafen nach §§ 305ff. BGB

152

A. Grundlagen des AGB-Rechts

153

B. Anwendung des AGB-Rechts im b2c- und b2b-Verhältnis

154

C. Verbotsnorm des § 309 Nr. 6 BGB im b2c-Bereich

155

D. Allgemeine Inhaltskontrolle nach § 307 BGB

155

I. Abweichung von dispositiven Gesetzesrecht als Benachteiligung

156

II. Unangemessene Strafhöhe als Benachteiligung

156

III. Unwirksamkeit als starre Rechtsfolge

158

E. Bewertung

159

§ 9 Durchsetzungsverbot von penalty clauses

160

A. Traditionelle penalty doctrine nach Dunlop Pneumatic Tyre Co Ltd v New Garage & Motor Co Ltd.

160

B. Schrittweise Einschränkung der penalty doctrine durch die nachfolgende Rechtsprechung

163

I. Eckpunkte der wesentlichen Entscheidungen

163

1. Philips Hong Kong Ltd v Attorney General of Hong Kong (1993)

163

2. Lordsvale Finance Plc v Bank of Zambia (1996)

165

3. Robophone Facilities Ltd v Blank (1996)

166

4. Cenargo Ltd v Empresa Nacional Bazan de Construcciones Navales Militares (2002)

167

5. Murray v Leisureplay Plc (2005)

168

II. Bewertung

169

C. Neuausrichtung der penalty doctrine durch Cavendish Square Holding BV v Talal El Makdessi/ Parking Eye Ltd v Beavis

171

I. Sachverhalte aus b2b- und b2c-Bereich

172

II. Aufrechterhaltung des Durchsetzungsverbots aus Gründen des Schuldnerschutzes und der Rechtstradition

173

III. Fortgeltung des Erfordernisses der Vertragsverletzung

176

IV. Änderung der Abgrenzungsdogmatik zu liquidated damages

179

D. Bewertung

183

§ 10 Rechtsvergleichende Gesamtbetrachtung

186

Dritter Teil: Perspektiven einer europäischen Rechtsangleichung

190

§ 11 Notwendigkeit einer Rechtsangleichung

190

A. Nutzen der vertraglichen Regelung von Vertragsverletzungsfolgen

190

B. Möglichkeit der Rechtswahl

192

C. EU-Austritt von Großbritannien als Risiko und Chance

195

§ 12 Entwicklung der Rechtsangleichung

196

A. Resolution on Penal Clauses in Civil Law

196

B. Principles of European Contract Law

197

C. Draft Common Frame of Reference

200

D. Common European Sales Law

201

§ 13 Bewertung der Aussichten

203

Fazit und Perspektiven

206

A. Die länderspezifischen Grundlagen der Vertragsstrafe und der penalty clauses

208

I. Historische und systematische Unterschiede

208

II. Druckausübung als Kernelement

209

III. Vergleichbare Anwendungsbereiche

210

IV. Abgrenzung zur Schadenspauschalierung bzw. liquidated damages

210

B. Rechtliche Grenzen der Vertragsstrafe

211

I. Deutsches Recht

212

1. Richterliche Herabsetzung nach § 343 BGB

213

2. Sittenwidrigkeit der Vertragsstrafe

213

3. Richterliche Herabsetzung nach § 242 BGB

214

4. Inhaltskontrolle nach §§ 305ff. BGB

215

II. Englisches Recht

215

C. Perspektiven einer europäischen Rechtsangleichung

217

I. Notwendigkeit einer Rechtsangleichung

217

II. Entwicklung der Rechtsangleichung

218

III. Bewertung der Aussichten

218

Literaturverzeichnis

221

Stichwortverzeichnis

231