Insurance law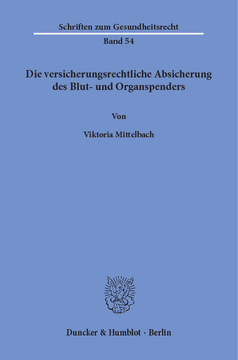 Additional Information
Book Details
ISBN

978-3-428-55710-3
978-3-428-15710-5 (print edition)

DOI

https://doi.org/10.3790/978-3-428-55710-3

Edition

1

Language

German

Pages

240

Collections

Subjects
Pricing
Institution

€ 86.00 (incl. local VAT if applicable)

Individual

€ 67.90 (incl. local VAT if applicable)
About The Author
Viktoria Mittelbach studierte Rechtswissenschaft an der Albert-Ludwigs-Universität Freiburg und der Université Lumière Lyon 2. Nach Abschluss der ersten juristischen Prüfung promovierte sie bei Prof. Dr. Katharina von Koppenfels-Spies und war als akademische Mitarbeiterin am Institut für Wirtschaftsrecht, Arbeits- und Sozialrecht, Abt. III: Sozialrecht der Albert-Ludwigs-Universität Freiburg tätig. Seit April 2018 ist sie Rechtsreferendarin am OLG Karlsruhe.
Viktoria Mittelbach studied law at the University of Freiburg and the Université Lumière Lyon 2. After her first legal examination, she received her doctorate under the mentoring of Prof. Dr. Katharina von Koppenfels-Spies and worked as an academic assistant at the Institute for Social Law at the University of Freiburg. In April 2018 she began her legal clerkship at the Higher Regional Court of Karlsruhe.
Abstract
Die Autorin untersucht die Absicherung von Lebendspendern von Blut und Organen im deutschen Sozial- und Privatversicherungsrecht unter Zugrundelegung der wesentlichen Neuregelungen durch das Gesetz zur Änderung des Transplantationsgesetzes vom 21.7.2012. Die Absicherung des Spenders wird durch die Krankenversicherung des Empfängers der Spende und durch die gesetzliche Unfallversicherung sichergestellt. Die Arbeit widmet sich der Absicherung des Spenders bei gesetzlicher und privater Krankenversicherung des Empfängers. Im Unfallversicherungsrecht bildet die Untersuchung des neu eingefügten Versicherungsfalls gem. § 12a SGB VII einen Schwerpunkt. Überprüft wird außerdem die Organisation und Finanzierung des Unfallversicherungsschutzes. Gegenstand der Arbeit ist die Frage, ob eine klare, rechtssichere und interessengerechte Absicherung geschaffen wurde, die sich in das jeweilige Versicherungssystem einfügt und zugleich eine stimmige Gesamtregelung darstellt. »Insurance Coverage for Blood and Organ Donors«

The author examines the protection of living donors of blood and organs under German social security and private insurance law on the basis of essential new legislation from 2012. The subject of the dissertation is the protection of the donor by the statutory or private health insurance of the recipient of the donation and the protection of the donor in the statutory accident insurance.
Table of Contents
Section Title
Page
Action
Price

Vorwort

5

Inhaltsverzeichnis

7

Abkürzungsverzeichnis

13

Einleitung

17

A. Gegenstand der Arbeit

17

B. Gang der Untersuchung

22

1. Kapitel: Die durch den Träger der Behandlung des Empfängers gewährte Absicherung des Blut- und Organspenders

24

A. Historie

24

I. Das Urteil des BSG v. 12.12.1972 – 3 RK 47 / 70

24

II. Diskussion und Kritik

25

III. Forderungen zur Verbesserung der Absicherung

28

B. Die Absicherung in der gesetzlichen Krankenversicherung des Empfängers

30

I. Der Anspruch des Spenders auf Krankenbehandlung gem. § 27 Abs. 1a SGB V

30

1. Anspruchsinhalt

31

a) Leistungen, die über die im Dritten Kapitel genannten Leistungen hinausgehen, § 27 Abs. 1a S. 2, 2. Hs SGB V

32

b) Zusatzleistungen aus dem Versicherungsverhältnis des Empfängers

33

c) Schmerzensgeld

34

d) Leistungen zur medizinischen Rehabilitation

35

e) Fahrkosten

36

f) Ersttypisierung von Stammzellspendern als Voruntersuchung

38

g) Die Zuzahlungsbefreiung nach § 27 Abs. 1a S. 3 SGB V

40

h) Die Geltung von Festbeträgen

40

i) Fehlschlagen der Spende

41

2. Anspruchsinhaber

42

a) Systematische Besonderheiten: Mitgliedschaft und Versicherung des Spenders in der Empfängerkrankenkasse

43

b) Regelungsalternativen

45

c) Zwischenergebnis

46

d) Anspruchsberechtigung von Blutspendern

47

3. Erlöschen des Anspruchs

50

4. Grenzen des Anspruchs gegen die Empfängerkrankenkasse: Folgeerkrankungen

51

5. Anspruchsgegner: die zuständige Krankenkasse

53

6. Regelungen zum Umgang mit Daten

54

7. Anknüpfung des Anspruchs an §§ 8, 8a TPG, § 9 TFG und die Folgen eines Verstoßes gegen TPG und TFG

57

a) Der Sachleistungsanspruch des Spenders vor Erbringung der Leistung

59

b) Folgen eines Verstoßes gegen TPG oder TFG nach Erbringung der Leistung

59

aa) Möglichkeit der Rückforderung einer Leistung im SGB V

60

(1) Anwendung dieser Grundsätze auf § 27 Abs. 1a SGB V

61

(2) Schuldner einer Rückforderung

62

bb) Zahlungsverweigerung gegenüber dem Leistungserbringer

63

c) Zwischenergebnis

63

8. Verhältnis zum Anspruch des Empfängers gem. § 27 Abs. 1 SGB V

64

9. Verhältnis zum Anspruch aus § 44a SGB V

66

10. Bewertung von § 27 Abs. 1a SGB V

67

II. Die Ansprüche auf Ersatz des Verdienstausfalls gem. § 3a EFZG und § 44a SGB V

68

1. Hintergrund der Regelung im EFZG

69

2. Arbeitsunfähigkeit als leistungsauslösender Umstand

70

3. Dauer der Ansprüche

72

4. Höhe des Ersatzes des Verdienstausfalls

73

a) § 3a EFZG

73

b) § 44a SGB V

74

c) Bewertung der Höhe des Ersatzes des Verdienstausfalls

79

aa) Begründung und Zweck des Verdienstausfallersatzes

79

bb) Erstattung des Verdienstausfalls in voller Höhe

81

cc) Begrenzung durch die Höhe der Beitragsbemessungsgrenze

83

dd) Geltung der Referenzmethode im Rahmen von § 44a SGB V

85

ee) Zwischenergebnis

86

5. Anknüpfung an TPG und TFG und die Folgen eines Verstoßes

86

6. Entsprechende Anwendung von §§ 49, 50 SGB V gem. § 44a S. 4 SGB V

88

7. Auswirkungen auf den Ersatz von Verdienstausfall für Teilnehmer am Jugend- oder Bundesfreiwilligendienst

91

8. Verhältnis der Ansprüche zum Ersatz von Verdienstausfall untereinander

92

a) Verhältnis der Ansprüche aus § 44a SGB V und § 3a EFZG zu den Ansprüchen aus § 3 EFZG, § 44 SGB V und auf Krankentagegeld

92

b) Verhältnis der Ansprüche aus § 44a SGB V und § 3a EFZG zu Ansprüchen infolge eines Gesundheitsschadens nach § 12a SGB VII

94

9. Besonderheiten des Verdienstausfallersatzes im Rahmen der Krankenversicherung der Landwirte

98

10. Sicherstellung der Weiterversicherung in der Sozialversicherung

100

a) Bei gesetzlicher Krankenversicherung des Empfängers

100

aa) Gesetzliche Kranken- und soziale Pflegeversicherung des Spenders

100

bb) Gesetzliche Rentenversicherung des Spenders

105

cc) Arbeitslosenversicherung des Spenders

106

b) Bei anderen Trägern der Krankheitskosten des Empfängers

107

c) Zwischenergebnis

109

11. Arbeitgeberzuschüsse zu privaten Versicherungen

109

12. Bewertung des Ersatzes von Verdienstausfall infolge der Spende durch § 3a EFZG und § 44a SGB V

112

III. Ergebnis zur Absicherung in der gesetzlichen Krankenversicherung des Empfängers

114

C. Die Absicherung in der privaten Krankenversicherung des Empfängers

114

I. Historie

114

II. Die Selbstverpflichtung des Verbands der Privaten Krankenversicherung e. V. vom 9.2.2012

115

1. Die Anknüpfung an §§ 8, 8a TPG

116

2. Leistungsumfang

117

a) Vorbereitung der Spende, stationäre Aufnahme und Behandlung

117

b) Rehabilitationsmaßnahmen

118

c) Nachbetreuung i. S. v. § 8 Abs. 3 S. 1 TPG, Fahrt- und Reisekosten

119

d) Begrenzung der Verpflichtung

119

e) Ersatz des Verdienstausfalls

119

aa) Ersatz von Kurzarbeitergeld, Arbeitslosengeld oder Betriebshilfe

120

bb) Verhältnis zu einem Anspruch aus § 3 EFZG, § 3a EFZG, § 44 SGB V, einem Anspruch auf Krankentagegeld oder einem Anspruch infolge eines Gesundheitsschadens nach § 12a SGB VII

123

f) Tragung von Sozialversicherungsbeiträgen

124

3. Geltung von Selbstbehalten, weiteren Leistungseinschränkungen und Bestimmungen des Versicherungsvertrags des Empfängers

125

4. Anspruchsdauer und Zuständigkeit des privaten Krankenversicherungsunternehmens

126

5. Datenverarbeitung

127

III. Die Selbstverpflichtung im System der privaten Krankenversicherung

129

IV. Der abschließende Charakter der Selbstverpflichtung – auch hinsichtlich Spenden i. S. v. § 9 TFG?

130

V. Bewertung der Absicherung in der privaten Krankenversicherung des Empfängers

131

D. Der Einfluss einer Spende auf den Abschluss oder die Anpassung privater Versicherungsverträge

132

E. Die Absicherung durch andere mögliche Träger der Behandlung des Empfängers

135

I. Behandlung des Empfängers im Rahmen eines Versicherungsfalls der gesetzlichen Unfallversicherung

135

II. Überblick über weitere Träger der Behandlungskosten des Empfängers

138

1. Die in § 3a Abs. 2 EFZG und in den Regelungen zur Aufrechterhaltung des Versicherungsstatus des Spenders genannten Träger

138

2. Die Absicherung des Spenders im Rahmen einer anderweitigen Absicherung im Krankheitsfall i. S. v. § 5 Abs. 1 Nr. 13 SGB V

139

F. Gesamtbetrachtung des 1. Kapitels

141

2. Kapitel : Die Absicherung des Blut- und Organspenders in der gesetzlichen Unfallversicherung

145

A. Der versicherte Personenkreis

147

I. Blutspender

148

II. Spender von Organen, Organteilen oder Gewebe

150

III. Einfluss von Verstößen gegen Zulässigkeitsvorschriften und gegen Verbote auf den Versicherungsschutz

152

1. Die Rechtsprechung des BSG Urt. v. 15.5.2012 – B 2 U 16 / 11 R

153

2. An Dritte gerichtete Zulässigkeitsvorschriften und Verbote

154

3. Abwägung mit dem durch die Zulässigkeitsvorschrift bzw. das Verbot geschützten Interesse

155

4. § 7 Abs. 2 SGB VII

155

5. Sanktionscharakter des Unfallversicherungsrechts?

157

6. Auslegung von § 2 Abs. 1 Nr. 13b) SGB VII nach Wortlaut und Wille des Gesetzgebers

160

7. Ergebnis

161

B. Der Versicherungsfall

162

I. Versicherungsfall gem. §§ 7, 8 SGB VII

162

1. Die versicherte Tätigkeit

163

2. Das durch die versicherte Tätigkeit verursachte Unfallereignis

163

3. Der durch das Unfallereignis herbeigeführte Gesundheitserstschaden

164

4. Freiwilligkeit der Spende und Vorhersehbarkeit des Gesundheitsschadens

164

5. Verbliebene Probleme bei der Bestimmung des Versicherungsfalls nach §§ 7, 8 SGB VII unter Einbezug der Rechtsprechung des BSG

165

a) Feststellung des Unfallereignisses

166

b) Während der Entnahme auftretende, behebbare Komplikationen

167

c) Beweisprobleme bei Spätfolgen

167

d) Gesundheitsschäden infolge des spendebedingt erhöhten Gesundheitsrisikos des Spenders

168

e) Zwischenergebnis

169

II. Versicherungsfall gem. §§ 7, 9 SGB VII

169

III. Versicherungsfall gem. § 12a SGB VII

170

1. Grundlage des § 12a SGB VII: Vorschläge zur Lösung der bisherigen Probleme

170

a) Umgang mit einer Eintrittsverweigerung des Leistungsträgers

170

b) Abgrenzung der Leistungspflicht von gesetzlicher Unfallversicherung und gesetzlicher oder privater Krankenversicherung

172

aa) Vorschläge

172

bb) Bewertung der Vorschläge

174

2. Inhalt des § 12a SGB VII

174

a) Überblick

174

b) Der Regelungsgehalt im Einzelnen

175

aa) Von § 12a SGB VII erfasste Gesundheitsschäden

175

bb) Die Regelung des § 12a Abs. 1 S. 2 SGB VII

178

(1) Begrifflichkeiten und in § 12a Abs. 1 S. 2 SGB VII vorausgesetzter Kausalitätsmaßstab

178

(2) Bezugspunkt der Vermutung in § 12a Abs. 1 S. 2 SGB VII

185

(3) Widerlegung der Vermutung nach § 12a Abs. 1 S. 3 SGB VII

186

(4) Entlastung des Spenders durch § 12a Abs. 1 S. 2 SGB VII?

190

cc) Absicherung des spendebedingt erhöhten Gesundheitsrisikos

191

dd) Einbezug der Blutspender in § 12a SGB VII

192

ee) Voruntersuchungen und Nachsorgemaßnahmen nach § 12a Abs. 2 SGB VII

194

ff) Verhältnis von § 12a SGB VII und § 8 SGB VII

195

(1) Grundsätzliches

196

(2) Auswirkungen auf Altbescheide

199

(3) Bewertung des Verhältnisses von § 12a SGB VII und § 8 SGB VII

199

3. Bewertung von § 12a SGB VII

200

4. Würdigung des Formulierungsvorschlags von Banafsche

201

5. Ausgangspunkt eines neuen Formulierungsvorschlags

202

6. Vorschlag einer Neufassung des § 12a SGB VII

204

IV. Überblick über die Folgen für die Leistungserbringung im SGB VII und über mögliche weitere Ansprüche in anderen Sicherungssystemen

204

1. Unfallversicherungsrecht

205

2. Zusammentreffen mit einer Eintrittspflicht weiterer Leistungssysteme

205

C. Organisation und Finanzierung des Unfallversicherungsschutzes

208

I. Organisation

208

II. Folgen dieser Organisation

212

1. Finanzierung

212

2. Geltung des Haftungsausschlusses nach § 104 SGB VII

214

III. Überprüfung der im SGB VII vorgesehenen Organisation und Finanzierung

215

IV. Regelung der Absicherung des Blut- und Organspenders im SGB VII

219

D. Gesamtbetrachtung des 2. Kapitels

220

3. Kapitel: Zusammenfassung

222

Literatur- und Quellenverzeichnis

228

I. Literatur

228

II. Weitere Quellen

234

Sachwortverzeichnis

236