Bankruptcy & insolvency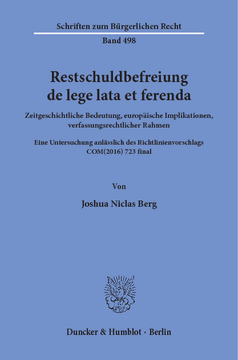 BOOK
Restschuldbefreiung de lege lata et ferenda
Zeitgeschichtliche Bedeutung, europäische Implikationen, verfassungsrechtlicher Rahmen. Eine Untersuchung anlässlich des Richtlinienvorschlags COM(2016) 723 final
Schriften zum Bürgerlichen Recht, Vol. 498
(2019)
Additional Information
Book Details
ISBN

978-3-428-55786-8
978-3-428-15786-0 (print edition)

DOI

https://doi.org/10.3790/978-3-428-55786-8

Edition

1

Language

German

Pages

326

Collections

Subjects
Pricing
Institution

€ 104.00 (incl. local VAT if applicable)

Individual

€ 79.90 (incl. local VAT if applicable)
About The Author
Joshua Berg studierte Rechtswissenschaften an der Universität des Saarlandes und erwarb dort den akademischen Grad eines Diplom-Juristen. Während seiner Promotionszeit besuchte er am Europa-Institut der Universität des Saarlandes den Masterstudiengang »Europäisches und Internationales Recht«, welchen er mit dem Master of Laws abschloss. Im Jahr 2019 wurde Joshua Berg mit seiner von Prof. Dr. Markus Würdinger betreuten Arbeit »Restschuldbefreiung de lege lata et ferenda« zum Doctor iuris promoviert. Nebenbei arbeitete er in führenden Anwaltskanzleien in Saarbrücken und Düsseldorf schwerpunktmäßig in den Bereichen Corporate, M&A und Finance.
Joshua Berg studied law at ›Universität des Saarlandes‹ (Saarland University), where he graduated in legal sciences. He then completed his Master's degree in ›European and International Law‹ at the Europa-Institut at Saarland University. In 2019 he obtained his doctorate degree in law following the publication of his thesis »Discharge of Residual Debt de lege lata et ferenda« supervised by Prof. Dr Markus Würdinger. Joshua Berg has also worked in leading law firms in Saarbrücken and Düsseldorf specializing in the fields of Corporate, M&A and Finance.
Abstract
Das Insolvenzrecht befindet sich beständig im Fluss. Europäische Vorstöße, wie die Neufassung der Verordnung (EU) 2015/848 und die EU-Restrukturierungsrichtlinie geben Anlass, das nationale und unionale Insolvenzrecht vor dem Hintergrund supranationaler Entwicklungen zu untersuchen. Zum Ersten wird die zeitgeschichtliche Bedeutung, der Stellenwert der Schuldbefreiung im System de lege lata eruiert. Zum Zweiten wirft die Arbeit einen Blick auf den Restschuldbefreiungstourismus, woran sich eine neue Deutung des vielfach bemühten Rechtsmissbrauchskonzepts anschließt. Zum Dritten stellt sich die Frage, inwieweit das deutsche Recht den Anforderungen des Richtlinienvorschlags über präventive Restrukturierungsrahmen und die zweite Chance gerecht wird und an welchen Stellen Anpassungen notwendig sind. Ein besonders wichtiger Punkt ist die Frage nach einer ausreichenden Kompetenzgrundlage für die avisierte Richtlinie. Zuletzt beantwortet die Arbeit insbesondere verfassungsrechtliche Fragen. »Discharge of Residual Debt de lege lata et ferenda. Contemporary Meaning, European Implications, Framework under Constitutional Law. An Investigation for the Proposed Directive COM(2016) 723 Final«

The author addresses issues relative to Directive (EU) 2015/848 and the EU Restructuring Directive. The thesis highlights discharge of residual debt tourism and a new abuse of rights concept is presented. It shows that the Restructuring Directive does not have a sufficient competence basis. A right to a new economic start is also being investigated. The planned three-year debt relief deadline is also being adapted within the constitutional law framework.
Table of Contents
Section Title
Page
Action
Price

Vorwort

7

Inhaltsübersicht

9

Inhaltsverzeichnis

11

§ 1  Einleitung

21

A.  Anlass der Untersuchung

22

B.  Ziel der Untersuchung

23

C.  Gang der Untersuchung

26

§ 2 Stellenwert der Restschuldbefreiung in heutiger Zeit

28

A.  Die Anfänge der Schuldbefreiung

28

I. Codex Hammurapi

29

II. Seisachtheia

29

III. Altes Testament

31

IV. Römisches Privatrecht und gemeines Recht

32

V. Hamburger Fallitenordnung

33

VI. Gesetz über eine Bereinigung alter Schulden

33

B.  Legislative Historie der Restschuldbefreiung in der Insolvenzordnung

34

I. Reformgründe

34

II. Inkrafttreten der Insolvenzordnung

36

III. Einführung der Kostenstundungsregelungen

37

IV. Auswirkungen der Reform

37

V. Gesetz zur Verkürzung des Restschuldbefreiungsverfahrens und zur Stärkung der Gläubigerrechte

38

VI. Verordnung (EU) 2015/848 und Richtlinienvorschlag COM(2016) 723 final

39

VII. Fazit: Anfänge der Schuldbefreiung und legislative Historie der Restschuldbefreiung

40

C.  Phänomen Überschuldung und Insolvenzstatistiken

41

I. Phänomen Überschuldung

42

1. Statistischer Befund

43

2. Kredite und Restschuldversicherungen

44

3. Folgen von Überschuldung

45

a) Gesellschaftspolitische Aspekte

45

b) (Gesamt)ökonomische Aspekte

46

c) (Psycho)soziale und personale Aspekte

46

II. Insolvenzstatistiken

47

1. Eröffnete Insolvenzverfahren

49

2. Deckungsquoten und Gesamtbefriedigungsquoten

50

3. Beendete Insolvenzverfahren und Art der Beendigung

51

III. Fazit: Phänomen Überschuldung

52

D.  Möglichkeiten der Schuldbefreiung de lege lata

55

I. Außergerichtliche Einigung im Sinne des § 305 Abs. 1 Nr. 1 InsO

56

1. Zweck und Charakteristika des Verbraucherinsolvenzverfahrens

56

2. Entschuldung aufgrund eines außergerichtlichen Schuldenbereinigungsplans

57

3. Rechtswirkungen des (außergerichtlichen) Schuldenbereinigungsplans

58

II. Gerichtliches Schuldenbereinigungsplanverfahren nach §§ 306 – 309 InsO

59

1. Rechtsnatur und Rechtswirkungen des (gerichtlichen) Schuldenbereinigungsplans

59

2. Zustimmungsersetzung nach § 309 InsO

60

III. Insolvenzplan nach §§ 217 – 269 InsO

61

1. Zweck des Insolvenzplans

62

2. Rechtswirkungen

63

a) Universalwirkung

63

b) Disponible Schuldbefreiung

64

c) Sicherheiten Dritter

64

3. Wesentliche Aspekte des Planverfahrens

65

IV. Insolvenzverfahrenseinstellung nach § 213 Abs. 1 Satz 1 InsO

66

1. Unbeschränkte Nachhaftung

67

2. Keine Verfahrenseinstellung im Restschuldbefreiungsverfahren

67

V. Restschuldbefreiungsverfahren §§ 286 – 303a InsO

68

1. Verfahrensziel Restschuldbefreiung

69

a) Argumente pro eigenständiges, gleichrangiges Verfahrensziel

70

b) Argumente contra eigenständiges Verfahrensziel

70

c) Argumente contra gleichrangiges Verfahren

71

d) Bewertung der Argumente

73

aa) Wortlautargument

73

bb) Systematisches Argument

73

cc) Gesetz zur Entschuldung mittelloser Personen

74

dd) Formale Trennung von Insolvenz- und Restschuldbefreiungsverfahren

74

ee) Begründung des Regierungsentwurfs zu § 1 InsO

75

ff) Keine Stärkung der Schuldnerposition durch den Gesetzgeber

75

gg) Gesetzesbezeichnung

75

e) Stellungnahme: Verfahrensziel Restschuldbefreiung

75

aa) Schuldbefreiung durch Insolvenzplan

76

bb) Wandel des historischen Willens

76

cc) Unschärfen der Begriffsverwendung

77

dd) Asymmetrische Verfahren

78

ee) Fazit: Eigenständiges Verfahrensziel

79

2. Zweck der Restschuldbefreiung

79

a) Personal-soziale Zielsetzung

80

b) (Makro)ökonomisch-wirtschaftspolitische Zielsetzung und Bedeutung

80

3. Rechtswirkungen der Restschuldbefreiung

81

a) Mutation der Verbindlichkeiten und Universalwirkung

81

b) Vorzeitige Restschuldbefreiung und Auswirkungen auf Sicherungsgeber

81

c) Ausnahmen

82

4. Verfahrensablauf

82

a) Antrag

83

b) Eingangsentscheidung und Abtretungsfrist

83

c) Versagung gem. § 290 InsO

84

d) Beginn der Restschuldbefreiungsphase und Bestellung des Treuhänders

85

e) Gläubigergleichbehandlungsgebot

86

f) Einstellung gem. §§ 296, 297, 298 InsO

86

g) Entscheidung gem. § 300 Abs. 1 InsO und eventueller Widerruf

87

5. Verfahrenskostenstundung nach §§ 4a ff. InsO

87

a) Antrag und Mittellosigkeit des Schuldners

88

b) Dauer der Verfahrenskostenstundung

88

E.  Beurteilung der Schuldbefreiungsoptionen

89

I. Komparative Vorteile konsensdeterminierter Schuldbefreiungsoptionen

89

1. Außergerichtlicher Einigungsversuch

93

2. Gerichtliches Schuldenbereinigungsplanverfahren

94

3. Insolvenzplanverfahren

95

4. Insolvenzverfahrenseinstellung

96

II. Komparative Nachteile konsensdeterminierter Schuldbefreiungsoptionen

97

1. Außergerichtlicher Einigungsversuch

97

2. Gerichtliches Schuldenbereinigungsplanverfahren

99

3. Insolvenzplanverfahren

99

4. Insolvenzverfahrenseinstellung

101

III. Fazit: Beurteilung der Schuldbefreiungsoptionen

101

§ 3  Unionsrechtliche Dimension

103

A.  Restschuldbefreiungstourismus

104

I.  Forum Shopping als erlaubter und intendierter Rechtsreflex

105

II.  Nachteile des Forum Shopping

107

III.  Missbräuchliches Forum Shopping

108

1.  Definition missbräuchliches Forum Shopping

109

2.  Merkmale eines rechtsethischen Missbrauchskonzepts

109

3.  Folgen der Qualifizierung als "missbräuchlich"

110

4.  Legislatorische Konkretisierung des Rechtsmissbrauchsverbots

111

5.  Fazit: Missbräuchliches Forum Shopping

111

IV. Betrügerisches Forum Shopping

113

B.  EuInsVO und Schutzvorkehrungen

113

I.  Zweck der Verordnung

114

II.  Funktionsweise Restschuldbefreiungstourismus

115

1.  Internationale Zuständigkeit nach Art. 3 Abs. 1 UAbs. 1 EuInsVO

115

2.  Lex concursus, Art. 7 Abs. 1 EuInsVO

117

3.  Anerkennung des Insolvenzverfahrens nach Art. 19 EuInsVO

117

III.  Schutzvorkehrungen

119

1.  Versagung der Hauptverfahrenseröffnung

119

a)  Kritik: Versagung der Hauptverfahrenseröffnung

120

b)  Stellungnahme: Versagung der Hauptverfahrenseröffnung

120

2.  Versagung der Anerkennung – Positive Kompetenzkonflikte

121

a)  Maßgeblichkeit der erstgerichtlichen Entscheidung

121

aa)  Historisches Argument: Virgós/Schmit-Bericht

122

bb)  Historisches Argument: Erwägungsgrund 22 EuInsVO a. F.

122

cc)  Gegenseitiges Vertrauen und Effizienz

123

b)  Zweitgerichtliche Überprüfung der internationalen Zuständigkeit

123

aa)  Wortlautargument: Art. 19 Abs. 1 UAbs. 1 EuInsVO

124

bb)  Systematisches Argument: Brüssel Ia-VO

124

cc)  Folgeprobleme und mangelnder Normbezug der Gegenmeinung

124

c)  Stellungnahme: Positive Kompetenzkonflikte

125

aa)  Übertragbarkeit der Wertungen der Brüssel Ia-VO

126

(1)  Überprüfung ausschließlicher Zuständigkeiten in der Brüssel Ia-VO

126

(2)  Bindung an die tatsächlichen Feststellungen

127

bb)  Intention des EU-Gesetzgebers

128

cc)  Insolvenztourismus, Insolvenzimperialismus

128

dd)  Rechtsmittel und Partikularinsolvenz

129

ee)  Anerkennung der Hauptinsolvenz am Ort des "wahren" COMI

130

d)  Fazit: Positive Kompetenzkonflikte

130

3.  Zweistufiges gerichtliches Kontrollsystem, Artt. 4, 5 EuInsVO

132

a)  Prüfung der Zuständigkeit, Art. 4 EuInsVO

132

aa)  Tatsachenermittlung und Begründung

132

bb)  Prüfung durch den Insolvenzverwalter

133

cc)  Stellungnahme: Prüfung der Zuständigkeit, Art. 4 EuInsVO

133

b)  Gerichtliche Nachprüfung, Art. 5 EuInsVO

134

aa)  Anfechtung nach Abs. 1

135

bb)  Anfechtung nach Abs. 2

136

c)  Fazit: Zweistufiges gerichtliches Kontrollsystem

136

4.  Partikularinsolvenzverfahren

137

a)  Wirkung des Partikularinsolvenzverfahrens

138

b)  Tauglichkeit des Verfahrens zur Missbrauchsbekämpfung

139

aa)  Vermeidung von Sekundärinsolvenzverfahren

140

bb)  Sekundärinsolvenz im Staat des COMI

141

cc)  Keine Anwendung auf Verbraucherinsolvenzen

142

dd)  Fazit: Tauglichkeit des Verfahrens zur Missbrauchsbekämpfung

142

5.  Période suspecte

142

a)  Vermutung des COMI

143

b)  Erwägungsgrund 30 EuInsVO

143

c)  Fazit: Période suspecte

145

6.  Ordre public

146

a)  Öffentliche Ordnung

148

aa)  Rs. Krombacher

148

bb)  Grundprinzipien und verfassungsmäßig garantierte Rechte und Freiheiten des Einzelnen

150

b)  Offensichtlichkeit

152

c)  Eröffnungsentscheidungen

152

aa)  Betrügerisches Forum Shopping

153

(1)\tEinschlägigkeit des Ordre public

153

(2)\tAusschluss der Ordre-public-Kontrolle resp. Subsidiarität

154

(3)\tStellungnahme: Betrügerisches Forum Shopping

156

bb)  Rechtsmissbräuchliches Forum Shopping

158

d)  Kurze oder fehlende Treuhandperiode

159

e)  Mindestbefriedigungsquote

160

f)  Forderungen aus vorsätzlich begangener unerlaubter Handlung

161

aa)  Ordre public-Konformität

162

bb)  Ordre public-Verstoß

162

cc)  Stellungnahme: Forderungen aus vorsätzlich begangener unerlaubter Handlung

163

g)  Fazit: Ordre public

165

C. Fazit: Restschuldbefreiungstourismus sowie EuInsVO und Schutzvorkehrungen

166

§ 4 Restschuldbefreiung de lege ferenda (COM(2016) 723 final) und verfassungsrechtlicher Rahmen

170

A.  Entwicklungsgeschichte des Richtlinienvorschlags

172

I.  Rat der Europäischen Union und Europäisches Parlament

172

II.  Kommissionsmitteilung vom 03. 10. 2012

173

III.  Kommissionsmitteilung vom 12. 12. 2012

173

IV.  Aktionsplan Unternehmertum 2020

174

V.  Kommissionsempfehlung 12. 03. 2014

174

VI.  Aktionsplan zur Schaffung einer Kapitalmarktunion

175

VII.  Fazit: Kommissionsdokumente

175

B.  Ziel des Richtlinienvorschlags

176

I.  Makroökonomischer Fokus

176

II.  Zweite Chance

177

III.  Fazit: Ziel des Richtlinienvorschlags

178

C.  Inhalt des Richtlinienvorschlags – "Zweite Chance"

179

I.  Überschuldeter Unternehmer

180

II.  Volle Entschuldung

180

III.  Entschuldungsfrist und Berufsverbot

183

IV.  Einschränkungen bzgl. Zugang, Entschuldungs- und Verbotsfrist

183

1.  Art. 22 Abs. 1 lit. a–d RL-V

184

2.  Art. 22 Abs. 3 und 4 RL-V

186

D.  Kompetenzgrundlage

187

I.  Rechtsgrundlagen Artt. 53 und 114 AEUV

188

1.  Art. 53 Abs. 1 Var. 2 AEUV

188

a)  Auslegungsparallelen zu Art. 114 AEUV

189

aa)  Beeinträchtigung von Grundfreiheiten

189

bb)  Positiver Binnenmarkteffekt

191

b)  Kompetenzrechtliche Beurteilung am Maßstab des Art. 53 AEUV

192

aa)  Intention des EU-Gesetzgebers

192

bb)  Beeinträchtigung von Niederlassungs-/Dienstleistungsfreiheit

192

(1)\tGenerelle Erwägungen

193

(a)\tEinzelfallprüfung: Standortbedingung oder Freiheit der Standortwahl

193

(b)\tSensibilität in Kompetenzfragen

194

(2)\tQualifiziertes Marktzugangshindernis

195

(a)\tBegründung des RL-V

195

(b)\tStellungnahme des Bundesrates

196

(c)\tUnterrichtung durch die Kommission

196

(d)\tEmpirischer Befund

197

(3)\tStellungnahme: Beeinträchtigung von Niederlassungs-/Dienstleistungsfreiheit

201

(a)\tBestimmung des maßgeblichen Standortfaktors

201

(b)\tNotwendigkeit einer plausiblen Begründung

203

(c)\tFunktionaler Konnex und Souveränitätsvorbehalt

203

(d)\tKeine Anwendung auf Verbraucher

204

(e)\tSemantische Betrachtung

204

2.  Art. 114 Abs. 1 AEUV

205

a)  Kompetenzrechtliche Beurteilung am Maßstab des Art. 114 AEUV

206

aa)  Beschränkung im Sinne der Kapitalverkehrsfreiheit

206

bb)  Stellungnahme: Kompetenzrechtliche Beurteilung am Maßstab des Art. 114 AEUV

207

b)  Art. 345 AEUV

209

aa)  Eigentumsordnung im Sinne des Art. 345 AEUV

209

bb)  Art. 345 AEUV als Kompetenzausübungsschranke

210

cc)  Entschuldungsvorschriften als Bestandteil der Eigentumsordnung

211

dd)  Grundstrukturen einer Abwägung

211

II.  Fazit: Rechtsgrundlagen Artt. 53 und 114 AEUV

212

E. Nationale Implikationen der Umsetzung: Verfassungsrechtliche Fragestellungen

213

I.  Recht auf wirtschaftlichen Neuanfang

216

1.  Neuanfang als politische Entscheidung

216

2.  Neuanfang als Grundrecht

217

3.  Verfassungsrechtliche Ausgangspunkte

219

a)  Begriffliche Bestimmung und dogmatische Einordnung des Rechts auf wirtschaftlichen Neuanfang

219

b)  Art. 1 Abs. 1 GG

220

aa)  Grundlagen

220

bb)  Begriffliche Annäherung

223

c)  Stellungnahme: Art. 1 Abs. 1 GG

224

d)  Art. 2 Abs. 1 GG

225

e)  Stellungnahme: Art. 2 Abs. 1 GG

226

f)  Art. 2 Abs. 1 i. V. m. Art. 1 Abs. 1 GG

227

g)  Stellungnahme: Art. 2 Abs. 1 i. V. m. Art. 1 Abs. 1 GG

229

h)  Art. 20 Abs. 1 GG i. V. m. Art. 2 Abs. 1 GG (i. V. m. Art. 1 Abs. 1 GG)

231

i)  Stellungnahme: Art. 20 Abs. 1 GG i. V. m. Art. 2 Abs. 1 GG (i. V. m. Art. 1 Abs. 1 GG)

232

aa)  Objektiv-rechtliche Dimension des Rechts auf wirtschaftlichen Neuanfang

232

bb)  Abwehrrechtliche Dimension des Rechts auf wirtschaftlichen Neuanfang

233

4.  Fazit: Recht auf wirtschaftlichen Neuanfang

235

II.  Dreijährige Entschuldungsfrist ohne Mindestquotenerfordernis

236

1.  Verfassungsmäßigkeit der Restschuldbefreiung

236

a)  Gewährleistungsumfang Art. 14 GG

237

b)  Eigentumsrelevante Maßnahme

239

c)  Verfassungsrechtliche Rechtfertigung

240

aa)  Legitimer Zweck, Geeignetheit, Erforderlichkeit

241

bb)  Verhältnismäßigkeit im engeren Sinne: Angemessenheit

242

(1)\tGläubigerinteressen

242

(a)\tFolgeinsolvenzen

242

(b)\tVerschlechterte Zahlungsmoral

243

(c)\tErhöhte Befriedigungsquote bei längerer Zugriffsdauer

243

(d)\tÜbermäßige Belastung bei fehlender Befriedigung

243

(e)\tKeine Prüfung von Amts wegen sowie nachteilige Darlegungs- und Beweislast

244

(2)\tSchuldnerinteressen

245

(a)\tUnangemessene Dauer der Zwangsvollstreckung bei geringen Befriedigungsaussichten

246

(b)\tWertlosigkeit der Forderungen

246

(c)\tKeine Pauschalierung des Verfahrens als missbrauchsanfällig

247

(d)\tVerantwortlichkeit der Gläubiger bei Schuldnerauswahl und Absicherung

247

(e)\tMinderung der Verantwortung der Darlehensnehmer

248

(f)\tDurchsetzungserwägungen sind Gläubigerangelegenheit

248

(g)\tRechtssicherheit

249

(3)\tNeugläubigerinteressen vs. Altgläubigerinteressen

249

2.  Stellungnahme: Verfassungsmäßigkeit der Restschuldbefreiung

250

a)  Insolvenzstrafrecht zur Aufrechterhaltung der Zahlungsmoral

251

b)  Verantwortung des Schuldners

252

c)  Absicherung der Gläubiger

252

d)  Neu- und Altgläubigerinteressen

253

e)  Respektierung der gesetzgeberischen Entscheidung

253

aa)  Potenziell verfassungswidrige Konstellationen

254

bb)  "Pauschalierung von Gerechtigkeit"

255

cc)  Härte- bzw. Öffnungsklauseln

256

dd)  Ausgleichspflichtige Inhalts- und Schrankenbestimmung

256

ee)  Verfassungskonforme Auslegung

257

3.  Entschuldungsfrist und Mindestquotenerfordernis

257

a)  35 %-Quote des § 300 Abs. 1 Satz 2 Nr. 2 InsO

258

aa)  Vorzeitige Entschuldung mit Erreichen von 35 %

259

bb)  Leistung innerhalb dreier Jahre

259

cc)  Stellungnahme: 35 %-Quote des § 300 Abs. 1 Satz 2 Nr. 2 InsO

260

b)  Verfassungsrechtliche Würdigung der dreijährigen Abtretungsfrist

261

aa)  Sofortentschuldung am Ende des Insolvenzverfahrens

261

(1)\tVerlustzuweisungsgemeinschaft und Solidaritätsmodell

261

(2)\tZentrales Kriterium Befriedigungsaussichten und Schutz des Eigentums

263

bb)  Stellungnahme: Verfassungsrechtliche Würdigung der dreijährigen Abtretungsfrist

265

4.  Fazit: Dreijährige Entschuldungsfrist ohne Mindestquotenerfordernis

267

5.  Ordre public-Relevanz von Entschuldungsfrist und Mindestquotenerfordernis

269

III.   Gleichbehandlung von Unternehmern und Verbrauchern

270

1.  Vergleich mit fehlender Nachhaftung juristischer Personen

270

2.  Art. 3 Abs. 1 GG

272

3.  Verfassungsrechtlich relevante Ungleichbehandlung

274

4.  Verfassungsrechtliche Rechtfertigung

274

a)  Legitimes Differenzierungsziel/-kriterium und Geeignetheit

275

b)  Erforderlichkeit

276

aa)  Gründe für eine Ungleichbehandlung

276

bb)  Stellungnahme: Erforderlichkeit

277

5.  Fazit: Gleichbehandlung von Unternehmern und Verbrauchern

278

§ 5  Zusammenfassung in Thesen

280

A. Kernthesen zu § 2 Stellenwert der Restschuldbefreiung in heutiger Zeit

280

B.  Kernthesen zu § 3 Unionsrechtliche Dimension

282

C. Kernthesen zu § 4 Restschuldbefreiung de lege ferenda (COM(2016) 723 final) und verfassungsrechtlicher Rahmen

284

Literaturverzeichnis

288

Stichwortverzeichnis

320