Insurance law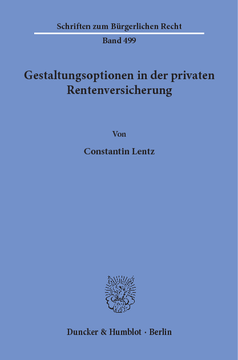 Additional Information
Book Details
ISBN

978-3-428-55600-7
978-3-428-15600-9 (print edition)

DOI

https://doi.org/10.3790/978-3-428-55600-7

Edition

1

Language

German

Pages

273

Collections

Subjects
Pricing
Institution

€ 104.00 (incl. local VAT if applicable)

Individual

€ 79.90 (incl. local VAT if applicable)
About The Author
Constantin Lentz schloss das Studium der Rechtswissenschaften an der Universität Mannheim im Jahre 2014 ab und promovierte in den Jahren 2015 bis 2018 an der Universität Mannheim am Lehrstuhl von Prof. Dr. Oliver Brand LL.M. Er war Stipendiat der Universität Mannheim sowie der Landesgraduiertenförderung Baden-Württemberg. Nach Abschluss seines Referendariats am Hanseatischen Oberlandesgericht (u.a. mit Stationen bei der Deutschen Botschaft in Astana, Kasachstan) ist er inzwischen als Anwalt in Hamburg tätig.
Constantin Lentz completed his law studies at the University of Mannheim in 2014 and wrote his doctorate in 2015 to 2018 at the University of Mannheim at the chair of Prof. Dr. Oliver Brand LL.M. He was a scholarship holder of the University of Mannheim as well as of the graduate scholarship of Baden-Württemberg. After completing his legal clerkship at the Han-seatic Higher Regional Court (including positions at the German Embassy in Astana, Kazakhstan), he now works as a lawyer in Hamburg.
Abstract
Die Arbeit führt eine umfassende Rechtmäßigkeitsprüfung von neu auf dem Markt vertriebenen Produkten der kapitalbildenden Rentenversicherung durch. Zusätzlich zeigt sie weitere mögliche Gestaltungsoptionen innovativer Versicherungsprodukte sowie deren gesetzlichen Grenzen auf.

Neben der Prüfung vor dem Hintergrund von Versicherungsvertragsgesetz (VVG) und Versicherungsaufsichtsgesetz (VAG) liegt ein besonderer Schwerpunkt auf der Vereinbarkeit mit den allgemeinen zivilrechtlichen Regelungen des Bürgerlichen Gesetzbuchs. Da insbesondere das Recht der Allgemeinen Geschäftsbedingungen maßgeblich ist, wird die Prüfung anhand von Musterklauseln vorgenommen und im Anschluss auf gestaltungs- und formulierungstechnische Besonderheiten im Rahmen der praktischen Umsetzung eingegangen. Ein besonderer Schwerpunkt der Untersuchung liegt auf der Ausgestaltung der Überschussbeteiligung. An verschiedenen Stellen zeigt die Arbeit auf, dass die aktuellen Regelungen des VVG teilweise nicht auf innovative Produktgestaltungen ausgelegt sind, und macht im letzten Teil Vorschläge für notwendige Gesetzesreformen. »Options in Private Pension Insurance«

The work examines the legality of innovative capital-forming pension insurance products on the basis of the current legal regime and points out the legal limits for the design of such products. It particular focuses on the question of what framework the applicable law provides with regard to the structure of profit participation and how insurers can design their products in this respect.
Table of Contents
Section Title
Page
Action
Price

Vorwort

7

Inhaltsübersicht

9

Inhaltsverzeichnis

11

Kapitel 1: Allgemeines

19

A. Einführung in die Thematik

19

I. Überblick

19

II. Gang der Untersuchung

21

B. Überblick über den privaten Rentenversicherungssektor

22

I. Bedeutung und Ausgangslage

22

II. Funktionsweise

23

1. Anlagebeschränkung und Höchstrechnungszins

23

2. Prämienüberhöhung und Überschussbeteiligung

25

III. Problematik

26

C. Mögliche Produkte und deren Typologie

28

I. Typ I: Rentenversicherung auf Grundlage eines klassischen Rentenversicherungsvertrages

29

II. Typ II: Rentenversicherung auf Grundlage einer fondsgebundenen Rentenversicherung

31

Kapitel 2: Prüfungsmaßstab

34

A. Versicherungsvertragsgesetz

34

B. Bürgerliches Gesetzbuch

35

C. Versicherungsaufsichtsrecht

35

I. Grundlagen der Versicherungsaufsicht

37

II. Kontrolle der Allgemeinen Versicherungsbedingungen

40

1. Meinungsstand

40

2. Bewertung

43

III. Kontrolle der Überschussbeteiligung

45

1. Verfahren der laufenden Überschussbeteiligung

46

a) Ermittlung der Überschusshöhe

46

b) Aufteilung zwischen Versicherungsunternehmen und Versichertengemeinschaft

47

c) Zuordnung der Ergebnisanteile zu den entsprechenden Gewinnverbänden

48

d) Deklaration der Überschussanteile

49

2. Kontrolle durch die Aufsichtsbehörde

49

3. Kontrolle durch die Zivilgerichte

50

Kapitel 3: Untersuchung

54

A. Aufschubklausel

55

I. Mögliche Änderung der Rentenberechnung

55

II. Besonderheiten des Prüfungsumfangs

57

III. Vereinbarkeit mit dem BGB

59

1. Verstoß gegen § 305c BGB

60

a) Objektive Ungewöhnlichkeit

61

aa) Rentenzahlung als nicht garantierte Leistung

63

bb) Aufschieben des Berechnungszeitpunkts

64

cc) Verweis auf die Rechnungsgrundlagen "vergleichbarer Verträge"

65

dd) Ergebnis

66

b) Subjektives Überraschungsmoment

66

c) Ergebnis

67

2. Anwendbarkeit der Inhaltskontrolle

67

a) Regelung einer Hauptleistung

68

b) Abweichung oder Ergänzung einer Rechtsvorschrift

73

c) Besonderheiten im Rahmen des Versicherungsvertrages

74

3. Verstoß gegen § 308 Nr. 4 BGB

74

a) Vom Verwender versprochene Leistung

76

b) Verdeckter Änderungsvorbehalt

78

aa) Rechtsprechung zu Zinsanpassungsklauseln

79

bb) Übertragung auf die Aufschubklausel

80

c) Art und Weise der Änderung

81

d) (Un-)Zumutbarkeit

82

aa) Einordnung als Klausel mit Anpassungsautomatik oder als einseitige Leistungsänderung

83

(1) Anpassungsautomatik

84

(2) Leistungsänderungsvorbehalt

85

(3) Einordnung der Aufschubklausel

86

bb) Anforderungen der Rechtsprechung im Hinblick auf Transparenz und Reichweite der Änderungsbefugnis

89

(1) Tagespreisklauseln

89

(2) Zinsanpassungsklauseln

90

(3) Sonstige einseitige Leistungsänderungsklauseln

91

(4) Zusammenfassung

92

(5) Voraussetzungen für die (Muster-)Aufschubklausel

95

(a) Saldierungs- und Preissenkungspflicht

96

(b) Offenlegung der Kalkulation

97

(c) Umfang der Änderungsbefugnis

98

(d) Anlass der Änderungsbefugnis

99

(e) Formulierung

100

(f) Ergebnis zur Formulierung der Klausel

101

cc) Grundsätzliches schützenswertes Interesse des Verwenders

102

(1) Interesse des Versicherers

102

(2) Schutzwürdigkeit des Interesses

105

(3) Zwischenergebnis

106

dd) Interesse des Versicherungsnehmers

107

ee) Interessenabwägung

108

e) Ergebnis

110

4. Verstoß gegen § 307 BGB

112

a) Abweichung von einem wesentlichen Grundgedanken, § 307 Abs. 2 Nr. 1 BGB

112

b) Vertragszweckgefährdende Einschränkung wesentlicher Pflichten, § 307 Abs. 2 Nr. 2 BGB

113

c) Unangemessene Benachteiligung, § 307 Abs. 1 S. 1 BGB

114

aa) Benachteiligung durch die Aufschubklausel

115

bb) Unangemessenheit der Benachteiligung

116

(1) Übereinstimmen oder Abweichen von etablierten Standards

117

(2) Änderung des wesenseigenen Vertragsinhalts bzw. \neines konstituierendes Merkmals

118

(3) Preisargument

120

(4) Zwischenergebnis

120

(5) Interessenabwägung

121

cc) Zwischenergebnis

121

d) Transparenzgebot, § 307 Abs. 1 S. 2 BGB

121

e) Ergebnis

122

IV. Vereinbarkeit im Hinblick auf das VVG

122

1. Prämien- und Leistungsänderung nach § 163 VVG

122

a) Übertragung der Anforderungen auf die Klausel

124

aa) Änderung des Leistungsbedarfs

124

bb) Erforderlichkeit

126

cc) Mitwirkung eines Treuhänders

127

dd) Ordnungsgemäße Ausgangskalkulation

129

b) Zwischenergebnis

129

2. Kündigungsrecht aus § 40 VVG

130

a) Anwendbarkeit auf die private Rentenversicherung

131

b) Zeitlicher Anwendungsbereich der Norm

132

c) Anwendung der Norm nach ihrem Sinn und Zweck

132

d) Ergebnis

133

3. Gestaltung der Modellrechnung nach § 154 VVG

134

a) Besonderheiten wegen der Aufschubklausel

137

b) Zusätzliche Anforderungen an die Musterrechnung

138

4. Problematik im Hinblick auf § 165 VVG

139

a) Rechnungsgrundlagen der Prämienkalkulation

140

b) Rechnungsgrundlagen der Rentenberechnung

140

c) Jeweils aktuell gültige Rechnungsgrundlagen

141

d) Zwischenergebnis

142

5. Ergebnis

142

V. Vereinbarkeit mit dem Versicherungsaufsichtsrecht

142

VI. Ergebnis und Ausblick

143

VII. Ergänzende Vereinbarungen: Auffangklausel

144

1. Vereinbarkeit mit §§ 307 ff. BGB

145

2. Mindestanforderungen an die Auffangklausel

146

3. Ergebnis

148

B. Überschussklausel

148

I. Ausgangslage und vorgesehene Änderung

148

II. Vereinbarkeit mit § 153 VVG

150

1. Wortlaut des § 153 VVG

151

2. Regelungsgehalt des § 153 Abs. 1 VVG

151

3. Rückschlüsse aus § 6 Abs. 1 Nr. 3 VVG-InfoV

153

4. Systematische Stellung des § 153 Abs. 1 VVG

155

5. Historische Umstände des § 153 VVG

156

6. Ergebnis

156

III. Vereinbarkeit mit der VVG-InfoV

157

IV. Vereinbarkeit mit dem BGB

157

1. Verstoß gegen § 305c BGB

158

a) Objektive Ungewöhnlichkeit

158

b) Besonderheiten aufgrund der VVG-InfoV

160

c) Subjektives Überraschungsmoment

161

2. Verstoß gegen §§ 307 Abs. 1 S. 2 BGB

162

3. Verstoß gegen § 307 Abs. 1 S. 2 BGB

163

V. Vereinbarkeit mit dem VAG

166

VI. Ergebnis

166

C. Kombination von Aufschubklausel und Überschussklausel

167

I. Rechtliche Konstruktion

167

1. Rücktrittsvorbehalt

168

2. Doppelte Bedingung, § 158 BGB

169

3. Ergebnis

171

II. Vereinbarkeit mit § 153 VVG

171

1. Normzweck und Regelungsgehalt

171

2. Zusammenspiel der Klauseln als nicht ausdrücklicher Ausschluss der Überschussbeteiligung

175

a) Quantitative Anforderungen an einen Ausschluss im Rahmen des § 153 VVG

176

aa) Grammatikalische Auslegung

177

(1) Tatsächliche objektive Unmöglichkeit

177

(2) Versagung bzw. Entzug einer Rechtsposition

178

(3) Ausschluss als dispositives Recht auf Tatbestandsseite

180

(4) Zwischenergebnis

181

bb) Teleologische Auslegung

182

cc) Ergebnis

183

b) Qualitative Anforderungen

183

aa) Art der Regelung selbst

183

bb) Beschränkung als Ausschluss; weite Auffassung von § 153 VVG

184

(1) Vergleich mit anderen Normen

185

(a) § 108 Abs. 2 VVG

185

(b) § 309 Nr. 2, 7, 8a, 8b cc) BGB

187

(c) Zwischenergebnis

189

(2) Historische und teleologische Auslegung des § 153 VVG

189

(3) Erst-recht-Schluss aus § 153 VVG

192

(4) Ergebnis

193

c) Bedingtes Vorenthalten als Ausschluss

193

aa) Vergleich mit § 168 Abs. 3 VVG

195

bb) Vergleichbare Regelungen in § 309 BGB

196

(1) § 309 Nr. 2 BGB

197

(2) § 309 Nr. 7 BGB

197

(3) § 309 Nr. 8b aa BGB

198

cc) Zwischenergebnis

201

dd) Verfassungsrechtliche Anforderungen an § 153 VVG

201

(1) Urteile und Vorgaben des Bundesverfassungsgerichts

202

(2) Übertragung auf die vorliegende Konstellation

203

3. Ergebnis

205

III. Vereinbarkeit der Klauseln mit §§ 307 ff. BGB

206

1. Verstoß gegen das Transparenzgebot, § 307 Abs. 1 S. 2 BGB

206

2. Ergebnis

209

IV. Vereinbarkeit der Klauseln im Hinblick auf das Versicherungsaufsichtsrecht

210

1. Auslegungsentscheidung der BaFin vom 10.11.2006

210

a) Grund und Inhalt der Auslegungsentscheidung

211

b) Ergebnis

213

2. Aufsichtsrechtlicher Gleichbehandlungsgrundsatz

213

a) Reichweite und Regelungsgehalt des Grundsatzes

214

b) Vorliegender Sachverhalt

217

c) Konkretisierung des Tatbestandes durch die Auslegungsentscheidung VerBaFin 07 / 2004

219

d) Übertragung der Grundsätze auf den vorliegenden Sachverhalt

221

aa) Fehlende vertragliche Grundlage für die Zinsspreizung

221

bb) Verstoß gegen das Gebot der gleichen Gesamtverzinsung

221

e) Ergebnis

223

3. Ergebnis

224

D. Zeitlicher Ausschluss der Überschussbeteiligung

224

I. Vorgesehene Gestaltung

225

II. Vorkommen der Regelung

225

III. Vereinbarkeit mit § 153 VVG

226

1. Wortlaut und Systematik der Norm

227

2. Historische Auslegung

229

3. Telos der Norm

231

4. Zwischenergebnis

232

IV. Vereinbarkeit mit §§ 307 ff. BGB

233

1. Möglichkeit der AGB-Kontrolle

233

2. Transparenzkontrolle

233

a) Vereinbarkeit mit § 305c BGB

234

b) Vereinbarkeit mit § 307 Abs. 1 S. 2 BGB

234

3. Zwischenergebnis

235

V. Vereinbarkeit mit § 140 Abs. 2 VAG

235

VI. Ergebnis

235

E. Fondsgebundene Rentenversicherung mit Rückversicherungslösung

236

I. Vorgesehene Gestaltung

236

II. Vorkommen der Änderung

238

III. Vereinbarkeit mit geltendem Recht

238

1. Hintergrundleistung

238

2. Direktleistung

240

a) Abtretung des Rückversicherungsanspruchs

241

b) Vertrag zugunsten Dritter

242

c) Besondere Anforderungen des Versicherungsrechts

242

3. Ergebnis

243

Kapitel 4: Reformvorschläge

244

A. Musterrechnung und jährliche Unterrichtung, §§ 154, 155 VVG

244

1. Entwurf der §§ 154, 155 VVG

245

2. Begründung

246

B. Berechnung des Rückkaufswertes, § 165 VVG

247

1. Entwurf der §§ 165, 169 VVG

247

2. Begründung

248

Kapitel 5: Zusammenfassung der Ergebnisse

250

A. Aufschubklausel

250

B. Überschussklausel

253

C. Kombination von Aufschubklausel und Überschussklausel

253

D. Zeitlicher Ausschluss der Überschussbeteiligung

256

E. Rückversicherung im Rahmen der fondsgebundenen Rentenversicherung

256

Literaturverzeichnis

257

Sachwortverzeichnis

271