Political structure & processes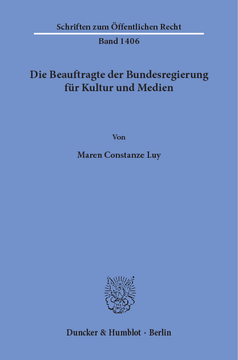 Additional Information
Book Details
ISBN

978-3-428-55650-2
978-3-428-15650-4 (print edition)

DOI

https://doi.org/10.3790/978-3-428-55650-2

Edition

1

Language

German

Pages

319

Collections

Subjects
Pricing
Institution

€ 104.00 (incl. local VAT if applicable)

Individual

€ 79.90 (incl. local VAT if applicable)
About The Author
Maren Constanze Luy studierte Rechtswissenschaften an der Universität Konstanz und an der Yeditepe Universität in Istanbul. Nach dem Ersten Juristischen Staatsexamen war sie als wissenschaftliche Mitarbeiterin am Lehrstuhl für Staats- und Verwaltungsrecht, Medienrecht, Kunst- und Kulturrecht von Prof. Sophie Schönberger beschäftigt. Ihre Promotion beendete sie im Sommer 2018. Hieran schloss sich eine Tätigkeit in der Verwaltung des Deutschen Bundestages an. Das Referendariat absolviert sie derzeit am Kammergericht Berlin.
Maren Constanze Luy studied law at the University of Konstanz and the Yeditepe University in Istanbul. After her first state examination she worked at Prof. Sophie Schönberger's chair for constitutional and administrative law, media law, art and cultural law. She completed her dissertation in the summer of 2018. Subsequently she worked at the Administration oft the Federal Parliament in Berlin. Maren Constanze Luy is currently a trainee lawyer at the Kammergericht Berlin.
Abstract
Die Arbeit untersucht den relativ jungen staatsorganisationsrechtlichen Akteur der Beauftragten der Bundesregierung für Kultur und Medien und damit zusammenhängende verfassungsrechtliche Fragen. Methodisch wählt die Arbeit einen Ansatz, der neben rechtlichen Fragestellungen auch die Realität der politischen Existenz der Institution in den Blick nimmt.

Ausgehend von der hybriden Organisationsform der Institution erfolgt eine vergleichende Analyse mit anderen Akteuren innerhalb der Regierungsorganisation des Bundes, die deren Besonderheiten verdeutlicht. Die Auseinandersetzung mit der tatsächlichen Aufgabenwahrnehmung dieser Dienststelle der Bundeskanzlerin offenbart die Stellung eines faktischen Ministeriums. Im Hinblick auf die Regierungsverfassung des Grundgesetzes und die politische Wirksamkeit erweist sich die Institution in ihrer organisatorischen Ausgestaltung als fragwürdig. »The Federal Government Commissioner for Culture and the Media«

The thesis examines the relatively recent governmental actor of the Federal Government Commissioner for Culture and the Media and related constitutional questions. The methodical approach of the analysis includes, alongside legal problems, the coverage of the political reality of the institution.
Table of Contents
Section Title
Page
Action
Price

Vorwort

5

Inhaltsverzeichnis

7

Abkürzungsverzeichnis

13

A. Einleitung

17

B. Hybride Organisationsstrukturen

24

I. Hintergrund

26

1. Die Entscheidung für eine Bundeskulturbeauftragte

26

2. Veränderungen im Ressortzuschnitt

31

3. Bisherige Amtsinhaberinnen

36

II. Beauftragte der Bundesregierung

39

1. Bezeichnung der Dienststelle

40

a) Personifizierende vs. institutionelle Bezeichnung

41

b) Umfang der Bezeichnung

42

c) Bezug zum Bereich der Regierung

42

2. Aufgaben von Regierungsbeauftragten

44

a) Interessenvertretung

45

b) Koordinierende Funktionen

46

c) Keine Programmverantwortung

48

3. Rechtsgrundlage

50

4. Amtsperiode

53

5. Aufgabenübertragung

55

6. Innere Organisation

57

7. Position im Bereich der Regierung

61

a) Nachordnung gegenüber der Bundeskanzlerin

62

aa) Andere Regierungsbeauftragte

63

bb) Bundeskanzleramt

64

cc) Presse- und Informationsamt der Bundesregierung

67

dd) Status der jeweiligen Amtsleitung

68

b) Verhältnis zum Bundeskanzleramt

72

aa) Varianten organisatorischer Anbindung

72

bb) Stabsstellen und organisatorische Angliederungen

73

8. Bundestagsausschuss für Kultur und Medien

75

9. Befugnisse

77

a) Beteiligungsrechte

78

b) Selbständige Verwaltungsführung

79

aa) Verwaltungsführung der Ministerien als Ausgangspunkt

80

bb) Verwaltungsführung der BKM

81

cc) Organeigenschaft als Konsequenz?

85

c) Vertretung der Bundesrepublik innerhalb des Geschäftsbereichs

87

d) Zutrittsrecht gem. Art. 43 Abs. 2 GG

90

III. Parlamentarische Staatssekretärin

91

1. Aufgaben

93

2. Weisungsgebundenheit

98

3. Bestellung und Entlassung

102

4. Bezeichnung als Staatsministerin

104

5. Status und Besoldung

104

IV. Stellung innerhalb der Verwaltungsorganisation des Bundes

106

1. Oberste Bundesbehörde?

106

a) Einordnung anhand der Verwaltungsorganisation des Bundes

109

b) Grundgesetzliches Verständnis des Begriffs

110

2. Bundesoberbehörde?

113

3. Zusammenfassung

115

C. Das "Ressort" der BKM

116

I. Politikfeld Kultur und Medien

117

II. Mitwirkung im Bereich der Regierung

119

1. Erarbeitung von Gesetzesentwürfen

119

2. Reden im Plenum des Bundestages

121

a) Inhalte

122

b) Entwicklung

123

3. Berichtspflichten gegenüber dem Bundestag

124

4. Beantwortung parlamentarischer Anfragen

126

a) Einzelfragen und Befragung der Bundesregierung

126

b) Kleine und Große Anfragen

128

5. Anwesenheit im Ausschuss für Kultur und Medien

129

6. Die BKM im föderalen System

130

7. Internationale Zusammenarbeit

131

III. Wahrnehmung von Aufsichts- und Steuerungsfunktionen

132

1. Formen staatlicher Aufsicht

133

2. Nachgeordnete Behörden des Geschäftsbereichs

134

a) Bundesarchiv und Bundesinstitut für die Kultur und Geschichte der Deutschen im östlichen Europa

135

b) Bundesbeauftragte für die Unterlagen des Staatssicherheitsdienstes der ehemaligen Deutschen Demokratischen Republik

136

3. Mittelbare Bundesverwaltung des Geschäftsbereichs

137

a) Institutionelle Steuerung durch Staatsaufsicht

139

b) Mitgliedschaft in aufsichtführenden Gremien

141

c) Normative Steuerung

143

aa) Errichtungsgesetze

143

bb) Rechtsverordnungen

144

d) Haushaltsrecht

145

aa) Steuerung durch Zuwendungen

145

(1) Veranschlagung von Mitteln im Bundeshaushaltsplan

145

(2) Bewilligung von Mitteln und Verwendungskontrolle?

147

bb) Haushaltsrechtliche Kontrolle

148

4. Steuerung privatrechtlicher Bundesverwaltung

150

a) Gewährleistung staatlicher Steuerungsmöglichkeiten

151

b) Abgrenzung privatrechtlicher Bundesverwaltung

152

c) Beispiele privatrechtlich organisierter Kulturverwaltung

154

aa) Die Kulturveranstaltungen des Bundes in Berlin GmbH

154

bb) Die Kulturstiftung des Bundes

156

d) Haushaltsrechtliche Steuerung

158

aa) Zuwendungsvergabe

158

bb) Verwendungs- und Erfolgskontrolle

160

cc) Zusammenarbeit mit dem Bundesverwaltungsamt

161

IV. Vollzugsaufgaben innerhalb des Geschäftsbereichs

161

1. Aufgaben im Bereich Kulturgutschutz

162

2. Die BKM als Zuwendungsgeberin

166

a) Zwischen Kontrolle und "Entstaatlichung"

167

b) Zuwendungsvergabe

168

aa) Institutionelle Förderung und Projektförderung

169

bb) Vergabe von Preisen

170

c) Mitgliedschaft in Aufsichtsgremien

171

V. Zusammenfassung

172

D. Gefährdung der Regierungsverfassung?

173

I. Vorüberlegung: begrenzter Regelungsanspruch

174

II. Die Doppelfunktionalität der BKM

177

III. Maßstab der Regierungsorganisation

180

IV. Organisationskompetenz der Bundeskanzlerin

185

V. Ressortfreiheit der Bundeskanzlerin?

192

1. Ressortaufgaben im Geschäftsbereich der Bundeskanzlerin

193

a) Keine Übertragung von Rechtsetzungsbefugnissen

196

b) Parlamentarische und politische Verantwortlichkeit

198

c) Leitungs- und Moderationsfunktion

199

d) Fehlende Spiegelbildlichkeit

200

2. Die Bundeskanzlerin als Ressortministerin

200

3. Ressortaufgaben im Geschäftsbereich der Bundesregierung

202

4. Diskrepanzen zwischen Staatspraxis und normativem Idealbild

203

VI. Erfordernis einer legislativen Entscheidung für die Regierungsorganisation

205

1. Art. 87 Abs. 3 S. 1 GG als Einfallstor des Parlaments?

208

2. Ansatz im Haushaltsplan

212

VII. Folgen für die Wirksamkeit der Bundeskulturpolitik

214

1. Abhängigkeit gegenüber der Bundeskanzlerin

215

2. Schwache Position innerhalb des Kabinetts

216

3. Erhöhter Koordinationsaufwand

218

4. Kultur als Mittel staatlicher Repräsentation?

219

VIII. Möglichkeiten verfassungsmäßiger Errichtung

220

1. Errichtung eines Bundesministeriums für Kultur und Medien

220

2. Angliederung an ein bestehendes Ressort

223

3. Errichtung einer Bundesoberbehörde nach Art. 87 Abs. 3 S. 1 GG

224

E. Schlussbetrachtung

226

F. Anhang

230

I. Ungedruckte Quellen

230

1. Bundesarchiv

230

2. Parlamentsarchiv des Deutschen Bundestages

230

II. Organisationspläne der BKM

231

1. Organisationsplan v. 28.10.1998

231

2. Organisationsplan v. 22.11.1999

232

3. Organisationsplan v. 1.1.2001

233

4. Organisationsplan v. 5.11.2003

234

5. Organisationsplan v. 1.11.2005

235

6. Organisationsplan v. 25.7.2008

236

7. Organisationsplan v. 9.9.2013

237

8. Organisationsplan v. 4.1.2016

238

9. Organisationsplan v. 1.6.2016

239

10. Organisationsplan v. 6.12.2018

240

III. Abschrift einer Ernennungsurkunde zur BKM

241

IV. Vereinbarung zur Vertretung des Auswärtigen Amts durch die BKM v. 11.11.1998

242

V. Schreiben der Bundesjustizministerin an die BKM v. 12.5.1999

243

VI. Recherche zur Mitwirkung im Bereich der Regierung

244

1. Auswertung

244

2. Vorgehensweise

245

a) Reden im Bundestag

246

b) Federführung bei Gesetzesentwürfen

246

c) Berichterstattung gegenüber dem Bundestag

247

d) Beantwortung parlamentarischer Anfragen nach §§ 105, 106 Abs. 2 GOBT

247

e) Beantwortung Kleiner und Großer Anfragen gem. §§ 100 ff. GOBT

248

VII. Gesetzlich zugewiesene Aufgaben der BKM

248

1. Wahrnehmung von Aufsichtsfunktionen

248

a) Nachgeordnete Behörden des Geschäftsbereichs

248

b) Mittelbare Bundesverwaltung des Geschäftsbereichs

250

2. Aufgaben im Bereich Kulturgutschutz

258

a) Kulturgutschutzgesetz v. 31.7.2016

258

b) Gesetz über die internationale Rechtshilfe in Strafsachen

261

c) Rechtslage bis zum 6.8.2016

262

3. Aufgaben für die Stiftung Berliner Mauer

265

VIII. Auszug aus dem Gesellschaftsvertrag der Kulturveranstaltungen des Bundes in Berlin (KBB) Gesellschaft mit beschränkter Haftung

266

IX. Beispiel eines Zuwendungsbescheids der BKM

270

X. Beispiel eines Übertragungserlasses der BKM an das Bundesverwaltungsamt

275

XI. Beispiel eines Zuwendungsbescheids des Bundesverwaltungsamts

280

Literaturverzeichnis

288

Personen- und Sachverzeichnis

316