Damages & compensation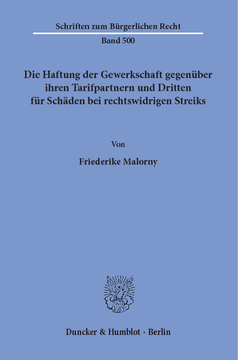 BOOK
Die Haftung der Gewerkschaft gegenüber ihren Tarifpartnern und Dritten für Schäden bei rechtswidrigen Streiks
Schriften zum Bürgerlichen Recht, Vol. 500
(2019)
Additional Information
Book Details
ISBN

978-3-428-55745-5
978-3-428-15745-7 (print edition)

DOI

https://doi.org/10.3790/978-3-428-55745-5

Edition

1

Language

German

Pages

315

Collections

Subjects
Pricing
Institution

€ 104.00 (incl. local VAT if applicable)

Individual

€ 79.90 (incl. local VAT if applicable)
About The Author
Friederike Malorny, geb. Besenthal hat an der Bucerius Law School in Hamburg und an der Sciences Po in Paris studiert. Während ihrer Promotion war sie wissenschaftliche Mitarbeiterin am Lehrstuhl für Bürgerliches Recht, Arbeitsrecht und Zivilprozessrecht bei Prof. Dr. Matthias Jacobs an der Bucerius Law School. Friederike Malorny wurde sowohl während des Studiums als auch während der Promotion als Stipendiatin von der Studienstiftung des Deutschen Volkes gefördert. Ihre Promotion wurde mit dem KLIEMT.Arbeitsrecht-Dissertationspreis und dem Dissertationspreis des Hamburger Vereins für Arbeitsrecht e.V. ausgezeichnet. Das Referendariat absolviert Friederike Malorny am Hanseatischen Oberlandesgericht mit Stationen u.a. am Bundesverfassungsgericht in Karlsruhe und am Landesarbeitsgericht Hamburg. Ihre Forschungsschwerpunkte sind: Arbeitskampfrecht, Tarifrecht, Grundlagen des Arbeitsrechts, Allgemeines Schadensrecht.
Friederike Malorny studied at Bucerius Law School in Hamburg and Sciences Po in Paris. During her doctoral thesis she worked as research assistant in the department for Civil Law, Labour Law and Law of Civil Procedure under Prof. Dr. Matthias Jacobs at Bucerius Law School. Both during her course of studies and her doctorate she hold a scholarship of the »Studienstiftung des Deutschen Volkes«. Her doctorate was awarded the KLIEMT.LaborLaw Dissertation Prize and the Dissertation Prize of the Hamburger Verein für Arbeitsrecht e.V. (Hamburg Association for Labor Law). She completes her legal clerkship at the Hanseatic Higher Regional Court of Hamburg undertaking positions at the Federal Constitutional Court in Karlsruhe and the Regional Labour Court of Hamburg. Her major research fields are: collective bargaining law and labour disputes as well as liability and indemnity law.
Abstract
»The Liability of Trade Unions for Damages Caused by Illegal Strikes«

The thesis addresses the question who carries the risk of illegal strikes. The trade union is liable to the employers' side, in the first instance from contractual liability complemented by tortious liability. Uninvolved third parties don't have contractual claims towards the trade union: both, legal and illegal strikes belong to the ordinary risks of life. This conclusion fits into the overall concept. Under the principle of relativity of obligations third parties have to address their own contractual partner. Die Arbeit beschäftigt sich mit der Frage, wer das Risiko von Schäden rechtswidriger Streiks trägt. Die Gewerkschaft haftet gegenüber der Arbeitgeberseite in erster Linie aus vertraglichen Schadensersatzansprüchen. Ergänzend kommt eine deliktische Haftung in Betracht. Das passt auch zu den zivilrechtlichen Wertungen des Vertragsrechts einerseits und des Deliktsrechts andererseits: Gewerkschaft und Arbeitgeberseite stehen sich gerade nicht unverbunden gegenüber, sodass keine typische Konstellation der Jedermann-Haftung vorliegt.

Für Drittbetroffene gilt: Rechtmäßige wie rechtswidrige Streiks zählen zu ihrem allgemeinen Lebensrisiko. Dritte haben daher auch bei rechtswidrigem Streik keine vertraglichen Schadensersatzansprüche gegen die Gewerkschaft. Dieses Ergebnis fügt sich auch in die gesetzliche Gesamtkonzeption ein: Nach dem Grundsatz der Relativität der Schuldverhältnisse haben sich Dritte an ihren Vertragspartner zu halten. In extremen Fällen sind Dritte ausreichend durch das Deliktsrecht geschützt. Ein darüberhinausgehender deliktischer Schutz, etwa mit Hilfe des ReaG, besteht nicht.

Die Arbeit wurde mit dem KLIEMT.Arbeitsrecht-Dissertationspreis 2019 und dem Dissertationspreis des Hamburger Vereins für Arbeitsrecht e.V. ausgezeichnet.
Table of Contents
Section Title
Page
Action
Price

Vorwort

7

Inhaltsübersicht

9

Inhaltsverzeichnis

13

Abkürzungsverzeichnis

23

Erster Teil: Einführung

25

§ 1  Problemstellung

25

A.  Arbeitskampfrecht ist Zivilrecht

26

B.  Berücksichtigung der Besonderheiten des Arbeitskampfrechts

28

C.  Unsichere Rechtslage

32

§ 2  Gegenstand und Ziel der Untersuchung

34

Zweiter Teil: Haftung der Gewerkschaft bei rechtswidrigen Streiks für Schäden der Tarifpartner und ihrer Mitglieder

37

Erster Abschnitt: Haftung aus Vertrag

37

§ 3 Schadensersatz nach §§ 280 I, III, 283 BGB wegen Verletzung der Friedenspflicht

37

A.  Schuldverhältnis

37

I. Rechtsgeschäftliches Schuldverhältnis zwischen den Tarifparteien

38

II.  Tarifvertrag als Vertrag zugunsten Dritter i. S. d. § 328 I BGB

39

1.  Drittbegünstigungsabrede

40

2.  Anspruch auf Leistung an den Dritten

43

III.  Zwischenergebnis

44

B.  Pflichtverletzung i. S. d. § 283 BGB

45

I. Anknüpfung an die Herbeiführung der Unmöglichkeit und die bloße Nichtleistung

45

II.  Friedenspflichtverletzung

46

1.  Inhalt der Friedenspflicht

46

a)  Zweck der Friedenspflicht

46

b)  Umfang der Friedenspflicht

48

c)  Charakter der Friedenspflicht: selbstständige Unterlassungspflicht

50

aa)  Friedenspflicht als dauerhafte Unterlassungspflicht

50

bb)  Friedenspflicht als selbstständige Unterlassungspflicht

51

d)  Zwischenergebnis

53

2.  Verletzung der Friedenspflicht als Pflichtverletzung i. S. d. § 283 S. 1 BGB

53

a)  Einordnung als Schadensersatzanspruch statt der Leistung

54

b)  Voraussetzung des § 283 S. 1 BGB: Unmöglichkeit der Leistung (§ 275 BGB)

55

aa)  Dauerhafte Unterlassungspflicht als absolute Fixschuld

56

(1)  Charakter der absoluten Fixschuld

56

(2)  Abgrenzung nach der Parteiabrede: typischerweise absolute Fixschuld

58

(3)  Zwischenergebnis

59

bb)  Friedenspflicht als absolute Fixschuld

59

(1)  Kein Interesse an nachgeholter Unterlassung

59

(2)  Keine andere Bewertung bei bloß vorübergehenden Verletzungen

61

(3)  Zwischenergebnis

62

cc)  Vollständiger oder nur Teilausschluss der Leistungspflicht?

62

(1)  Teilbarkeit der Friedenspflicht

62

(2)  Interesse des Arbeitgebers an der Teilleistung als weitere Voraussetzung?

63

(3)  Zwischenergebnis

64

3.  Zwischenergebnis

65

III.  Zurechnung der Friedenspflichtverletzung

65

1.  Handeln von Organen, § 31 BGB

65

2.  Handeln von Erfüllungsgehilfen, § 278 S. 1 BGB

66

a)  Friedenspflicht als Verbindlichkeit i. S. d. § 278 S. 1 BGB

66

b)  Zurechnung sowohl des Verschuldens als auch des Handelns

67

c)  Handeln in Erfüllung der Verbindlichkeit

68

3.  Zwischenergebnis

69

IV.  Zwischenergebnis

69

C.  Vertretenmüssen

70

I.  Sorgfaltsmaßstab im Arbeitskampf

70

1.  Bewegliches Arbeitskampfrecht führt zu Unsicherheiten

71

2.  Hohes Schadenspotential wirkt existenzbedrohend

73

3. Gefährdung der Funktionsfähigkeit der Tarifautonomie durch hohes Haftungsrisiko

75

a)  Fehlendes Druckmittel bei unsicherer Rechtslage

75

b)  Konsequenzen für den Sorgfaltsmaßstab

77

4.  Konkretisierung der erforderlichen Sorgfalt im Arbeitskampf

77

a)  Sehr beachtliche Gründe für Rechtmäßigkeit des Streiks

78

b)  Hohe Wahrscheinlichkeit der Rechtswidrigkeit des Streiks

80

c)  Zwischenergebnis

81

II.  Darlegungs- und Beweislast

81

1.  Telos des § 619a BGB

82

2.  Gewerkschaft als Schuldner beweisnäher

83

3.  Zwischenergebnis

83

III.  Zwischenergebnis

83

D.  Rechtsfolge: Schadensersatz, §§ 249 ff. BGB

84

I.  Haftungsausfüllende Kausalität

85

II.  Notwendigkeit einer Haftungsbeschränkung

86

1. Gefährdung einer funktionsfähigen Tarifautonomie auch bei Fahrlässigkeit

88

2.  Keine Unsicherheit bei vorsätzlichem Handeln der Gewerkschaft

89

3. Übermaßverbot fordert Einschränkung der gewerkschaftlichen Haftpflicht

89

4.  Zwischenergebnis

92

III. Entwicklung einer Haftungsbeschränkung bei fahrlässigem Handeln

92

1.  Auslegung gesetzlicher Haftungsbeschränkungen

93

a)  Beschränkungen im Rahmen der Gefährdungshaftung

94

b)  Beschränkungen im Rahmen verschuldensabhängiger Haftung

95

c)  Beschränkung bei Mitverschulden nach § 254 BGB

95

d)  Zwischenergebnis

97

2.  Haftungsbeschränkung analog §§ 431 I, III, 433, 323 II HGB

98

3.  Haftungsbeschränkung analog § 254 I BGB

99

a)  Voraussetzungen der Analogie

100

aa)\tVerantwortlichkeit durch Organisationsherrschaft

101

bb)\tGemeinsamer Verantwortungsbereich aufgrund der Tarifpartnerschaft

102

b)  Rechtsfolge der Analogie

104

aa)\tKeine abstrakten Quotelungsgrundsätze

105

bb)\tKeine starre Haftungobergrenze

107

(1)\tFeststehende Haftungssumme und Bemessungsformel

107

(2)\tWeder feststehende Haftungssumme noch Bemessungsregel geeignet

109

cc)\tErmittlung der Haftungsobergrenze

109

(1)\tInsolvenzverfahren: Eröffnungsgründe

110

(a)\tZahlungsunfähigkeit, § 17 InsO

110

(b)\tÜberschuldung

111

(c)\tDrohende Zahlungsunfähigkeit, § 18 InsO

111

(2)\tEignung der Eröffnungsgründe zur Ermittlung der Haftungsobergrenze

111

4.  Zwischenergebnis

113

IV.  Probleme bei der verfahrensrechtlichen Umsetzung der Haftungsbeschränkung

113

1.  Verfahren nach § 58 III ArbGG

115

2.  Zur Verschwiegenheit verpflichteter Sachverständiger

116

3.  Wirtschaftsprüfervorbehalt

117

4.  In-camera-Verfahren im Zivilprozess?

118

5.  Zwischenergebnis

120

V. Regelung einer summenmäßigen Haftungsbeschränkung de lege ferenda

120

1.  Anknüpfung an eine Bemessungsformel vorzugswürdig

120

2.  Mitgliederzahl als Maßstab geeignet

121

3.  Erhöhte Rechtssicherheit

123

4.  Zwischenergebnis

123

VI.  Zwischenergebnis

124

E.  Ergebnis

124

§ 4 Schadensersatzanspruch nach §§ 280 I, III, 281 ff. BGB wegen Verletzung der Einwirkungspflicht

126

A.  Einwirkungspflicht als leistungsbezogene Nebenpflicht

126

B.  Abgrenzung von § 281 I 1 BGB und § 283 S. 1 BGB

128

C.  Ergebnis

129

§ 5  Schadensersatz nach § 280 I i. V. m. § 241 II BGB wegen Schutzpflichtverletzung

130

A.  Schuldverhältnis

130

I.  Schuldverhältnis zwischen den Tarifpartnern

131

1.  Vorvertragliches Schuldverhältnis aus c. i. c., § 311 II BGB

131

a)  Geschäftlicher Kontakt als Voraussetzung

131

b)  Beide Tarifpartner streben Tarifabschluss an

132

c)  Kein Verhandlungswille eines Tarifpartners

133

2.  Nachwirkendes Schuldverhältnis

134

3.  Tarifverhältnis als Dauerrechtsbeziehung

135

II.  Schuldverhältnis zwischen Gewerkschaft und Mitgliedern des Tarifpartners

138

1.  Gleiche Ausgangskonstellation

139

a)  Vorvertragliches Verhältnis, § 311 II , III 1 BGB

139

b)  Nachwirkendes Schuldverhältnis

140

2. Übertragung des Dauerrechtsverhältnisses auch auf die Verbandsmitglieder

142

III.  Zwischenergebnis

142

B.  Schutzpflichtverletzung i. S. d. § 241 II BGB

142

I.  § 241 II BGB als Einfallstor verfassungsrechtlicher Wertungen

144

II.  Bestehen einer Schutzpflicht der Gewerkschaft

147

III.  Konkretisierung der Schutzpflicht der Gewerkschaft

150

1.  Einwirkung auf grundrechtliche Rechtsgüter der Arbeitgeberseite durch Streik

150

a)  Einwirkung auf die Gewerbefreiheit

150

b)  Einwirkung auf die Eigentumsfreiheit

151

c)  Einwirkung auf die wirtschaftliche Handlungsfreiheit

152

d)  Beeinträchtigung der Koalitionsfreiheit

153

e)  Handeln der Gewerkschaft

153

f)  Zwischenergebnis

154

2.  Zumutbarkeit

155

a) Eröffnung des Schutzbereichs von Art. 9 III GG beim rechtswidrigen Streik

156

aa)\tSchutzumfang von Art. 9 III GG

156

(1) Keine enge Auslegung im Sinne einer immanenten Begrenzung des Schutzbereichs

158

(a)\tAllgemeine Erwägungen

158

(b)\tStreik nicht nur Hilfsinstrument der Tarifautonomie

159

(2)\tWeite Auslegung aufgrund völkerrechtsfreundlicher Auslegung

162

(3)\tZwischenergebnis

163

bb)\tKonsequenzen für die Konkretisierung der Schutzpflicht nach § 241 II BGB

163

b)  Rechtfertigung der Einwirkung

164

aa)\tGeeignetheit

164

(1)\tLegitimer Zweck: tariflich regelbares Ziel

164

(2)\tFörderung des legitimen Zwecks durch Streik

165

(3)\tZwischenergebnis

166

bb)\tErforderlichkeit

166

cc)\tAngemessenheit

167

(1)\tVerletzung der Kampfparität

168

(2)\tGebot fairer Kampfführung

170

(3)\tZwischenergebnis

170

3.  Korrektur wegen drohender Aushöhlung von Art. 9 III GG?

171

4.  Zwischenergebnis

172

a)  Kein Schutz durch die Koalitionsfreiheit

172

b)  Kein geeigneter Streik

172

c)  Kein erforderlicher Streik

172

d)  Kein verhältnismäßiger Streik

173

e)  Zusammenfassendes Schaubild

173

IV.  Zurechnung der Schutzpflichtverletzungen

174

V.  Zwischenergebnis

174

C.  Vertretenmüssen und Schaden

174

D.  Ergebnis

175

Zusammenfassung des Ersten Abschnitts

176

Zweiter Abschnitt: Haftung aus Delikt

178

§ 6  Schadensersatz aus § 823 I BGB wegen Eigentumsverletzung

179

A.  Eigentumsverletzung

179

B.  Rechtswidrigkeit, Verschulden und Schaden

182

C.  Ergebnis

182

§ 7  Schadensersatz aus § 823 I BGB i. V. m. Art. 9 III GG als sonstiges Recht

183

A.  Eigenschaften eines sonstigen Rechts

183

I.  Zuweisungsgehalt und Ausschlussfunktion als Grundlagen des Deliktsschutzes

183

II.  Voraussetzungen eines sonstigen Rechts

185

III.  Zwischenergebnis

186

B.  Art. 9 III GG als sonstiges Recht

186

C.  Ergebnis

187

§ 8  Schadensersatz aus § 823 II BGB i. V. m. Schutzgesetzen

188

A.  Verletzung eines Schutzgesetzes

188

I.  Merkmale des Schutzgesetzes

188

II.  Einschlägige Schutzgesetze

188

1.  Keine Einordnung der richterrechtlichen Arbeitskampfregeln als Schutzgesetz

189

a)  Richterrecht als Gesetz i. S. d. Art. 2 EGBGB?

189

b)  Ge- oder Verbotscharakter der richterrechtlichen Arbeitskampfregeln

190

c)  Zwischenergebnis

191

2.  Art. 9 III 2 GG als Schutzgesetz

191

3.  Zwischenergebnis

192

III.  Verstoß gegen das Schutzgesetz

192

IV.  Zwischenergebnis

194

B.  Rechtswidrigkeit, Verschulden und Schaden

194

C.  Ergebnis

195

§ 9  Schadensersatz aus § 823 I BGB i. V. m. dem ReaG

196

A.  Vorüberlegungen zum Institut des ReaG

196

I.  Herleitung des ReaG

196

II.  Kritik am ReaG

197

1.  Gewährung von reinem Vermögensschutz

197

2. Kein Zuweisungsgehalt und keine Ausschlussfunktion gegenüber Dritten

198

a)  Voraussetzungen eines "sonstigen Rechts"

199

b)  ReaG als sonstiges Recht?

199

3. Lösung originär vertraglicher Konstellationen mit Hilfe des Deliktsrechts

200

4.  ReaG als Gewohnheitsrecht?

202

III.  Zwischenergebnis

203

B.  Anwendungsbereich des ReaG

204

I.  Subsidiarität des ReaG

204

II.  Unmittelbarer Eingriff in das ReaG durch Streik

205

1.  Eingerichteter und ausgeübter Gewerbebetrieb

205

2.  Unmittelbarer Eingriff

205

a)  Betriebsbezogenheit als Konkretisierung der Unmittelbarkeit

206

aa)\tAuslegung mit Hilfe des Zwecks

207

bb)\tSubjektive oder objektive Stoßrichtung des Eingriffs?

209

cc)\tBetriebsbezogenheit allein bei Eingriffen von außen?

210

b)  Zwischenergebnis

212

3. Streik als unmittelbarer Eingriff der Gewerkschaft in den Gewerbebetrieb des bestreikten Arbeitgebers

212

a)  Rechtmäßige wie rechtswidrige Streiks als Eingriff denkbar?

212

b)  Betriebsbezogenheit von Streiks

215

aa)\tSchadensgefahr mit sozialunüblicher Behinderung

215

bb)\tObjektive Stoßrichtung des Streiks

217

cc)\tZwischenergebnis

218

c)  Streik als zurechenbarer unmittelbarer Eingriff der Gewerkschaft

218

4.  Zwischenergebnis

218

III.  Rechtswidrigkeit des unmittelbaren Eingriffs

219

1.  Umfassende Güter- und Interessenabwägung

220

a)  Abstrakte Güter- und Interessenabwägung

220

aa)\tAbzuwägende Rechtsgüter des bestreikten Arbeitgebers

221

(1)\tGewerbefreiheit (Art. 12 I GG)

221

(2)\tWirtschaftliche Handlungsfreiheit des bestreikten Arbeitgebers (Art. 2 I GG)

222

(3)\tKollektive Koalitionsfreiheit des bestreikten Arbeitgebers (Art. 9 III GG)

222

(4)\tZwischenergebnis

222

bb)\tAbzuwägende Rechtsgüter der Gewerkschaft

222

(1)\tStreikfreiheit (Art. 9 III GG)

222

(2)\tHohes Haftungsrisiko kein abzuwägendes Interesse der Gewerkschaft

223

cc)\tAbwägung der widerstreitenden Rechtsgüter

223

(1)\tAbwägung beim rechtmäßigen Streik

223

(2)\tAbwägung beim rechtswidrigen Streik

224

(a) Kein generelles Überwiegen der Rechtsgüter und Interessen des Arbeitgebers

224

(b)\tAber tendenzielles Überwiegen der Rechtsgüter und Interessen \ndes Arbeitgebers

225

(3)\tZwischenergebnis

225

b)  Konkrete Güter- und Interessenabwägung

226

aa)\tSchutzbedürftigkeit des Betroffenen

226

bb)\tAbwägung des Einzelfalls

227

2.  Rechtfertigungsgründe

227

3.  Zwischenergebnis

228

IV.  Verschulden und Schaden

229

V.  Zwischenergebnis

229

C.  Ergebnis

230

§ 10  Schadensersatz aus § 826 BGB\x03 wegen vorsätzlicher sittenwidriger Schädigung

232

A.  Verstoß gegen die guten Sitten

232

B.  Vorsätzliche Schädigung

233

C.  Rechtsfolge: Schadensersatz, §§ 249 ff. BGB

233

D.  Ergebnis

233

§ 11 Schadensersatz aus § 831 BGB wegen Haftung für den Verrichtungsgehilfen

235

A.  Verrichtungsgehilfe

235

B.  Unerlaubte Handlung in Ausführung der Verrichtung

236

C.  Kein Entlastungsbeweis i. S. d. § 831 I 2 BGB

236

D.  Rechtsfolge: Schadensersatz, §§ 249 ff. BGB

236

E.  Ergebnis

237

Zusammenfassung des Zweiten Abschnitts

238

Fazit des Zweiten Teils

240

Dritter Teil: Haftung der Gewerkschaft für Schäden kampfunbeteiligter Dritter bei rechtswidrigen Streiks

241

Erster Abschnitt: Haftung aus Vertrag

241

§ 12  Schadensersatz nach §§ 280 I, III, 283 BGB\x03 wegen Verletzung der Friedenspflicht

245

A.  Schuldverhältnis

245

B.  Ergebnis

247

§ 13  Schadensersatz nach §§ 280 I, 241 II BGB \x03i. V. m. dem Vertrag mit Schutzwirkung zugunsten Dritter wegen Schutzpflichtverletzung

248

A.  Schuldverhältnis

248

I.  Keine Leistungsnähe

249

II.  Keine Gläubigernähe

250

III.  Keine Erkennbarkeit für den Schuldner

252

IV.  Schutzwürdigkeit?

253

V.  Zwischenergebnis

253

B.  Ergebnis

254

§ 14  Schadensersatz nach §§ 280 I, III, 283 BGB; §§ 280 I, 241 II BGB i. V. m. § 398 S. 2 BGB aus abgetretenem Recht im Rahmen der Drittschadensliquidation

255

A.  Grundsätze der Drittschadensliquidation

255

B.  Keine Drittschadensliquidation beim rechtswidrigen Streik

256

C.  Ergebnis

258

Zusammenfassung des Ersten Abschnitts

258

Zweiter Abschnitt: Haftung aus Delikt

259

§ 15  Schadensersatz aus § 823 I BGB wegen Eigentumsverletzung

262

§ 16  Schadensersatz aus § 823 I BGB i. V. m. Art. 9 III GG als sonstiges Recht

263

§ 17  Schadensersatz aus § 823 II BGB i. V. m. Schutzgesetzen

264

§ 18  Schadensersatz aus § 823 I BGB i. V.m dem ReaG

265

A.  Unmittelbarer Eingriff in den eingerichteten und ausgeübten Gewerbebetrieb durch Streik

265

I.  Betriebsbezogenheit obsolet bei mittelbaren Folgen von Arbeitskämpfen?

265

II.  Schadensgefahr mit sozialunüblicher Behinderung

268

III. Objektive Stoßrichtung gegen die unternehmerische Entscheidungsfreiheit

268

1.  Kenntnis der mittelbaren Streikfolgen nicht schädlich

270

2.  Keine Auswirkung von Grad und Intensität der Drittbetroffenheit

271

3.  Keine Auswirkungen der "Fluglotsenstreik"-Fälle des BGH

273

4.  Zwischenergebnis

277

IV.  Zwischenergebnis

277

B.  Ergebnis

277

§ 19 Schadensersatz aus § 826 BGB wegen vorsätzlicher sittenwidriger Schädigung

278

§ 20  Schadensersatz aus § 831 BGB wegen Haftung für den Verrichtungsgehilfen

279

Zusammenfassung des Zweiten Abschnitts

280

Fazit des Dritten Teils

281

Vierter Teil: Wesentliche Ergebnisse

282

I. Haftung der Gewerkschaft bei rechtswidrigen Streiks für Schäden der Tarifpartner und ihrer Mitglieder

282

II. Haftung der Gewerkschaft bei rechtswidrigen Streiks für Schäden kampfunbeteiligter Dritter

285

Literaturverzeichnis

287

Sachwortregister

313