Administrative jurisdiction & public administration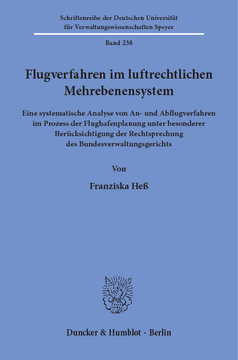 BOOK
Cite BOOK
Style
---
Heß, F. (2019). Flugverfahren im luftrechtlichen Mehrebenensystem. Eine systematische Analyse von An- und Abflugverfahren im Prozess der Flughafenplanung unter besonderer Berücksichtigung der Rechtsprechung des Bundesverwaltungsgerichts. Duncker & Humblot. https://doi.org/10.3790/978-3-428-55696-0
Heß, Franziska. Flugverfahren im luftrechtlichen Mehrebenensystem: Eine systematische Analyse von An- und Abflugverfahren im Prozess der Flughafenplanung unter besonderer Berücksichtigung der Rechtsprechung des Bundesverwaltungsgerichts. Duncker & Humblot, 2019. Book. https://doi.org/10.3790/978-3-428-55696-0
Heß, F, (2019): Flugverfahren im luftrechtlichen Mehrebenensystem: Eine systematische Analyse von An- und Abflugverfahren im Prozess der Flughafenplanung unter besonderer Berücksichtigung der Rechtsprechung des Bundesverwaltungsgerichts, Duncker & Humblot, [online] https://doi.org/10.3790/978-3-428-55696-0
---
Format
---
Flugverfahren im luftrechtlichen Mehrebenensystem
Eine systematische Analyse von An- und Abflugverfahren im Prozess der Flughafenplanung unter besonderer Berücksichtigung der Rechtsprechung des Bundesverwaltungsgerichts
Schriftenreihe der Hochschule Speyer, Vol. 238
(2019)
Additional Information
Book Details
ISBN

978-3-428-55696-0
978-3-428-15696-2 (print edition)

DOI

https://doi.org/10.3790/978-3-428-55696-0

Edition

1

Language

German

Pages

446

Collections

Subjects
Pricing
Institution

€ 138.00 (incl. local VAT if applicable)

Individual

€ 107.90 (incl. local VAT if applicable)
About The Author
Franziska Heß studierte von 1998 bis 2003 Rechtswissenschaften in Leipzig und Rouen. Sie ist seit 2007 für die Kanzlei Baumann Rechtsanwälte tätig, seit 2012 als Fachanwältin für Verwaltungsrecht. 2018 promovierte sie zum Dr. iur. an der Deutschen Universität für Verwaltungswissenschaften Speyer. Franziska Heß ist wissenschaftlich vor allem im Fachplanungsrecht tätig, tritt als Sachverständige auf und hält Fachvorträge. Sie ist als Vorstand der Gesellschaft für Umweltrecht e.V. und stellvertretende Vorsitzende des BUND Sachsen e.V sowie stellvertretende Sprecherin des BUND Arbeitskreis Recht vor allem in Umweltthemen ehrenamtlich engagiert.
Franziska Hess studied law from 1998 to 2003 in Leipzig and Rouen. She has been working for the law firm Baumann Rechtsanwälte since 2007, since 2012 as a specialist lawyer for administrative law. In 2018 she earned her doctorate at the German University of Administrative Sciences Speyer. Franziska Hess is scientifically active in specialist planning law, acts as an expert and holds specialist lectures. She is a member of the board of the Society for Environmental Law e.V. and deputy chairman of the BUND Sachsen e.V and deputy spokeswoman of the BUND working group law.
Abstract
Die Arbeit befasst sich mit Flugrouten, also den An- und Abflugverfahren an Verkehrsflughäfen. Sie untersucht systematisch Fragen, die sich aus der Einbettung der Flugverfahren in ein luftrechtliches Mehrebenensystem, verstanden als die gestufte Entstehung luftrechtlicher Infrastrukturen, ergeben. Dabei wird die Rolle der Flugrouten auf Ebene der Raumordnung und der luftrechtlichen Planfeststellung näher betrachtet sowie das Erfordernis der Durchführung von Umweltprüfungen, wie UVP und FFH-Verträglichkeit, untersucht. Der Hauptteil der Arbeit betrachtet die Festlegung der Flugverfahren durch Rechtsverordnung des Bundesaufsichtsamtes für Flugsicherung und entwickelt ein umfassendes Prüfprogramm für die Festlegung der Flugverfahren unter Betrachtung möglicher Bindungen des Bundesaufsichtsamtes für Flugsicherung. Die Arbeit befasst sich zudem mit der Frage, wie materiell-rechtliche Kriterien für die Abwägung von Lärmbelangen bei der Festlegung von Flugverfahren entwickelt werden können. »Flight Procedures in the Multilevel Air Law System. A Systematic Analysis of Approach and Departure Procedures in the Process of Airport Planning with Special Consideration of the Case Law of the Federal Administrative Court of Germany«

The thesis deals with flight routes, ie the approach and departure procedures at commercial airports. It systematically examines questions arising from the integration of flight procedures into a multilevel air law system. The paper focuses on the determination of the flight procedures by regulation of the Federal Supervisory Authority for Air Traffic Control (BAF) and develops a comprehensive test program for the determination of the flight procedures, taking into consideration possible ties of the BAF.
Table of Contents
Section Title
Page
Action
Price

Vorwort

7

Inhaltsverzeichnis

9

Abkürzungsverzeichnis

17

A. Einleitung

23

B. Festlegung von Flugverfahren als Rechtsproblem

32

I. Anlage und Änderung von Verkehrsflughäfen

32

II. Begriff der Flugverfahren

35

1. Flugverfahren als Anweisungen an den Luftfahrzeugführer zur Steuerung eines Luftfahrzeugs

36

2. Bestandteile von Flugverfahren

37

a) Flugwege und Flughöhen

37

aa) Abflugverfahren

38

bb) Anflugverfahren

39

cc) Praktische Umsetzung

40

b) Meldepunkte

40

c) Fehlanflugverfahren

41

d) Festsetzungen zur Lärmminderung oder -verteilung

41

aa) Regelung der oder für nutzungsberechtigte Luftfahrzeuge

41

bb) Zeitliche Beschränkungen

42

cc) Sonstige Regelungen

42

3. Flugverfahren als Maßnahmen der Flugsicherung

43

a) Begriff der Flugsicherung

43

b) Flugverfahren als gebündelte Einzelfreigaben

44

c) Festlegung von Flugverfahren als Maßnahme der Flugsicherung

45

4. Abgrenzung zur Regelung des Flugplatzverkehrs

46

5. Abgrenzung zu lärmmindernden Start- und Landeverfahren

47

6. Flugverfahrensfestlegung als Planungsentscheidung

47

III. Flugverfahren im luftrechtlichen Mehrebenensystem

49

1. Fehlende Bedarfsplanung des Bundes

50

2. Raumordnung der Länder

51

3. Planfeststellungsbeschluss und luftrechtliche Genehmigung

51

4. Flugverfahrensfestlegung durch Rechtsverordnung

52

IV. Die Rolle von DFS und BAF

52

1. Strukturen und Aufgabenbereiche von DFS und BAF

53

2. DFS als teils Beliehene und teils selbständige Verwaltungshelferin

56

3. Schlussfolgerungen für die Rechtsstellung von DFS und BAF in luftrechtlichen Zulassungsverfahren

60

C. Flugverfahren in der Raumordnung

63

I. Allgemeines

63

II. Bindungswirkung von Zielen der Raumordnung bei der Festlegung von Flugverfahren

65

1. Regelungsgehalt des § 5 ROG

65

2. Flugverfahren als raumbedeutsame Maßnahme oder Planung

67

3. Bindungsadressaten des § 5 Abs. 1 Satz 1 ROG bei der Festlegung von Flugverfahren

70

III. Raumordnung und Fachplanung

72

IV. Raumplanerische Regelungsgegenstände bei Verkehrsflughäfen und Flugverfahren

75

1. Standortentscheidung

78

a) Ausweisung oder Ausschluss neuer Standorte

79

b) Entwicklung oder Schließung bestehender Standorte

82

aa) Schließung oder Ausschluss der Weiterentwicklung bestehender Standorte

82

bb) Zielförmige Standortfestlegung und Ausbauverpflichtung

83

cc) Sicherung von Erweiterungen durch allgemeine Grundsätze der Raumordnung

88

dd) Steuerung der Stellung von Flughäfen im Luftverkehrsnetz

89

ee) Relevanz von Flugverfahren bei der Standortentscheidung

91

(1) Ermittlungstiefe der Landesplanung – 3 Beispiele aus der Praxis

93

(2) Schlussfolgerungen für Flugverfahren als Bestandteil der Lärmprognose der Raumplanung

97

(3) Anforderungen an die Ermittlungstiefe der Raumordnung

98

(a) Maßgeblichkeit der planerischen Konzeption des Trägers der Landesplanung

100

(b) Relevanz erheblicher Unterschiede in der Besiedlungsdichte

100

(c) Zusammenfassung und Stellungnahme

102

c) Absicherung der Standortentscheidung durch Siedlungssteuerung und Festlegung von Lärmschutzzonen

102

aa) Inhalt und Festlegung

103

bb) Relevanz abweichender Flugverfahren

104

2. Einflussnahme auf den Betrieb des Flughafens

105

a) erste Auffassung – unzulässiger Übergriff in die Fachplanung

107

b) zweite Auffassung – zulässiges raumordnerisches Gestaltungsmittel

108

c) Stellungnahme

112

3. Zusammenfassung und Ergebnisse

115

D. Flugverfahren in der Planfeststellung

118

I. Das "vorbereitende Planaufstellungsverfahren"

119

1. Antragsunterlagen

122

2. Flugverfahren als Bestandteil der Lärmberechnungen

123

a) Annahmen für Berechnung der Korridorbreite

123

b) Trennung der Korridorbreiten nach Zeitscheiben

124

3. Ansprüche des Flughafenunternehmers gegenüber DFS und BAF im Verfahren

125

a) Anspruch auf Erstellung eines und / oder Bewertung des Flugbetriebsmodells im Verfahren der Planfeststellung

127

b) Anspruch auf Informationen im vorbereitenden Planaufstellungsverfahren

130

aa) Kein Anspruch aus § 25 Abs. 2 Satz 1 VwVfG

130

bb) Anspruch aus § 15 Abs. 1 Satz 3 UVPG

132

(1) Regelungsgehalt des § 15 UVPG

133

(2) Erweiternde Auslegung des § 15 Abs. 1 Satz 3 UVPG

135

(a) Zweck des Scopingverfahrens

135

(b) Vorgaben der Richtlinie 2011 / 92 / EU

136

(c) Atypische Situation bei der Anlegung und wesentlichen Änderung von Verkehrsflughäfen

137

(d) Entwicklung eines erweiterten Informationsanspruchs gegenüber dem BAF

138

c) Zwischenergebnis

141

4. Zusammenfassung

142

II. Planfeststellungsverfahren

142

1. Flugverfahren im Zusammenhang mit den formellen Voraussetzungen der Planfeststellung

142

a) Beteiligung von DFS und BAF

143

aa) Auffassung in der Rechtsprechung

143

bb) Auffassung der Literatur

144

cc) Stellungnahme

145

dd) Frage der Bindung der Planfeststellungsbehörde an die Stellungnahme des BAF

146

b) Öffentlichkeitsbeteiligung

149

aa) Umgriff der Öffentlichkeitsbeteiligung

149

(1) Rechtsprechung des BVerwG

150

(2) Auffassung der Literatur

151

(3) Stellungnahme

151

bb) Anstoßwirkung der ausgelegten Unterlagen

153

(1) Rechtsprechung des Bundesverwaltungsgerichts

153

(2) Bewertung

154

c) Zusammenfassung

157

2. Flugverfahren im Zusammenhang mit den materiell-rechtlichen Anforderungen der Planfeststellung

158

a) Allgemeiner Umfang der zu ermittelnden Flugverfahren nach der Rechtsprechung

159

b) Flugverfahrensprognose und Zulassung des Vorhabens

161

aa) Auffassung der Rechtsprechung

161

bb) Auffassung der Literatur und eigene Bewertung

164

(1) Ausdehnung des Ermittlungsumfanges

164

(2) Kritik an Verschiebung der Größenordnung der Betroffenheiten als Maßstab

165

(3) Rechtliche Einordnung der "tragenden Erwägungen" für die Entscheidung über die Zulassung des Vorhabens

167

(a) Rechtsnatur und Wirkung

167

(b) Kompetenzfragen

171

(c) Voraussetzungen einer Feststellung

174

(4) Kritik an fehlender dogmatischer Begründung einer Bindung des BAF durch "tragende Erwägungen" des Planfeststellungsbeschlusses

178

(5) Alternativvorschläge für Gesetzesänderungen zur besseren Verzahnung der beiden Ebenen

180

cc) Teilkodifikation der Rechtsprechung des Bundesverwaltungsgerichts durch die 15. Änderung des LuftVG

183

(1) Schutzgegenstand: Schutzwürdige Gebiete

184

(2) Schutzziel: Verschonung vor erheblichen Beeinträchtigungen

185

(3) Schutzanlass: Sicherung der Standortentscheidung

187

(4) Schutzmittel: Festlegung eines Verbots der Abwicklung von An- und Abflugverkehr und / oder von Bedingungen für die Zulässigkeit von Überflügen

188

(5) Verfahrensrechtliche Vorgaben

192

c) Bewältigung der Lärmfolgen für die betroffene Bevölkerung

193

aa) Relevanz der Flugverfahren für die Festlegung von aktivem und passivem Schallschutz

193

bb) Aktiver Schallschutz

193

(1) Ablösung der Regelungen für den Flugbetrieb von der Flugverfahrensprognose

194

(2) Vorliegen einer abgestimmten Prognose

197

(3) Inhalt von Festlegungen zum aktiven Schallschutz

197

cc) Vorbehalt nachträglicher Auflagen

199

dd) Schutz- und Entschädigungsgebiete

200

(1) Schutz- und Entschädigungsgebiete im Planfeststellungsbeschluss

201

(2) Schutz- und Entschädigungsgebiete nach FluglG

203

(a) Neufestsetzung eines Lärmschutzbereiches bei Änderung der Flugverfahren

204

(b) Eigenständige Regelungskompetenz der Planfeststellungsbehörde

207

d) Zusammenfassung

213

E. Formelle Anforderungen bei der Festlegung von Flugverfahren

215

I. Beteiligungserfordernisse bei der Festlegung von Flugverfahren

215

II. Umweltprüfungen bei der Festlegung von Flugverfahren

216

1. Umweltverträglichkeitsprüfung

216

a) Pflicht zur Durchführung einer UVP bei isolierten Flugverfahrensänderungen

217

b) Pflicht zur Durchführung einer UVP bei infolge einer luftrechtlichen Zulassungsentscheidung veranlassten Änderungen der Flugverfahren bis zur 15. Änderung des LuftVG

223

aa) Vorliegen (einer Änderung) eines Projektes

224

(1) Rechtsprechung des EuGH

226

(a) Flughafen Bozen

226

(b) Flughafen Lüttich-Bierset

226

(c) Flughafen Brüssel-Zaventem

227

(d) Flughafen Salzburg

228

(2) Bewertung und Zwischenergebnis

228

(a) Flugverfahren kein eigenständiges Projekt

228

(b) Flugverfahren als notwendiger Bestandteil der Umweltverträglichkeitsprüfung

230

(c) Flugverfahren als verschobene Umweltauswirkungen

230

bb) Vorliegen eines mehrstufigen Genehmigungsverfahrens

231

(1) Rechtsprechung des EuGH

231

(2) Rechtsprechung BVerwG

232

(3) Bewertung und Zwischenergebnis

233

c) Pflicht zur Durchführung einer UVP bei infolge einer luftrechtlichen Zulassungsentscheidung veranlassten Änderungen der Flugverfahren seit der 15. Änderung des LuftVG

238

2. FFH-Verträglichkeitsprüfung für Flugverfahren

244

a) Prüfungs- und grundsätzliche Ablehnungspflicht bei Projekten

245

b) Vorliegen eines Projekts im Sinne der FFH-Richtlinie

246

aa) Rechtsprechung des EuGH

246

bb) Rechtsprechung des Bundesverwaltungsgerichts

247

3. Zusammenfassung

249

F. Materielle Anforderungen bei der Festlegung von Flugverfahren

251

I. Auslegung der gesetzlichen Vorgaben

252

II. Bestimmung des Prüfprogrammes des BAF

253

1. Erfordernis einer Planrechtfertigung

254

2. Zwingendes materielles Recht

254

a) Zwingende materielle Vorschriften über den Luftverkehr

255

aa) Gefahren für den Luftverkehr

256

bb) Gefahren durch den Luftverkehr

259

cc) Ordnung und Flüssigkeit des Luftverkehrs

263

b) Pflicht zur Berücksichtigung sekundären materiellen Rechts

265

aa) Grundsätzliche Beschränkung auf Luftverkehrsrecht

265

bb) Zwingendes sonstiges materielles Recht

268

(1) NATURA-2000-Verträglichkeit von Flugverfahren

269

(2) Artenschutz

271

(a) Artenschutzrechtliche Zugriffsverbote

271

(b) Verbindlichkeit bei der Festlegung von Flugverfahren

273

(c) Anforderungen an die Prüfung der artenschutzrechtlichen Zugriffsverbote

274

(d) Zusammenfassung

277

(3) Naturschutzrechtliche Eingriffsregelung

277

cc) Erweiterung des Prüfprogrammes durch Pflicht zur Abwägung

279

c) Zusammenfassung

280

3. Bindung an vorangegangene Planungsentscheidungen oder Stellungnahmen anderer Behörden

281

a) Bindung an Vorgaben der Raumordnung

281

b) Bindung an den Planfeststellungsbeschluss

285

aa) Wirkungen des Planfeststellungsbeschlusses

286

bb) Beschränktes Planungsrecht des BAF

287

cc) Bindung an Grobplanung der Flugverfahren

293

dd) Bindung an planfestgestellte Kapazität

296

(1) Maßgeblichkeit der luftseitigen Kapazität

296

(2) Einordnung der Bindung des BAF in Rechtsprechung und Literatur

298

(3) Stellungnahme

301

(4) Bindung an planfestgestellte Kapazität bei Abwägung der Lärmbelange

303

ee) Bindung an das Lärmschutzkonzept

305

(1) Bindung an die fachplanerische Zumutbarkeitsschwelle

306

(a) Fachplanerische Zumutbarkeitsschwelle bei der Festlegung von Flugverfahren

307

(b) Auffassung in Rechtsprechung und Literatur

309

(c) Stellungnahme

309

(2) Bindung an Betriebsregelungen

312

(3) Bindung an passive Schallschutzmaßnahmen

313

c) Bindung an die Stellungnahme des Umweltbundesamtes im Rahmen der Benehmensbeteiligung nach § 32 Abs. 4c Satz 2 LuftVG

314

4. Abwägung der Belange

314

a) Belange des Lärmschutzes

316

aa) Ermittlung der Lärmbelange

318

(1) Zusammenstellung von Informationen über die Lärmbetroffenen

318

(2) Ermittlung der Lärmbelastung

320

(3) Stellungnahme

324

(a) Rein technische Änderungen

325

(b) Genehmigungsrechtlich veranlasste Flugverfahrensfestlegung

325

(c) Isolierte Flugverfahrensfestlegung

328

bb) Bewertung der Lärmbelastung

329

(1) Grenzwerte und Berechnungsverfahren

329

(2) Vorgaben der Rechtsprechung

330

(3) Auffassung der Literatur

332

(4) Bewertung

334

(a) Begrenzung des weiten Gestaltungsspielraums des BAF durch das planfestgestellte Konzept

336

(b) Keine allgemeingültigen Lärmverteilungsprinzipien

338

(5) Lösungsansätze für die Entwicklung von Lärmverteilungskriterien

340

(a) Begriff der Maßnahmen in Lärmaktionsplänen und deren Wirkung

341

(b) Materielle Lärmverteilungskriterien aus der Richtlinie 2002 / 49 / EG

343

(c) Materielle Lärmverteilungskriterien als "Maßnahmen" der Lärmaktionsplanung

345

(d) Materielle Lärmverteilungskriterien in Lärmaktionsplänen

346

(aa) Planerische Zurückhaltung des Plangebers – Die Flughäfen Stuttgart, Hamburg, Bremen und Leipzig / Halle

346

(bb) Entwicklung eigener Lärmverteilungs- und Flugroutenauswahlkriterien – Der Flughafen Berlin Brandenburg

348

(cc) Übernahme von für den Standort mediativ entwickelten Lärmverteilungsprinzipien – Der Flughafen Frankfurt Main

351

(dd) Bewertung

354

(6) Zusammenfassung

359

cc) Belange des Vertrauensschutzes

360

(1) Grundsatz des Vertrauensschutzes

361

(2) Entstehung schutzwürdigen Vertrauens aus der Flugverfahrensfestlegung vorangehenden Planungsebenen

362

(a) Vertrauensschutz durch Öffentlichkeitsbeteiligung

363

(b) Vertrauensschutz durch vorangegangene Planungsebenen

365

(c) Bewertung

366

dd) Mittel zur Bewältigung der Lärmschutzbelange

367

ee) Zusammenfassung

371

b) Abwägung von Sicherheitsrisiken

371

aa) Abwägungserheblichkeit von Risiken

373

bb) Ermittlungspflichten des BAF

373

cc) Bewertung der Risiken durch das BAF

375

c) Belange des Flughafenbetreibers und der Luftfahrtgesellschaften

376

aa) Nationales Recht

377

bb) Unionsrecht

378

(1) Betriebsbeschränkungsverordnung

379

(2) Verordnung 1008 / 2008 / EG

382

(3) Zwischenergebnis

386

cc) Anforderungen an die Abwägung des BAF

386

G. Zusammenfassung in Thesen

388

Literaturverzeichnis

430

Sachwortverzeichnis

441