Criminal law: procedure & offences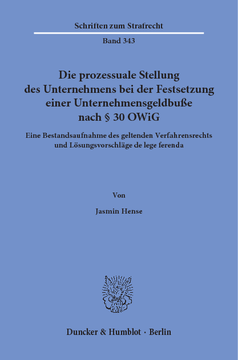 BOOK
Die prozessuale Stellung des Unternehmens bei der Festsetzung einer Unternehmensgeldbuße nach § 30 OWiG
Eine Bestandsaufnahme des geltenden Verfahrensrechts und Lösungsvorschläge de lege ferenda
Schriften zum Strafrecht, Vol. 343
(2019)
Additional Information
Book Details
ISBN

978-3-428-55814-8
978-3-428-15814-0 (print edition)

DOI

https://doi.org/10.3790/978-3-428-55814-8

Edition

1

Language

German

Pages

300

Collections

Subjects
Pricing
Institution

€ 116.00 (incl. local VAT if applicable)

Individual

€ 89.90 (incl. local VAT if applicable)
About The Author
Jasmin Hense studierte von 2010 bis 2015 Rechtswissenschaft mit dem Schwerpunkt Kriminalwissenschaften an der Johann Wolfgang Goethe-Universität Frankfurt am Main. Im Anschluss an das erste Staatsexamen promovierte sie unter der Betreuung von Prof. Dr. Matthias Jahn. Promotionsbegleitend war sie als Wissenschaftliche Mitarbeiterin bei zwei führenden internationalen Großkanzleien in den Praxisgruppen Wirtschaftsstrafrecht und Gesellschaftsrecht tätig. Den juristischen Vorbereitungsdienst absolvierte sie von 2018 bis 2020 am Landgericht Frankfurt am Main. Seit 2020 arbeitet sie als Rechtsanwältin bei der Rechtsanwaltskanzlei Allen & Overy LLP im Bereich Litigation / Wirtschaftsstrafrecht.
Jasmin Hense studied law with a focus on criminal sciences at Johann Wolfgang Goethe-University Frankfurt am Main from 2010 to 2015. After her first state examination she completed her PhD under the supervision of Prof. Dr. Matthias Jahn. While writing her doctoral thesis, she worked as a research assistant in the practice groups White Collar and Corporate at two leading international law firms. From 2018 to 2020 she acted as a law clerk at the district court of Frankfurt am Main. She joined Allen & Overy LLP in 2020 as a lawyer in the area of litigation / white-collar crime.
Abstract
Kommt es in einem Unternehmen zu straf- oder ordnungswidrigkeitenrechtlichen Verstößen, kann gegen das Unternehmen, unter den Voraussetzungen von § 30 OWiG, eine Unternehmensgeldbuße festgesetzt werden. Die Vorschriften für das Verfahren zur Festsetzung der Unternehmensgeldbuße ergeben sich dabei entweder aus der StPO oder dem OWiG: Sie zeichnen sich unter anderem durch eine enge Anbindung an die Vorschriften über das Einziehungsverfahren, komplexe Verweisungsketten und lückenhafte Regelungen aus. Die Autorin nimmt dies zum Anlass für eine kritische Rekonstruktion der heutigen Verfahrensausgestaltung. Neben der Analyse von Verfahrensaufbau und -ablauf, werden vor allem die prozessuale Stellung des Unternehmens in den Blick genommen und die Auswirkungen auf die Mitwirkungsrechte des Unternehmens in den einzelnen Verfahrensstadien untersucht. Soweit Schwächen im Verfahrensrecht identifiziert werden, unterbreitet die Autorin Vorschläge für eine künftige Neuregelung des Verfahrens. »The Procedural Position of a Company in Case of an Imposed Corporate Administrative Fine Levied under Section 30 OWiG. A Review of Current Procedural Law as Well as Proposed Solutions de lege ferenda«

The procedural requirements to impose a corporate administrative fine under section 30 of the German Act on Regulatory Offences (»OWiG«) are stipulated in the German Criminal Procedure Code (»StPO«) and the OWiG. The author analyses the different procedural constellations of the current provisions and critically examines the structure and the course of the proceedings. The primary focus of the thesis is on the procedural position of companies and the impact on their participation rights during the proceedings. The author suggests new provisions as far as any identified weaknesses within the procedural law are concerned.
Table of Contents
Section Title
Page
Action
Price

Vorwort

5

Inhaltsverzeichnis

7

Einleitung

15

Kapitel 1: Die Verantwortlichkeit des Unternehmens nach dem Straf- und Ordnungswidrigkeitenrecht

20

A. Die Sanktionierung des Unternehmens im Kontext der historischen Entwicklung des Sanktionsrechts

20

I. Bestrafung von Verbänden vom römischen Recht bis zum gemeinen Recht

20

II. Abkehr von der Verbandsstrafbarkeit zu Beginn des 19. Jahrhunderts

21

III. Einführung von Ordnungsstrafen als Folge der Industrialisierung und Auswirkungen auf die Sanktionierung des Unternehmens

22

IV. Lösung für die Frage nach einer Unternehmenssanktion ab 1949 durch den neuen Deliktstyp der "Ordnungswidrigkeit"

23

B. Die Diskussion über die Einführung eines Unternehmensstrafrechts

27

I. Kriminalpolitisches Bedürfnis für eine Unternehmensstrafbarkeit

27

1. Anzahl und Bedeutung von Unternehmen

27

2. Schwächen bei der Bestrafung des Individualtäters

28

3. Internationale Entwicklungen

29

II. Rechtsdogmatische Überlegungen

30

1. Handlungsfähigkeit von Unternehmen

31

a) Ablehnung von natürlicher Handlungsfähigkeit

31

b) Konstruktion von rechtlicher Handlungsfähigkeit

31

aa) Anlehnung an die Handlungsdogmatik des Individualstrafrechts

32

bb) Loslösung von der Handlungsdogmatik des Individualstrafrechts

34

2. Schuldfähigkeit von Unternehmen

35

a) Ablehnung von natürlicher Schuldfähigkeit

35

b) Schuldunabhängige Modelle für ein Unternehmensstrafrecht

36

c) Konstruktion von rechtlicher Schuldfähigkeit

38

aa) Anlehnung an die Schulddogmatik des Individualstrafrechts

38

bb) Loslösung von der Schulddogmatik des Individualstrafrechts

40

3. Straffähigkeit von Unternehmen

41

4. Gerechtigkeit der Bestrafung von Unternehmen

44

III. Stellungnahme

45

IV. Fazit

47

C. Sanktionierung des Unternehmens nach § 30 OWiG

48

I. Entstehungsgeschichte von § 30 OWiG

48

1. Ursprüngliche Version nach dem OWiG 1968

48

2. Änderungen der Unternehmensgeldbuße 1974 und 1986

50

3. Ausdehnung des § 30 OWiG in den 1990er Jahren

51

4. Erweiterung der Sanktionsnorm ab 2001

53

II. Rechtsnatur der Unternehmensgeldbuße

56

III. Dogmatische Einordnung von § 30 OWiG

60

1. Die Unternehmensgeldbuße 1968

60

a) Geltung der aliud-Theorie

61

b) Dogmatische Ausgestaltung der Unternehmensgeldbuße

62

2. Das gewandelte Verständnis von dem Wesen des Ordnungswidrigkeitenrechts

64

3. Deutungen von § 30 OWiG nach 1986

66

a) § 30 OWiG als schuldunabhängige Sanktion

67

b) § 30 OWiG als schuldabhängige Sanktion

67

aa) Zurechnungsmodelle

68

bb) Kombinationsmodelle

69

cc) Das den Modellen zugrunde liegende Schuldverständnis

71

4. Zusammenfassung

72

D. Einziehung bei Unternehmen als Dritten

73

I. Einziehung gemäß § 73b StGB und § 74e StGB

73

II. Einziehung gemäß § 29a Abs. 2 OWiG und § 29 OWiG

75

III. Fazit

76

Kapitel 2: Das Verfahren bei der Festsetzung einer Unternehmensgeldbuße nach § 30 OWiG und die prozessuale Stellung des Unternehmens

77

A. Grundsätzliche Verfahrensausrichtung

77

I. Hintergründe der Verfahrensausrichtung

78

II. Einheitliches, selbstständiges und getrenntes Verfahren

80

1. Die Regelungen zum selbstständigen Verfahren in § 30 Abs. 4 OWiG

81

a) Die Voraussetzungen des selbstständigen Verfahrens in § 30 Abs. 4 S. 1 OWiG

81

aa) Nichteinleitung eines Verfahrens

82

bb) Einstellung des Verfahrens

84

cc) Absehen von Strafe

88

b) Weitere Fälle des selbstständigen Verfahrens gemäß § 30 Abs. 4 S. 2 OWiG

89

c) Ausschluss des selbstständigen Verfahrens gemäß § 30 Abs. 4 S. 3 OWiG

94

2. Das Verhältnis der Verfahrensarten zueinander

97

a) Einheitliches und selbstständiges Verfahren als Regelfall- und Ausnahmekonstellation?

97

b) Die Ausnahme des getrennten Verfahrens

100

III. Auswirkungen der Anknüpfungstat auf das Verfahren

103

IV. Fazit

104

B. Mögliche Verfahrenskonstellationen und -abläufe bei der Festsetzung einer Unternehmensgeldbuße

104

I. Einheitliches Verfahren bei Anknüpfung an eine Straftat

105

1. Das Ermittlungsverfahren

105

2. Das Zwischenverfahren

105

3. Das Hauptverfahren

106

4. Das Rechtsmittelverfahren

107

a) Berufung

107

b) Revision

109

II. Selbstständiges Verfahren bei Anknüpfung an eine Straftat

110

1. Die Ermittlungen gegen das Unternehmen

110

2. Das Zwischenverfahren

111

3. Das Hauptverfahren

114

a) Verweisungen in § 444 Abs. 3 S. 1 StPO

115

b) Schriftliches Verfahren

117

c) Mündliches Verfahren

118

4. Das Rechtsmittelverfahren

120

III. Einheitliches Verfahren bei Anknüpfung an eine Ordnungswidrigkeit

121

1. Das Ermittlungsverfahren

121

2. Das Zwischenverfahren

122

3. Das Hauptverfahren

126

a) Verfahren nach zulässigem Einspruch von Unternehmensmitarbeiter und Unternehmen

127

aa) Systematisierung der anwendbaren Verfahrensnormen

127

bb) Ablauf des Hauptverfahrens

128

(1) Mündliches Verfahren

128

(2) Schriftliches Verfahren

130

b) Verfahren nach alleinigem Einspruch durch das Unternehmen

130

aa) Einschlägige Verfahrensnormen

130

bb) Ablauf des Hauptverfahrens

132

4. Das Rechtsmittelverfahren

133

a) Verfahren nach zulässigem Einspruch von Unternehmensmitarbeiter und Unternehmen

134

b) Verfahren nach alleinigem Einspruch durch das Unternehmen

135

IV. Selbstständiges Verfahren bei Anknüpfung an eine Ordnungswidrigkeit

138

1. Die Ermittlungen gegen das Unternehmen

138

2. Das Zwischenverfahren

139

3. Das Hauptverfahren

141

4. Das Rechtsmittelverfahren

142

V. Getrenntes Verfahren

142

C. Folgen der Verfahrensausgestaltung

144

I. Stellung eines Einziehungsbeteiligten

145

II. Komplexe Verweisungsketten

147

III. Unterschiede im Verfahrensaufbau und -ablauf

149

D. Fazit

151

Kapitel 3: Beteiligung und Mitwirkungsrechte des Unternehmens in den einzelnen Verfahrensstadien

153

A. Das Ermittlungsverfahren

153

I. Die Bedeutung des Ermittlungsverfahrens

153

II. Regelungen für das Unternehmen in Bezug auf das strafrechtliche Ermittlungsverfahren

155

1. Keine Beteiligung des Unternehmens

155

2. Dennoch: Einbeziehung des Unternehmens in das Verfahren gegen den Unternehmensmitarbeiter über die §§ 426, 428 StPO

157

a) Anhörung

158

b) Vernehmung

160

c) Verteidigung

163

3. Geltung der Mitwirkungsrechte im selbstständigen Verfahren

167

4. Zusammenfassung

169

III. Regelungen für das Unternehmen in Bezug auf das Ermittlungsverfahren nach dem OWiG

170

1. Anordnung der Beteiligung durch die Verwaltungsbehörde

170

a) Beteiligung an dem gegen den Unternehmensmitarbeiter geführten Ermittlungsverfahren

170

b) Beteiligung im selbstständigen Ermittlungsverfahren

174

2. Mitwirkungsrechte des Unternehmens im Rahmen des Ermittlungsverfahrens gegen den Unternehmensmitarbeiter

176

a) Anhörung

176

b) Vernehmung

179

c) Verteidigung

181

3. Geltung der Mitwirkungsrechte im selbstständigen Verfahren

182

4. Zusammenfassung

185

B. Das Zwischenverfahren

186

I. Sinn und Zweck des Zwischenverfahrens

186

II. Rechtslage bei Anknüpfung an eine Straftat des Unternehmensmitarbeiters

188

1. Anordnung der Beteiligung durch das Gericht

189

a) Beteiligung an dem gegen den Unternehmensmitarbeiter geführten Zwischenverfahren

189

aa) Voraussetzungen der Beteiligungsanordnung

190

bb) Zeitpunkt der Beteiligungsanordnung

191

b) Beteiligung im selbstständigen Zwischenverfahren

194

2. Schwache Mitwirkungsrechte des Unternehmens im Rahmen des Zwischenverfahrens gegen den Unternehmensmitarbeiter

196

3. Umfassende Mitwirkungsrechte im selbstständigen Verfahren

198

4. Zusammenfassung

200

III. Rechtslage bei Anknüpfung an eine Ordnungswidrigkeit des Unternehmensmitarbeiters

201

1. Verbesserte Ausgangslage: Beteiligung und "Befugnisse, die einem Betroffenen zustehen"

202

2. Mitwirkungsrechte des Unternehmens im einheitlichen Verfahren

203

3. Geltung der Mitwirkungsrechte im selbstständigen Verfahren

205

C. Das Hauptverfahren

206

I. Regelungen für das Unternehmen bei Anknüpfung an eine Straftat des Unternehmensmitarbeiters

206

1. Verbesserte Ausgangslage: Beteiligung und "Befugnisse, die einem Angeklagten zustehen"

206

2. Mitwirkungsrechte des Unternehmens im einheitlichen Verfahren

207

a) Anwesenheit in der Hauptverhandlung als Voraussetzung für die Ausübung der Mitwirkungsrechte

208

b) Beweisantragsrecht

210

aa) Einschränkung durch §§ 444 Abs. 2 S. 2, 430 Abs. 2 StPO

211

bb) Umgang mit der Einschränkung

213

3. Mitwirkungsrechte des Unternehmens im selbstständigen Verfahren

214

a) Schriftliches Verfahren

215

b) Mündliches Verfahren

216

4. Zusammenfassung

217

II. Regelungen für das Unternehmen bei Anknüpfung an eine Ordnungswidrigkeit des Unternehmensmitarbeiters

218

1. Mitwirkungsrechte des Unternehmens im einheitlichen Verfahren

219

a) Verfahren nach zulässigem Einspruch von Unternehmensmitarbeiter und Unternehmen

219

aa) Mündliches Verfahren

220

(1) Anhörung

220

(2) Beweisantragsrecht

221

bb) Schriftliches Verfahren

223

b) Verfahren nach alleinigem Einspruch durch das Unternehmen

225

aa) Schriftliches Verfahren

226

bb) Mündliches Verfahren

226

2. Mitwirkungsrechte des Unternehmens im selbstständigen Verfahren

227

3. Zusammenfassung

228

D. Das Rechtsmittelverfahren

229

I. Rechtslage bei Anknüpfung an eine Straftat des Unternehmensmitarbeiters

229

1. Mitwirkungsrechte des Unternehmens im einheitlichen Verfahren

229

a) Berufung

230

b) Revision

232

2. Mitwirkungsrechte des Unternehmens im selbstständigen Verfahren

233

II. Rechtslage bei Anknüpfung an eine Ordnungswidrigkeit des Unternehmensmitarbeiters

235

1. Mitwirkungsrechte des Unternehmens im einheitlichen Verfahren

235

a) Verfahren nach zulässigem Einspruch von Unternehmensmitarbeiter und Unternehmen

235

aa) Schriftliches Verfahren

236

bb) Mündliches Verfahren

237

cc) Einschränkung des Prüfungsumfangs durch § 431 StPO

237

b) Verfahren nach alleinigem Einspruch durch das Unternehmen

239

2. Geltung der Mitwirkungsrechte im selbstständigen Verfahren

240

E. Fazit

240

Kapitel 4: Prozessuale Ausgestaltung de lege ferenda

242

A. Die Schwächen und Stärken des geltenden Verfahrensrechts im Überblick

242

I. Schwächen des Verfahrensrechts

242

II. Stärken des Verfahrensrechts

244

B. Grundsätzliche Überlegungen zu einer Neuausrichtung des Verfahrens

246

I. Stellenwert des getrennten Verfahrens

246

II. Verankerung der Regelungen in unterschiedlichen Verfahrensordnungen

248

III. Prozessuale Stellung des Unternehmens

250

1. Beibehaltung der Stellung eines Einziehungsbeteiligten?

250

2. Oder: Berücksichtigung des eigenständigen Sanktionscharakters von § 30 OWiG

251

C. Vorschläge für eine Reform des Verfahrensrechts

253

I. Einführung des getrennten Verfahrens als Regelfall

253

1. Trennung und Verbindung der Verfahren

253

2. Folgen für die Zuständigkeiten

254

a) Sachliche Zuständigkeit

255

b) Örtliche Zuständigkeit

256

II. Ausrichtung des Verfahrens an den Individualvorschriften der StPO

257

1. Pauschaler Verweis auf die Regelungen für natürliche Personen

257

2. Spezielle Vorschriften für das Unternehmen

258

a) Einleitung und Abschluss des Ermittlungsverfahrens

258

b) Durchführung der Ermittlungen gegen das Unternehmen

259

c) Ladung und Anwesenheit in der Hauptverhandlung

261

d) Verteidigung des Unternehmens

262

3. Änderungen für das Unternehmen im Vergleich zum geltenden Recht

262

a) Das gegen das Unternehmen gerichtete Ermittlungsverfahren

263

b) Fortführung des Ansatzes in § 435 Abs. 3 S. 1 StPO

263

c) Entscheidung aufgrund einer Hauptverhandlung durch Urteil

264

d) Revision als zulässiges Rechtsmittel gegen das Urteil

265

III. Ausrichtung des Verfahrens an den Individualvorschriften des OWiG

265

1. Pauschaler Verweis auf die Regelungen für natürliche Personen

266

2. Spezielle Vorschriften für das Unternehmen

267

3. Änderungen für das Unternehmen im Vergleich zum geltenden Recht

268

a) Das gegen das Unternehmen gerichtete Ermittlungsverfahren

269

b) Wegfall der verschiedenen Verfahrenskonstellationen im Hauptverfahren

270

c) Rechtsbeschwerde als zulässiges Rechtsmittel

271

D. Fazit

271

Kapitel 5: Resümee

273

Kapitel 6: Zusammenfassung der wichtigsten Thesen

280

Anhang: Änderungen durch das Gesetz zur Reform der strafrechtlichen Vermögensabschöpfung vom 13. April 2017 im Hinblick auf das Einziehungsverfahren

284

Literaturverzeichnis

285

Stichwortverzeichnis

297