Constitutional & administrative law: general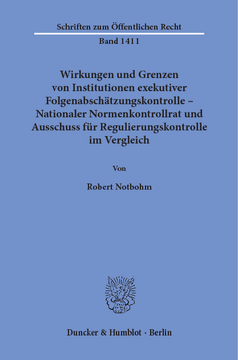 BOOK
Wirkungen und Grenzen von Institutionen exekutiver Folgenabschätzungskontrolle – Nationaler Normenkontrollrat und Ausschuss für Regulierungskontrolle im Vergleich
Schriften zum Öffentlichen Recht, Vol. 1411
(2019)
Additional Information
Book Details
ISBN

978-3-428-55756-1
978-3-428-15756-3 (print edition)

DOI

https://doi.org/10.3790/978-3-428-55756-1

Edition

1

Language

German

Pages

411

Collections

Subjects
Pricing
Institution

€ 116.00 (incl. local VAT if applicable)

Individual

€ 89.90 (incl. local VAT if applicable)
About The Author
Robert Notbohm studierte Rechtswissenschaften an der Universität Osnabrück und absolvierte dort 2013 die erste juristische Staatsprüfung. Nach dem juristischen Vorbereitungsdienst im OLG-Bezirk Oldenburg mit Stationen u.a. an der Deutschen Universität für Verwaltungswissenschaften Speyer und der Deutschen Botschaft in Athen legte er 2015 die zweite juristische Staatsprüfung ab. Im Anschluss war er promotionsbegleitend als wissenschaftlicher Mitarbeiter am Lehrstuhl von Professorin Dr. Pascale Cancik am Institut für Kommunalrecht und Verwaltungswissenschaften der Universität Osnabrück tätig. Seit 2018 ist Robert Notbohm Richter beim Verwaltungsgericht Osnabrück.
Robert Notbohm studied law at the University of Osnabrück with a focus on European public law. In 2013 he passed the first state examination. After his legal traineeship at the Higher Regional Court Oldenburg with stations at the German University of Administrative Sciences Speyer, an international law firm in Düsseldorf and the German Embassy in Athens he passed the second state examination in 2015. For the next three years during his doctorate he worked as a research assistant at the chair of Professorin Dr. Pascale Cancik in Osnabrück. Since 2018 Robert Notbohm has been a judge at the Administrative Court Osnabrück.
Abstract
Die Arbeit beleuchtet mit dem Nationalen Normenkontrollrat und dem EU-Ausschuss für Regulierungskontrolle zwei öffentliche Institutionen, die im deutschen bzw. im europäischen Gesetzgebungsprozess zum »Bürokratieabbau« und zur »besseren Rechtsetzung« beitragen sollen. Sie überprüfen die von der Exekutive stammenden Darstellungen zu den Auswirkungen und insbesondere zum Befolgungsaufwand von Gesetzentwürfen. Mithilfe eines multidisziplinären Zugriffs und einer vergleichenden Betrachtung analysiert der Autor die Entstehungsgeschichte sowie die Arbeits- und Wirkungsweise der beiden Institutionen. Im Fokus der Untersuchung steht die Frage, welche Machtverschiebungen die bei der Exekutivspitze angegliederten Institutionen in verfassungsrechtlicher Hinsicht im Rechtsetzungsverfahren bewirken. Demnach erweist sich die von den unabhängigen Institutionen durchgeführte Kontrolle von Folgenabschätzungen zumindest nach rechtspolitischen Erwägungsgründen vielmehr als eine Aufgabe der Parlamente.

Die Arbeit wurde mit dem Inpijn-Bakker-Grunwald Preis der Universitätsgesellschaft Osnabrück ausgezeichnet. »Effects and Limits of Executive Bodies for Reviewing Impact Assessments. A Comparison of Nationaler Normenkontrollrat and Regulatory Scrutiny Board«

The thesis examines two independent bodies reviewing impact assessments of draft legislation. Through its work the German Normenkontrollrat und the EU-Regulatory Scrutiny Board contribute to the implementation of Better Regulation and the reducing of Bureaucracy. The author analyses the functioning of the examined bodies by choosing a multidisciplinary access. Especially from a constitutional point of view the thesis explores whether the bodies cause a shift of power in the law-making process.
Table of Contents
Section Title
Page
Action
Price

Vorwort

5

Inhaltsverzeichnis

7

Abkürzungsverzeichnis

15

Einleitung

19

I. Gegenstand der Untersuchung

20

II. Politische Rhetorik als wissenschaftliches Problem

23

III. Forschungsstand

24

1. Deutschland

25

2. Europäische Union

27

IV. Gang der Untersuchung

28

1. Kapitel: Der Nationale Normenkontrollrat

30

A. Entstehung und Tätigkeit

30

I. Hintergrund

30

1. Bürokratie und "Bürokratieabbau"

31

2. "Bürokratieabbau" in der Bundesrepublik Deutschland

32

a) Entwicklung der Verwaltungspolitik bis 1982

32

b) "Schlanker Staat" ab 1982

33

c) "Aktivierender Staat" ab 1999

35

d) "Initiative Bürokratieabbau" 2003

36

e) "Bürokratieabbau und bessere Rechtsetzung" ab 2006

37

3. Gesetzesfolgenabschätzung in Deutschland

40

4. Institutionen zur Verbesserung der Rechtsetzung in den Bundesländern

44

5. Internationale Einflussfaktoren

48

a) Niederlande

49

b) USA

52

c) Großbritannien

54

d) OECD

57

e) Europäische Union

59

6. Standardkosten-Modell als methodische Arbeitsgrundlage

60

a) Modellbeschreibung

61

b) Modellregion für den Bürokratieabbau Ostwestfalen-Lippe

65

c) Vorarbeiten der privaten Fachhochschule des Mittelstands (FHM)

66

d) Einfluss der Bertelsmann Stiftung

68

e) Erweiterung des Standardkosten-Modells

71

7. Entstehungsprozess des NKRG

72

a) CDU/CSU-nahe Arbeitsgruppe

73

b) Gesetzesinitiative der Großen Koalition im Jahr 2005

75

c) Beratung und Beschluss des NKRG

77

d) Novelle des NKRG im Jahr 2011

78

8. Zusammenfassende Analyse der Entstehungsgeschichte

80

II. Prüfaufgaben

81

1. Prüfungsgegenstände

82

a) Entwürfe für neue Bundesgesetze

83

b) Stammgesetze zu Änderungsgesetzen

83

c) Entwürfe nachrangiger Rechts- und Verwaltungsvorschriften

84

d) Vorarbeiten zu Rechtsakten der EU

86

e) Bei der Umsetzung von EU-Recht betroffene Regelungen

88

f) Bestehendes Bundesrecht

88

2. Prüfungsumfang

90

a) Bürokratiekosten

90

b) Erfüllungsaufwand

91

c) Sonstige Kosten

92

d) Prüfungsaspekte nach § 4 Abs. 2 NKRG

94

aa) Ziel und Notwendigkeit der Regelung

94

bb) Alternative Lösungsmöglichkeiten

95

cc) Zeitpunkt des Inkrafttretens, Befristung und Evaluierung

96

dd) Rechts- und Verwaltungsvereinfachung

97

ee) "gold plating"

98

3. Prüfungsverfahren

99

a) Gesetzesinitiativen der Bundesregierung

99

b) Gesetzesinitiativen aus der Mitte des Bundestages

102

c) Gesetzesinitiativen des Bundesrates

105

III. Arbeitsweise

106

1. Zusammensetzung

106

a) Mitgliederauswahl

107

b) Inkompatibilitäten

108

2. Organisation

108

a) Anbindung an das Bundeskanzleramt

109

b) Sekretariat

109

c) Finanzierung

110

3. Internes Arbeits- und Prüfungsverfahren

110

4. Beratungstätigkeit

111

a) Beratung der Bundesregierung

111

b) Beratung von Bundestag und Bundesrat

113

5. Projekte

114

a) "Einfacher-zu"-Projekte

114

b) Weitere Projekttätigkeit

116

c) Zielrichtung der Projekte

117

6. Jahresberichte und weitere Veröffentlichungen

118

7. Verhältnis zur Bundesministerialverwaltung

120

8. Tätigkeitspensum

123

9. Praktische und methodische Defizite

124

a) Prüffristen

124

b) Änderungen des Gesetzentwurfs im parlamentarischen Gesetzgebungsverfahren

124

c) Umgehung durch Einbringung aus der Mitte des Bundestages

125

d) Quantifizierung des Nutzens einer Regelung

126

e) Vollzugskosten von Ländern und Kommunen

127

B. Rechtspolitische Stellung und Einordnung

128

I. Namenskritik am "Nationalen Normenkontrollrat"

128

II. Selbstbeschreibung des Normenkontrollrates

129

III. Der Normenkontrollrat als politikberatendes Gremium

130

1. Modelle wissenschaftlicher Politikberatung

131

2. Funktionen wissenschaftlicher Politikberatung

133

IV. "Unpolitischer" Charakter der Prüftätigkeit

136

1. "Unpolitischer" Auftrag des Normenkontrollrates

136

2. Durchbrechung durch Erweiterung des Prüfmandats

137

3. Politische Dimension von Folgekostenabschätzungen

140

V. Bedeutung für "Bürokratieabbau und bessere Rechtsetzung"

144

1. "Methodenwächter"

144

2. Institutionalisierung der Kontrolle von Teilen der Gesetzesfolgenabschätzung

146

3. Personalbedarf und Budgetmaximierung

147

VI. Unabhängigkeit als zentrales Element

150

1. Unabhängiger Status des Normenkontrollrates

151

2. Einschränkung durch Rechtsaufsicht

152

3. Anbindung an das Bundeskanzleramt

156

4. Auswahl der Mitglieder durch die Bundesregierung

157

VII. Rechtliche Grenzen des Mandats

161

1. Fehlende normative Grundlage für Projekttätigkeit

161

2. Begrenzter Öffentlichkeitsbezug

162

3. Methodik

164

C. Verfassungsrechtliche Würdigung

165

I. Organisationsgewalt der Bundesregierung

165

1. Beeinträchtigung des Kernbereichs

166

2. Beeinträchtigung des Randbereichs

167

3. Verfassungsrechtliche Rechtfertigung

169

II. Gesetzesinitiativrecht der Bundesregierung

173

III. Gesetzgebungsrechte des Bundestages und Bundesrates

178

IV. Demokratieprinzip

179

1. Demokratische Legitimation des Normenkontrollrates

179

2. Tendenz zur Entparlamentarisierung

182

a) Die Rolle des Bundestages im politischen Entscheidungsprozess

183

b) Entparlamentarisierung durch Sachverständigengremien

184

c) Beeinträchtigung des politischen Bewertungsmonopols des Parlaments

185

d) Schwächung der parlamentarischen Kontrollfunktion

188

e) Vernachlässigung parlamentarischer Folgenabschätzungsverantwortung

192

V. Unzulässigkeit eines Selbstbefassungsrechts des Normenkontrollrates

198

1. Obligatorische Überprüfung von Bundestagsinitiativen

199

2. Obligatorische Überprüfung von Bundesratsinitiativen

203

VI. Abschnittsergebnis

205

2. Kapitel: Der Ausschuss für Regulierungskontrolle

207

A. Entstehung und Tätigkeit

207

I. Rahmenbedingungen und Vorläufer

207

1. "Better Regulation" in der Europäischen Union

208

a) Begriffsverständnis

208

b) Wesentliche Entwicklungsschritte

209

c) Verringerung der Verwaltungslasten

213

d) EU-REFIT-Programm

216

2. Folgenabschätzung in der Europäischen Union

218

a) Entwicklung der Folgenabschätzung

218

b) Verfahren der Folgenabschätzung in der Europäischen Kommission

224

c) Methodische Ansätze

226

3. Internationale Einflüsse

227

4. High Level Group unter Edmund Stoiber

228

5. Ausschuss für Folgenabschätzung als Vorläufer des Ausschusses für Regulierungskontrolle

230

a) Zusammensetzung

231

b) Tätigkeitsbereich

232

c) Bewertung

233

6. Konkreter Entstehungsprozess des Ausschusses für Regulierungskontrolle

234

7. Zusammenfassende Analyse der Entstehungsgeschichte

236

II. Aufgaben

238

1. Bewertungsgegenstände

238

a) Folgenabschätzungen

238

b) Wichtige Evaluierungen

240

c) Eignungsprüfungen

241

2. Bewertungsumfang

242

3. Ablauf des Bewertungsverfahrens

243

4. Beratung der Kommissionsdienststellen

246

III. Arbeitsweise

247

1. Zusammensetzung

247

2. Organisation

249

3. Internes Arbeitsverfahren

250

4. Öffentlichkeitsbezug

251

5. Tätigkeitspensum

251

B. Rechtspolitische Stellung und Einordnung

252

I. Selbstbeschreibung des Ausschusses für Regulierungskontrolle

252

II. Instrument zur Verbesserung der "Qualität" der Unionsrechtsetzung

253

1. Qualifizierung als "watchdog" im Folgenabschätzungssystem der Europäischen Kommission

254

2. Institutionalisierung der Kontrolle von kommissionseigenen Folgenabschätzungen und Evaluierungen

256

3. Methodische Grenzen

257

III. Unabhängigkeit als wesentliche Eigenschaft

260

1. Auftrag zur unabhängigen Tätigkeit

260

2. Differenzierung zwischen externen und kommissionsangehörigen Mitgliedern

261

3. Auswahl der Mitglieder

262

4. Anbindung an das Generalsekretariat der Europäischen Kommission

263

IV. Relevanz im Rahmen der Deregulierungspolitik der Europäischen Kommission

265

C. Unionsverfassungsrechtliche Würdigung

268

I. Initiativmonopol der Europäischen Kommission

268

II. Kollegialprinzip der Europäischen Kommission

270

III. Institutionelles Gleichgewicht

271

1. Herleitung und Inhalt

272

2. Ungleichgewicht durch das Folgenabschätzungssystem der Europäischen Kommission

274

IV. Unionaler Grundsatz der Demokratie

278

1. Vermittlung demokratischer Legitimation in der Europäischen Union

279

2. Legitimationsniveau des Ausschusses für Regulierungskontrolle

280

3. Unzureichende Kontrollrechte des Europäischen Parlaments im Hinblick auf das Folgenabschätzungssystem der Europäischen Kommission

282

a) Kontrollfunktion des Europäischen Parlaments als Ausfluss des Demokratieprinzips

282

b) Wesentliche Kontrollrechte des Europäischen Parlaments

284

c) Kontrolle durch Überprüfung der Folgenabschätzungen der Europäischen Kommission

285

d) Kontrolle durch Anfertigung parlamentseigener Folgenabschätzungen zu Legislativvorschlägen

290

V. Verantwortung der Unionsgesetzgeber für die "Qualität" und Folgen der Rechtsetzung

292

VI. Abschnittsergebnis

297

3. Kapitel: Institutionenvergleich zwischen Nationalem Normenkontrollrat und Ausschuss für Regulierungskontrolle

299

A. Rechtliche Stellung

299

I. Rechtsgrundlage der Tätigkeit

300

1. Regelungsebene

300

2. Auswirkungen auf die Änderungsbeständigkeit

301

II. Organisatorische Anbindung an die Exekutivspitze

302

III. Unabhängigkeit

303

1. Personelle Zusammensetzung

304

2. Auswahl und Vergütung der Mitglieder

305

3. Aufsicht

306

4. Unabhängigkeit als symbolische Zuschreibung

307

B. Bedeutung im Verfahren der Folgenabschätzung

307

I. Vergleich der Folgenabschätzungssysteme in Deutschland und der Europäischen Union

308

1. Regelungsstandort

308

2. Inhaltliche Vorgaben

310

3. Erfahrungen

313

II. Prüfungsgegenstände

314

1. Wirkungsanalysen zu neuen Regelungsentwürfen

314

2. Wirkungsanalysen zu bestehenden Regelungen

315

III. Prüfungsumfang

316

1. Kostenfolgen

317

2. Vollumfängliche Folgenkontrolle

318

IV. Prüfungszeitpunkt

319

V. Prüfungsbefugnisse

320

1. Methodisches Prüfungsrecht

320

2. Inhaltliches Prüfungsrecht

322

3. Stellungnahmerecht

323

VI. Beratung

325

C. Auswirkungen auf die inhaltliche Programmierung der Gesetzgebung

326

I. Dominanz von Bundesregierung und Europäischer Kommission

327

1. Faktisches Folgenabschätzungsmonopol

328

2. Untermauerung durch exekutive Folgenabschätzungskontrolle

328

3. Gefahr des Abbaus kostenintensiver Schutzstandards

329

a) Fokussierung der Folgenabschätzungen auf ökonomische Auswirkungen

329

b) Verstärkung durch die deutsche "one in, one out"-Regel und das europäische REFIT-Programm

330

c) Unzureichende Beteiligung der eigentlichen Legislativorgane

332

II. Rolle der Parlamente in der Folgenabschätzung

335

1. Folgenabschätzungsinstrumente des Bundestages

336

a) Sachverständigenanhörungen

337

b) Wissenschaftliche Dienste

337

c) Büro für Technikfolgenabschätzung

338

d) Parlamentarischer Beirat für nachhaltige Entwicklung

339

2. Folgenabschätzungsinstrumente des Europäischen Parlaments

340

a) Science and Technology Options Assessment (STOA)

341

b) Beauftragung externer Experten

342

c) Direktion "Folgenabschätzungen und europäischer Mehrwert"

342

3. Parlamentarische Folgenabschätzungen als Gegengewicht

344

III. Alternative Strukturierung der Folgenabschätzungskontrolle

348

1. Anbindung an den Bundestag

348

2. Alternativ besetztes Kontrollgremium auf Unionsebene

351

a) Extern besetztes Kontrollgremium

351

b) Paritätisch besetztes Kontrollgremium

353

D. Perspektiven

354

I. Zukunft der Institutionen

354

1. Entwicklung in Deutschland und der Europäischen Union

354

2. Entwicklung in anderen europäischen Ländern

357

II. Weiterentwicklung von Konzept und Methodik

357

E. Abschnittsergebnis

360

4. Kapitel: Zusammenfassung in Thesen

362

A. Nationaler Normenkontrollrat

362

B. Ausschuss für Regulierungskontrolle

365

C. Institutionenvergleich

367

Literaturverzeichnis

370

Materialverzeichnis

400

Sachregister

409