Legal skills: advocacy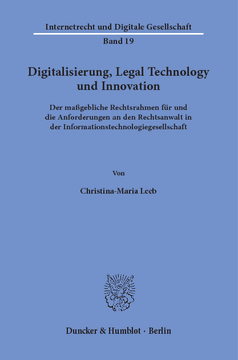 BOOK
Digitalisierung, Legal Technology und Innovation
Der maßgebliche Rechtsrahmen für und die Anforderungen an den Rechtsanwalt in der Informationstechnologiegesellschaft
Internetrecht und Digitale Gesellschaft, Vol. 19
(2019)
Additional Information
Book Details
ISBN

978-3-428-55784-4
978-3-428-15784-6 (print edition)

DOI

https://doi.org/10.3790/978-3-428-55784-4

Edition

1

Language

German

Pages

432

Collections

Subjects
Pricing
Institution

€ 116.00 (incl. local VAT if applicable)

Individual

€ 89.90 (incl. local VAT if applicable)
About The Author
Nach ihrem Studium der Rechtswissenschaften an der Universität Passau als Stipendiatin der Studienstiftung des deutschen Volkes war Christina-Maria Leeb ebenda von 2016 bis 2018 als Wissenschaftliche Mitarbeiterin am Lehrstuhl für Öffentliches Recht, Sicherheits- und Internetrecht bei Prof. Dr. Dirk Heckmann beschäftigt. Derzeit unterstützt sie als Wissenschaftliche Mitarbeiterin die Praxisgruppe IT/IP/Media der Heussen Rechtsanwaltsgesellschaft in München. Christina-Maria Leeb hat bereits vielfach zu IT-, datenschutz- und urheberrechtlichen Fragestellungen publiziert und zahlreiche Vorträge gehalten. Sie wurde von Hogan Lovells, BRYTER und dem Legal Tech-Blog als »Woman of Legal Tech 2018« ausgezeichnet.
Christina-Maria Leeb has published numerous papers on IT, data protection and copyright issues and given numerous lectures. She was awarded »Woman of Legal Tech 2018« by Hogan Lovells, BRYTER and the Legal Tech Blog. In 2019, she received the doctoral award of the Munich Bar Association.
Abstract
Die Arbeitsweise von Rechtsanwältinnen und Rechtsanwälten wird aller Voraussicht nach schon in – relativ betrachtet – wenigen Jahren in essentiellen Punkten nicht mehr derjenigen gleichen, die sie heute ist. Auch dem Rechtsmarkt im Gesamten stehen gravierende Umwälzungen bevor. Diesen Entwicklungen steht vor allem das bisweilen von den Berufsträgern selbst als (zu) eng empfundene Korsett des anwaltlichen Berufsrechts gegenüber, das aus Gründen der eigenen Wettbewerbsfähigkeit im digitalen Zeitalter gelockert werden müsse. Nicht erst die aktuellen Diskussionen um neue Geschäftsmodelle im Bereich »Legal Tech(nology)« zeigen, dass das Berufsrecht einem über die Jahre hinweg betrachtet enormen Wandlungsprozess unterliegt. Die Arbeit leitet aus einem bewusst breit gewählten Ansatzpunkt heraus ein Anforderungsprofil für die Anwaltschaft in der gegenwärtigen Informationstechnologiegesellschaft her, welches auch und gerade auf grundlegende, rechtstheoretische Überlegungen gestützt wird.

Ausgezeichnet mit dem Promotionspreis der Rechtsanwaltskammer München 2019. »Digitalisation, Legal Technology and Innovation. The Decisive Legal Framework and the Requirements for a Lawyer in the Information Technology Society«

From a deliberately broadly chosen starting point, the thesis derives a requirement profile for the legal profession in today's information technology society that is also based on fundamental, legal-theoretical considerations. Specifically, the legal implications (mainly with regard to the legal profession) of the lawyer's activity are examined in relation to law firm marketing and external communication, internal work processes and internal communication as well as consulting services as such.
Table of Contents
Section Title
Page
Action
Price

Vorwort

9

Inhaltsverzeichnis

11

1. Teil: Einleitung und Problemaufriss

21

1. Kapitel: Digitale Transformation und vernetzte Gesellschaft

22

A. Schnelle Innovationsadoption als Charakteristikum

22

B. Society 4.0 und Informationstechnologiegesellschaft

23

2. Kapitel: Der Mandant in der Informationstechnologiegesellschaft

24

A. Veränderter Erwartungshorizont

26

B. Neue Herausforderungen am Beispiel der Industrie 4.0

27

3. Kapitel: Die Rechtsdurchsetzung in der Informationstechnologiegesellschaft

30

A. Online-Streitbeilegung und Full-Service-Hybride

31

I. E-Commerce als typischer Anwendungsbereich der ODR

31

II. Full-Service-Hybride als aktuelle Markterscheinung

33

B. E-Justice

33

I. Vergangenheit und Gegenwart: Elektronischer Rechtsverkehr und Musterfeststellungsklage als wesentliche Eckpfeiler

33

II. Zukunft: Digitale Gerichtsöffentlichkeit als mögliches Leuchtturmprojekt?

37

4. Kapitel: Die Verwaltung in der Informationstechnologiegesellschaft: E-Government

38

5. Kapitel: Der Rechtsanwalt in der Informationstechnologiegesellschaft

40

A. Bisheriges Leitbild des Rechtsanwalts

42

B. Gegenwärtiges und zukünftiges Leitbild des Rechtsanwalts

44

6. Kapitel: Ziel und Begrenzung der Untersuchung

46

A. Übergeordnete Zielsetzung

46

B. Begrenzung

47

C. Kernthese

48

2. Teil: Begriffserläuterungen und Systematisierung

49

1. Kapitel: Bisherige Definitions- und Kategorisierungsansätze von Legal Tech(nology)

49

A. Grundlegendes

50

B. Kategorisierung nach Wirkungsphasen

51

I. Legal Tech 1.0

52

II. Legal Tech 2.0

52

III. Legal Tech 3.0

53

C. Kategorisierung nach technischen Lösungsebenen

53

I. Unterste Ebene: Enabler

53

II. Mittlere Ebene: Support Processes Solutions

54

III. Oberste Ebene: Substantive Law Solutions

54

D. Kategorisierung nach Themenfeldern

55

I. Industrielle Rechtsdienstleistungen

55

II. Blockchain

56

III. Künstliche Intelligenz

56

E. Kategorisierung nach den Auswirkungen auf den Kern der juristischen Tätigkeit

57

I. Den Kern nicht berührende Produkte

57

II. Produkte zu Zwecken einer Effizienzsteigerung innerhalb einzelner Arbeitsschritte

58

III. Produkte zu Zwecken einer Veränderung im übergeordneten Arbeitsablauf

58

IV. Produkte zu Zwecken einer Veränderung der juristischen Tätigkeit in ihrer Gesamtstruktur bzw. der Ersetzung von Juristen

58

F. Eigene Bewertung und Resümee unter Einbeziehung der Rechtsprechung

58

2. Kapitel: Eigener Ansatz: Von der Digitalisierung über Legal Technology zur Innovation

60

A. Digitalisierung

61

I. Mehrdimensionalität als zentrales Element

61

II. Anwaltsvermittlung und Practice Management als Anwendungsgebiete der Rechtsberatungsbranche

61

B. Legal Technology

62

I. Legal Technology im weiteren Sinne (i. w. S.)

62

II. Legal Technology im engeren Sinne (i. e. S.)

63

C. Innovation: Legal Design Thinking als Schlüsselinstrument

64

3. Kapitel: Verhältnis von Legal Technology zur Rechtsinformatik

66

A. Einordnung als eigene Wissenschaftsdisziplin

67

B. Untersuchungsansatz

69

3. Teil: Der maßgebliche Rechtsrahmen für den Rechtsanwalt in der Informationstechnologiegesellschaft

71

1. Kapitel: Kanzleimarketing und externe Kommunikation

71

A. Außendarstellung und Werbung im Internet

71

I. Homepage und Profile auf sozialen Netzwerken

73

1. Allgemeine rechtliche Anforderungen

75

a) Informationspflichten

76

aa) Anbieterkennzeichnung

76

bb) Außergerichtliche Streitschlichtung

79

cc) Pflichtangaben nach der DL-InfoV

82

dd) Datenschutzrecht

84

b) Berufs- und wettbewerbsrechtliche Vorgaben für Werbeinhalte: Grundlagen

85

aa) Verbot der Direktwerbung im konkreten Einzelfall

86

bb) Sachlichkeitsgebot

87

cc) Allgemeine Vorgaben des Wettbewerbsrechts

87

2. Domainwahl

89

a) Kombination aus Berufsbezeichnung und Ortsangabe

90

b) Gattungsbegriffe

90

c) Einzelne Rechtsgebiete

91

3. Online-Gästebücher, Blogs und Foren

92

a) Grundsätzliches und Äußerungen Dritter

92

b) Eigens verfasste Beiträge des Rechtsanwalts

94

4. E-Mail-Newsletter

95

a) Ausdrückliche Einwilligung der Empfänger

96

b) Prinzip der Datenminimierung, Erkennbarkeit des Absenders und des werblichen Charakters der Nachrichten sowie Anbieterkennzeichnung

98

5. Social Media: Facebook, XING, LinkedIn, Twitter, YouTube u. a.

99

a) Informationspflichten

101

b) Berufs- und wettbewerbsrechtliche Vorgaben

101

c) Anbieterkennzeichnung

102

d) Erkennbarkeit und Kennzeichnung von Werbung

103

e) Befangenheit

105

f) Datenschutzrechtliche Besonderheiten

106

6. Mobile Applikationen (Apps)

108

a) Anbieterkennzeichnung

109

b) Weitere Informations- und Belehrungspflichten

110

c) Datenschutz- und datensicherheitsrechtliche Besonderheiten

111

II. Internetauktionen

113

III. Bewertungsportale

114

IV. Online-Suchdienste und -Verzeichnisse

116

1. Allgemeine Internet-Suchmaschinen und deren Optimierung

116

2. Branchenspezifische Geschäftsmodelle

118

a) Impressumspflicht

119

b) Unzulässige Werbung Dritter für den Anwalt und unzulässige Alleinstellungsbehauptung

120

V. Online-Marktplätze

121

1. Vermittlungs- bzw. Provisionsverbot

123

2. Verbraucherwiderrufsrecht aus Fernabsatzrecht

125

B. Elektronische Kommunikation mit Mandanten, Gerichten, Behörden und Dritten

128

I. Nutzung von E-Mail-Diensten in der Mandantenkommunikation

129

1. Vertraulichkeit von E-Mails

129

a) Normativer Schutz anwaltlicher Vertraulichkeit

130

aa) Unionsrechtliche Ebene

130

bb) Verfassungsrechtliche Ebene

132

cc) Einfachrechtliche Ebene

133

dd) Vertragliche Ebene

134

b) Pflicht zur Verschlüsselung?

134

2. Gestaltung von E-Mails

140

3. Pflichten im Zusammenhang mit dem Eingang von E-Mails

141

a) Abrufzeiten und unverzügliche Kundgabe etwaiger Mandatsablehnung

141

aa) Zugang von E-Mails

142

bb) Reaktionszeit

143

cc) Reaktionsweg

144

b) Kontrolle des Spam-Ordners

145

II. Nutzung von Social Media und Instant-Messaging-Diensten in der Mandantenkommunikation

146

1. Regelmäßige Überwachung und Kontrolle der Kommunikationskanäle

147

2. Vertraulichkeit und Authentizität

148

III. Nutzung des besonderen elektronischen Anwaltspostfachs (beA)

151

1. Praktische Einsatzszenarien

151

2. Rechtliche Grundlagen

152

3. Technische Funktionsweise

153

4. Pflicht zur Nutzung aus Anwaltssicht?

158

a) Passive und aktive Nutzungspflicht

159

aa) Passive Nutzungspflicht

160

bb) Aktive Nutzungspflicht

162

b) Unverhältnismäßiger Erfüllungsaufwand für Rechtsanwälte?

165

aa) Legitimer Zweck

166

bb) Geeignetheit und Erforderlichkeit

167

cc) Angemessenheit

167

c) Unverhältnismäßige subjektive Anforderungen an Rechtsanwälte?

171

IV. Nutzung weiterer sicherer Kommunikationsmittel: beBPo, De-Mail, E-Postbrief, qualifizierte Vertrauensdienste nach der eIDAS-Verordnung

173

1. Besonderes elektronisches Behörden-Postfach (beBPo)

174

2. De-Mail

174

3. E-Postbrief

175

4. Qualifizierte Vertrauensdienste nach der eIDAS-Verordnung

176

C. Zusammenfassung des 1. Kapitels

176

2. Kapitel: Innerbetriebliche Arbeitsabläufe und interne Kommunikation

180

A. Einsatz von Kanzleisoftware

181

I. Elektronische Handaktenführung

181

1. Zulässigkeit der digitalen anwaltlichen Aktenführung als solche

182

a) § 50 Abs. 4 BRAO als Ausgangspunkt

182

b) Begriff der "Handakte"

184

2. Ausgestaltung der digitalen Aktenführung des Rechtsanwalts im Einzelnen

184

a) Ordnungsgemäße Mandatsdokumentation

185

aa) Zentraler Speicherort

186

bb) Exklusiver Speicherort

187

cc) Notierung und Kontrolle von Fristen

187

b) Maßnahmen zum Schutz anwaltlicher Vertraulichkeit

190

II. IT-basierte Auswertung von Dokumenten

191

1. Pflicht zum einheitlich strukturierten Parteivortrag de lege lata

194

2. Pflicht zum einheitlich strukturierten Parteivortrag de lege ferenda aus verfassungsrechtlicher Betrachtung

195

B. IT-Outsourcing

200

I. Strafrechtliche Implikationen

201

1. Bisheriges Recht

201

2. Geheimnisschutzreform 2017 um § 203 StGB

203

a) Strafbarkeit des Berufsgeheimnisträgers

203

aa) Fehlende Erforderlichkeit der Offenbarung eines fremden Geheimnisses

204

bb) Mangelnde Sorgfalt bei der Verpflichtung des Dienstleisters

206

b) Strafbarkeit der externen Dienstleister

207

II. Berufsrechtliche Implikationen

208

1. Vorgaben der BRAO

208

a) Verschwiegenheitserklärung in Textform

208

b) Auslagerung von (IT-)Dienstleistungen in das Ausland, insbesondere Cloud Computing

209

aa) Grundlegendes

209

bb) Praxisrelevanter Anwendungsfall: Inanspruchnahme großer (Cloud-)Diensteanbieter mit Sitz in den USA

210

c) Zusätzliche Vorgaben des § 43 Abs. 5 BRAO

212

2. (Keine) Vorgaben der BORA

212

a) Verschwiegenheitserklärung in Schriftform

212

b) Sozialadäquanz

213

III. Datenschutzrechtliche Implikationen: insbesondere Auftragsverarbeitung

214

C. Informationsbeschaffung und Recherche im Web 4.0

216

I. Elektronische Register und Veröffentlichungen

218

II. Juristische Online-Datenbanken

220

1. Generelle Nutzungspflicht für Rechtsanwälte?

221

a) Gesetzesänderungen, Rechtsprechung und Literatur als typische Anwendungsfälle?

221

b) Eigene Bewertung

223

aa) Keine generelle Nutzungspflicht

223

bb) Ausnahmen bei reiner Online-Abrufbarkeit

224

cc) Ausnahmen in bestimmten Rechtsbereichen

225

2. Verkürzter Toleranzzeitraum für die Kenntnisnahme neuer Rechtsprechung?

226

D. Zusammenfassung des 2. Kapitels

227

3. Kapitel: Beratungsleistung des Rechtsanwalts als solche

228

A. Substituierbarkeit und Veränderung anwaltlicher Beratung

229

I. Durch Blockchain und Smart Contracts

231

1. Technische Grundlagen

231

2. Substituierungspotenzial

233

3. Veränderungspotenzial

235

II. Durch Anwalts-Chatbots

236

1. Technische Grundlagen

236

2. Substituierungspotenzial

237

3. Veränderungspotenzial

239

III. Durch Robot Lawyers und Künstliche Intelligenz (KI)

239

1. Technische Grundlagen

239

2. Substituierungspotenzial

243

3. Veränderungspotenzial

245

IV. Kollaboration als Geschäftsmodell der Zukunft: Virtuelle Sozietäten

246

V. Exkurs: Zukunft der Anwaltsvergütung

247

1. Stundenbasierte Vergütung als Auslaufmodell

248

2. Einfluss von Legal Technology: Kostentransparenz und -druck als maßgebliche Faktoren

250

B. Ausgewählte Regulierungsbereiche de lege lata

251

I. Erlaubnispflicht nach Rechtsdienstleistungsrecht

252

1. Legal Technology-Angebote nichtanwaltlicher Dienstleister für Verbraucher am Beispiel des verdeckten Einsatzes von Anwalts-Chatbots

253

a) (Selbstständige) Erbringung außergerichtlicher Rechtsdienstleistungen?

256

aa) Dienstleistung in konkreten fremden Angelegenheiten und Erfordernis einer einzelfallbezogenen Rechtsprüfung

256

bb) Tätigkeit

259

cc) Selbstständige Erbringung

260

b) Relevante Erlaubnistatbestände

262

aa) Inkassodienstleistungen

262

bb) Unentgeltliche Rechtsdienstleistungen

264

2. Legal (Process) Outsourcing

264

a) Erfordernis einer rechtlichen Prüfung im Einzelfall

266

b) Erstattung wissenschaftlicher Gutachten

266

c) Adressaten der Erlaubnispflicht

267

II. Anwaltliche Vertraulichkeit

269

1. Entwicklung und Nutzung von Anwalts-Chatbots

269

a) Nutzung von kommerziellen Entwicklungsplattformen

269

b) Kommunikation über Instant-Messaging-Dienste

271

c) Allgemeine datenschutzrechtliche Herausforderungen

272

d) Besonderheiten bei selbstlernenden Chatbots

272

2. Legal (Process) Outsourcing

273

a) Einwilligungserfordernis

273

b) Sozialadäquanz

274

III. Kanzleipflicht

274

1. Geregelte Erreichbarkeit des Rechtsanwalts in örtlich festgelegten Kanzleiräumen

275

2. Kanzleischild bzw. Praxishinweis

276

IV. Resümee zur Regulierung de lege lata

278

C. Zentrale Regulierungsansätze de lege ferenda

279

I. Spezifische Vorschläge zur Regulierung und Deregulierung im Kontext der Rechtsberatung

279

1. Gesonderte Aufsicht für Legal Technology-Dienstleister

280

a) Grundlegendes

280

b) Geltungsumfang des RDG unter besonderer Berücksichtigung der Erlaubnistatbestände

281

c) Ausgestaltung der Aufsichtsbefugnisse

285

d) Zwischenergebnis

286

2. Gesonderte Marktbeobachtung durch Verbraucherzentralen?

288

3. Lockerungen im anwaltlichen Gesellschaftsrecht zur Verbesserung von Beteiligungsmöglichkeiten an nichtanwaltlichen Legal Technology-Unternehmen?

291

a) Fremdkapitalverbot und Fremdbesitzverbot nach § 59e BRAO

291

b) Schranken der beruflichen Zusammenarbeit nach § 59a BRAO

293

c) Zwischenergebnis

294

4. Uneingeschränkte Erlaubnis von Erfolgshonoraren?

295

II. Übergreifende Regulierungsansätze

299

1. Zivilrechtliche Haftung für autonome Systeme

299

a) Erweiterung des Produkthaftungsrechts auf unkörperliche Gegenstände?

301

aa) Stand der Diskussion: Web Applikationen bzw. Software als Produkt i. S. d. § 2 ProdHaftG?

301

bb) Eigene Bewertung: Unmittelbare Steuerungsfunktion und unmittelbares Schädigungspotenzial als zusätzliche Voraussetzungen

302

cc) Berücksichtigung etwaiger Haftungsprivilegierungen

304

b) Schaffung der Elektronischen Person (E-Person)?

305

2. Erweiterte Transparenzvorgaben?

308

a) Gesetzgeberische Aktivitäten

309

b) Vorschläge zum Interessenausgleich

310

3. Ethical Coding?

313

a) Gesetzgeberische Aktivitäten

313

b) Eigene Bewertung

316

III. Resümee zur Regulierung de lege ferenda

317

D. Zusammenfassung des 3. Kapitels

318

4. Teil: Rechtstheoretische Überlegungen und die Anforderungen an den Rechtsanwalt in der Informationstechnologiegesellschaft

321

1. Kapitel: Rechtstheoretische Überlegungen: Auswirkungen von Digitalisierung, Legal Technology und Innovation auf das Recht und den Zugang zum Recht

321

A. Digitalisierung, Legal Technology, Innovation und das Privatrecht

322

I. Diskrepanz zwischen der Lebenswirklichkeit und dem Privatrecht

322

II. Diskrepanz zwischen der Rechtsdurchsetzung und dem Privatrecht

324

B. Digitalisierung, Legal Technology, Innovation und das Öffentliche Recht

325

I. Legal Technology und der Zugang zum Recht

326

1. Full-Service-Hybride als Triebfeder für eine Zwei-Klassen-Rechtsdurchsetzung oder Chance für den Rechtsstaat?

327

2. Wider der Legal Tech(nology) Gap – die Rolle des Staates

330

II. Zukunft des anwaltlichen Berufsrechts

331

C. Exkurs: Legislative und judikative Entscheidungsprozesse im Wandel

333

I. Visualisierung des Rechts

333

1. Visualisierung im Gesetzgebungsprozess

334

2. Visualisierung als Implementierungshilfe des Rechts

335

II. Softwaretechnische Umsetzbarkeit des Rechts

337

III. Predictive Justice

339

1. Begriffliche Einordnung

339

2. Potenziale und Herausforderungen

340

2. Kapitel: Anforderungen an den Rechtsanwalt in der Informationstechnologiegesellschaft

343

A. Stellung als Organ der Rechtspflege

344

B. Fortbildung

345

I. Normative Verankerung im geltenden Berufsrecht

346

1. Fortbildungspflicht für Fachanwälte, § 15 FAO

346

2. Allgemeine Fortbildungspflicht für Rechtsanwälte, § 43a Abs. 6 BRAO

347

II. Gescheiterte Reformbestrebungen in 2017

349

III. Allgemeine IT-Fortbildungspflicht

351

1. Problem und Regelungsbedürfnis

351

2. Lösungsvorschlag

353

a) Vergleich zum US-amerikanischen Berufsrecht

353

b) Schlussfolgerungen für das nationale Berufsrecht: insbesondere Ergänzung des § 43a Abs. 6 BRAO

355

aa) Ausgangslage und Regelungsziele

355

bb) Eckpfeiler einer Novellierung

357

IV. Resümee und Ausblick

359

3. Kapitel: Anforderungen an die Juristenausbildung in der Informationstechnologiegesellschaft

360

A. E-Justice-Kompetenz

361

I. Bedeutung, Inhalt und Lernziele

361

II. Umsetzung und rechtliche Verankerung

362

B. E-Klausuren und E-Staatsexamen

365

4. Kapitel: Zusammenfassung der wesentlichen Ergebnisse und Ausblick

367

Literaturverzeichnis

371

Sachwortverzeichnis

429