Consumer protection law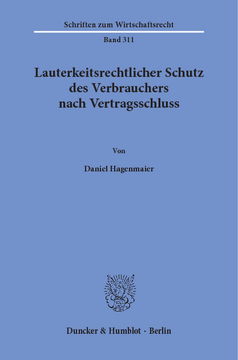 Additional Information
Book Details
ISBN

978-3-428-55730-1
978-3-428-15730-3 (print edition)

DOI

https://doi.org/10.3790/978-3-428-55730-1

Edition

1

Language

German

Pages

365

Collections

Subjects
Pricing
Institution

€ 116.00 (incl. local VAT if applicable)

Individual

€ 89.90 (incl. local VAT if applicable)
About The Author
Daniel Hagenmaier studierte ab dem Jahr 2003 Rechtswissenschaften mit wirtschaftswissenschaftlicher Zusatzausbildung an der Universität Bayreuth und legte im Jahr 2009 sein erstes Staatsexamen ab. Nach Tätigkeiten als Lehrbeauftragter der Universität Bayreuth sowie als wissenschaftlicher Mitarbeiter einer internationalen Wirtschaftskanzlei in München trat er im Jahr 2012 den juristischen Vorbereitungsdienst am Hanseatischen Oberlandesgericht Hamburg an und legte 2014 das zweite Staatsexamen ab. Anschließend war er zunächst als Rechtsanwalt im Bereich Kartellrecht bei Norton Rose Fulbright in Hamburg tätig. Seit 2018 ist er als Legal Compliance Manager bei der BMW AG tätig.
Daniel Hagenmaier studied law with a supplementary education in economics at the University of Bayreuth and passed the first state exam in 2009. Having worked as a lecturer at the University of Bayreuth and as a research assistant at an international corporate law firm in Munich, he then started the legal clerkship at the Hanseatic Higher Regional Court of Hamburg in 2012 and passed the second state exam in 2014. Subsequently, he worked at Norton Rose Fulbright in Hamburg as a lawyer with a focus on antitrust law. Since 2018, he works as a Legal Compliance Manager for BMW AG.
Abstract
Lange bildete der Vertragsschluss die zeitliche Grenze, jenseits derer das Lauterkeitsrecht keine Anwendung findet. Mit der UWG-Novelle 2008 ist indes die »geschäftliche Handlung« an die Stelle der »Wettbewerbshandlung « getreten und erfasst explizit auch Verhalten nach Vertragsschluss.

Die Arbeit befasst sich mit Reichweite und Auswirkungen dieser Erweiterung des lauterkeitsrechtlichen Anwendungsbereichs. Auf Grundlage der Erkenntnis, dass frühere Kriterien der Abgrenzung des Verbraucherschutzes in UWG und BGB nicht länger tragfähig sind, zeigt der Autor auf, dass das Lauterkeitsrecht das rechtsgeschäftliche Instrumentarium komplementär ergänzt, indem es die wirtschaftlich selbstbestimmte Entscheidung des Verbrauchers über die durch das BGB gewährten Rechtsbehelfe sicherstellt. Angesichts einer weitreichenden Anwendung des UWG auch im einzelnen Vertragsverhältnis erweist es sich als erforderlich, im Rahmen einer Interessenabwägung auch die Interessen des Unternehmers zu berücksichtigen. »Consumer Protection under the Act Against Unfair Competition after Conclusion of a Contract«

This thesis focuses on the extended scope and the consequences of the central term »Commercial Practice« of the German Act Against Unfair Competition in force since 2008 and its reference to conduct after conclusion of a contract. The author claims that the Act Against Unfair Competition widely applies to the individual contractual relationship and recognizes that Unfair Competition Law takes a complementary role to the customer's contractual instruments.
Table of Contents
Section Title
Page
Action
Price

Vorwort

3

Inhaltsübersicht

5

Inhaltsverzeichnis

9

Abkürzungsverzeichnis

16

Einleitung

25

I. Fragestellung

25

II. Gegenstand der Untersuchung

27

1. Verbraucherschutz als rechtliche Thematik

27

2. Der Begriff des Lauterkeitsrechts

27

3. Das Schutzsubjekt Verbraucher

28

4. Die Zeit nach Vertragsschluss

31

III. Forschungsstand

33

IV. Gang der Untersuchung

35

1. Kapitel: Der mittelbar vorvertragliche lauterkeitsrechtliche Verbraucherschutz nach bisherigem Verständnis

37

A. Die bisherige Abgrenzung von UWG und BGB

37

I. Der "Multiplikatoreffekt" als entscheidendes Kriterium

38

II. Generell-abstrakter versus individuell-konkreter Schutz

38

III. Kontrahierende versus distrahierende Tendenz der Bereiche

39

IV. Zwischenergebnis

40

B. Nachvertragliches Verhalten als lauterkeitsrechtliche Problematik

41

I. Vertragspflichtverletzungen durch den Unternehmer

41

II. Geltendmachung und Durchsetzung vertraglicher Ansprüche

42

III. Abwehr vertraglicher Rechte

44

IV. Änderung und Umgestaltung bestehender Verträge

45

C. Schutz des Verbrauchers nach Vertragsschluss im UWG zwischen 1896 und 2004

46

I. Grundsatz: "Handeln zu Zwecken des Wettbewerbs"

46

1. Der Begriff des Wettbewerbs

47

2. Die Rolle des Verbrauchers im Wettbewerbsrecht

50

a) Die ursprünglich konkurrentenschützende Konzeption des UWG

50

b) Aufkommen des sog. sozialrechtlichen Verständnisses

52

c) Die immanente Beschränkung der Wettbewerbshandlung

56

3. Insbesondere: Die Rolle des Verbrauchers nach Vertragsschluss

61

a) Rechtsprechung

61

b) Literatur

62

II. Vermeintliche Ausnahmen

63

1. Rechtsprechung

63

a) Planmäßiges Gesamtverhalten

63

b) Betroffenheit einer Vielzahl von Kunden

64

c) Erhaltung des Kundenstammes

65

d) Überschießende werbende Wirkung

66

e) Erweiterung des Vertrags

66

f) Verstoß gegen verbraucherschützende Vorschriften

67

2. Literatur

68

3. Würdigung

70

III. Zwischenergebnis

75

D. Änderungen durch die Reform von 2004

76

I. Die Beibehaltung der zeitlichen Beschränkung

77

1. Bestätigung des bisherigen Rechtszustands

77

2. Fortwirken des "Handelns zu Zwecken des Wettbewerbs"

78

II. Versuche einer Erweiterung des Anwendungsbereichs

81

1. Die teleologische Erweiterung bei Leistner

82

2. Tillers Verzicht auf das Merkmal des Marktbezugs

84

3. Würdigung

87

E. Zusammenfassung

90

2. Kapitel: Gegenseitige Annäherung des Verbraucherschutzes in UWG und BGB

92

A. Entwicklungen vor Umsetzung der UGP-Richtlinie

92

I. Rezeption "fremder" Normen

92

1. Rezeption lauterkeitsrechtlicher Normen im BGB

93

a) Die Nichtigkeitsfolge der §§ 134 und 138 BGB

93

b) UWG-Normen als Schutzgesetze im Sinne des § 823 Abs. 2 BGB

94

2. Berücksichtigung rechtsgeschäftlich verbraucherschützender Normen im UWG

94

3. Würdigung

95

a) UWG-Verstöße im BGB

95

aa) Die bürgerlich-rechtliche Nichtigkeitsanordnung

95

bb) UWG-Normen als Schutzgesetze

98

b) BGB-Verstöße im UWG

99

II. Systemübergreifende Elemente im Rahmen des rechtsgeschäftlichen Verbraucherschutzes

102

1. Die Einbeziehung von Werbeangaben in den Sachmangelbegriff des § 434 Abs. 1 S. 3 BGB

102

2. Die Regelungen über Garantien in §§ 443, 479 BGB

107

3. § 241a BGB

108

4. § 661a BGB

110

5. Widerrufsrechte

111

6. Das Institut der culpa in contrahendo

112

7. Rechtsgeschäftliche Informationspflichten

114

B. Die Auswirkungen der UGP-Richtlinie

116

I. Die Beschränkung der UGP-Richtlinie auf den Bereich b2c

116

II. Der Begriff der unternehmerischen Sorgfalt gemäß § 2 Abs. 1 Nr. 7 UWG

118

III. Die "geschäftliche Handlung" als Umsetzung der "Geschäftspraktiken" – erstmalig konsequent unmittelbarer Verbraucherschutz

121

1. Ausdehnung des Anwendungsbereichs auf die Zeit nach Vertragsschluss

122

a) Nachvertragliche Wirkungen

123

b) Nachvertragliches Verhalten

125

2. Versuche einer einschränkenden Auslegung

127

a) Marktbezogene Außenwirkung

128

b) Das funktionale Verständnis Köhlers

131

c) Ungeschriebenes Merkmal der "Verbraucherrelevanz"

133

3. Würdigung der Einschränkungsversuche

133

a) Marktbezogene Außenwirkung

133

b) Funktionales Verständnis

137

c) "Verbraucherrelevanz"

143

4. Konsequent weitreichender Anwendungsbereich

144

a) Tatsächlich "objektiver" Zusammenhang

144

b) Die Gesetzesbegründung als Gegenargument?

147

5. Der erweiterte Anwendungsbereich als finaler Schritt vom Wettbewerbs- zum Lauterkeitsrecht

149

6. Rechtspraktische Auswirkungen – Notwendigkeit einer Einschränkung?

151

IV. Lauterkeitsrechtliche Informationspflichten im Rahmen des § 5a UWG

152

1. Informationspflichten nach Vertragsschluss

153

2. "Dopplung" der Informationspflichten

156

C. Konsequenzen für die bisherigen Abgrenzungskriterien

156

D. Zusammenfassung

158

3. Kapitel: Neuausrichtung des Verhältnisses von lauterkeitsrechtlichem und rechtsgeschäftlichem Verbraucherschutz

161

A. Die deutsche Aufgliederung in lauterkeitsrechtlichen und rechtsgeschäftlichen Verbraucherschutz vor dem Hintergrund des europäischen Verbraucherschutzrechts

161

I. Die Zuspitzung verbraucherschützender Regelungen auf BGB und UWG

162

II. Lauterkeits- und Vertragsrecht als Kategorien im europäischen Verbraucherschutz

165

1. Primärrecht

165

2. Sekundärrecht

167

a) Formale Trennung im Sinne des Art. 3 Abs. 2 UGP-Richtlinie

168

b) Inhaltlich enger Bezug

169

aa) Informationspflichten

169

bb) Widerrufsrechte

171

cc) Rechtsfolgeregelungen

171

III. Zwischenergebnis

172

B. Neuere Ansätze für eine Bestimmung des Verhältnisses von lauterkeitsrechtlichem zu rechtsgeschäftlichem Schutz

174

I. Festhalten am "Wettbewerb"

174

II. Die spezifisch funktional-interessenorientierte Abgrenzung

174

III. Die Unterscheidung nach Schutzzwecken

176

IV. Kollektiver Präventivschutz durch das UWG

178

V. Zwischenergebnis

178

C. Komplementäres Verständnis der Bereiche

179

I. Einheitlicher Ausgangspunkt als theoretische Basis

180

1. Legitimation und mögliche Modelle des Verbraucherschutzes

180

a) Sozialer Ansatz

181

b) Liberaler Ansatz

182

aa) Ordnungspolitisches Informationsmodell

182

bb) Situativer Verbraucherschutz

183

c) Verbraucherschutz aus Effizienzgesichtspunkten

184

d) Fazit

186

2. Prinzipien und Instrumente des rechtsgeschäftlichen Verbraucherschutzes

186

a) Die Privatautonomie als liberaler Ausgangspunkt

186

b) Die rechtsgeschäftlichen Regelungen und deren Verhältnis zur Privatautonomie

188

aa) Der Verbraucherbegriff

191

bb) Informationspflichten

191

cc) Widerruf

192

dd) Anfechtung

193

ee) Gewährleistungsrecht

195

ff) AGB-Kontrolle

196

gg) Nichtigkeitsfolge

199

hh) Sonstige Rechtsfolgeregelungen

199

ii) Nebenpflichten/culpa in contrahendo

201

3. Lauterkeitsrechtlich geschützte Interessen

204

a) Der zentrale Bezugspunkt lauterkeitsrechtlichen Verbraucherschutzes: die geschäftliche Entscheidung

206

aa) Die Verbrauchergeneralklausel

206

bb) Die verbraucherschützenden Einzeltatbestände

207

cc) Elemente einer selbstbestimmten Entscheidung

208

(1) Schutz der Entscheidungsgrundlage

209

(2) Schutz des Entscheidungsprozesses

212

dd) Entscheidungsinhalt und -definition

213

(1) Schutz der "Nichtentscheidung"

214

(2) Entscheidung über gesetzliche Rechte

215

(3) "Entscheidungen ohne Wahlmöglichkeit"

217

ee) Lauterkeitsrechtlicher Schutz der Verbraucherentscheidung und Privatautonomie

217

b) Schutz sonstiger Interessen

218

4. Zwischenergebnis

220

II. Unterschiedliche Methode: Schutz der Entscheidungsentstehung als maßgebliches Charakteristikum des Lauterkeitsrechts

222

1. Gewährung von Entscheidungsmöglichkeiten und konkrete Entscheidungssicherung

223

a) Das BGB als Gesetz der Folgeregelungen

224

b) Lauterkeitsrechtliche Sicherung jeder einzelnen Entscheidung

225

2. Gegenseitiges Aneinanderknüpfen der Bereiche

225

a) Vertragliche Rechtsfolgen als Konsequenz lauterkeitswidrigen Verhaltens

226

b) Vertragliche Rechte und Pflichten als Bezugspunkt des Lauterkeitsrechts

229

c) Fälle der Deckungsgleichheit und rückwirkender Wertungen

229

aa) Dopplung der Informationspflichten

229

bb) Die Rückwirkung der Widerrufsrechte

235

cc) § 3a UWG (§ 4 Nr. 11 UWG a.F.)

237

(1) Undogmatische Anwendung des Rechtsbruchtatbestandes

237

(2) Kein Bedürfnis für den Rechtsbruchtatbestand beim lauterkeitsrechtlichen Schutz der Verbraucherentscheidung

241

3. Konsequenzen des komplementären Verständnisses

245

a) Unmöglichkeit eines lauterkeitsrechtlichen "Eingriffs" in die vertragliche Beziehung

245

b) Keine individuellen Verbraucheransprüche im Lauterkeitsrecht

246

c) Gerichtlicher Prüfungsumfang

249

D. Zusammenfassung

253

4. Kapitel: Die Anwendung des komplementären lauterkeitsrechtlichen Verbraucherschutzes auf problematische Fallgruppen

256

A. Die Entscheidung nach Vertragsschluss – nachvertragliches Verhalten und nachvertragliche Auswirkungen

256

I. Klageantrag, Verletzungshandlung und Verletzungsform

257

II. Alternative Anknüpfungspunkte aufgrund des erweiterten Anwendungsbereichs

258

III. Faktisch und rechtlich nachvertragliches Verhalten

261

1. Vorvertragliches Verhalten mit vorvertraglicher Wirkung

261

2. Vorvertragliches Verhalten mit nachvertraglicher Wirkung

263

3. Nachvertragliches Verhalten mit vorvertraglicher Wirkung

264

4. Nachvertragliches Verhalten mit nachvertraglicher Wirkung

267

B. Ausuferndes Lauterkeitsrecht?

271

I. Tatbestandliche Einschränkung

272

1. Normativierte Prüfung der Unlauterkeit

272

a) Restriktives Verständnis der "Angabe" i.S.d. § 5 Abs. 1 S. 2 UWG

272

b) Normative Korrektur der Verbrauchererwartung

273

c) Eignung zur Einflussnahme

274

2. Nachgeschaltete Korrektur im Rahmen des Unwertkriteriums

274

a) Einschränkung mit Hilfe der "unternehmerischen Sorgfalt"?

275

b) Billigkeit und höherrangiges Recht

276

II. Einschränkung auf Rechtsfolgenebene

278

III. Würdigung

279

1. Verhältnismäßigkeit sowie Gebot der Interessenabwägung als Kern einer einschränkenden Auslegung

279

a) Verhältnismäßigkeit und Interessenabwägung in der Richtlinienvorgabe

279

b) Verhältnismäßigkeit und Interessenabwägung in der Rechtsprechung des EuGH

281

c) Verhältnismäßigkeit in der Gesetzesbegründung

282

d) Verhältnismäßigkeit und Interessenabwägung in der aktuellen Rechtsprechung des BGH

283

e) Bedeutung der Interessenabwägung für Verhaltensweisen im Rahmen des individuellen Vertragsverhältnisses

284

2. Tatbestandliche Einschränkung

285

a) Die "Angabe" als begrenzt hilfreicher Ansatzpunkt

286

b) Keine weitere Normativierung der Irreführung

287

c) Der Weg über die unternehmerische Sorgfalt

290

d) Interessenabwägung als nachgelagerte Korrektur

292

3. Kriterien für eine einschränkende Auslegung im Wege der Interessenabwägung

294

a) Grundrechtliche Wertungen

295

b) Subjektive Verantwortlichkeit

298

4. Vermutung der Wiederholungsgefahr

302

C. Lösung der relevanten Fälle

305

I. Vorvertragliche Verhaltensweisen mit vorvertraglicher Wirkung

305

1. Klassisch absatzförderndes Verhalten

305

2. "Absatzverhinderndes" Verhalten

308

II. Vorvertragliche Verhaltensweisen mit nachvertraglicher Wirkung

308

III. Nachvertragliche Verhaltensweisen mit vorvertraglicher Wirkung

310

1. Abschluss eines neuen Vertrags

310

2. Neuabschluss des alten Vertrags

312

IV. Nachvertragliche Verhaltensweisen mit nachvertraglicher Wirkung

314

1. Die vorsorglich-nachvertragliche Abwehr von Verbraucherrechten

314

2. Die Vertragspflichtverletzung als solche

315

a) Irreführung durch Schlechtleistung

315

b) Konkurrenzverhältnis zur vorvertraglichen Werbung

317

3. Die Geltendmachung vertraglicher Rechte

317

a) Das Einfordern als Gesetzesverstoß

317

b) Das Einfordern als Abwehr gesetzlicher Rechte

318

c) Die Reichweite der Informationspflichten

319

d) Geltendmachung berechtigter Forderungen

323

D. Zusammenfassung

324

Zusammenfassung der wesentlichen Ergebnisse

327

Literaturverzeichnis

336

Stichwortverzeichnis

357