Constitution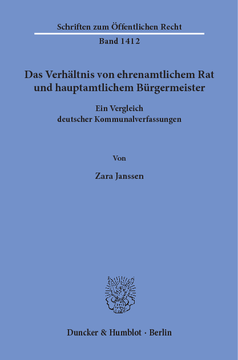 BOOK
Das Verhältnis von ehrenamtlichem Rat und hauptamtlichem Bürgermeister
Ein Vergleich deutscher Kommunalverfassungen
Schriften zum Öffentlichen Recht, Vol. 1412
(2019)
Additional Information
Book Details
ISBN

978-3-428-55816-2
978-3-428-15816-4 (print edition)

DOI

https://doi.org/10.3790/978-3-428-55816-2

Edition

1

Language

German

Pages

254

Collections

Subjects
Pricing
Institution

€ 92.00 (incl. local VAT if applicable)

Individual

€ 71.90 (incl. local VAT if applicable)
About The Author
Zara Janssen studierte von 2011 bis 2016 Rechtswissenschaften in Münster und Bordeaux. Nach dem ersten juristischen Staatsexamen 2016 arbeitete sie promotionsbegleitend als wissenschaftliche Mitarbeiterin am Kommunalwissenschaftlichen Institut der Westfälischen Wilhelms-Universität Münster bei Prof. Dr. Janbernd Oebbecke und Prof. Dr. Hinnerk Wißmann. Seit Anfang 2019 absolviert Zara Janssen den juristischen Vorbereitungsdienst am Landgericht Wuppertal.
Zara Janssen studied law in Münster and Bordeaux between 2011 and 2016. After her first state examination she worked as a research assistant to Prof. Dr. Janbernd Oebbecke and Prof. Dr. Hinnerk Wißmann at the Institute of Local Government at the University of Münster. Currently Zara Janssen serves as a legal clerk at the regional court of Wuppertal.
Abstract
Zara Janssen untersucht vergleichend das Verhältnis der Organe Rat und Bürgermeister in den Kommunalverfassungen der deutschen Flächenstaaten. Denn obwohl die grundlegende Organisationsstruktur der Gemeinden übereinstimmt, besteht im Detail eine beträchtliche Anzahl von Unterschieden. Diese führen zu verschiedenen Mechanismen der Machtausübung von Rat und Bürgermeister in den einzelnen Bundesländern. Ausgehend von der Grundstruktur der Organe untersucht die Autorin an konkreten Beispielen, inwiefern dies die Stellung von Rat und Bürgermeister beeinflusst. Dazu wird zunächst die Kompetenzverteilung zwischen den Organen dargestellt. Die Autorin arbeitet heraus, dass große Unterschiede zwischen den Ländern bestehen, insbesondere im Bereich der gegenseitigen Kontrollrechte und der Ausgestaltung von Kooperationserfordernissen. Zudem analysiert sie die zwei grundlegenden Modelle, welche die Kommunalverfassungen für den Ratsvorsitz wählen, und zeigt deren Stärken und Schwächen auf. »The Relationship between City Council and Mayor – A Comparison of German Municipal Codes«

The thesis covers the relationship between the mayor and the town council as shaped out by the municipal codes of the german federal states. Though agreeing on basic principles the different municipal codes contain many differences in the role of these important actors of the local government. The author analyses these differences and their consequences for the power of mayor and town council by examining different sections of the municipal codes and their practical influence.
Table of Contents
Section Title
Page
Action
Price

Vorwort

5

Inhaltsübersicht

7

Inhaltsverzeichnis

9

1. Teil: Einleitung

17

A. Forschungsstand

20

I. Rechtswissenschaftliche Diskussion

20

II. Sozialwissenschaftliche Diskussion

22

B. Gang der Untersuchung

24

2. Teil: Struktur der Organe Rat und Bürgermeister

26

A. Der Rat als Kollegialorgan

26

I. Rechtliche Strukturvorgaben

27

1. Vorgaben des Verfassungsrechts

27

2. Vorgaben des einfachen Rechts

27

II. Auswirkungen dieser Strukturvorgaben

28

B. Der Bürgermeister als monokratisches Organ

30

I. Rechtliche Strukturvorgaben

30

1. Vorgaben des Verfassungsrechts

30

2. Vorgaben des einfachen Rechts

31

II. Auswirkungen dieser Strukturvorgaben

31

3. Teil: Interdisziplinäre Ansätze zur Analyse des kommunalen Organgefüges

34

A. Machtkonzentration bei einem Akteur: Ansätze der allgemeinen Staatslehre

35

I. Gewaltenteilung in der Gemeinde? Ein nur vermeintliches Anwendungsproblem

35

II. Gewaltenteilung als Instrument zur Machtbeschränkung

37

B. (Politische) Interessenkonflikte – Die Principal-Agent-Theorie

38

I. Das klassische Principal-Agent-Problem: Theoretische Grundlagen

38

II. Ausgewählte Lösungsansätze

39

1. Monitoring als klassische, aber aufwendige Methode

40

2. Weitere Ansätze und ihre begrenzte Tauglichkeit für das Verhältnis Rat-Bürgermeister

40

C. Beschränkte Rationalität: Der verhaltensökonomische Blick auf die innere Kommunalverfassung

40

I. Grundlagen der Verhaltensökonomie

41

II. Ausgewählte Phänomene beschränkter Rationalität

42

1. Verfügbarkeitsheuristik

42

2. Ankereffekt

43

3. Framing

44

4. Status Quo Bias

44

4. Teil: Die Stellung von Rat und Bürgermeister im Vergleich

46

A. Kompetenzverteilung zwischen Rat und Bürgermeister

46

I. Zuständigkeiten des Rates

46

1. Auffangzuständigkeit als Standardmodell

48

2. Abweichende Konzeptionen der Zuständigkeitsverteilung

49

a) Beschränkung auf "wichtige Angelegenheiten der Gemeinde"

49

b) Enumerative Regelung der Zuständigkeiten

52

3. Richtlinien für die Verwaltung

53

II. Zuständigkeiten des Bürgermeisters

54

1. Leitung der Verwaltung

56

2. Vorbereitung und Ausführung der Ratsbeschlüsse

57

3. Durch den Staat übertragene Aufgaben

57

4. Geschäfte der laufenden Verwaltung als Problemfall

59

a) Eine klassische Definition und ihre Schwächen

59

b) Versuche einer genaueren Bestimmung

64

aa) De lege lata

64

(1) Konkretisierung durch Gesetz

64

(a) Kodifizierung der bisherigen Rechtsprechung

64

(b) Präzisierung der Definition durch Fallgruppen

64

(2) Gemeinsame Konkretisierung

65

(3) Konkretisierung durch den Rat

65

(a) Beurteilungsspielraum als tauglicher Anknüpfungspunkt?

66

(b) Satzungsautonomie als Konkretisierungsbefugnis

68

(c) Geschäftsordnungsautonomie als Konkretisierungsbefugnis

69

(d) Richtlinienkompetenz als Konkretisierungsbefugnis

70

bb) De lege ferenda

72

(1) Beschränkung auf "normvollziehende Geschäfte"

72

(2) Einzelfallregelungen in der Kommunalverfassung

72

5. Personalentscheidungen

73

III. Kooperationserfordernisse als ausgleichendes Instrument

73

1. Personalentscheidungen als typische Kooperationsmaterie

73

a) Grundzuständigkeit für Personalentscheidungen

74

b) Sonderregelungen für wesentliche Personalentscheidungen

77

aa) Zuständigkeitsverlagerung auf den Rat

81

bb) Zuständigkeit des Verwaltungsorgans

83

cc) Verpflichtende Kooperation

83

(1) Modalitäten der Kooperation

84

(2) Auflösungsmechanismen

86

(3) Verhältnis zu den Geschäften der laufenden Verwaltung

87

dd) Fakultative Kooperation

88

c) Delegation an den Bürgermeister zur alleinigen Entscheidung

89

d) Beamtenrechtliche Entscheidungen in Bezug auf den Bürgermeister

89

e) Ergebnis

90

2. Insbesondere: Angelegenheiten der hauptamtlichen Beigeordneten

91

a) Von der Ausschreibung bis zur Ernennung – Der Prozess der Beigeordnetenauswahl

92

aa) Grundsatz: Ratszuständigkeit für die Vorbereitung

92

bb) Möglichkeiten zur Mitwirkung des Bürgermeisters

95

(1) Bei der Ausschreibung

95

(2) Bei der Vorauswahl

96

(3) Beim Vorschlag der Kandidaten

98

(a) Länder ohne Regelung

98

(b) Vorschlagsrechte des Bürgermeisters

99

(aa) Ergänzende Vorschlagsrechte

99

(bb) Ausschließliche Vorschlagsrechte

100

(cc) Weitere Vorbereitungsrechte als Annex?

102

(4) Bei der Wahl als solche

104

cc) Bewertung der Mitwirkungsrechte

106

b) Festlegung der Geschäftskreise

107

c) Weisungsbefugnis des Bürgermeisters

112

d) Beamtenrechtliche Angelegenheiten

113

3. Sonstige Kooperationserfordernisse

114

4. Rechtsschutz bei unterbliebener Kooperation

114

a) Wirksamkeit bei unterbliebener Kooperation?

115

b) Aufhebbarkeit bei unterbliebener Kooperation?

117

aa) Handeln durch Verwaltungsakt

117

bb) Privatrechtliches Handeln

118

c) Zwischenergebnis

119

IV. Ergebnis

119

B. Möglichkeiten des Rates zur Modifikation der Kompetenzverteilung

120

I. Die Delegation von Aufgaben als Möglichkeit zur Entlastung des Rates

122

1. Der Bürgermeister als Delegationsempfänger

123

a) Unterschiedliche Form der Delegation in den Ländern

124

b) Vorbehaltene Aufgaben als Grenzen der Delegation

125

2. Andere Entscheidungsträger als Delegationsempfänger

131

II. Die systemgerechte Ausgestaltung des Widerrufs einer Delegation

131

1. Grundsätzliche Zulässigkeit des Widerrufs

132

2. Der Widerruf als actus contrarius der Delegation

133

III. Statt Widerruf: Einflussmöglichkeiten nach Aufgabenübertragung?

135

IV. Das Rückholrecht des Rates als ungewöhnliches Rechtsinstitut

136

1. Modalitäten des Rückholrechts

138

a) Die Rückholung bestimmter Gruppen von Angelegenheiten

138

b) Die Rückholung im Einzelfall

138

2. (Ungeschriebene) Grenzen des Rückholrechtes

139

3. Rechtspolitische Diskussion um das Rückholrecht

140

V. Schutz des Rates im Verfahren des Aufgabenentzugs

142

1. Handeln des Bürgermeisters nach Aufgabenentzug

143

2. Handeln des Bürgermeisters bei drohendem Aufgabenentzug

143

VI. Ergebnis

146

C. Kontrollrechte der Organe

147

I. Kontrollrechte des Rates

148

1. Allgemeines Kontrollrecht des Rates

150

2. Informationsrechte des Rates gegenüber dem Bürgermeister

152

a) Auskunftsansprüche als Informationsgrundlage

153

aa) Die Bestimmung der Anspruchsberechtigten als Stellschraube

153

bb) Anspruchsverpflichteter

155

cc) Formelle Anspruchsvoraussetzungen

155

(1) Formvorschriften

156

(2) Begründungserfordernisse als Ausnahme

156

dd) Materielle Anspruchsvoraussetzungen

157

(1) Beschränkungen des Auskunftsgegenstandes

157

(a) Vorliegen der Verbandskompetenz der Gemeinde

157

(b) Beschränkung auf bestimmte Aufgabentypen

157

(c) Organkompetenz des Gemeinderates

158

(d) Einzelne Angelegenheit

159

(2) Anforderungen an den Zweck: Auskunft zur Kontrolle der Verwaltung

160

ee) Rechtsfolge: Formelle und materielle Anforderungen an die Auskunftserteilung

161

(1) Form und Frist der Auskunftserteilung

161

(a) Form

161

(b) Frist

162

(2) Umfang des Auskunftsrechts

163

ff) Ergebnis

165

b) Akteneinsichtsrecht

165

aa) Berechtigter des Verlangens auf Akteneinsicht

166

bb) Anspruchsverpflichteter

167

cc) Formelle Anspruchsvoraussetzungen

167

dd) Materielle Anspruchsvoraussetzungen

167

(1) Beschränkung des Gegenstandes der Akteneinsicht

167

(a) Beschränkung nach Aufgabentyp und Kompetenz

167

(b) Beschränkung nach dem Umfang

168

(2) Anforderungen an den Zweck der Akteneinsicht

169

(a) Berechtigtes Interesse des Gemeinderates

169

(b) Kontrollzweck

169

(c) Zur Vorbereitung oder Kontrolle von Ratsbeschlüssen

170

ee) Einsichtsberechtigter

171

ff) Rechtsfolge: Form und Umfang der Akteneinsicht

173

(1) Formelle Bedingungen der Akteneinsicht

173

(2) Umfang

174

gg) Ergebnis

176

c) Grenzen von Auskunfts- und Akteneinsichtsrecht

177

aa) Geheimhaltungsbedürftige Angelegenheiten

177

bb) Schutzwürdige Belange Dritter

177

(1) Geschriebene Ausschlusstatbestände

177

(2) Ungeschriebene Ausschlusstatbestände?

179

(a) Ausschluss durch unqualifizierte Belange

180

(b) Ausschluss durch spezialgesetzlich geschützte Belange

182

(3) Leitlinien für den Umgang mit Belangen Dritter

183

cc) Befangenheit des betreffenden Ratsmitgliedes

183

dd) Funktionsfähigkeit der Verwaltung

184

ee) Rechtsmissbrauch

185

ff) Öffentliches Interesse als Auffangtatbestand

186

gg) Ergebnis

186

d) Ansprüche nach den Informationsfreiheitsgesetzen als punktuelle Ergänzung

187

3. Informationspflichten des Bürgermeisters

189

a) Formelle Anforderungen an die Informationsgewährung

190

b) Inhalt der Informationspflicht

191

c) Grenzen der Informationspflicht

192

II. Kontrollrechte des Bürgermeisters

192

1. Rechtmäßigkeitskontrolle als Verpflichtung des Bürgermeisters

194

a) Der Begriff der Rechtmäßigkeit als Anknüpfungspunkt

194

b) Formelle Anforderungen an den Widerspruch

195

c) Rechtsfolgen

196

aa) Aufschiebende Wirkung als Zeitgewinn

196

bb) Weiteres Verfahren

197

(1) Erste Stufe: Erneute Befassung des Rates

197

(2) Zweite Stufe: Abgabe an andere Entscheidungsträger

198

d) Ergebnis

199

2. Eingeschränkte Zweckmäßigkeitskontrolle

200

a) Formelle Anforderungen

201

b) Rechtsfolgen

201

c) Zwischenergebnis

201

III. Ergebnis

202

D. Vorsitz im Rat

203

I. Grundkonzeptionen der Kommunalverfassungen

205

II. Tatsächliche Steuerungsmöglichkeiten des Ratsvorsitzenden

206

1. Festsetzung der Tagesordnung

206

a) Die Grundkonzeption: Festsetzung als Kompetenz des Ratsvorsitzenden

206

aa) Bürgermeister ist Ratsvorsitzender

207

bb) Ratsmitglied ist Ratsvorsitzender

208

b) Die Festsetzung im Detail: Das Zusammenspiel zwischen Vorsitzendem und Ratsmitgliedern

210

aa) Gestaltungsspielraum des Ratsvorsitzenden bei der Festsetzung

210

bb) Initiativrechte als Beschränkung

212

cc) Erweiterung in der Sitzung

214

2. Einberufung des Rates

214

a) Kurzfristiges Einberufen

215

aa) Gestaltungsmöglichkeiten des Vorsitzenden

215

bb) Beschränkungen durch Mindestladungsfristen

216

b) Verzögerung der Einberufung

219

aa) Gestaltungsmöglichkeiten

219

bb) Maximalzeiträume als Beschränkung

220

cc) Einberufungsrechte der Ratsminderheit als Beschränkung

220

3. Die Darstellung von Themen als Gestaltungsmöglichkeit

222

a) Der Umfang beigefügter Unterlagen als Gestaltungsmöglichkeit

223

b) Präsentation der Themen in der Sitzung durch den Bürgermeister

227

4. Rechtsschutz gegen den Ratsvorsitzenden

228

III. Freiwillige Kooperation zum Interessenausgleich: Der Ältestenrat

231

IV. Notwendigkeit von Gesetzesänderungen? Die Rolle der Geschäftsordnung des Rates

233

V. Weitere Kompetenzen des Ratsvorsitzenden

234

VI. Ergebnis

234

5. Teil: Fazit

235

A. Das Organverhältnis: Annäherungen an den Idealzustand?

235

B. Zusammenfassung in Leitsätzen

237

Literaturverzeichnis

239

Sachverzeichnis

252