Criminal law: procedure & offences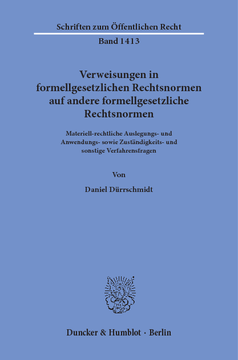 BOOK
Verweisungen in formellgesetzlichen Rechtsnormen auf andere formellgesetzliche Rechtsnormen
Materiell-rechtliche Auslegungs- und Anwendungs- sowie Zuständigkeits- und sonstige Verfahrensfragen
Schriften zum Öffentlichen Recht, Vol. 1413
(2019)
Additional Information
Book Details
ISBN

978-3-428-55798-1
978-3-428-15798-3 (print edition)

DOI

https://doi.org/10.3790/978-3-428-55798-1

Edition

1

Language

German

Pages

165

Collections

Subjects
Pricing
Institution

€ 70.00 (incl. local VAT if applicable)

Individual

€ 53.90 (incl. local VAT if applicable)
About The Author
Nach dem Studium an der Universität Bayreuth (Rechtswissenschaften mit wirtschaftswissenschaftlicher Zusatzausbildung) und an der University of Sydney (Master of Laws) sowie dem Referendariat am OLG Bamberg mit Stationen in Bayreuth, München und London arbeitete der Autor zunächst promotionsbegleitend als Wissenschaftlicher Assistent an der Friedrich-Alexander-Universität Erlangen-Nürnberg, bevor er für mehrere Jahre hauptberuflich als Rechtsanwalt und Steuerberater im Münchener Büro einer internationalen Kanzlei tätig war. Derzeit ist er Wissenschaflicher Mitarbeiter an der Ludwig-Maxmilians-Universität München. Zwischenzeitlich war er Lehrstuhlvertreter an der Friedrich-Alexander-Universität Erlangen-Nürnberg und an der Universität Osnabrück.
The author studied law at the University of Bayreuth (First State Examination) and the University of Sydney (Master of Laws). The legal clerkship at the Higher Regional Court of Bamberg included practical stages in Bayreuth, Munich and London. Doing his PhD in law, he worked as a research assistant at the Friedrich-Alexander-University of Erlangen-Nuremberg. Later, he practiced law as an attorney-at-law and a tax consultant at an international law firm (Munich office). Currently, he is a senior research assistant at the Ludwig-Maximilians-University of Munich. Meanwhile, he acted as a stand-in professor at the Friedrich-Alexander-University of Erlangen-Nuremberg and the University of Osnabrück.
Abstract
Gesetzliche Rechtsnormen enthalten zahlreiche Verweisungen. Neben Fragen nach verfassungsrechtlichen Anforderungen an ihre Zulässigkeit und dem Umgang mit fehlerhaften Verweisungen stellen sich auch materiell-rechtliche Auslegungs- und Anwendungs- sowie Zuständigkeits- und sonstige Verfahrensfragen. Diese werden in der Arbeit systematisch behandelt. Sie betreffen unter anderem die Bedeutung der Regelungsziele der beteiligten Rechtsnormen und die Bindung an behördliche und gerichtliche Entscheidungen. Es zeigt sich, dass viele dieser Fragen allgemeiner Natur sind. So sind die Zuständigkeits- und sonstigen Verfahrensfragen zumeist aus dem allgemeinen Verwaltungsverfahrens- und Verwaltungsprozessrecht wohlbekannt. Häufig sind sie sogar Folge von Verweisungen, ohne dass dieser Zusammenhang in besonderer Weise herausgearbeitet wird. In der Arbeit wird er anhand zahlreicher Beispiele anschaulich erläutert, die insbesondere aus den Bereichen Wirtschaftsverwaltungs-, Sozial- und Steuerrecht stammen. References in Statuatory Legal Norms to other Statuatory Legal Norms. Substantive Interpretation and Application as well as Jurisdiction and other Procedural Law Issues

Statuatory legal norms contain a large number of references to other statuatory legal norms. Besides issues regarding the requirements provided for by constitutional law and the consequences of defective references, there are issues concerning the interpretation and application as well as jurisdiction and procedural law. The book deals with the latter issues, in particualar, the relevance of the ratio of the legal norms involved and binding effects of administrative and judicial decisions.
Table of Contents
Section Title
Page
Action
Price

Inhaltsverzeichnis

5

I. Einleitung und Fragestellungen

9

II. Materiell-rechtliche Auswirkungen von Verweisungen auf die Auslegung und Anwendung von Ausgangs- und Bezugsnorm

22

1. Grundlagen der Gesetzesauslegung bei Verweisungen

22

2. Feststellung der Existenz von Verweisungen durch Auslegung

23

a) Grundlagen der Feststellung der Existenz von Verweisungen durch Auslegung

23

b) Normgenaue Verweisungen

23

c) Inhaltsbezogene oder stillschweigende Verweisungen über materielles Recht

25

d) Inhaltsbezogene oder stillschweigende Verweisungen über Verfahrensrecht

31

3. Insbesondere Bedeutung des Regelungsziels von Ausgangs- und Bezugsnorm

34

a) Grundlagen der Bedeutung des Regelungsziels von Ausgangs- und Bezugsnorm

34

b) "Gleichlauf" von Regelungszielen

36

c) Gründe für die Berücksichtigung des Regelungsziels von Ausgangs- und Bezugsnorm

40

d) Maßgeblichkeit des Regelungsziels der Ausgangsnorm im Rahmen ihrer Anwendung

42

4. Insbesondere Verweisungen unter Beteiligung von Rechtsnormen aus übergeordnetem Recht bzw. anderen Rechtsordnungen

46

a) Verfassungsrecht

46

b) Unionsrecht

50

c) Völkerrecht, insbesondere Völkervertragsrecht

54

III. Zuständigkeits- und sonstige Verfahrensfragen bei Anwendung von Ausgangs- und Bezugsnorm

60

1. Grundlagen der Zuständigkeits- und sonstigen Verfahrensfragen bei Anwendung von Ausgangs- und Bezugsnorm

60

2. Anwendung von Ausgangs- und Bezugsnorm durch Behörden

63

a) Formen behördlichen Handelns mit Relevanz für die Anwendung von Ausgangs- und Bezugsnorm

63

b) Abstrakt-generelle Verwaltungsvorschriften

64

aa) Rechtsnatur von Verwaltungsvorschriften und maßgebliches Rechtsverständnis

64

bb) Reichweite der Bindung an Verwaltungsvorschriften nach innen

71

(1) Allgemeines

71

(2) Mögliche Gründe für Bindung an Verwaltungsvorschriften anderer Behörden

72

(3) "Rechtsträgerzuständigkeit" im einfachen Recht als Grenze

75

(4) "Ressortzuständigkeit" im einfachen Recht als weitere Grenze

76

(5) "Rechtsträgerzuständigkeit" im Verfassungsrecht

78

(6) "Ressortzuständigkeit" im Verfassungsrecht und Verhältnis zur "Rechtsträgerzuständigkeit"

81

(7) Grenzen der Zuständigkeitsbegrenzung durch das verfassungsrechtlich verankerte "Ressortprinzip"

86

(8) Vollzug von Unions- und Völker‍(vertrags)‌recht

89

(9) Folgerungen aus der Zuständigkeitsbegrenzung für Bindung an Verwaltungsvorschriften bei Verweisungen

90

cc) Reichweite der Bindung an Verwaltungsvorschriften nach außen

91

c) Konkret-individuelle Einzelfallentscheidungen, insbesondere Verwaltungsakte

95

aa) Rechtsnatur von Einzelfallentscheidungen und maßgebliches Rechtsverständnis

95

bb) Bindung an Regelung und Gründe von Einzelfallentscheidungen, insbesondere Verwaltungsakten

99

(1) Allgemeines

99

(2) Mögliche Gründe für Bindung an Einzelfallentscheidungen von Behörden

99

(3) Voraussetzungen der Bindung an Einzelfallentscheidungen

102

(4) Grenzen der Bindungswirkung

109

(5) Vollzug von Unions- und Völker‍(vertrags)‌recht

115

cc) Bindung an Rechtsauffassung der für Einzelfallentscheidung zuständigen Behörde

116

3. Überprüfung der Anwendung von Ausgangs- und Bezugsnorm durch Gerichte

117

a) Rechtsnatur von Einzelfallentscheidungen und maßgebliches Rechtsverständnis

117

b) Bindung an Entscheidung und Gründe von Gerichtsentscheidungen

120

aa) Allgemeines

120

bb) Mögliche Gründe für Bindung an Einzelfallentscheidungen von Gerichten

120

cc) Voraussetzungen der Bindung an Einzelfallentscheidungen

122

dd) Grenzen der Bindungswirkung

124

ee) Vollzug von Unions- und Völker‍(vertrags)‌recht

126

c) Bindung an Rechtsauffassung des für Einzelfallentscheidungen zuständigen Gerichts

128

aa) Allgemeines

128

bb) Gründe für Bindung an Rechtsauffassung des für Einzelfallentscheidungen zuständigen Gerichts

128

cc) Bindung der Verfahrensbeteiligten als Ausgangspunkt

129

dd) Fachgerichtliche Mechanismen zur Vereinheitlichung der Rechtsprechung

130

ee) Insbesondere Gemeinsamer Senat der obersten Gerichtshöfe des Bundes (GmS-OGB)

132

ff) Vereinheitlichung der Rechtsprechung über Gerichte mit Zuständigkeit für Überprüfung der Einhaltung übergeordneten Rechts

136

IV. Folgerungen für Fälle fehlerhafter ("verunglückter") Verweisungen

138

V. Fazit

143

Literaturverzeichnis

144

Sachregister

158