Harassment & stalking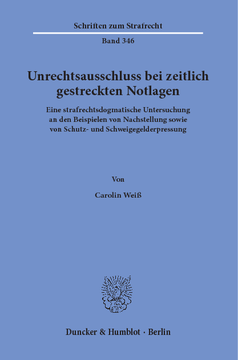 BOOK
Unrechtsausschluss bei zeitlich gestreckten Notlagen
Eine strafrechtsdogmatische Untersuchung an den Beispielen von Nachstellung sowie von Schutz- und Schweigegelderpressung
Schriften zum Strafrecht, Vol. 346
(2019)
Additional Information
Book Details
ISBN

978-3-428-55813-1
978-3-428-15813-3 (print edition)

DOI

https://doi.org/10.3790/978-3-428-55813-1

Edition

1

Language

German

Pages

271

Collections

Subjects
Pricing
Institution

€ 92.00 (incl. local VAT if applicable)

Individual

€ 71.90 (incl. local VAT if applicable)
About The Author
Von 2011 bis 2017 studierte Carolin Weiß Rechtswissenschaft an der Friedrich-Schiller-Universität Jena. 2017 absolvierte sie das Erste Juristische Staatsexamen. 2019 erfolgte die Promotion (Dr. iur.) an der Friedrich-Schiller-Universität Jena. Während der Promotion arbeitete sie als wissenschaftliche Mitarbeiterin am Lehrstuhl für Strafrecht und Strafprozessrecht an der Friedrich-Schiller-Universität Jena sowie in einer Anwaltskanzlei in Jena. Seit April 2019 ist Carolin Weiß Rechtsreferendarin am Oberlandesgericht Nürnberg.
Since April 2019, Carolin Weiß completes her legal clerkship in Nuremberg. In 2019, she was awarded the Doctor of Laws at the Friedrich-Schiller-University of Jena. During her doctorate, she worked as a research assistant at the chair of criminal law and criminal procedure law at the Friedrich-Schiller-University of Jena as well as in a law firm in Jena. In 2017, Carolin Weiß completed her first state examination. From 2011 to 2017, she studied law at the Friedrich-Schiller-University of Jena.
Abstract
Carolin Weiß zeigt an den Beispielen der Nachstellung sowie der Schutz- und Schweigegelderpressung auf, dass auf Rechtfertigungsebene zwei dogmatische Kategorien zu unterscheiden sind: Der notwehrtypischen Augenblickssituation sind Fälle des zeitlich gestreckten Geschehensverlaufes gegenüberzustellen. Es wird untersucht, ob die Abwehrmaßnahme des Opfers trotz der dann bestehenden zeitlich gestreckten Notlage nach § 32 StGB zu rechtfertigen ist oder ob nicht vielmehr die Heranziehung des § 34 StGB oder gar einer außergesetzlichen Regelung sachgerechte Ergebnisse ermöglicht. Zudem wird untersucht, welche allgemeingültigen Aussagen über die Rechtfertigung von Abwehrmaßnahmen des Opfers zu treffen sind, wenn die zeitliche Streckung des Geschehensverlaufes angemessen berücksichtigt wird. Die Autorin stellt heraus, welche Unterschiede sich hier zur Rechtfertigung in Augenblickssituationen ergeben und inwiefern die Kategorisierung sich somit insgesamt auf den Unrechtsausschluss auswirkt. »Justification Concerning Continuous Plights. A Penal-Dogmatic Investigation on the Examples of Stalking and Blackmail (Protection Money, Hush Money)«

Carolin Weiß depicts that the dogmatic categories ›instantaneous situations‹ and ›continuous situations‹ are to be distinguished at the level of justification. This differentiation concerns the criterion of presence in the context of § 32 StGB and § 34 StGB, impacts the application of these rules and influences the necessity of a self-defense and the extent of admissible defense.
Table of Contents
Section Title
Page
Action
Price

Vorwort

7

Inhaltsverzeichnis

9

Abkürzungsverzeichnis

15

A. Einleitung

19

B. Problematik der atypischen Rechtfertigungssituation

23

I. Augenblickssituation als Leitbild der Notwehr

23

II. Zeitlich gestreckter Geschehensverlauf

24

1. Formale Charakterisierung der Tat

24

a) Schutz- und Schweigegelderpressung

24

aa) Deliktsstruktur

26

(1) Drohung mit einem empfindlichen Übel

26

(a) Erlaubtes Verhalten als Gegenstand der Drohung

27

(b) Wirkung der Drohung

29

(2) Psychische Zwangslage des Opfers infolge der Drohung

30

bb) Konkrete Abwehrmaßnahmen des Opfers

31

(1) Schutzgelderpressung

31

(2) Schweigegelderpressung

32

b) Nachstellung

35

aa) Deliktsstruktur

36

(1) Verhalten des Täters

36

(a) Mögliche Verhaltensweisen gemäß § 238 Abs. 1 StGB

36

(b) Beharrlichkeit des Täters

39

(aa) Begriffsverständnis

40

(bb) Temporale Anforderungen

41

(2) Psychische Zwangslage des Opfers infolge der Beharrlichkeit des Täters

44

bb) Durchführung eines Interviews mit einem Stalkingopfer

45

(1) Verübte Nachstellungshandlungen

45

(2) Auswirkungen der Belästigungen auf das Opfer

47

cc) Konkrete Abwehrmaßnahmen des Opfers

49

c) Gegenüberstellung der zeitlich gestreckten Geschehensverläufe

51

d) Schlussfolgerung

52

2. Besonderheit der zeitlich gestreckten Notlage

52

a) Darstellung der atypischen Notlage

52

aa) Schutz- und Schweigegelderpressung

53

(1) Angegriffene Rechtsgüter

53

(a) Willensfreiheit

54

(aa) Konkretisierung des Rechtsgutes

55

(bb) Notwehrfähigkeit des Rechtsgutes

58

(cc) Angriff des Schutz- oder Schweigegelderpressers

63

(b) Vermögen

64

(c) Rechtsgüter bezüglich des angedrohten Übels

65

(aa) Ansehen des Schweigegelderpressten

66

(bb) Diskretionsinteresse des Schweigegelderpressten

68

(cc) Interesse des Schweigegelderpressten, nicht strafrechtlich verfolgt zu werden

70

(dd) Leib, Leben und Eigentum des Schutzgelderpressten

74

(d) Zusammenfassung

75

(2) Gegenwärtigkeit des erpresserischen Angriffs

75

(a) Vorliegen eines künftigen Angriffs hinsichtlich des Vermögens und der Rechtsgüter bezüglich des angedrohten Übels

77

(b) Andauernde Rechtsgutsverletzung hinsichtlich der Willensfreiheit

79

bb) Nachstellung

85

(1) Angegriffenes Rechtsgut

85

(a) Konkretisierung des Rechtsgutes

85

(b) Tatgeschehen vor Eintritt der Beharrlichkeit

88

(c) Tatgeschehen nach Eintritt der Beharrlichkeit

90

(2) Gegenwärtigkeit des Angriffs

93

(a) Andauernde Rechtsgutsverletzung

93

(b) Einwände gegen die Annahme einer andauernden Rechtsgutsverletzung

98

cc) Zusammenfassung

101

b) Auswirkungen der atypischen Notlage auf Abwehrmaßnahmen im Allgemeinen

101

III. Zusammenfassung

102

C. Rechtliche Behandlung des Unrechtsausschlusses bei zeitlich gestreckten Notlagen

103

I. Lösungsansätze

103

1. Lösungsansätze de lege lata

103

a) Unterscheidung zweier Notwehrtypen im Rahmen des § 32 StGB

104

aa) Augenblickssituation

104

bb) Zeitlich gestreckter Geschehensverlauf

105

(1) Anerkennung des Dauerangriffs

105

(2) Erhöhte Anforderungen an Erforderlichkeit der Notwehrhandlung

106

(3) Eigenständige Fallgruppe im Rahmen der Gebotenheit der Notwehrhandlung

107

(a) Ratio des § 32 StGB

108

(b) Begründung einer eigenständigen Fallgruppe

109

(c) Einschränkung des Notwehrrechts

111

(d) Zusammenfassung

113

cc) Schlussfolgerung

113

b) Rechtfertigender Notstand, § 34 StGB

114

aa) Dauergefahr

114

(1) Schutz- und Schweigegelderpressung

115

(2) Nachstellung

118

(3) Zusammenfassung

120

bb) Erhöhte Anforderungen an fehlende anderweitige Abwendbarkeit der Gefahr

120

cc) Zeitliche Streckung als Interessenabwägungsfaktor

121

2. Außergesetzlicher Lösungsansatz

121

II. Merkmal der Gegenwärtigkeit als entscheidendes Kriterium der Problemlösung

123

1. Auslegung der Gegenwärtigkeit in zeitlicher Hinsicht

123

a) Erfordernis einer akuten Bedrängnissituation im Rahmen des § 32 StGB

124

b) Notwendigkeit einer sofortigen Rettungshandlung im Rahmen des § 34 StGB

125

c) Zusammenfassung

128

2. Begründung der unterschiedlichen Auslegung der Gegenwärtigkeit

128

a) Wortlaut der Normen

128

b) Ratio der Vorschriften

130

c) Reichweite der Befugnisse des sich wehrenden Opfers

131

3. Schlussfolgerung

133

III. Bewertung der Lösungsansätze

134

1. Ablehnung zweier Notwehrtypen

134

a) Aufhebung der engen zeitlichen Grenze des Notwehrrechts

134

aa) Allgemeines Begriffsverständnis hinsichtlich des gegenwärtigen Angriffs

134

bb) "Schneidigkeit" des Notwehrrechts

135

b) Angleichung von § 32 StGB und § 34 StGB

136

c) Schlussfolgerung

137

2. Anwendung des § 34 StGB

138

a) Zuschnitt des Rechtfertigungsgrundes auf zeitlich gestreckte Notlagen

139

b) Keine Verharmlosung der Situation

140

aa) Deutung als Dauergefahr

140

bb) Schutzwürdigkeit des Opfers

141

cc) Psychische Belastung des Opfers

142

c) Angemessene Rigorosität des Lösungsansatzes

144

3. Fehlendes Bedürfnis für außergesetzliche Regelung

145

IV. Ergebnis

145

D. Konkrete Auswirkungen der zeitlich gestreckten Notlage auf die Rechtfertigungshandlung

147

I. Anderweitige Abwendbarkeit der Gefahr aufgrund möglicher Inanspruchnahme staatlicher Hilfe?

147

1. Staatliches Gewaltmonopol

148

2. Schutzgelderpressung

151

3. Schweigegelderpressung

154

a) Inanspruchnahme staatlicher Hilfe bei Ankündigung einer Strafanzeige

155

aa) Eingriff in die Selbstbelastungsfreiheit des Erpressten

156

(1) Persönlicher Geltungsbereich der Selbstbelastungsfreiheit

157

(2) Sachlicher Geltungsbereich der Selbstbelastungsfreiheit

160

bb) Unzumutbarkeit der Inanspruchnahme staatlicher Hilfe

162

(1) Keine angemessene Kompensation des Eingriffs

164

(a) Verfahrenseinstellung gemäß § 154c Abs. 1 StPO

164

(b) Anerkennung eines Verwertungsverbotes

166

(2) Zurückdrängung des öffentlichen Interesses an einer wirksamen Strafverfolgung

169

cc) Schlussfolgerungen

170

(1) Fehlende anderweitige Abwendbarkeit der Gefahr

170

(2) Abwehr der strafrechtlichen Verfolgung als notwendige Nebenfolge der Erpressungsabwehr

171

(3) Heimlichkeit der Abwehrmaßnahmen

172

b) Inanspruchnahme staatlicher Hilfe bei Ankündigung der Offenbarung sonstiger kompromittierender Tatsachen

173

aa) Eingriff in das Recht des Erpressten auf informationelle Selbstbestimmung

173

bb) Zumutbarkeit der Inanspruchnahme staatlicher Hilfe

174

(1) Angemessene Kompensation des Eingriffs

176

(a) Beschränkung des Fragerechts nach § 68a Abs. 1 StPO

176

(b) Ausschluss der Öffentlichkeit nach § 171b Abs. 1 S. 1, 2, Abs. 3 S. 1 GVG

178

(c) Verpflichtung zur Geheimhaltung von Tatsachen nach § 174 Abs. 3 S. 1 GVG

179

(d) Verschwiegenheitspflicht gemäß § 67 Abs. 1 BBG bzw. § 37 Abs. 1 BeamtStG

180

(2) Vorrang des öffentlichen Interesses an einer wirksamen Strafverfolgung

181

(3) Irrelevante Risiken und Gefahren aufgrund praktischer Erwägungen

182

(a) Bekanntwerden des Strafverfahrens im Familien- und Berufsleben des Opfers

183

(b) Spätere Offenbarung der kompromittierenden Tatsachen durch den Erpresser

184

cc) Zusammenfassung

185

c) Konsequenzen

187

4. Nachstellung

188

a) Zivilrechtliche Schutzmöglichkeiten

189

aa) Schutzmaßnahmen gemäß § 1 Abs. 1, Abs. 2 S. 1 Nr. 2b GewSchG

189

bb) Schutzmaßnahmen gemäß §§ 823 Abs. 1, 1004 Abs. 1 S. 2 BGB analog

194

b) Polizeirechtliche Schutzmöglichkeiten

196

aa) Platzverweisung, Wohnungsverweisung, Aufenthaltsverbot

196

bb) Ingewahrsamnahme

198

cc) Sicherstellung, Verwahrung

199

dd) Annäherungs- und Kontaktverbot, Gefährderansprache

199

c) Strafanzeige des Opfers

201

aa) Sensibilisierung der Polizeibeamten

204

bb) Enge Zusammenarbeit zwischen Opfer und Strafverfolgungsbehörde

205

cc) Einführung weitergehender polizeilicher Interventionsmöglichkeiten

206

dd) Schlussfolgerung

207

5. Zusammenfassung

208

II. Ausmaß der zulässigen Abwehrmaßnahmen gemäß der Interessenabwägung

208

1. Relevante Interessenabwägungsfaktoren

209

2. Verhaltensregeln für das mit einer Strafanzeige erpresste Chantageopfer

210

a) Gewaltlose Abwehrmaßnahmen

211

b) Leichte Gewaltanwendung

213

c) Schwere Gewaltanwendung, Tötung

215

3. Zusammenfassung

219

III. Abwehrprovokation bei erfolgter Zuspitzung der zeitlich gestreckten Notlage

220

1. Urteil des LG Hamburg vom 31.08.2016 (Az.: 601 Ks 4 / 16) als Sonderfall einer Schutzgelderpressung

220

a) Sachverhalt

221

b) Rechtfertigung der Tötungshandlung

222

2. Grundfall der Schutzgelderpressung

224

3. Nachstellung

229

4. Schweigegelderpressung

230

5. Zusammenfassung

231

E. Fazit

232

Anhang

235

Literaturverzeichnis

252

Stichwortverzeichnis

269