Regulatory compliance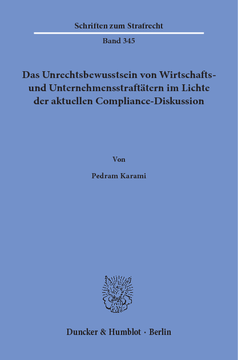 BOOK
Das Unrechtsbewusstsein von Wirtschafts- und Unternehmensstraftätern im Lichte der aktuellen Compliance-Diskussion
Schriften zum Strafrecht, Vol. 345
(2019)
Additional Information
Book Details
ISBN

978-3-428-55769-1
978-3-428-15769-3 (print edition)

DOI

https://doi.org/10.3790/978-3-428-55769-1

Edition

1

Language

German

Pages

184

Collections

Subjects
Pricing
Institution

€ 70.00 (incl. local VAT if applicable)

Individual

€ 53.90 (incl. local VAT if applicable)
About The Author
Pedram Karami studierte von 2008 bis 2014 Rechtswissenschaft mit dem Schwerpunkt Kriminologie an der Goethe-Universität in Frankfurt am Main. Nach erfolgreichem Absolvieren des juristischen Vorbereitungsdienstes im Bezirk des Oberlandesgerichts Frankfurt am Main, war er promotionsbegleitend als Wissenschaftlicher Mitarbeiter bei der Rechtsanwaltskanzlei DLA Piper UK LLP beschäftigt. In den Jahren 2018/2019 absolvierte er einen LL.M. an der Columbia University in New York. Seit 2019 ist er Rechtsanwalt bei der Rechtsanwaltskanzlei Clifford Chance Deutschland LLP im Bereich des Wirtschaftsstrafrechts tätig.
Pedram Karami studied law with a focus on criminology at the Goethe University in Frankfurt am Main from 2008 until 2014. After successfully completing his legal internship in the district of the Higher Regional Court of Frankfurt am Main, he worked as a research assistant at the law firm DLA Piper UK LLP during his doctoral studies. In 2018/2019 he completed an LL.M. at the Columbia University in New York City. He joined Clifford Chance Deutschland LLP in 2019 as a lawyer in the area of white-collar crime.
Abstract
Mit wachsender Bedeutung des Wirtschaftsstrafrechts in der strafrechtlichen Praxis sowie in der Strafrechtswissenschaft gerät auch der Verbotsirrtum wieder in den Fokus der aktuellen Diskussion. Wechselnde gesetzgeberische Strategien im Gebiet des Wirtschaftsstrafrechts mit seinen zum Teil höchst speziellen Tatbeständen und zahlreichen »Grauzonen« legen es nahe, einen Verbotsirrtum in Betracht zu ziehen. Die vorliegende Arbeit analysiert die teilweise konträren Argumente der Rechtsprechung und der Literatur und stellt eine eigene Lösung vor.

Ein weiterer Schwerpunkt liegt in der Unterscheidung des strafrechtsdogmatischen Begriffs des Unrechtsbewusstseins von seinem kriminologischen Pendant. Trotz der Unterschiede zeigt diese Arbeit, dass sich die Begriffe wechselseitig beeinflussen. Die Arbeit diskutiert zudem unternehmerische Selbstregulierungsmechanismen, um dem Problem eines defizitären Unrechtsbewusstseins Einhalt zu gebieten. »The Deficient Awareness of White-Collar Criminals in the Light of the Current Compliance Discussion«

White-collar crime faces old and new challenges in criminal law practice as well as in the field of criminal science. With regard to the omnipresent »grey areas« in this very complex field there is also a lot of room for errors. This thesis analyses the lack of awareness of white-collar criminals and offers possible solutions to strengthen the awareness of delinquent conduct by white-collar criminals with reference to the current corporate compliance discussion in Germany.
Table of Contents
Section Title
Page
Action
Price

Danksagung

7

Inhaltsverzeichnis

9

A. Einleitung

13

B. Das Unrechtsbewusstsein als Kernelement der Schuld

16

I. Der Schuldbegriff

16

1. Schuld als subjektives Element der Tathandlung

17

2. Schuld als normatives Konstrukt

18

3. Die Schuld als Funktion

19

4. Schuld als gesellschaftlicher Diskurs

19

5. Zusammenfassung und Stellungnahme

20

II. Das Unrechtsbewusstsein als Gegenstand eines normativen Schuldverständnisses

23

1. Historische Entwicklung des Verbotsirrtums in der Gesetzgebung

24

a) Die Entwicklung im römischen Recht

25

b) Das Verständnis des Verbotsirrtums im Sinne der mittelalterlichen Stadtrechte

27

c) Kodifikation der Unrechtskenntnis ab dem 19. Jahrhundert bis zum RStGB

28

d) Zwischenergebnis und Stellungnahme

29

2. Die Entwicklung der Rechtsprechung seit 1871

30

a) Rechtsprechung des Reichsgerichts

30

b) Beschluss des Großen Senats des Bundesgerichtshofs vom 18.03.1952

32

3. Der Verbotsirrtum im Bereich der Rechtslehre – eine (dogmatische) Einordnung des Unrechtsbewusstseins

33

a) Die Vorsatztheorie(n)

33

b) Schuldtheorie(n)

35

c) Zusammenfassende Kritik

36

aa) Argumente gegen die Vorsatztheorien

37

bb) Argumente gegen die Schuldtheorien

38

cc) Stellungnahme

39

4. Kodifikation des Verbotsirrtums i.S.v. § 17 StGB

40

5. Kritische Würdigung der reichsgerichtlichen Rechtsprechung vor dem Hintergrund außerkernstrafrechtlicher Bestimmungen

41

a) Ablehnung der Rechtsprechung des Reichsgerichts – Kohlrauschs Kritik am außerstrafrechtlichen Irrtum

42

b) Die Befürworter der reichsgerichtlichen Rechtsprechung – die Diskussion des außerstrafrechtlichen Irrtums in neuem Gewand

43

aa) Ausgangspunkt E. Mezger (1951)

43

bb) Die Einzelfallgerechtigkeit des Reichsgerichts nach H. Mayer (1952)

44

cc) Außertatbestandliche Merkmale – Auffassungen vor dem Hintergrund normativer Tatbestandsmerkmale und institutioneller Tatsachen

45

(1) Herzberg und Blei im Anschluss an die reichsgerichtliche Irrtumsdisjunktion

46

(2) Burkhardt – institutionelle und natürliche Tatsachen

47

(3) Haft – gegenstands- und begriffsbezogener Irrtum

49

(4) Schlüchter – teleologisch reduzierte Sachverhaltssicht

50

(5) Kuhlen (1987) – statische und dynamische Verweise

51

(6) Kindhäuser – Sinn- und Wahrheitsirrtum

53

(7) Puppe – Irrtum über institutionelle Tatsachen

55

(8) Herzbergs neue Konzeption

57

(9) Die Konzeption Toepels

58

c) Kritik und Stellungnahme

59

aa) Kritische Würdigung der Literaturansichten

60

bb) Persönliche Stellungnahme

66

III. Gegenstand des Unrechts(-bewusstseins) nach heutigem Verständnis

69

1. Sitten- und Moralvorstellung

70

2. Sozialschädlichkeit der Handlung

72

3. Rechtliches Verbot

73

a) Weiter Unrechtsbegriff

74

b) Enger Unrechtsbegriff unter Rückgriff auf die Lehre Feuerbachs

75

c) Rechtsnatur der sanktionsbewehrten Norm im Rahmen des engen Unrechtsbegriffs

77

d) Zusammenfassende Kritik und Stellungnahme

77

e) Der enge Unrechtsbegriff als Synthese von Vorsatz- und Schuldtheorie

82

C. Das Unrechtsbewusstsein von Wirtschafts- und Unternehmensstraftätern – Ursachen und Behandlung

85

I. Ursachen des defizitären Unrechtsbewusstseins von Wirtschaftsstraftätern im Lichte der Begriffstheorie und Kriminologie

85

1. Definitorische Schwierigkeiten des Wirtschaftsstrafrechts

85

2. Unternehmenskriminalität – Erscheinung und Behandlung

87

3. Kriminologische Betrachtungsweise des Wirtschafts- und Unternehmensstrafrechttäters

89

a) Sozialprofil des Wirtschaftsstraftäters

90

b) Phänomenologische Charakteristika von Wirtschaftsstraftaten

91

c) Die Entwicklung eines defizitären (kriminalsoziologischen) Unrechtsbewusstseins im Lichte der Kriminalitätstheorien

94

aa) Lerntheoretischer Ansatz der differenziellen Kontakte

95

bb) Sozialstruktureller Ansatz der Anomie-Theorie

97

cc) Subkulturtheorien

98

dd) Neutralisierungstheorie

99

d) Konkrete kriminologische Erklärungsversuche der Wirtschaftsdelinquenz

101

aa) Die Fraud Triangle-Theorie ("Betrugsdreieck")

102

bb) Leipziger Verlaufsmodell der Wirtschaftskriminalität

103

e) Zusammenfassung und Stellungnahme

104

II. Der Verbotsirrtum im Wirtschafts- und Nebenstrafrecht

107

1. Grundsätzliche Behandlung durch die Rechtsprechung

108

a) Die reichsgerichtliche Irrtumsdisjunktion

108

b) Die neuere Rechtsprechung

108

c) Die Steuerspruchtheorie des Bundesgerichtshofs

110

2. Differenzierte Behandlung durch die Literatur

111

a) Vertreter der Schuldtheorie

111

aa) Warda

111

bb) Jescheck/Weigend

112

cc) Meyer

113

dd) Jakobs

113

b) Vertreter der Vorsatztheorie

114

aa) Tiedemann

114

bb) Puppe

116

cc) Fakhouri Gómez

118

c) Der Mittelweg der "weicheren Schuldtheorie" nach Roxin

119

3. Kritik und Stellungnahme

122

a) Würdigung der schuldtheoretischen Argumente

122

b) Würdigung der vorsatztheoretischen Argumente

124

c) Persönliche Stellungnahme

127

III. Die Erziehung des Unrechtsbewusstseins durch unternehmerische Selbstregulierungsmechanismen

131

1. Corporate Compliance als unternehmerische Selbstregulierung de lege lata

132

2. Der Einfluss von Compliance-Maßnahmen auf das Unrechtsbewusstsein

136

a) Compliance-Kultur – Begriff und rechtliche Grundlagen

137

b) Der Einfluss auf subkulturell geprägte Wertvorstellungen und Auswirkungen auf das Unrechtsbewusstsein

139

3. Die Umsetzung von Compliance-Mechanismen in der Praxis

141

a) Grundelemente von Compliance-Systemen – ein Versuch der Standardisierung

142

aa) IDW PS 980 Prüfungsstandard

143

bb) DIN ISO 19600:2014

144

cc) Zwischenfazit und Stellungnahme

145

b) Verrechtlichung von Compliance-Organisationen

147

aa) Große Lösung: Entwurf eines Gesetzes zur Einführung der strafrechtlichen Verantwortlichkeit von Unternehmen und sonstigen Verbänden

147

bb) Kleine Lösung: Berücksichtigung von Compliance-Bemühungen nach §§ 30, 130 OWiG

149

cc) Parastrafrechtliche Bestrebungen: der Folgenverantwortungsdialog

152

dd) Kritische Stellungnahme

154

c) Persönlicher Ansatz: Dialogisierte staatlich-regulierte Selbstregulierung

156

aa) Gesetzliche Verpflichtung zur Einführung von Compliance – Anreiz zur Selbstregulierung

157

bb) Schaffung retrospektiver und prospektiver Anreize

158

(1) Retrospektive Komponente

158

(2) (Dialogisierte) Prospektive Komponente

159

cc) Inhaltliche Vorgaben an Selbstregulierung durch staatlich regulierten Rahmen

162

D. Schlussbetrachtung

165

Literaturverzeichnis

166

Sachverzeichnis

183