Criminal procedure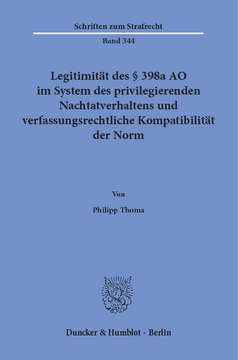 BOOK
Legitimität des § 398a AO im System des privilegierenden Nachtatverhaltens und verfassungsrechtliche Kompatibilität der Norm
Schriften zum Strafrecht, Vol. 344
(2019)
Additional Information
Book Details
ISBN

978-3-428-55820-9
978-3-428-15820-1 (print edition)

DOI

https://doi.org/10.3790/978-3-428-55820-9

Edition

1

Language

German

Pages

288

Collections

Subjects
Pricing
Institution

€ 92.00 (incl. local VAT if applicable)

Individual

€ 71.90 (incl. local VAT if applicable)
About The Author
Philipp Thoma studierte Rechtswissenschaft und parallel Betriebswirtschaftslehre an der EBS Universität für Wirtschaft und Recht. 2013 absolvierte er ein Auslandssemester an der University of Adelaide. 2016 legte er die Erste Juristische Staatsprüfung (Hessen) ab. 2017 schloss er sein Masterstudium erfolgreich ab und begann seine Promotionsarbeit an der Universität Potsdam unter der Betreuung von Prof. Dr. Georg Steinberg. Derzeit befindet er sich im juristischen Vorbereitungsdienst am OLG Karlsruhe mit Station in Freiburg i.Br.
Philipp Thoma studied law and business at the EBS University of business and law. In 2013 he spent a term abroad at the University of Adelaide. In 2016 he passed the first state exam (Erste Juristische Staatsprüfung) in Hessen. He finished his master's degree in business 2017 and started his doctorate at the University of Potsdam under the supervision of Prof. Dr. Georg Steinberg. Currently he is located in Freiburg i.Br. due to the preparation for the second state exam (juristischer Vorbereitungsdienst) at the OLG Karlsruhe.
Abstract
Der Gesetzgeber vollzog 2011 einen Paradigmenwechsel, indem er ergänzend zur materiellen Selbstanzeigeregelung eine verfahrensrechtliche Norm, namentlich § 398a AO, implementierte. Es handelt sich um eine Kompromissstruktur, die insbesondere versucht, staatspolitisch motivierte Interessen zu berücksichtigen. Dass dadurch rechtliche Spannungsfelder entstehen, liegt auf der Hand. Vor diesem Hintergrund werden einleitend – unter dem Blickwinkel der gesetzgeberischen Intention − die einzelnen Regelungsteile des § 398a AO punktuell erarbeitet, um im Anschluss bewerten zu können, inwieweit die Norm mit dem System des privilegierenden Nachtatverhaltens und der Verfassung kompatibel ist. Insofern hat sich herauskristallisiert, dass § 398a AO nicht nur eine komplizierte Vorschrift ist, sondern darüber hinaus sowohl inhaltliche, rechtsdogmatische sowie rechtssystematische Verwerfungen mit sich bringt. Die gefundenen Ergebnisse sprechen letztlich für eine Änderung der bestehenden Regelung, zugleich aber nicht für eine Abschaffung. »Legitimacy of § 398a AO in the System of Privileged Statues in Criminal Law and the Constitutional Compatibility of the Norm«

The legislator implemented § 398a AO in 2011 and remodelled it in 2015. While the initiative was mostly driven by political reasons it its rather crucial to have a closer look on the legal perspective. For this reason, the work outlines in the first chapters the content of the statue to set the legal framework. It continues raising the question, if there are any frictions with the constitution followed up by an overall comparison to similar privileged laws and their legal backgrounds.
Table of Contents
Section Title
Page
Action
Price

Vorwort

5

Inhaltsverzeichnis

7

Abkürzungsverzeichnis

13

Einführung

19

1. Kapitel: Grundlagen zu § 398a AO

26

A. Entstehungsgeschichte

26

I. Schwarzgeldbekämpfungsgesetz

26

II. Gesetz zur Änderung der AO und des EGAO

27

B. Rechtsnatur: Prozessuales Strafverfolgungshindernis und Einstellungsnorm

29

C. Ziele

31

D. Rechtsgut und Deliktsnatur der Steuerhinterziehung

32

2. Kapitel: Der Regelungsgehalt des § 398a AO auf Voraussetzungsebene

36

A. Tatbestandsvoraussetzungen

36

I. Wirksame Berichtigungserklärung

37

1. Allgemeines

38

2. Anforderungen an die Erklärung

39

3. Vollständigkeit der Selbstanzeige

40

a) Sachlich

40

b) Zeitlich

42

c) Teilselbstanzeigen

43

4. Zwischenergebnis

45

II. Rechtzeitige Berichtigungserklärung

46

III. Vorliegen von § 371 Abs. 2 S. 1 Nr. 3 und / oder Nr. 4 AO

46

1. § 371 Abs. 2 S. 1 Nr. 3 AO

46

a) Die Betragsgrenze

47

b) Sachlicher Anknüpfungspunkt zur Bestimmung der 25.000 Euro

48

c) Verhältnis zum deliktischen Gefährdungscharakter

48

d) Kompensationsverbot

51

aa) Inhalt

51

bb) Berücksichtigung?

54

cc) Zwischenfazit

56

e) Steuerhinterziehungen auf Zeit: Nominalbetrag oder Steuerschaden?

56

f) Tatbezogenheit des § 371 Abs. 2 S. 1 Nr. 3 AO

57

2. § 371 Abs. 2 S. 1 Nr. 4 AO

61

a) Berücksichtigung unbenannter besonders schwerer Fälle

63

b) Sperrwirkung trotz widerlegbarer Indizwirkung?

63

c) Versuchte Regelbeispiele

64

IV. Fristgerechte Nachentrichtung der zu eigenen Gunsten hinterzogenen Steuern nebst Zinsen (§ 398a Abs. 1 Nr. 1 AO)

65

1. Nachzahlungsverpflichteter

65

2. Nachzahlungsumfang

67

a) Hinterzogene Steuern

67

aa) Einordnung des Begriffs

67

bb) Verhältnis zum deliktischen Gefährdungscharakter

69

cc) Berücksichtigung des Kompensationsverbots?

69

dd) Tatbezogenheit

70

ee) Zeitlicher Bezugspunkt

70

b) Hinterziehungszinsen

72

c) Vollständigkeit

73

3. Nachzahlung innerhalb angemessener Frist

74

4. Zusammenfassung

76

V. Fristgerechte Zahlung eines zusätzlichen Geldbetrags (§ 398a Abs. 1 Nr. 2 AO)

77

1. Zahlungsverpflichteter

78

2. Bestimmung des Geldbetrages

78

a) Aufbau des § 398a Abs. 1 Nr. 2 AO

78

b) Geldbetrag

79

aa) Sachlicher Bezugspunkt

79

bb) Verhältnis zum deliktischen Gefährdungscharakter

80

cc) Zeitlicher Bezugspunkt

81

dd) Vollständigkeit

81

c) Hinterziehungsbetrag

82

aa) Bezugspunkt Taterfolg

82

bb) Berücksichtigung des Kompensationsverbots?

83

cc) Tatbezogenheit

84

dd) Schwellenwerte

87

d) Hinterzogene Steuer

88

aa) Bezugspunkt Taterfolg

88

bb) Beachtung des § 370 Abs. 4 S. 3 AO

89

cc) Tatbezogenheit

95

e) Zwischenfazit

95

3. Zahlung innerhalb angemessener Frist

96

B. Besonderheiten bei mehreren Tatbeteiligten

96

I. Anwendung

96

II. Umfang der Verpflichtung nach § 398a Abs. 1 Nr. 1 AO

97

III. Umfang der Verpflichtung nach § 398a Abs. 1 Nr. 2 AO

98

3. Kapitel: Die Rechtsfolgen des § 398a AO

102

A. Verfahrenseinstellung

102

I. Persönlicher Umfang

103

II. Sachlicher Umfang

103

III. Art und Weise der Einstellung

104

B. Wiederaufnahmemöglichkeit nach § 398a Abs. 3 AO

105

I. Strafklageverbrauch

105

1. Ermittlungsverfahren

105

2. Gerichtliches Verfahren

107

II. Wiederaufnahmeprämissen

107

III. Folgen

110

C. Keine Erstattung "wirkungsloser" Zuschlagsbeträge

110

D. Anrechnung auf Geldstrafen

112

I. Grundregelung

112

II. Folgen

114

4. Kapitel: § 398a AO: eine verfassungsrechtlich zu beanstandende Norm?

116

A. Vereinbarkeit mit dem Schuldprinzip

117

I. Echte Kriminalstrafe?

118

II. Strafähnlicher Charakter?

119

1. Zinsen

119

2. Geldbetrag

120

III. Zwischenfazit

123

B. Rechtsstaatsprinzip – Übermaßverbot

124

I. Zinszahlung

125

II. Hinzutretender Geldbetrag

127

1. Abstrakte Betrachtung

127

2. Bereich der relativierten Hinterziehungen

129

3. Zwischenergebnis

133

C. Art. 14 GG

133

D. Richtervorbehalt und Gewaltenteilungsprinzip

135

E. Ne bis in idem

136

I. Nationale Ebene

136

II. Europäische Ebene

137

F. Art. 3 Abs. 1 GG

139

I. Ungleichbehandlung

140

II. Verfassungsrechtlicher Maßstab

142

III. Verfassungsrechtliche Rechtfertigung

143

G. Zusammenfassung

147

5. Kapitel: Legitimation: § 398a AO als Bestandteil des privilegierenden Nachtatverhaltenssystems?

148

A. Hinführung

148

B. Rechtfertigungsansätze

149

I. Fiskalpolitische Rechtfertigung

149

1. Ausreichendes Interesse für die Begründung von Sicherheit vor Strafverfolgung?

150

2. Die Mehreinnahmen aufgrund des § 398a AO als zentrales Argument

153

3. Der Anreizeffekt als Element des fiskalischen Erklärungsansatzes

157

4. Zwischenergebnis

158

II. Kriminalpolitische Erwägungen

159

1. Hinführung zur Steuerehrlichkeit

159

2. Ermittlungsdefizit

164

a) Transnationale Betrachtung

165

b) Nationale Betrachtung

168

c) Zusammenfassung

169

3. Zwischenfazit

170

III. Strafrechtssystematische Betrachtung

171

1. § 398a AO als Schadenswiedergutmachung und Täter-Opfer-Ausgleich

172

2. § 398a AO als Umkehrleistung des Täters

177

a) Vergleich zu § 24 StGB

178

aa) Freiwilligkeit

178

bb) Einbeziehung deliktischer Stadien

182

cc) Rechtsfolgenvorteil

183

dd) Zusammenfassung

183

b) Vergleich zu Vorschriften der tätigen Reue

183

aa) Bestandsaufnahme

184

(1) §§ 84 Abs. 5 Hs. 2, 98 Abs. 2 S. 2, 129 Abs. 7 Hs. 2, 129a Abs. 7 StGB

184

(2) §§ 264 Abs. 5, 264a Abs. 3, 265b Abs. 2, 298 Abs. 3 StGB

187

(3) §§ 149 Abs. 2, 3, 275 Abs. 3 StGB

189

(4) § 261 Abs. 9 S. 1 StGB

190

(5) § 266a Abs. 6 StGB

191

(6) § 306e Abs. 2 StGB

194

(7) §§ 314a Abs. 3, 320 Abs. 3 StGB

197

(8) § 330b Abs. 1 S. 2 StGB

200

(9) Sonstige Regelungen

201

bb) Wertende Gegenüberstellung

202

(1) Deliktsnatur

202

(2) Einbeziehung deliktischer Stadien

203

(3) Rechtsgutsverletzung

204

(4) Unrechtsgehalt

205

(5) Voraussetzungen

207

cc) Zwischenfazit

210

3. Vergleich zu §§ 153, 153a StPO

211

a) Struktur des § 153a StPO

212

b) Gegenüberstellung

215

aa) Anwendungsbereich

215

bb) Einstellungsverfahren

216

cc) Rechtsfolgen

217

c) Zwischenfazit

218

4. Zwischenergebnis

219

IV. Strafrechtsdogmatische Betrachtung

220

1. Wegfall der Strafe durch Wiedergutmachung

220

a) Strafwürdigkeit und Strafbedürftigkeit

220

b) Entfall durch Wiedergutmachung

223

aa) Resozialisierung

224

bb) Normbekräftigung

226

cc) Schuldausgleich

228

dd) Abschreckung

231

c) Ergebnis

232

2. § 370 AO ein Delikt mit abgeschwächter Strafbedürftigkeit?

233

3. Zwischenfazit

235

V. Nemo tenetur – verfassungsinduzierte Rechtfertigung?

235

1. Mitwirkungspflicht im Steuerrecht

236

2. Die Kollision mit der Selbstbelastungsfreiheit

236

3. Konfliktbeseitigung durch § 398a AO

238

a) Einwand des § 371 Abs. 2 AO

238

b) Einwand der Zahlungsunfähigkeit

239

c) Einwand des Geldbetrages

240

d) Zwischenergebnis

241

4. Ausreichende Sicherung ohne § 398a AO?

241

a) Schutzregelungen

241

b) Unzulänglichkeit der Regelungen

242

5. Alternativlösungen zu § 398a AO

243

6. Zwischenfazit

247

C. Gesamtergebnis

248

D. Rechtliche Konsequenz?

254

6. Kapitel: Ausblick: § 398a AO – de lege ferenda

256

A. Zusammenfassung der Ergebnisse

256

B. Änderungsempfehlungen

263

I. § 398a Abs. 1 Nr. 2 AO (hinterzogene Steuer)

263

II. § 398a Abs. 4 S. 2 AO

264

III. Subjektive Unzweideutigkeit

264

IV. Deckelung

265

V. § 398a Abs. 1 Nr. 1 AO

268

C. Die Norm de lege ferenda

269

Literaturverzeichnis

271

Stichwortverzeichnis

285