Arbitration, mediation & alternative dispute resolution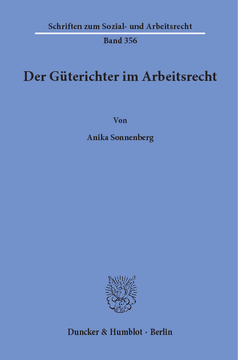 Additional Information
Book Details
ISBN

978-3-428-55665-6
978-3-428-15665-8 (print edition)

DOI

https://doi.org/10.3790/978-3-428-55665-6

Edition

1

Language

German

Pages

347

Collections

Subjects
Pricing
Institution

€ 116.00 (incl. local VAT if applicable)

Individual

€ 89.90 (incl. local VAT if applicable)
About The Author
Anika Sonnenberg studierte Rechtswissenschaften an der Bucerius Law School in Hamburg und an der New York University. Sie promovierte bei Professor Matthias Jacobs, war währenddessen als wissenschaftliche Mitarbeiterin am Max-Planck-Institut für ausländisches und internationales Privatrecht tätig und verbrachte einen Forschungsaufenthalt an der University of Cambridge. Ihr Referendariat absolvierte sie am Hanseatischen Oberlandesgericht mit Stationen u.a. in der Deutschen Botschaft in Riga und im Bundesministerium der Justiz und für Verbraucherschutz in Berlin. Seit 2019 ist sie als Rechtsanwältin in einer internationalen Wirtschaftskanzlei in Düsseldorf tätig.
Anika Sonnenberg studied Law at Bucerius Law School in Hamburg and at New York University. During her PhD under the supervision of Professor Matthias Jacobs, she worked as a Research Associate at the Max-Planck-Institute for Comparative and International Private Law and was a Visiting Research Fellow at the University of Cambridge. During her legal traineeship at the ›Hanseatic Court of Appeals‹, she worked, ›inter alia‹, at the German Embassy in Riga and at the Federal Ministry of Justice and Consumer Protection in Berlin. Since 2019 she has been working as an Associate at an international law firm in Duesseldorf.
Abstract
Welche Rolle spielt der Richter bei einer alternativen Streitbeilegung? Wie weit darf er sich dafür von seiner tradierten Richterrolle entfernen? Diesen Fragen geht die Autorin anhand zahlreicher Beispiele aus dem Individual- und Kollektivarbeitsrecht nach. Insbesondere beleuchtet sie die Figur des Güterichters – den jüngsten Ansatz zur Verzahnung von alternativer Konfliktbeilegung und Gerichtsverfahren. Dabei hinterfragt die Autorin, welche Chancen und Risiken sich aus der Einführung des Güterichters ergeben und wann ein Güterichter gegenüber etablierten Verfahrenswegen einen Mehrwert bietet. Hierfür entwickelt sie einen bunten Strauß aus materiellen, formellen und funktionellen Kriterien. Zugleich nimmt sie sich den Fragen nach Naturell und Justitiabilität richterlicher Tätigkeit an, die die Einführung des Güterichters aufgeworfen hat. »The Conciliation Judge in Labor Law«

What is a judge's role in resolving disputes in court proceedings? To what extent can his nature be changed to serve the needs of dispute resolution? Taking examples from individual and collective labor law, the author illustrates the opportunities and risks that arise from the Conciliation judge. As one of the first interlinks between dispute resolution and procedural law, the Conciliation judge gives rise to questions concerning the core nature of the judiciary and its role in the legal system.
Table of Contents
Section Title
Page
Action
Price

Vorwort

7

Inhaltsübersicht

9

Inhaltsverzeichnis

11

Abkürzungsverzeichnis

19

1. Teil: Grundlegung – Geschichte, dogmatische Einordnung und Theorie des Ermessens

25

§ 1  Einführung

25

A.  Einordnung in den Stand der Forschung

25

B.  Terminologie

26

C.  Forschungsziele und -methodik

28

D.  Umgrenzung und Gang der Untersuchung

28

§ 2  Tour d'horizon durch die Ideengeschichte zum Güterichter

31

A.  Ideengeschichte des Gütegedankens

31

I.  Begriff der Güte

31

II.  Entwicklungslinien des Gütegedankens

31

III.  Gütegedanke im Arbeitsrecht

34

B.  Ideengeschichte der Mediation

35

I.  Begriff der Mediation

35

II.  Entwicklungslinien der Mediation

36

III.  Abgrenzung der Mediation zu benachbarten Konfliktbeilegungsverfahren

40

1.  Schlichtungsverfahren

41

2.  Schiedsverfahren und -gutachten

42

IV.  Konvergenz von Mediation und Gütegedanken

44

C.  Genese des Güterichters

46

I.  Erprobungsphase in State Laboratories

46

II.  Kodifizierung des Güterichters

47

III.   Verfahren vor dem Güterichter

48

1.  Teilnehmer

49

a)  Güterichter, Parteien und Dritte

49

b)  Anwaltszwang?

50

2.  Struktureller Ablauf

53

3.  Verfahrensgrundsätze

56

a)  Eigenverantwortlichkeit und Freiwilligkeit

56

b)  Fehlende Entscheidungsbefugnis und Ergebnisoffenheit

57

c)  Vertraulichkeit

58

d)  Neutralität, Unabhängigkeit oder Allparteilichkeit?

59

e) Informiertheit

60

4.  Konfliktbeilegungstechniken

60

IV.  Rechtsrealität des Güterichters

61

D.  Ergebnis

65

§ 3  Prozessuale Verankerung des Güterichters

66

A.  Weichenstellung durch den Spruchrichter

66

B.  Prozessuale Folgen der Verweisung vor den Güterichter

67

C.  Dogmatische Einordnung der Güterichteraufgabe

68

I.  Güterichteraufgabe als alternative Konfliktbeilegung

69

II.  Güterichteraufgabe als Rechtsprechung

71

1.  Güterichteraufgabe als Rechtsprechung im formellen Sinn

72

2.  Güterichteraufgabe als Rechtsprechung im funktionellen Sinn

73

3.  Güterichteraufgabe als Rechtsprechung im materiellen Sinn

74

III.  Güterichteraufgabe als andere Aufgabe gemäß § 4 Abs. 2 DRiG

78

1.  Verwaltungsaufgabe gemäß § 4 Abs. 2 Nr. 1 DRiG

78

2.  Sonstige richterliche Aufgabe gemäß § 4 Abs. 2 Nr. 2 DRiG

79

D.  Ergebnis

80

§ 4 Richterliches Ermessen bei der Verweisung vor den Güterichter

82

A.  Annäherung an den Begriff richterlichen Ermessens

82

I.  Legaldefinition?

82

II.  Sprachlich-grammatisches Grundverständnis

83

III.  Verständnis in der Rechtsprechung

85

IV.  Verständnis in der Rechtswissenschaft

86

V.  Vereinbarkeit mit dem Gewaltenteilungsprinzip

87

B.  Art und Umfang des Ermessens bei der Verweisung

88

I.  Entschließungsermessen bei der Verweisung

88

1.  Abstrakt: Feststellung eines Ermessensspielraums

89

2.  Konkret: Entschließungsermessen bei § 54 Abs. 6 Satz 1 ArbGG

90

II.  Auswahlermessen bei der Verweisung

91

1.  Vorgaben für den Güterichter im Geschäftsverteilungsplan

91

a) Bedeutung des Gebots des gesetzlichen Richters für die Geschäftsverteilung

92

b)  Anwendbarkeit des Gebots des gesetzlichen Richters auf den Güterichter?

94

c)  Konsequenzen für den Geschäftsverteilungsplan

97

d)  Vereinbarkeit mit dem Gebot des gesetzlichen Richters

99

2. Einverständniserfordernis des avisierten Güterichters mit seiner Zuteilung?

99

a)  Erforderlichkeit des Einverständnisses gemäß § 21e GVG

100

b)  Teleologische Begründbarkeit eines Einverständniserfordernisses

101

C.  Ermessensfehler bei der Verweisung

102

I.  Verwaltungsrechtliche Ermessensfehlerlehre am Arbeitsgericht?

103

II.  Mögliche Ermessensfehler bei der Verweisungsentscheidung

105

III.  Justitiabilität der Verweisungsentscheidung?

105

1.  Bedürfnis nach einer Überprüfbarkeit der Verweisung

105

2.  Ausschluss der Überprüfbarkeit analog §§ 172 Abs. 2 SGG, 146 Abs. 2 VwGO?

106

3.  Überprüfbarkeit mittels einer sofortigen Beschwerde?

109

a)  Statthaftigkeit der sofortigen Beschwerde

109

b)  Konkrete Beschwerdemöglichkeit analog § 252 ZPO

110

D.  Ergebnis

111

2. Teil: Analyse – Kriterien der Verweisung vor einen Güterichter

113

§ 5  Kleines Plädoyer für Kriterienkataloge

114

§ 6  Materielle Verweisungskriterien

118

A.  Abstrakte Eignungskriterien für eine Verweisung

119

I.  Objektive Kriterien

119

1.  Dispositionsbefugnis

119

2.  Machtungleichgewicht

123

3.  Komplexität

126

4.  Unwägbarkeiten

128

5.  Streit- oder Gegenstandswert?

129

II.  Subjektive Kriterien

131

1.  Verhandlungsbereitschaft und Eigenverantwortlichkeit

131

2.  Außerrechtliche Interessen

132

3.  Emotionalität

135

4.  Überoptimismus

136

5.  Vertraulichkeit

137

III.  Fazit

138

B. Konkrete Eignung arbeitsrechtlicher Konflikte für eine Verweisung

138

I.  Einsatzmöglichkeiten für den Güterichter im Individualarbeitsrecht

139

1.  Anbahnung und Begründung eines Arbeitsverhältnisses

139

2.  Bestehendes Arbeitsverhältnis

140

a)  Entgelt

141

b)  Fehlverhalten und mangelhafte Leistung

141

c)  Diskriminierung, Mobbing und sexuelle Belästigung

142

d)  Teilzeit

144

e)  Urlaub

145

f)  Veränderung des Aufgabengebiets

145

3.  Streitige Beendigung eines Arbeitsverhältnisses

146

4.  Nachgang zur Beendigung eines Arbeitsverhältnisses

148

5.  Zusammenfassung

149

II.  Einsatzmöglichkeiten für den Güterichter \nim Betriebsverfassungsrecht

149

1.  Grundsätze für die Zusammenarbeit

152

2.  Rechtsstreitigkeiten

153

a)  Statuskonflikte

153

b)  Freistellung für Schulungs- und Bildungsveranstaltungen

153

c)  Freistellung von Betriebsratsmitgliedern

154

d)  Kosten- und Sachaufwand des Betriebsrats

154

aa)\tKostentragungspflicht

155

bb)\tSachaufwand im Einzelfall

156

e)  Bestehen mitbestimmungsfreier Tatbestände

156

3.  Regelungsstreitigkeiten

156

a)  Vorüberlegungen

157

aa)\tKonsequenzen aus dem Einigungsstellenverfahren

157

bb)\tProblem der Koppelungsgeschäfte

159

b)  Soziale Angelegenheiten

159

aa)\tBestehen erzwingbarer Mitbestimmungsrechte

160

bb)\tRegelung mitbestimmungspflichtiger Angelegenheiten

160

cc)\tRegelung mitbestimmungsfreier Angelegenheiten

161

c)  Technisch-organisatorische Angelegenheiten

162

d)  Personelle Angelegenheiten

162

aa)\tRegelung mitbestimmungsfreier Angelegenheiten

162

bb)\tAllgemeine personelle Maßnahmen

163

(1)\tStellenausschreibungen

163

(2)\tAuswahlrichtlinien

163

cc)\tBerufsbildung

164

dd)\tKündigungen

165

e)  Wirtschaftliche Angelegenheiten

166

aa)\tUnterrichtungs- und Beratungsanspruch

167

bb)\tInteressenausgleich

167

cc)\tSozialplan

168

4.  Zusammenfassung

169

III.  Einsatzmöglichkeiten für den Güterichter im Tarifrecht

169

1.  Tariffähigkeit und Tarifzuständigkeit

170

2.  Rechtsstreitigkeiten

171

a)  Streitigkeiten über den normativen Teil

172

aa)\tRechtsgültigkeit von Tarifnormen

172

bb)\tAuslegung normativer Tarifbestimmungen

173

b)  Streitigkeiten über den schuldrechtlichen Teil

173

aa)\tFriedenspflicht

174

bb)\tDurchführungspflicht

175

cc)\tAuslegung schuldrechtlicher Bestimmungen

175

3.  Regelungsstreitigkeiten

176

4.  Zusammenfassung

177

IV.  Fazit

177

C.  Ergebnis

178

§ 7  Formelle Verweisungskriterien

179

A.  Verzögerung der Verfahrensbeendigung

179

I.  Eintritt einer Verzögerung durch das Güterichterverfahren

179

II.  Vereinbarkeit mit dem Beschleunigungsgrundsatz

180

B.  Einverständnis der Parteien

184

I.  Verweisung während des Gütetermins oder aus der Kammerverhandlung

185

II.  Verweisung vor Beginn des Gütetermins

185

1.  Argumente für die Erforderlichkeit des Einverständnisses

185

2.  Würdigung und Ablehnung eines Einverständniserfordernisses

188

3.  Rückausnahme bei Vorliegen eines wichtigen Grundes

192

C.  Stellungnahme in der Klageschrift

192

I.  Kleines ABC der Stellungnahme gemäß § 253 Abs. 3 Nr. 1 ZPO

193

1.  Regelungsgehalt

193

2.  Verhältnis zu § 15a EGZPO

195

II.  Auswirkungen der Stellungnahme auf die Verweisungsentscheidung

197

1.  Angabe der Konfliktgeschichte

197

2.  Angabe von Gründen

198

3.  Fehlende Angabe

199

4.  Besonderheit arbeitsrechtlicher Klagefristen

200

D.  Ergebnis

200

§ 8  Funktionelle Verweisungskriterien

202

A.  Einführung in die Vergleichsmethodik

202

I.  Vergleichende Methode

203

II.  Komponenten eines Vergleichs

206

1.  Gütetermin nach § 54 Abs. 1 ArbGG

206

2.  Vorschlagsrecht nach § 54a ArbGG

207

III.  Vergleichszeitraum

209

1.  Zeitliche Scheidepunkte für die Verfahrenswahl

209

2.  Rechtliches Stufenverhältnis zwischen Verweisungs- und Vorschlagsrecht

212

IV.  Fazit

214

B.  Rahmenbedingungen der Verfahren im Vergleich

214

I.  Zeitliches Potenzial

215

1.  Bedeutung des Zeitfaktors im Arbeitsrecht

215

2.  Zeitliche Kapazitäten im Vergleich

216

II.  Örtliche Gegebenheiten

217

III.  Methodisches Portfolio

218

1.  Methodenfreiheit des Güterichters

218

2.  Berechtigung des Güterichters zur Entscheidung von Streitfragen

219

3.  Methodenwahl in einer außergerichtlichen Konfliktbeilegung

220

IV.  Gegenstände der Verhandlungen

222

1.  Vergleich mit dem Gütetermin

222

2.  Vergleich mit der außergerichtlichen Konfliktbeilegung

223

V.  Gewährleistung von Vertraulichkeit

224

1.  Bedeutung der Vertraulichkeit im Arbeitsrecht

224

2.  Vertraulichkeit im Gütetermin

225

3.  Vertraulichkeit im Güterichterverfahren

225

a)  Ausgestaltung der Vertraulichkeit

225

b)  Schwachstellen im Schutz der Vertraulichkeit

227

c)  Ansätze zur Verbesserung der Vertraulichkeit

229

4.  Vertraulichkeit in einer außergerichtlichen Konfliktbeilegung

231

VI.  Verjährungs- und Ausschlussfristen

233

VII.  Fazit

237

C.  Leitbild der Parteien im Vergleich

238

I.  Einfluss auf die Einleitung des Verfahrens

238

II.  Einfluss auf die Auswahl des Verfahrensleiters

239

III.  Einfluss auf die Durchführung des Verfahrens

240

IV.  Einfluss auf die Beendigung des Verfahrens

243

V.  Fazit

243

D.  Leitbild des Verfahrensleiters im Vergleich

243

I.  Entscheidungsbefugnis

244

1.  Letztentscheidungsbefugnis

244

2.  Anordnung persönlichen Erscheinens

246

3.  Weitere Einzelbefugnisse

248

II.   Fachliche Qualifikation

250

III.   Unabhängigkeit

251

IV.   Haftung

253

V.  Eingriffe zugunsten der schwächeren Partei

254

1.  Materielle Prozessleitungspflicht

255

2.  Gewährung rechtlichen Gehörs

257

3.  Schutzpflicht aus dem Rechtsstaatsprinzip

259

VI.  Fazit

262

E.  Umstände der Verfahrensbeendigung im Vergleich

263

I.  Vollstreckbarkeit

263

II.  Festsetzung des Streitwertes

267

III.   Kosten

269

1.  Kosten des Gütetermins

270

2.  Kosten des Güterichterverfahrens

271

3.  Kosten im § 54a ArbGG-Verfahren

273

a)  Kostenpositionen

273

b)  Kostenhilfe

274

c)  Kostensanktionen

278

IV.  Fazit

281

F.  Ergebnis

281

3. Teil: Zusammenschau – Systematisierung, Optimierung und Schlussbetrachtung

282

§ 9  Systematisierung der Verweisungskriterien

282

A.  Darstellung verschiedener Verfahrensauswahlprozesse

282

I.  Multi-Door-Courthouse als US-amerikanisches Vorbild

283

1.  Konzeptionelle Grundlagen des Multi-Door-Courthouse-Modells

283

2.  Praktische Umsetzung in Washington D. C.

284

3.  Praktische Umsetzung in Cambridge, MA

285

II.  Prüfung anhand der Konfliktnähe

286

III.  Zwei- und dreischrittige Prüfraster

287

IV.  Ausdifferenzierte Prüfmatrix

289

B. Übertragbarkeit der Auswahlprozesse auf die Verweisung

289

I.  Übertragbarkeit des Multi-Door-Courthouse-Modells

289

II.  Übertragbarkeit der Konfliktnähe

290

III.  Übertragbarkeit des ausdifferenzierten Prüfrasters

291

IV.  Übertragbarkeit der zwei- und dreischrittigen Prüfraster

291

1.  Eignungs- und Ausschlussgründe

291

2.  Grob- und Feinfilter

292

C.  Eigener Ansatz: Kontextualisierter Dreiklang

293

I.  Kontextualisierung anhand des Zeitpunkts

293

1.  Sachgerechte Zeitpunkte für die Verweisung

294

2.  Relevanz des Zeitpunkts für die Verweisungskriterien

296

II.  Kontextualisierung anhand der Interdependenz

297

III.  Dreiklang aus materiellen, formellen und funktionellen Kriterien

298

§ 10  Rechtspolitische Handlungsfelder

299

A.  Lehren aus dem Misserfolg des Adhäsionsverfahrens

299

I.  Gründe für den Misserfolg

299

II.  Lehren für das Güterichterverfahren

301

1.  Fortbildung der Spruchrichter

301

2.  Sperrwirkung für Folgeverfahren?

302

III.  Fazit

302

B.  Reformbedarf des Güterichtermodells

303

I.  Vertraulichkeit des Güterichterverfahrens

303

II.  Einsatz gerichtlicher Güterichterkoordinatoren

304

III. Gerichts-, instanz- oder rechtswegübergreifender Güterichtereinsatz

306

IV.  Einführung qualitativer Kontrollmechanismen

309

V.  Fazit

310

C.  Rechtspolitischer Ausblick

310

§ 11  Thesen

312

Literaturverzeichnis

317

Stichwortverzeichnis

343