Employment contracts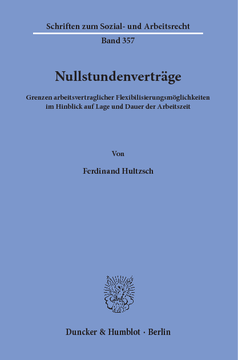 Additional Information
Book Details
ISBN

978-3-428-55789-9
978-3-428-15789-1 (print edition)

DOI

https://doi.org/10.3790/978-3-428-55789-9

Edition

1

Language

German

Pages

419

Collections

Subjects
Pricing
Institution

€ 138.00 (incl. local VAT if applicable)

Individual

€ 107.90 (incl. local VAT if applicable)
About The Author
Ferdinand Hultzsch studierte Rechtswissenschaften an der Universität Heidelberg und der Universität Bergen, Norwegen. Anschließend promovierte er im Arbeitsrecht an der Universität Heidelberg bei Prof. Dr. Markus Stoffels und erlangte die Würde eines Doktors der Rechte. Nebenbei war er als wissenschaftlicher Mitarbeiter für eine internationale Wirtschaftskanzlei in Düsseldorf im Arbeitsrecht tätig. Während des Referendariats absolvierte er u.a. Stationen bei einer Wirtschaftskanzlei im Arbeitsrecht sowie einer Anwaltssozietät in New York, USA. Seit 2019 ist der Autor als Rechtsanwalt bei einer Düsseldorfer Arbeitsrechts-Boutique tätig. Zugleich ist er Lehrbeauftragter der Hochschule Fresenius.
Ferdinand Hultzsch studied law at the University of Heidelberg and the University of Bergen, Norway. He then wrote his doctoral thesis on labor law at the University of Heidelberg under Prof. Dr. Markus Stoffels and received a Doctor of Law degree. At the same time, he worked as a research assistant in labor law for an international law firm in Düsseldorf. During his legal clerkship he worked for another law firm in the area of labor law as well as for a law firm in New York, USA. Since 2019, the author works as a lawyer for a Düsseldorf law firm specialized in labor law. He is also a lecturer at the Fresenius University of Applied Sciences.
Abstract
Mit der Arbeit auf Abruf hat der Gesetzgeber den Unternehmen ein Instrument an die Hand gegeben, welches die Anpassung von Lage und Dauer der Arbeitszeit an den betrieblichen Bedarf ermöglicht. Die radikalste Form der Arbeit auf Abruf ist der sog. Nullstundenvertrag. Dieser schließt jeden Anspruch auf eine Mindestarbeitszeit aus und bestimmt, dass nur die tatsächlich erbrachte Leistung vergütet wird. Die Arbeit beschäftigt sich mit der rechtlichen Einordnung dieser Gestaltung als Arbeitsvertrag. Sodann erfolgt eine umfassende Inhaltskontrolle dieser Vereinbarungen aus allen in Betracht kommenden Gesichtspunkten. Dabei wird zwischen Gestaltungen mit und ohne Ablehnungsrecht, also dem Recht des Beschäftigten, den einzelnen Arbeitseinsatz zu verweigern, unterschieden. Anschließend wird die Frage nach den Rechtsfolgen einer möglicherweise unwirksamen Vereinbarung erörtert. Dabei werden die Rechtsprechung und die jüngste Gesetzesänderung zu § 12 TzBfG ausführlich beleuchtet. »Zero-Hours Contracts – Limits to the Flexibility of Employment Contracts with Regard to the Allocation and Duration of Working Hours«

This study deals with a common problem in labor law: the conflict of interests between the employer´s desire for flexibility and the employee´s desire for planning reliability. The aim of the study is to find an appropriate balance between these conflicting interests, in particular for zero-hours contracts, which make the allocation and duration of working time completely flexible. To this end, the legal nature, validity and possible legal consequences of these contracts are examined.
Table of Contents
Section Title
Page
Action
Price

Vorwort

7

Inhaltsverzeichnis

13

Einführung

23

I. Grundlagen

24

1. Was ist ein Nullstundenvertrag?

25

2. Problematik der Nullstundenverträge

27

3. Rechtsformzwang als Motiv der Nullstundenvereinbarung

29

4. Nullstundenverträge mit und ohne Ablehnungsrecht

30

5. Anwendbarkeit des Teilzeit- und Befristungsgesetzes auf Nullstundenverträge

34

6. Qualifikation der Nullstundenverträge als Arbeit auf Abruf

36

II. Begrenzung des Untersuchungsgegenstands durch Abgrenzung von ähnlichen Instrumenten zur Arbeitszeitflexibilisierung

38

1. Abgrenzung der Nullstundenverträge von Überstundenregelungen

39

2. Abgrenzung der Nullstundenverträge von Pool-Lösungen bzw. Crowdwork

41

III. Ausgangslage, Ziel und Gang der Untersuchung

43

1. Kapitel: Rechtliche Einordnung des Nullstundenvertrags

45

A. Nullstundenvertrag ohne Ablehnungsrecht des Verpflichteten

46

I. Beschränkung der Privatautonomie bei der Vertragstypenwahl – Maßgeblichkeit der tatsächlichen Vertragsdurchführung

46

II. Ermittlung der Rechtsnatur der Nullstundenvereinbarung anhand der Abgrenzung des Arbeitsvertrags vom freien Dienst- bzw. Werkvertrag

48

1. Tätigkeits- oder erfolgsorientiert – Abgrenzung Dienst- und Werkleistung

49

2. Abhängig oder selbständig – Unterscheidung von Arbeitsvertrag und freiem Dienstvertrag

51

a) Maßgebliche Unterscheidungskriterien der persönlichen Abhängigkeit und der Einbindung in eine drittbestimmte Arbeitsorganisation

52

b) Weisungsgebundenheit als wesentliches Merkmal der persönlichen Abhängigkeit

53

c) Persönliche Abhängigkeit bei Nullstundenverträgen

54

B. Nullstundenvertrag mit Ablehnungsrecht des Dienstleistenden

55

I. Abgrenzung von Arbeits- und Dienstvertrag anhand der Weisungsgebundenheit

56

1. Vereinbarung über den einzelnen Einsatz als Arbeitsvertrag

58

2. Ausgangsvereinbarung als Arbeitsvertrag

59

a) Eingeschränkte Weisungsgebundenheit in zeitlicher Hinsicht

59

b) Persönliche Abhängigkeit trotz eingeschränkter zeitlicher Weisungsge‍bun‍den‍heit aufgrund typologischer Betrachtungsweise

59

aa) Unverzichtbarkeit typologischer Methodik aufgrund praktischer Schwierigkeiten

61

bb) Intensivierung des Weisungsrechts bei Gesamtbetrachtung

63

c) Weisungsgebundenheit während des Einsatzes

64

d) Berücksichtigung weiterer Merkmale der persönlichen Abhängigkeit

65

e) Trotz Ablehnungsrecht fortbestehende Schutzbedürftigkeit des Beschäftigten

67

f) Zwischenergebnis

70

II. Unvereinbarkeit von Arbeitsvertrag und Ablehnungsrecht aufgrund der durch das Ablehnungsrecht ausgeschlossenen Verpflichtung

71

1. Ursprung der Einstufung als bloße Rahmenvereinbarung in der Rechtspre‍chung

72

2. Verallgemeinerung der Ausgangsentscheidung und Ablehnungsrecht als Argument für eine Rahmenvereinbarung in der jüngeren Rechtsprechung

74

3. Bedeutung der dargestellten Urteile für die Bewertung von Nullstundenver‍trägen durch das Bundesarbeitsgericht

78

III. Praktische Schwierigkeiten bei Annahme einer Rahmenvereinbarung

81

1. Ausbleibende Äußerung infolge des Arbeitsabrufs

82

2. Mitbestimmung des Betriebsrats beim einzelnen Arbeitsabruf

84

3. Schwierigkeiten bei der Befristung der einzelnen Arbeitsverträge

85

a) Regelmäßig fehlender Sachgrund und Vorbeschäftigungsverbot

85

aa) Aktuelle Bewertung des § 14 Abs. 2 Satz 2 TzBfG durch das Bundesverfassungsgericht

87

bb) Hohe Hürden für potentielle Sachgründe

89

b) Erhöhte Anforderungen an den Sachgrund bei wiederholter Befristung

92

c) Wahrung der Schriftform

94

d) Folgen einer unwirksamen Befristung

94

4. Zwischenergebnis

96

IV. Rechtsmissbrauch oder Gesetzesumgehung durch Rahmenvereinbarung

97

1. Kein Ausschluss des Rechtsmissbrauchs durch grundsätzliche Zulässigkeit einer Rahmenvereinbarung und Befristungskontrolle

97

2. Missbrauch durch Aushöhlung arbeitsrechtlicher Schutznormen

99

3. Umgehung von § 12 TzBfG

105

4. Abgestufte Darlegungs- und Beweislast bei Feststellung eines Rechtsmiss‍brauchs

105

5. Zwischenergebnis

107

V. Alternativen zur rechtlichen Einordnung des Ablehnungsrechts als vertragsaus‍schließendes Kriterium

108

1. Unschädlichkeit späterer Konkretisierung für die Begründung einer Verpflichtung

110

2. Ablehnungsrecht als Leistungsbestimmungsrecht i.S.d. § 315 BGB

112

a) Leistungsbestimmungsrecht auch bei zweistufigem Akt der Leistungsbe‍stimmung

113

b) Leistungsbestimmungsrecht trotz Möglichkeit des ausbleibenden Leistungsaustauschs

115

3. Ablehnungsrecht als auflösende Bedingung

116

a) Zulässigkeit reiner Wollensbedingungen

116

b) Möglichkeit der Bedingung jedes einzelnen Abrufs

119

4. Überwindung der fehlenden Verpflichtung durch den Parteiwillen

121

a) Möglichkeit späterer Leistungsbestimmung im Konsens-Prinzip

122

b) Maßgeblichkeit des Parteiwillens

123

5. Zwischenergebnis

124

VI. Auslegung des Vertrags unter Berücksichtigung bisheriger Erkenntnisse

124

1. Materiale Auslegungsregeln und ihre Grenzen

126

2. Interessen der Parteien

128

3. Sinn und Zweck des Nullstundenvertrags

130

4. Keine Relativierung praktischer Schwierigkeiten durch unredliche Lösungsmöglichkeiten

134

5. Abschließende Ermittlung des Parteiwillens unter Berücksichtigung der bisherigen Erkenntnisse und der materialen Auslegungsregeln

136

6. Einordnung des Nullstunden-Arbeitsvertrags und Gestaltungshinweise im Einzelfall

138

VII. Ergebnis

140

2. Kapitel: Rechtsprechung zu Wirksamkeit und Folgen der Vereinbarung flexibler Arbeitszeiten und ihre Übertragbarkeit auf Nullstundenverträge

142

A. Ausgangsentscheidung zur flexiblen Gestaltung des Arbeitsumfangs, BAG v. 12.‍‍12.‍‍1984 – 7 AZR 509/83, NZA 1985, 321

143

I. Entscheidungsgründe

144

II. Übertragung der Entscheidungsgründe auf den Nullstundenvertrag

145

III. Bezugnahme der Beschlussempfehlung zu § 4 BeschFG auf dieses Urteil

145

B. Begründung der 25%-Rechtsprechung, BAG v. 07.12.2005–5 AZR 535/04, NZA 2006, 423

149

I. Entscheidungsgründe

150

II. Entscheidung als Meilenstein für die Flexibilisierung des Umfangs der Arbeitszeit

153

III. Übertragung der zentralen Aussagen aus der Entscheidung auf den Nullstundenvertrag

155

IV. Keine verfassungsrechtlichen Bedenken gegenüber dieser Entscheidung

157

C. Vernachlässigung der bisherigen Rechtsprechung in späterer Entscheidung, BAG v. 24.09.2014 – 5 AZR 1024/12, NZA 2014, 1328

160

I. Entscheidungsgründe

161

II. Bedeutung der Entscheidung für die weitere Bewertung von Nullstundenver‍ein‍barungen durch die Rechtsprechung

162

1. Erklärungsversuche des scheinbaren Widerspruchs in der Rechtsprechung

163

2. Konfrontation des Siebten Senats mit den bisherigen widerstreitenden Entscheidungen

167

D. Aufklärung des Gesetzgebers durch Kodifikation der 25%-Rechtsprechung in der Neufassung des § 12 TzBfG

169

3. Kapitel: Bewertung der Wirksamkeit von Nullstundenvereinbarungen im Hinblick auf den gesamten Vertrag, die einzelne Klausel und die Ausübung der Leistungsbestimmung

172

A. Geeignete Anknüpfungspunkte der Rechtmäßigkeitskontrolle

172

I. Verhältnis zwischen Inhalts- und Ausübungskontrolle

173

II. Verhältnis von §§ 134, 138 BGB zur AGB-Kontrolle

176

III. Berücksichtigung des § 12 TzBfG bei der Inhaltskontrolle

178

B. Wirksamkeit im Hinblick auf die allgemeinen Inhaltsschranken des BGB

180

I. Schranke des § 134 BGB

181

II. Schranke des § 138 BGB

184

1. Stetigkeitsschutz als Teil der guten Sitten

185

a) Besonderer Schutz des arbeitsvertraglichen Synallagmas als unzulässiger Rückgriff auf die Umgehungsrechtsprechung

186

b) Existentieller Mindestschutz als Zweck des Arbeitsvertrags

187

2. Neue Qualität der Beeinträchtigung durch Flexibilisierung von Lage und Umfang

189

C. Vereinbarkeit der Nullstundenklausel mit § 12 TzBfG

190

I. Ankündigungsfrist des Abrufs, § 12 Abs. 3 TzBfG

191

II. Festlegung einer bestimmten täglichen Arbeitszeit, § 12 Abs. 1 Satz 2 TzBfG

192

III. Festlegung einer bestimmten wöchentlichen Arbeitszeit, § 12 Abs. 1 Satz 2 TzBfG

193

1. Wöchentliche Arbeitszeit als fest bestimmter Arbeitsumfang

195

2. Wöchentliche Arbeitszeit als variable Mindestgröße

197

3. Auslegung der bestimmten Dauer i.S.d. § 12 Abs. 1 Satz 2 TzBfG a.F.

198

a) Wortlaut der Norm

198

b) Gesetzessystematik

199

c) Sinn und Zweck der Norm

200

d) Geschichte der Norm und Motive des Gesetzgebers

201

e) Erforderliche Neubewertung von Sinn und Zweck aufgrund einer mit der Einführung der AGB-Kontrolle im Arbeitsrecht verbundenen Funktionsverlagerung

202

aa) Möglichkeit des Funktionswandels durch neue Rechtsentwicklung

203

bb) Veränderung der rechtlichen Verhältnisse durch Wegfall der Bereichsausnahme

204

cc) Partielle Funktionsverlagerung von § 12 Abs. 1 Satz 2 TzBfG a.F. zur AGB-Kontrolle

207

4. Bestätigung des gefundenen Auslegungsergebnisses durch den Gesetzgeber

210

a) Interpretation als Mindestarbeitszeit

210

b) Fortbestehende (teilweise) Funktionsverlagerung von § 12 Abs. 1 Satz 2 TzBfG auf die AGB-Kontrolle

211

aa) Verbleibender Anwendungsbereich von § 12 Abs. 1 Satz 3 und Abs. 2 TzBfG

212

bb) Fortbestehende Funktionsverlagerung zur Wahrung der Systemkon‍for‍mität

214

5. Folgen der Funktionsverlagerung für die Bewertung von Änderungsvor‍be‍hal‍ten im Bereich der Arbeitszeitdauer

217

6. Richtlinienkonformität des gefundenen Auslegungsergebnisses

219

a) Entscheidung Wippel des Europäischen Gerichtshofs als Ausgangspunkt

219

b) Richtlinienkonforme Auslegung trotz Umsetzung in nationales Recht

221

c) Keine (mittelbare) Diskriminierung von Teilzeitbeschäftigten

222

d) Keine (mittelbare) Diskriminierung von Frauen

226

7. Zwischenergebnis

228

IV. Bedeutung der Neuinterpretation des § 12 Abs. 1 Satz 2 TzBfG für den Nullstundenvertrag

229

V. Übertragbarkeit der Ergebnisse auf den Nullstundenvertrag mit Ablehnungsrecht

232

1. Grundsätzliche Anwendbarkeit auf Verträge mit Ablehnungsrecht

232

2. Verständnis der bestimmten Dauer als minimal abzurufendes Pensum statt telelogischer Reduktion

233

3. Anrechnung des abgelehnten Abrufs auf die Mindestarbeitszeit

238

4. Zwischenergebnis als Bestätigung vorheriger Untersuchungsergebnisse

239

a) Fehlende Verpflichtung bei Ablehnungsrecht als Zirkelschluss

239

b) Unzulässigkeit der Rahmenvereinbarung bei dauerhaftem Arbeitsbedarf

240

D. Wirksamkeit variabler Arbeitszeitvereinbarungen nach §§ 305ff. BGB

243

I. Durchführung einer Transparenzkontrolle

244

1. Transparenz nur bei Hinweis auf möglicherweise ausbleibenden Abruf

245

a) Ausschluss der Mindestarbeitszeit bei bloßen Rahmenvereinbarungen

245

b) Keine Intransparenz durch unwirksamen Ausschluss der Mindestarbeitszeit bei Arbeitsverträgen

246

2. Erforderliche Klarstellung des Arbeitszeit-Lohn-Zusammenhangs

247

3. Konkrete Gründe für ausbleibenden Abruf und konkreter Umfang der variablen Arbeitszeit

248

a) Übertragbarkeit der Transparenzanforderungen von Widerrufsvorbehalten auf Leistungsbestimmungsrechte

252

b) Arbeitsanfall als konkreter Grund zur Wahrung des Transparenzgebots

253

c) Kein Erfordernis über den Arbeitsanfall hinausgehender Gründe

255

d) Kein Erfordernis einer konkreten Bezifferung des variablen Arbeitsumfangs

258

4. Erhöhte Anforderungen durch Europäische Richtlinie über transparente und verlässliche Arbeitsbedingungen

259

II. Anwendbarkeit der Vorschriften zur Inhaltskontrolle

261

1. Vereinbarung variabler Arbeitszeit mehr als bloß deklaratorische Regelung

262

a) Abweichung von § 615 Satz 1 BGB

263

b) Keine Kontrollfreiheit in der Praxis

265

c) Keine positive Regelung i.S. der zu untersuchenden Klausel

266

2. Vereinbarung variabler Arbeitszeit mehr als unmittelbare Leistungsbe‍schrei‍bung

266

III. Vereinbarkeit mit §§ 309 Nr. 1, 308 Nr. 4 BGB

269

IV. Verstoß gegen gesetzliches oder vertragliches Leitbild i.S.d. § 307 Abs. 2 BGB

271

1. Fehlende Gewährleistung einer Existenzgrundlage als Verstoß gegen das Leitbild des Arbeitsvertrags

272

2. Fehlende Gewährleistung einer Existenzgrundlage als Gefährdung des Vertragszwecks

274

a) Ermittlung wesentlicher Rechte und Pflichten

274

b) Einschränkung der ermittelten Pflichten

276

c) Gefährdung des Vertragszwecks

277

3. Verstoß gegen Leitbild des § 12 TzBfG durch variablen Arbeitsumfang

279

a) Leitbildfunktion für die Flexibilisierung des Arbeitsumfangs

279

b) Leitbildfunktion für die Entgeltzahlung

281

4. Verstoß gegen Leitbild des § 615 Satz 1 BGB durch Verlagerung des Wirtschaftsrisikos

282

a) Abweichung von wesentlichen Grundgedanken

282

b) Unvereinbarkeit der Abweichung mit dem Grundgedanken des § 615 Satz 1 BGB

284

aa) Keine vollständige Übertragung des Wirtschaftsrisikos

285

bb) Zu berücksichtigende Interessen der Parteien

287

(1) Interesse des Arbeitnehmers an einer möglichst großen Planungssicherheit

288

(2) Interesse des Arbeitgebers an einer möglichst großen Flexibi‍li‍sie‍rung

290

cc) Interessenabwägung: Grenze der Angemessenheit bei Flexibilisierung der Dauer

292

(1) Kompensation der zeitlichen, nicht der finanziellen Planungsun‍si‍cher‍heit durch § 12 Abs. 1 und 3 TzBfG

293

(2) 25 %-Grenze als angemessener Interessenausgleich

296

(3) Festhalten an 25%-Grenze zur Wahrung der Systemkonformität

298

(4) Geringerer Flexibilisierungsrahmen bei Leistungsbestimmungsrechten aufgrund größerer Planungsunsicherheit

300

(5) Bedeutung der bisherigen Ergebnisse für den Nullstundenvertrag

302

c) Erhöhte Flexibilität bei Einräumung eines Ablehnungsrechts?

303

aa) Zulässige Höhe des variablen Anteils am Arbeitsumfang

304

bb) Keine Anrechnung des abgelehnten Abrufs auf die Höchstarbeitszeit

306

d) Variabler Arbeitsumfang in Kombination mit anderen Flexibilisierungsin‍strumenten

307

aa) Kombination mit Überstundenregelung

308

bb) Kombination mit längeren Bezugszeiträumen

309

(1) Keine Festlegung der Arbeitszeit zu Beginn des Bezugszeitraums erforderlich

312

(2) Keine Beschränkung der Flexibilität auf 10 %

313

(3) Stufenweise Herabsetzung des variablen Anteils an der Arbeitszeitdauer bei längeren Bezugszeiträumen

314

(4) Stufenweise Beschränkung der flexiblen Lage bei längeren Bezugszeiträumen

316

cc) Tabellarische Zusammenfassung der Ergebnisse

319

E. Betriebsverfassungsrechtliche Hürden für variable Arbeitszeiten

321

I. Kein genereller Ausschluss der Mitbestimmung durch § 12 TzBfG

322

II. Mitbestimmungspflichtige Angelegenheiten bei Arbeitszeitflexibilisierung

324

1. Zahlungsrhythmus

324

2. Vorübergehende Verkürzung oder Verlängerung der betriebsüblichen Arbeitszeit

325

3. Beginn und Ende der täglichen Arbeitszeit

326

a) Mitbestimmung bei Bezugszeitraum von einer Woche

328

b) Mitbestimmung bei längeren Bezugszeiträumen

329

III. Beschränkung der Mitbestimmung bei Verteilung der Arbeitszeit durch Erfordernis eines kollektiven Tatbestands

332

1. Grundsätzliche Einführung des Abrufmodells mit variablen Arbeitszeiten

332

a) Keine Einschränkung der Mitbestimmung durch offene Vertragsgestaltung

333

b) Möglichkeit eines generellen Ausschlusses der Abrufarbeit durch den Betriebsrat

334

2. Ausgestaltung des Abrufarbeitsverhältnisses

335

a) Beschränkung der Mitbestimmung auf Rahmenregelungen

336

b) Inhaltliche Reichweite der Rahmenregelungen

338

3. Keine Mitbestimmung bei konkretem Abruf des Arbeitnehmers

341

a) Einzelner Abruf als Individualmaßnahme – Kritik und Parallele zu Überstunden

342

b) Stringenter Ausschluss der Mitbestimmung nur durch Einordnung des Abrufs als Individualmaßnahme

344

4. Folge der Verletzung von Mitbestimmungsrechten

348

IV. Mitbestimmung bei personellen Einzelmaßnahmen nach § 99 BetrVG

349

F. Wirksamkeit des einzelnen Abrufs im Hinblick auf § 315 BGB

353

I. Rechtsnatur und Unwiderruflichkeit des Abrufs

353

II. Anwendbarkeit und Maßstab der Ausübungskontrolle nach § 315 BGB

355

1. Keine Abweichungen durch Vereinbarung eines Ablehnungsrechts

357

2. Gesetzliche Konkretisierung des Billigkeitsmaßstabs durch § 12 Abs. 3 TzBfG

357

3. Zu verhindernde Missbrauchsszenarien

359

4. Bei der Billigkeitskontrolle zu berücksichtigende Umstände

360

5. Zwischenergebnis

362

G. Ergebnis

362

4. Kapitel: Rechtsfolgen bei unzureichender oder unwirksamer Vereinbarung über die (variable) Arbeitszeit

365

A. Differenzierung zwischen zur Unwirksamkeit führenden Verstößen

365

I. Verstoß gegen § 12 Abs. 1 Satz 2 TzBfG

366

II. Verstoß gegen § 307 Abs. 2 Nr. 1 BGB

367

B. Bestehende Ansätze zur Schließung der durch Unwirksamkeit entstandenen Regelungslücke

367

I. Primäre Lösung durch ergänzende Vertragsauslegung und Fiktion der Arbeitszeit als bloße Zweifelsregelung

368

1. Keine interessengerechte Lösung durch Fiktion der Arbeitszeit

369

2. Ermittlung der Arbeitszeit anhand der tatsächlichen Vertragsdurchführung

371

3. Unterschiede innerhalb des Lösungsansatzes

371

II. Primäre Lösung durch Fiktion der Arbeitszeit

372

C. Eigener Lösungsansatz in Anlehnung an zweistufige Wirksamkeitskontrolle durch Verknüpfung von Fiktion und ergänzender Vertragsauslegung

373

I. Fiktion als primäre Lösung bei fehlender Vereinbarung über die Arbeitszeit

375

1. Beschränkung der Fiktion auf Fälle der fehlenden Arbeitszeit

377

2. Ausschluss der Fiktion nur bei späterer (konkludenter) Arbeitszeitver‍ein‍ba‍rung

378

a) Keine konkludente Vertragsänderung durch gleichmäßigen Abruf

379

b) Keine Konkretisierung des Abrufrechts durch gleichmäßigen Abruf

380

c) Keine betriebliche Übung durch gleichmäßigen Abruf

381

aa) Keine betriebliche Übung bei bloßer Rahmenvereinbarung

382

bb) Keine betriebliche Übung bei Nullstunden-Arbeitsvertrag

383

cc) Ausschluss bei sonstigen variablen Arbeitszeitvereinbarungen

386

3. Fiktion als interessengerechtes Ergebnis

386

II. Ergänzende Vertragsauslegung bei zu hohem variablen Anteil

389

1. Auslegung als richtiges Instrument der Lückenschließung

390

2. Durchführung der ergänzenden Vertragsauslegung

391

3. Ergänzende Auslegung bei unangemessen flexibilisierter Lage und Dauer

395

4. Kein Verstoß gegen das Verbot der geltungserhaltenden Reduktion

396

III. Ergebnis

397

Zusammenfassung wesentlicher Untersuchungsergebnisse

399

I. Regelmäßige Einordnung der Nullstundenvereinbarung als Arbeitsvertrag

399

II. Unklare Behandlung von Nullstundenverträgen in der Rechtsprechung

400

III. Unwirksamkeit von Nullstundenverträgen wegen Verstoßes gegen § 12 Abs. 1 Satz 2 TzBfG und § 307 Abs. 2 Nr. 1 BGB

400

IV. Rechtsfolgen unwirksamer Nullstundenverträge

402

Literaturverzeichnis

403

Stichwortverzeichnis

417