Diplomacy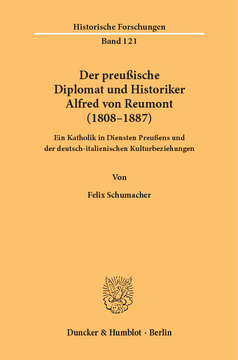 BOOK
Der preußische Diplomat und Historiker Alfred von Reumont (1808–1887)
Ein Katholik in Diensten Preußens und der deutsch-italienischen Kulturbeziehungen
Historische Forschungen, Vol. 121
(2019)
Additional Information
Book Details
ISBN

978-3-428-55624-3
978-3-428-15624-5 (print edition)

DOI

https://doi.org/10.3790/978-3-428-55624-3

Edition

1

Language

German

Pages

599

Collections

Subjects
Pricing
Institution

€ 138.00 (incl. local VAT if applicable)

Individual

€ 107.90 (incl. local VAT if applicable)
About The Author
Felix Schumacher studierte Geschichte und Klassische Archäologie an der Universität Trier und hat das Promotionsverfahren im Fach Geschichte an der Universität des Saarlandes abgeschlossen. Anschließend absolvierte er das Archivreferendariat im Landesarchiv Sachsen-Anhalt und an der Archivschule Marburg. Seit 2019 ist er wissenschaftlicher Archivar im Landesarchiv Sachsen-Anhalt. Sein Forschungsinteresse gilt insbesondere der deutsch-italienischen Geschichte und ihrer Rezeption im 19. Jahrhundert sowie europäischen Kulturtransferprozessen.
Felix Schumacher studied History and Classical Archeology at the University of Trier and submitted the present doctoral thesis at the University of Saarland in Saarbrücken. Afterwards he passed the traineeship as scientific archivist at the Landesarchiv Sachsen-Anhalt and the Archivschule Marburg. Since 2019 he works as scientific archivist at the Landesarchiv Sachsen-Anhalt in Magdeburg. His research focus is on German-Italian history and its reception during the 19th century as well as European processes of cultural transfer.
Abstract
Der preußische Diplomat und Publizist Alfred von Reumont war einer der führenden deutsch-italienischen Kulturvermittler des 19. Jahrhunderts und verfolgte die gesellschaftlichen Umbrüche auf dem Weg in die Nationalstaatsgründungen Italiens und Deutschlands aus preußischer und liberal-katholischer Perspektive. Entgegen dem bisherigen Verdikt der Forschung galten seine Arbeiten in ihrer Zeit keineswegs als rückwärtsgewandt. Einige seiner biographischen Arbeiten sowie seine Arbeiten zur Renaissancediplomatie betrachteten Zeitgenossen durchaus als innovativ. Neben der Vermittlung eines liberal-katholischen Geschichtsbildes sowie der Förderung der wechselseitigen Rezeption zwischen »neoguelfischer« und »großdeutscher« Geschichtsschreibung, trat Reumont als Makler in wichtigen deutsch-italienischen Forschungskontroversen auf. Die Untersuchung des Wirkens des populären Publizisten beleuchtet den politischen, historischen und kulturellen Horizont gebildeter Kreise der damaligen Gesellschaft, und demonstriert, welche Wirkmächtigkeit bis in die Gegenwart heutzutage vergessene Kulturvermittler haben können. »Alfred von Reumont (1808–1887): A Catholic Diplomat Serving. Prussia and the German-Italian Historiography«

The Prussian diplomat and publicist Alfred von Reumont was one of the most prominent German-Italian »cultural ambassadors« during the 19th century and witnessed the radical changes on the way to the nation-states of Italy and Germany from a Prussian and Liberal-Catholic point of view. On the basis of his person the present study focusses the political, historical and cultural horizon of intellectual circles of the 19th century society and illustrates the enormous influence even today forgotten »cultural ambassador« were able to maintain.
Table of Contents
Section Title
Page
Action
Price

Vorwort

5

Inhaltsverzeichnis

7

A. Einleitung

11

I. Forschungsstand

21

II. Fragestellung und Quellenlage

26

III. Aufbau und Forschungsansatz

36

B. Alfred (von) ­Reumont: Ein Leben zwischen diplomatischer Karriere und Wissenschaft

43

I. Jugendjahre: Von Aachen nach Florenz

44

II. Der Weg in eine feste Anstellung im diplomatischen Dienst

58

1. Aufbau und soziale Zusammensetzung des diplomatischen Dienstes

59

2. ­Reumonts Förderer

63

a) Die Kölner Wirren und die Sondermission Brühl: ­Reumont als Mediator zwischen den Konfessionen

63

b) ­Reumonts Italienkompetenz als Grundstein seiner Karriere

69

c) Alexander von Humboldt als Zugang zum König

73

d) Die Revolution als unverhofftes Karrieresprungbrett

78

e) Historische Forschungen als Gefälligkeitsgesten zur Förderung der diplomatischen Karriere

129

3. Aufstieg zum Ministerresidenten im Großherzogtum Toskana

143

4. Risorgimento und romantisches Italienerlebnis: Zwischen den Höfen Leopolds II. von Toskana und Friedrich Wilhelms IV. von Preußen

148

5. Die "Neue Ära" und die personelle Neuausrichtung des diplomatischen Korps

198

III. ­Reumont als "Kulturmakler": Ein lange gehegter Wunsch geht auf schmerzhafte Weise in Erfüllung

206

C. Publizistik

217

I. Kunst- und Kulturberichte

221

1. ­Reumonts erste Versuche in der Antologia

221

2. Cottas Morgenblatt und Schorns Kunstblatt

246

3. Die Jahrbücher für Kunstwissenschaft

263

4. Fazit

265

II. Politische Publizistik

268

1. Politische Korrespondenzen in der Augsburger Allgemeinen Zeitung

269

2. Der Kampf um die historische Kritik und den liberalen Katholizismus in Franz Heinrich Reuschs Theologischem Literaturblatt

311

3. Die Historisch-Politischen Blätter für das Katholische Deutschland

319

4. Fazit

328

III. Historische Publizistik

336

1. ­Reumonts historische Italienkorrespondenz in der Augsburger Allgemeinen Zeitung

337

2. Das Archivio Storico Italiano als Dreh- und Angelpunkt für ­Reumonts kulturelles Engagement

347

3. Das Giornale Arcadico als katholische Ausweichplattform

383

4. ­Reumont als Italienfachmann in Sybels Historischer Zeitschrift

387

5. Fazit

389

IV. Zwischen Strukturgeschichte, göttlicher Vorsehung und menschlichem Handeln: ­Reumonts Werdegang vom Reisberichterstatter zum Historiker und Zeitzeugen

390

1. Geschichte, Kultur, Land und Leute – und die Forderung nach maßvollen Reformen zur Revolutionsprävention

391

a) Die Tavole cronologiche als nützliche Datensammlung für den Historiker

392

b) Die Römischen Briefe von einem Florentiner

395

2. ­Reumont als Historiker

398

a) ­Reumont als historischer Biograph der Medici

399

b) Die Geschichte der Stadt Rom

410

3. Finis Etruriae

431

a) Die Geschichte Toskanas

432

b) Gino Capponi

442

aa) Der "italienische Capponi" nach Marco Tabarrini

447

bb) Annäherungen an die Toskana für den deutschen Leser

451

4. ­Reumonts Stellungnahme zum Kulturkampf

454

a) Briefe heiliger und gottesfürchtiger Italiener

457

b) Vittoria Colonna

463

5. Die Vergangenheit im rechten Licht

466

6. Fazit

470

D. Der Dino Streit: Ein Politikum zwischen Nationalismus und Regionalismus sowie universitärer und außeruniversitärer Forschung

476

E. ­Reumont als Brückenbauer

489

I. ­Reumonts Vorträge am königlichen Hofals wichtiger Zugang zum deutschen Bewusstsein

489

1. Vermittlung von Auszeichnungen

492

2. Mitgliedschaften

494

II. ­Reumont als Diplomat in Diensten des Instituto di corrispondenza archeologica

499

III. Der Ausbau der Sammlung der königlichen Museen unter Ignaz von Olfers

507

IV. Materialbeschaffung

510

1. Deutschland – Italien

511

2. Italien – Deutschland

513

V. Zugänge zu Archiven und Bibliotheken

520

VI. Beschaffung von Fachgutachten

522

VII. Förderung durch Empfehlungen

527

F. Schlussbetrachtung

532

G. Quellen

551

I. Ungedruckte Quellen

551

II. Zeitgenössische Zeitschriften

552

III. Gedruckte Quellen und zeitgenössische Literatur

554

H. Literatur

562

Personenregister

587