Legal history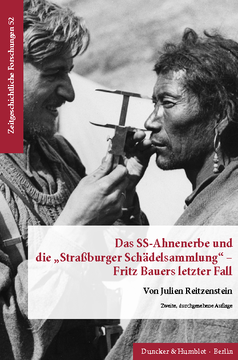 BOOK
Das SS-Ahnenerbe und die »Straßburger Schädelsammlung« – Fritz Bauers letzter Fall
Zweite, durchgesehene Auflage
Zeitgeschichtliche Forschungen, Vol. 52
(2019)
Additional Information
Book Details
ISBN

978-3-428-55857-5
978-3-428-15857-7 (print edition)

DOI

https://doi.org/10.3790/978-3-428-55857-5

Edition

2

Edition Statement

2., durchges. Aufl.

Language

German

Pages

511

Collections

Subjects
Pricing
Institution

€ 46.00 (incl. local VAT if applicable)

Individual

€ 35.90 (incl. local VAT if applicable)
About The Author
Der Straßburger Historiker Julien Reitzenstein forscht seit vielen Jahren einerseits im Bereich Restitution, andererseits zur Geschichte der SS und der SS-Forschungseinrichtung »Ahnenerbe«, sowie den »Wehrwissenschaften« im NS-Regime. Grundlage dieser Forschungen sind intensive Archivarbeiten, so dass es ihm immer wieder gelingt, neue Sachverhalte ans Licht zu bringen. Diese Ergebnisse vermittelt er in der Lehre - in den letzten Jahren an der Heinrich-Heine-Universität Düsseldorf - und als Autor von Büchern und in verschiedenen Publikumsmedien. Julien Reitzenstein initiierte verschiedene Initiativen zur Gedenkkultur, worüber zahlreiche Medien - wie auch über seine Forschungsergebnisse - berichteten.
Julien Reitzenstein studied jurisprudence and history. The forensic historian has been researching for many years in the area of restitution, and into the history of the SS, the SS »Ahnenerbe« research facility, and »military sciences« under the NS regime. This research is based on intensive archive work so that he repeatedly succeeds in unearthing new material. He has been sharing these results for over a decade in his teaching, for instance at the Heinrich Heine University Düsseldorf, the Martin Luther University Halle-Wittenberg and the Bundeswehr Command and Staff College. The author lives and works in Ireland.
Abstract
Der Anatom August Hirt ermordete im August 1943 im Konzentrationslager Natzweiler 86 Menschen. Deren Skelette wollte er in Straßburg in einem Museum ausstellen, um die von den Nationalsozialisten propagierte Minderwertigkeit der "jüdischen Rasse" zu demonstrieren. Diese Interpretation findet sich bis heute in den Geschichtsbüchern, nicht zuletzt, weil sie genau so von Angeklagten und Zeugen in den Nürnberger Prozessen gleichlautend bestätigt wurde. Doch dem Generalstaatsanwalt Fritz Bauer, der sich wie kein Zweiter für die Bestrafung von NS-Tätern eingesetzt hatte, kamen Zweifel. Er vermutete ein anderes Motiv und einen anderen Tathergang. Nach Bauers Auffassung mussten noch weitere Täter beteiligt gewesen sein. Doch Bauer verstarb kurz nachdem er 1968 die Anklageschrift seiner Behörde gegen weitere SS-Angehörige unterzeichnet hatte. Nach seinem Tod arbeitete das Gericht halbherzig.

Am Ende musste nicht ein einziger der Angeklagten in Haft. Das Buch zeichnet nun auf Grundlage vieler – teilweise bisher unbekannter – Quellen den tatsächlichen Verlauf des Verbrechens nach. Die Biographien und Motive der Täter, Beihelfer und Zeugen wurden akribisch recherchiert. Der Verdacht Fritz Bauers und seiner Mitarbeiter kann nun, nach einem halben Jahrhundert, bestätigt werden. Der Autor zeigt anhand zahlreicher Dokumente, dass das Motiv dieses unmenschlichen NS-Verbrechens noch viel zynischer und grausamer war als bisher bekannt. Er konnte zudem weitere Täter und das tatsächliche Ziel des Verbrechens ermitteln. Dieses Buch zeigt eindrücklich, zu welchen Grausamkeiten Wissenschaft ohne Menschlichkeit führen kann. Es dokumentiert nicht allein die furchtbaren Verbrechen von SS-Wissenschaftlern.

Es zeigt auch, wie geschickt viele dieser Täter ihre Spuren bis heute zu verbergen wussten. Dies konnte nur in einer Gesellschaft funktionieren, die bereit war, sich die haarsträubenden Entlastungsversuche gefallen zu lassen. Heute muss die Gesellschaft sich mit jenen Apologeten auseinandersetzen, die das Narrativ der Täter weiterhin verteidigen.

»Die Ernsthaftigkeit, mit der der große Jurist Fritz Bauer in seinem »letzten Fall« über Jahre hinweg gegen Bruno Beger ermittelte, um der Gerechtigkeit zum Sieg zu verhelfen, hat eine sachliche Debatte verdient und eine Auseinandersetzung mit den vorgelegten Dokumenten und Belegen.«
Julien Reitzenstein (»Zusammenfassung«) »›SS-Ahnenerbe‹ and the Strasbourg Skull Collection – Fritz Bauer's Last Case«

In August 1943, the anatomist August Hirt murdered 86 people at the Natzweiler concentration camp. He wanted to display their skeletons in a museum in Strasbourg in order to demonstrate to its visitors the inferiority of the »Jewish race« from a National Socialist viewpoint. This was the testimony offered by one of Hirt's forced labourers at the Nuremberg Doctors' Trial. Since then Hirt, who died in 1945, has been seen as the originator and prospective beneficiary of this brutal crime.

When the historian Michael Kater raised his doubts about the motive and those involved with the Hesse Chief Public Prosecutor, Fritz Bauer, the legendary »Nazi hunter« started to investigate. Bauer died, however, and none of the accused were ever imprisoned.

Now, on the basis of in part previously unknown sources, this book records the course of the crime. The biographies and motives of the perpetrators, their helpers and witnesses are painstakingly detailed. The suspicion that Fritz Bauer held during his last case becomes more solid. Furthermore, using a wide range of sources, the book shows that the motive behind this inhuman Nazi crime was in fact far more cynical and barbarous than originally thought. It identifies further perpetrators and the actual purpose of the crime.
Table of Contents
Section Title
Page
Action
Price

Vorwort zur zweiten Auflage

VII

Inhaltsverzeichnis

XIII

A. Einleitung

1

I. Hinweis

1

II. Die offenen Fragen – eine Einführung

2

III. Editorische Bemerkungen

17

B. Forschungsstand

19

C. Der Rahmen des Verbrechens, die Täter und die Zeugen

32

I. Straßburg und die Reichsuniversität

32

II. Das Ahnenerbe und das Institut für wehrwissenschaftliche Zweckforschung

35

III. Täter, Mittäter und Zeugen

48

IV. Wolfram Sievers

50

V. August Hirt

56

1. August Hirt – eine akademische Karriere

56

2. Die Gründung und Arbeit der Abteilung "H"

69

3. Hirts Interesse an Lost-Forschung

83

4. Leichen für die medizinische Ausbildung in der Anatomie

91

5. Sievers legt eine falsche Spur

102

6. Lost-Versuche in Natzweiler

105

7. Sievers' Fürsorge für Hirt

130

8. Transdisziplinäre Forschung an der Universität Straßburg

137

9. Exkurs: Bickenbach, Hirt und die Gaskammer

140

10. Krebsforschung in Straßburg

157

11. Kein Durchbruch in der Lost-Forschung

159

12. Straßburg fällt

163

13. Wo sind Hirts Unterlagen verblieben?

170

VI. Bruno Beger

175

1. Von der Universität direkt ins SS-Rasseamt

175

2. Tibetexpedition und Tibetforschung

179

3. Krieger Beger und "Rassen im Kampf"

198

4. Der Rassenexperte der SS

206

5. Die Vorbereitung des Beutezuges in den Kaukasus

216

6. Die SS reist nicht zu den Asiaten – die Asiaten kommen in SS-Lager

226

VII. Die deutschen Tatbeteiligten und Zeugen

243

1. Wolf-Dietrich Wolff

246

2. Anton Kiesselbach

249

3. Otto Bong

253

4. Hans Fleischhacker

255

5. Wilhelm Gabel

258

6. Lieselotte Seepe

260

VIII. Die elsässischen Tatbeteiligten und Zeugen

262

1. René Colombin Wagner

262

2. Henri Henripierre

263

D. Der chronologische Ablauf des Vorhabens "Schädelsammlung"

281

I. Der Vorschlag zur Begründung einer Schädelsammlung

281

II. Die Umsetzung des Plans beginnt

301

III. Das Verbrechen nimmt seinen Lauf

325

IV. Niemand hat die Absicht, eine Skelettsammlung aufzubauen

373

V. Die Spuren des Verbrechens werden vernichtet

389

VI. Die Nummern und die Namen

406

E. Beger-Prozess

419

F. Zusammenfassung

425

G. Versuch einer Ereignisrekonstruktion

438

H. Wer war wer

457

Quellen- und Literaturverzeichnis

459

I. Quellen und bibliographische Hilfsmittel

459

II. Literatur

472

Abkürzungsverzeichnis

482

Personenregister

484

Danksagung

491