Globalization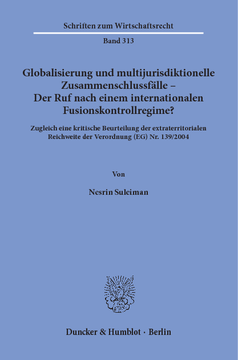 BOOK
Globalisierung und multijurisdiktionelle Zusammenschlussfälle – Der Ruf nach einem internationalen Fusionskontrollregime?
Zugleich eine kritische Beurteilung der extraterritorialen Reichweite der Verordnung (EG) Nr. 139/2004
Schriften zum Wirtschaftsrecht, Vol. 313
(2019)
Additional Information
Book Details
ISBN

978-3-428-55775-2
978-3-428-15775-4 (print edition)

DOI

https://doi.org/10.3790/978-3-428-55775-2

Edition

1

Language

German

Pages

255

Collections

Subjects
Pricing
Institution

€ 104.00 (incl. local VAT if applicable)

Individual

€ 79.90 (incl. local VAT if applicable)
About The Author
Nach dem Studium der Politik- und Rechtswissenschaft an der Goethe-Universität und einem mehrmonatigen Aufenthalt bei der UNRWA im Jordan Field Legal Office in Amman, Jordanien hat Nesrin Suleiman ihr Rechtsreferendariat mit Stationen, u.a. bei der Europäischen Kommission, Siemens AG und GIZ, in Frankfurt a. M., Brüssel, Darmstadt, München und Addis Abeba absolviert. Während ihrer Tätigkeit als wissenschaftliche Mitarbeiterin bei Herrn Prof. Dr. Kadelbach, LL.M. (Virginia) hat sie zu einem kartellrechtlichen Thema promoviert. Zurzeit arbeitet sie als wissenschaftliche Mitarbeiterin im Forschungsprojekt »Recht auf angemessenes Wohnen« an der Frankfurt University of Applied Sciences.
After studying political science and law at Goethe University, Frankfurt and working several months as an intern at UNRWA Jordan Field Legal Office in Amman, Jordan, Nesrin Suleiman passed her legal traineeship i.a. in Frankfurt, Brussels, Darmstadt, Munich and Addis Ababa at various renowned institutions such as the European Commission, Siemens AG and GIZ. During her work as a research associate with Prof. Dr. Kadelbach, LL.M. (Virginia) she wrote her doctoral thesis about international antitrust law and European merger control. Currently she is working as a scientific fellow in the project »The right to adequate housing in Germany« at the Frankfurt University of Applied Sciences.
Abstract
Vor dem Hintergrund, dass die Anmeldung von multijurisdiktionellen Zusammenschlussvorhaben nicht nur mit erhöhten Transaktionskosten, sondern der Gefahr divergierender Entscheidungen und auch Rechtsunsicherheit verbunden ist, zeigt die vorliegende Untersuchung zum einen die Entwicklung von Konflikten über Kooperation bis hin zu Konvergenzbemühungen der Wettbewerbspolitik im Bereich des Fusionskontrollrechts auf. Zudem wird dargestellt, wie langfristig eine internationale Verfahrensordnung, ohne eine Harmonisierung des Fusionskontrollrechts anzustreben, entstehen kann. Auf europäischer Ebene wird zwar das Problem der multijurisdiktionellen Zusammenschlussanmeldungen mit der Einführung des »one stop shop«-Prinzips in der FKVO gelöst, aber fragwürdig ist hier die extraterritoriale Anwendbarkeit der FKVO. In diesem Zusammenhang werden die extraterritorialen Wirkungen der FKVO im Hinblick speziell auf Zusammenschlüsse, die kaum oder keine Auswirkungen in der Union haben, kritisch analysiert. Multijurisdictional merger filings are complex and can be fraught with risk for companies and competition authorities. The thesis deals comprehensively with this problem and shows the development of conflicts over cooperation up to convergence efforts in the area of merger control. It also outlines how in the long-term international rules of procedure can be developed without harmonizing merger control. Moreover, the extraterritorial effects of the EU Merger Regulation are critically analyzed.
Table of Contents
Section Title
Page
Action
Price

Danksagung

7

Inhaltsverzeichnis

9

Abbildungsverzeichnis

17

Abkürzungsverzeichnis

18

Einleitung

23

Internationaler Teil

29

Teil 1: Globalisierung und Fusionskontrolle

29

Kapitel 1

31

Globalisierung der Wirtschaft

31

A. Die wettbewerbliche Problematik der Konzentration

32

I. Definition des Begriffs "Konzentration"

34

II. Ursachen von Unternehmenszusammenschlüssen

34

III. Arten von Unternehmenszusammenschlüssen und ihre Auswirkungen auf den Wettbewerb

37

IV. Zusammenschlusskontrolle

39

B. Internationalisierung der Wettbewerbspolitik und sich daraus ergebende Probleme für grenzüberschreitende Unternehmenszusammenschlüsse

39

I. Bestandsaufnahme der praktischen Probleme

41

1. Unterschiedliche wettbewerbspolitische Leitbilder

41

2. Ineffizienzen des Auswirkungsprinzips als Rechtsanwendungsgrundlage

41

3. Aufgreifkriterien

43

4. Anmeldefristen

44

5. Anmeldegebühren

45

6. Unterschiedliche Überprüfungszeiträume

45

II. Kosten der multijurisdiktionellen Zusammenschlüsse

46

C. Zwischenfazit

48

Kapitel 2

49

Die völkerrechtlichen Grundlagen staatlicher Jurisdiktion

49

A. Der räumliche Geltungsbereich staatlicher Jurisdiktion

51

B. Der sachliche Anwendungsbereich staatlicher Jurisdiktion

51

I. Die dogmatische Ausgangslage: Die Lehre der sinnvollen Anknüpfung

51

1. Konkretisierung sinnvoller Anknüpfungspunkte

52

a) Prinzipien des internationalen Strafrechts

52

aa) Das Territorialitätsprinzip

53

bb) Das aktive Personalitätsprinzip

53

cc) Das Schutzprinzip

54

dd) Die Kritik der Übertragung der völkerrechtlichen Grundsätze des internationalen Strafrechts auf wettbewerbsrechtliche Sachverhalte

54

b) Das Auswirkungsprinzip

55

2. Zwischenergebnis

56

II. Kriterien zur Einschränkung der extraterritorialen Rechtsanwendung

56

1. Auswirkungsprinzip: Konkretisierte Anforderungen an die Auswirkungen

56

2. Das Einmischungsverbot

57

3. Das Rechtsmissbrauchsverbot

58

4. Comity of nations und Interessenabwägung

58

C. Zusammenfassung

60

Teil 2: Die fünf "Cs" der internationalen Fusionskontrolle: From Conflict to Coexistence, Comity, Cooperation und Convergence

62

Kapitel 1

63

Reaktionen auf die extraterritoriale Wirkung nationalen Rechts: Konflikte und Comity-Klauseln

63

Kapitel 2

66

Bilaterale Kooperationen

66

A. Bilaterale Vereinbarungen

67

I. Kooperationsabkommen

68

1. EU-USA

68

a) Abkommen über die Anwendung ihrer Wettbewerbsregeln

69

b) Abkommen über die Anwendung der "Positive Comity"-Grundsätze bei der Durchsetzung der Wettbewerbsregeln

70

c) Best Practices on Cooperation in Merger Investigations

71

d) Einblick in die Praxis

71

2. USA-Kanada

75

3. Australien-Neuseeland

75

4. Die Zusammenarbeit zwischen der Kommission und der EFTA-Überwachungsbehörde als besondere Form der Kooperation

76

5. Andere Kooperationsabkommen und Memorandum of Understandings

78

II. Abkommen mit dem Ziel der Angleichung von materiellem Wettbewerbsrecht

79

B. Fazit

80

Kapitel 3

82

Internationale Koordinierungsbestrebungen

82

A. Harmonisierungsvorschläge

83

I. Havanna Charta

83

II. WTO

84

1. Wettbewerbsregulierende Bestimmungen in GATT, GATS und TRIPS

84

2. WTO-Arbeitsgruppe über das Zusammenwirken von Handels- und Wettbewerbspolitik

85

B. Politikkoordination

87

I. OECD

87

1. Empfehlungen zur internationalen Zusammenarbeit

89

2. Bericht über Zusammenschlüsse und Wettbewerbspolitik

90

3. Whish/Wood-Bericht

91

4. Bericht über die Anmeldung von transnationalen Zusammenschlüssen

92

5. Empfehlungen des BIAC/ICC

93

6. Empfehlung über die Prüfung von Zusammenschlüssen

93

7. Policy Roundtables

94

8. Zwischenergebnis in Bezug auf die Arbeit der OECD

96

II. UNCTAD

97

III. International Competition Network

99

1. Guiding Principles and Recommendations

101

2. Recommended Practices for Merger Notification Procedures

101

a) Eine ausreichende Verbindung mit dem Rechtssystem, in dessen Zuständigkeit die Prüfung des Zusammenschlusses erfolgt

102

b) Klare und objektive Anmeldeschwellen

103

c) Die zeitlichen Vorgaben für die Anmeldung einer Fusion

104

d) Überprüfungszeiträume

104

e) Anforderungen, die bei der Erstanmeldung zu beachten sind

104

f) Zusammenarbeit der Behörden

105

g) Umsetzung der MNP-Empfehlungen in der Praxis

106

3. Recommended Practices for Merger Analysis

107

4. Bewertung der Arbeit des ICN und Ausblick über die Entwicklung des ICN

107

C. Bilanz und Grenzen der bi- und multilateralen Kooperation

113

Teil 3: Zeit für ein internationales Fusionskontrollregime – ja oder nein?

119

Kapitel 1

120

Lösungsansätze

120

A. Beibehaltung des Status quo

120

B. Materiell-rechtliche Harmonisierungsvorschläge

121

I. Supranationales Modell

121

II. Mindestharmonisierung: Draft International Antitrust Code

122

III. Kritische Bewertung

124

C. Leitjurisdiktionsmodell

125

I. Leitjurisdiktion als eine Koordinationsstelle ohne Prüfungskompetenz

126

II. Leitjurisdiktion, welche die Staaten untereinander bestimmen

128

III. Leitjurisdiktion, welche durch eine internationale Behörde bestimmt wird

129

IV. Zusammenfassung und allgemeine Kritik

129

D. Verfahrensrechtliche Harmonisierung

131

I. Verfahrensrechtliche Vorschläge

131

II. Speziell: die Schaffung eines gemeinsamen Anmeldeformulars für internationale Zusammenschlüsse

133

III. Zwischenfazit

134

E. Die Berücksichtigung von Wohlfahrtseffekten in anderen Staaten

135

F. Zusammenfassung

135

Kapitel 2

136

Eigener Vorschlag

136

Europäischer Teil

143

Teil 1: Die extraterritoriale Rechtsanwendung der Verordnung (EG) Nr. 139/2004

143

Kapitel 1

144

Kontrolle durch die Verordnung (EG) Nr. 139/2004

144

A. Die historische Entwicklung der EG-Fusionskontrolle

144

B. Formelles Fusionskontrollrecht: Aufgreifkriterien

147

I. Unternehmenszusammenschluss

148

1. Fusion, Kontrollerwerb

148

2. Gemeinschaftsunternehmen

149

3. Ausnahmetatbestände des Art. 3 Abs. 5 FKVO

150

II. Unionsweite Bedeutung

150

1. Umsatzschwellen

150

a) Generalschwellen, Art. 1 Abs. 2 FKVO

151

b) Alternative Schwellen, Art. 1 Abs. 3 FKVO

151

2. Beteiligte Unternehmen

151

3. Berechnung des Umsatzes

152

C. Materielles Fusionskontrollrecht: Eingreifkriterien

153

I. Marktabgrenzung

154

II. Erhebliche Behinderung wirksamen Wettbewerbs

155

D. Verfahren

157

E. Zusammenfassung und Untersuchungsgegenstand

159

Kapitel 2

161

Die extraterritoriale Rechtsanwendung im europäischen Kartellrecht

161

A. Die Praxis der Kommission

162

B. Die Konzepte des EuGH: Das Prinzip der Unternehmenseinheit und das Durchführungsprinzip

164

I. Das Prinzip der Unternehmenseinheit

164

II. Das Durchführungsprinzip

165

C. EuG: Präzisierung des Auswirkungsprinzips

165

D. Würdigung und Folgerungen für den Gang der Untersuchung

166

Kapitel 3

168

Entscheidungspraxis der Kommission: Anwendung der FKVO auf Drittstaatenunternehmenszusammenschlüsse

168

A. Anwendung der FKVO auf Unternehmenszusammenschlüsse in Drittstaaten mit Auswirkungen in der Union

169

B. Anwendung der FKVO auf Unternehmenszusammenschlüsse in Drittstaaten ohne Auswirkungen in der Union

170

I. Drittstaatenunternehmenszusammenschlüsse

170

II. Die Gründung von Gemeinschaftsunternehmen in Drittstaaten

172

C. Würdigung

175

Kapitel 4

177

Der (extra-)‌territoriale Anwendungsbereich der FKVO

177

A. (Extra-)‌territorialer Anwendungsbereich: Ermittlung des extraterritorialen Anwendungsbereichs der FKVO

179

I. Erwägungsgrund Nr. 10 zur FKVO

179

II. Das Merkmal der unionsweiten Bedeutung

179

III. Die kollisionsrechtliche Funktion des unionsbezogenen Umsatzerfordernisses in Art. 1 Abs. 2, 3 FKVO

180

B. Rechtsfolgen bei Erfüllung der Aufgreifkriterien

182

I. Anmeldepflicht, Art. 4 FKVO

182

II. Vollzugsverbot, Art. 7 FKVO

182

III. Ggf. Untersagung, Art. 8 Abs. 3 FKVO

183

C. Zusammenfassung

183

Kapitel 5

184

Umsatzschwellenwerte als sinnvolle Anknüpfung für die (extraterritoriale) Anwendbarkeit der FKVO?

184

A. Können anhand der bestehenden Umsatzschwellen die Zusammenschlüsse von unionsweiter Bedeutung festgestellt werden?

184

B. Normative Anforderungen an die Aufgreifkriterien der Zusammenschlusskontrolle

186

C. Verwendung anderer Kriterien zur Bestimmung der Jurisdiktion

187

I. Bestimmung der unionsweiten Bedeutung anhand des Kriteriums der Beeinträchtigung der Zwischenstaatlichkeitsklausel

187

II. Bestimmung der unionsweiten Bedeutung anhand Marktanteilsschwellen (relative Aufgreifkriterien)

188

III. Differenzierte Schwellenwerte auf einer sektoralen Basis

189

IV. Umsatzschwellenwerte mit einer Indexklausel

190

V. Gesamtwert der Transaktion

191

VI. Stellungnahme zu den Alternativen

191

D. Explizite Verwendung des Auswirkungsprinzips als Kollisionsnorm in der FKVO

192

E. Einführung eines Gefahrforschungseingriffs zusätzlich zu den Umsatzschwellenwerten

192

F. Entkoppelung der Untersagungsbefugnis von der Anmeldepflicht und dem Vollzugsverbot

193

G. Andere Berechnung des Umsatzes bei der Gründung von Gemeinschaftsunternehmen

193

H. Befreiung von der Anmeldepflicht für Drittstaatenzusammenschlüsse, die keine oder geringe Auswirkungen auf den Binnenmarkt haben

194

I. Anzeigeklausel

195

J. Zusammenfassung der Erkenntnisse, Würdigung und Perspektiven

196

Teil 2: Extraterritoriale Durchsetzungskompetenz und bestimmte verfahrensrechtliche Problematiken

200

Kapitel 1

200

Verfahrensbezogene Schwierigkeiten anhand der FKVO

200

A. Die informellen Pränotifizierungsgespräche mit der Kommission

201

B. Auskunfts- und Vorlageverlangen, Art. 11 FKVO

201

I. Auskunftsverlangen

201

II. Grenzen des Auskunftsverlangens

202

1. Auskunftsverweigerungsrecht

202

2. Widerspruch zur Rechtsprechung des EGMR hinsichtlich des Verbots des Zwangs zur Selbstbelastung nach Art. 6 EMRK

203

C. Bekanntgabe im Ausland

206

D. Nachprüfungsbefugnisse, Art. 13 FKVO

207

E. Festsetzung von Geldbußen, Art. 14 FKVO

208

I. Verfahren

208

II. Extraterritoriale Anwendung von Art. 14 FKVO?

210

III. Das FKVO-Bußgeldverfahren im Lichte der allgemeinen Rechtsgrundsätze, der EMRK und der GR-Charta

211

1. Verletzung des Bestimmtheitsgrundsatzes unter der Berücksichtigung, dass Geldbußen Sanktionen ohne strafrechtlichen Charakter sind

212

2. Verletzung des Bestimmtheitsgrundsatzes unter der Annahme, dass Geldbußen als strafrechtsähnliche Maßnahmen anzusehen sind

213

3. Gerichtliche Kontrolle von Kommissionsentscheidungen

214

4. Selbstbelastungsfreiheit

216

5. Zusammenfassung

216

F. Vollstreckung

217

G. Bewertung der verfahrensrechtlichen Problematiken

217

Zusammenfassung und Ausblick

219

Literaturverzeichnis

224

Stichwortverzeichnis

254