Comparative law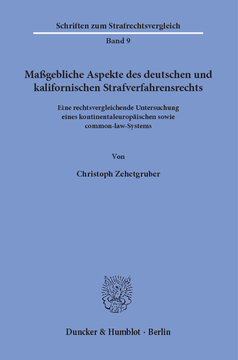 BOOK
Maßgebliche Aspekte des deutschen und kalifornischen Strafverfahrensrechts
Eine rechtsvergleichende Untersuchung eines kontinentaleuropäischen sowie common-law-Systems
Schriften zum Strafrechtsvergleich, Vol. 9
(2019)
Additional Information
Book Details
ISBN

978-3-428-55822-3
978-3-428-15822-5 (print edition)

DOI

https://doi.org/10.3790/978-3-428-55822-3

Edition

1

Language

German

Pages

549

Collections

Subjects
Pricing
Institution

€ 150.00 (incl. local VAT if applicable)

Individual

€ 116.90 (incl. local VAT if applicable)
About The Author
Christoph Zehetgruber studierte in Graz Rechtswissenschaften. Von 2006 bis 2010 war er als wissenschaftlicher Mitarbeiter am dortigen Institut für Strafrecht, Strafprozessrecht und Kriminologie beschäftigt, 2010 promovierte er mit einer auf das klassische wie moderne islamische Strafrecht fokussierten Arbeit. Nach Gerichtspraxis und einer Tätigkeit am Obersten Gerichtshof in Wien ist Christoph Zehetgruber seit 2012 am Lehrstuhl für Strafrecht, Strafprozessrecht und Medizinstrafrecht der Universität Bayreuth (Prof. Dr. Brian Valerius) tätig. 2018 erfolgte die Habilitation durch die Rechts- und Wirtschaftswissenschaftliche Fakultät der Universität Bayreuth.
Christoph Zehetgruber studied law at Graz university. There, between 2006 and 2010, he was as a scientific assistant at the institut of criminal law, criminal procedure law and criminology. 2010, he gained a doctoral degree with a study focusing on classic and modern islamic criminal law. After his legal clerkship and an employment at the Austrian Supreme Court, Christoph Zehetgruber worked from 2012 on at the chair of criminal law, criminal procedure law and criminal medicine at the university of Bayreuth (Prof. Dr. Brian Valerius). 2018, he required his Habilitation from the faculty of Law, Business & Economics, located in Bayreuth.
Abstract
Die Arbeit widmet sich in rechtsvergleichender Art und Weise zwei wesentlichen Teilbereichen des deutschen wie des kalifornischen Strafverfahrensrechts. Das Ermessen der Strafverfolgungsbehörden Polizei und Staatsanwaltschaft, welches im Ermittlungsverfahren von essentieller Bedeutung ist, bildet den ersten inhaltlichen Hauptteil der Arbeit. Im zweiten Teil wird die Wahrheitssuche, verstanden als möglichst exakte Rekonstruktion eines historischen Geschehens, im Hauptverfahren dargestellt und den Beteiligten an dieser breiter Raum eingeräumt. Ferner werden die von der Wahrheit differenten, unterschiedlichen Geltungsgrundlagen strafverfahrensrechtlich relevanter Entscheidungen in den Blick genommen. Im Ergebnis wird im Hinblick auf die zu untersuchenden Forschungsfragen die Geltung der rechtsvergleichenden Äquivalenzhypothese für die aufgefundenen Lösungen der beiden Strafverfahrensordnungen unterschiedlich beurteilt. »Relevant Aspects of German and Californian Criminal Procedure Law – A Comparative Law Study of a Continental European and a Common Law System«


This study of comparative criminal procedural law deals with two main topics in Germany and California. It compares the discretion of the law enforcement agencies before trial and besides that, focuses on the aim of truth-finding within the criminal trial, which is exercised through its main actors. Moreover, different, especially consensual ways of dealing with criminal acts in both systems are portrayed and analysed.
Table of Contents
Section Title
Page
Action
Price

Vorwort

7

Inhaltsverzeichnis

9

Abkürzungsverzeichnis

14

Teil 1: Grundlagen

19

Kapitel 1

19

Einführung

19

A. Forschungsgegenstand – Die Rechtsordnungen Kaliforniens und Deutschlands als Vergleichsrahmen

20

I. Kalifornien

20

II. Deutschland

21

III. Zur Auswahl der genannten Staaten für eine rechtsvergleichende Untersuchung

21

B. Die für die Untersuchung anzuwendende Methode

22

C. Zum Begriff des Verfahrens im Sinne der Untersuchung

24

D. Die in der Untersuchung zu behandelnden Bereiche des Strafverfahrens

25

E. Funktionen und Ziele des Strafverfahrens in den USA und Kalifornien

26

F. Funktionen und Ziele des Strafverfahrens in Deutschland

30

G. Gemeinsamer Referenzrahmen für die weitere Untersuchung – Funktionale Übereinstimmung der Verfahrensziele in Kalifornien und Deutschland

35

H. Die zu behandelnden Forschungsfragen

35

I. Gang der Untersuchung

36

Kapitel 2

36

Die (Strafverfahrens-)‌Rechtsordnungen Kaliforniens und Deutschlands – historischer Abriss und Entwicklung

36

A. Das Begriffspaar common und civil law

38

B. Zur Entwicklung des Strafverfahrensrechts in Kalifornien und Deutschland

42

I. Geschichtliche Entwicklung des common law in den USA und Kalifornien

42

1. Verfassungs- und strafverfahrensrechtliche Grundlagen der USA und Kaliforniens

46

II. Zur Entwicklung des civil law in Deutschland

61

1. Verfassungs- und strafverfahrensrechtliche Grundlagen in Deutschland

65

C. Das Begriffspaar adversatorisches und inquisitorisches Verfahren

68

I. Ideologische Hintergründe und differente Staatsmodelle – Liberalismus vs. Paternalismus

69

II. Merkmale und Unterschiede beider Verfahrenssysteme

72

Teil 2: Verfahrensleitende Entscheidungen der Strafverfolgungsbehörden

85

Kapitel 1

85

Einführende Bemerkungen

85

A. Aufbau, Struktur und Aufgaben der Strafverfolgungsbehörden

86

I. Kalifornien

86

II. Deutschland

94

B. Der Ablauf eines Ermittlungs- und Zwischenverfahrens in Kalifornien und Deutschland

108

I. Kalifornien

108

II. Deutschland

116

C. Die Verortung der Staatsanwaltschaft innerhalb der Staatsgewalten

126

I. Kalifornien

126

II. Deutschland

128

D. Zur Ausformung des Legalitäts- und Opportunitätsprinzips in beiden Rechtsordnungen

140

I. Kalifornien

141

II. Deutschland

145

E. Die Kompetenzen der Staatsanwaltschaft im Ermittlungs- und Hauptverfahren

151

I. Kalifornien

151

II. Deutschland

158

Kapitel 2

161

Die Ermessensausübung und Beurteilungsspielräume der Staatsanwaltschaft

161

A. Grundlegendes zu Begriff und Funktion des Ermessens

161

B. Grenzen der Ermessensausübung

167

I. Kalifornien

167

II. Deutschland

178

C. Ausformungen des Ermessens der Staatsanwaltschaften

182

I. Kalifornien

182

1. Grundlegendes zum strategisch-taktischen Ermessen in allen Verfahrensstadien

183

2. Anklageermessen – Anklageerhebung, Nichtanklage, andere Erledigungsformen

185

3. Ermessen bei der Wahl des Anklageumfangs, -inhalts und der Durchführung des Verfahrens

189

4. Ermessen bezüglich der Immunitätsgewährung vor Strafverfolgung

197

5. Ermessen bezüglich der jederzeitigen Beendigung des Strafverfahrens ohne Urteil bzw. des Verzichts auf einzelne Anklagepunkte

204

6. Ermessen im Bereich des plea bargaining

206

7. Ermessen bezüglich der Lenkung des Verfahrens hinsichtlich der Straferwartung und Ermessen im Straffestsetzungsverfahren

212

II. Deutschland

221

1. Grundlegendes zum strategisch-taktischen Ermessen in allen Verfahrensstadien

222

2. Anklageermessen – Anklageerhebung, Nichtanklage, andere Erledigungsformen

224

3. Ermessen bei der Wahl des Anklageumfangs, -inhalts und der Durchführung des Verfahrens

238

4. Ermessen bezüglich der Immunitätsgewährung vor Strafverfolgung

242

5. Ermessen bezüglich der jederzeitigen Beendigung des Strafverfahrens ohne Urteil bzw. des Verzichts auf einzelne Anklagepunkte

245

6. Ermessen im Bereich der Verständigung nach § 160b und § 257c StPO

247

7. Ermessen bezüglich der Lenkung des Verfahrens hinsichtlich der Straferwartung und Ermessen im Straffestsetzungsverfahren

253

Teil 3: Zur Wahrheitssuche im Strafverfahren

254

Kapitel 1

254

Einführende Bemerkungen

254

A. Zum Begriff der Wahrheit

254

B. Kalifornien

257

C. Deutschland

260

Kapitel 2

264

Die Ermittlung der Wahrheit

264

A. Die maßgeblichen Akteure der Wahrheitsfindung und deren Beiträge zur Wahrheitsfindung

264

I. Die Staatsanwaltschaft sowie der Beschuldigte und dessen Verteidigung

265

1. Kalifornien

265

a) Zeugen- und Sachverständigenstellung und -befragung im Verfahrenslauf

273

b) Beweisverbote, Aussageverweigerungsrechte, hearsay

276

c) Zeugen- und Sachverständigenaussagen

279

d) Selbstbelastungsfreiheit, Schweigerecht, Aussage und Vertretung des Angeklagten in eigener Sache

286

e) Das Kreuzverhör als Instrument der Wahrheitsermittlung

291

f) Der Verteidiger

294

2. Deutschland

297

a) Beweisverbote, Aussageverweigerungsrechte, Hörensagen

304

b) Zeugen- und Sachverständigenaussagen

310

c) Selbstbelastungsfreiheit, Schweigerecht, Einlassung zur und Vertretung des Angeklagten in eigener Sache

320

d) Das Kreuzverhör als Instrument der Wahrheitsermittlung

326

e) Der Verteidiger

329

II. Die Sachentscheider im trial bzw. in der Hauptverhandlung

345

1. Kalifornien

345

a) Die Auswahl der jury im kalifornischen Strafverfahren

352

2. Deutschland

367

a) Die Auswahl der Laienrichter im deutschen Strafverfahren

374

III. Der Vorsitzende Richter

376

1. Kalifornien

376

2. Deutschland

381

B. Wahrheit und andere Grundlagen von verurteilenden Entscheidungen bezüglich eines strafrechtlichen Vorwurfs

395

I. Kalifornien – Guilty plea, plea of nolo contendere und Geständnis

395

II. Deutschland – Geständnis und Absprache

407

Teil 4: Zusammenfassung der Ergebnisse, Beantwortung der aufgeworfenen Forschungsfragen sowie rechtsvergleichende Folgerungen

425

A. Die Einleitung des Strafverfahrens und der diesbezügliche Stellenwert des polizeilichen wie staatsanwaltlichen Ermessens in den untersuchten Rechtsordnungen

425

I. Organisation und ideologische Hintergründe der Strafverfolgungsbehörden

425

II. Das Ermessen der Staatsanwaltschaften und Polizeibehörden

428

III. Schlussbetrachtung

438

B. Die an das historische Geschehen möglichst angenäherte Rekonstruktion i.S.v. Wahrheit und deren Funktion in beiden Rechtsordnungen

439

I. Die Wahrheitsermittlung als maßgeblichstes Verfahrensziel

439

II. Die Akteure der Wahrheitserforschung und deren Beitrag zur Wahrheit

442

III. Beweisverbote, Aussage- und Zeugnisverweigerungsrechte

453

IV. Die Sachentscheider im trial bzw. der Hauptverhandlung sowie die Bindungswirkungen und Begründung ihrer Entscheidung

455

V. Guilty plea, nolo contendere, Geständnis und Absprache als Grundlage gerichtlicher Entscheidungen

463

C. Die Beantwortung der aufgestellten Forschungsfragen und die daraus gezogenen rechtsvergleichenden Folgerungen

467

Literaturverzeichnis

477

Stichwortverzeichnis

544