Procurement law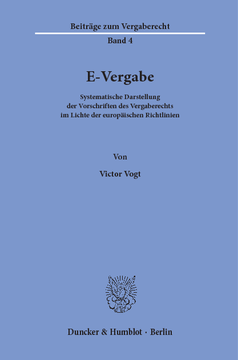 BOOK
E-Vergabe
Systematische Darstellung der Vorschriften des Vergaberechts im Lichte der europäischen Richtlinien
Beiträge zum Vergaberecht, Vol. 4
(2019)
Additional Information
Book Details
ISBN

978-3-428-55851-3
978-3-428-15851-5 (print edition)

DOI

https://doi.org/10.3790/978-3-428-55851-3

Edition

1

Language

German

Pages

350

Collections

Subjects
Pricing
Institution

€ 116.00 (incl. local VAT if applicable)

Individual

€ 89.90 (incl. local VAT if applicable)
About The Author
Victor Vogt studierte an der Freien Universität Berlin und an der Universitetet i Oslo Rechtswissenschaften mit dem Schwerpunkt im öffentlichen Recht. Nach seinem ersten Staatsexamen im Jahr 2016 begann er mit der Anfertigung seiner Dissertation an der Freien Universität Berlin. Daneben arbeitete er zunächst als wissenschaftlicher Mitarbeiter in einer international ausgerichteten Kanzlei im öffentlichen Wirtschaftsrecht, bis er ein Stipendium zur Fertigstellung seiner Promotion erhielt. Seit Februar 2019 ist er Rechtsreferendar am Kammergericht Berlin.
Victor Vogt studied law at the Free University of Berlin and at the Universitetet i Oslo, specializing in public law. After his first state examination in 2016, he began writing his thesis at the Free University of Berlin. Besides, he worked as a research assistant in an international law firm in the field of public and procurement law until he received a scholarship to complete his doctorate. Since February 2019, he has been a trainee lawyer at the Kammergericht Berlin.
Abstract
Mit der aktuellen Vergaberechtsmodernisierung wird die elektronische Verfahrensdurchführung (E-Vergabe) obligatorisch im Kartellvergaberecht mit dem Ziel eingeführt, die Effizienz und Transparenz des Prozesses zu steigern. Der Fokus der Arbeit richtet sich auf die Untersuchung der reformierten rechtlichen Anforderungen der europäischen Vergaberichtlinien und deren nationale Umsetzung. Zudem werden einleitend die für die E-Vergabe relevanten technischen sowie rechtlichen Grundlagen des novellierten europäischen Signatur- und des Datenschutzrechts dargelegt. Ferner wird die Entwicklung der E-Vergabe im Haushaltsvergaberecht aufgezeigt, bei der sich eine partielle Annäherung an den Oberschwellenbereich konstatieren lässt. Abschließend werden die neuen Regelungen zur elektronischen Rechnungsstellung bei der öffentlichen Auftragsvergabe erörtert, die einen weiteren zentralen Schritt zur durchgängig elektronischen Vergabe von der Bekanntmachung bis zur Bezahlung bildet. »E-Procurement. Systematic Analysis of the Regulations on German Public Procurement Law in the Light of the European Procurement Directives«

The current reform of procurement legislation introduces mandatory electronic procurement (e procurement). The thesis focuses on the examination of the relevant rules of the European Procurement Directives and their transposition into German law. Further, the national regulation of e-procurement under the European thresholds is outlined. Moreover, the dissertation examines the new regulations on electronic invoicing in public procurement.
Table of Contents
Section Title
Page
Action
Price

Vorwort

7

Inhaltsverzeichnis

9

A. Einführung

21

B. Technische Grundlagen und unionsrechtliche Querschnittsmaterien

25

I. Elektronische Kommunikation und Datensicherheit

25

1. Funktionsweise und Risiken der Datenübertragung im Internet

25

2. Datensicherheit und Vertrauensdienste der eIDAS-VO

26

a) Verschlüsselung zum Schutz der Vertraulichkeit

27

b) Sicherstellung der Authentizität und Integrität

29

aa) Technische Basis digitaler Signaturen

30

bb) Public-Key-Infrastruktur

30

c) Elektronische Signaturen und Siegel gemäß der eIDAS-VO

31

aa) Elektronische Signaturen

31

(1) Fortgeschrittene elektronische Signaturen

32

(2) Qualifizierte elektronische Signaturen

33

bb) Fortgeschrittene und qualifizierte elektronische Siegel

34

cc) Rechtswirkung und Beweiskraft

35

d) Elektronische Zeitstempel

37

II. Datenschutzrechtliche Anforderungen bei der E-Vergabe

37

1. Personenbezogene Daten

38

2. Datenschutzrechtlich Verantwortliche

40

3. Zentrale Grundsätze der Datenverarbeitung

41

a) Rechtmäßigkeit

42

b) Zweckbindung

44

c) Datenminimierung

45

4. Rechtsfolgen bei Datenschutzverstößen

46

C. Entwicklung des Rechtsrahmens für die E-Vergabe

48

I. Zulassung elektronischer Kommunikationsmittel im Vergabeverfahren

48

1. Entwicklung auf europäischer Ebene

48

a) Entstehung von TED und SIMAP

49

b) Internationale Entwicklungen als Impulsgeber

50

c) Zulassung elektronischer Angebote

51

2. Öffnung des nationalen Rechtsrahmens

53

II. Gleichstellung der elektronischen Kommunikation

54

1. Europäische Vergaberechtsreform 2004

54

2. Angleichung des nationalen Rechtsrahmens

56

III. Entwicklung bis zur Richtlinienreform 2014

57

D. E-Vergabe im Kartellvergaberecht

59

I. Allgemeiner Grundsatz der elektronischen Kommunikation

59

1. Richtlinienvorgaben

59

a) Richtlinienvorgaben der VRL und SRL

60

aa) Entstehung und Inhalt

60

(1) Kommissionsvorschläge

60

(2) Modifizierung im Gesetzgebungsprozess

61

bb) Auslegung der Richtlinienvorgaben

64

(1) Personeller Anwendungsbereich

65

(2) Sachlicher Anwendungsbereich

65

b) Richtlinienvorgaben der KVR

67

aa) Entstehung und Inhalt

67

(1) Kommissionsvorschlag

67

(2) Modifizierung im Gesetzgebungsprozess

68

bb) Auslegung der Richtlinienvorgaben

69

c) Zwischenergebnis

71

2. Regelung im Kartellvergaberecht

73

a) Personeller Anwendungsbereich

73

b) Sachlicher Anwendungsbereich

74

aa) Vergabe öffentlicher Aufträge

74

bb) Vergabe von Konzessionen

75

cc) Pflichtumfang

76

(1) Senden, Empfangen und Weiterleiten von Daten

76

(2) Auslegung des Begriffs des Speicherns

77

(a) Ableitung der Pflicht zur elektronischen Aktenführung

78

(b) Temporäre Speicherung im Kommunikationsprozess

78

(c) Stellungnahme

79

(3) In einem Vergabeverfahren

80

c) Subjektive Rechtsposition

82

d) Ergebnis

83

3. Besondere elektronische Methoden und Instrumente

84

a) Dynamische Beschaffungssysteme

84

b) Elektronische Auktionen

86

c) Elektronische Kataloge

88

II. Elektronische Mittel

91

1. Richtlinienvorgaben

91

a) Entstehung und Inhalt

91

b) Auslegung der Richtlinienvorgaben

91

c) Zwischenergebnis

93

2. Regelung im Kartellvergaberecht

93

a) Legaldefinition

93

aa) Auslegung im Lichte der Richtlinienbegriffsbestimmung

93

bb) E-Vergabeplattformen als primäre elektronische Mittel

94

b) Ergebnis

95

III. Anforderungen an die elektronischen Mittel

96

1. Allgemeine Gebote

96

a) Richtlinienvorgaben

96

aa) Entstehung und Inhalt

96

bb) Auslegung der Richtlinienvorgaben

97

(1) Nichtdiskriminierung

97

(2) Allgemeine Verfügbarkeit

97

(3) Kompatibilität mit allgemein verbreiteten IKT-Erzeugnissen

98

(4) Verbot der Zugangseinschränkung

99

cc) Zwischenergebnis

99

b) Regelung im Kartellvergaberecht

99

aa) Anforderungen an den Einsatz elektronischer Mittel im Vergabeverfahren

100

(1) Voranstellung der allgemeinen Verfügbarkeit

100

(2) Nichtdiskriminierung

101

(3) Kompatibilität mit allgemein verbreiteten IKT-Produkten

101

(4) Verbot der Zugangseinschränkung

103

bb) Ergebnis

103

2. Anforderungen an die Barrierefreiheit

104

a) Unionsrechtliche Vorgaben

104

aa) Richtlinienvorgaben

104

(1) Entstehung und Inhalt

104

(2) Auslegung der Richtlinienvorgaben

105

bb) Richtlinie über den barrierefreien Zugang zu den Websites und mobilen Anwendungen öffentlicher Stellen

105

(1) Personeller Anwendungsbereich

105

(2) Sachlicher Anwendungsbereich

106

(3) Mindestanforderungen an die barrierefreie Zugänglichkeit

107

cc) Zwischenergebnis

108

b) Regelung im Kartellvergaberecht

109

aa) Bestimmtheit der Verordnungsermächtigung

109

bb) Anforderungen an die Barrierefreiheit

110

(1) Vorgaben des BGG im Kontext der E-Vergabe

110

(2) Einheitliche Geltung für Auftraggeber i. S. v. § 99 GWB

112

cc) Ergebnis

113

3. Mindestanforderungen an die Interoperabilität

115

a) Richtlinienvorgaben

115

aa) Entstehung und Inhalt

115

bb) Auslegung der Richtlinienvorgaben

116

(1) Reichweite der Ermächtigung zur Standardsetzung

116

(2) Entwicklungsstand von Standards und Komponenten

117

(a) CEN BII Profiles

118

(b) PEPPOL

119

(c) e-SENS

119

cc) Zwischenergebnis

121

b) Regelung im Kartellvergaberecht

122

aa) XVergabe als nationaler Standard

122

(1) Entwicklung des Standards im Projekt XVergabe

123

(2) XVergabe-Kommunikationsschnittstelle

124

(3) Zeitplan für die Implementierung

125

bb) Ergebnis

126

IV. Alternative elektronische Mittel

126

1. Richtlinienvorgaben

127

a) Entstehung und Inhalt

127

b) Auslegung der inhaltlichen Vorgaben

128

aa) Anwendungsbereich

128

bb) Alternativer Zugang zu den Instrumenten und Vorrichtungen

129

(1) Unentgeltlicher, uneingeschränkter und vollständiger direkter Zugang

130

(2) Zugang mittels provisorischer Token

131

(3) Alternativer Kanal zur elektronischen Angebotseinreichung

132

c) Zwischenergebnis

133

2. Regelung im Kartellvergaberecht

133

a) Alternative elektronische Mittel

134

aa) Restriktive Auslegung des Anwendungsbereichs

134

bb) Anforderungen an die alternative Zugangseröffnung

136

cc) Anwendbarkeit der nicht umgesetzten Richtlinienszenarien

137

b) Ergebnis

138

3. Sonderfall: Elektronische Mittel zur Bauwerksdatenmodellierung

139

a) Richtlinienvorgaben

139

aa) Entstehung und Inhalt

139

bb) Auslegung der inhaltlichen Vorgaben

140

cc) Zwischenergebnis

140

b) Regelung im Kartellvergaberecht

141

aa) Nutzung elektronischer Mittel für die Bauwerksdatenmodellierung

141

bb) Ergebnis

143

V. Datensicherheit

143

1. Grundlegende Anforderungen

143

a) Richtlinienvorgaben

144

aa) Gebot zur Wahrung der Integrität und Vertraulichkeit

144

(1) Entstehung und Inhalt

144

(2) Auslegung der Richtlinienvorgaben

144

bb) Mindestanforderungen der VRL und SRL

146

(1) Entstehung und Inhalt

146

(2) Auslegung der Richtlinienvorgaben

147

(a) Modifizierung der Bestimmungen der VKR / ​SKR

147

(b) Vorgaben der Mindestanforderungen im Einzelnen

148

cc) Zwischenergebnis

149

b) Regelung im Kartellvergaberecht

150

aa) Allgemeines Gebot zur Wahrung der Vertraulichkeit

150

bb) Konkretisierung für die elektronischen Mittel

151

(1) Geltung während der gesamten elektronischen Kommunikation

152

(2) Erforderliche organisatorische und technische Maßnahmen

152

(a) Absicherung der Datenübertragung

153

(b) Absicherung der IT-Infrastruktur

157

cc) Spezielle Anforderungen an die zum Empfang verwendeten elektronischen Mittel

157

(1) Zwingende Vorgaben

157

(a) Bestimmung des Empfangszeitpunktes durch elektronischen Zeitstempel

157

(b) Ausschluss des vorzeitigen Zugriffs durch verschlüsselte Aufbewahrung

158

(c) Zugriffsbeschränkungen nach der erstmaligen Öffnung

159

(d) Feststellbarkeit von versuchten bzw. vollendeten Verstößen

160

(2) Verfügbarmachung notwendiger Informationen

161

(a) Reichweite der Informationspflicht

161

(b) Zurverfügungstellung

162

dd) Ergebnis

163

2. Festlegung des Sicherheitsniveaus bzgl. der Echtheit und Unversehrtheit der Daten

164

a) Richtlinienvorgaben

165

aa) Entstehung und Auslegung

165

bb) Auslegung der Richtlinienvorgaben

166

(1) Verhältnismäßigkeitsabwägung

166

(2) Elektronische Signaturen

167

(a) Fakultative Anwendung

167

(b) Bedingungen für elektronische Signaturen

168

cc) Zwischenergebnis

170

b) Regelung im Kartellvergaberecht

170

aa) Vorliegen eines inzidenten nationalen Rahmenkonzepts

171

(1) Festlegung des Sicherheitsniveaus für die elektronischen Mittel

171

(2) Einsatz elektronischer Signaturen und Siegel bei erhöhten Sicherheitsanforderungen

173

(3) Grenzen des Abwägungsrahmens

175

(a) Erforderlichkeit der einschränkenden Auslegung

176

(b) Stellungnahme

178

bb) Ergebnis

179

VI. Veröffentlichung der Bekanntmachung

179

1. Richtlinienvorgaben

180

a) Entstehung und Inhalt

180

b) Auslegung der inhaltlichen Vorgaben

180

aa) Form und Modalitäten unionsweiter Bekanntmachungen

180

bb) Veröffentlichungen im Beschafferprofil

182

c) Zwischenergebnis

183

2. Regelung im Kartellvergaberecht

183

a) Verwendung der EU-Standardformulare

184

aa) Angaben zur elektronischen Kommunikation

184

bb) Verlinkung der Eignungsanforderungen

185

(1) Pauschale Verlinkung auf die Vergabeunterlagen

186

(2) Unmittelbare Verlinkung der Eignungsanforderungen

187

(3) Vollständige Angabe in der Bekanntmachung

188

(4) Stellungnahme

188

b) Anforderungen an die Übermittlung mit elektronischen Mitteln

189

c) Veröffentlichungen im Beschafferprofil

191

aa) Ausgestaltung des Beschafferprofils

191

bb) Veröffentlichungsinhalte

191

d) Ergebnis

193

VII. Bereitstellung der Vergabeunterlagen

193

1. Richtlinienvorgaben

194

a) Entstehung und Inhalt

194

b) Auslegung der inhaltlichen Vorgaben

195

aa) Bereitstellung unter einer Internetadresse

195

bb) Uneingeschränkter und vollständiger direkter Zugang

196

cc) Ergänzung des Erfordernisses der Unentgeltlichkeit

197

c) Zwischenergebnis

198

2. Regelung im Kartellvergaberecht

198

a) Bereitstellungszeitpunkt

199

aa) Sonderfall: Aufforderung zur Interessensbestätigung

199

bb) Sonderfall: Verhandlungsverfahren ohne Teilnahmewettbewerb

200

b) Angabe einer elektronischen Adresse

201

c) Unentgeltlichkeit

202

d) Uneingeschränktheit

204

aa) Technische Einschränkungen

204

bb) Zeitliche Einschränkungen

205

(1) Erforderlichkeit der durchgehenden Bereitstellung

205

(a) Zeitliche Einschränkbarkeit

205

(b) Durchgehende Bereitstellungspflicht

206

(c) Stellungnahme

206

(2) Bereitstellungsdauer bei zweistufigen Verfahren

207

(a) Ablauf der Angebotsfrist oder der Teilnahmefrist

207

(b) Stellungnahme

208

cc) Personelle Einschränkungen

208

(1) Registrierungsverbot

208

(a) Verantwortungsverteilung beim anonymen Abruf

210

(b) Informationspflichten bei freiwilliger Registrierung

211

(2) Sonderfall: Durchführung eines Interessenbekundungsverfahrens

212

e) Vollständigkeit

213

aa) Reichweite der Bereitstellungspflicht in zweistufigen Verfahren

213

(1) Pflicht zur Bereitstellung der vollständigen Unterlagen

214

(2) Bereitstellung der erforderlichen Unterlagen

214

bb) Stellungnahme

215

f) Direktheit

218

g) Ergebnis

219

VIII. Form und Zugang von Verfahrenserklärungen

220

1. Richtlinienvorgaben

220

2. Regelung im Kartellvergaberecht

221

a) Anforderungen an die Textform für elektronische Erklärungen

221

aa) Abgabe einer lesbaren Erklärung auf einem dauerhaften Datenträger

222

bb) Person des Erklärenden bei Unternehmen

222

b) Zugang der elektronischen Verfahrenserklärungen beim Auftraggeber

223

aa) Erreichen des Machtbereichs des Auftraggebers

223

(1) E-Mail-Postfach als elektronische Empfangsvorrichtung

224

(2) E-Vergabeplattform als elektronische Empfangsvorrichtung

225

bb) Möglichkeit der Kenntnisnahme

225

c) Risikoverteilung bei technischen Störungen

226

aa) Von den Bewerbern bzw. Bietern zu vertretende Umstände

227

(1) Verspäteter Beginn der Datenübermittlung

227

(2) Technische Schwierigkeiten im eigenen Verantwortungsbereich

228

bb) Nicht von den Bewerbern bzw. Bietern zu vertretende Umstände

229

(1) Verschulden des Auftraggebers

229

(a) Funktionsstörungen der E-Vergabeplattform

230

(b) Funktionsstörungen des Bieterclients als Annex der E-Vergabeplattform

230

(c) Mangelnde Kompatibilität eines XVergabe-fähigen Bieterclients

231

(d) Kein (Mit-)Verschulden des Bewerbers bzw. Bieters

232

(2) Technische Störungen aufgrund höherer Gewalt

233

(3) Materielle Beweislast

233

d) Ergebnis

234

IX. Feststellung der Eignung

234

1. Richtlinienvorgaben der VRL

234

a) Einheitliche Europäische Eigenerklärung

234

aa) Entstehung und Inhalt

235

bb) Auslegung der Richtlinienvorgaben

236

(1) EU-Standardformular

236

(2) Zweistufige Nachweisführung

238

(3) Verwendungs- oder Akzeptanzpflicht

240

cc) Zwischenergebnis

241

b) e-Certis

242

aa) Entstehung und Inhalt

242

bb) Auslegung der Richtlinienvorgaben

243

c) Zwischenergebnis

244

2. Regelung im Kartellvergaberecht

244

a) Umsetzung in der VgV

244

aa) Elektronische Form

245

bb) Systematische Einordnung der eEEE als Nachweismittel

246

cc) Nachweisführung mit der eEEE

246

(1) Vorlage der geforderten Unterlagen

247

(2) Ausnahmen von der Vorlagepflicht

248

dd) e-Certis

249

b) Anwendbarkeit in der SektVO und KonzVgV

249

c) Ergebnis

250

X. Ausnahmen von der Pflicht zur elektronischen Kommunikation

251

1. Richtlinienvorgaben

251

a) Ausnahmen vom elektronischen Einreichungsverfahren

251

aa) Entstehung und Inhalt

251

bb) Auslegung der Richtlinienvorgaben

254

(1) Einheitlicher Anwendungsbereich für Einreichungsverfahren

254

(2) Gebot der restriktiven Auslegung und Begründungspflicht

255

(3) Ausnahmen aus technischen Gründen

256

(a) Spezifische Instrumente, Vorrichtungen oder Dateiformate

256

(b) Dateiformate zur Angebotsbeschreibung

257

(c) Spezielle Bürogeräte

257

(d) Physische oder maßstabsgetreue Modelle

258

(4) Ausnahmen aus Sicherheitsgründen

258

(a) Verletzung der Sicherheit der elektronischen Kommunikationsmittel

258

(b) Besondere Empfindlichkeit der Informationen

259

(5) Übermittlung auf einem anderen geeigneten Weg

260

b) Ausnahmen von der elektronischen Bereitstellung der Vergabeunterlagen

261

aa) Richtlinienvorgaben der VRL und SRL

261

(1) Entstehung und Inhalt

261

(2) Auslegung der Richtlinienvorgaben

262

(a) Verweis auf die Ausnahmen von der elektronischen Einreichung

262

(b) Vertraulichkeit der Informationen in den Auftragsunterlagen

263

bb) Richtlinienvorgaben der KVR

264

(1) Entstehung und Inhalt

264

(2) Auslegung der Richtlinienvorgaben

264

c) Zwischenergebnis

265

2. Regelung im Kartellvergaberecht

266

a) Ausnahmen in der VgV und SektVO

266

aa) Bereitstellung der Vergabeunterlagen

266

(1) Ausnahmen aus technischen Gründen

267

(a) Erforderlichkeit spezieller elektronischer Mittel

267

(b) Proprietäre Dateiformate

268

(c) Besondere Bürogeräte

270

(d) Festlegung des alternativen Übermittlungswegs und Fristverlängerung

271

(2) Schutz der Vertraulichkeit

271

bb) Ausnahmen von der elektronischen Einreichung

273

(1) Technische Gründe

274

(a) Beschränkung des Anwendungsbereichs in der VgV

274

(b) Verweis auf die technischen Gründe zu den Vergabeunterlagen

275

(2) Sicherheitsgründe

276

(a) Besondere Empfindlichkeit der Daten

277

(b) Sicherheitsverletzung der elektronischen Mittel

278

b) Ausnahmen in der KonzVgV

279

c) Ergebnis

280

XI. Grenzen der Zulässigkeit mündlicher Kommunikation

281

1. Richtlinienvorgaben

281

a) Entstehung und Richtlinieninhalt

281

b) Auslegung der Richtlinienvorgaben

282

c) Zwischenergebnis

283

2. Regelung im Kartellvergaberecht

284

a) Zulässigkeit mündlicher Kommunikation

284

aa) Betroffenheit wesentlicher Verfahrensbestandteile

284

bb) Sonderfall: Verhandlungen

286

b) Dokumentationspflicht

288

c) Ergebnis

289

E. E-Vergabe im Haushaltsvergaberecht

290

I. Vergabe öffentlicher Liefer- und Dienstleistungsaufträge

290

1. Grundsatz der elektronischen Kommunikation

291

2. Anforderungen an die elektronischen Mittel und Datensicherheit

292

3. Veröffentlichung der Bekanntmachung

293

4. Bereitstellung der Vergabeunterlagen

294

5. Übermittlung der Verfahrenserklärungen

295

6. Feststellung der Eignung

296

7. Ausnahmen vom Einsatz elektronischer Mittel

297

II. Abweichungen bei der Vergabe von Bauleistungen

298

III. Ergebnis

299

F. Elektronische Rechnungsstellung

301

I. Richtlinienvorgaben

301

1. Entstehung und Inhalt

301

2. Auslegung der Richtlinienvorgaben

304

a) Anwendungsbereich

304

b) Semantische Interoperabilität

305

c) Pflicht zum Empfang und zur Verarbeitung von E-Rechnungen

306

3. Zwischenergebnis

307

II. Regelung im nationalen Recht

308

1. Umsetzung im EGovG

308

a) Anwendungsbereich

308

aa) Personeller Anwendungsbereich

308

bb) Sachlicher Anwendungsbereich

310

b) Richtlinienkonformität des nationalen Verständnisses der E-Rechnung

310

2. Ausgestaltung des elektronischen Rechnungsverkehrs in der E-Rech-VO

311

a) Grundsatz der elektronischen Rechnungsstellung

312

aa) Ausstellung und Übermittlung in elektronischer Form

312

bb) Ausnahmen im Unter- und Oberschwellenbereich

312

b) Anforderungen an die E-Rechnungsstellung

313

aa) Rechnungsausstellung und -übermittlung

313

(1) Verwendung EN-konformer Datenaustauschstandards

314

(2) Übermittlung über ein Verwaltungsportal des Bundes

315

bb) Empfang und Verarbeitung der E-Rechnungen

316

3. Ergebnis

317

G. Schlussbetrachtung

319

Literaturverzeichnis

328

Sachwortverzeichnis

347