Biography: historical, political & military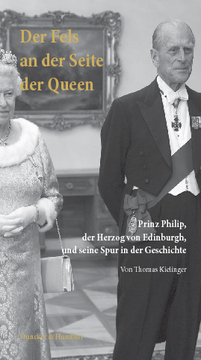 BOOK
Der Fels an der Seite der Queen
Prinz Philip, der Herzog von Edinburgh, und seine Spur in der Geschichte
(2019)
Additional Information
Book Details
ISBN

978-3-428-55898-8
978-3-428-15898-0 (print edition)

DOI

https://doi.org/10.3790/978-3-428-55898-8

Edition

1

Language

German

Pages

40

Collections

Subjects
Pricing
Institution

€ 12.00 (incl. local VAT if applicable)

Individual

€ 9.90 (incl. local VAT if applicable)
About The Author
Thomas Kielinger, b. 1940 in Danzig (modern-day Gdansk), has lived in London since 1998, first as UK-correspondent of the German daily »Die Welt«, now as author of much-acclaimed studies of British history which he chronicled in »Kleine Geschichte Großbritanniens«. Biographies of Queen Elizabeth II and Winston Churchill followed, the latter also translated into Polish and Danish. His most recent book deals with the Tudor times: »Die Königin. Elizabeth I. und der Kampf um England.« Kielinger is honorary officer of the »Oder of the British Empire« (OBE) and holds the Federal Cross First Class of Germany. Queen Mary University London as well as the University of Cardiff awarded him an Honorary Fellowship.
Thomas Kielinger, geb. 1940 in Danzig, lebt und arbeitet seit 1998 in Großbritannien, zunächst als Korrespondent der »Welt«, heute als Autor viel beachteter Bücher zur britischen Historie, deren Höhepunkte er in »Kleine Geschichte Großbritanniens« schilderte. Es folgten Biographien über Elisabeth II. und Winston Churchill, die letztere auch ins Polnische und Dänische übersetzt. In seinem jüngsten Buch geht er in die Tudor-Zeit zurück: »Die Königin. Elisabeth I. und der Kampf um England«. Kielinger ist Ehrenoffizier des »Order of the British Empire« (OBE) und Träger des Bundesverdienstkreuzes Erster Klasse. Die Universitäten Queen Mary, London, und Cardiff wählten ihn 2016 zum Honorary Fellow.
Abstract
Auch wenn Prinz Philip in seinem 99. Lebensjahr in der Öffentlichkeit nur noch selten in Erscheinung tritt, gehören er und die Königin unbestreitbar zum Ensemble der Gegenwart, zwei Ikonen der Beständigkeit, dem Wandel schier entzogen. »Mein Fels, mein Halt«, nannte Elizabeth II. ihren Mann bei einem Empfang zur Goldenen Hochzeit 1997. Der Duke of Edinburgh, Philip Mountbatten, hat bei der Festigung der britischen Monarchie in der Tat eine zentrale Rolle gespielt. Welche Steine jedoch auf seinem Lebensweg lagen und wie diese sein Wesen prägten, schildert Thomas Kielinger, fundierter Kenner der englischen Geschichte und Gegenwart, in dieser Analyse. »The Rock at the Side of the Queen: Prince Philip, the Duke of Edinburgh, and his Footprint in History«

In his 99th year he may have largely disappeared from public view, but there is no doubt that Prince Philip, the Duke of Edinburgh, together with the queen, are an intrinsic part of modern history. »My strength and stay« was how Elizabeth II. called her husband on the anniversary of their golden wedding. In fact, the Duke has significantly helped to stabilize the British Monarchy, despite the many hurdles that lay in his way as a reformer. Thomas Kielinger, an authority in British history, retraces Philip's remarkable life.
Table of Contents
Section Title
Page
Action
Price

Abb. 1: Der Herzog von Edinburgh als Kommandant der Fregatte HMS Magpie (1951)

11

Abb. 2: Hochzeit von Elizabeth II. mit Prinz Philipp (1947)

13

Abb. 3: Prinz Philip mit Sohn Charles beim Polospiel (1967)

24

Abb. 4: Prinz Philip besucht St. Columbia's Church in Chelsea, London (2015)

35

Zum Autor

39