Legal history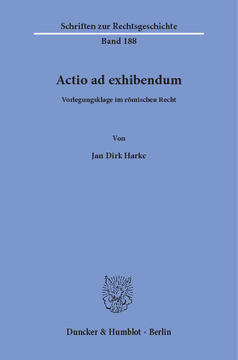 Additional Information
Book Details
ISBN

978-3-428-55892-6
978-3-428-15892-8 (print edition)

DOI

https://doi.org/10.3790/978-3-428-55892-6

Edition

1

Language

German

Pages

125

Collections

Subjects
Pricing
Institution

€ 80.00 (incl. local VAT if applicable)

Individual

€ 62.90 (incl. local VAT if applicable)
About The Author
Nach Studium und Referendariat 1998 in Freiburg promoviert und habilitierte sich Jan Dirk Harke nach zweijähriger Anwaltstätigkeit und Rückkehr in die Wissenschaft 2003 in Passau. Von 2003 bis 2016 hatte er den Lehrstuhl für Bürgerliches Recht, Römisches Recht und Historische Rechtsvergleichung an der Universität Würzburg inne. 2016 folgte er einem Ruf auf den Lehrstuhl für Bürgerliches Recht, Römisches Recht und Europäische Rechtsgeschichte an der Friedrich-Schiller-Universität Jena. Von 2009 bis 2016 war Harke Richter am Oberlandesgericht Nürnberg; seit seinem Wechsel nach Jena ist er Richter am Thüringer Oberlandesgericht.
Abstract
Der heutige Jurist kennt den Vorlegungsanspruch (§ 809 BGB), weiß aber kaum etwas damit anzufangen. Ganz anders in Rom, wo sein Vorläufer, die actio ad exhibendum, die Juristen in vielfältiger Weise beschäftigte. Da die Klage an die Behauptung eines dinglichen Rechts durch den Kläger anknüpfte, liegt nahe, in ihr ein vorbereitendes Verfahren für den dinglichen Rechtsstreit zu sehen. In den Quellen erscheint sie zwar durchaus in dieser Funktion, aber häufig auch als Mittel, um die Auseinandersetzung der Parteien endgültig zu beenden. Schlüssel zur Erklärung dieses disparaten Befundes ist die Wirkungsweise der Klage: Sie erspart dem Kläger den Nachweis des behaupteten Rechts und unterwirft den Beklagten so einer besonderen Form von Verwirkung: Offenbart er seine Renitenz schon dadurch, dass er die ihm leicht zumutbare Vorlegung verweigert oder vereitelt, muss er sich gefallen lassen, auch ohne Beweis des dinglichen Rechts verurteilt zu werden. Dieser Mechanismus verliert mit einer allgemeinen Regel für die Beweisvereitelung seine Berechtigung und mit dem Prinzip der Naturalvollstreckung auch die entscheidende Voraussetzung seiner Existenz. »Actio ad exhibendum«

Contemporary lawyers are acquainted with the claim to presentation, but hardly know what to do with it. This was quite different in ancient Rome, where his predecessor, the actio ad exhibendum, kept lawyers occupied in many ways. In the sources it appears on the one hand as a preparatory procedure for a litigation on real rights, and on the other hand as a means of finally settling the dispute between the parties. The key to explaining this disparate finding is the functioning of the claim: It spares the plaintiff the proof of his asserted right and thus subjects the defendant to a special form of forfeiture.
Table of Contents
Section Title
Page
Action
Price

Inhaltsverzeichnis

5

Einleitung

7

§ 1 Anwendungsbereich

10

I. Behauptung eines dinglichen Rechts

10

1. Eigentum an beweglichen Sachen

10

2. Pfandrecht und Nießbrauch

11

3. Interdiktenbesitz

14

II. Obligatorische Ansprüche?

15

1. Kaufvertrag

16

2. Diebstahl

20

3. Kondiktion

23

III. Sonderfälle

24

1. Noxalhaftung

24

2. Wahlvermächtnisse

27

3. "Geistiges Eigentum" und Behauptung der Freiheit

28

IV. Fazit

34

§ 2 Verhältnis zum Hauptverfahren

36

I. Eigenständige oder vorbereitende Klage?

36

1. Streitstand

36

2. Direkte Zeugnisse?

38

3. Begriffsbestimmung von exhibere

40

II. Der Quellenbefund

41

1. Zeugnisse eines gestuften Verfahrens

41

2. Nebeneinander und Alternativität von Vorlegungs- und dinglicher Klage

49

3. Exklusive Zuständigkeit der actio ad exhibendum

58

III. Folgerungen und Erklärungen

68

IV. Fazit

77

§ 3 Sinn und Struktur

78

I. Wirkungsweise

78

1. Verurteilung ohne Rechtsnachweis

78

2. Rechtsbehauptung und summarische Prüfung

80

3. Verurteilung in das volle Interesse

84

II. Der Vorsatz des Beklagten als Grundlage seiner Verurteilung

87

1. Dolus aut contumacia

87

2. Besitzverlust vor und im Prozess

91

3. Nachklassische Ausdehnung der Haftung auf Fahrlässigkeit

103

III. Verwirkung durch Vereitelung

105

1. Das Verwirkungsschema

105

2. Verbesserung der Beweisposition als Klageziel

108

3. Streitpunkt Sachverschlechterung

111

IV. Fazit

115

Literaturverzeichnis

118

Quellenverzeichnis

119