History of constitution & comparative constitutional law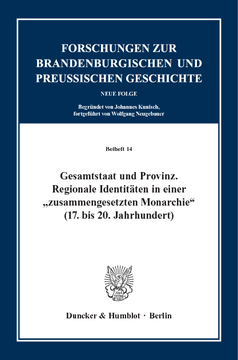 Additional Information
Book Details
ISBN

978-3-428-55834-6
978-3-428-15834-8 (print edition)

DOI

https://doi.org/10.3790/978-3-428-55834-6

Edition

1

Language

German

Pages

284

Collections

Subjects
Pricing
Institution

€ 116.00 (incl. local VAT if applicable)

Individual

€ 89.90 (incl. local VAT if applicable)
About The Author
Gabriele Schneider degrees in law at the University of Vienna (Mag. Iur. 1986, Ph.D. 1991). Study of Business Adminstration (1982-1983) at the Vienna university of Economics. 1986 – 2000 university assistant at the Department für Austrian und European Legal History, 2001-2008 private sector. Since 2008 assistant professor at the faculty of Law (Vienna University). Main fields of research: history of foundation law and social law, women in legal professions. Thomas Simon passed exams in 1986 (1. Juristisches Staatsexamen, Universität Göttingen) and 1989 (2. Juristisches Staatsexamen, Land Baden-Württemberg). PhD, University of Freiburg/Br., in 1995 with a monography about the development of the late medieval and early modern state. In 2003 Habilitation at the University of Frankfurt/M about history of the Science of Administration. Visiting Professor in Erlangen, Köln and Tartu (Estonia). Since 2006 he is Full Professor at the Faculty of Law of the Vienna University, Austria, teaching there Austrian Legal and Constitutional History.
Abstract
Preußen wies unter den deutschen Territorien – neben Österreich – in besonders ausgeprägtem Maße die Merkmale eines »zusammengesetzten Staates« auf. In keinem anderen Staat des deutschen Sprachraums waren so viele und so unterschiedliche Territorien zusammengeschlossen, wie in der hohenzollernschen und der habsburgischen Länderverbindung. Demgemäß war auch die Verfassungsgeschichte Preußens sehr stark geprägt vom Spannungsverhältnis zwischen Einheitsstaatlichkeit und Partikularismus, sichtbar im spannungsreichen Nebeneinander von älteren ständisch-partikularen und jüngeren zentralistisch-gesamtstaatlichen Strukturen. In den Beiträgen dieses Bandes werden vornehmlich die partikularen Strukturen des preußischen Staates in den Blick genommen. Im Mittelpunkt steht dabei das Wechselverhältnis von preußischer Gesamtstaatsbildung und der Ausbildung regionaler und landsmannschaftlicher Identität in den Provinzen: In welchen Institutionen kann sich so etwas wie »regionale Identität« ausdrücken und entfalten? Welcher Raum ist dem Landespartikularismus vom preußischen Staat gelassen? Wie haben die in den Landschaften der Gesamtmonarchie entstandenen regionalen Identitäten ihrerseits den Prozess der Gesamtstaatsbildung und der Integration der Teile in das Ganze beeinflusst? Mit Beiträgen zur dänischen, zur spanischen und zur Stuart-Monarchie findet sich in dem Band auch der Vergleich mit anderen »composite monarchies« in Europa. »General government and province. Local identities in a ›composite monarchy‹ (17th to 20th century)«

The subject of this volume is the charged relationship between estatist particularism and monarchical centralism in composite states: what steps were taken to create unified states from the territories held together merely by dynastic connection, and how much space was given to local identities? The particular focus is on Prussia, but the series of illustrative examples ranges also from the Danish and the Spanish to the Stuart monarchy.
Table of Contents
Section Title
Page
Action
Price

Vorwort

5

Inhaltsverzeichnis

9

I. Übergeordnete Perspektiven

11

Monika Wienfort: Preußen – (k)ein Thema für eine Landesgeschichte im 19. und 20. Jahrhundert

13

I. Modellfall preußischer Integration: Die Verstaatlichung der Gerichte in der ersten Hälftedes 19. Jahrhunderts

18

II. Geschichte der preußischen Monarchie im Deutschen Kaiserreich

20

III. Germanisierungspolitik in den preußischen Provinzen im Deutschen Kaiserreich

24

Frank Göse: Zwischen ständischem Regionalismus und Gesamtstaatsbewusstsein. Überlegungen zu den regionalen Identitäten bei adligen Amtsträgern und Offizieren im Alten Preußen

31

I. Traditionen

34

II. Strukturen

38

III. Fragile regionale Identitäten

45

II. Provinz und Gesamtstaat

53

Ludwig Biewer: Pommern in Brandenburg-Preußen

55

I. Der schrittweise Erwerb Pommerns durch die Hohenzollern

55

II. Die preußische Provinz Pommern im 19. Jahrhundert

63

1. Staatliche Verwaltung

63

2. Selbstverwaltung in der Provinz und auf Kreisebene

69

Peter Baumgart: Schlesien als eigenständige Provinz nach der Eingliederung in den friderizianischen Gesamtstaat

75

Enno Eimers: Wie preußisch wurde Ostfriesland unter Friedrich dem Großen?

93

Heide Barmeyer: Eroberung und Integration – Methoden preußischer Politik im Umgang mit neu gewonnenen Gebieten: Die Beispiele Westfalen nach 1815 und Hannover nach 1866

101

I. Einleitung / Vorüberlegungen / Fragestellung

101

1. Vergleich der Entscheidungs-Situationen 1815 und 1866

102

2. Art und Umfang der Territorialerwerbungen 1815 und 1866

104

3. Mentale und ideologische Integrationsprobleme nach 1815 und 1866

106

II. Die Eingliederung Westfalens nach 1815

107

1. Die Bedeutung der Verfassungsfrage im Vormärz in Westfalen

109

2. Verwaltung als Ersatzverfassung und der Oberpräsident Vincke als Identifikationsfigur

109

3. Die Kirchenpolitik Friedrich Wilhelms III. – Konfessionsfragen, Katholiken und Kölner Wirren / Kirchenkampf

115

4. Zusammenfassung

117

III. Die Eingliederung Hannovers nach 1866

118

IV. Resümee: Erfolg oder Misserfolg preußischer Integrationspolitikim 19. Jahrhundert

123

Wolf Nitschke: Zum Verhältnis der Provinziallandtage zum Vereinigten Landtag bzw. zum Preußischen Landtag (1823–1875)

127

I. Einleitung

127

II. Hardenbergs nicht eingelöstes Verfassungsversprechen (1810–1820)

129

III. Die Provinziallandtage als Ersatz für "Reichsstände"(1823–1842)

133

IV. Die Vereinigten Ausschüsse – ein preußischer Landtag? (1842)

138

V. Graf Arnim-Boitzenburgs Verfassungsinitiativen

141

VI. Der Vereinigte Landtag – eine historische Sackgasse (1847)

147

VII. Die parlamentarischen Versammlungen des Jahres 1848

153

VIII. Preußischer Landtag und Provinziallandtage (1849–1875)

156

IX. Zusammenfassung

158

Anhang

159

1. Denkschrift Arnims über die ständische Verfassung vom April 1844

159

2. Rücktrittsgesuch Arnims vom 17.05.1844

166

3. Eigenhändiges Schreiben Friedrich Wilhelms IV. vom 17.05.1844 an Arnim

168

4. Graf Arnim am 24.ten Mai 1844 an den König

168

5. Schreiben Arnims vom 17.12.1844 an den König

170

6. Handschreiben des Königs an Arnim

173

7. Schreiben Arnims vom 27.12.1844 an den König

174

8. Schreiben Arnims vom 28.12.1844 an den König

178

9. Denkschrift des Grafen Arnim vom 14.05.1845

178

10. Entwurf A des Grafen Arnim zur ständischen Verfassung(verfasst um 1844)

179

11. Entwurf B des Grafen Arnim zur ständischen Verfassung (verfasst um 1844)

184

12. Rücktrittsgesuch Arnims vom 23.05.1845

192

13. Denkschrift Arnims vom 24.05.1845

193

14. Schreiben Friedrich Wilhelms IV. vom 25.05.1845 an Arnim

194

15. Schreiben Arnims vom 27.05.1845 an den König

195

16. Kabinettsordre vom 07.07.1845, Arnims Entlassung betreffend

198

17. Schreiben Arnims vom 03.01.1847 an den König

198

18. Denkschrift Arnims vom Dezember 1846

199

19. Denkschrift des Grafen Arnim vom 09.03.1847

204

20. Handschreiben des Königs vom 31.03.1847 an Arnim

205

21. Handschreiben des Königs vom 02.04.1847 an Arnim

206

22. Adresse vom 15.03.1848

208

III. Rheinische Perspektiven

211

Ingeborg Schnelling-Reinicke: Wechselbeziehung zwischen Provinz und Zentrale. Wasserrecht und Wasserwirtschaft in der Rheinprovinz – Friedrich von Sybel und die Entstehung des Preußischen Wassergesetzes

213

I. Situation vor der Verabschiedung des Preußischen Wassergesetzes

214

II. Das Engagement Friedrich von Sybels für das Wasserrecht

222

III. Ausblick auf die weitere (auch reichsrechtliche) Entwicklung

228

Erik Lommatzsch: "… daß die Vereinigung der Rheinlande mit der preußischen Monarchie eine wahrhaft providentielle gewesen …" Gesamtstaat und Rheinprovinz bei Peter Reichensperger

231

I.

232

II.

235

III.

239

IV.

243

IV. Europäische Vergleichsperspektiven

245

Ronald G. Asch: Dynastische Großreiche zwischen Konsolidierung und Krise:Die spanische Monarchie und die Stuart-Monarchie zu Beginn des 17. Jahrhunderts im Vergleich

247

I.

247

II.

249

III.

252

IV.

258

V.

263

VI.

266

Jes Fabricius Møller: Konglomeratstaat, Personalunion, Nationalstaat.Zentrum und Peripherie in Dänemark im langen 19. Jahrhundert

269

I. Was heißt "Dänemark"?

271

II. Dänemark-Schleswig-Holstein als Personalunion?

274

III. Verfassung

277

Die Autoren und Herausgeber des Bandes

283