Juvenile criminal law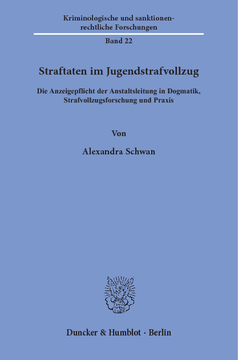 Additional Information
Book Details
ISBN

978-3-428-55790-5
978-3-428-15790-7 (print edition)

DOI

https://doi.org/10.3790/978-3-428-55790-5

Edition

1

Language

German

Pages

368

Collections

Subjects
Pricing
Institution

€ 116.00 (incl. local VAT if applicable)

Individual

€ 89.90 (incl. local VAT if applicable)
About The Author
Alexandra Schwan studierte Rechtswissenschaft in Potsdam, Lausanne und Berlin. Nach ihrem ersten Staatsexamen war sie am Lehrstuhl für Strafrecht, Strafprozessrecht und Rechtsphilosophie bei Prof. Dr. Gerhard Seher an der Freien Universität Berlin tätig und wurde bei Prof. Dr. Kirstin Drenkhahn an der Freien Universität Berlin promoviert. Im Anschluss an das Rechtsreferendariat am Kammergericht ist Alexandra Schwan seit dem Jahr 2018 Richterin in Berlin.
Alexandra Schwan read law at the Universities in Potsdam, Lausanne and Berlin. After her first state examination she worked as a research assistant for Prof. Dr. Gerhard Seher at the Freie Universität Berlin, where she also obtained her doctorate, supervised by Prof. Dr. Kirstin Drenkhahn. After her legal clerkship at the Kammergericht she was appointed as a judge in Berlin 2018.
Abstract
Für einen auf Resozialisierung ausgerichteten Jugendstrafvollzug sind Aspekte wie die Sicherheit der Gefangenen und ein positives, angstfreies Anstaltsklima von Bedeutung. Reaktionen auf Straftaten im Vollzug müssen dazu beitragen, die Funktionsfähigkeit des Strafvollzugs zu gewährleisten. Die Arbeit untersucht die verschiedenen Implikationen der Strafanzeige als Reaktion auf Straftaten im Jugendstrafvollzug. Neben der rechtlichen Frage, ob eine Anzeigepflicht der Anstaltsleitung besteht, gehört dazu auch die kriminologische Diskussion um den sinnvollen Einsatz der Strafanzeige. Zudem werden die Ergebnisse einer empirischen Untersuchung zum tatsächlichen Umgang mit der Strafanzeige in der Praxis des Jugendstrafvollzugs präsentiert. Es wird empfohlen, Strafanzeige vor allem bei schweren Delikten, erheblichen Verletzungsfolgen oder wiederholter Tatbegehung zu stellen. Ansonsten sollte seitens der Anstalt Maßnahmen der Konfliktregelung der Vorzug gegeben werden. »Crimes in Youth Prisons. A Legal, Criminological and Empirical Analysis of the Obligation of the Prison Director to Report Criminal Offences«

How to address offences committed by prisoners in youth prisons? This thesis deals with the implications of criminal complaints made by prison staff. This includes the legal question, if there is an obligation of the prison director to report criminal offences to the public procecutor, the criminological discussion of when to sensibly report a crime by a young inmate and an empirical research on the actual reportings of prison staff today.
Table of Contents
Section Title
Page
Action
Price

Vorwort

5

Inhaltsverzeichnis

7

Abbildungs- und Tabellenverzeichnis

13

Abkürzungsverzeichnis

14

A. Einführung

21

B. Grundlagen des Jugendstrafvollzugs

24

I. Straftheoretische Grundlagen

24

1. Absolute Straftheorien

25

a) Vergeltungstheorie

25

b) Sühnetheorie

26

2. Relative Straftheorien

27

a) Generalprävention

27

b) Spezialprävention

30

3. Vereinigungstheorien

31

4. Strafzwecke im Jugendstrafrecht

34

5. Zusammenfassung

35

II. Kriminologische Grundlagen

35

1. Kriminalitätstheorien

36

a) Psychoanalytischer Ansatz

36

b) Bindungs- und Kontrolltheorien

38

aa) Theorie der sozialen Bindung

38

bb) Theorie der fehlenden Selbstkontrolle

39

c) Lerntheorien

40

aa) Kriminalitätstheorie von Eysenck

41

bb) Theorie der differentiellen Assoziation

42

cc) Sozial-kognitive Lerntheorie

43

dd) Theorie der Moralentwicklung

44

d) Theorie des rationalen Wahlverhaltens

46

e) Subkulturtheorien und Neutralisation

47

f) Etikettierungsansätze

48

g) Mehrfaktorenansätze

49

h) Entwicklungstheoretische Ansätze

51

i) Situational Action Theory (SAT)

52

j) Fazit

53

2. Straftäterbehandlung

54

3. Wirksamkeitsforschung zur Behandlung im Jugendstrafvollzug

57

a) Forschung zum deutschen Jugendstrafvollzug

58

aa) Eckdaten

58

bb) Untersuchung zu Biografie, Vollzugsverlauf und Rückfälligkeit im Jugendstrafvollzug von Baden-Württemberg

60

cc) Ausbildung und Arbeit im Jugendstrafvollzug von Baden-Württemberg

63

dd) Lockerungen im Jugendstrafvollzug von Baden-Württemberg

65

ee) Untersuchung des kriminologischen Dienstes von Nordrhein-Westfalen und Sekundäranalysen von Baumann und Wirth

66

ff) Bestandsaufnahme und Rückfalluntersuchung zum Jugendstrafvollzug in Mecklenburg-Vorpommern

69

gg) Evaluation des offenen Vollzugs der Jugendstrafanstalt Rockenberg in Hessen

72

hh) Legalbewährung nach Entlassung aus der sozialtherapeutischen Abteilung der Jugendanstalt Hameln

73

ii) Wirksamkeit des Anti-Aggressivitäts-Trainings in der Jugendanstalt Hameln

74

jj) DFG-Längsschnittuntersuchung zu den "Entwicklungsfolgen der Jugendstrafe"

75

kk) Zusammenfassung

78

b) Internationale Forschung

79

aa) Zur Wirksamkeit von Behandlungsprogrammen mit einer kognitiven Komponente

80

bb) Die Wirksamkeit von Behandlungsprogrammen

81

cc) Wirksamkeit von Behandlungsprogrammen bei Jugendlichen und Erwachsenen in Europa

82

dd) Das Correctional Drug Abuse Treatment Effectiveness (CDATE) Projekt

84

ee) Eine Kosten-Nutzen-Analyse

85

ff) Meta-Analyse zur Behandlung von jugendlichen Gesetzesbrechern

87

gg) Zur Wirksamkeit von strukturierten, gruppenorientierten, kognitiv-verhaltenstherapeutischen Behandlungsprogrammen

88

hh) Wirksame Faktoren bei der kognitiv-verhaltenstherapeutischen Behandlung

89

ii) Wirksamkeit von Behandlungsprogrammen mit Jugendlichen in Europa

90

jj) Zusammenfassung

91

c) Regeln für eine wirksame Behandlung

93

aa) Das Risk-Need-Responsivity (RNR) Modell

93

bb) Das Good Lives Model (GLM)

95

4. Prisonisierung und Vollzugsgestaltung

97

a) Prisonisierung

97

aa) Prisonisierungstheorien

98

bb) Prisonisierungseffekte

100

b) Vollzugsgestaltung

102

c) Fazit

105

5. Zusammenfassung

105

III. Rechtliche Grundlagen des Jugendstrafvollzugs

107

1. Gesetzeskonzepte

108

2. Vollzugsziel und Aufgabe

110

a) Resozialisierung

111

b) Schutz der Allgemeinheit

113

c) Vollzugsziel und Aufgabe in den Jugendstrafvollzugsgesetzen der Länder

116

aa) Vorrang der Resozialisierung

120

bb) Gleichrangigkeit von Resozialisierung und Sicherungsaufgabe

122

cc) Vorrang des Schutzes der Allgemeinheit

123

d) Zusammenfassung

124

3. Der Erziehungsgedanke

125

a) Kritik am Erziehungsbegriff

125

b) Konkretisierung und Begrenzung des Erziehungsbegriffs

127

c) "Förderung" statt Erziehung?

129

d) Der Erziehungsgedanke in den Landesgesetzen

131

e) Zusammenfassung

133

4. Gestaltungsgrundsätze

133

5. Rechtliche Grundlagen für Reaktionen auf Straftaten im Jugendstrafvollzug

136

a) Erzieherisches Gespräch, erzieherische Maßnahmen und Disziplinarmaßnahmen

138

b) Maßnahmen der Konfliktregelung

140

6. Verhältnis des Vollzugsziels zu den allgemeinen Strafzwecken

140

7. Zusammenfassung

143

C. Das Vorliegen einer Anzeigepflicht der Anstaltsleitung

145

I. Die Strafanzeige der Anstaltsleitung

145

1. Die Strafanzeige

145

2. Die Anstaltsleitung

147

3. Die Strafanzeige durch die Anstaltsleitung

150

II. Pflicht der Anstaltsleitung zur Strafanzeige

153

1. Strafrechtliche Pflicht

153

a) Strafverfolgungsvereitelung aus §§ 258 I, 13 I StGB

153

aa) Grundlagen der Garantenstellung

157

(1) Das Vertrauensprinzip

160

(2) Soziologisch fundierte Theorien

161

(3) "Pflichten kraft Organisationszuständigkeit" und "Pflichten kraft institutioneller Zuständigkeit"

163

(4) Die "Herrschaft über den Grund des Erfolges"

164

(5) Fazit

169

bb) Die Anstaltsleitung als Überwachergarantin

170

cc) Die Anstaltsleitung als Beschützergarantin

172

(1) Ableitung aus der Funktion der Anstaltsleitung

173

(2) Ableitung aus einer speziellen gesetzlichen Regelung oder anderen Dienstpflichten

177

(3) Ableitung aus den Verwaltungsvorschriften

179

dd) Fazit

182

b) Strafverfolgungsvereitelung im Amt aus §§ 258a, 13 I StGB

182

2. Dienstrechtliche Pflicht

183

III. Zusammenfassung

185

D. Die Anzeigepflicht der Anstaltsleitung im Kontext der Strafvollzugsforschung

187

I. Forschung zu Straftaten im Strafvollzug

187

1. Im Jugendstrafvollzug

188

a) Formelle Disziplinierung im Jugendstrafvollzug

188

b) Viktimisierung im Jugendstrafvollzug

191

c) Gewalt im hessischen Justizvollzug

192

d) Gewalt unter Gefangenen

195

e) Jugendgewalt im Strafvollzug in Sachsen

198

f) Viktimisierungserfahrungen im Justizvollzug

200

g) Sicherungs- und Disziplinarmaßnahmen im Jugendstrafvollzug von Mecklenburg-Vorpommern

204

h) Gewalt und Suizid im Jugendstrafvollzug

205

2. Im Erwachsenenstrafvollzug

208

a) Reaktionen der Vollzugsverwaltung auf Straftaten

209

b) Gewalt unter erwachsenen männlichen Inhaftierten

212

3. Internationale Forschung

216

4. Zusammenfassung

219

II. Mögliche Ursachen von Straftaten im Vollzug

222

1. Allgemeine Faktoren

222

a) Kriminalitätstheorien

223

b) Individuelle kriminogene Risikofaktoren

225

2. Vollzugspezifische Faktoren

225

a) Prisonisierung und Subkultur

226

b) Vollzugsspezifische Risikofaktoren

227

3. Zusammenfassung

228

III. Die Strafanzeige im Jugendstrafvollzug

228

1. Ziel der Strafanzeige im Jugendstrafvollzug

228

2. Sinnhaftigkeit einer Strafanzeige durch die Anstaltsleitung

229

a) Auswirkungen auf den Resozialisierungsprozess

230

aa) Auswirkungen auf einzelne Behandlungsprogramme und -maßnahmen

231

bb) Auswirkungen auf die Prisonisierung und die Vollzugsgestaltung

233

(1) Auswirkungen auf Prisonisierung und Subkulturbildung

234

(2) Auswirkungen auf einzelne Prisonisierungseffekte

234

(3) Auswirkungen auf die Vollzugsgestaltung

238

cc) Zusammenfassung

239

b) Auswirkungen auf den Schutz der Allgemeinheit

240

c) Sonstige Auswirkungen

241

d) Strafverfolgungsinteresse

241

e) Handlungsalternativen

244

aa) Erzieherische Maßnahmen und Disziplinarmaßnahmen

244

bb) Erzieherisches Gespräch und Maßnahmen der Konfliktregelung

246

f) Abwägung der Implikationen

247

3. Erfordernis einer verpflichtenden Regelung?

251

IV. Zusammenfassung

252

E. Die Handhabung in der Praxis

254

I. Methode

254

1. Aktenanalyse

255

2. Schriftliche Befragung

255

3. Vorabtestung der Erhebungsinstrumente

256

4. Vorgehensweise

257

5. Probleme bei der Durchführung

258

II. Ergebnisse der Aktenanalyse

260

1. Die Anstalten

260

a) JSA Berlin

260

b) JVA Wriezen

262

2. Straftaten in den Jugendstrafanstalten

263

a) Anzahl und Art der Vorkommnisse in den Anstalten

264

b) Geschädigte / r

266

c) Verletzungsfolgen

268

d) Meldung

271

e) Tatort und -beteiligung

271

f) Zeitpunkt der Tatbegehung im Haftverlauf

273

3. Täter

274

a) Täterdaten in der JSA Berlin

274

b) Täterdaten in der JVA Wriezen

275

4. Umgang mit Straftaten

276

a) Strafanzeige

277

b) Meldung bei der Aufsichtsbehörde

284

c) Disziplinarmaßnahmen

285

5. Kritische Würdigung der Aktenanalyse

286

6. Zusammenfassung

287

III. Ergebnisse der schriftlichen Befragung der Anstaltsleitungen

288

1. Allgemeines

288

2. Der Umgang mit den Diziplinarfällen

290

a) Fallorientierter Vergleich

291

b) Anstaltsorientierter Vergleich

300

3. Die Strafanzeige: Ziele und Auswirkungen

302

4. Regelung zur Strafanzeige

305

5. Kritische Würdigung der schriftlichen Befragung

306

6. Zusammenfassung

307

IV. Übergreifende Befunde zur Strafanzeige und Fazit

308

F. Regelungsvorschlag

311

G. Zusammenfassung der wichtigsten Ergebnisse

313

Anhang

317

Literaturverzeichnis

331

Sachwortverzeichnis

364