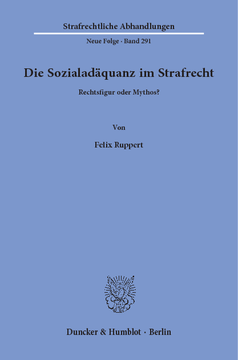 BOOK
Cite BOOK
Style
---
Ruppert, F. (2020). Die Sozialadäquanz im Strafrecht. Rechtsfigur oder Mythos?. Duncker & Humblot. https://doi.org/10.3790/978-3-428-55844-5
Ruppert, Felix. Die Sozialadäquanz im Strafrecht: Rechtsfigur oder Mythos?. Duncker & Humblot, 2020. Book. https://doi.org/10.3790/978-3-428-55844-5
Ruppert, F (2020): Die Sozialadäquanz im Strafrecht: Rechtsfigur oder Mythos?, Duncker & Humblot, [online] https://doi.org/10.3790/978-3-428-55844-5
---
Format
---
Die Sozialadäquanz im Strafrecht
Rechtsfigur oder Mythos?
Strafrechtliche Abhandlungen. Neue Folge, Vol. 291
(2020)
Additional Information
Book Details
Publisher Name

Duncker & Humblot

ISBN

978-3-428-55844-5
978-3-428-15844-7 (print edition)

DOI

https://doi.org/10.3790/978-3-428-55844-5

Edition

1

Language

German

Pages

330

Collections

Subjects
Pricing
Institution

€ 106.00 (incl. local VAT if applicable)

Individual

€ 79.90 (incl. local VAT if applicable)
About The Author
Felix Ruppert studierte von Oktober 2010 bis Juni 2015 Rechtswissenschaften mit wirtschaftswissenschaftlicher Zusatzausbildung und Schwerpunkt Wirtschafts-, Medizin- und Steuerstrafrecht an der Universität Bayreuth. Im Anschluss daran arbeitet er seit August 2015 am Lehrstuhl für Strafrecht, Strafprozessrecht und Medizinstrafrecht an der Universität Bayreuth. Dort erfolgte auch seine Promotion unter der Betreuung von Herrn Prof. Dr. Brian Valerius im Juni 2019.
Abstract
Die Arbeit widmet sich der Rechtsfigur der Sozialadäquanz im Strafrecht, welche wie wohl keine Zweite einerseits zuhauf als Heilsbringer herangezogen, andererseits mindestens ebenso häufig in Gänze abgelehnt wird. Dies verwundert indes nur wenig, wird der Sozialadäquanz doch seitens deren Anhänger seit jeher die Kraft zugestanden, die Strafbarkeit trotz formeller Einschlägigkeit des Tatbestandes einzuschränken, wenn sich die zu beurteilende Handlung im Rahmen der gesellschaftlich bedingten Ordnung des Gemeinschaftslebens bewegt. Damit steht die Rechtsfigur freilich vor dem Spagat, die Vorgaben des Sollens nicht durch die Umstände des Seins zu durchbrechen, letztere aber gleichwohl im Strafbarkeitsverdikt zu berücksichtigen. Daher wird die lebhaft umstrittene Sozialadäquanz auf deren Grundlage sowie Berechtigung im Verbrechenssystem hin untersucht und letztlich auf die Straftheorien zurückgeführt, sodass sie als Rechtsfigur sui generis in Gestalt einer metateleologischen Reduktion begriffen wird.»Social Adequacy in German Criminal Law«German criminal law is based on codified elements of a crime as well as the prohibition of analogy. Accordingly, written law is of utmost importance and criminal judges have no dispensing power. This leads to criminal liability, although an action corresponds to usual business practice or social behavior. The ›Sozialadäquanz‹ is a legal instrument which seeks a way out in order to reduce the risk of criminal liability.
Table of Contents
Section Title
Page
Action
Price

Vorwort

7

Inhaltsverzeichnis

11

Abkürzungsverzeichnis

17

A. Vom Mythos der Sozialadäquanz

21

B. Entwicklung und Bedeutung der Sozialadäquanz

25

I. Anfänge der Lehre

27

1. Die Fahrt mit der Eisenbahn

27

2. Der Betrieb riskanter Unternehmungen

28

3. Drohungen mit verkehrsmäßigen Übeln

28

4. Tötungen im Krieg

30

5. Fazit

30

II. Weitere Rezeption in der Literatur

32

1. Sozialadäquanz im Besonderen Teil des StGB

32

a) Straftaten gegen die Person

32

aa) Straftaten gegen das (werdende) Leben

32

(1) Folgen des Geschlechtsverkehrs

32

(2) Medizinisch indizierter Schwangerschaftsabbruch

33

(3) Passive Sterbehilfe

35

bb) Straftaten gegen die körperliche Unversehrtheit

37

(1) Ärztlicher Heileingriff

37

(2) Knabenbeschneidung

39

(3) Infektion mit Krankheiten

40

(4) Teilnahme an Sportwettbewerben

41

(5) Züchtigungsrecht

43

(6) Unerhebliche und unangemessene Körperverletzungen

46

(7) Verletzungen der Psyche

48

cc) Straftaten gegen die persönliche Freiheit

49

(1) Freiheitsberaubung

49

(a) Moderner Massenverkehr

49

(b) Unerhebliche Freiheitsbeschränkungen

51

(c) Akte der Strafverfolgung

52

(2) Nötigung

53

(a) Verwerflichkeitsklausel

53

(b) Sozialadäquate Drohungen

54

(3) Sittlichkeitsdelikte

56

dd) Straftaten gegen die Ehre

57

(1) Beleidigungsfreie Sphäre

57

(2) Beleidigungen an Karneval

58

ee) Straftaten gegen den persönlichen Geheimbereich

59

b) Straftaten gegen die Allgemeinheit

61

aa) Missbrauch von Titeln, Berufsbezeichnungen und Abzeichen

61

bb) Verstrickungsbruch

61

cc) Falsche Verdächtigung und Verfolgung Unschuldiger

62

dd) Strafvereitelung

63

(1) Alltägliche Handlungen ohne ausschließliche Vereitelungstendenz

63

(2) Schenkungen an den zu einer Geldstrafe Verurteilten

64

(3) Handlungen des Strafverteidigers

65

ee) Geldwäsche

66

(1) Alltägliche Handlungen

66

(2) Entgegennahme durch Strafverteidiger

67

ff) Unerlaubte Veranstaltung eines Glücksspiels

68

gg) Bestechung

70

c) Straftaten gegen das Vermögen

72

aa) Diebstahl

72

(1) Diebstahl geringwertiger Sachen

72

(2) Maibaumdiebstahl

72

(3) Diebstahl mit einem gefährlichen Werkzeug

73

bb) Unterschlagung

74

cc) Erpressung

74

dd) Betrug

75

(1) Anpreisungen und Reklame

75

(2) Verbergen eines Liebhaberinteresses

77

(3) Handeln im Rahmen beruflicher Ordnung

77

ee) Untreue

78

ff) Sachbeschädigung

79

2. Sozialadäquanz im Allgemeinen Teil des StGB

80

a) "Neutrale Beihilfe"

80

aa) Sozialadäquanz und andere Ansätze

80

bb) Konkretisierung der Sozialadäquanz?

83

b) Wahrnehmung einzelner Aufgaben des Betriebsinhabers

84

c) Garantenpflicht

86

3. Sozialadäquanz im Strafprozessrecht

86

III. Rezeption in der Rechtsprechung

88

1. Zurückhaltende Anwendung?

88

2. Tatsächliche Relevanz in der strafgerichtlichen Rechtsprechung

90

3. Synthese

92

IV. Rezeption in der Gesetzgebung

92

V. Fazit

94

1. Relevanz der Sozialadäquanz

94

a) Originäre Sozialadäquanz

94

b) "Surrogate" der Sozialadäquanz

95

2. Funktionen der Sozialadäquanz

97

a) Ausscheidung sozial üblicher Handlungen

97

b) "Zwischenlager" der Strafrechtsdogmatik

98

c) Inhaltliche Begründung anderer Lösungsansätze

100

d) Antonym zur Strafbarkeit

100

e) Implementierung einer Bagatellgrenze

101

3. Resultierendes Forschungsziel

101

C. Bisherige Lösungsansätze zur Dogmatik der Sozialadäquanz

103

I. Begründung

103

1. Begründungsansätze

103

a) Sozialadäquanz als mangelnde Unrechtskomponente

104

aa) Ausgangspunkt des Ansatzes

104

bb) Konzeption des Ansatzes

106

cc) Kontext des Ansatzes – Verständnis des Unrechtsgefüges

107

dd) Abschließende Stellungnahme

108

b) Sozialadäquanz als "scheinbare strafrechtliche Relevanz der Handlung"

110

aa) Konzeption des Ansatzes

110

bb) Dogmatische Grundlage des Ansatzes

112

cc) Abschließende Stellungnahme

116

c) Sozialadäquanz als überpositives Strafbarkeitskorrektiv

116

aa) Konzeption des Ansatzes

116

bb) Dogmatische Grundlage des Ansatzes

119

cc) Abschließende Stellungnahme

120

d) Sozialadäquanz als historisch-soziologische Reduktion

121

aa) Konzeption des Ansatzes

121

bb) Dogmatische Grundlage des Ansatzes

124

cc) Abschließende Stellungnahme

128

2. Kritik der Literatur

129

3. Fazit

131

II. Verortung

131

1. Sozialadäquanz als Tatbestandsausschluss

134

a) Zugrundeliegendes Verständnis

134

b) Kritik

136

2. Sozialadäquanz als Auslegungsaspekt

137

a) Zugrundeliegendes Verständnis

137

b) Kritik

138

3. Sozialadäquanz als Element der objektiven Zurechnung

139

a) Zugrundeliegendes Verständnis

139

b) Kritik

140

4. Sozialadäquanz als Rechtfertigungsgrund

141

a) Zugrundeliegendes Verständnis

141

b) Kritik

142

5. Sozialadäquanz als Schuldausschlussgrund

143

a) Zugrundeliegendes Verständnis

143

b) Kritik

144

6. Fazit

145

III. Kriterien

147

1. Konturen der Sozialadäquanz

147

a) Welzels Hypothese: gesellschaftliche Akzeptanz

147

b) Präzisierung durch die Rechtsprechung?

150

aa) Rahmen sozialer Handlungsfreiheit

150

bb) Soziale Unverdächtigkeit in strafrechtlicher Hinsicht

151

cc) Billigung der Allgemeinheit

152

dd) Üblichkeit

152

c) Zwischenfazit: Symbiose oder Antagonismus der Ansätze?

153

2. Resultierende Kritik

153

3. Alternative Konkretisierungsversuche

156

a) Auslegung des Begriffes

156

b) Werthaltigkeit der Handlungen

158

c) Einfluss des Rechtsgutes

160

d) Erfüllung rechtlich anerkannter Funktionen

161

e) Soziales Mindestmaß und gesetzliche Verbote

162

f) Hinzunahme subjektiver Kriterien

163

g) Konkretisierung in Form professioneller Adäquanz

164

4. Fazit

167

D. Eigener Lösungsansatz zur Dogmatik der Sozialadäquanz

168

I. Begründung

168

1. Die Handlungslehre als Ausgangspunkt der Sozialadäquanz?

168

a) Die Handlungslehre und deren Aufgaben

169

aa) Handlung im Strafrecht

169

bb) Klassische Handlungslehre

171

cc) Finale Handlungslehre

172

dd) Soziale Handlungslehre

175

b) Tragfähigkeit der Handlungslehre für ein Konzept der Sozialadäquanz

178

2. Sozialadäquanz als Ausfluss des rechtsfreien Raums?

179

3. Sozialadäquanz als entgegenstehende Rechtsausprägung?

181

a) § 242 BGB und § 240 StGB als Belege der Sozialadäquanz?

182

b) Sozialadäquanz als Rechtsfortbildung

183

aa) Lücken im Gesetz

184

bb) Sozialadäquanz als Lückenfüllung?

185

c) Sozialadäquanz als Naturrecht oder Gewohnheitsrecht?

187

aa) Sozialadäquanz als Naturrecht

188

bb) Sozialadäquanz als Gewohnheitsrecht

192

4. Eigener Ansatz zur Begründung der Sozialadäquanz

195

a) Abstraktes und bestimmtes Gesetz

195

aa) Abstrakt-generelle Regelungstechnik des Gesetzes

195

bb) Bestimmtheit des Gesetzes

197

(1) Bestimmtheitsgrundsatz

197

(2) Theoretisches Maß der Bestimmtheit

199

(3) Praktisches Maß der Bestimmtheit

201

cc) Konsequenzen

204

b) Fragmentarisches und bestimmtes Strafrecht

206

aa) Fragmentarietät und ultima ratio

206

bb) Verhältnis zur Regelungstechnik und Bestimmtheit der Gesetze

207

c) Zweckerfüllendes Strafrecht

209

aa) Erfordernis eines Korrektivs

209

bb) Zweck der Strafe

209

(1) Vergeltung oder Prävention

211

(2) Vereinigungstheorien

216

cc) Sozialadäquanz als Zweckerfüllung

218

dd) Sozialadäquanz zwischen Sein und Sollen

220

d) Sozialadäquanz als Metateleologische Reduktion

222

e) Sozialadäquanz als Angleichung des strafrechtlichen Systems an die Funktionsweise des gesamten Rechtssystems

226

II. Verortung

229

1. Folgen des Wesens der Sozialadäquanz für deren Verortung

229

2. Metateleologische Reduktion als Auslegung oder Rechtsfigur sui generis

230

III. Kriterien

232

1. Sozialadäquanz als unbestimmte Figur

232

2. Konkretisierung des Unbestimmten

233

a) Metateleologische Reduktion als Ausgangspunkt

233

b) Gesichtspunkte für eine metateleologische Reduktion

234

aa) Straftheorien als Konkretisierungshilfe?

234

bb) Geschichtlich bedingte Ordnung des Gemeinschaftslebens

235

cc) Rahmen sozialer Handlungsfreiheit, Werthaltigkeit und Funktionserfüllung

236

dd) Soziale Unverdächtigkeit (in strafrechtlicher Hinsicht)

237

ee) Üblichkeit

238

ff) Einfluss des Rechtsgutes

238

gg) Fazit: Metatelos als Leitlinie

239

c) Relativität der Sozialadäquanz

240

d) Subjektivität der Sozialadäquanz

243

3. Fazit

248

IV. Fazit

249

E. Ausgewählte Anwendungsfälle der Sozialadäquanz

251

I. Infektion mit Krankheiten

251

1. Meinungsbild

251

2. Soziale Adäquanz der Übertragung von Krankheiten

252

II. Teilnahme an Sportwettbewerben

255

1. Meinungsbild

255

2. Soziale Adäquanz der Teilnahme an Sportwettbewerben

258

III. Moderner Massenverkehr

262

1. Meinungsbild

262

2. Soziale Adäquanz des modernen Massenverkehrs

265

IV. Beleidigungsfreie Sphäre

268

1. Meinungsbild

268

2. Soziale Adäquanz der Beleidigungen innerhalb der sog. beleidigungsfreien Sphäre

271

V. Alltägliche Handlungen und Strafvereitelung

274

1. Meinungsbild

274

2. Soziale Adäquanz alltäglicher Handlungen

276

VI. Bestechung

277

1. Meinungsbild

277

2. Soziale Adäquanz der Bestechung

282

F. Zusammenfassung

286

I. Dogmatik

286

II. Funktionen

287

III. Vom Mythos zur Rechtsfigur

289

Literaturverzeichnis

290

Stichwortverzeichnis

329