Social theory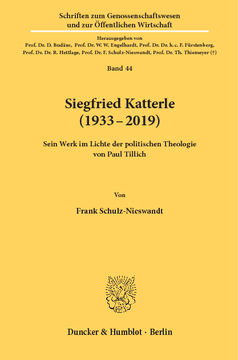 Additional Information
Book Details
ISBN

978-3-428-55885-8
978-3-428-15885-0 (print edition)

DOI

https://doi.org/10.3790/978-3-428-55885-8

Edition

1

Language

German

Pages

82

Collections

Subjects
Pricing
Institution

€ 58.00 (incl. local VAT if applicable)

Individual

€ 44.90 (incl. local VAT if applicable)
About The Author
Frank Schulz-Nieswandt, Sozialwissenschaftler; Univ.-Professur für Sozialpolitik, Methoden der qualitativen Sozialforschung und Genossenschaftswesen im Institut für Soziologie und Sozialpsychologie (ISS) an der Universität zu Köln, dort Erster Prodekan; Honorarprofessur für Sozialökonomie der Pflege an der Philosophisch-Theologischen Hochschule Vallendar, derzeit Vorstandsvorsitzender des Kuratorium Deutsche Altershilfe. Herausgeber des KDA-Journals ProAlter. Er ist Ehrenvorsitzender der Gesellschaft für Sozialen Fortschritt, federführender Herausgeber der »Zeitschrift für öffentliche und gemeinwirtschaftliche Unternehmen«. Forschungsschwerpunkte: Ontologie und Anthropologie der Sozialpolitik und der genossenschaftlichen Form, Gemeinwirtschaftslehre, Altern/Gesundheit/Pflege.
Frank Schulz-Nieswandt holds the Professorship for Social Policy and Methods of qualitative Social Research at the Institute for Sociology and Social Psychology (ISS) and is executive Director of the Seminar for Corporative Research at the University of Cologne. He has been Dean of the Faculty of Management, Economy and Social Sciences at the University of Cologne and current first Vice Dean. He is Honorary Professor for Social Economy of Longtime-nursing care at the PTH Vallendar. Schulz-Nieswandt is among others Honorary Chairman of the Corporation for Social Progress. He is Chairman of the board of the Kuratorium Deutsche Altershilfe (KDA).
Abstract
Im Jahr 2019 verstarb Prof. Dr. Siegfried Katterle im Alter von 85 Jahren. Er war Teil der Kölner Gerhard-Weisser-Schule für Sozialpolitik und der (öffentlichen und freien) Gemeinwirtschaftslehre, einschließlich des Genossenschaftswesens. Er lehrte und forschte zur Makroökonomik und Wirtschaftspolitik an der Universität Bielefeld. Er kritisierte als Institutionalist den methodologischen Individualismus, den normativen Marktliberalismus und bettete diese Forschung und Lehre in die ethische Tradition des freiheitlichen Sozialismus des Kritizismus der Weisser-Schule ein, vertrat aber im Kontext seiner religiösen Sozialisation in der Evangelischen Kirche die Variante des religiösen Sozialismus, wie er im Paul-Tillich-Kreis entwickelt worden ist. Die Arbeit gedenkt Siegfried Katterle als menschliche Persönlichkeit, wobei vor allem diese Verwurzelung in der politischen Theologie von Paul Tillich herausgearbeitet wird. Bindeglied war die Sozialökonomie von Eduard Heimann, der ebenfalls Mitglied im Tillich-Kreis war. »Siegfried Katterle (1933–2019). His works in the Light of the Political Theology of Paul Tillich«

Siegfried Katterle (1933–2019) was Member of the Gerhard Weisser-»School«, was teaching and researching about macroeconomics and economic policy, was criticising the paradigm of methodological individualism and of the normative individualism of market liberalism from the alternative perspective of institutionalism, was following the ethical socialism in the mode of religious socialism of the circle of the political Theology of Paul Tillich, including the social economics of Eduard Heimann.
Table of Contents
Section Title
Page
Action
Price

Vorwort

5

Inhaltsverzeichnis

9

Einleitung

11

Exkurs: Die epistemische Differenz von Entfremdung und Sünde

13

1. Die Heimat der Gerhard-Weisser-Schule

19

2. Die Heimat im religiösen Sozialismus

25

3. Die Bedeutung von Siegfried Katterle für meine Formwerdung

32

4. Erträge einer Urlaubslektüre: Über die Differenz zwischen der Kulturtheologie Paul Tillichs und dem kosmischen Allzusammenhang des altgriechischen Glaubens

36

Exkurs: Eugen Rosenstock-Huessy und Franz Rosenzweig. Freundschaft, Wahlverwandtschaft, Wechselwirkung

43

5. Grundfragen einer Hermeneutik der Bibel: Politische Theologie der Befreiung als Problem der Intertextualität

49

6. Fazit: Was ist der hinreichende Grund der Werteorientierung der Ökonomik? Theologie, Ontologie, Anthropologie, Ethik?

52

Ausblick

55

Schluss

58

Literaturverzeichnis

61