Administrative procedure & courts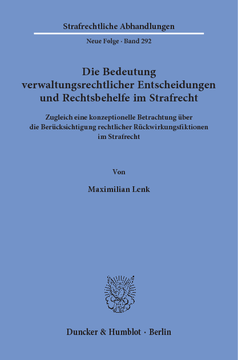 BOOK
Die Bedeutung verwaltungsrechtlicher Entscheidungen und Rechtsbehelfe im Strafrecht
Zugleich eine konzeptionelle Betrachtung über die Berücksichtigung rechtlicher Rückwirkungsfiktionen im Strafrecht
Strafrechtliche Abhandlungen. Neue Folge, Vol. 292
(2020)
Additional Information
Book Details
ISBN

978-3-428-55923-7
978-3-428-15923-9 (print edition)

DOI

https://doi.org/10.3790/978-3-428-55923-7

Edition

1

Language

German

Pages

320

Collections

Subjects
Pricing
Institution

€ 104.00 (incl. local VAT if applicable)

Individual

€ 79.90 (incl. local VAT if applicable)
About The Author
Maximilian Lenk studierte die Rechtswissenschaften an der Universität Konstanz. Im Anschluss an die 1. Juristische Prüfung absolvierte er das Rechtsreferendariat am Landgericht Stuttgart und legte das 2. Juristische Staatsexamen ab. Danach trat er eine Stelle als wissenschaftlicher Mitarbeiter am Lehrstuhl für Deutsches und Europäisches Strafrecht und Strafprozessrecht sowie Umwelt- und Wirtschaftsstrafrecht von Prof. Dr. Bernd Hecker in Tübingen an, wo er im Sommersemester 2019 durch die Juristische Fakultät der Eberhard Karls Universität Tübingen zum Doktor der Rechte promoviert wurde. Daneben förderte ihn die Friedrich-Naumann-Stiftung für die Freiheit als Promotionsstipendiat.
Maximilian Lenk studied law at the University of Konstanz. Following the 1st legal examination, he completed his legal clerkship at the Stuttgart Regional Court and passed the 2nd legal state examination. He then took up a position as research assistant at the Chair of German and European Criminal Law and Criminal Procedure Law as well as Environmental and Economic Criminal Law of Prof. Dr. Bernd Hecker in Tübingen, where he received his doctorate in law from the Faculty of Law of the Eberhard Karls University of Tübingen in the summer semester of 2019. In addition, the Friedrich Naumann Foundation for Freedom supported him as a doctoral fellow.
Abstract
Straftatbestände regeln bekanntlich nicht immer alle Voraussetzungen selbst. Entsprechend weisen Tatbestände des Kern- und Nebenstrafrechts zahlreiche Verzahnungen mit Verwaltungsakten auf. Für diese verwaltungsaktakzessorischen Straftatbestände entwickelt der Verfasser ein System, mit dessen Hilfe sich verwaltungsrechtliche Entscheidungen und Rechtsbehelfe in Voraussetzungen und Rechtsfolgen gesamtbetrachtend und auf einer gleichmäßigen Grundlage in das Strafrecht einordnen lassen. Dabei werden die Parallelen und Unterschiede von Verwaltungs- und Strafrecht als Teilgebiete des öffentlichen Rechts herausgearbeitet, die Anforderungen für die unrechtsbegründende und –ausschließende Wirkung des Verwaltungsakts aufgezeigt und hieraus die strafrechtlichen Folgen verwaltungsrechtlicher Entscheidungen und Rechtsbehelfe (vorläufiger Rechtsschutz, behördliche bzw. gerichtliche Aufhebung) erschlossen. Ein besonderes Augenmerk gilt dabei der Bedeutung strafrechtlichen Nachtatgeschehens. »The Significance of Administrative Decisions and Remedies in Criminal Law«

The author develops a system of administrative offences which allows administrative decisions and remedies to be integrated into criminal law on an overall and uniform basis in terms of preconditions and legal consequences. Particular attention will be paid to the significance of retrospective fiction for criminal law.
Table of Contents
Section Title
Page
Action
Price

Vorwort

5

Inhaltsverzeichnis

7

Erster Teil: Einführung

17

§ 1 Einleitung

17

§ 2 Ziel und Gang der Untersuchung

18

§ 3 Eingrenzung des Untersuchungsgegenstands

21

A. Der Verwaltungsakt im Strafrecht – Verwaltungsaktakzessorisches Strafrecht

21

I. Der rechtsgestaltende Verwaltungsakt im Strafrecht

23

1. Die statusbegründende Täterqualifikation durch Verwaltungsakt

23

2. Der statusbegründende Verwaltungsakt im Strafanwendungsrecht

24

3. Die Entstehung strafrechtlich geschützter Tatobjekte durch Verwaltungsakt

24

II. Der befehlende Verwaltungsakt im Strafrecht

25

1. Begründung einer strafbewehrten Handlungspflicht durch Verwaltungsakt

26

2. Begründung einer Handlungspflicht im Rahmen einer objektiven Bedingung der Strafbarkeit (§ 54a Abs. 3 KWG)

27

III. Der feststellende Verwaltungsakt im Strafrecht (§§ 85, 86, 86a StGB, § 20 VereinsG)

28

IV. Der begünstigende Verwaltungsakt im Strafrecht

29

1. Die behördliche Genehmigung als unrechtsausschließendes Merkmal

29

2. Die Genehmigung als Strafaufhebungsgrund

30

B. Eingrenzung des Untersuchungsgegenstands

31

Zweiter Teil: Verwaltungsstrafrecht – Verwaltungsrecht und Strafrecht

33

§ 4 Historische Entwicklung des Verwaltungsstrafrechts

33

A. Verwaltungsstrafrecht

33

I. Die Sonderrolle des Verwaltungsstrafrechts im Reichsstrafgesetzbuch

33

II. Verwaltungsstrafrecht im wissenschaftlichen Diskurs

35

B. Die Bedeutung verwaltungsrechtlicher Entscheidungen und Rechtsbehelfe im Strafrecht

39

§ 5 Verwaltungsrecht und Strafrecht als Teilgebiete des öffentlichen Rechts – Parallelen und Unterschiede

42

A. Ausgangpunkt – Strafrecht und Verwaltungsrecht als Teilgebiete des öffentlichen Rechts

43

B. Die Wahrnehmung der öffentlichen Interessen durch Verwaltungsrecht und Strafrecht

43

I. Die zukunftsorientierte Ausrichtung des Verwaltungsrechts

44

II. Die vergangenheitsbewältigende Funktion des Strafrechts

45

III. Die Friktionen verwaltungsrechtlicher Prävention und strafrechtlicher Repression

47

C. Die unterschiedlichen Regelungskonzeptionen zur Wahrnehmung der öffentlichen Interessen

48

I. Das Verwaltungsrecht – Die bewahrende Ordnungsverwaltung

49

1. Behördliche Inanspruchnahme im Nachgang privater Freiheitsausübung

50

2. Behördliche Inanspruchnahme im Vorgriff privater Freiheitsausübung

51

II. Rechtsgüterschutz durch das Strafrecht

55

1. Deliktstypen

55

2. Deliktstypen im verwaltungsaktakzessorischen Kontext

57

a) Strafnormen im Kontext der behördlichen Inanspruchnahme im Vorgriff privater Freiheitsausübung

57

b) Strafnormen im Kontext der behördlichen Inanspruchnahme im Nachgang privater Freiheitsausübung

58

D. Verwaltungs- und strafrechtliche Konkordanz im Rahmen einer einheitlichen Rechtsordnung?

60

I. Der Grundsatz der Einheit der Rechtsordnung

60

II. Bisherige Bemühungen um eine straf- und verwaltungsrechtliche Konkordanz im verwaltungsaktakzessorischen Strafrecht

62

1. Strafrecht im Zusammenhang mit der behördlichen Inanspruchnahme im Vorgriff privater Freiheitsausübung

62

a) Konkordanz zwischen verwaltungsrechtlicher Regelungskonzeption und strafrechtlichem Deliktstyp?

63

b) Konkordanz zwischen verwaltungsrechtlicher Regelungskonzeption und strafrechtlichem Unrecht?

65

c) Konkordanz zwischen verwaltungsrechtlicher Regelungskonzeption und deliktssystematischer Stellung der behördlichen Genehmigung

67

aa) Differenzierende Ansätze

67

bb) Andere Ansätze – Exklusiv tatbestandsausschließende oder rechtfertigende Wirkung

69

cc) Stellungnahme

70

d) Konkordanz zwischen verwaltungsrechtlicher Eingriffsbefugnis und strafrechtlichem Unrecht?

77

2. Strafrecht im Zusammenhang mit der behördlichen Inanspruchnahme im Nachgang privater Freiheitsausübung

78

Dritter Teil: Rechtliche Anforderungen an die unrechtsbegründende und unrechtsausschließende Wirkung des Verwaltungsakts

80

§ 6 Rechtliche Anforderungen an den Verwaltungsakt im Strafrecht

80

A. Die Fehlerfolgenlehre des Verwaltungsakts und seine strafrechtlichen Wirkungen

81

I. Das Nichtigkeitsdogma bezüglich rechtsfehlerhaften Verwaltungshandelns und seine Durchbrechung im Verwaltungsrecht

81

II. Die Bedeutung verwaltungsverfahrensrechtlicher Nichtigkeit (§§ 43 Abs. 3, 44 VwVfG) im Strafrecht

83

1. Die Bedeutung der verwaltungsverfahrensrechtlichen Nichtigkeit (§ 44 VwVfG) im Rahmen strafbewehrter Zuwiderhandlungen gegen Verwaltungsakte und ungenehmigter Handlungen

84

2. Die Bedeutung der verwaltungsverfahrensrechtlichen Nichtigkeit bei feststellenden Verwaltungsakten im Strafrecht

86

3. Die Bedeutung der verwaltungsverfahrensrechtlichen Nichtigkeit bei statusbegründenden Verwaltungsakten im Strafrecht – am Beispiel des strafrechtlichen Beamtenbegriffs

86

4. Zwischenergebnis

88

III. Verwaltungsaktakzessorietät oder strafrechtsautonome Fehlerfolgenlehre

88

1. Tatbestandsausschließende behördliche Genehmigungen

88

a) Streng verwaltungsaktakzessorisches Verständnis

89

b) Eingeschränkte Verwaltungsaktakzessorietät kraft Gesetz

90

aa) Fälle gesetzlicher Anordnung und Kritik

90

bb) Rechtliche Folgen

93

c) Eingeschränktes verwaltungsaktakzessorisches Verständnis

94

aa) Mittels verwaltungsverfahrensrechtlicher Instrumente

95

bb) Mittels des Rechtsmissbrauchsgedankens

95

cc) Verwaltungsrechtakzessorisches Verständnis – Strafrechtsautonome Wirksamkeitsbestimmung mittels Durchgriff auf das materielle Verwaltungsrecht

96

dd) Stellungnahme

98

(1) Strafrechtsautonome Nichtigkeitsbestimmung vs. strenge Verwaltungsaktakzessorietät

98

(2) Die Ungeeignetheit des Rechtsmissbrauchsgedankens als strafrechtliches Korrektiv

103

(3) Die Ungeeignetheit verwaltungsverfahrensrechtlicher Korrektive

105

(4) Ergebnis

106

2. Strafbewehrte Zuwiderhandlungen gegen belastende Verwaltungsakte

106

a) Streng verwaltungsaktakzessorisches Verständnis

107

b) Verwaltungsrechtakzessorisches Verständnis – Strafrechtsautonome Wirksamkeitsbestimmung mittels Durchgriff auf das materielle Verwaltungsrecht

107

c) Stellungnahme

109

aa) Grammatische Auslegung

109

bb) Systematische Auslegung

111

cc) Teleologische Auslegung

114

dd) Verfassungskonformität

119

(1) Bestimmtheitsgrundsatz

119

(2) Gesetzmäßigkeit der Verwaltung

122

(3) Gewaltenteilungsprinzip und Richtermonopol

122

(4) Rechtsweggarantie

123

3. Feststellende Verwaltungsakte

125

4. Zwischenergebnis

126

IV. Spezialfall: Unionsrechtswidrige Verwaltungsakte und direkte Kollisionen des Verwaltungsakts mit Unionsrecht

126

1. Die Verfahrensautonomie der Mitgliedstaaten

127

2. Anwendungsvorrang des Unionsrechts vs. Verfahrensautonomie der Mitgliedstaaten?

128

3. Strafrechtliche Folgen

130

B. Der Zeitpunkt der Verbindlichkeit des Verwaltungsakts

130

I. Verwaltungsrechtliche Betrachtung

131

1. Die Verbindlichkeit als Primärwirkung des Verwaltungsakts

131

2. Entfall der aufschiebenden Wirkung und die Anordnung der sofortigen Vollziehbarkeit, § 80 Abs. 2 S. 1 Nr. 1–4 VwGO

135

3. Die Unanfechtbarkeit des Verwaltungsakts

136

II. Strafrechtliche Betrachtungsweise

136

1. Tatbestandsausschließende behördliche Genehmigung

137

2. Belastende Verwaltungsakte

138

a) Strafrechtsspezifische Verbindlichkeit

139

b) Kritik

142

c) Gesetzliche Modifikationen der strafrechtlichen Verbindlichkeit

150

aa) "Unanfechtbarer" Verwaltungsakt

150

bb) "Vollziehbarer" Verwaltungsakt

150

d) Folgen für die Aufhebung von Genehmigungen

153

§ 7 Strafrechtliche Auswirkungen der aufschiebenden Wirkung

154

A. Die aufschiebende Wirkung als Wirksamkeits- oder Vollzugshemmung

155

B. Notwendigkeit eines Streitentscheids für die strafrechtliche Betrachtung

158

C. Strafrechtliche Auswirkungen der aufschiebenden Wirkung

161

I. Strafrechtliche Auswirkungen bei Zuwiderhandlungen gegen belastende Verwaltungsakte

161

II. Strafrechtliche Auswirkungen der aufschiebenden Wirkung auf bereits genehmigte Handlungen

162

§ 8 Fehlvorstellungen des Täters

163

A. Fehlvorstellungen des Täters bei genehmigungspflichtigen Tätigkeiten

163

B. Fehlvorstellungen bei strafbewehrten Zuwiderhandlungen gegen belastende Verwaltungsakte

166

Vierter Teil: Die Bedeutung verwaltungsrechtlicher Entscheidungen und Rechtsbehelfe als strafrechtliches Nachtatgeschehen

168

§ 9 Konzeptionelle Überlegungen zur strafrechtlichen Berücksichtigung von Rückwirkungen beim belastenden Verwaltungsakt

168

A. Rechtliche Rückwirkungen verwaltungsrechtlicher Entscheidungen und Rechtsbehelfe und strafrechtliche Lösungsansätze

169

I. Rückwirkungen verwaltungsrechtlicher Entscheidungen und Rechtsbehelfe

170

1. Rückwirkung der aufschiebenden Wirkung

170

a) Der Eintritt der aufschiebenden Wirkung gemäß § 80 Abs. 1 S. 1 VwGO

170

b) Gerichtliche Anordnung beziehungsweise Wiederherstellung der aufschiebenden Wirkung, § 80 Abs. 5 S. 1 VwGO

171

2. Rückwirkung der gerichtlichen Aufhebung des Verwaltungsakts (vgl. § 113 Abs. 1 S. 1 VwGO)

173

3. Rückwirkung der behördlichen Aufhebung des Verwaltungsakts

174

a) Die Aufhebung im Rahmen des Widerspruchsverfahrens

174

b) Die Grundtatbestände zur behördlichen Aufhebung von Verwaltungsakten, §§ 48, 49 VwVfG

176

aa) Rücknahme eines rechtswidrigen Verwaltungsakts, § 48 VwVfG

176

bb) Widerruf eines rechtmäßigen Verwaltungsakts, § 49 VwVfG

177

II. Strafrechtliche Lösungssätze

177

1. Ablehnung einer Berücksichtigung des Nachtatgeschehens

177

2. Zustimmung zur Berücksichtigung des Nachtatgeschehens

179

3. Prohibitive Lösungsansätze

180

B. Verwandte Rückwirkungsproblematiken aus anderen Rechtsgebieten und strafrechtliche Lösungsansätze

181

I. Zivilrechtliche Rückwirkungen und strafrechtliche Lösungsansätze

181

1. Eigentumsdelikte – Rückwirkende Änderung der Eigentumslage durch Anfechtung (vgl. § 142 Abs. 1 BGB)

182

2. Unerlaubte Verwertung urheberrechtlich geschützter Werke bei nachträglicher Genehmigung durch den Urheber

183

II. Strafprozessuale Rückwirkungen und (materiell-)strafrechtliche Lösungsansätze

184

III. Immaterialgüterrechtliche Rückwirkungen am Beispiel des Marken- und Patentrechts und strafrechtliche Lösungsansätze

187

IV. Zwischenfazit

190

C. Würdigung der Lösungsansätze unter rechtskonstruktiver Betrachtung rechtlicher Rückwirkungen

191

I. Rechtskonstruktive Erklärungsansätze für rechtliche Rückwirkungen

192

1. Die Fiktionstheorie

193

2. Die Deklarationstheorie

194

II. Beurteilung verwaltungsrechtlicher Rückwirkungen nach der Deklarations- oder Fiktionstheorie

194

1. Rechtsfolgen der unterschiedlichen Erklärungsansätze und Kritik an der Deklarationstheorie

195

2. Verwaltungsrechtliche Rückwirkungen als rechtliche Fiktionen

196

III. Kritische Würdigung der strafrechtlichen Lösungsansätze unter Zugrundelegung der Fiktionstheorie

196

1. Die Berücksichtigung des Nachtatgeschehens nach der Tatbestandslösung

197

2. Die prohibitive Berücksichtigung des Nachtatgeschehens

199

IV. Zwischenfazit

200

D. Die Berücksichtigung von Nachtatgeschehen im Strafrecht als Kompensation "unechter" Rechtskollisionen

201

I. Rechtskollision als Kompensationbedürfnis

201

1. Kollisionslage durch verwaltungsrechtlich bedingte Rückwirkungen

201

2. Kollisionslage durch zivilrechtlich bedingte Rückwirkungen

202

3. Kollisionslage durch strafprozessual bedingte Rückwirkungen

202

4. Kollisionslage durch immaterialgüterrechtliche Rückwirkungen

203

II. Kompensationsgründe

203

1. Strafrechtsimmanente Begründungsansätze und Kritik

204

a) Zur Grundlage des staatlichen Strafausspruchs

205

b) Zur nachträglichen Korrektur des strafrechtlich geschützten Rechtsguts

205

c) Zu Strafwürdigkeit und Strafbedürftigkeit

206

aa) Grundsätzliche Kritik

206

bb) Gesetzliche Anknüpfungspunkte zur Bedeutung von Nachtatgeschehen im Strafgesetzbuch

207

cc) Fazit

210

2. Begründungsansätze im intertemporalen Kontext des Strafrechts

212

a) Kompensation nach dem Rechtsgedanken des § 2 Abs. 3 StGB

212

b) Kompensation nach dem Rechtsgedanken des § 79 Abs. 1 BVerfGG

213

3. Außerstrafrechtlicher Begründungsansatz – Kompensation der Rechtskollision unter Berücksichtigung des außerstrafrechtlichen "Rückgewährverhältnisses"

214

a) Der verfassungsrechtliche Folgenbeseitigungsanspruch als Strafaufhebungsgrund im verwaltungsaktakzessorischen Strafrecht

214

aa) Voraussetzungen des materiell-rechtlichen Folgenbeseitigungsanspruchs

215

bb) Die Strafbarkeit als mittelbar adäquate Vollzugsfolge

217

cc) Strafrechtsspezifische Extension des Folgenbeseitigungsanspruchs

218

b) Zusammenhang zwischen rechtswidrigem Verwaltungshandeln und verwirklichtem Strafunrecht

221

c) Anspruchsausschluss – Der Folgenbeseitigungsanspruch als Kompensationsinstrument zwischen materieller Gerechtigkeit und Rechtssicherheit

221

III. Der Folgenbeseitigungsanspruch als Strafaufhebungsgrund bei den verwaltungsrechtlich bedingten Rückwirkungen

222

1. Strafaufhebungsgrund bei gerichtlicher Aufhebung des Verwaltungsakts (vgl. § 113 Abs. 1 S. 1 VwGO)

223

2. Strafaufhebungsgrund bei behördlicher Aufhebung des Verwaltungsakts?

224

a) Kein Strafaufhebungsgrund bei behördlicher Aufhebung nach Bestandskraft

225

b) Strafaufhebungsgrund bei behördlicher Aufhebung vor Bestandskraft

226

3. Strafaufhebungsgrund bei aufschiebender Wirkung von Widerspruch und Anfechtungsklage (§ 80 Abs. 1, Abs. 5 VwGO)?

227

IV. Berücksichtigung des außerstrafrechtlichen Rückgewährverhältnisses bei den verwandten Rechtskollisionen

230

1. Zivilrechtliche Rückwirkungen

231

2. Strafprozessuale Rückwirkungen

231

3. Immaterialgüterrechtliche Rückwirkungen

233

§ 10 Übertragung der Ergebnisse auf andere Fallgruppen rechtlicher Rückwirkungen im verwaltungsaktakzessorischen Strafrecht

233

A. Verwaltungsrechtliche Rückwirkungen bei der behördlichen Genehmigung

234

I. Belastende Rückwirkung – Rückwirkende Aufhebung behördlicher Genehmigungen

234

II. Begünstigende Rückwirkung – Rückwirkende Genehmigung bislang ungenehmigter Verhaltensweisen?

235

1. Die verwaltungsrechtliche Zulässigkeit rückwirkender Genehmigungen

235

2. Strafaufhebungsgrund bei rückwirkender Genehmigung ursprünglich ungenehmigten Verhaltens?

239

3. Ergebnis

240

B. Rechtliche Rückwirkungen in weiteren Fällen

241

I. Rechtliche Rückwirkung bei statusbegründender Täterqualifikation durch Verwaltungsakt

241

II. Rechtliche Rückwirkungen bei feststellenden Verwaltungsakten

242

III. Rechtliche Rückwirkungen bei pflichtenbegründenden Verwaltungsakten innerhalb objektiver Strafbarkeitsbedingungen (vgl. § 54a Abs. 3 KWG)

242

IV. Rechtliche Rückwirkungen bei statusbegründenden Merkmalen durch Verwaltungsakt innerhalb des Strafanwendungsrechts

244

1. Aktives Personalitätsprinzip

244

2. Passives Personalitätsprinzip

245

V. Rechtliche Rückwirkungen beim Strafaufhebungsgrund § 331 Abs. 3 2. Var. StGB

245

§ 11 Strafprozessuale Realisierung

246

A. Prozessuale Ausgangslage

246

B. Prozessuale Realisierung des nachträgliches Strafaufhebungsgrunds im Strafprozess

247

I. Würdigung einer Aussetzungspflicht unter Betrachtung der vom Folgenbeseitigungsanspruch und den Strafaufhebungsgründen ausgehenden Risikosphären

247

II. Würdigung einer Aussetzungspflicht unter dem verfassungsrechtlichen Belang eines effektiven Rechtsschutzes (vgl. Art. 19 Abs. 4 S. 1 GG)

250

III. Prozessuale Realisierung im Wege einer Aussetzungspflicht gemäß § 262 Abs. 2 StPO

250

1. Kritik

251

2. Umfassende Geltung des Beschleunigungsgrundsatzes

252

C. Prozessuale Realisierung des nachträglichen Strafaufhebungsgrunds im Wiederaufnahmeverfahren

253

D. Ergebnis

254

Fünfter Teil: Verwaltungsentscheidungsakzessorietät im europäischen und internationalen Kontext

256

§ 12 Transnationale, europäische und sonstige ausländische Verwaltungsentscheidungen im Strafrecht

256

A. Transnationale Verwaltungsentscheidungen

257

I. Definition und Erscheinungsformen im Strafrecht

257

1. Wirkungsbezogene Transnationalität von Verwaltungsakten im Strafrecht

258

2. Adressatenbezogene Transnationalität von Verwaltungsentscheidungen im Strafrecht

259

3. Behördenbezogene Transnationalität von Verwaltungsentscheidungen im Strafrecht

260

II. Geltungsanspruch transnationaler Verwaltungsentscheidungen innerhalb der deutschen Rechtsordnung und rechtlicher Bewertungsmaßstab

261

1. Geltungsanspruch transnationaler Verwaltungsentscheidungen innerhalb der deutschen Rechtsordnung

262

2. Verfahrensrecht des Erlassstaates als grundsätzlicher Maßstab für transnationale Verwaltungsentscheidungen

264

3. Vereinheitlichung des Verfahrensrechts durch unions- beziehungsweise völkerrechtliche Vorgaben

266

III. Transnationale Verwaltungsentscheidungen im Strafrecht

266

1. Anerkennung ausländischer Verwaltungsentscheidungen am Beispiel des § 21 Abs. 1 Nr. 1 StVG

268

a) Geltungsanspruch ausländischer Fahrerlaubnisse innerhalb Deutschlands

268

b) Verfahrensrechtliche Wirksamkeit ausländischer Fahrerlaubnisse

269

2. Anerkennung ausländischer Verwaltungsentscheidungen am Beispiel des § 95 Abs. 1 Nr. 3 AufenthG

271

a) Geltungsanspruch der von anderen Mitgliedstaaten erteilten Visa in Deutschland

271

b) Verfahrensrechtliche Wirksamkeit des von einem Mitgliedsstaat erteilten Visums und Durchbrechung der Verwaltungsakzessorietät gemäß § 95 Abs. 6 AufenthG

271

3. Anerkennung ausländischer Verwaltungsentscheidungen am Beispiel des § 326 Abs. 2 StGB

272

4. Exkurs: Anerkennung ausländischer Verwaltungsentscheidungen am Beispiel des § 284 Abs. 1 StGB

274

B. Europäische Verwaltungsentscheidungen

276

C. Sonstige ausländische Behördenentscheidungen im Rahmen des § 330d Abs. 2 StGB

277

I. Regelungsfunktion des § 330d Abs. 2 StGB – Abgrenzung zu den transnationalen Verwaltungsentscheidungen

278

II. Einschränkung durch das Strafanwendungsrecht

280

III. Die Verletzung verwaltungsrechtlicher Pflichten bei ausländischen Verwaltungsentscheidungen

284

1. Begünstigende Verwaltungsentscheidungen

286

2. Belastende Verwaltungsentscheidungen

287

D. Ergebnis

288

§ 13 Ausblick: Rechtsbehelfe im Rahmen transnationaler, europäischer und sonstiger ausländischer Verwaltungsentscheidungen und strafrechtliche Auswirkungen

290

A. Rechtsbehelfe gegen begünstigende Verwaltungsentscheidungen

290

B. Rechtsbehelfe gegen belastende Verwaltungsentscheidungen

291

Sechster Teil: Schluss

293

Literaturverzeichnis

297

Sachverzeichnis

318