Sport & the law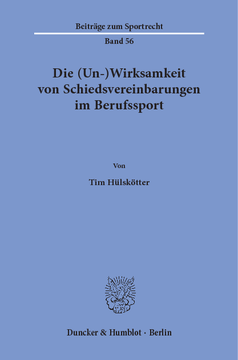 Additional Information
Book Details
ISBN

978-3-428-55867-4
978-3-428-15867-6 (print edition)

DOI

https://doi.org/10.3790/978-3-428-55867-4

Edition

1

Language

German

Pages

369

Collections

Subjects
Pricing
Institution

€ 104.00 (incl. local VAT if applicable)

Individual

€ 79.90 (incl. local VAT if applicable)
About The Author
Tim Hülskötter studierte Rechtswissenschaft in Münster, Lausanne und London. Die erste juristische Staatsprüfung legte er 2015 vor dem OLG Hamm ab, die zweite juristische Staatsprüfung 2022 vor dem LJPA NRW. 2016 wurde ihm von dem University College London (UCL) der Master of Laws mit der Spezialisierung Litigation and Dispute Resolution verliehen. 2019 wurde er mit einer sportrechtlichen Arbeit durch die Juristische Fakultät der Westfälischen Wilhelms-Universität promoviert. Seit 2022 ist er Akademischer Rat a. Z. am Institut für Internationales Wirtschaftsrecht der Westfälischen Wilhelms-Universität Münster.
Tim Hülskötter studied law in Münster, Lausanne and London. He passed the first state examination before the Higher Regional Court of Hamm in 2015 and the second state examination before the LJPA Hamm in 2022. The University College London (UCL) awarded him the degree of Master of Laws in Litigation and Dispute Resolution in 2016. In 2019, he received a doctorate for his thesis in sports law from the Faculty of Law at Westfälische Wilhelms-Universität Münster. Since 2022, he holds the position of Akademischer Rat a. Z. at the Institute for International Business Law at Westfälische Wilhelms-Universität Münster.
Abstract
Im Berufssport ist es allgemein üblich, dass nur diejenigen Athleten an Wettkämpfen teilnehmen dürfen, die vorher mit dem Veranstalter eine Schiedsvereinbarung geschlossen haben. Die Causa »Pechstein« hat gezeigt, dass hinsichtlich der rechtlichen Bewertung dieser Schiedsvereinbarungen zum Court of Arbitration for Sport (CAS) noch viele Fragen offen sind.

Einigkeit besteht in Rechtsprechung und Literatur lediglich dahingehend, dass Sportschiedsvereinbarungen in der Praxis oktroyiert werden. Der Autor unterzieht CAS-Schiedsvereinbarungen daher einer umfassenden rechtlichen Wirksamkeitskontrolle. Er kommt zu dem Ergebnis, dass im Rahmen des Art. 6 Abs. 1 EMRK, Art. 102 AEUV und der AGB-Kontrolle eine umfassende Interessenabwägung der einzelnen Organisations- und Verfahrensregeln des CAS entscheidend ist. Er erkennt dabei in mehreren Regeln einen Verstoß gegen die geprüften Normen. Auch auf Grundlage der »Achmea«-Rechtsprechung bejaht er einen Rechtsverstoß. Demgegenüber steht die Erkenntnis, dass aus dem Justizgewähranspruch kein Freiwilligkeitserfordernis abgeleitet werden kann. »The (In-)Validity of Arbitration Agreements in Professional Sport«

The book analyses the legal validity of CAS arbitration agreements in professional sport. First, it is clarified whether the CAS is a genuine arbitral tribunal in the sense of the ZPO. Furthermore, the author deals in depth with the right to have access to justice (Justizgewähranspruch) as well as Art. 6 para. 1 ECHR. The discussion of Art. 102 TFEU is also a substantial part of the analysis. Additionally, the author takes a stand on the implications of the »Achmea« decision.
Table of Contents
Section Title
Page
Action
Price

Vorwort

7

Inhaltsverzeichnis

9

Abkürzungsverzeichnis

17

Kapitel 1: Einleitung

19

A.  Gegenstand und Ziel der Untersuchung

21

B.  Gang der Untersuchung

22

Kapitel 2: Problemstellung (oktroyierte Schiedsvereinbarungen)

24

A.  Organisationsstruktur des Sports

24

I.  Organisation einzelner Fachsportarten

25

II.  Fachübergreifende Verbände

27

III.  Organisation von Sportveranstaltungen

28

B.  Beispiele der Einbindung von Schiedsvereinbarungen bei Sportveranstaltungen

28

I.  Olympische Spiele

29

II.  Handball-Bundesliga

31

C.  Oktroyierte Schiedsvereinbarungen im Sport

33

D.  Wesentliche Erkenntnisse des Kapitels 2

36

Kapitel 3: Schiedsgericht und Schiedsvereinbarung

37

A.  Schiedsgericht

37

I.  Echte Schiedsgerichte

37

II.  CAS

42

1.  Problem: ICAS/­CAS

44

a)  Verbände als einheitliche Partei?

48

b)  Anwendung

50

aa)  IOC

51

bb)  Deutscher Handballbund

52

cc)  Ergebnis

54

2.  Problem: Ernennung von Schiedsrichtern durch die Präsidenten der Arbitration Divisionen

56

3.  Problem: Repeat Player Bias

57

4.  Problem: Finanzierung des CAS

59

5.  Problem: Vorlage des Schiedsspruchs \nbeim CAS-Generalsekretär

60

6.  Ergebnis

61

B.  Schiedsvereinbarung

62

C.  Schiedsanordnung, § 1066 ZPO

63

D.  Schiedsverfahrensvereinbarung

64

E.  Wesentliche Erkenntnisse des Kapitels 3

64

Kapitel 4: Grundlagen zur rechtlichen Bewertung oktroyierter Schiedsvereinbarungen

66

A.  Verfassungsrechtliche Grundlagen

67

I.  Vertragsfreiheit, Art. 2 Abs. 1 GG

67

II.  Vereins- und Verbandsfreiheit, Art. 9 Abs. 1 GG

75

III.  Berufsfreiheit, Art. 12 Abs. 1 GG

76

IV.  Allgemeiner Justizgewähranspruch

77

V.  Recht auf gesetzlichen Richter, Art. 101 Abs. 1 S. 2 GG

81

B.  Völkerrechtliche Grundlagen

82

I.  Recht auf ein faires Verfahren, Art. 6 Abs. 1 EMRK

82

1.  Gericht

83

2.  Auf Gesetz beruhend

84

3.  Unabhängig und unparteiisch (neutral)

90

a)  Art und Weise der Ernennung der Richter

91

b)  Länge der Amtszeit

93

c)  Existenz von Regelungen zum Schutz vor Druck von außen

93

d)  Unabhängigkeit des Gerichts aus der Sicht eines objektiven Beobachters

94

e)  Ergebnis

96

4.  Öffentlichkeit

97

II.  Vereinigungsfreiheit, Art. 11 Abs. 1 EMRK

100

III.  UNESCO Internationales Übereinkommen gegen Doping im Sport

100

C.  Europäische Grundlagen

104

I.  Verhältnis der GRCh zur EMRK

105

II.  Vereinigungsfreiheit, Art. 12 Abs. 1 GRCh

109

III.  Berufsfreiheit, Art. 15 Abs. 1 GRCh

109

IV.  Rechtsschutzgewährleistung, Art. 47 Abs. 2 S. 1 GRCh

110

D.  Wesentliche Erkenntnisse des Kapitels 4

111

Kapitel 5: Verzicht auf den Justizgewähranspruch durch Schiedsvereinbarungen

113

A.  Rechtsprechung

114

I.  Körbuch

114

1.  LG Augsburg, Urt. v. 14.08.1997, 8 O 4234/­96 – Körbuch I

115

2.  OLG München, Urt. v. 09.02.1998, 30 U 709/­97 – Körbuch II

115

3.  BGH, Urt. v. 03.04.2000, II ZR 373/­98 – Körbuch III

116

II.  LG Köln, Urt. v. 13.09.2006, 28 O (Kart) 38/­05

117

III.  Spielervermittler (verschiedene Entscheidungen)

118

1.  AG Bottrop, Urt. v. 22.01.2009, 11 C 198/­08

119

2.  LG Koblenz, Urt. v. 26.11.2013, 3 HK O 237/­10

119

3.  OLG Koblenz, Urt. v. 06.11.2014, 2 U 1560/­13

121

IV.  Pechstein

122

1.  LG München I, Urt. v. 26.02.2014, 37 O 28331/­12 – Pechstein I

123

2.  OLG München, Urt. v. 15.01.2015, U 1110/­14 Kart – Pechstein II

126

3.  BGH, Urt. v. 07.06.2016, KZR 6/­15 – Pechstein III

128

V.  LG Kempten, Urt. v. 22.11.2014, 33 O 1921/­14

132

VI.  Entscheidungen nach Pechstein III

133

VII.  Ergebnis

134

B.  Literatur

134

I.  Freiwilligkeit bedeutet echte Wahlfreiheit

136

II.  Freiwilligkeitserfordernis bedeutet Inhaltskontrolle

142

III.  Das verfassungsrechtliche Freiwilligkeitserfordernis\n existiert nicht

146

C.  Stellungnahme

149

I.  Methodik zur Bestimmung der Garantie des Justizgewähranspruchs

150

II.  Konkretisierung des Justizgewähranspruchs

151

1.  Vor-Verständnis des Justizgewähranspruchs

152

2.  Konkretisierung im eigentlichen Sinne

152

a)  Grammatikalische Konkretisierung

152

b)  Historische und genetische Konkretisierung

155

c)  Systematische Konkretisierung

156

aa)  Kompetenz des einfachen Gesetzgebers zur systematischen Konkretisierung

156

bb)  Auswirkungen der Einführung von § 11 AntiDopG

157

cc)  Auswirkungen der Abschaffung des § 1025 Abs. 2 ZPO a. F.

159

dd)  Inhaltkontrolle bereits durch andere Regelungen

161

(1) Voraussetzungen für echte Schiedsgerichtsbarkeit

161

(2) Inhaltskontrolle im Kartellrecht und AGB-Recht

162

d)  Teleologische Konkretisierung

162

III.  Ergebnis

165

D.  Wesentliche Erkenntnisses des Kapitels 5

166

Kapitel 6: Partieller Verzicht auf Garantien des Art. 6 Abs. 1 EMRK durch Schiedsvereinbarungen

168

A.  Verzicht auf die Garantie des Zugangs zu einem auf Gesetz beruhenden Gericht

169

I.  Rechtsprechung

170

1.  Causa Pechstein

170

a)  LG München I, Urt. v. 26.02.2014, 37 O 28331/­12 – Pechstein I

170

b)  OLG München, Urt. v. 15.01.2015, U 1110/­14 Kart – Pechstein II

172

c)  BGH, Urt. v. 07.06.2016, KZR 6/­15 – Pechstein III

172

d)  Deutsche Rechtsprechung nach Pechstein III

173

e)  EGMR, Urt. v. 02.08.2018, Nr. 40575/­10, 67474/­10 – Mutu/­Pechstein

173

2.  Stretford

174

a)  UK High Court, Urt. v. 17.03.2006, 2006 WL 755460 – Stretford I

175

b)  UK Court of Appeal, Urt. v. 21.03.2007, 2007 WL 763672 – Stretford II

176

II.  Literatur

177

1.  Freiwilligkeit bedeutet echte Wahlfreiheit

178

2.  Freiwilligkeit bestimmt sich im Ergebnis durch eine Interessenabwägung

178

3.  Freiwilligkeit ist nicht zwingend notwendig

182

4.  Freiwilligkeit wird durch allgemeines Vertragsrecht gewahrt

183

III.  Stellungnahme

183

1.  Grammatikalische Auslegung

184

2.  Kontext (Systematische Auslegung)

185

3.  Ziel und Zweck der EMRK (Teleologische Auslegung)

185

4.  Ergänzende Auslegung nach Art. 32 WVRK (Historische und genetische Auslegung)

185

5.  Faktische Orientierungs- und Leitfunktion des EGMR

185

a)  X v République Fédérale d'Allemagne

187

b)  Deweer v Belgium

187

c)  Bramelid & Malström v Sweden

188

d)  R v Switzerland

189

e)  Axelsson v Sweden

189

f)  Suda v République Tchèque

190

g)  Tabbane v Suisse

192

h)  Mutu/­Pechstein v Suisse

193

i)  Schlussfolgerungen aus der Rechtsprechung

193

aa)  1. Prüfungsschritt

194

bb)  2. Prüfungsschritt

197

(1) Zwang nach Art. 6 Abs. 1 EMRK

199

(2) Erweiterung der Rechtsprechung durch Verhältnismäßigkeit

199

6.  Abstraktes Ergebnis

202

7.  CAS-Schiedsvereinbarungen

202

a)  Zwang

202

b)  Verhältnismäßigkeit

202

aa)  Legitimes Ziel

203

bb)  Abwägung

204

B.  Öffentlichkeit

205

I.  Abstrakte Verzichtsvoraussetzungen

206

II.  Verzicht durch CAS-Schiedsvereinbarungen

206

1.  Zwang

206

2.  Verhältnismäßigkeit

206

C.  Unabhängigkeit und Unparteilichkeit (Neutralität)

207

D.  Wesentliche Erkenntnisse des Kapitels 6

208

Kapitel 7: Unmittelbar wirkende Rechtsnormen

210

A.  § 11 Anti-Doping Gesetz

210

I.  Wortlaut

212

II.  Systematik

213

III.  Genetik und Historie

213

IV.  Telos

217

V.  Ergebnis

217

B.  Verbotsgesetz, § 134 BGB i. V. m. 102 AEUV

217

I.  Anwendbarkeit des Kartellrechts auf den Sport

218

II.  Zwischenstaatlichkeit

219

III.  Missbrauchsverbot, Art. 102 AEUV

221

1.  Sportveranstaltung als Plattform

221

2.  Angebots- oder Nachfragemarkt

227

3.  Unternehmenseigenschaft der Sportverbände

230

4.  Marktbeherrschung

232

a)  Anwendung des Monopson-Modells

233

aa)  Relevanter Markt

234

(1) Sachlich relevanter Markt

234

(a)  Wettbewerbe anderer Sportarten

235

(b)  Nationale oder internationale Sportveranstaltungen derselben Sportart

237

(c)  Nationale Meisterschaften in verschiedenen Ländern

238

(2) Räumlicher und zeitlicher Markt

239

bb)  Marktmacht

240

(1) IOC und DHB als Nachfrager

240

(a)  Olympische Spiele

240

(b)  1. Handball-Bundesliga

241

(2) Marktmacht von IOC und DHB

242

b)  Anwendung des Verhandlungsmodells

244

5.  Missbrauch

245

a. Erzwungene sonstige Geschäftsbedingungen

250

b. Unangemessenheit

251

aa)  Vergleichsmarktkonzept (quantitativer Konditionenmissbrauch)

251

(1) Andere Geschäftsbedingungen auf dem Vergleichsmarkt

254

(2) Erhebliche Abweichung zum Vorteil des Marktbeherrschers

255

bb)  Interessenabwägung (qualitativer Konditionenmissbrauch)

256

(1) Vertraulichkeit

259

(a)  Legitimes Ziel

261

(b)  Notwendigkeit

263

(c)  Abwägung

264

(2) Geschlossene Schiedsrichterlisten

270

(a)  Legitimes Ziel

271

(b)  Notwendigkeit

272

(3) Kompetenzen der Divisionspräsidenten

274

(a)  Legitimes Ziel

274

(b)  Notwendigkeit

276

(c)  Abwägung

277

(4) Sitz des CAS und Vollstreckung durch Verbände

279

(a)  Legitimes Ziel

281

(b)  Notwendigkeit

282

(c)  Abwägung

282

IV.  Rechtsfolge

290

C.  Verbotsgesetz § 134 BGB i. V. m. Art. 267, 344 AEUV (Achmea-Rechtsprechung des EuGH)

294

I.  Die wesentlichen Aussagen von Achmea zur Investitionsschiedsgerichtsbarkeit

295

II.  Die Aussagen von Achmea zur Handelsschiedsgerichtsbarkeit

296

III.  Auswirkungen auf die Sportschiedsgerichtsbarkeit

297

IV.  Auswirkungen auf die CAS-Schiedsgerichtsbarkeit

298

D.  AGB-Kontrolle, §§ 305 ff. BGB

299

I.  Anwendbarkeit

300

II.  Vorliegen von AGB

305

III.  Einbeziehung in den Vertrag

306

IV.  Inhaltskontrolle

308

1.  Eröffnung der Inhaltskontrolle nach § 307 Abs. 3 BGB

309

2.  § 309 Nr. 14 BGB (Mannschaftssportler)

309

3.  Generalklausel, § 307 Abs. 1 S. 1 BGB

310

V.  Rechtsfolge

316

E.  Sittenwidrigkeit, § 138 BGB

318

F.  Treu und Glauben, § 242 BGB

319

G.  Wesentliche Erkenntnisse des Kapitels 7

319

Kapitel 8: Ergebnisse der Untersuchung in Thesen

326

Literaturverzeichnis

335

Sachverzeichnis

367