Procurement law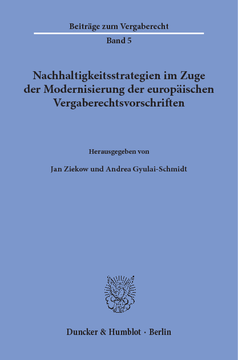 Additional Information
Book Details
ISBN

978-3-428-55960-2
978-3-428-15960-4 (print edition)

DOI

https://doi.org/10.3790/978-3-428-55960-2

Edition

1

Language

German

Pages

180

Collections

Subjects
Pricing
Institution

€ 80.00 (incl. local VAT if applicable)

Individual

€ 62.90 (incl. local VAT if applicable)
About The Author
Andrea Gyulai-Schmidt ist Dozentin am Lehrstuhl für Zivilrecht an der Fakultät für Rechts- und Staatswissenschaften der Katholischen Péter Pázmány Universität in Budapest. Im Jahr 2003 promovierte sie an der Universität Hamburg über die Harmonisierung des ungarischen Gesellschaftsrechts mit dem Recht der EU. Nach einer einjährigen Tätigkeit im ungarischen Justizministerium graduierte sie im Jahr 2004 an der Pázmány Universität zum PhD und arbeitet seitdem dort als Dozentin. Seit 2013 hält sie im postgraduierten Fachjuristenlehrgang für Vergaberecht Vorlesungen. Ihr langjähriger Forschungsschwerpunkt ist die Nachhaltigkeit im Vergaberecht. Damit verbunden war sie von 2016 bis 2018 als Humboldt-Stipendiatin bei Herrn Professor Jan Ziekow am Deutschen Forschungsinstitut für öffentliche Verwaltung Gastforscherin.
Andrea Gyulai-Schmidt is associate professor at the Department of Privat Law at the Faculty of Law and Political Science at the Catholic Péter Pázmány University in Budapest. In 2003 she did her Doctorate in Law at the University of Hamburg on the harmonization of Hungarian company law with EU law. After one year in the Hungarian Ministry of Justice, she got her PhD grade at the Pázmány University in 2004 and since then has worked there as lecturer. Since 2013 she has been lecturing in the postgraduate course in public procurement law. Her longstanding research focus is sustainability in public procurement law. From 2016 to 2018 she was Humboldt Fellowship visiting researcher at the German Research Institute for Public Administration under the direction of Professor Jan Ziekow.
Abstract
Der vorliegende Tagungsband enthält eine aktuelle Bestandsaufnahme der Vorteile und Herausforderungen der nachhaltigen Beschaffung infolge der praktischen Umsetzung der europäischen Vergaberichtlinien 2014. Er ist das Ergebnis einer internationalen Konferenz im Jahr 2017 in Speyer, zu der sich Experten aus Wissenschaft und Praxis aus Deutschland, Ungarn, Österreich und der Schweiz trafen, um zentrale Fragen zur effektiven Anwendung von ökologischen, sozialen und innovativen Aspekten im Vergaberecht zu erörtern.

Das Thema ist aktuell und zukunftsorientiert. Die nachhaltige Entwicklung, worunter die Befriedigung der Bedürfnisse der Gegenwart verstanden wird, ohne die Zukunftschancen nachfolgender Generationen zu riskieren, hat viele mit der öffentlichen Beschaffung verbundene Facetten, die die rasche Umsetzung des nachhaltigen Zukunftsmodells im Vergaberecht fordern. Ziel dieses Bandes ist es, die Aufmerksamkeit für die weitere Entwicklung zu schärfen und neue Lösungsansätze aufzuzeigen. »Sustainability Strategies as Part of the Modernization of European Public Procurement Law«

This conference volume analyses and summarises the advantages and challenges of sustainable procurement as a result of the practical implementation of the 2014 European procurement directives. It comprises the essential results of an international conference in Speyer in 2017 where experts from science and practice from Germany, Hungary, Austria and Switzerland met to discuss key questions on the effective application of ecological, social and innovative aspects in public procurement law.
Table of Contents
Section Title
Page
Action
Price

Vorwort

5

Inhaltsverzeichnis

9

I. Strategische Zielsetzungen des europäischen und deutschen Vergaberechts

11

Heide Rühle: Die Position des Europaparlamentes in den Verhandlungen über nachhaltige Auftragsvergabe

13

I. Allgemeine Grundsätze

14

II. Leistungsbeschreibung

15

III. Stärkung sozialer Kriterien in der Auftragsvergabe

16

IV. Gütezeichen/Label

17

V. Eignungskriterien

18

VI. Ausschlussgründe

19

VII. Ungewöhnlich niedrige Angebote und Verpflichtung entlang der Lieferkette

19

VIII. Zuschlag: Qualität oder billigster Preis: die Lebenszykluskosten

20

IX. Keine zwingenden Vorgaben

21

X. Anwendungsbereich

21

XI. Öffentliche Kooperationen

21

XII. Kleine und mittlere Unternehmen

22

Strittige Punkte:

14

Ilse Beneke: Die neue Bedeutung der nachhaltigen Beschaffung im deutschen öffentlichen Auftragswesen

23

II. Ökologische und soziale Aspekte der Nachhaltigkeit im Vergabefahren

29

Andrea Gyulai-Schmidt: Umweltaspekte im Vergabeverfahren unter Berücksichtigung der europäischen Rechtsvorschriften sowie deren Umsetzung in der deutschen und ungarischen Vergabepraxis

31

I. Einführung

31

II. Aktuelle Zahlen zur deutschen und ungarischen grünen öffentlichen Auftragsvergabe

34

III. Rückblick auf die europäische Rechtsentwicklung

37

IV. Einbeziehung der ökologischen Kriterien in das Vergabeverfahren

42

1. Beschaffungsfreiheit und ihre Grenzen

43

a) Beschaffungsfreiheit nach der deutschen Rechtsprechung

43

b) Beschaffungsfreiheit nach der ungarischen Rechtsprechung

45

2. Das Problem der Einengung des Unternehmenskreises

48

V. Umweltaspekte auf den einzelnen Verfahrensstufen

50

1. Die Vorbereitung des Verfahrens, Bedarfsanalyse

51

2. Die Leistungsbeschreibung und die technische Spezifikation

51

a) Umsetzungsvorschriften im deutschen und im ungarischen Vergaberecht

52

b) Leistungs- und Funktionsanforderungen

53

c) Verpflichtende Berücksichtigung der Umweltaspekte

54

3. Einbeziehung von Nachweisen und Gütezeichen

56

4. Nebenangebote

58

5. Eignungsprüfung

59

6. Ausschluss aus dem Verfahren

62

7. Zuschlagskriterien

63

a) Die verbundene EuGH-Rechtsprechung

63

b) Das wirtschaftlich günstigste Angebot

65

c) Wenn nur der Preis zählt …

68

d) Die Anwendung des besten Preis-Leistungs-Verhältnisses

69

8. Ausführungsbedingungen als Instrument nachhaltiger Vertragsgestaltung

71

VI. Schlussbemerkungen

73

Christian von Deimling, Markus Schaupp und Michael Eßig: Berechnungstools für Lebenszykluskosten

77

Abstract

77

I. Bedeutung von Lebenszykluskosten – Praxis und Einschätzung zu aktuellen Defiziten

77

II. Voraussetzungen zum Einsatz von Lebenszykluskosten vor, während und nach der Vergabe

81

III. Potenzielle Instrumente ("Tools") zur Berechnung der Lebenszykluskosten

85

IV. Exemplarische Einbindung der Lebenszykluskostenberechnung vor, während und nach der Vergabe

88

V. Fazit und Ausblick

90

Jan Ziekow: Internationale Sozialstandards in der öffentlichen Beschaffung – das Beispiel der ILO-Kernarbeitsnormen

93

I. Internationale Sozialstandards und öffentliche Beschaffung

93

II. Berücksichtigung der ILO-Kernarbeitsnormen bei Vergaben ab Erreichen der EU-Schwellenwerte

96

1. Zusammenhang des Kriteriums mit dem Auftragsgegenstand

97

2. Berücksichtigung in der Leistungsbeschreibung

99

3. Einführung als Eignungskriterium

100

4. Angebotswertung

101

5. Ausführungsbedingungen

102

6. Auswahl: Zuschlagskriterium oder Ausführungsbedingung?

104

III. Schlussbemerkung

105

Christoph Krönke: Berücksichtigung von "Fairtrade"-Normen nach dem europäischen und deutschen Vergaberecht

107

I. Vergaberecht im Geiste von Max Havelaar?

107

II. Einforderung von "Fairtrade"-Normen im Vergabeverfahren

110

1. Grundsätze der Vergabe

110

2. Eignung und Ausschlussgründe

110

3. Leistungsbeschreibung

112

4. Zuschlagskriterien

114

5. Auftragsausführung

115

III. Bewertung des vergaberechtlichen "Fairtrade"-Potenzials

115

1. Konvergenz der Verfahrensstufen

115

2. Vorbehalt der Verhältnismäßigkeit

117

IV. Ergebnis

118

Anita Boros: Die Frage der Nachhaltigkeit in der ungarischen Rechtsetzung und Rechtsanwendung in Verbindung mit der Vergabe öffentlicher Aufträge

119

I. Regelung und Praxis der grünen Auftragsvergabe in Ungarn

121

II. Soziale Kriterien – Regelung und Praxis in Ungarn

128

III. Innovatives öffentliches Auftragswesen

131

IV. Die Anwendung von Nachhaltigkeitskriterien bei einzelnen Wirtschaftsgesellschaften, die der unmittelbaren und mittelbaren Rechtsausübung des Ministeriums für nationale Entwicklung unterstehen

132

Literatur

140

III. Nachhaltige Vergaben im Dienste der Daseinsvorsorge

143

Norbert Portz: Kommunale Zusammenarbeit in der Abfallwirtschaft: Zwischen Ausschreibungspflicht und Vergaberechtsfreiheit

145

I. Voraussetzungen zur Anwendung des Vergaberechts

145

II. Kein Vergaberecht bei kommunaler Eigenerbringung

146

III. Hohe Praxisrelevanz kommunaler Eigenerbringungen in der Abfallwirtschaft

146

1. Gründe verstärkter Kooperationen

146

2. Hauptformen kommunaler Eigenerbringung

147

3. Horizontale Kooperationen

147

IV. Spannungsfeld von Eigenerbringung und Vergaberecht

147

V. Vergaberechtsfreiheit öffentlich-öffentlicher Kooperationen

148

1. In-House-Geschäfte

148

a) Kontrolle und Wesentlichkeit

148

b) In-House-Fähigkeit in liberalisierten Märkten?

149

c) Erweiterung des In-House-Geschäfts durch § 108 GWB

149

d) Gemeinsames In-House-Geschäft

150

2. Horizontale Vergaberechtsfreiheit

150

3. Bewertung

151

VI. Kein öffentlicher Auftrag bei kompletter Übertragung der Abfallentsorgung auf Zweckverband

152

1. EuGH-Urteil vom 21. Dezember 2016

152

2. Zugrunde liegender Sachverhalt

153

3. Vorlage an den EuGH durch das OLG Celle

153

4. EuGH betont Recht der Mitgliedstaaten zum Schutz lokaler Selbstverwaltung

154

5. Kein Vergaberecht bei Kompetenzübertragung auf Zweckverband

154

6. Voraussetzungen einer Kompetenzübertragung

155

7. Abgrenzung zum In-House-Geschäft

156

8. Zweckverband kann bei Kompetenzübertragung auf dem Markt tätig sein

156

9. Stärkung kommunaler Daseinsvorsorge in der Abfallwirtschaft

157

VII. Fazit

157

Desiree Jung: Nachhaltige Energieversorgung in der kommunalen Selbstverwaltung

159

I. Ausgangslage

159

II. Vergaberechtliche Vorgaben

160

1. Grundsatz der Vergabe

160

2. Eignungsprüfung

161

3. Besondere Ausführungsbedingungen

162

4. Zwingende Ausführungsbedingungen

163

5. Nachweisführung durch Gütezeichen

163

6. Zuschlagskriterien

163

III. Bedeutung für die Praxis

164

1. Stellschraube: Bedarfsplanung

164

2. Praxisbeispiel Straßenbeleuchtung

165

IV. Fazit

166

IV. Innovative Gestaltung des Vergabeverfahrens

167

Annette Rosenkötter und Antonia Daszenies: Die Innovationspartnerschaft als neuer Hoffnungsträger?

169

I. Einleitung

169

II. Verfahren

170

1. Verfahrensauswahl

170

2. Verfahrensablauf

171

a) Bekanntmachung

171

b) Bewerberauswahl

172

c) Verhandlungen

173

d) Vertragsdurchführungsphase

174

III. Herausforderungen des neuen Verfahrens

175

1. Sicherstellung der Wirtschaftlichkeit in der Lieferphase

175

2. Vereinbarkeit mit beihilferechtlichen Regelungen

176

3. Verortung der IP-Rechte

177

IV. Fazit

177

Autorenverzeichnis

179