Private international law & conflict of laws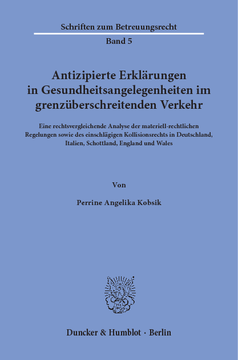 BOOK
Antizipierte Erklärungen in Gesundheitsangelegenheiten im grenzüberschreitenden Verkehr
Eine rechtsvergleichende Analyse der materiell-rechtlichen Regelungen sowie des einschlägigen Kollisionsrechts in Deutschland, Italien, Schottland, England und Wales
Schriften zum Betreuungsrecht, Vol. 5
(2020)
Additional Information
Book Details
ISBN

978-3-428-55732-5
978-3-428-15732-7 (print edition)

DOI

https://doi.org/10.3790/978-3-428-55732-5

Edition

1

Language

German

Pages

529

Collections

Subjects
Pricing
Institution

€ 126.00 (incl. local VAT if applicable)

Individual

€ 98.90 (incl. local VAT if applicable)
About The Author
Perrine Kobsik studierte Rechtswissenschaften mit dem Schwerpunkt Internationaler und Europäischer Privatrechtsverkehr an der Universität Leipzig. Seit 2011 war sie als wissenschaftliche Mitarbeiterin am Institut für ausländisches und europäisches Privat- und Verfahrensrecht (Prof. Dr. Dr. h.c. Thomas Rauscher) tätig. Ihr durch ein Stipendium der Universität Leipzig gefördertes Promotionsstudium schloss sie im Januar 2019 ab. Nach dem Juristischen Vorbereitungsdienst mit Station u.a. bei der Ständigen Vertretung der Bundesrepublik Deutschland bei dem Büro der Vereinten Nationen in Genf und Abschluss der Zweiten juristischen Staatsprüfung ist sie nunmehr als Rechtsberaterin/Wehrdisziplinaranwältin tätig.
Perrine Kobsik studied law at Leipzig University with emphasis on International and European Private Law. Since 2011 she worked as a Research Associate at the Institute for Foreign and European Civil Law and Civil Procedure, Prof. Dr. Dr. h. c. Thomas Rauscher. She finished her doctoral studies, which were sponsored by Leipzig University, in January 2019. During her legal traineeship, she worked, inter alia, at the Permanent Mission of Germany to the Office of the UN and other International Organizations, Geneva. Since 2019 she has been working as Legal Adviser/Disciplinary Attorney for the Armed Forces.
Abstract
Ausgehend von der Darstellung der Grundlagen des Einwilligungserfordernisses zu medizinischen Behandlungen, untersucht Perrine Kobsik zunächst das materielle Recht von Deutschland, Italien, Schottland, England und Wales im Hinblick darauf, wie die medizinisch-therapeutische Selbstbestimmung durch antizipierte Erklärungen nach Art einer Betreuungsverfügung, Vorsorgevollmacht oder Patientenverfügung verwirklicht werden kann.

Anschließend wird die kollisionsrechtliche Behandlung der zuvor dargestellten Rechtsinstitute betrachtet. Die Verfasserin gelangt zu dem differenzierten Fazit, dass sich das anwendbare Recht für Betreuungsverfügungen und Vorsorgevollmachten nach dem Haager Erwachsenenschutzübereinkommen, für Patientenverfügungen dagegen sachgerecht nach der Rom I- bzw. Rom II-VO bestimmen lässt, weshalb hierfür keine neuen Kollisionsnormen geschaffen werden müssten, gleichwohl jedoch eine den Erwachsenenschutz und all diese Erklärungen erfassende europäische Verordnung wünschenswert wäre. »Precautionary Advance Decisions for Health Care in the International Context. A Comparative Study of Applicable Material and Conflict Rules in Germany, Italy, Scotland, England and Wales.«

This book contains a comprehensive description and analysis of the German, Italian, English and Scottish material and conflict rules on precautionary instruments aiming at medical self-determination. The author concludes that determination of the applicable law to adult protection and precautionary decisions in this respect and to powers of representation is governed by the Hague Convention on the International Protection of Adults whereas the applicable law to ›Advance decision‹s, i.e. the anticipated (refusal of) consent to medical treatment, is to be determined entirely by the European Regulations Rome I and Rome II.
Table of Contents
Section Title
Page
Action
Price

Vorwort

5

Inhaltsverzeichnis

7

Abkürzungsverzeichnis

17

Einführung, Gegenstand der Arbeit

25

Rechtsvergleichende Methode und Gang der Untersuchung

29

Kapitel 1: Antizipierte Erklärungen in Gesundheitsangelegenheiten im materiellen Recht

32

A. Ausgangspunkt: Menschenwürde, körperliche Unversehrtheit, Einwilligungserfordernis und Arzt-Patienten-Verhältnis

32

I. Internationales Recht

33

1. Europäische Menschenrechtskonvention (EMRK)

33

2. Europäische Grundrechtecharta (GRC)

35

3. Oviedo-Konvention

36

4. Empfehlungen und Resolutionen des Europarats

39

a) Prinzipien zum Erwachsenenschutz, R (99) 4

39

b) Empfehlung zum Schutz der Menschenrechte und Würde von unheilbar Kranken und Sterbenden, Rec. 1418 (1999)

40

c) Prinzipien zum Umgang mit Vorsorgevollmachten und Patientenverfügungen, CM/Rec‍(2009)‌11

41

d) Schutz der Menschenrechte und Würde durch Beachtung von Patienten zuvor geäußerter Wünsche, Resolution 1859 (2012)

41

5. UN-Behindertenrechtskonvention (BRK)

42

II. Nationales Recht: Deutschland

45

1. Verfassung

45

2. Straf-‍, Zivil- und Standesrecht

47

3. Insbesondere: Einwilligungsfähigkeit

64

III. Nationales Recht: Italien

67

1. Verfassung

70

2. Bisheriges Zivil-‍, Straf- und Standesrecht

73

a) Der Fall Welby

79

b) Der Fall Englaro

81

c) Ärztliches Standesrecht und Position des Nationalen Ethikrats

83

d) Insbesondere: capacità di prestare il proprio consenso

86

3. Legge n. 219/17

87

IV. Nationales Recht: England und Wales

94

1. Verfassung

94

2. Zivil-‍, Straf- und Standesrecht

95

a) Grundsätzliches und common law

95

b) Mental Capacity Act 2005

104

c) Standesrecht der Ärzte

109

d) Insbesondere: capacity to consent to treatment

111

V. Nationales Recht: Schottland

115

1. Verfassung

115

2. Zivil-‍, Straf- und Standesrecht

115

a) Grundsätzliches

115

b) Adults with Incapacity (Scotland) Act 2000

121

c) Standesrecht der Ärzte

124

d) Insbesondere: capacity to consent to treatment

124

VI. Zusammenfassende Betrachtung

126

B. Hoheitliche Fürsorge

127

I. Deutschland

128

1. Rechtliche Betreuung für Volljährige

128

2. Insbesondere: Einwilligung in medizinische Behandlungen

131

3. Gerichtliches Genehmigungserfordernis

133

4. Verhältnis zu privater Vorsorge

135

II. Italien

136

1. Amministrazione di sostegno

139

a) Anwendungsbereich

139

b) Verhältnis zu privater Vorsorge

143

c) Insbesondere: Einwilligung in medizinische Behandlungen

144

aa) Bisherige Rechtslage, Prägung durch die Rechtsprechung

144

bb) Legge n. 219/17

147

2. Interdizione e tutela

149

a) Anwendungsbereich

149

b) Verhältnis zu privater Vorsorge

152

c) Insbesondere: Einwilligung in medizinische Behandlungen

152

aa) Bisherige Rechtslage und Rechtsprechung

152

bb) Legge n. 219/17

154

3. Inabilitazione e curatela

155

III. England und Wales

156

1. Deputyship und welfare orders – Verhältnis zu privater Vorsorge

156

2. Welfare orders

158

3. Deputyship

159

IV. Schottland

160

1. Guardianship und intervention orders – Anwendungsbereich und Verhältnis zu privater Vorsorge sowie Befugnissen nach s. 47 sub. 2 AWIA

161

2. Intervention orders

163

3. Welfare guardianship orders

164

V. Zusammenfassende Betrachtung

166

C. Beeinflussung hoheitlicher Fürsorge

170

I. Deutschland

170

II. Italien

173

1. Designazione dell'amministratore di sostegno

173

a) Errichtung, zulässiger Inhalt und grundsätzliche Rechtswirkung

173

b) Weitergehende Interpretation durch die Rechtsprechung

175

c) Wirksamkeit mit Blick auf die (aktuelle) Einwilligungsfähigkeit

176

2. Auswahl des Vormundes

179

III. England und Wales

179

IV. Schottland

180

V. Zusammenfassende Betrachtung

181

D. Befugnisse naher Angehöriger und Ärzte im Bereich medizinischer Behandlungen

182

I. England und Wales

183

1. Informal powers gemäß s. 5 MCA

183

2. Serious medical treatment durch den NHS

186

II. Schottland: general authority to treat gemäß Teil 5 des AWIA

188

1. Allgemeine Behandlungsbefugnis nach s. 47 subs. 2 AWIA

188

2. Verhältnis zum Patientenvertreter

191

3. Verhältnis zu advance directives

193

III. Italien

194

1. Stellvertretung bei der Einwilligung durch nahe Angehörige nach legge n. 219/‍17?

194

2. Stellvertretung bei der Einwilligung durch nahe Angehörige nach weiteren Gesetzentwürfen der XVII. Legislatura

196

IV. Deutschland: Gesetzentwurf zur Vertretungsbefugnis in Gesundheitsangelegenheiten von Ehegatten und eingetragenen Lebenspartnern

197

1. Die erwogenen Neuregelungen

197

2. Verhältnis zu hoheitlicher Fürsorge

200

3. Verhältnis zu privater Vorsorge

200

4. Würdigung des Entwurfs

201

V. Zusammenfassende Betrachtung

203

E. Private Vorsorge durch gewillkürte Stellvertretung

204

I. Deutschland

204

1. Errichtung einer Vorsorgevollmacht

205

a) Persönliche Voraussetzungen

205

b) Exkurs: Vorsorgevollmacht eines Minderjährigen

206

c) Schriftform

210

d) Ausdrücklichkeit

211

e) Ausgestaltung mit Blick auf den Beginn der Wirksamkeit

213

f) Verbindung mit einer Patientenverfügung

214

g) Kontrollvollmacht

214

2. Widerruf/Ende der Vertretungsmacht

215

3. Rechtsfolgen/Anwendung

215

a) Einwilligung durch den Bevollmächtigten

215

b) Erfordernis der betreuungsgerichtlichen Genehmigung

216

4. Verhältnis zu staatlichen Fürsorgemaßnahmen

217

a) Grundsatz: Entbehrlichkeit der Bestellung eines Betreuers

217

b) Ausnahme: Notwendigkeit der Bestellung eines Betreuers

218

II. Italien

220

1. Gesetzentwurf Ddl. S.443 der vergangenen Legislaturperiode

220

2. Legge n. 219/17

222

III. England und Wales – welfare lasting power of attorney

225

1. Errichtung

227

a) Persönliche Anforderungen

227

b) Form und Inhalt, Registrierungspflicht

227

c) Folgen von Mängeln bei der Errichtung, Wirksamwerden

230

2. Widerruf und Ende der Vertretungsmacht

231

3. Rechtsfolgen und Anwendung

232

4. Zuständigkeit des Court of Protection

233

5. Verhältnis zu anderen Maßnahmen privater Vorsorge

234

6. Verhältnis zu hoheitlichen Fürsorgemaßnahmen

234

IV. Schottland – welfare power of attorney

234

1. Errichtung

236

2. Widerruf und Ende der Vertretungsmacht

240

3. Rechtsfolgen und Anwendung

241

4. Rolle des Gerichts

242

5. Verhältnis zu anderen Maßnahmen privater Vorsorge

243

6. Verhältnis zu hoheitlichen Fürsorgemaßnahmen

243

V. Zusammenfassende Betrachtung

244

F. Private Vorsorge durch (isolierte) antizipierte Behandlungsentscheidungen

246

I. Deutschland

246

1. (Qualifizierte) Patientenverfügung im Sinne von § 1901 Abs. 1. S. 1 BGB

247

a) Persönliche und formelle Anforderungen an die Errichtung

247

b) Widerruf der qualifizierten Patientenverfügung

252

c) Der zulässige Inhalt einer qualifizierten Patientenverfügung

254

d) Rechtsfolgen einer qualifizierten Patientenverfügung

257

aa) Die Rolle des Patientenvertreters und das "Vier-Augen-Prinzip"

257

bb) Das Gespräch zur Feststellung des Patientenwillens nach § 1901b Abs. 2 BGB

263

2. Behandlungswünsche im Sinne von § 1901a Abs. 2 BGB

265

a) Erklärung und Widerruf von Behandlungswünschen i.S.v. § 1901a Abs. 2 BGB

265

aa) Schlichte Patientenverfügung

265

bb) Nicht passgenaue Patientenverfügung

266

cc) Vertreterbezogene Patientenverfügung

267

dd) Narrative Patientenverfügung und mutmaßlicher Patientenwille

268

b) Die Rechtsfolgen sogenannter Behandlungswünsche nach § 1901a Abs. 2 BGB

269

aa) Die Bindungswirkung und die Rolle von Patientenvertretern

269

bb) Das Gespräch zur Feststellung des Patientenwillens

274

3. Verhältnis zu hoheitlichen Schutzmaßnahmen

275

4. Verhältnis zu anderen Maßnahmen privater Vorsorge

276

5. Rolle des Betreuungsgerichts

276

II. Italien

279

1. Frühere Gesetzentwürfe und Anerkennung in Ermangelung klarer gesetzlicher Regelungen

280

a) Rechtsprechung

281

b) Standesrecht

283

2. Legge n. 219/17

284

a) Disposizioni anticipate di trattamento

284

aa) Persönliche Errichtungsvoraussetzungen

285

bb) Benennung einer Vertrauensperson (fiduciario)

285

cc) Verbindlichkeit

286

dd) Form und Registrierung

286

ee) Würdigung

287

b) Pianificazione condivisa delle cure

290

aa) Obligatorische Aufklärung

291

bb) Form

291

cc) Würdigung

291

c) Übergangsvorschrift

291

III. England und Wales

292

1. Advance directives bzw. advance refusal nach common law

292

2. Advance decision to refuse treatment nach dem MCA

295

a) Errichtung einer advance decision im Sinne des MCA

295

b) Widerruf

299

c) Anwendbarkeit und Rechtsfolgen

300

d) Zuständigkeit des Court of Protection

302

3. Statement of preferences beziehungsweise advance statement

302

4. Verhältnis zu anderen Maßnahmen privater Vorsorge

303

5. Verhältnis zu hoheitlichen Fürsorgemaßnahmen und informal powers

304

IV. Schottland

304

1. Advance directives

304

a) Verhältnis zu anderen Maßnahmen privater Vorsorge

307

b) Verhältnis zu hoheitlichen Fürsorgemaßnahmen

308

c) Verhältnis zur general authority to treat

309

2. Zusammenfassung

309

V. Zusammenfassende Betrachtung

310

Kapitel 2: Antizipierte Erklärungen im Kollisionsrecht

315

A. Kollisionsrecht hoheitlicher Fürsorge und deren Beeinflussung

316

I. Anwendbares Recht nach dem ErwSÜ

317

1. Anwendungsbereich

318

a) Räumlich-persönlicher Anwendungsbereich

319

aa) Erwachsener

319

bb) Schutzbedürftigkeit

320

cc) Schutzmaßnahme

321

dd) Internationaler Sachverhalt

324

b) Intertemporaler Anwendungsbereich

325

2. Anwendbares Recht

325

a) Anknüpfung und Unteranknüpfung

325

b) Anwendbarkeit der Kollisionsnormen bei fehlender Zuständigkeit nach dem ErwSÜ

327

aa) Exkurs: Zuständigkeiten nach Art. 10, 11 ErwSÜ

328

bb) Folgerung

330

c) Anwendbares Recht der hoheitlichen Fürsorge, Qualifikation

333

aa) Das Zusammenspiel von Art. 13 und 14 ErwSÜ

335

bb) Insbesondere: Beeinflussung hoheitlicher Fürsorge

337

d) Drittschutz nach Art. 17 ErwSÜ

339

e) Anwendung zwingender Bestimmungen nach Art. 20 ErwSÜ

340

f) Ordre public-Vorbehalt, Art. 21 ErwSÜ

345

II. Anwendbares Recht nach autonomem Kollisionsrecht: Deutschland

347

1. Der verbleibende Anwendungsbereich des autonomen Kollisionsrechts

347

2. Das nach Art. 24 EGBGB anwendbare Recht

348

3. Qualifikation

350

a) Betreuung

350

b) Gesetzliche Stellvertretung durch nahe Angehörige

351

c) Betreuungsverfügung

353

aa) Anknüpfung nach Art. 24 Abs. 3 EGBGB

354

bb) Anknüpfung nach Art. 24 Abs. 1 EGBGB

354

cc) Vorzugswürdige Ansicht

354

d) Gerichtliche Genehmigungserfordernisse und Entscheidungsvorbehalte

355

4. Ordre public

356

III. Anwendbares Recht nach autonomem Kollisionsrecht: Italien

356

1. Anwendbares Recht

356

2. Qualifikation

358

3. Vorbehalt zugunsten zwingender Normen (Norme di applicazione necessaria)

360

4. Vorbehalt zugunsten des nationalen ordre public (ordine pubblico)

361

IV. Anwendbares Recht nach autonomem Kollisionsrecht: Schottland, England und Wales

361

1. England und Wales

361

a) Allgemeines und Anwendungsbereich

361

b) Anwendbares Recht

365

aa) Begriff der habitual residence

366

bb) Einseitige Kollisionsnorm – allseitiger Ausbau

367

c) Exkurs: Einheitliches interlokales Kollisionsrecht im Vereinigten Königreich?

369

2. Schottland

371

a) Anwendungsbereich

372

b) Anwendbares Recht

373

c) Vorbehalt zugunsten zwingender Normen (mandatory law)

374

d) Vorbehalt zugunsten des nationalen ordre public (public policy)

375

B. Kollisionsrecht der privaten Vorsorge in Form von gewillkürter Stellvertretung

375

I. Anwendbares Recht nach Europarecht

375

1. Verordnungen Rom I und Rom II

375

2. Exkurs: Art. 7 Rom I-VO-E

376

II. Anwendbares Recht nach dem ErwSÜ

378

1. Anwendungsbereich

378

a) Sachlicher Anwendungsbereich

378

b) Räumlicher Anwendungsbereich

381

c) Persönlicher Anwendungsbereich

382

d) Intertemporaler Anwendungsbereich

386

2. Anwendbares Recht

386

a) Bestehen, Umfang, Änderung und Beendigung der Vorsorgevollmacht

387

aa) Objektive Anknüpfung

387

bb) Rechtswahl

389

cc) Art und Weise der Ausübung der Vertretungsmacht, Art. 15 Abs. 3 ErwSÜ

392

(1) Formerfordernisse und Nachweismechanismen

394

(2) Genehmigungserfordernisse

394

(3) Form und inhaltliche Bestimmtheit der Vorsorgevollmacht

395

dd) Anerkennung und Vollstreckung

396

ee) Behördliche Aufhebungs- und Abänderungsbefugnis, Art. 16 ErwSÜ

397

ff) Drittschutz, Art. 17 ErwSÜ

398

gg) Vorbehalt zugunsten international zwingender Bestimmungen der lex fori gemäß Art. 20 ErwSÜ

399

hh) Ordre public-Vorbehalt gemäß Art. 21 ErwSÜ

400

III. Nach autonomem Kollisionsrecht: Deutschland

401

1. Verbleibender Anwendungsbereich

401

2. Autonome Anknüpfung von Vorsorgevollmachten

401

a) Die bislang von Rechtsprechung und Lehre herausgearbeiteten Grundsätze

401

b) Art. 8 EGBGB in der Fassung des Gesetzes vom 11. Juni 2017

404

IV. Nach autonomem Kollisionsrecht: Italien

409

1. Fehlen einer speziellen Kollisionsnorm und geplante Regelung

409

2. Anknüpfung nach bestehenden Kollisionsnormen

410

3. Vorbehalt zugunsten des nationalen ordre public (ordine pubblico)

411

V. Nach autonomem Kollisionsrecht: Schottland, England und Wales

412

1. England und Wales

412

2. Schottland

414

C. Kollisionsrecht der privaten Vorsorge in Form isolierter antizipierter Einwilligung in medizinische Maßnahmen oder deren Verweigerung

416

I. Internationales Privatrecht oder Internationales Strafrecht?

416

II. Das Fehlen exklusiver Kollisionsnormen und die möglichen international-privatrechtlichen Anknüpfungen

418

III. Einbettung in den Erwachsenenschutz und das ErwSÜ

420

1. Bei Bestehen von oder im Zusammenhang mit der Anordnung hoheitlicher Fürsorge

420

2. Bei Kombination mit einer Vorsorgevollmacht

421

3. Isolierte Patientenverfügungen

423

IV. Anwendbares Recht nach Europarecht

426

1. Die Patientenverfügung im Rahmen der Verordnung über das auf vertragliche Schuldverhältnisse anwendbare Recht (Rom I-VO)

428

a) Allgemeiner Anwendungsbereich der Rom I-VO

428

b) Anwendungsbereich in Bezug auf und Qualifikation der Patientenverfügung

430

aa) Kein Ausschluss nach Art. 1 Abs. 2 Rom I-VO

430

bb) Reichweite des Vertragsstatuts

431

c) Anknüpfung der Einwilligungsfähigkeit

437

d) Anknüpfung von Einwilligungsberechtigung und Registrierungserfordernis

438

e) Anknüpfung der Form einer Patientenverfügung

438

aa) Form des Vertragsstatuts

439

bb) Ortsform

440

cc) Formvorschriften des gewöhnlichen Aufenthaltsstaates

441

dd) Parteiinteressen bei der Patientenverfügung

442

f) Das nach der Rom I-VO anwendbare Recht

442

aa) Objektive Anknüpfung

442

bb) Subjektive Anknüpfung: Rechtswahl

445

g) Zwischenergebnis

447

h) Verkehrsschutz, Art. 13 Rom I-VO

447

i) Eingriffsnormen, Art. 9 Rom I-VO

448

j) Ordre public, Art. 21 Rom I-VO

453

k) Zusammenfassung zur Rom I-VO

454

2. Die Patientenverfügung im Rahmen der Verordnung über das auf außervertragliche Schuldverhältnisse anwendbare Recht (Rom II-VO)

454

a) Allgemeiner Anwendungsbereich der Rom II-VO

455

b) Anwendungsbereich in Bezug auf und Qualifikation der Patientenverfügung

456

aa) Kein Ausschluss nach Art. 1 Abs. 2 Rom II-VO

456

bb) Reichweite des Statuts

457

c) Anknüpfung der Einwilligungsfähigkeit und Einwilligungsberechtigung

458

d) Anknüpfung der Form einer Patientenverfügung

459

e) Zwischenergebnis

460

f) Anwendbares Recht nach Art. 4 Rom II-VO

460

aa) Subjektive Anknüpfung: Rechtswahl

460

bb) Objektive Anknüpfung

461

cc) Eingriffsnormen im Sinne von Art. 16 Rom II-VO

463

dd) Art. 17 Rom II-VO

464

ee) Ordre public-Vorbehalt nach Art. 26 Rom II-VO

464

3. Zwischenergebnis zu den Rom-Verordnungen

464

V. Nach autonomem Kollisionsrecht: Deutschland

465

VI. Nach autonomem Kollisionsrecht: Italien

466

VII. Nach autonomem Kollisionsrecht: Schottland, England und Wales

467

D. Kollisionsrecht der Entscheidungsbefugnisse in medizinischen Angelegenheiten von Medizinern, Angehörigen und Ehegatten beziehungsweise Lebenspartnern

469

I. Kein Anwendungsbereich des ErwSÜ

470

II. Anwendbares Recht nach Europarecht

470

1. Anknüpfung entsprechend der Geschäftsführung ohne Auftrag (GoA)

471

2. Anknüpfung an das jeweilige Wirkungsstatut

472

III. Anwendbares Recht nach autonomem Kollisionsrecht

473

1. Deutschland

473

a) Befugnisse von Medizinern und nahen Angehörigen nach englischem und schottischem Recht sowie dem italienischen Gesetzentwurf Ddl. S.443

473

b) Erwogenes Notvertretungsrecht in Gesundheitsangelegenheiten

474

aa) Ehewirkungsstatut

474

bb) Statut der allgemeinen Wirkungen einer eingetragenen Lebenspartnerschaft oder gleichgeschlechtlichen Ehe

475

2. Schottland

476

3. England und Wales

477

4. Italien

477

Kapitel 3: Zusammenfassung und Ausblick

479

Literaturverzeichnis

486

Stichwortverzeichnis

525