Public international law: criminal law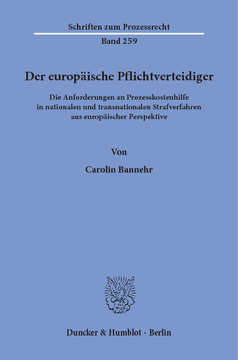 BOOK
Der europäische Pflichtverteidiger
Die Anforderungen an Prozesskostenhilfe in nationalen und transnationalen Strafverfahren aus europäischer Perspektive
Schriften zum Prozessrecht, Vol. 259
(2020)
Additional Information
Book Details
ISBN

978-3-428-55829-2
978-3-428-15829-4 (print edition)

DOI

https://doi.org/10.3790/978-3-428-55829-2

Edition

1

Language

German

Pages

437

Collections

Subjects
Pricing
Institution

€ 126.00 (incl. local VAT if applicable)

Individual

€ 98.90 (incl. local VAT if applicable)
About The Author
Carolin Bannehr (geb. Castorf): Studium der Rechtswissenschaften von 2008 bis 2013 an der Bucerius Law School (Hamburg) und an der Waseda Law School (Tokio). 2013 Erste Juristische Prüfung. Referendariat im Bezirk des Kammergerichts. 2016 Zweite Juristische Prüfung. 2018 Zulassung zur Rechtsanwaltschaft und Tätigkeit als angestellte Strafverteidigerin im Wirtschaftsstrafrecht in Berlin. 2019 Promotion. Seit 2020 Richterin in Berlin.
Carolin Bannehr (née Castorf) studied law at Bucerius Law School (Hamburg) and Waseda Law School (Tokyo) from 2008 to 2013. 2013 First State Examination. Legal clerkship in the district of the Kammergericht Berlin. 2016 Second State Examination. 2018 Admitted to the bar and employed as a defence counsel in Berlin. 2019 Doctorate. Since 2020 Judge in Berlin.
Abstract
Aus Anlass der Ende 2016 erlassenen Richtlinie über Prozesskostenhilfe für Verdächtige und beschuldigte Personen in Strafverfahren (PKH-RL) untersucht die Arbeit, ob und inwiefern die Europäisierung durch europäische Menschenrechtsinstrumente und Richtlinien den Zugang des Beschuldigten zu strafrechtlicher Prozesskostenhilfe verbessern kann. Dazu wird zunächst eine europäische Konzeption strafrechtlicher Prozesskostenhilfe erarbeitet, deren Grundlage die menschenrechtlichen Garantien von Art. 6 Abs. 3 lit. c EMRK und Art. 48 Abs. 2 GRCh sind und die um die Inhalte und Garantien der PKH-RL ergänzt werden. Ausgehend von dieser europäischen Konzeption ist eine kritische Auseinandersetzung mit dem Status quo des deutschen Rechts der notwendigen Verteidigung möglich. Aus diesem Vergleich kann eine Verbesserung des Zugangs und der Wirksamkeit strafrechtlicher Prozesskostenhilfe für den Beschuldigten eines Strafverfahrens abgeleitet werden. »The European Public Defender – Requirements for legal aid in national and transnational criminal proceedings from a European perspective«

The thesis investigates whether Europeanisation, i.e. the influence of the ECHR, the CFR and the EU Directive 2016/1919, improves the status of defence rights at the EU and the national level. After establishing a European concept of legal aid, derived from the guarantees of the ECHR, the CFR and EU Directive 2016/1919, the effects of this concept of a »European public defender« are exemplified by investigating the effects on the German system of legal aid in criminal proceedings.
Table of Contents
Section Title
Page
Action
Price

Vorwort

5

Inhaltsverzeichnis

7

Abbildungs- und Tabellenverzeichnis

17

Kapitel 1: Einleitung

19

A. Einführung und Forschungsansatz

19

I. Erkennbare Mängel strafrechtlicher Prozesskostenhilfe auf mitgliedstaatlicher Ebene – am Beispiel Deutschlands

20

II. Verschlechterung dieser Situation über die zusätzliche Dimension transnationaler Strafverfolgung in der EU

23

1. Erhöhte Schutzbedürftigkeit des Beschuldigten bei grenzüberschreitender Strafverfolgung

25

2. Notwendigkeit der Erstreckung strafrechtlicher Prozesskostenhilfe auf grenzüberschreitende Verfahren

29

III. Europäisierung der Pflichtverteidigung als Verbesserung der Verteidigungsrechte in den Mitgliedstaaten?

31

IV. Forschungsfrage

32

V. Gang der Untersuchung

33

B. Definitionen und thematische Begrenzungen

35

I. Das Strafverfahren

35

II. Nationalität und Transnationalität – Rechtshilfe

35

1. Nationalität und Transnationalität

35

2. Rechtshilfe

37

III. Strafrechtliche Prozesskostenhilfe – Pflichtverteidigung – notwendige Verteidigung?

40

IV. Das Prozesssubjekt des Strafverfahrens

42

C. Methodik

43

Kapitel 2: Die menschenrechtliche Konzeption strafrechtlicher Prozesskostenhilfe

45

A. Die Konzeption der EMRK

46

I. Strafrechtliche Prozesskostenhilfe als Rückgrat der Verteidigungsrechte in Art. 6 Abs. 3 EMRK

46

II. Voraussetzungen strafrechtlicher Prozesskostenhilfe

47

1. Rechtspflegeinteresse als primär im staatlichen Interesse stehende Voraussetzung

48

a) Betrachtung der potenziellen Folgen eines Strafverfahrens gegen den Angeklagten

50

b) Betrachtung der Umstände des Strafverfahrens im Verhältnis zu den konkreten Fähigkeiten des Angeklagten

53

aa) Objektive Komplexität des Verfahrens

54

bb) Abgleich mit den persönlichen Fähigkeiten des Angeklagten

55

(1) Feststellung der an den Angeklagten zu stellenden Anforderungen

55

(2) Bewertung der Kompetenzen des Angeklagten

56

2. Bedürftigkeit als primär im Angeklagteninteresse stehende Voraussetzung

58

3. Das Überwiegen des staatlichen Fürsorgeansatzes im Sinne eines Rechtspflegeinteresses

60

a) Verzicht

61

b) Die Garantenpflicht des Staates als subsidiärer Absicherungsmechanismus für effektive Verteidigung

68

c) Antragsrechte als vernachlässigte Materie in der Rechtsprechung des EGMR

72

III. Der "Angeklagte" im "strafrechtlichen Verfahren"

73

1. Strafverfahren als auf die Territorialgrenzen beschränktes Verfahren zur Bestimmung von Schuld oder Unschuld des Angeklagten

74

a) "Charged with a criminal offence": Determination von Schuld oder Unschuld als Kernelement des Strafverfahrens

74

aa) Strafrechtlicher Vorwurf

74

bb) Strafverfahren als Rahmen der unmittelbaren Feststellung eines strafrechtlichen Vorwurfs

77

b) Transnationale Verfahrensteile als den Verteidigungsgarantien entzogene Verfahrensteile

81

aa) Ursprung der Problematik

82

(1) Grundsätzlich fehlende Hoheitsgewalt des Anordnungsstaates

84

(2) Verwaltungsverfahrensrechtliche Natur des Rechtshilfeverfahrens aus Sicht des Vollstreckungsstaats

86

(3) Grundsätzlich keine Zurechnung von Rechtsverletzungen des Anordnungsstaats – der "flagrant denial"-Test

88

bb) Bewertung

90

cc) Subsumtion: Überlappende Verantwortlichkeiten von Anordnungs- und Vollstreckungsstaat im transnationalen Strafverfahren

94

(1) "Control and authority" des Vollstreckungsstaats für drohende Rechtsverletzungen im Anordnungsstaat

94

(2) Strafrechtliche Natur des Rechtshilfeverfahrens auch aus Perspektive des Vollstreckungsstaates

96

(a) Ausbau der in Stojkovic angedeuteten weiten Auslegung des strafrechtlichen Konnexes

96

(b) Auslieferungsuntersuchungshaft: Anerkennung als Kombination von Untersuchungs- und Auslieferungshaft im transnationalen Strafverfahren

97

(c) Schlussfolgerungen aus der zunehmenden Ausbildung eines einheitlichen Raums der Freiheit, der Sicherheit und des Rechts in der EU

98

(d) Praktisch wirksame Auslegung von Art. 6 Abs. 3 EMRK im transnationalen Strafverfahren

100

(3) "Control and authority" des Anordnungsstaates bei Verletzungen der Verteidigungsrechte des Angeklagten im Vollstreckungsstaat

101

2. Angeklagter als Akteur eines partizipatorischen Ermittlungsverfahrens

102

a) Von der Beschuldigung bis zur rechtskräftigen Verurteilung – der weite Anklagebegriff

103

b) Partizipatorische Ausgestaltung der Stellung des Angeklagten im Ermittlungsverfahren

106

aa) Partizipationsrechte des Beistands in strafprozessualen Zwangssituationen als vermittelte Teilhabe für den Angeklagten

108

(1) Partizipationsrechte in allen wesentlichen Verfahrenssituationen

109

(2) Haftprüfungstermin als Sonderfall der Vernehmung

112

bb) Berücksichtigungspflicht bezüglich des vom Angeklagten benannten Beistands seines Vertrauens

113

c) Absicherung der Akteursstellung über ein wirksames Fehlerfolgenregime

115

aa) Vortrag eines Grundes für die Beschränkung einer Gewährleistung aus Art. 6 Abs. 3 lit. c EMRK

116

(1) Beschränkung oder Verzögerung des Zugangs zu einem Verteidiger im Ermittlungsverfahren nur aus "zwingenden Gründen"

116

(a) Konkrete Gefährdung von Leib, Leben oder persönlicher Freiheit anderer Menschen

117

(b) Prozessuale Sicherungsmechanismen

118

(2) Missachtung des Wunsches des Angeklagten bezüglich der Person des Verteidigers

120

(3) Übertragung dieser Maßstäbe auf die Beschränkung bzw. Verzögerung des Zugangs zu strafrechtlicher Prozesskostenhilfe

122

bb) Keine unbillige Beschränkung der Verteidigung – Gesamtfairnessbetrachtung des EGMR

123

IV. Der Staat als Garant der Rahmenbedingungen effektiver strafrechtlicher Prozesskostenhilfe

126

1. Kostenfreiheit

126

2. Die durch die Anforderungen effektiver Verteidigung vorgegebene Qualität des rechtlichen Beistands

130

a) Rechtliche Qualität der Beratung

130

b) Unabhängigkeit des rechtlichen Beistands von staatlicher Beeinflussung

132

V. Zwischenergebnis: Der europäische Pflichtverteidiger nach Maßgabe der EMRK

134

1. Voraussetzungen strafrechtlicher Prozesskostenhilfe

135

2. Der "Angeklagte" im "strafrechtlichen Verfahren"

136

3. Der Staat als Garant der Rahmenbedingungen effektiver strafrechtlicher Prozesskostenhilfe

139

B. Die Konzeption der Grundrechtecharta

140

I. Die neue Bedeutsamkeit der GRCh im Strafverfahren: dynamische Erweiterung des Anwendungsbereichs der Grundrechtecharta

141

1. Der verschiebliche Maßstab der "Durchführung des Rechts der Union"

142

a) Erforderlichkeit einer anwendbaren Ermächtigungs- oder Auftragsnorm des Primär- oder Sekundärrechts

142

b) "Durchführung"

144

2. Rechtsfolge: Menschenrechtliche Fragmentierung einheitlicher (strafrechtlicher) Sachverhalte

147

II. Anforderungen der GRCh zwischen Kohärenz und autonomer Gestaltung

150

III. Die eigenständige Bedeutung der Grundrechtecharta

154

1. Das ganzheitliche Verständnis des Strafverfahrens der Grundrechtecharta

154

a) Haftprüfungsverfahren und ähnliche begleitende Verfahren

155

b) Einbezug aller Abschnitte des transnationalen Strafverfahrens

156

aa) Einbezug grenzüberschreitender Verfahrensabschnitte in den Begriff des "strafrechtlichen Verfahrens"

157

bb) Zurechnung von Rechtsverletzungen im Anordnungs- oder Vollstreckungsstaat

158

(1) Unzureichende Berücksichtigung der Grundrechte in den harmonisierenden Rechtsakten de lege lata

158

(2) Verteidigungsrechte als Vollstreckungshindernis aus Perspektive des Vollstreckungsstaats?

160

(a) Wechselhafte Rechtsprechungslinien

161

(b) Die Rechtssache "Aranyosi u. Căldăraru" – C-404/15 u. C-659/15 PPU

164

(c) Übertragung der Argumentation aus "Aranyosi u. Căldăraru" auf die Verletzungen von Verteidigungsrechten?

167

2. Auswirkungen der transnationalen Dimension der Charta auf die Voraussetzungen strafrechtlicher Prozesskostenhilfe

170

a) Transnationale Prägung des Rechtspflegeinteresses

170

aa) Vermutung der tatsächlichen Komplexität in transnationalen Strafverfahren

171

bb) Vermutung der rechtlichen Komplexität in transnationalen Strafverfahren

172

cc) Vermutung des Rechtspflegeinteresses in bestimmten Auslieferungssituationen im Rahmen des Europäischen Haftbefehls

173

dd) Zwischenergebnis

174

b) Transnationale Auslegung der Bedürftigkeit

175

3. Die zusätzlich marktrechtliche Prägung von Art. 48 Abs. 2 GRCh durch die Dienstleistungsfreiheit in transnationalen Strafverfahren

177

a) Die Frage der Kostenfreiheit als marktrelevanter, staatlicher Eingriff

177

b) Übernahme von Doppelverteidigung

182

aa) Maßstäbe der Dienstleistungsfreiheit

182

(1) Die Regelung einer Kostenübernahme für Doppelverteidigung im Rahmen des Europäischen Haftbefehls

183

(2) Anforderungen der Dienstleistungsfreiheit in den übrigen Fällen transnationaler Kooperation

185

bb) Maßstäbe von Art. 48 Abs. 2 GRCh

185

cc) Zusammenführende Auslegung

187

c) Umfang der Übernahme als Konfliktfall zwischen Kostenvorhersehbarkeit und dem Erfordernis effektiver Verteidigung

188

aa) Umfang der Kostentragung nach den Maßgaben der Dienstleistungsfreiheit

189

bb) Umfang der Kostentragung nach Maßgabe von Art. 48 Abs. 2 GRCh

191

cc) Ausgleich beider Positionen

192

4. Unabhängigkeit des Rechtsbeistands

195

a) Standesrechtliche Verpflichtungen

196

b) Fehlende Weisungsabhängigkeit

197

c) Stellungnahme

199

5. Die eigene Schrankensystematik in Art. 52 Abs. 1 GRCh

201

a) Einschränkung auf gesetzlicher Grundlage

202

b) Wesensgehaltsgarantie: Keine systematische Beschränkung von Verteidigungsrechten

204

c) Besondere Ausprägung der Verhältnismäßigkeit im Rahmen von Art. 48 Abs. 2 GRCh im Fall strafrechtlicher Prozesskostenhilfe

205

aa) Legitimes Ziel der Einschränkung

206

bb) Das Erforderlichkeitskriterium als Hebel einer verteidigungsfreundlicheren Auslegung

207

cc) Angemessenheit und Bedeutung der Kausalität des Verfahrensverstoßes

210

IV. Zwischenergebnis: Der europäische Pflichtverteidiger nach der Grundrechtecharta

212

1. Die neue Bedeutsamkeit der Grundrechtecharta im Strafverfahren

212

2. Anforderungen der Grundrechtecharta zwischen Kohärenz und autonomer Gestaltung

213

3. Selbständige Bedeutung der Grundrechtecharta

214

C. Zusammenführung der Ergebnisse aus EMRK und GRCh für ein einheitliches menschenrechtliches Verständnis des europäischen Pflichtverteidigers

216

I. Umfassende und transnational offene Definition des Strafverfahrens

216

II. Voraussetzungen strafrechtlicher Prozesskostenhilfe

217

III. Der Angeklagte als Akteur des gesamten Strafverfahrens

217

IV. Rahmenbedingungen strafrechtlicher Prozesskostenhilfe

219

V. Strafrechtliche Prozesskostenhilfe nach EMRK und GRCh in einer zusammenfassenden Definition

220

Kapitel 3: Implementation und Ergänzung der menschenrechtlichen Vorgaben durch die PKH-RL

221

A. Strafrechtliche Prozesskostenhilfe nach Maßgabe der PKH-RL

223

I. Die Effektuierung der Verteidigungsbeistands-RL als Ziel der PKH-RL

224

1. Recht auf Zugang zu einem Rechtsbeistand nach Maßgabe der Verteidigungsbeistands-RL

225

a) Anwendungsbereich gem. Art. 2 Verteidigungsbeistands-RL

225

b) Voraussetzungen gem. Art. 3 Verteidigungsbeistands-RL

226

2. Prozessuale und gesetzliche Auslöser des Anwendungsbereichs der PKH-RL

227

a) Vorgeschriebene Unterstützung durch einen Rechtsbeistand nach unionalem oder nationalem Recht

228

aa) Nach Maßgabe des Unionsrechts

228

(1) Aktueller Besitzstand des Unionsrechts

228

(2) Dynamischer Verweis auf künftige Rechtsakte

231

bb) Nach Maßgabe des nationalen Rechts

232

b) Vorgeschriebener Zugang zu einem Rechtsbeistand bei bestimmten Ermittlungs- oder Beweiserhebungshandlungen und nach Entzug der Freiheit

232

II. Autonome Begriffsbestimmung des "Strafverfahrens"

234

1. Einbezug justizieller Entscheidungen

235

2. Einbezug transnationaler Strafverfahren?

235

III. Voraussetzungen strafrechtlicher Prozesskostenhilfe gem. Art. 4 PKH-RL

237

1. Erforderlichkeit im Interesse der Rechtspflege

238

a) Vermutungswirkung bei Inhaftierung

239

b) Vermutungswirkung bei drohender Haftstrafe

240

c) Vermutung der Beiordnungspflicht bei Kindern

241

2. Bedürftigkeit

243

IV. Ermittlungsverfahren als Ausgangspunkt der Partizipationsrechte des Verdächtigen oder der beschuldigten Person

243

1. Die Begriffe des Verdächtigen und der beschuldigten Person als Indikator einer frühzeitigen Gewährleistung

244

2. Zeitliche Abdeckung des gesamten Strafverfahrens

246

a) Beginn der Gewährleistung nach der PKH-RL

247

aa) Auslösende Situationen

247

bb) Unverzüglichkeit der Bestellung

248

b) Zeitliche Beschränkung der PKH-RL bei geringfügigen Zuwiderhandlungen

249

c) Ende

252

3. Partizipationsrechte des Verdächtigen als Kernstück strafrechtlicher Prozesskostenhilfe

252

a) Antragsrechte und spiegelbildliche Fürsorgepflichten

253

b) Die Entscheidungsfreiheit des Verdächtigen bzw. der beschuldigten Person zur Eigenverteidigung

255

4. Ausreichendes Fehlerfolgensystem bei Beschränkung des Rechts auf strafrechtliche Prozesskostenhilfe?

257

a) Zulässige Ausnahmen gem. Art. 3 Abs. 5, 6 Verteidigungsbeistands-RL

258

aa) Verzögerung des Zugangs zu einem Rechtsbeistand wegen geografischer Entfernung, Art. 3 Abs. 5 Verteidigungsbeistands-RL

258

bb) Verzögerung des Zugangs zu einem Rechtsbeistand wegen zwingender Gründe, Art. 3 Abs. 6 Verteidigungsbeistands-RL

261

cc) Strengere Anforderungen für Kinder gem. Art. 6 Jugendstrafverfahrens-RL

263

b) Prozessuale Sicherungsmaßnahmen

265

V. Gestaltungsaufgaben bezüglich der Rahmenbedingungen strafrechtlicher Prozesskostenhilfe

266

1. Vorrang der Unterstützungsleistung vor umfassender Kostenfreiheit

266

a) Erheblicher Gestaltungsspielraum der Mitgliedstaaten bezüglich des Umsetzungsmodus

267

b) Umfang der Kostenübernahme

268

2. Anforderungen der PKH-RL an die Qualitätssicherung

270

a) Qualität des Systems strafrechtlicher Prozesskostenhilfe

270

b) Qualität durch die Beschränkung des für strafrechtliche Prozesskostenhilfe zugelassenen Personenkreises

272

c) Qualität der mit der Prozesskostenhilfe verbundenen Dienstleistung

273

d) Das Recht auf einen Verteidiger des Vertrauens

274

3. Unabhängigkeit der mit der Gewährung strafrechtlicher Prozesskostenhilfe befassten Entscheidungsinstanz

276

VI. Der Europäische Haftbefehl als geregelter Sonderfall des transnationalen Strafverfahrens

278

1. Der Anwendungsbereich der PKH-RL für "gesuchte Personen"

279

2. Festlegung eigener Voraussetzungen und Gewährleistungen

280

a) Voraussetzungen im transnationalen Strafverfahren

280

aa) Die zwingende Beiordnung eines Beistands im Vollstreckungsstaat

281

bb) Gesonderte Voraussetzungen für strafrechtliche Prozesskostenhilfe im Anordnungsstaat

282

cc) Bedürftigkeit im Rahmen des Europäischen Haftbefehls

284

dd) Zeitraum der Gewährleistung

284

b) Sonderregelung des Beistands und der Kostenfreiheit

285

aa) Mehrfacher Beistand im Rahmen des transnationalen Strafverfahrens

286

bb) Umfang der Kostentragung

288

B. Zusammenfassung: Die Konzeption des europäischen Pflichtverteidigers nach Maßgabe der PKH-RL

289

I. Der Anwendungsbereich der PKH-RL

289

II. Voraussetzungen strafrechtlicher Prozesskostenhilfe

290

III. Frühzeitige Partizipationsrechte

291

IV. Rahmenbedingungen strafrechtlicher Prozesskostenhilfe

292

C. Der europäische Pflichtverteidiger im Zusammenspiel zwischen EMRK, GRCh und maßgeblichem Sekundärrecht der EU

293

Kapitel 4: Ausblick auf die mitgliedstaatliche Ebene am Beispiel des deutschen Rechts

300

A. Grundlagen der notwendigen Verteidigung

301

I. Strafsachen

303

II. Prozessualer Rahmen der Wahrheitsermittlung – das Strafverfahren

304

B. Die allein an den Interessen der Rechtspflege orientierten Voraussetzungen notwendiger Verteidigung

307

I. Beiordnung erst ab "Vollstreckung" der Untersuchungshaft

309

II. Beiordnung bei Schwere der Straftat sowie schweren drohenden Rechtsfolgen

313

1. Beiordnung wegen drohender Freiheitsstrafe

313

a) Status quo der deutschen Regelung in § 140 Abs. 1 Nr. 1, 2, Abs. 2 S. 1 StPO sowie in §§ 418 Abs. 4, 408b StPO

314

b) Richtlinienkonformität durch eine erweiterte Auslegung der "Schwere der Tat" in § 140 Abs. 2 S. 1 StPO

316

c) Die vom BMJV vorgeschlagene Neuregelung in § 140 Abs. 1 StPO-E

317

2. Mögliche Umwandlung einer Geldstrafe in Ersatzfreiheitsstrafe als Drohen von Freiheitsstrafe?

319

III. Vermutung der Beiordnungspflicht bei jugendlichen Beschuldigten

322

1. Der derzeitige Rechtsstand und Novellierungsvorschläge

323

2. §§ 68, 68a JGG-E nach dem Umsetzungsvorschlag des BMJV

325

IV. Zwischenergebnis: Erforderlichkeit von Anpassungen in § 140 Abs. 1 StPO und § 68 JGG

327

C. Die eng gefasste Akteursstellung des Beschuldigten

327

I. Strafrechtliche Prozesskostenhilfe im Ermittlungsverfahren als Ausnahmefall

328

1. Beiordnungszeitpunkt

328

2. Fehlendes Antragsrecht des Beschuldigten

330

3. Erforderliche Aufnahme zusätzlicher auslösender zeitlicher Momente

332

a) Vernehmungen

333

b) Identifizierungs- und Vernehmungsgegenüberstellungen

335

c) Tatortrekonstruktionen

336

4. Unverzüglichkeit der Beiordnung

338

II. Fehlerfolgen

340

1. Gesetzlich geregelte Gründe der Zugangsbeschränkung

340

a) Die Zugangsbeschränkung gem. §§ 31 ff. EGGVG

341

b) Die Zugangsbeschränkungen gem. § 141 Abs. 3 StPO-E und § 68a Abs. 2 JGG-E der Referentenentwürfe des BMJV

343

aa) Missverständnis bezüglich des Kriteriums der "zwingenden Gründe" für die Vernehmung eines unverteidigten Beschuldigten

344

bb) Zu weitgehende Ermöglichung von Vernehmungen und Gegenüberstellungen

345

2. Verwertung von unter Verletzung der Vorschriften der notwendigen Verteidigung erhobenen Beweismitteln?

347

a) Beweisverwertungsverbot bei Beschränkung des Zugangs zu einem notwendigen Verteidiger

348

b) Beweisverwertungsverbot bei fehlerhafter oder unterbliebener Belehrung gem. § 136 Abs. 1 S. 5 Hs. 2 StPO

350

D. Unzureichende Rahmenbedingungen der Pflichtverteidigung

352

I. Vorläufige Kostenübernahme

352

II. Pflichtverteidiger: Qualitätssicherung und Auswahlverfahren

354

1. Beschränkung der für die Pflichtverteidigung zugelassenen Rechtsbeistände

355

a) Beschränkung des für Pflichtverteidigung zugelassenen Personenkreises

355

b) Exkurs zur Pflichtverteidigervergütung

358

2. Auswahl durch eine unabhängige Entscheidungsinstanz und im Rahmen eines transparenten Verfahrens?

360

3. Wahl- und Auswechslungsrecht des Beschuldigten

366

a) Wahlrecht des Beschuldigten

366

b) Auswechslungsrecht des Beschuldigten

368

E. Notwendiger Beistand im transnationalen Strafverfahren

371

I. Beistand i. S. v. § 40 IRG als Regelung für den Europäischen Haftbefehl

371

1. Die Vollstreckung eines Europäischen Haftbefehls

372

a) Zu strenge Voraussetzungen der Beiordnung

372

b) Zeitraum der Bestellung

375

2. Die Anordnung eines Europäischen Haftbefehls

376

II. Regelung anderer strafprozessualer Zwangsmaßnahmen im transnationalen Strafverfahren

377

1. Beistand im Vollstreckungsstaat

377

2. Doppelverteidigung durch Unterstützung im Anordnungsstaat

379

III. Rahmenbedingungen des Beistands in transnationalen Strafverfahren

380

F. Ergebnis: Erheblicher Nachbesserungsbedarf für die kommende Novelle der Pflichtverteidigung

381

I. Erweiterung des Beiordnungskatalogs in § 140 Abs. 1 StPO

382

II. Frühzeitige Partizipationsrechte des Beschuldigten über notwendige Verteidigung

383

III. Reformbedürftige Rahmenbedingungen der Pflichtverteidigung

385

IV. Neue Beistandsregelungen im transnationalen Strafverfahren

387

Kapitel 5: Zusammenfassung

389

Literaturverzeichnis

398

Sachregister

432