Criminal law: procedure & offences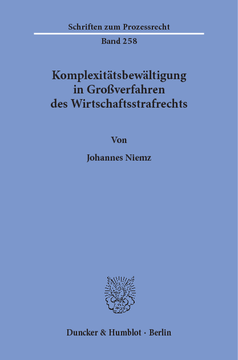 Additional Information
Book Details
ISBN

978-3-428-55906-0
978-3-428-15906-2 (print edition)

DOI

https://doi.org/10.3790/978-3-428-55906-0

Edition

1

Language

German

Pages

277

Collections

Subjects
Pricing
Institution

€ 104.00 (incl. local VAT if applicable)

Individual

€ 79.90 (incl. local VAT if applicable)
About The Author
Johannes Niemz studierte Rechtswissenschaften an der Freien Universität Berlin. Während des Referendariats im Bezirk des Kammergerichts war er unter anderem bei der Staatsanwaltschaft, im Bundesministerium der Justiz und für Verbraucherschutz sowie bei Großkanzleien in Berlin und Seoul tätig. In den Jahren 2017 bis 2019 promovierte er bei Prof. Dr. Tobias Singelnstein zur Problematik der besonders komplexen Großverfahren des Wirtschaftsstrafrechts und war Mitarbeiter an dessen Lehrstuhl für Kriminologie. Von 2017 bis 2019 war er als Strafverteidiger in Berlin tätig. Seit Januar 2020 arbeitet er als Richter des Landes Berlin.
Johannes Niemz studied law at Freie Universität Berlin. During his legal traineeship at Kammergericht Berlin he worked for the public prosecutor's office, the federal ministry of justice and consumer protection and for major law firms in Berlin and Seoul. From 2017 to 2019 he wrote his dissertation about complexity problems in major cases of white-collar criminality at Prof. Dr. Tobias Singelnstein's chair of criminology, where he also was a staff member. In the same time, he worked as a criminal defense lawyer in Berlin. Since 2020 he is working as a judge in Berlin.
Abstract
Die Untersuchung analysiert die Probleme der Großverfahren des Wirtschaftsstrafrechts und macht die Besonderheiten der staatsanwaltschaftlichen und gerichtlichen prozessualen Bewältigung systematisch sichtbar. Als verbindendes Element der Schwierigkeiten wird die Komplexität der tatsächlichen Sachverhalte der Wirtschaftskriminalität identifiziert. Speziell die hohen Anforderungen der Wahrheitsermittlung überfordern die Rechtspraxis, solange ihr keine geeignete Methodik zum Umgang mit komplexen Sachverhalten zur Verfügung steht. Deshalb werden Erkenntnisse der Komplexitätsforschung erschlossen, statt den Diskurs um weitere Reformvorschläge zu ergänzen. Durch einen Transfer von komplexitätswissenschaftlichen Methoden werden heuristische Arbeitswerkzeuge für die Praxis entwickelt. So eröffnet sich eine neue Perspektive auf den prozessualen Umgang mit komplexen Sachverhalten der Wirtschaftskriminalität und es wird ein Beitrag zur besseren Bewältigung von komplexen Großverfahren geleistet. »Coping with Complexity in Major Cases of White-Collar Criminality«

This study examines the problems of major cases of white-collar criminality and discusses how they are being handled in legal practice. A key finding is that the complexity of fact-finding in cases of economic crimes is overburdening the legal practitioners due to the lack of special coping-techniques. To fill that void and as an assistance especially to judges, the study is transferring knowledge from complexity science and is rephrasing it as heuristic tools for law practice.
Table of Contents
Section Title
Page
Action
Price

Vorwort und Danksagung

5

Inhaltsverzeichnis

7

§ 1 Einführung

13

A. Einleitung

13

B. Methodisches Vorgehen

21

C. Verlauf der Untersuchung

23

§ 2 Der Untersuchungsgegenstand: Großverfahren des Wirtschaftsstrafrechts

25

A. Von der Geschichte über kriminalpolitische Ansichten bis hin zur Empirie der Großverfahren des Wirtschaftsstrafrechts

25

I. Zur Geschichte der Großverfahren des Wirtschaftsstrafrechts

25

II. Zur kriminalpolitischen Thematisierung von Großverfahren des Wirtschaftsstrafrechts

30

III. Zur Empirie der Großverfahren des Wirtschaftsstrafrechts

34

1. Bundesweite Erfassung von Wirtschaftsstraftaten nach einheitlichen Gesichtspunkten

35

2. Studie von ter Veen zur Strukturanalyse strafrechtlicher Großverfahren am Landgericht Hamburg

36

3. Untersuchung von Nehm/Senge zur Konfliktverteidigung

38

4. Studie von Dölling/Feltes u. a. zur Dauer von Strafverfahren vor den Landgerichten

39

5. Studie von Arenhövel/Otte zur Situation der Strafkammern der Landgerichte

42

6. Studie von Theile/Nippgen zur Arbeitsweise der Wirtschaftsstrafkammern

44

7. Staatliche Statistiken

45

8. Zusammenfassung

47

B. Definition des Untersuchungsgegenstandes

48

I. Gesetzliche Anhaltspunkte

49

1. Zuständigkeit der Wirtschaftsstrafkammer nach § 74c I Nr. 6 GVG

50

2. Abstimmung nach § 213 II StPO und Opening Statement nach § 243 V 3 StPO

50

3. Zusammenfassung

52

II. Definitionsvorschlag

52

1. Zugehörigkeit des Tatvorwurfes zum Wirtschaftsstrafrecht

53

2. Merkmal der langen Dauer des Verfahrens

54

3. Typische Randmerkmale

55

4. Einzunehmende Perspektive

55

5. Zusammenfassung

56

C. Zwischenergebnis

56

§ 3 Die Probleme von Großverfahren des Wirtschaftsstrafrechts und deren Ursachen

58

A. Rechtliche Probleme in Großverfahren des Wirtschaftsstrafrechts

59

I. Extension des materiellen Wirtschaftsstrafrechts

59

II. Merkmale der besonderen Gesetzgebungstechnik im materiellen Wirtschaftsstrafrecht

61

1. Einzelne Gesetzgebungstechniken und deren Ziele

62

2. Fragliche Leistungsfähigkeit der Gesetzgebungstechniken

65

a) Probleme bei der Konstruktion und Anwendung von wirtschaftsstrafrechtlichen Tatbeständen

65

b) Rechtliche Komplexität als Folge der tatbestandlichen Konstruktion

67

3. Zusammenfassung

70

III. Außerstrafrechtliche Probleme und Probleme der strafrechtlichen Perspektive

71

1. Außerstrafrechtliche Komplexität wirtschaftlicher Sachverhalte

71

2. Reibungspunkte zwischen rechtlicher und wirtschaftlicher Sphäre

72

3. Zusammenfassung

75

IV. Bewertung

76

B. Tatsächliche Probleme der Wirtschaftskriminalität in Großverfahren des Wirtschaftsstrafrechts

77

I. Ermittlungs- und Nachweisprobleme durch anonyme Täter-Opfer-Beziehung

78

II. Erschwerter Zugriff auf die Wirtschaftskriminalität durch schlechte Sichtbarkeit der Sachverhalte

80

III. Komplexitätssteigerung durch Einbindung in Organisationen und deren Strukturen

83

1. Organisationen als entgrenzte Schauplätze der Wirtschaftskriminalität

83

2. Strukturen und Diffusion von Verantwortung

84

3. Komplexität durch vervielfältigte Tatvorwürfe

86

4. Zusammenfassung

87

IV. Camouflage durch Umgehungs- und Scheinhandlungen

88

V. Bewertung

89

C. Prozessuale Probleme als Folge der rechtlichen und tatsächlichen Rahmenbedingungen

90

I. Probleme des großen Umfangs

90

1. Umfangreiches Ermittlungs- und Beweismaterial

91

2. Umfangreiche Tatvorwürfe

92

3. Zusammenfassung

94

II. Probleme der langen Dauer

95

1. Ursachen der langen Dauer

96

2. Auswirkungen der langen Dauer

97

a) Individuelle Auswirkungen: Entfremdung und Verlust von Lebendigkeit

97

b) Prozessrechtliche Auswirkungen

99

3. Zusammenfassung

101

III. Probleme der Organisation und individuelle Probleme

102

1. Organisatorische Probleme

102

2. Individuelle Probleme

104

3. Zusammenfassung

105

IV. Verteidigung als Ursache und Problem der Großverfahren des Wirtschaftsstrafrechts?

106

1. Erhöhte Beschwerdemacht und Frontenbildung

106

2. Besonderes Verteidigungsverhalten in Großverfahren des Wirtschaftsstrafrechts

108

3. Zusammenfassung

111

V. Bewertung

111

D. Zwischenergebnis – Komplexität als Wesensmerkmal von Großverfahren des Wirtschaftsstrafrechts

112

§ 4 Die Komplexitätsbewältigung in Großverfahren des Wirtschaftsstrafrechts

115

A. Komplexitätsbewältigung im Ermittlungsverfahren

115

I. Komplexitätsbewältigung durch Einstellungen

117

1. Einstellung nach §§ 153 I, 153a I StPO

118

2. Einstellung nach §§ 154 I, 154a I StPO

120

3. Zusammenfassung

121

II. Komplexitätsbewältigung im Rahmen der Ermittlungstätigkeit und der Darstellung des Ermittlungsergebnisses

125

1. Die staatsanwaltschaftliche Ermittlungsstrategie unter der Perspektive eines Großverfahrens

126

a) Strategische Freiräume und faktische Hindernisse

126

b) Möglichkeiten eines strategischen Vorgehens in Großverfahren des Wirtschaftsstrafrechts

127

2. Strukturierung des Ermittlungsergebnisses

130

3. Zusammenfassung

131

III. Flankierende Maßnahmen

131

IV. Bewertung

133

B. Komplexitätsbewältigung im Hauptverfahren

134

I. Komplexitätsbewältigung durch Organisation

135

1. Terminierung und Verhandlungsplan

135

2. Vorgespräche

138

3. Systematisierung des Tatvorwurfs und Beweisprognose

140

4. Organisation in der Wirtschaftsstrafkammer

141

5. Verhandlungsleitung

142

6. Zusammenfassung

144

II. Komplexitätsbewältigung durch Beschränkung

144

1. Beschränkungen des Tatvorwurfs

144

2. Beschränkungen der Wahrheitsermittlung in der Beweisaufnahme

146

a) Urkundenbeweis

148

b) Zeugenbeweis

152

c) Schätzungen und Zweifelsgrundsatz als Korrektive einer komplexen Beweiserhebung und Beweiswürdigung?

153

d) Strafprozessuale Verständigung

155

e) Beweisantragsrecht

159

3. Zusammenfassung

162

III. Komplexitätsbewältigung durch Kommunikation

163

1. Kommunikation im Hauptverfahren

164

2. Ansätze einer guten Kommunikationspraxis

165

3. Bedingungen und Grenzen der Kommunikation

167

4. Zusammenfassung

167

IV. Bewertung

168

C. Zwischenergebnis

168

I. Komplexitätsbewältigung im Ermittlungs- und Hauptverfahren

169

II. Kritik der de lege lata möglichen Komplexitätsbewältigung in Großverfahren des Wirtschaftsstrafrechts

170

III. Reformideen als Konsequenzen der Kritik

171

IV. Suche nach einem Ansatzpunkt für Verbesserungen

177

§ 5 Der Wahrheitsbegriff des Strafverfahrens als Ansatzpunkt

178

A. Wahrheitsbegriff der Praxis

178

B. Plädoyer für den korrespondenztheoretischen Wahrheitsbegriff unter Heranziehung alltagstheoretischer Erkenntnisse

181

C. Alltagstheorien als Hilfe in komplexen Entscheidungssituationen

184

D. Zwischenergebnis

187

§ 6 Die Komplexitätsforschung und ihre Erkenntnisse zur Komplexitätsbewältigung

189

A. Gesellschaftliche Komplexitätsbeobachtungen

190

I. Gesellschaft, Recht und Komplexität

190

II. Probleme der Komplexitätsgesellschaft

192

III. Bewertung

193

B. Grundzüge der Komplexitätsforschung

194

I. Einführung in die Komplexitätsforschung

195

1. Grundhaltung der Komplexitätsforschung

195

a) Das mechanistische Weltbild

195

b) Das Leitbild der Komplexitätsforschung als Paradigmenwechsel

197

2. Historische Entwicklung der Komplexitätsforschung

200

3. Zusammenfassung: Komplexitätsforschung in der Gegenwart

201

II. Schlüsselelemente der Komplexitätsforschung

203

1. Chaostheorie

203

a) Schmetterlingseffekt

204

b) Tropfender Wasserhahn

205

c) Zusammenfassung

206

2. Emergenzforschung

207

3. Fuzzy Logic

209

4. Zusammenfassung

211

III. Systeme als Schauplatz von Komplexität

212

1. Systemverhalten – Nichtlinearität, Determinismus und Dynamik

213

2. Systemstruktur – Vernetzung, Hierarchie, Intransparenz und Unschärfe

216

3. Zusammenfassung

218

IV. Bewertung

218

C. Anwendbarkeit der Erkenntnisse der Komplexitätsforschung auf Sachverhalte der Wirtschaftskriminalität

219

I. Sachverhalte der Wirtschaftskriminalität als komplexe Systeme

219

II. Interdisziplinärer Theorientransfer

221

1. Theorientransfer von der Komplexitätsforschung zur Rechtswissenschaft

221

2. Transfermethoden

224

III. Bewertung

225

D. Erkenntnisse zur Erfassung und Bewältigung von Komplexität

225

I. Methodische Erkenntnisse

226

1. Eingeschränkter Reduktionismus

226

2. Abstraktion

229

3. Modellbildung

231

4. Fuzzy Denkweise

234

5. Technische Hilfsmittel

236

II. Alltagstheorien zur Unterstützung der Wahrheitsermittlung in Großverfahren des Wirtschaftsstrafrechts

238

1. Kausalität und Verantwortung in komplexen Sachverhalten

239

2. Erkennen von Strukturen in komplexen Sachverhalten

240

3. Komplexe wirtschaftliche Handlungssituationen

240

4. Darstellung vervielfältigter Tatvorwürfe

240

5. Umgang mit Imperfektion aufgrund von schlechter Sichtbarkeit und Camouflage

241

§ 7 Zusammenfassung

242

A. Ergebnisse der Untersuchung

242

B. Einordnung und Ausblick

250

Literaturverzeichnis

253

Sachverzeichnis

275