Criminal law: procedure & offences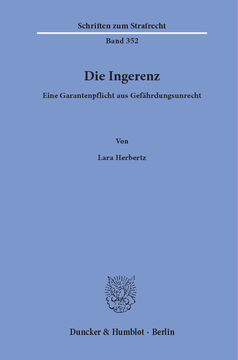 Additional Information
Book Details
ISBN

978-3-428-55948-0
978-3-428-15948-2 (print edition)

DOI

https://doi.org/10.3790/978-3-428-55948-0

Edition

1

Language

German

Pages

407

Collections

Subjects
Pricing
Institution

€ 116.00 (incl. local VAT if applicable)

Individual

€ 89.90 (incl. local VAT if applicable)
About The Author
Lara Herbertz studierte Rechtswissenschaften an der Bucerius Law School in Hamburg. Während ihres Studiums absolvierte sie ein Auslandssemester an der Boston College Law School. Nach dem ersten Staatsexamen war sie promotionsbegleitend als wissenschaftliche Mitarbeiterin und Redaktionsassistentin der medstra am Lehrstuhl von Prof. Dr. Karsten Gaede an der Bucerius Law School tätig. Sie wurde dort Ende 2019 zum Dr. iur. promoviert. Ihr Promotionsvorhaben wurde von der Studienstiftung des deutschen Volkes gefördert. Im Jahr 2020 beendete sie ihr Referendariat am Hanseatischen Oberlandesgericht mit Stationen im Bundesministerium der Justiz und für Verbraucherschutz sowie im Notariat.
Lara Herbertz studied law at Bucerius Law School in Hamburg. During her studies she spent a semester abroad at Boston College Law School. After her first German state exam she worked as research assistant to Prof. Dr. Karsten Gaede of Bucerius Law School and as editorial assistant for the »medstra« journal. At the end of 2019 she was awarded the title Dr. iur. For her thesis she received a scholarship from the »Studienstiftung des Deutschen Volkes«. In 2020 she finished her legal clerkship with the Hanseatic Higher Regional Court with stations at the Federal Ministry of Justice and Consumer Protection and in a notary's office.
Abstract
Die Arbeit liefert eine grundlegende Untersuchung der Ingerenz, also der Garantenpflicht aus pflichtwidrigem, gefahrschaffendem Vorverhalten. Ihre Legitimation ist seit Jahrzehnten hochumstritten, ihr Verhältnis zu den anderen Garantenpflichten weithin ungeklärt und die gesetzliche Regelung defizitär. Die Arbeit greift dies auf, analysiert Rechtsprechung und Lösungsansätze der Literatur zu Garantenlehre und Ingerenz und nimmt zur verfassungsrechtlichen Problematik Stellung. Ihr Ergebnis liefert nicht nur den gesuchten Strafgrund, sondern zeigt auch die Voraussetzungen und Grenzen einer künftigen Ingerenzpflicht auf. Diese solle nicht nur eigenständig kodifiziert, sondern mithilfe des Gefährdungsunrechts auch individuell begründet werden. Parallel zu den Begehungs- und Fahrlässigkeitsdelikten sei stets eine rechtlich missbilligte Gefahrschaffung vorauszusetzen. Rechtfertigungs- und Einwilligungsfragen werden entlang der Grundsätze zur objektiven Zurechnung aufgelöst. »The Ingerenz. Criminal Liability for an Omission Arising out of Prior Unjust Endangerment«

This thesis analyses the liability principles for prior unjust endangerment under German criminal law, which are currently regulated superficially, at best. Following the long overdue review of its dogmatic basis, requirements, and limits, it introduces the novel concept of unjust endangerment as the long-sought justification. It then delineates requirements and limits of criminal liability for omissions after prior endangerment along the lines of classic intent and negligence offences.
Table of Contents
Section Title
Page
Action
Price

Inhaltsübersicht

5

Inhaltsverzeichnis

7

Kapitel 1: Einführung

15

A. Einleitung in die Problemstellung

15

B. Der Gang der Untersuchung

18

C. Grundzüge der Strafbarkeit aus unechten Unterlassungsdelikten

20

Kapitel 2: Geschichte des unechten Unterlassens

24

A. Die Ursprünge der Unterlassungsstrafbarkeit

24

B. Die Entstehung der Lehre von den Garantenpflichten

27

C. Normierung des § 13 StGB

29

Kapitel 3: Die Ingerenz in der Rechtsprechung

32

A. Von den Anfängen der Garantenpflicht aus Ingerenz

32

I. Die ersten Fälle vor dem Reichsgericht

34

1. Der Hofwächter-Fall (RGSt 11, 153)

34

2. Treppenflurbeleuchtung und Krankenpflege (RGSt 14, 362; 17, 260)

35

3. Flugschriften (RGSt 18, 96)

35

4. Schwammschaden (RGSt 20, 144)

36

5. Versehentliches Einsperren (RGSt 24, 339)

36

6. Kindesentziehung (RGSt 37, 162)

37

7. Einfuhr von Pferdedärmen (RGSt 46, 337)

37

8. Verbotene Fahrradausfuhr (RGSt 58, 130)

38

II. Die weitere Rechtsprechung des Reichsgerichts

39

1. Terminologie

40

2. Systematik

42

B. Die Ingerenz heute: Übernahme durch den Bundesgerichtshof

43

I. Die Ingerenz im situativen Kontext

44

1. Meineidsbeihilfe durch Unterlassen

44

2. Gastwirtentscheidungen

48

3. Straßenverkehr

49

4. Weiterungsfälle: Einwirkung auf den aktiv handelnden Täter durch eigene Straftat

50

a) Durch gemeinsam begangene Vortat

51

aa) Anfänge der Fallgruppe

51

bb) Erste Restriktionen

53

cc) Ausdifferenzierung der Restriktionen

55

dd) Interpretation der Rechtsprechung

57

b) Durch im Wesentlichen allein begangene Straftat

57

5. Herrschaft über sachliche Gefahrenquellen einschließlich Produkthaftung

59

6. Geschäftsherrenhaftung

64

7. Betäubungsmittel: Suizid und Sucht

67

II. Zugleich zur Terminologie: Abstrakte Kriterien und normative Einschränkungen

69

1. Pflichtwidrigkeit der Vorhandlung

70

a) Rechtswidrigkeit, Schuldhaftigkeit und Strafbarkeit

71

b) Notwehr

71

c) Sozialüblichkeit und -adäquanz

72

2. Modifikation der Ingerenz auf Konkurrenzebene

73

a) Konkurrenz zur Fahrlässigkeit

74

b) Konkurrenz zum Vorsatzdelikt

74

C. Auswertung

75

I. Entwicklung der Rechtsprechung und ihre methodischen Konsequenzen

75

II. Das Erscheinungsbild in der Rechtsprechung: Systematik und Kriterien

78

1. Systematische Entwicklung

79

2. Angewendete Kriterien

79

a) "Pflichtwidrigkeit"

80

b) Maßstabsverschiebung nach Themenbereichen

81

III. Auslassung subjektiver Anforderungen

82

IV. Zusammenfassung

83

Kapitel 4: Zur Begründung der Garantenpflichten

85

A. Methodische Vorüberlegungen

85

B. Historische Betrachtung der Garantenlehre

85

I. Das 18. Jahrhundert: Zur Verhinderungspflicht

86

II. Feuerbach und die Jahrhundertwende: Rechtspflichtlehren

87

III. Naturalisten und Kausalitätslehren

88

1. (Empirische) Kausalität einschließlich "Ingerenz-Theorien"

88

2. Interferenz (innere Kausalität)

92

3. Erwartungstheorien

95

4. Rechtskausalitätslehren

96

5. Kritik der Kausalitätslehren

97

IV. Schlussfolgerungen aus der historischen Betrachtung

99

C. Die jüngere Garantenlehre

99

I. Überwindung der Kausalitätslehren im 20. Jahrhundert

99

1. Von der Kausalität zur Rechtswidrigkeit

99

a) Streit um die Verortung der Problematik

100

aa) Die Rechtswidrigkeit im Deliktsaufbau

100

bb) Die Gleichstellung im Deliktsaufbau

101

b) Formelle Rechtspflichttheorien

101

c) Materielle Rechtspflichttheorien

102

2. Von der Rechtswidrigkeit zurück zum Tatbestand

104

a) Die Garantenlehre Naglers

104

b) Kritik

106

II. Armin Kaufmann und der Abschied von der "formellen Rechtspflichttheorie"

107

1. Die Funktionenlehre im Delikt "sui generis"

107

2. Kritik der Funktionenlehre Kaufmanns

109

D. Moderne Begründungs- und Systematisierungsversuche

111

I. Extraktion aus dem Wortlaut des Begehungsdelikts

112

II. Topische Lösung

113

III. Erste Transformationen vorrechtlicher Pflichtenprogramme

115

1. Ontische Begründungsmodelle und das Vertrauensprinzip

115

a) Ernst Amadeus Wolff

115

b) Jürgen Welp

117

c) Kritik ontischer Begründungen überhaupt

120

2. Soziologie als Quelle von Garantenpflichten

122

a) Engere soziale Ordnung

123

b) Verhaltenserwartungen mit normstabilisierender Funktion

123

c) Juristisch-soziologische Bestimmung der Garantenpflicht

124

d) Kritik soziologischer Lösungen

125

IV. Strafrechtsautonomes Pflichtenprogramm: Gleichschaltung vs. Gleichstellung

129

1. Gleichschaltung: Entwürfe einer kongruenten Unrechtslehre

129

a) Soziale Sonderverantwortlichkeit des Nichtvermeiders

130

aa) Herzbergs Modell

130

bb) Kritische Würdigung

130

b) Organisatorische und institutionelle Zuständigkeit

132

aa) Jakobs Modell

132

bb) Kritik

133

c) Identischer Unrechtstypus für alle Begehungsdelikte

136

aa) Freunds Modell

136

bb) Kritik

137

d) Norm und Pflicht

141

aa) Vogels Modell

141

bb) Kritik

141

e) Kritik der Gleichschaltung des Unterlassens und Zwischenfazit

142

2. Gleichstellung: Auf der Suche nach ontischen und axiologischen Strukturen

143

a) Herrschaft über den Grund des Erfolgs als Quelle von Garantenpflichten

144

aa) Schünemanns Modell

144

bb) Kritik

145

b) Präexistente Gefahrenherde

149

aa) Gimbernat Ordeigs Modell

149

bb) Kritik

149

c) Analogistische Suche nach dem Korrelat der faktischen Entscheidungshoheit

150

aa) Sangenstedts Modell

150

bb) Kritik

151

d) "Lass mich sein so wie ich bin"

152

aa) Pawliks Modell

152

bb) Kritik

153

e) Grundrechte und Verhältnismäßigkeitsgrundsatz

154

aa) Von Coellns Modell

154

bb) Kritik

155

f) Vom gordischen Nagel der Entsprechungsklausel

160

aa) Bersters Modell

160

bb) Kritik

162

g) Kritik der Gleichstellung des Unterlassens und Zwischenfazit

165

3. Überblick: Strömungen in der Lehrbuch- und insbesondere Kommentarliteratur

167

V. Schlussfolgerungen aus der modernen Garantenlehre

169

E. Auswertung der Garantenlehre für die Zwecke dieser Untersuchung

171

I. Früchte der allgemeinen Garantenlehre: die materiale Wertung

171

1. "Veranlassen" oder "Bewirken"

172

2. Normativierte gesellschaftliche Erwartung

172

3. Normativiertes Vertrauen

174

4. Besondere Abhängigkeit

175

5. Soziale Zuordnung bestimmter Pflichten und soziale Sonderverantwortlichkeit

176

6. Gefahrschaffung und Gefahrensphären

176

7. Rechtliche Sonderverantwortlichkeit

177

8. Zwischenfazit

178

II. Überprüfung der Terminologie

178

III. Zusammenfassung

179

Kapitel 5: Verfassungsrechtliche Vorgaben

181

A. Wortlaut

181

B. Der aktuelle Stand von Wissenschaft und Praxis

183

I. Richterrechtliche Präzisierung

183

1. Das BVerfG zu § 13 StGB

183

2. Kritik der verfassungsgerichtlichen Rechtsprechung

184

II. Beurteilung in der Wissenschaft

193

C. Perspektiven künftiger Normauslegung

201

I. Grenzziehungen zwischen Gesetzes- und Richterrecht: ein Maßstab

201

II. Zum Umgang mit unbestimmten Tatbestandsmerkmalen

203

III. Ergänzung des "rechtlichen Einstehenmüssens" durch methodische Auslegung

210

IV. Zwischenfazit

214

D. Zusammenfassung

215

Kapitel 6: Zur Legitimation der Ingerenz im Speziellen

216

A. Die Ingerenz in der Literatur

216

I. Vorbemerkungen zu Gewohnheitsrecht und allgemeinem Schädigungsverbot

216

II. Befürworter der Ingerenz

219

1. Reinhard Granderath

220

a) Strafgrund

220

b) Voraussetzungen

221

c) Kritik

221

2. Hans-Joachim Rudolphi und Ulrich Stein

222

a) Rudolphis Monographie zur Gleichstellungsproblematik und Ingerenz

222

aa) Strafgrund

222

bb) Voraussetzungen

223

cc) Kritik

224

b) Rudolphi und Stein im Systematischen Kommentar

226

aa) Strafgrund und Voraussetzungen

226

bb) Kritik

226

3. Jürgen Welp

228

a) Strafgrund

228

b) Voraussetzungen

228

c) Kritik

229

4. Klaus F. Kugler

231

a) Strafgrund

231

b) Voraussetzungen

232

c) Kritik

233

5. Alexander Paradissis

241

a) Strafgrund

241

b) Voraussetzungen

241

c) Kritik

242

6. Zwischenfazit

247

III. Gegner und Kritiker der Ingerenz

247

1. Armin Kaufmann

248

2. Alfons van Gelder

249

3. Joerg Brammsen

249

4. Bernd Schünemann

254

5. Christof Sangenstedt

259

6. Zwischenfazit

265

IV. Auswertung bisheriger Ingerenzlehren

266

1. Terminologie

266

2. Die Ingerenz im Spiegel der Literatur

267

3. Charakteristika der Ingerenz

268

B. Neumodellierung des Strafgrundes der Ingerenz

270

I. Vorüberlegungen

271

II. Die Unzulänglichkeit der bloßen Gefährdung als Legitimation der Ingerenz

273

III. Der Strafgrund der Ingerenz als qualifizierte Gefährdung eines Rechtsguts

274

IV. Verfassungsrechtliche Maßgaben

279

V. Exkurs: Der Strafgrund von Garantenpflichten aus Herrschaftsgesichtspunkten

280

VI. Zwischenfazit und Zusammenfassung

280

Kapitel 7: Neujustierung der Garantenpflicht aus Ingerenz

282

A. Von der Gefahrschaffung zur Garantenpflicht: die Verhaltensqualität

282

I. Bisherige Kriterien und Anforderungen an künftige Lösungen

282

1. Rechtswidriges vs. rechtmäßiges Vorverhalten

283

2. Pflichtwidriges Vorverhalten

286

a) Definitionsversuche: Früher und heute

286

b) Anforderungen des Strafgrundes an die Beschreibung des Vorverhaltens

289

c) Vergleich mit anderen Wertungskriterien

290

aa) Die rechtlich missbilligte Gefahrschaffung der objektiven Zurechnung

291

(1) Zum Wesen der objektiven Zurechnung und ihren Schwächen

292

(2) Kritik im Schrifttum

294

bb) Die Sorgfaltsmaßstäbe der Fahrlässigkeit

297

d) Evaluation der Befunde zur Pflichtwidrigkeit

302

e) Zwischenfazit

304

3. Eigener Lösungsvorschlag: Rekurs auf die rechtliche Missbilligung

305

a) Genese der Vorhandlungsqualität

306

aa) Akzessorietät zu anderen Rechtsgebieten

306

bb) Gefährdungsunrecht als rechtliche Missbilligung oder Sorgfaltspflicht?

307

cc) Ineinandergreifen von Gefahrschaffung und Zurechnung

313

dd) Ingerenzunterlassen und Fahrlässigkeitsdelikt: Beschränkungsbedarf?

315

ee) Die Nähe und Adäquanz des Erfolgseintritts

317

ff) Subjektive Anforderungen und Vorhandlungsschuld

319

(1) Die Schuld zum Zeitpunkt der Gefahrschaffung

319

(2) Erkennbarkeit der Gefahrschaffung

322

gg) Zwischenergebnis

327

b) Überprüfung der verfassungsrechtlichen Maßgaben aus Art. 103 Abs. 2 GG

327

c) Keine Wiederauferstehung des dolus subsequens

330

d) Keine obligatorische Herabsetzung des Strafrahmens

331

II. Zusammenfassung

331

B. Von der Garantenpflicht zum Erfolg: \ndie Zurechnung

332

I. Gegenstand der Zurechnung

333

II. Schutzzweck und -maß der verletzten Verhaltensnorm

334

1. Pflichtwidrigkeitszusammenhang

335

2. Vorhergehendes Unterlassen

336

III. Eigenverantwortlichkeit des Opfers

337

1. Eigenverantwortliche Selbstgefährdung nach Gefahrschaffung

337

2. Eigenverantwortliche Selbstgefährdung vor Gefahrschaffung

340

a) Gerechtfertigtes Verhalten: Notrechte

342

aa) Notwehr

342

bb) Notstand

348

cc) Zwischenergebnis

349

3. Einwilligung des Opfers

349

IV. Verantwortlichkeit Dritter

350

1. Hintergründe: Verantwortungsprinzip und Regressverbot

351

2. Grundzüge der Zurechnung zum aktiven Begehungsdelikt

352

3. Die Zurechnung zum Ingerenten

354

a) Lösung der Rechtsprechung

354

b) Lösungen der Literatur

356

aa) Eisele und der besondere Schutzzweck

356

bb) Stree und Bosch und die Irrelevanz des Schutzzwecks für Weiterungen

357

cc) Otto und die Steuerbarkeit des Geschehens

358

dd) Roxin und die objektive Zurechnung

359

ee) Stein und die unmittelbare Gefahr aus der pflichtwidrigen Vortat

359

ff) Paradissis und die tatbestandsbezogene Vorhersehbarkeit

360

gg) Bewertung bisheriger Lösungsmodelle

363

4. Eigene Lösung der Weiterungsproblematik

364

a) Herauslösung weitgehend unproblematischer Fallkonstellationen

365

b) Zur Gefahr einer Umgehung der Beteiligungslehre

366

c) Sachliche Kriterien der Zurechnung

367

aa) Schutzzweck der verletzten Verhaltensnorm

367

bb) Vorhersehbarkeit aufgrund konkreter Anhaltspunkte

368

cc) Innerer Zusammenhang zwischen Vortat und Weiterungstat

370

dd) Restriktionen aus der Beteiligungslehre und die Präexistenz der Garantenpflicht

371

d) Praktische Lösung der Weiterungsfälle

372

aa) Fortsetzung und Eskalation von Serientaten

372

bb) Eskalation des Garanten bei der Vortat

373

cc) Spontantat

373

e) Strafmilderung des Gehilfen

373

V. Zusammenfassung

374

Kapitel 8: Kleiner Anwendungsleitfaden

375

A. Meineidsbeihilfe durch Unterlassen

375

B. Gastwirtfälle

376

C. Produkthaftung ("Lederspray")

376

D. Cleanmagic

377

E. Weiterungsfälle

378

Kapitel 9: Schlussbetrachtungen und Ausblick

379

Literaturverzeichnis

384

Stichwortverzeichnis

405