Private or civil law: general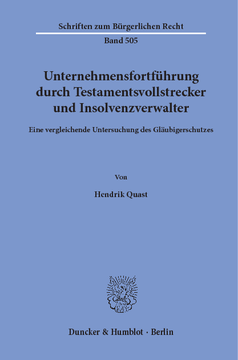 BOOK
Unternehmensfortführung durch Testamentsvollstrecker und Insolvenzverwalter
Eine vergleichende Untersuchung des Gläubigerschutzes
Schriften zum Bürgerlichen Recht, Vol. 505
(2020)
Additional Information
Book Details
ISBN

978-3-428-55945-9
978-3-428-15945-1 (print edition)

DOI

https://doi.org/10.3790/978-3-428-55945-9

Edition

1

Language

German

Pages

308

Collections

Subjects
Pricing
Institution

€ 104.00 (incl. local VAT if applicable)

Individual

€ 79.90 (incl. local VAT if applicable)
About The Author
Hendrik Quast studierte Rechtswissenschaften in Hamburg und Sydney. Nach dem Abschluss seines Rechtsreferendariats war er als wissenschaftlicher Mitarbeiter am Max-Planck-Institut für ausländisches und internationales Privatrecht in Hamburg tätig.
Hendrik Quast studied law in Hamburg and Sydney. After completing his legal clerkship he worked as a research assistant at the Max Planck Institute for Comparative and International Private Law in Hamburg.
Abstract
Die Testamentsvollstreckung ist ein attraktives Gestaltungsinstrument für die Unternehmensnachfolge. Dennoch verbietet die herrschende Meinung seit langer Zeit die verwaltende Testamentsvollstreckung an einzelkaufmännischen Unternehmen sowie an Anteilen unbeschränkt haftender Personengesellschafter. Damit zwingt sie die Praxis zu unbefriedigenden Umwegen. Wesentlicher Grund für diese ablehnende Haltung ist die sonst drohende Haftungsbeschränkung auf den Nachlass als Sondervermögen. Dagegen wird die Unternehmensfortführung durch den Insolvenzverwalter heute in weitem Umfang zugelassen, obwohl sie zu einem vergleichbaren Bruch mit dem Grundsatz unbeschränkter Haftung führt. Vor diesem Hintergrund werden die Organisations- und Haftungsstrukturen bei der unternehmerischen Tätigkeit dieser Amtstreuhänder vergleichend untersucht. Dabei wird der Frage nachgegangen, ob aus dem Insolvenzrecht Rückschlüsse auf die Ausgestaltung des Testamentsvollstreckungsrechts gezogen werden können.
Table of Contents
Section Title
Page
Action
Price

Vorwort

5

Inhaltsübersicht

7

Inhaltsverzeichnis

9

Abkürzungsverzeichnis

17

Einleitung

21

A. Problemaufriss

21

B. Gang der Darstellung

25

Teil 1: Problemstellung und Vergleichsmaßstab

27

Kapitel 1: Das Haftungsproblem bei der Unternehmensführung durch Testamentsvollstrecker und Insolvenzverwalter

27

A. Unzulässigkeit der Unternehmensführung durch den Testamentsvollstrecker

27

I. Ablehnung der Verwaltungstestamentsvollstreckung am Unternehmen

29

II. Haftungsbeschränkung für Neuverbindlichkeiten als Kernproblem

29

1. Testamentsvollstreckung am einzelkaufmännischen Unternehmen

30

2. Testamentsvollstreckung an Personengesellschaftsanteilen

31

a) Vereinbarkeit mit Grundsätzen des Personengesellschaftsrechts

31

b) Haftungsbeschränkung als Grenze der Liberalisierung

32

III. Ausweichlösungen und ihre Defizite

35

1. Vollmachtlösung

35

a) Ausgangspunkt

35

b) Kritik

36

aa) Keine verdrängende Wirkung der Vollmacht

37

bb) Schwierigkeiten bei Begründung der Vollmacht

37

(1) Vollmachterteilung durch den Erblasser

37

(2) Vollmachterteilung durch den Erben

38

(a) Keine Haftung ohne Herrschaft

39

(b) Umgehung des Testamentsvollstreckungsrechts

41

(c) Sittenwidrigkeit der Vollmachtauflage

41

cc) Zweifelhafte Folgen für die Haftungsstruktur

43

(1) Haftung mit dem Nachlass?

43

(2) Erhalt des Nachlassvermögens

45

2. Treuhandlösung

46

a) Ausgangspunkt

46

b) Kritik

48

aa) Praktische Probleme

48

bb) Zweifelhafte Folgen für die Haftungsstruktur

49

(1) Drohende persönliche Haftung des Erben

49

(2) Erschwerter Zugriff der Gläubiger auf das Unternehmensvermögen

51

(a) Ermächtigungstreuhand

51

(b) Vollrechtstreuhand

53

3. Fazit

56

IV. Zweifel an der Unzulässigkeitsthese

56

1. Die "echte" Testamentsvollstreckerlösung

56

2. Schwächen der herrschenden Argumentationslinie

58

B. Zulässigkeit der Unternehmensführung durch den Insolvenzverwalter

61

I. Bedeutung der Unternehmensfortführung in der Insolvenz

61

1. Unternehmensfortführung im Rahmen der Liquidation

62

2. Unternehmensfortführung zu weiteren Zwecken

62

II. Haftungsbeschränkung für Neuverbindlichkeiten

63

1. Die Haftung für durch den Insolvenzverwalter begründete Verbindlichkeiten

63

2. Gründe für die Haftungsbeschränkung

65

III. Geringe Berücksichtigung der Haftungsproblematik

68

1. Kritische Stimmen

68

2. Die Haftungsproblematik im Fall der insolventen Personengesellschaft

69

C. Mögliche Gründe für eine Ungleichbehandlung der Amtstreuhänder

71

I. Nur geringfügige Unternehmensfortführung in der Insolvenz

72

II. Strengere Anforderungen an die Insolvenzverwalterbestellung

75

1. Gerichtliche Bestellung des Insolvenzverwalters

75

2. Juristische Personen als Amtswalter

77

III. Strengere Überwachung des Insolvenzverwalters

78

IV. Verfahren bei Masseunzulänglichkeit

80

V. Fazit

81

Kapitel 2: Kapitalgesellschaftsrecht als Vergleichsmaßstab

81

A. Das Haftungsproblem als Frage des Gläubigerschutzes

81

B. Kapitalgesellschaft als paradigmatische Organisationsform

82

C. Insolvenzverwaltung und Testamentsvollstreckung als funktionale Kapitalgesellschaft

83

I. Organisationsform der Kapitalgesellschaft

83

1. Interessenlage

84

2. Stellung des Gesellschaftsvermögens

85

a) Haftungssonderung zulasten der Gesellschaftsgläubiger

85

b) Haftungssonderung zugunsten der Gesellschaftsgläubiger

86

II. Organisationsform der Insolvenzverwaltung

87

1. Interessenlage

87

2. Stellung der Insolvenzmasse

89

a) Haftungssonderung zulasten der Massegläubiger

89

b) Haftungssonderung zugunsten der Massegläubiger

89

III. Organisationsform der Testamentsvollstreckung

91

1. Interessenlage

91

2. Stellung des Nachlasses unter Testamentsvollstreckung

91

a) Potenzielle Haftungssonderung zulasten der Nachlassgläubiger

92

b) Haftungssonderung zugunsten der Nachlassgläubiger

94

c) Die Privilegierung der Neunachlassgläubiger durch § 324 Abs. 1 Nr. 5 InsO

95

aa) Fragwürdigkeit der Privilegierung im Fall der Testamentsvollstreckung

96

bb) Die Belastung der Altnachlassgläubiger mit dem unternehmerischen Risiko als Argument gegen die Testamentsvollstreckung am Unternehmen?

97

D. Zusammenfassung

100

Teil 2: Vergleichende Untersuchung des Gläubigerschutzes als Legitimation der Haftungsbeschränkung

102

Kapitel 3: Vermögensaufbringung und Vermögensbindung

102

A. Vermögensaufbringung

103

I. Kein Mindestvermögen des Nachlasses oder der Insolvenzmasse

104

II. Relativierung des Mindestkapitals im Kapitalgesellschaftsrecht

105

1. Aufgabe des Mindestkapitals in der Unternehmergesellschaft

105

2. Thesaurierungspflicht als Ausgleich

105

3. Thesaurierungspflicht als Mittel der Vermögensbindung

106

B. Vermögensbindung

108

I. Kapitalgesellschaft

109

II. Insolvenzverwaltung

111

III. Testamentsvollstreckung

112

Kapitel 4: Persönliche Haftung der Fremdverwalter

115

A. Zur Unterscheidung zwischen Innen- und Außenhaftung

116

B. Innenhaftung

120

I. Sorgfaltspflicht

121

1. Geschäftsleiter

121

a) Unternehmerisches Ermessen

121

b) Die business judgment rule gem. § 93 Abs. 1 S. 2 AktG

122

aa) Tatbestand

122

bb) Sachliche Rechtfertigung

123

cc) Übertragung auf den GmbH-Geschäftsführer

124

2. Insolvenzverwalter

125

a) Ermessen

125

b) Konkretisierung durch die business judgment rule

125

aa) Argumente gegen eine Übertragung auf den Insolvenzverwalter

126

(1) Kein Interesse an risikoneutraler Verwaltung

126

(2) Keine alternativen Kontrollmechanismen

127

bb) Stellungnahme

129

cc) Einzelheiten

132

3. Testamentsvollstrecker

133

a) Ermessen

134

b) Konkretisierung durch die business judgment rule

135

II. Treuepflicht

136

1. Begründung der Treuepflicht

137

a) Geschäftsleiter

137

b) Insolvenzverwalter

138

c) Testamentsvollstrecker

139

2. Ausprägungen der Treuepflicht

140

a) Wettbewerbsverbot

141

aa) Geschäftsleiter

141

bb) Insolvenzverwalter

142

cc) Testamentsvollstrecker

143

b) Geschäftschancenlehre

144

aa) Geschäftsleiter

144

bb) Insolvenzverwalter

144

cc) Testamentsvollstrecker

145

c) Verschwiegenheitspflicht

145

aa) Geschäftsleiter

145

bb) Insolvenzverwalter

146

cc) Testamentsvollstrecker

147

III. Disponibilität der Innenhaftung und ihre Grenzen

148

1. Geschäftsleiter

148

2. Insolvenzverwalter

150

3. Testamentsvollstrecker

153

C. Außenhaftung

156

I. Außenhaftung aus allgemeinen Vorschriften

157

1. Eigenhaftung aus culpa in contrahendo

157

a) Geschäftsleiter

157

b) Insolvenzverwalter

160

c) Testamentsvollstrecker

163

2. Eigenhaftung aus Deliktsrecht

164

a) Verletzung von Schutzgesetzen gem. § 823 Abs. 2 BGB

165

b) Sittenwidrige vorsätzliche Schädigung gem. § 826 BGB

166

II. Insolvenzverschleppungshaftung und Funktionsäquivalente

167

1. Geschäftsleiter

167

a) Haftung gegenüber Neugläubigern

168

b) Haftung gegenüber Altgläubigern

171

2. Insolvenzverwalter

172

a) Haftung gegenüber Neugläubigern

172

aa) Entwicklung der Außenhaftung unter § 82 KO a. F.

173

bb) Die Außenhaftung gem. § 61 InsO

176

(1) Tatbestand

178

(2) Normzweck und Haftungsgrund

180

cc) § 61 InsO als funktionales Äquivalent zur Insolvenzverschleppungshaftung gegenüber Neugläubigern

182

b) Haftung gegenüber Altgläubigern

186

3. Nachlassverwalter

188

a) Haftung gegenüber Neugläubigern

188

aa) Verwalterhaftung gem. § 1985 Abs. 2 S. 1 BGB

188

bb) Insolvenzverschleppungshaftung gem. §§ 1985 Abs. 2 S. 2, 1980 BGB

193

b) Haftung gegenüber Altgläubigern

193

aa) Verwalterhaftung gem. § 1985 Abs. 2 S. 1 BGB

194

bb) Insolvenzverschleppungshaftung gem. §§ 1985 Abs. 2 S. 2, 1980 BGB

194

4. Testamentsvollstrecker

195

a) Haftung gegenüber Neugläubigern

195

aa) Ausgangspunkt: Keine unmittelbare Haftung \ndes Testamentsvollstreckers

195

bb) Mittelbare Haftung des Testamentsvollstreckers?

196

(1) Konstruktion der mittelbaren Außenhaftung

197

(2) Abhängigkeit vom Bestehen eines Regressanspruchs des Erben

199

(a) Unbeschränkte Haftung des Erben?

200

(b) Isoliertes Abstellen auf einen Schaden im Nachlassvermögen?

201

(c) Differenzierung zwischen Schadenseintritt und Schadensauswirkung?

205

(d) Drittschadensliquidation?

207

(3) Keine korrekte Abwicklung der Neugläubigerschäden

209

cc) Unmittelbare Haftung des Testamentsvollstreckers analog § 1980 BGB

211

(1) Planwidrige Regelungslücke

213

(2) Vergleichbare Interessenlage

214

(a) Erfordernis einer Insolvenzantragspflicht

214

(b) Testamentsvollstrecker als richtiger Adressat

215

(c) Antragspflicht bei gegenständlich beschränkter Testamentsvollstreckung

217

(d) Zumutbarkeit für den Testamentsvollstrecker

219

(e) Vereinbarkeit mit dem Zweck der Testamentsvollstreckung

219

b) Haftung gegenüber Altgläubigern

223

5. Zusammenfassung

223

III. Zahlungsverbot und Haftung für Masseschmälerung

224

1. Geschäftsleiter

225

2. Insolvenzverwalter

227

a) Verteilungsfehler im Regelinsolvenzverfahren

228

b) Verteilungsfehler im Verfahren bei Masseunzulänglichkeit

229

c) Die Rechtsfolge der Haftung für Verteilungsfehler

230

3. Nachlassverwalter

232

a) § 1979 BGB als Zahlungsverbot

233

b) Sanktionierung des Zahlungsverbots aus § 1979 BGB

234

aa) Haftung des Erben

235

bb) Haftung des Nachlassverwalters

236

4. Testamentsvollstrecker

239

a) Ausgangspunkt: Kein Zahlungsverbot im Testamentsvollstreckungsrecht

239

b) Mittelbare Haftung des Testamentsvollstreckers?

240

c) Unmittelbare Haftung des Testamentsvollstreckers analog §§ 1985 Abs. 2, 1979 BGB

242

aa) Planwidrige Regelungslücke

242

bb) Vergleichbare Interessenlage

243

(1) Erfordernis eines Zahlungsverbots

244

(2) Testamentsvollstrecker als richtiger Adressat

245

(3) Kein Anlass für eine Privilegierung der Testamentsvollstreckung

246

cc) Inhalt des Ersatzanspruchs

247

IV. Insolvenzverursachung, Existenzvernichtung und Funktionsäquivalente

248

1. Kapitalgesellschaft

249

a) Insolvenzverursachungshaftung aus § 64 S. 3 GmbHG, § 92 Abs. 2 S. 3 AktG

249

b) Existenzvernichtungshaftung aus § 826 BGB

250

2. Insolvenzverwaltung

251

3. Nachlassverwaltung

252

4. Testamentsvollstreckung

252

a) Haftung des Testamentsvollstreckers

252

b) Haftung des Erben

254

Kapitel 5: Haftung für unerlaubte Handlungen der Fremdverwalter

255

A. Kapitalgesellschaft

256

B. Insolvenzverwaltung

258

C. Testamentsvollstreckung

260

Kapitel 6: Gläubigerschutz durch Information

263

A. Transparenz der Haftungsverhältnisse

264

I. Kapitalgesellschaft

264

II. Insolvenzverwaltung

266

III. Testamentsvollstreckung

268

B. Registerpublizität

269

I. Insolvenzverwaltung

269

II. Testamentsvollstreckung

269

1. Eintragungsfähigkeit

270

2. Eintragungspflichtigkeit

271

C. Rechnungslegung und Publizität

273

I. Kapitalgesellschaft

273

II. Insolvenzverwaltung

274

III. Testamentsvollstreckung

275

IV. Bedeutung der Rechnungslegungspublizität für die Legitimation der Haftungsbeschränkung

276

Zusammenfassung der Ergebnisse und Fazit

279

A. Zusammenfassung der Ergebnisse

279

B. Fazit

283

Literaturverzeichnis

285

Stichwortverzeichnis

305