Administrative jurisdiction & public administration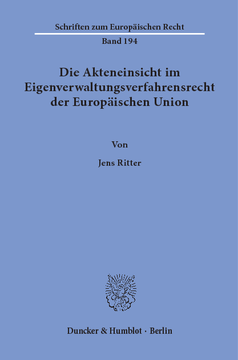 Additional Information
Book Details
ISBN

978-3-428-55859-9
978-3-428-15859-1 (print edition)

DOI

https://doi.org/10.3790/978-3-428-55859-9

Edition

1

Language

German

Pages

381

Collections

Subjects
Pricing
Institution

€ 116.00 (incl. local VAT if applicable)

Individual

€ 89.90 (incl. local VAT if applicable)
About The Author
Jens Ritter studierte Rechtswissenschaften an der Universität Heidelberg mit Schwerpunkt auf dem deutschen und europäischen Verwaltungsrecht. Nach dem Studium arbeitete er als wissenschaftlicher Mitarbeiter an der Universität Heidelberg bei Prof. Dr. Dr. h.c. Wolfgang Kahl, M.A. und in einer Wirtschaftskanzlei in Mannheim. Seit April 2018 absolviert er seinen juristischen Vorbereitungsdienst im OLG-Bezirk Karlsruhe.
Jens Ritter studied law at Heidelberg University with a focus on German and European administrative law. After completing his studies, he worked as a research assistant at Heidelberg University for Prof. Dr. Dr. h.c. Wolfgang Kahl, M.A. and in a business law firm in Mannheim. Since April 2018 he is completing his legal clerkship in Karlsruhe.
Abstract
Das Recht auf Akteneinsicht ist eines der wichtigsten Verfahrensrechte im europäischen Eigenverwaltungsrecht (vgl. nur Art. 41 Abs. 2 GRCh), das trotz – oder gerade wegen – der zunehmend raumgreifenden Verwaltungstransparenz kaum wissenschaftliche Beachtung findet. Der Autor untersucht, inwieweit der Grundrechtecharta, der Europäischen Menschenrechtskonvention, den allgemeinen Rechtsgrundsätzen und den gemeinsamen Verfassungstraditionen der Mitgliedstaaten Vorgaben für die Akteneinsicht entnommen werden können.

Eine umfassende Analyse des bereichsspezifischen Sekundärrechts gibt einen Überblick über die bestehenden Möglichkeiten der Akteneinsichtnahme. Der Autor gleicht diese mit den Vorgaben des Primärrechts ab und stellt Konvergenzen und Divergenzen heraus. Die daraus resultierenden Erkenntnisse erlauben die Bewertung bestehender Kodifikationsentwürfe zur Akteneinsicht. Die Arbeit schließt mit einem eigenen Kodifikationsvorschlag, der sich als Ergänzung des ReNEUAL-Musterentwurfs versteht. »Access to the File in the European Administrative Law«

The thesis uses the increasing demand for a codification of the Administrative Procedure of the EU as an opportunity to outline the structure of the access to the of file in EU Administrative Law. For this purpose, primary law and, in a comparative analysis, also area-specific secondary law are examined in detail. The insights flow into a proposal for a codification, which is an addition to the ReNEUAL Model Rules.
Table of Contents
Section Title
Page
Action
Price

Vorwort

5

Inhaltsübersicht

7

Inhaltsverzeichnis

11

Abkürzungsverzeichnis

17

Einführung

21

I. Begriffsklärung: Akteneinsicht und Dokumentenzugang

23

1. Akteneinsicht als Verfahrensrecht

23

2. Akteneinsicht aufgrund personenbezogener Daten

25

3. Allgemeiner Dokumentenzugang

26

II. Die Eigenverwaltung der Europäischen Union

28

III. Funktionen von Verwaltungsverfahren(srechten), insbesondere Akteneinsicht

31

1. Allgemeines

31

2. Partizipationsfunktion

32

3. Verteidigungsfunktion

33

4. Kontrollfunktion

34

5. Rechtssicherheitsfunktion

36

6. Akzeptanzfunktion

37

IV. Ziel und Gang der Untersuchung

38

Teil 1: Der normative Referenzrahmen der Akteneinsicht

41

§ 1 Gemeinsame Verfassungsüberlieferungen der Mitgliedstaaten

44

I. Deutschland

44

II. Österreich

51

III. Frankreich

53

IV. Italien

59

V. Großbritannien (England und Wales)

62

VI. Zwischenergebnis

66

§ 2 Europäische Menschenrechtskonvention

68

I. Informationsrechte nach Art. 6 EMRK

69

1. Anwendbarkeit von Art. 6 EMRK auf die Tätigkeit der Verwaltung

70

a) Reichweite der zivilrechtlichen Ansprüche

70

b) Reichweite der strafrechtlichen Anklage

71

c) "Gerichte" im Sinne des Art. 6 EMRK

73

d) Zwischenergebnis

76

2. Ausstrahlungswirkung auf das Verwaltungsverfahren durch Art. 6 EMRK

76

a) Vorwirkung

76

b) Analoge Anwendung des Art. 6 EMRK?

79

3. Fazit

80

II. Empfehlungen und Entschließungen des Europarates

82

III. Zwischenergebnis

85

§ 3 Allgemeine Rechtsgrundsätze des Unionsrechts

85

I. Der Zusammenhang von hinreichender Aufklärung und Rechtsverteidigung

85

II. Anerkennung der Akteneinsicht als Ausdruck allgemeiner Rechtsgrundsätze

88

1. Voraussetzungen des rechtlichen Gehörs

89

a) Unmittelbare Betroffenheit

89

aa) Eingriffsverwaltung

89

bb) Leistungsverwaltung

92

cc) Vertragliches Verwaltungshandeln

95

b) Individualität der Beeinträchtigung

97

c) Synthese

105

2. Reichweite der Akteneinsicht

109

a) "Gleicher Informationsstand"

110

b) Beschränkung auf "wesentliche Informationen"

114

c) Das Verfahren "betreffende" Informationen

115

3. Würdigung

117

III. Modalitäten der Akteneinsicht

120

IV. Grenzen der Akteneinsicht

124

1. Vertrauliche Informationen

125

a) Kategorisierung vertraulicher Informationen

126

aa) Geschäftsgeheimnisse

126

bb) Sonstige vertrauliche Informationen

128

cc) Personenbezogene Daten

129

b) Gestuftes System der Akteneinsicht

130

c) Abwägung

130

2. Funktionsfähigkeit der Verwaltung

133

3. Interne Dokumente

135

V. Rechtsschutz, insbesondere Fehlerfolgen

137

1. Rechtswidrig verweigerte Akteneinsicht

138

a) Kein Rechtsschutz gegen die Verfahrensentscheidung

138

b) Rechtsschutz gegen die Sachentscheidung

141

aa) Verletzung einer "Formvorschrift"

143

bb) Verletzung der "Verteidigungsrechte"

145

cc) Vorliegen einer "wesentlichen" Verletzung

147

(1) Beweiskraft und Verwertungsverbot

149

(2) Vorenthaltung belastender Unterlagen

149

(3) Vorenthaltung entlastender Unterlagen

151

dd) Verzicht auf die Ergebnisrelevanz?

152

c) Verfahrensfehler im Zusammenhang mit der Akteneinsicht Dritter

153

d) Stellungnahme

155

2. Rechtswidrig gewährte Akteneinsicht

157

a) Verhinderung der Akteneinsicht

157

b) Nachträgliche Geltendmachung der Rechtswidrigkeit der Akteneinsicht

158

3. Amtshaftung

159

VI. Zwischenergebnis

161

§ 4 Das Recht auf gute Verwaltung

164

I. Akzessorietät als Voraussetzung des Art. 41 Abs. 2 lit. b) GRCh

165

1. Historisch-genetische Auslegung

166

2. Wortlaut

166

3. Systematik

167

4. Stellungnahme

168

II. Gewährleistungsbereich

169

1. Persönlicher Gewährleistungsbereich

169

2. Sachlicher Gewährleistungsbereich

172

a) Erstreckung auf Leistungsverwaltung

173

b) Erstreckung auf Verfahren allgemeiner Natur

174

III. Grenzen der Akteneinsicht

175

IV. Eigenständigkeit der Akteneinsicht?

178

V. Zwischenergebnis

180

§ 5 Das Recht auf Dokumentenzugang als Ausdruck des Transparenzgebots

182

I. Normative Grundlagen des Dokumentenzugangs

182

1. Der Transparenzgedanke in den Verträgen der Europäischen Union

184

2. Dokumentenzugang und Informationsfreiheit in der EMRK

185

3. Zusammenfassung

189

II. Dokumentenzugang als demokratisches Gebot

190

1. Europäische Verwaltungslegitimation

191

2. Legitimation durch Beteiligung

192

3. Legitimation durch Kontrolle

193

a) Klassische Kontrollakteure und formalisierte Kontrolle durch die Öffentlichkeit

194

b) Weitergehende Erwartungen an die Kontrollöffentlichkeit

196

c) Anforderungen an die Kontrollfunktion

197

4. Akzeptanzfunktion

198

5. Zusammenfassung

199

III. Kodifikationsbedarf für die Akteneinsicht?

201

§ 6 Fazit

205

Teil 2: Akteneinsicht zwischen Spezialnorm und Kodifikation

212

§ 7 Akteneinsicht in bereichsspezifischen Verfahren

213

I. Kartellverfahren

213

1. Inhalt und Gang des Verfahrens

214

a) Verfahren nach Art. 7 Kartell-VO

214

b) Verpflichtungszusage nach Art. 9 Kartell-VO

215

c) Vergleichsverfahren nach Art. 10a VO (EG) Nr. 773/2004

216

d) Beschlüsse nach Art. 10 Kartell-VO

217

2. Die Einbindung Beteiligter und Dritter

218

a) Parteien

218

b) Beschwerdeführer

219

c) Dritte

220

3. Gewährleistungsumfang der Akteneinsicht

221

a) Parteien

222

b) Beschwerdeführer

224

c) Dritte

226

d) Besonderheiten bei der Verpflichtungszusage

226

e) Besonderheiten im Vergleichsverfahren

228

4. Grenzen der Akteneinsicht

230

5. Der Anhörungsbeauftragte als "Hüter" der Akteneinsicht

235

6. Alternative Akteneinsichtsverfahren

237

7. Zusammenfassung

239

II. Fusionskontrolle

240

1. Inhalt und Gang des Fusionskontrollverfahrens

241

2. Die Einbindung Beteiligter und Dritter

242

a) Beteiligte

242

b) Dritte

243

3. Gewährleistungsumfang der Akteneinsicht

244

a) Beteiligte

244

b) Dritte

247

4. Grenzen der Akteneinsicht

249

5. Zusammenfassung

251

III. Antidumpingverfahren

251

1. Inhalt und Gang des Verfahrens

252

2. Gewährleistungsumfang der Akteneinsicht

253

3. Grenzen der Akteneinsicht

255

4. Zusammenfassung

257

IV. Schiffsverkehr

257

V. Beihilfeaufsicht

259

VI. Verfahren vor den dezentralen Agenturen

261

1. Amt der Europäischen Union für geistiges Eigentum

261

a) Verfahrensakzessorische Akteneinsicht

262

b) Selbstständiges Akteneinsichtsverfahren

263

c) Anwendungsbereich

264

d) Grenzen der Akteneinsicht

265

e) Modalitäten der Akteneinsicht

266

f) Zwischenergebnis

267

2. Gemeinschaftliches Sortenamt

268

3. Europäische Wertpapier- und Marktaufsichtsbehörde, Bankenaufsichtsbehörde und Aufsichtsbehörde für das Versicherungswesen und die betriebliche Altersversorgung

269

4. Europäische Arzneimittel-Agentur

271

5. Europäische Agentur für Flugsicherheit

273

6. Agentur für die Zusammenarbeit der Energieregulierungsbehörden

275

7. Europäische Chemikalienagentur

275

8. Zusammenfassung

277

VII. Verfahren vor der EZB

278

1. Einheitlicher Aufsichtsmechanismus

278

2. EZB-Sanktionsrecht

280

3. Zusammenfassung

281

VIII. Beamtenrecht

282

1. Die Personalakteneinsicht nach Art. 26 Beamtenstatut

282

2. Die Akteneinsicht in Disziplinarverfahren

285

3. Betrugsbekämpfung

286

4. Zusammenfassung

287

IX. Zwischenergebnis

288

§ 8 Das Spannungsfeld von bereichsspezifischer Akteneinsicht und Dokumentenzugang nach der Transparenzverordnung

292

I. Konvergenzen von Akteneinsicht und Dokumentenzugang

292

1. Anspruchsberechtigung und -voraussetzungen

292

2. Umfang und Grenzen des Informationszugangs

293

a) Absolute Verweigerungsgründe

295

b) Relative Verweigerungsgründe

295

c) Schutz des Entscheidungsprozesses und der Funktionsfähigkeit der Verwaltung

297

3. Fehlerfolge und Rechtsschutz

299

II. Kollision von Akteneinsicht und Dokumentenzugang

300

1. Lex superior derogat legi inferiori

300

2. Lex posterior derogat legi priori

301

3. Lex specialis derogat legi generali

302

4. Fazit: Das Ideal vom Motiv als taugliches Zuweisungskriterium

305

III. Lösungsansatz der Rechtsprechung

308

IV. Zwischenergebnis

310

§ 9 Akteneinsicht in der Kodifikationsdebatte

313

I. Kodex des Europäischen Bürgerbeauftragten

314

II. Vorschlag des Europäischen Parlaments und des Rates

315

1. Sachlicher Anwendungsbereich

316

2. Persönlicher Anwendungsbereich

317

3. Umfang und Grenzen der Akteneinsicht

317

III. ­­ReNEUAL-Musterentwurf

319

1. Sachlicher Anwendungsbereich

320

2. Persönlicher Anwendungsbereich

321

3. Umfang und Grenzen der Akteneinsicht

322

IV. Stellungnahme

323

V. Eigener Kodifikationsvorschlag

325

Resümee

332

Literaturverzeichnis

343

Verzeichnis der zitierten Sekundärrechtsakte der EU

372

Sachwortverzeichnis

377